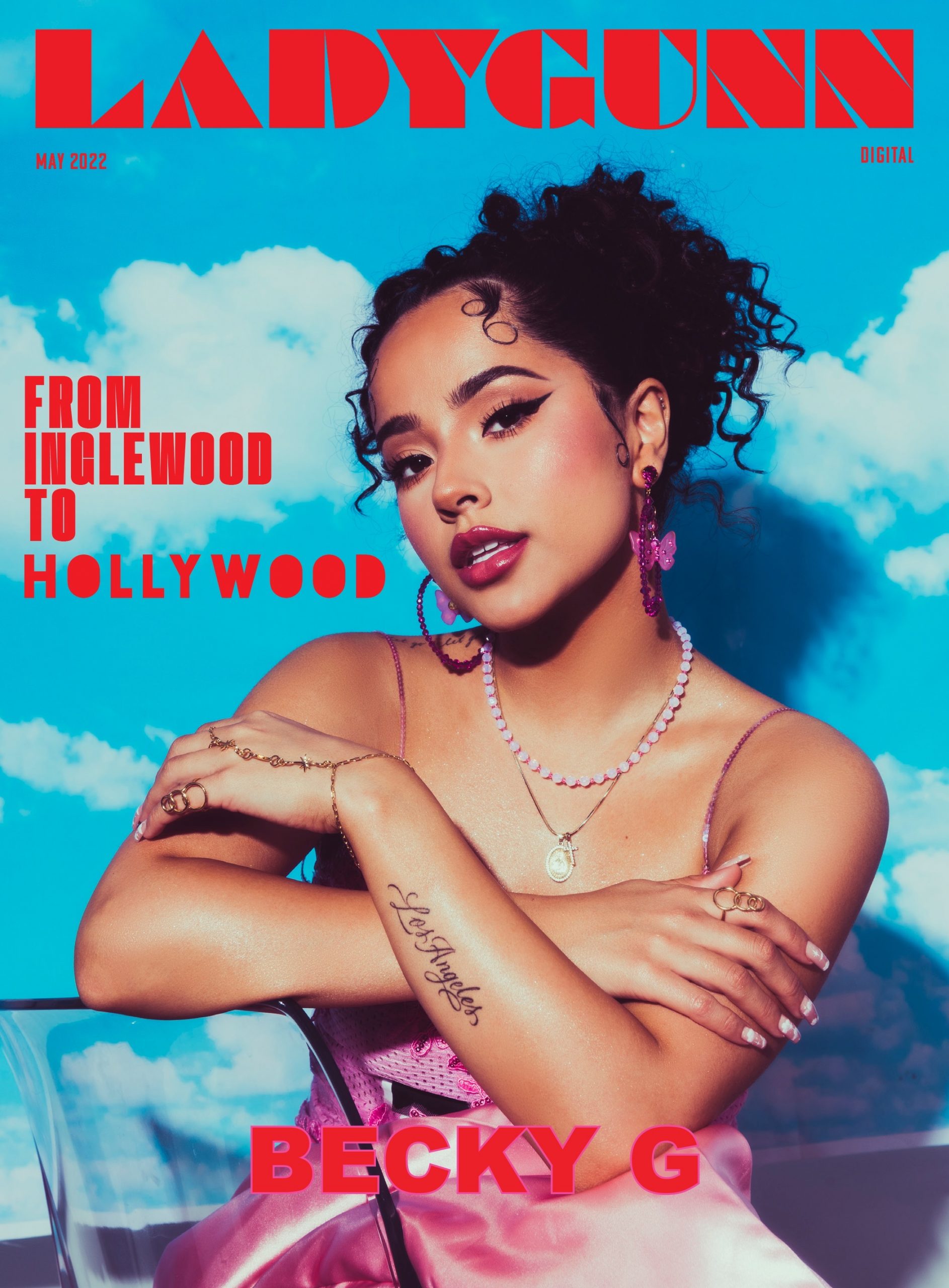 We all have sang our favorite songs. Maybe that's in the shower or stuck in traffic, or maybe late at night in the confines of our room. While many of us lack the vocal range, there's joy in embracing the sound that boosts our serotonin levels, sending vibrations throughout our bodies. Becky G is no different. At the age of 14, the Mexican-American singer began covering her favorite songs, but instead of singing into her pillow, she uploaded videos that she would take, landing on the radars of influential producers at the time. 
Growing up in Inglewood, California, the oldest of her three siblings, Becky G always dreamed of becoming a singer. As she takes this zoom call with me while visiting her boyfriend in Boston, Becky begins opening up about what it took to get to the place she's at today. A daughter of Immigrant parents, with her community on her back, the multi-talent stays grounded, understanding that she is where she came from, not what others expect of her. Amassing millions of followers and billions of streams, Becky G has made that little girl's dream from Inglewood into a reality.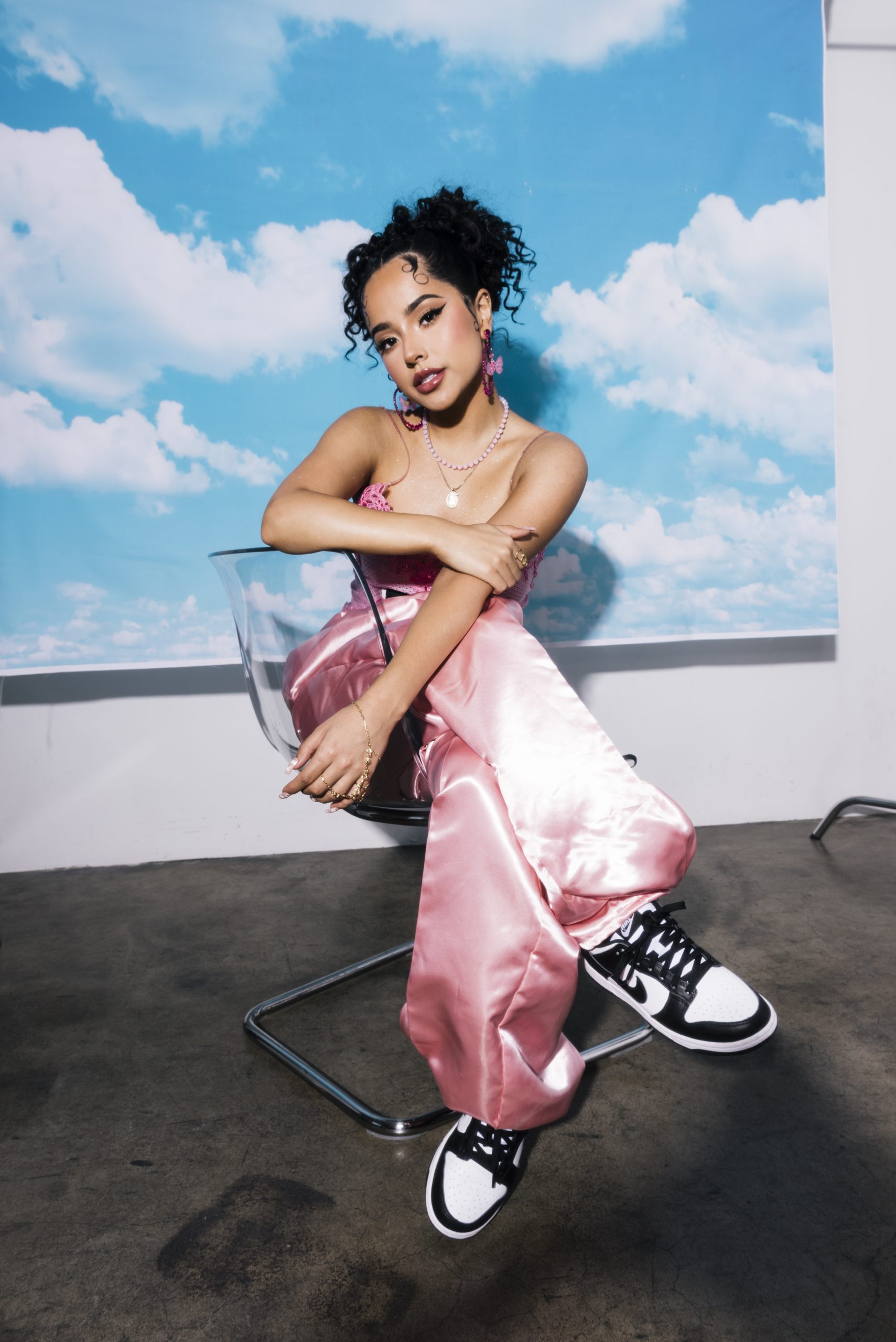 On May 13, the talented singer is dropping her second studio album,' ESQUEMAS,' a project weaving together the inspirations that continue to guide her from the vibrancy of her hometown to the genreless music that continues to ring in her ear. With her smash hit, "MAMIII," in collaboration with Karol G, produced by Ovy, 'ESQUEMAS' remains a highly anticipated project, having fans uniting internationally. Among the release of her second album, the passionate artist continues to pour herself into Treslúce Beauty, a brand extending belonging to this generation, while executive producing Tv/Film projects connecting with a broader audience through untold stories. Nearly a decade into her career, Becky G has lent her voice to this generation, having us all dance to the rhythm of her sound.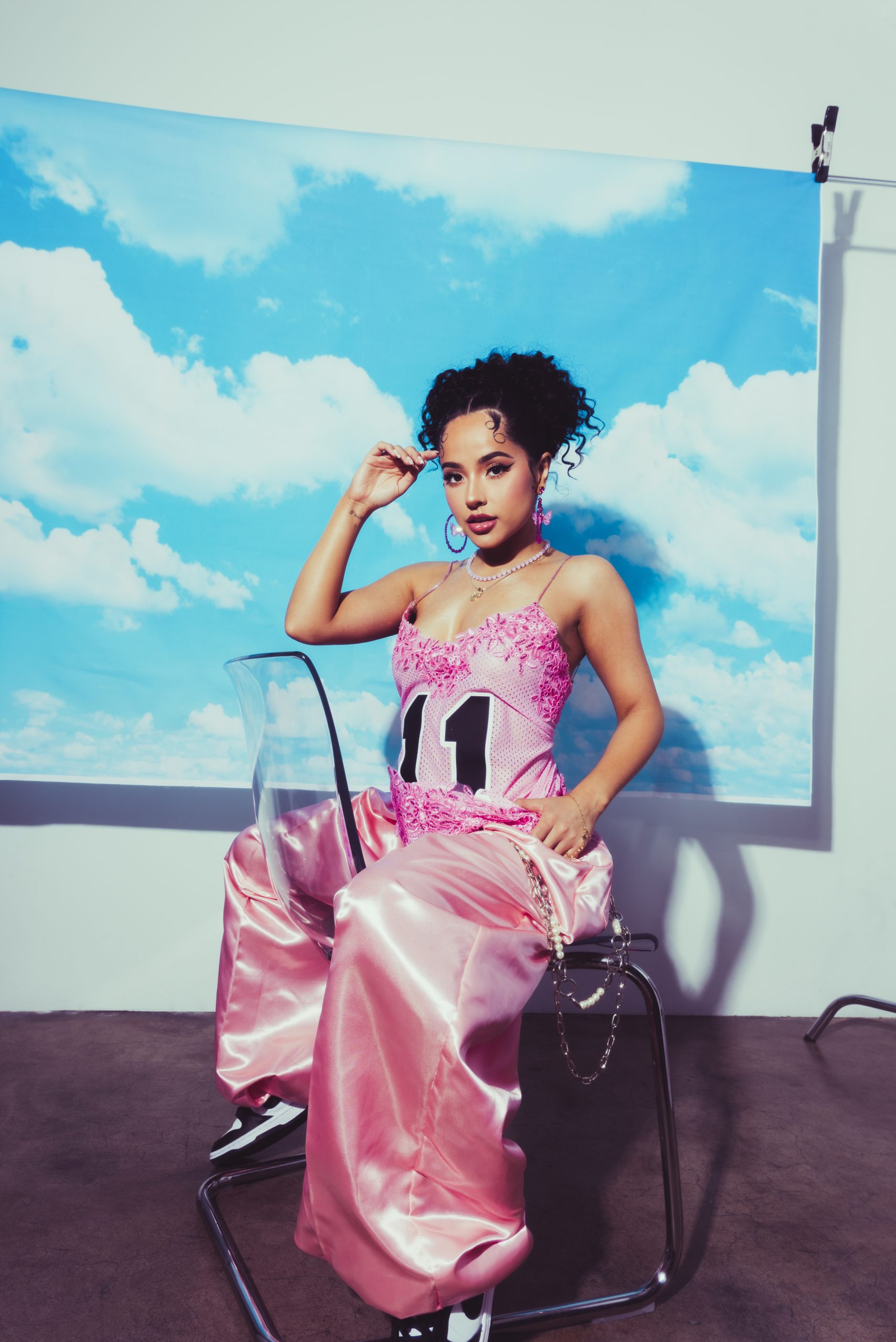 Full look, GYPSY SPORT. Earrings + crystal necklace, TARINA TARANTINO. Hand chain + Ring, NINA BERENATO. Shoes, NIKE.
How have the last few weeks been leading up to this moment? 
It's been quite the Juggle. Experiencing the lockdown and then the transitions of, 'Are we still in a pandemic? Are we not? Are we going full throttle? okay, we're back on again.' And it was this up and down. Finally, we can commit to something fully, with no reservations and it's go time again. 
I went there during the pandemic, and I think it was God's plan. It definitely felt like it had to happen. Mental health-wise, I was able to really lean into myself and in my heart and where I truly am in this moment. I was able to create music that reflects that. And then now we're releasing it. This month has been such a whirlwind, to be honest. For the album, getting all the content done, doing Coachella, and then the Billboard Music Awards are coming up, which is super exciting. Then the album release party is happening. It's a non-stop situation, but I'm excited. 
You've been making waves for almost a decade. What would your 16-year-old self say to your present self? 
It's funny. I feel that's the trick, a powerful thing, right? Closing your eyes and imagine going back to that time and place in your life, when you were so young and doe-eyed and excited about your career and accomplishing your dreams. I think the older me would tell my younger self to have patience. Take care of yourself because it's so easy to get caught up in being a people pleaser. Growing up on social media, your value depends on how many likes you get on a picture or how many reposts you have. I always say I do not get caught up in that. 
Today, my younger self would tell me, 'Yo, we were always here; we're really doing it.' I think that's something that I'm really proud of. There are days, and I have to be super honest and transparent; not every day is good. Not every day is easy, but it's always worth it. It's never too late to have a good day because we're alive and still here. I think that in itself is a success. At our age, I believe the concept of success today is so confusing. Because we don't know if it's a number in your bank account, the amount of fame you have, or how many followers you have. None of that matters. It's having a good cup of coffee or a great conversation with somebody you love. Just feeling like you're being good to yourself.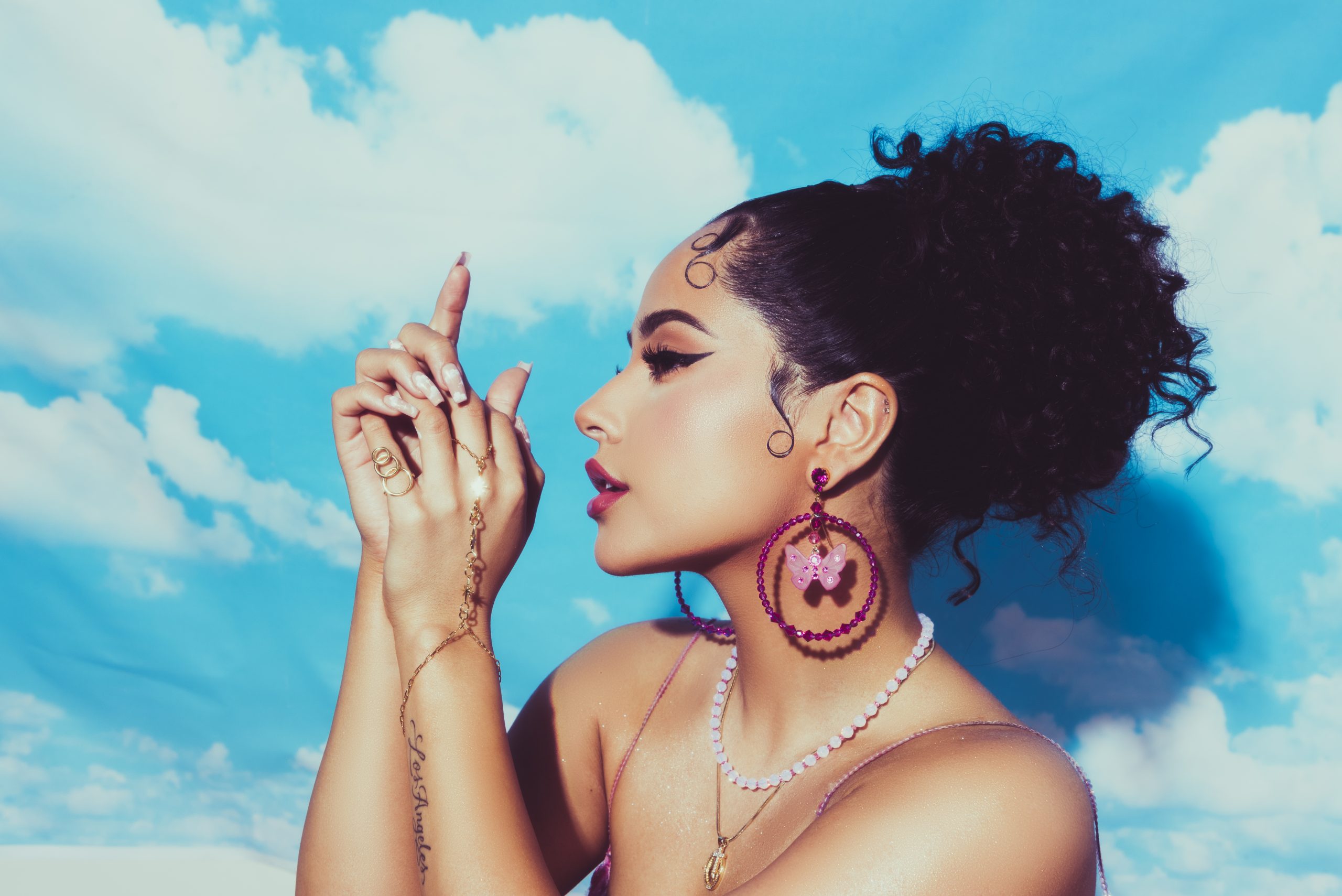 Congratulations on your second studio album. It comes out on the 13th, and I know I'm one of the millions of people anticipating this release. Can you speak to the process of creating this project and what 'ESQUEMAS'' means to you? 
The name actually came at the very end. If you look up the definition of Esquemas, it comes up as scheming. In reality, there are so many different definitions for one word. And for me, it's breaking the mold, breaking stereotypes and boxes that artists are put in, especially young women. It's what I've experienced throughout my entire career. I got to that place because I created a body of work that is so versatile and genre-bending. It's not just Reggaeton, or just regional, or just pop. I've never really liked that [genre confines] because music is a form of expression. If I choose to express myself in Spanish, English, and whatever genre, that's still me. 
'ESQUEMAS' is a fusion of pop, Doo-wop, and disco records; it has r&b and a lot of soul. I explain it as growing up in LA because LA means the world to me, and it has helped shape me to be the person I am creative because of the diversity, colorfulness, and flavor. I grew up representing two flags, and I'm very proud of that. The album is two batches of songs. One part one of the albums, I started almost two years ago, and then there's another batch of songs that I finished maybe within like the last six months, so it encapsulates the last couple of months and the last two years of my life.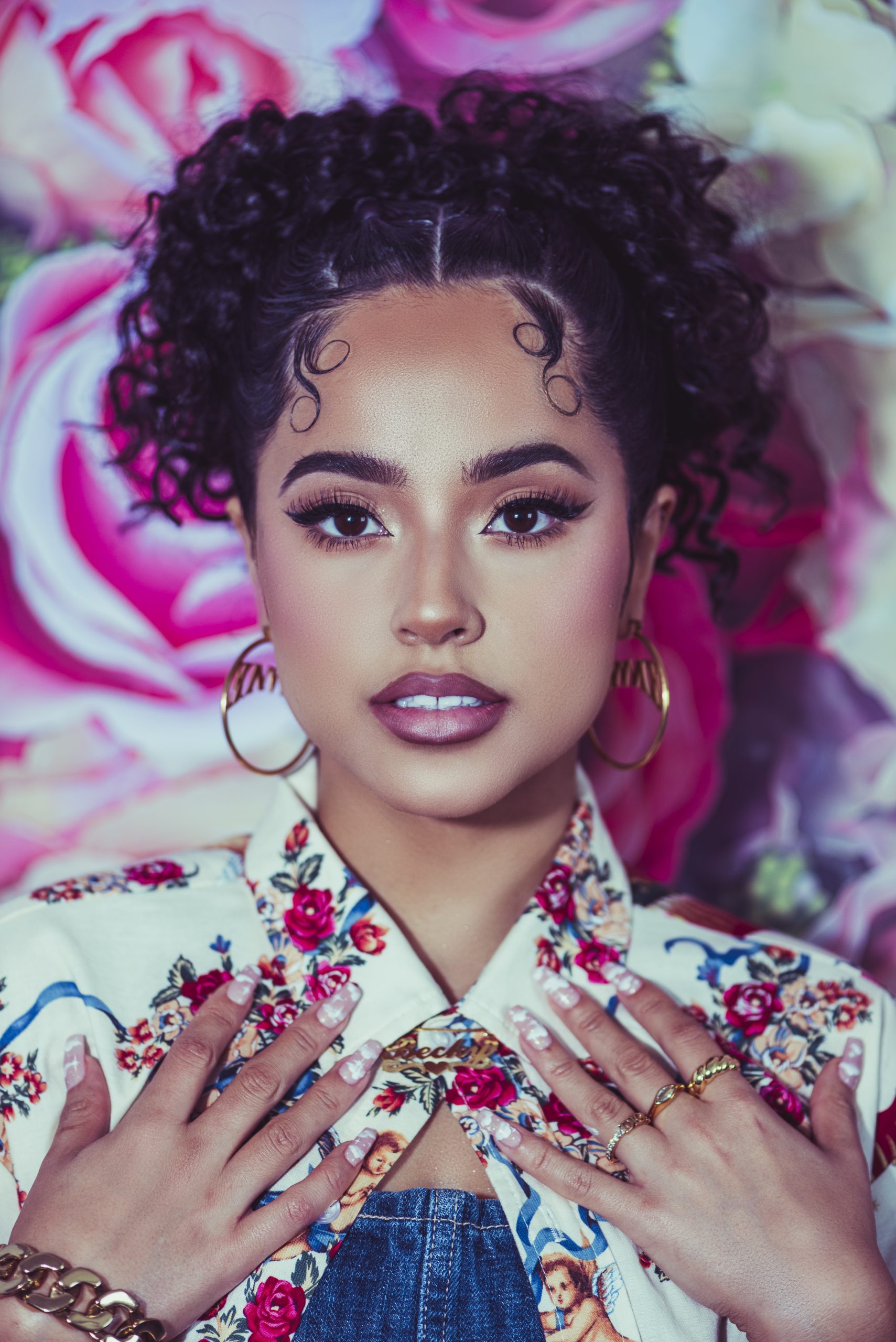 Shirt + Denim corset, GYPSY SPORT. Earrings, ROMANCE. Bracelet, VITALY.
It's easy to lose yourself or get caught up in the chase. 
Totally, and like we're so young. That's the other part; we've had to grow up so quickly, whether circumstantial or the own pressure on ourselves or society's pressure on us. But in reality,  what's the rush? Sometimes we have the frame of mind that life is too short, but life can be long. Today can just be today and doesn't have to be a day where you accomplish 25 things on your to-do list. Just accomplishing five of those things is a good thing, and it's finding the balance that works for you. One of my goals after this album has been hard to accomplish during this album— it's this balance of not falling to the demands because sometimes there's just not enough of you.
I want to pivot and talk about "MAMIII." This collaboration with Karol G continues to climb the charts and is being described as a song of the summer. How was working with Karol G, and how did this song come to be? 
This is something that I've wanted to do for a very long time. And she knows it. And if you know, Karol, you know, she's very particular. She's very hands-on. For the longest time, I invited her to be a part of so many songs throughout the years that we've known each other. And it was always like; I don't know if this is the one, it's got to be perfect. And when I wasn't looking for it, that's when it happened. I think that's what made it so special. 
I was working on 'ESQUEMAS' in the studio on that second batch of songs that I was telling you about. I invited Ovy to the studio, the producer and I played some of the songs. We talked about the demo he had sent me, "MAMIII," which had no official name yet. I told him, 'You know, I want to bring Mexican elements. I want to write my parts to it.' After recording, I noticed I had a few missed calls from Karol. My manager Ben called me, and finally, I checked my phone; I answered, and he's like, 'Hey, have you checked your phone?' And I'm like, 'yes. Is everything okay?' And he's like, 'Karol is trying to get a hold of you; call her back right away.' And I'm like, 'okay,' so I call her back right away. And she's in the studio with Ovy.  And she's like, 'so I heard the song.' And I'm like, 'okay,' and she's like, 'I kind of did something.' And she played me just a little intro of it. She's like, 'I just want you to hear my voice on it.' In my head, I'm freaking out. I'm like, Absolutely. Like, finally, the G's are coming together. I know fans have been waiting for this for the longest time. And so that's kind of how it came to be.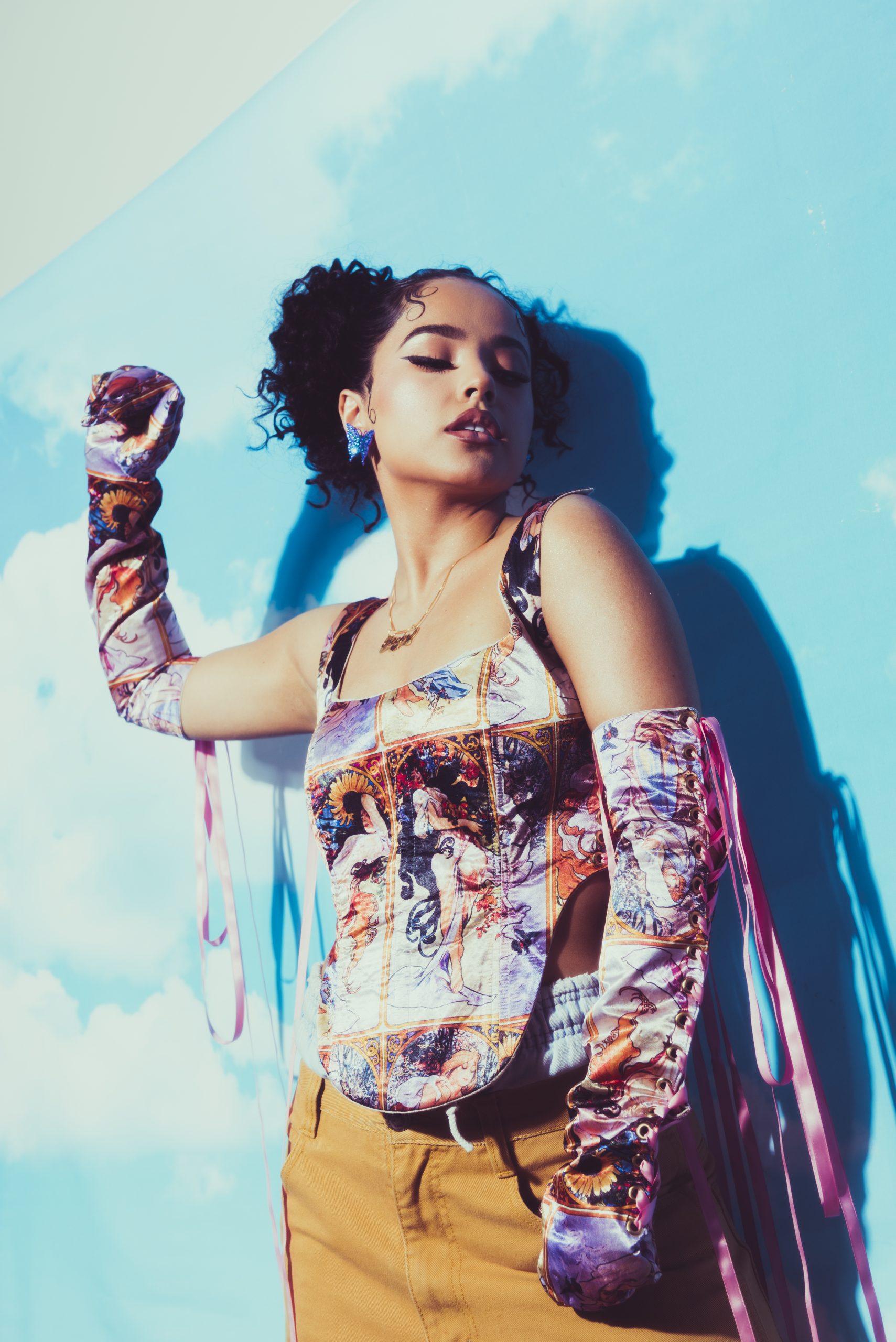 Corset,  gloves + pants. RUSTY RECONSTRUCTED. Earrings, TARINA TARANTINO.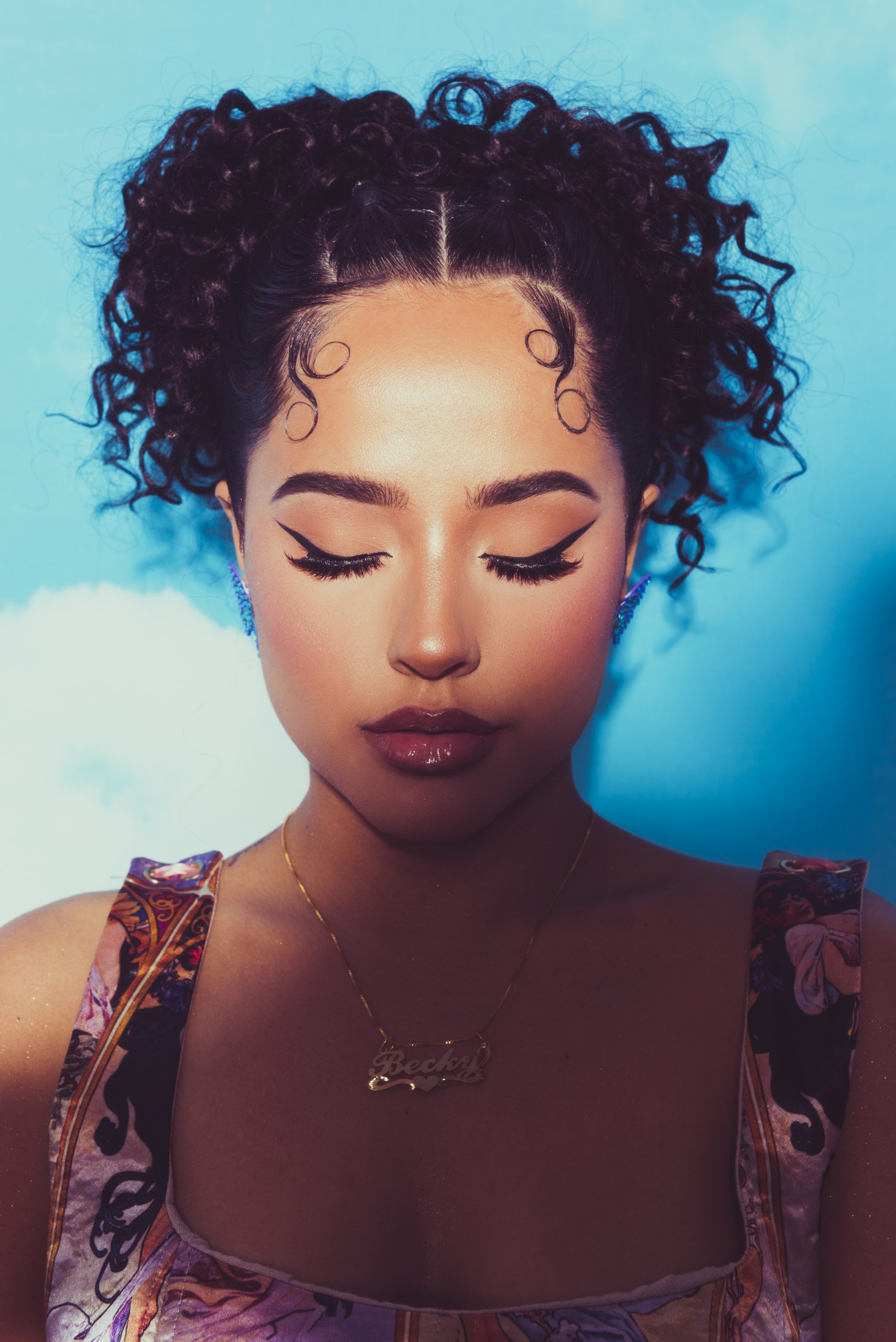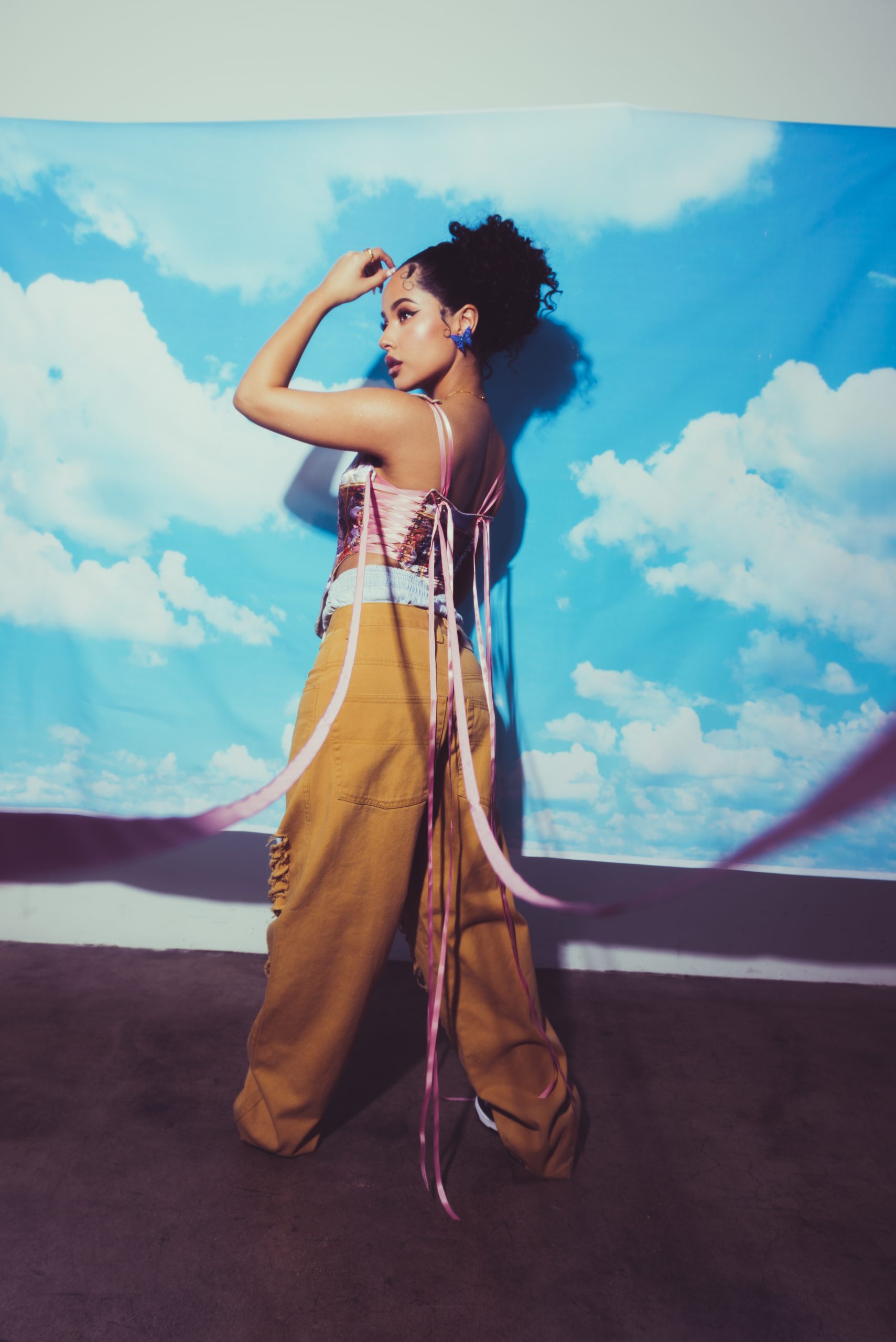 How did the music video for "MAMIII" come to be? There are some familiar faces like Angus Cloud and Mia Khalifa. 
It's bittersweet for me if we're being fully honest; I mean, I'm forever thankful for the success and the love for "MAMIII." Because of busy schedules, I had this idea of the music video that I wanted, which was Karol and me in it. And for reasons beyond my control, I just couldn't make that happen. And I knew fans were demanding a video, and I know they were upset. It wasn't a video with us in it. But if we were gonna make a video, I wanted to give something that was kind of a story, a mini-movie. And so we whipped it together. And I reached out to Angus, and I reached out to Mia. They were so excited, and I'm really thankful that it came together and made a splash. I'm grateful to Karol for allowing me to do that with her at Coachella because I know our fans wanted that.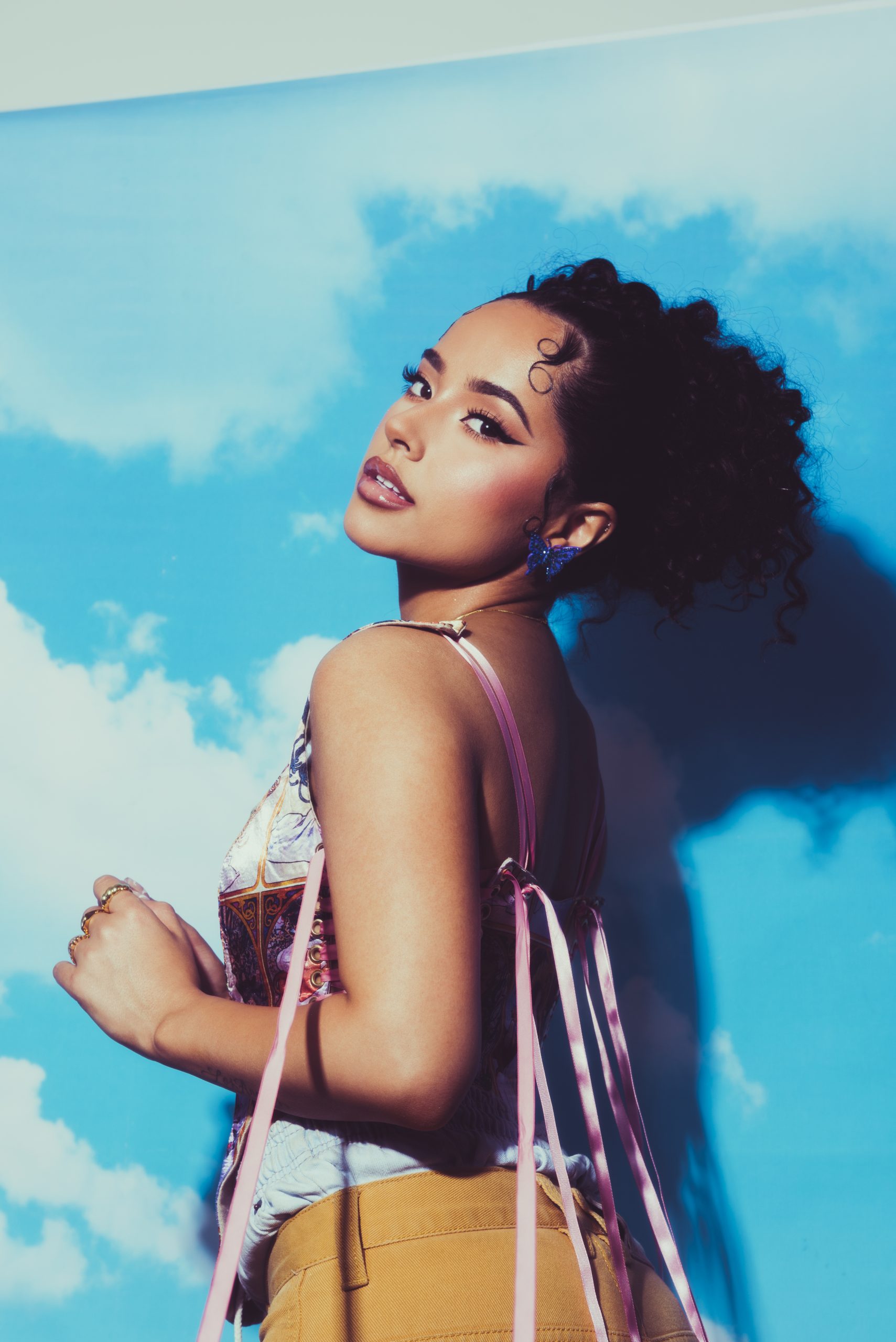 Who has been your support system pushing you to remain authentic, and how do you stay true to your values among all the noise and chaos of the world?
Since I was very young, I have practiced being a good person to myself and those around me. Sometimes, I was giving too much of myself or energy that I didn't have. And it wasn't until I started prioritizing my mental health and started therapy with a professional that allowed me to dive deeper into how the pie works. I only have 100%, and I can't pour from an empty cup.      
The more I had to put my heart, mind, and platform towards bigger things because it's to be of service to my community, to show other people my age that it's possible. It doesn't matter where you come from or how much you come from; you can do it. I come from nothing; I'm fine with nothing; everything else is just a bonus. That's really where that part comes from. It's like how I was raised and then taking that seed that was planted by my family to be a good person and wanting to inspire that in other people. We need to be reminded to step out of ourselves and look at the bigger picture and see that we have purpose and that we do have the power to make an impact in other people's lives.
How do you stay grounded and maintain the relationships with your family among the busy schedules? 
It's definitely something that I tried to make a priority, but feels impossible at the end of the day. And sometimes, there's guilt that comes with that. The reality is that many youth in our communities have to sacrifice a lot of things to pursue our dreams. And it's not just a dream that we're trying to pursue, but we're also carrying our entire community with us. That pressure, that responsibility to do a great job for our parents to do a great job for our siblings to do a great job for our entire community, Is a lot. So we get so work focused, and sometimes that takes us really far away from home. It's allowed me to travel to so many beautiful places in the world, but at the same time, the sacrifice that we make is being away from the reason why we're doing it— one of the main reasons why we're doing it, and that's challenging. 
I'm fortunate and thankful that my siblings are all close in age. I'm 25, my brother Frankie turns 24, and my brother Alex just turned 21. Stephanie's the baby, and she's 19. We're all kind of feeling now with one another because we're all in our young adult years. And we look out for each other. Even though I'm the eldest sibling now, I've been the eldest sibling for most of our lives now; it kind of feels like I have a sense of community in them because they get it. Instead of feeling like, 'Oh, shit, I haven't called my sister in two days,' she's calling me to check-in and see how I'm doing. The consideration they hold and the space they hold for me as just a sister means the world to me. That's really what helps me stay sane at the end of the day and still feel grounded.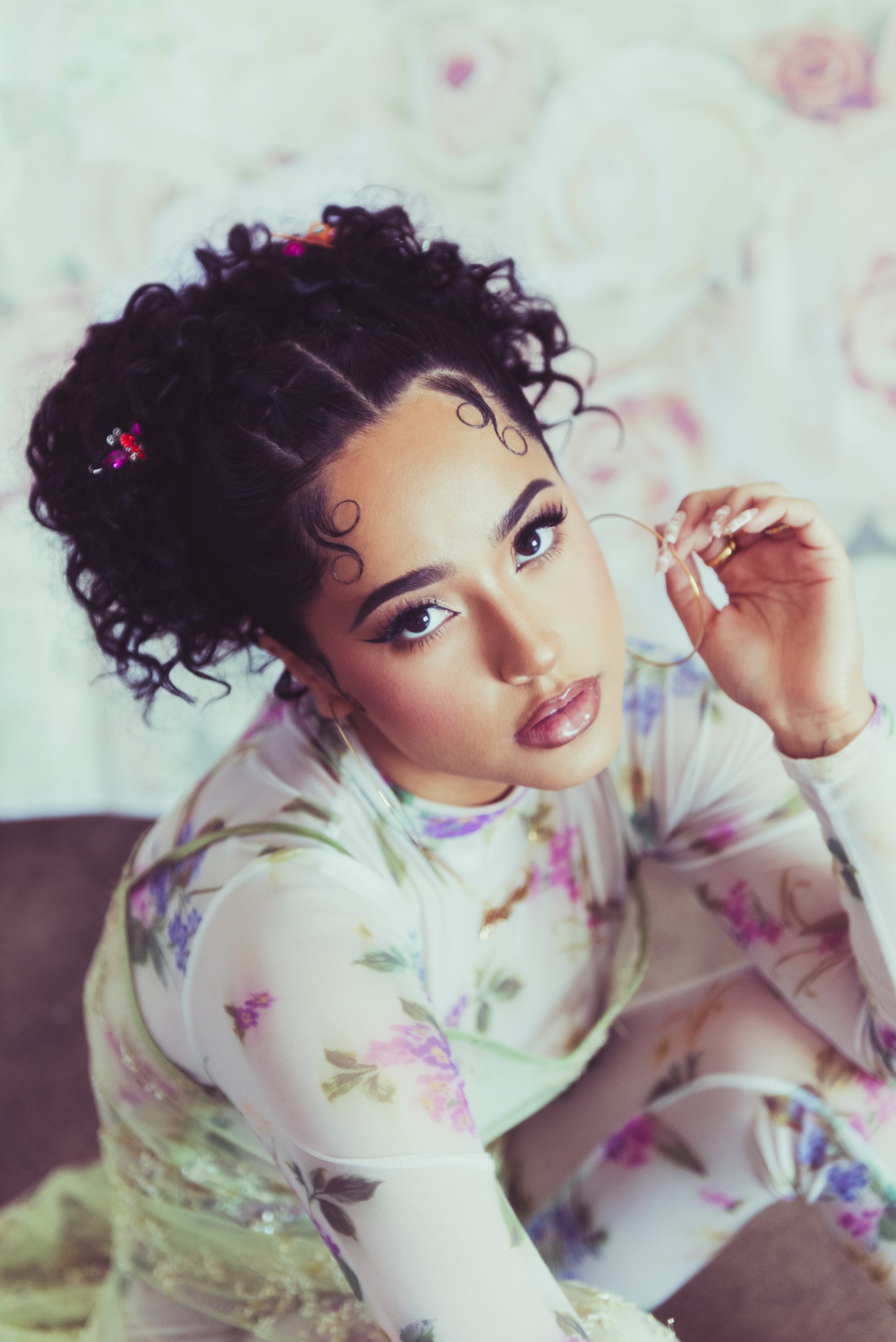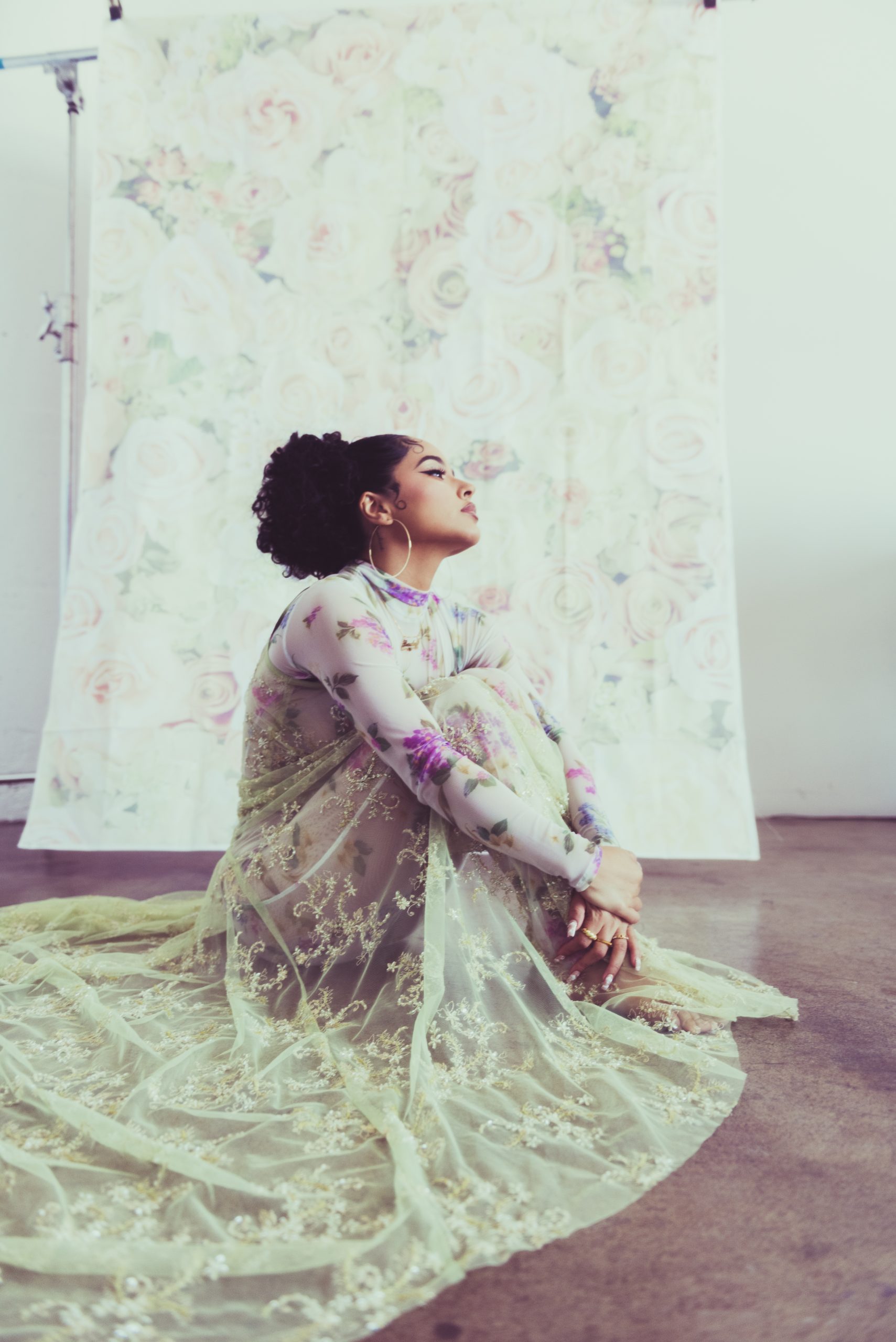 Dress, HELEN ANTHONY. Catsuit, OROY.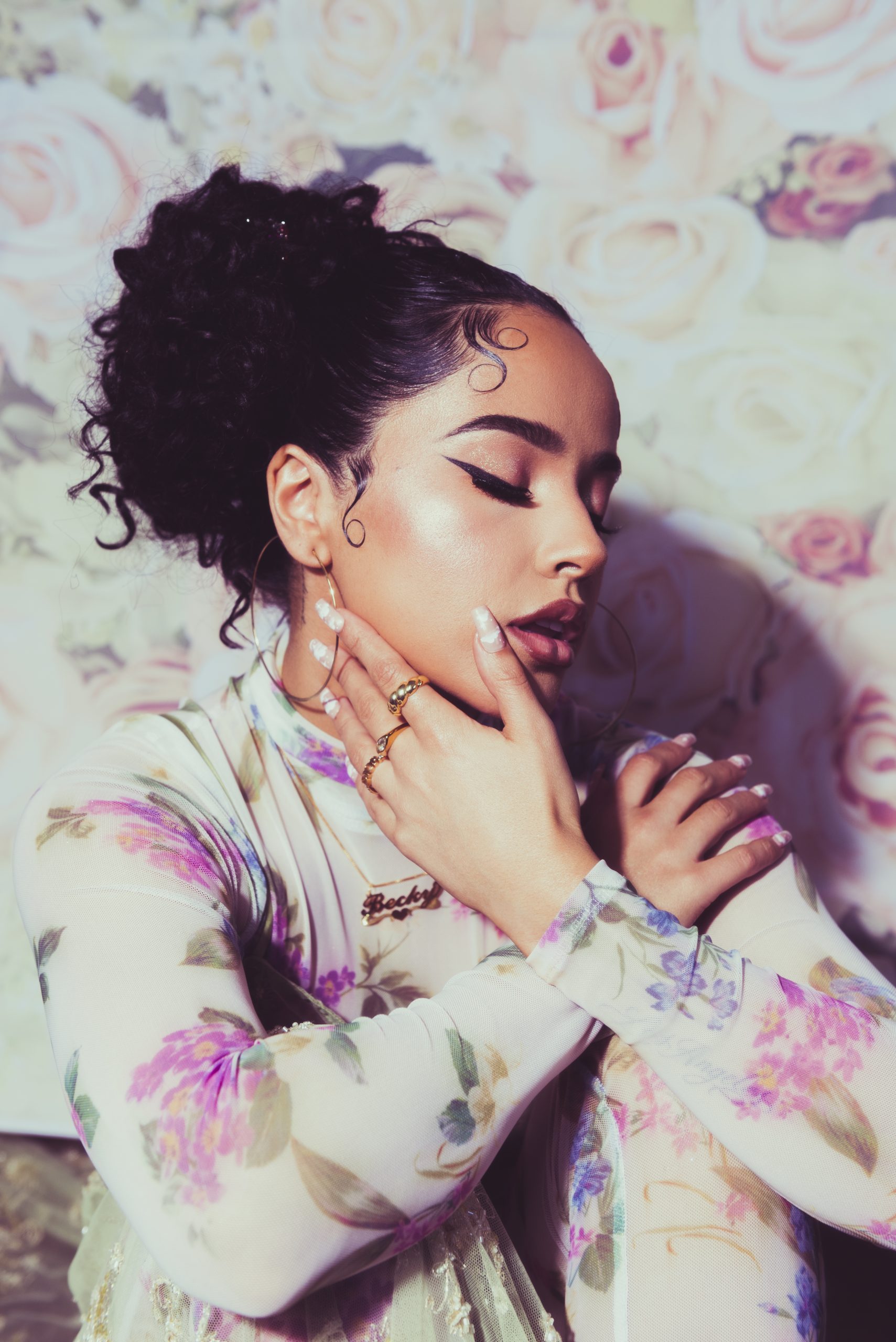 I want to talk about Treslúce Beauty. What's your relationship with makeup? 
If you knew me at 12 or 13 years old, even younger, to be honest, I have pictures of me in full glam. I've always been fascinated with the art that is makeup, and I consider it an art form. I find the power of transformation through makeup even more inspiring. I believe that we can be beautiful without it, absolutely, but the right to creative expression is important. How we express ourselves, our hearts, our minds, and our bodies is so important to give access to everyone in this beauty space. So many incredible pioneers have paved the way, but I also think that this generation struggles with finding things that identify with them. It was a love letter to my culture to my Mexican blood. 
The name itself is so intentional. To me, the number three in Spanish represents the mind, body, and soul. Without all three of them, the table can't stand; it's like a three-legged table; if not all three of them are in alliance, the table has no use. And then lúce comes from the word light, so we began to shine. Creating even just the brand color, choosing Talavera Blue paid a nice little nod to my Mexican roots. But also, growing up, being told that blue is a boy's color. I believe in divine femininity, and that masculinity can also exist in everyone and anyone you know; I definitely have some strong BDE energy, and I'm not ashamed of it. It was very intentional to give it this strong, powerful color that stands out and makes people feel like wow. The products themselves and the product development is something that I'm very involved in, down to formulas. We have blue agave infused in all of our shadow palettes that's sustainably sourced from Jalisco, Mexico, where my family's from. And we have a very small but mighty team that is all women, basically.  I don't want to just be this Latina with a pretty face of a major makeup brand just to check a box to claim diversity when in reality, I want to show that we can have a seat at the table.
We're in this age where there's a lot of diversity at face value. But behind the scenes, people running the show don't reflect that, let alone the demographic. It's great to hear your intentions with the brands and how you center sustainability and longevity because you are creating for people to feel seen, not just cash a check.
It's a very oversaturated market. But you know, it's a beautiful community to be a part of, and as you said, I appreciate the reflection you just shared with me about the brand because that's the reason why I didn't name it Becky G cosmetics because, it's not about me. This is literally made for everyone. 
Who would be a dream collaborator? 
Oh, man, I have like the longest list ever to exist. And especially because, I listen to so much different music like I said. Giveon is one of my most recent obsessions, and I think it'd be so sick to do something with him. I've always wanted to do something with Bruno Mars. I just love his energy on stage. He gives me nostalgia. I appreciate that about his music and what he creates. Especially this whole Silk Sonic thing that's been going on with him. It's really dope. I've been really into like Spanish house music. A part of me was what about becoming a DJ. There's really cool Spanish house DJs.  
Top, GEORGES HOBEIKA.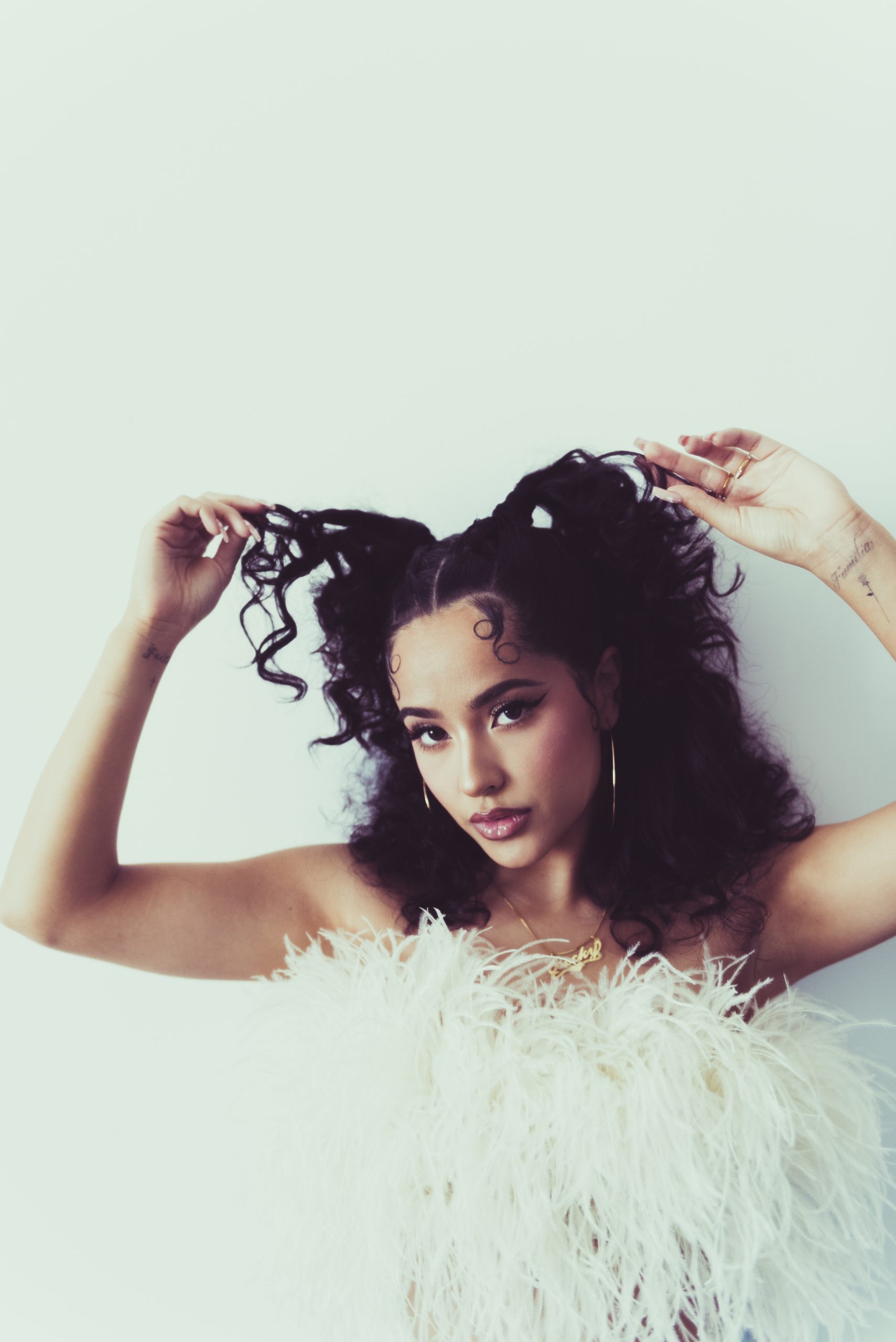 Once this album is out, and everyone's going to love it and be dancing to it, what do the next few months look like?  
We're not stopping, that's for sure. Me and my team have been looking at the calendar to really understand what's going to happen. And for me, it's getting back on the road and putting together a beautiful show around this album. As soon as Billboard Music Awards are over, I'll be rehearsing every day, creating new musical arrangements with my new dancers that I just had auditions for—learning new choreography and singing my little heart away. 
On top of that, I've been developing some projects as an executive producer in the film and TV world that I'm so excited about. Nothing that's been super publicly announced, but I know, it will be really special; right now, they're just in development. I try to find just some time to kind of breathe in and process how big this is my second album. There was a time in my career when I never knew if it was going to happen, but I've been putting my pedal to the metal and trying to make something out of nothing.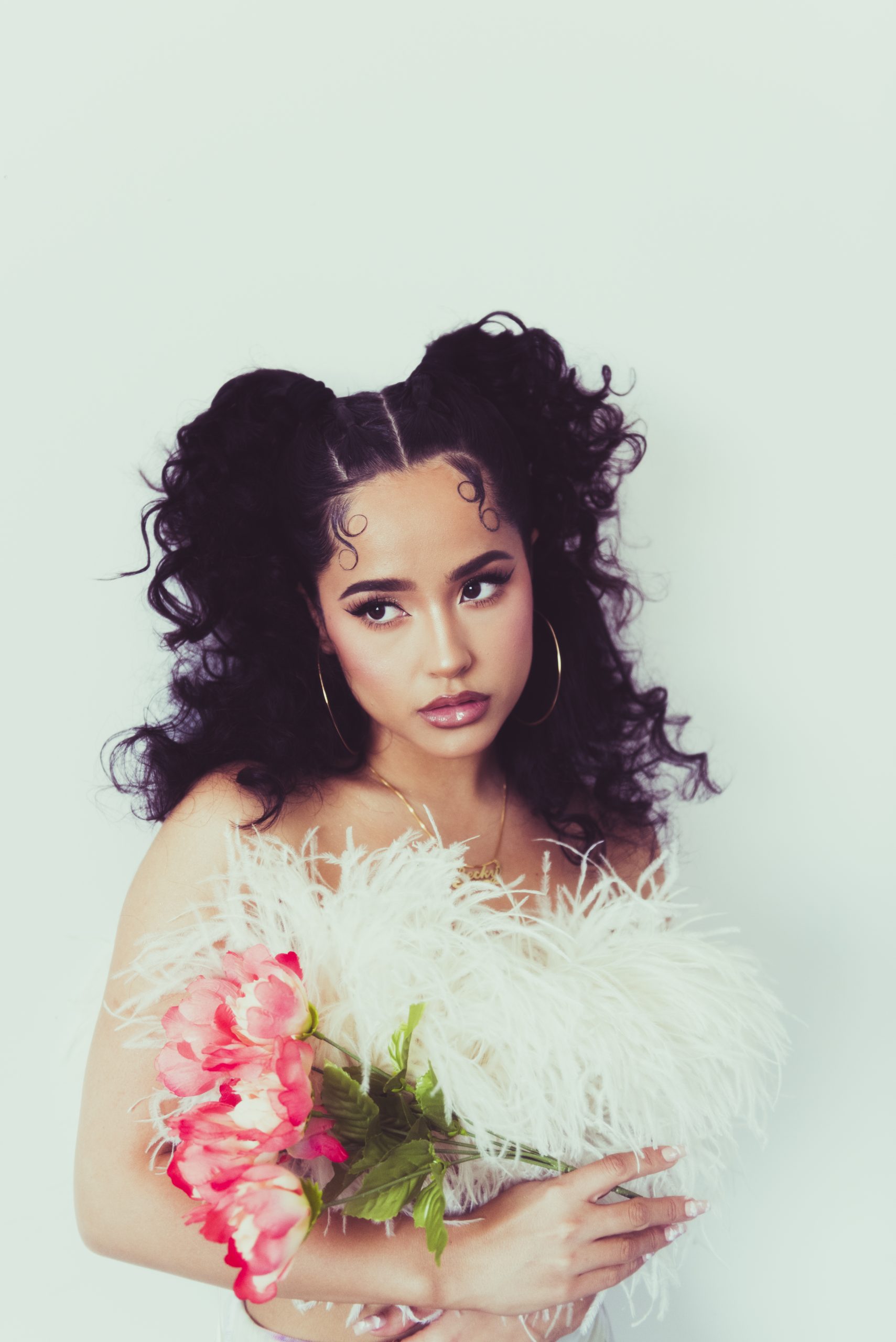 CONNECT WITH
BECKY G
NAILS / PATTY GÁMEZ