Dress, Marc Jacobs.Belt, Zana Bayne.Boots, Acne.
I have a confession. I have never listened to a Sonic Youth song from start to finish.
In high school, I knew that to be a fan of Sonic Youth meant that you were a real alt kid, one with exquisite tastes. You probably knew how to skateboard, lived in a brick house surrounded by shrubbery and drove your grandma's rust tarnished hand-me-down Buick covered haphazardly in carefully curated stickers.
I was sort of a poseur. I wore the blue Sonic Youth tour shirt, the one with the washing machine on it tirelessly.  It was the sort of armor I needed to convey the angst I wished the whole world could see. I didn't own the shirt personally. My friends and I took turns wearing it after one of them charmed it out of a junior boy's closet. They were in the kind of relationship where they hadn't kissed yet but he was still giving her rides home from school every day.  He was a true fan, reciting lyrics and riffs on his electric guitar while we gazed adoringly at the chunks of hair falling unto his pimpled face. Sonic Youth was a rock and roll jazz I couldn't quite appreciate at the time. The cacophony of sounds and sexy guttural breaths coming from the blonde too-cool-for school Kim Gordon was a little out of my TRL pop grunge soundscape.
Those thoughts and insecurities come back in fragmented feelings when Kim Gordon walks unto the Hollywood Forever grounds.  She is wearing big black sunglasses and has a busted lip. There's a vague description as to how it happened the night before, either she hit her face on a glass wall or smashed it with the mic. The details are as blurry as they might be if your occupation is "Rock Star."
 She commands the sort of attention you give the princess of a small country that has a lot of victories and influence but shrouded with tragedies that gleam as bright and beautiful as crowned jewels.  People mingling around on set stand a bit more upright and at attention like hipster cavalry soldiers waiting to spring to action.
I'm announced by her manager and Gordon and I exchange brief pleasantries. Did I ever work with her daughter?  Her name is Coco too. "I'm with a "K!" I try to sound casual but I blurt it out in a way I think shows that I thought about it before, which I have.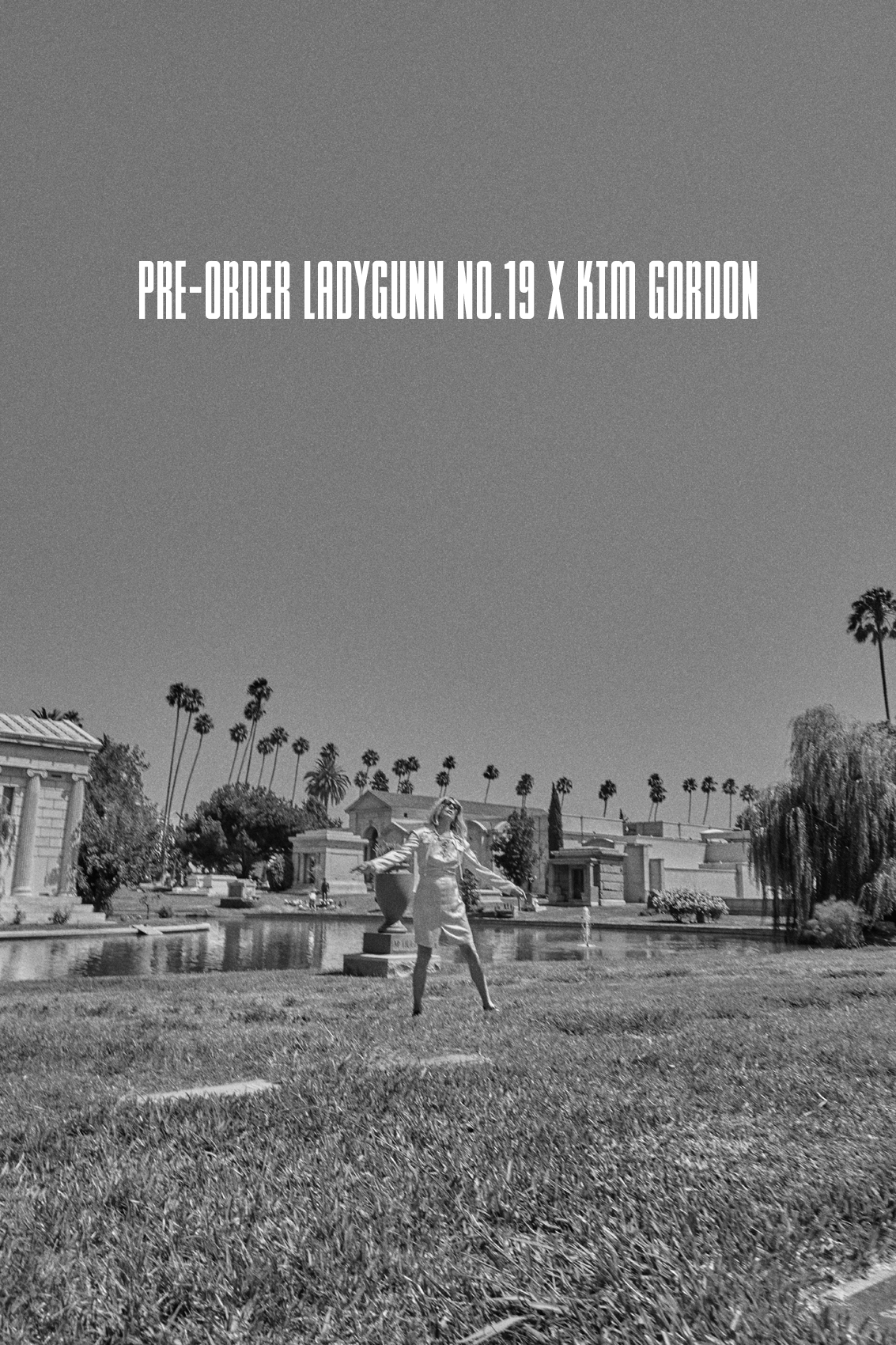 Kim Gordon has long sat on a pedestal in the cultural zeitgeist. She created this archetype of cool that is both wildly fashionable and intimidating as hell where girls and boys wanted to be her, fuck her, or dress her, and sometimes simultaneously. When I moved to New York in my early twenties she was one of the reasons that made the city still seem like a fantasy.
Those were some sort of the last golden days of New York.  I was young, thin and eager to have my fill of boys who didn't love me and nights that disappeared with substance abuse. Those were the days right before TV On The Radio got really big and we would all sit around getting drunk in Max Fish waiting till close to go chain-smoke on someone's fire escape or crawl into the loft bed of a stranger with a cold mouth.  Some days I would get lucky and get to walk past the lines of highly coveted art shows carefully tucked under the arms of a shirtless Dash Snow because he remembered me from some after-hours the night before. And of course, those were the days you might run into Kim and her ex surrounded by models and rock stars at some exclusive alcohol-fueled art opening. "That's Kim Gordon," would riptide through a leather jacket crowd in hushed whispers and fleeting glances.
We meet on a West Coast sun-kissed day with palm trees blowing sweetly while peacocks parade by on the cemetery lawns. It's far from Western Massachusetts where she called her home for seventeen-years. Nonetheless, the artist looks settled into her Los Angeles raised roots with the wind gently stroking the hairs on our skin.
"I always thought about L.A., moving back at some point. I never really verbalized that but I thought about L.A. a lot. It was always something I carried around in my head…the smells, and the landscape. People talked about the art world changing here, evolving in different ways. So it seemed like a good place and time," Kim says when I ask about the venture back.
It's an interesting time to return. She proclaims it sonically with her first solo album No Home Record: a primal collection of songs that seem to come from the deepest and most candid parts of her soul.  There is no start or end; just freedom.
Its music for the contemporary ages, like waltzing with the devil, contorting around a flame of flesh, while the world falls apart around you. It's maniacal and at times somber, something of a siren call that could lure even the most hesitant listener into a meditative trance where there are no boundaries; a place in your body where pain and joy can coexist.
Movement and music coincide and intersect in the sort of world Gordon has created on No Home Record. It's a dizzying affair on the senses that both appease and unnerve, much like a dance of self.
"Well, I am very kind of physically oriented. As a teenager when I took art classes outside of school I worked a lot with clay.  I made figures, and at the same time, I was taking Martha Graham dance classes. I think I was really drawn to playing music because of the visceral quality of it moving through space.  I've done this dance project with choreographer Dimitri Chamblas utilizing contact improvisation. It was originated by this guy Steve Paxton who came out of Judson Dance Theater during the 70s in New York. It's a technique that uses gravity, you're kind of moving against someone else and flowing into their bodies.  I've incorporated my guitar into the whole mess. It's kind of weird but fun."
Gordon's parents were Depression-era minded. Her dad was a sociology professor. Her mother at one point told Kim he wanted to be a poet. Despite growing up in a time of poverty they were unconventionally supportive of her needs to create.
"I think my parents at one point thought I would turn to something more commercial, like graphic design. My brother was a poet and studied the classics. It was kind of a part of his psychosis in a way or became intertwined with it when he became a full out kind of schizophrenic. I think after that they didn't really care what I did. I think my mom, you know, said something to someone one like. 'I know she can do anything she wants.'  It never occurred to me that they wouldn't have my back. Art has always been part of my thinking. I perceive the world visually, maybe I'm more of a sociologist than anything."
She stops and thinks for a minute.
"This friend of my brother when he was 17 was like, 'Don't you have a backup plan in case things don't work out?' And I just told him, "I'm going to be an artist."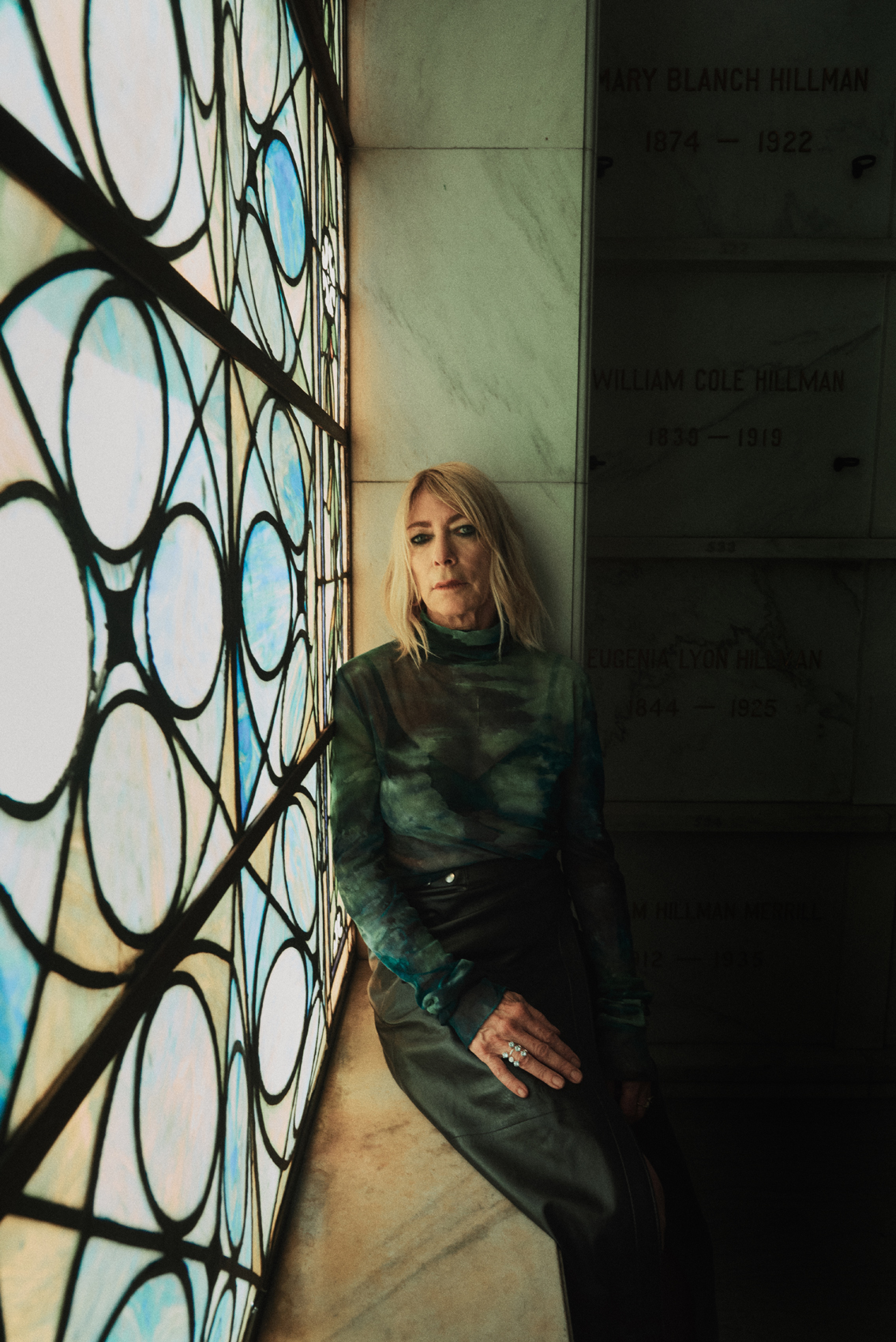 Black Leather skirt, Celine. Green mesh top, Raquel Allegra.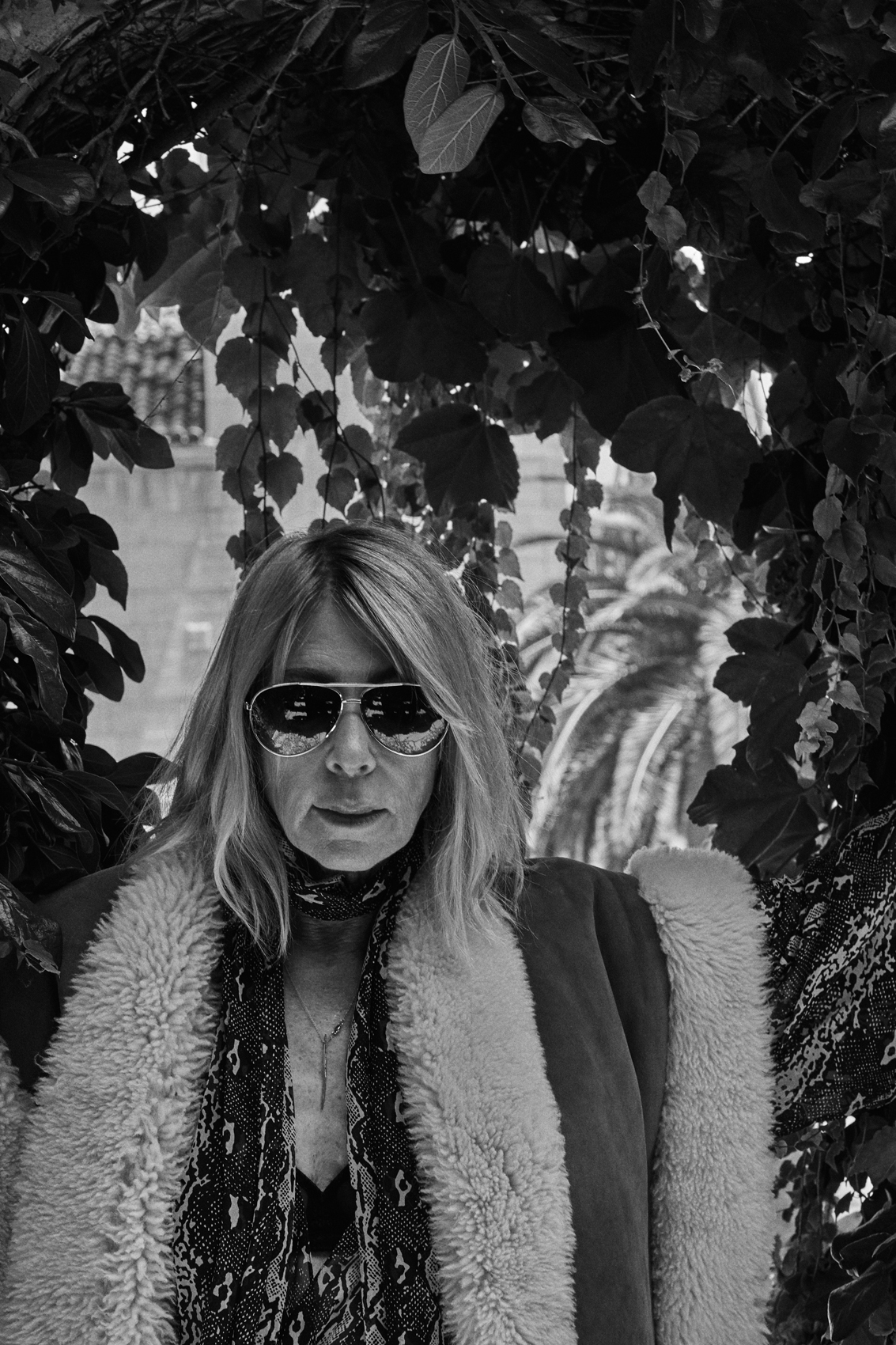 Dress,Sunglasses and Shearling Coat, Celine.
---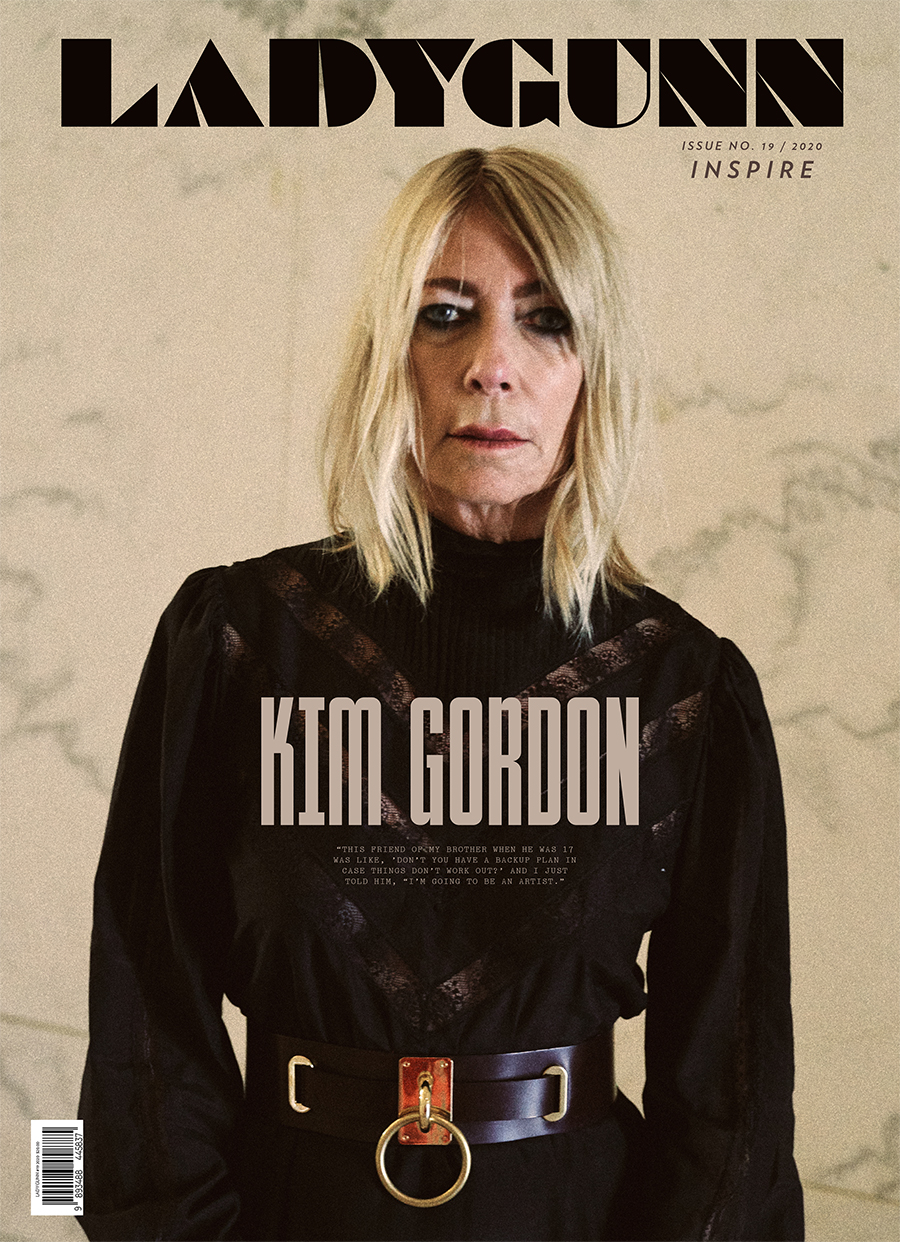 ---
PHOTOS / Janell Shirtcliff
STYLING / Turner Turner
HAIR / Paul Rizzo
MAKEUP / Tamah
NAILS / Chelsea King
STORY / Koko Ntuen
SHOT AT THE HOLLYWOOD FOREVER CEMETERY