Story // JoAnn Zhang
Photo // Teo Rojas
Stylist // Paulina Vallejo 
Hair // Robbie Martínez 
Hair Assistant // Olivia Coutiño 
Makeup // Daniel Xinc 
Production Assistants // Brujo Latino, Jaca Pineda, Mía Ivanna, Emily Ortiz
Vane Bon, of fashion project VANEBON, and Andrea, aka independent filmmaker Motero, are two sides of a similar coin. They both have invisible eyebrows and microbangs. They are both Latina. From the conjoined neck of their collaboration, Vane emerges as the fashionable one: she has dressed Björk and Rina Sawayama, and arrived on Zoom adorned in chunky gold jewelry. Motero, with a patchwork of tattoos on her arm, enjoyed a cigarette in the background as I interviewed Vane, and later spoke at length about maintaining her independence as a filmmaker. If Vane is the fashionable head of the hydra, then Motero is the cool one. (Disclaimer, they are both fashionable and cool.) Together, they are working on a film that VANEBON designed a custom capsule collection for, which promises to dig into femininity, ritual, and sexualization, and above all, turn your expectations inside out. They question the everyday habits of women— how their everyday routine, calcified in repetition, might be, underneath a coat of sugar, the ribs of the patriarchy. The two artists are writing the script together, and are still in the early production stages, using the crowdfunding site Kickstarter to help finance the film's equipment and pay their contributors. Anyone can contribute to their film, and the photos posted here are stills from a teaser they have released, where we see sequences including a slurry of cooked beans oozing down an exposed torso. The scenes span a range of emotions large as life: tantalizing, shocking, revolting, and above all sensual.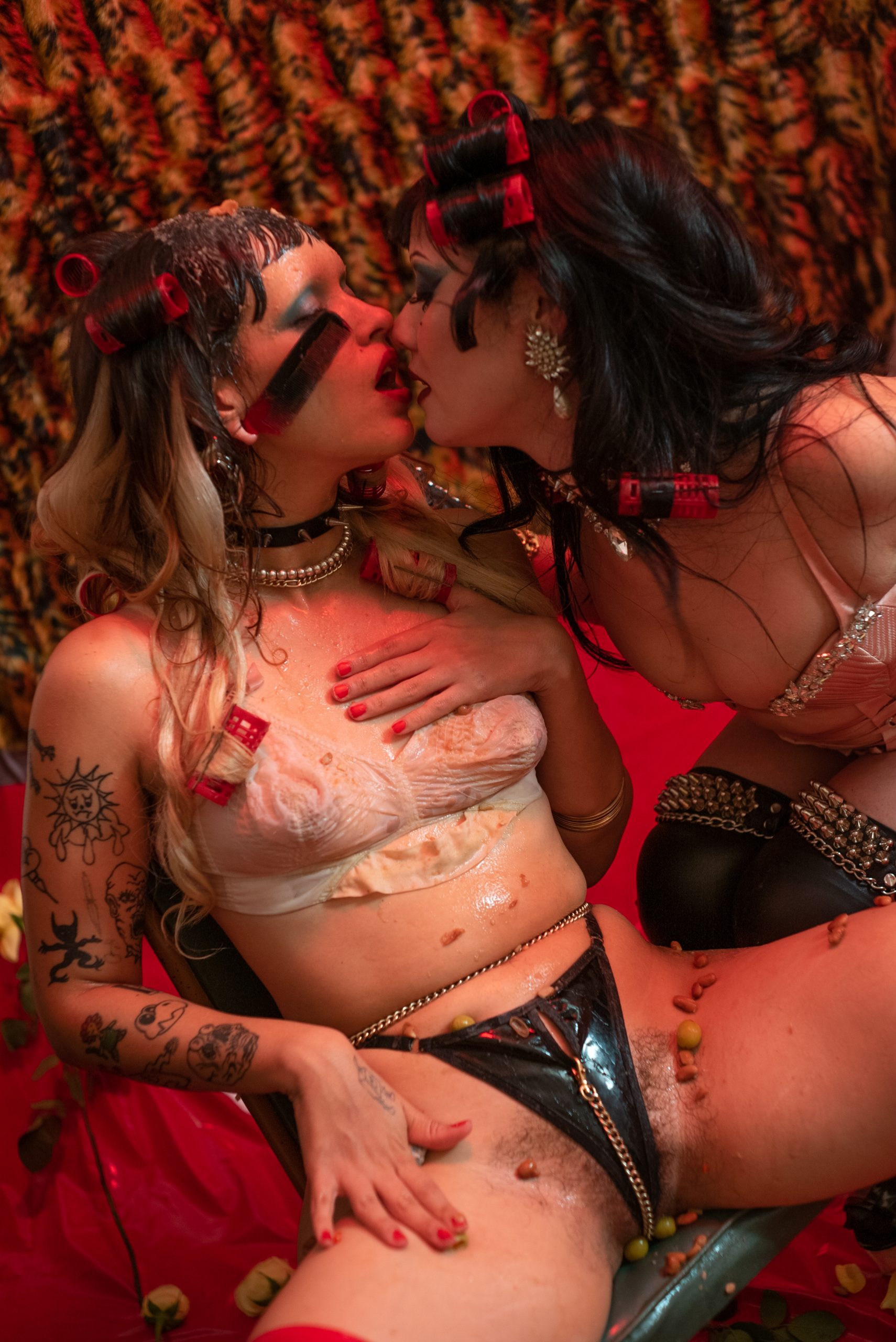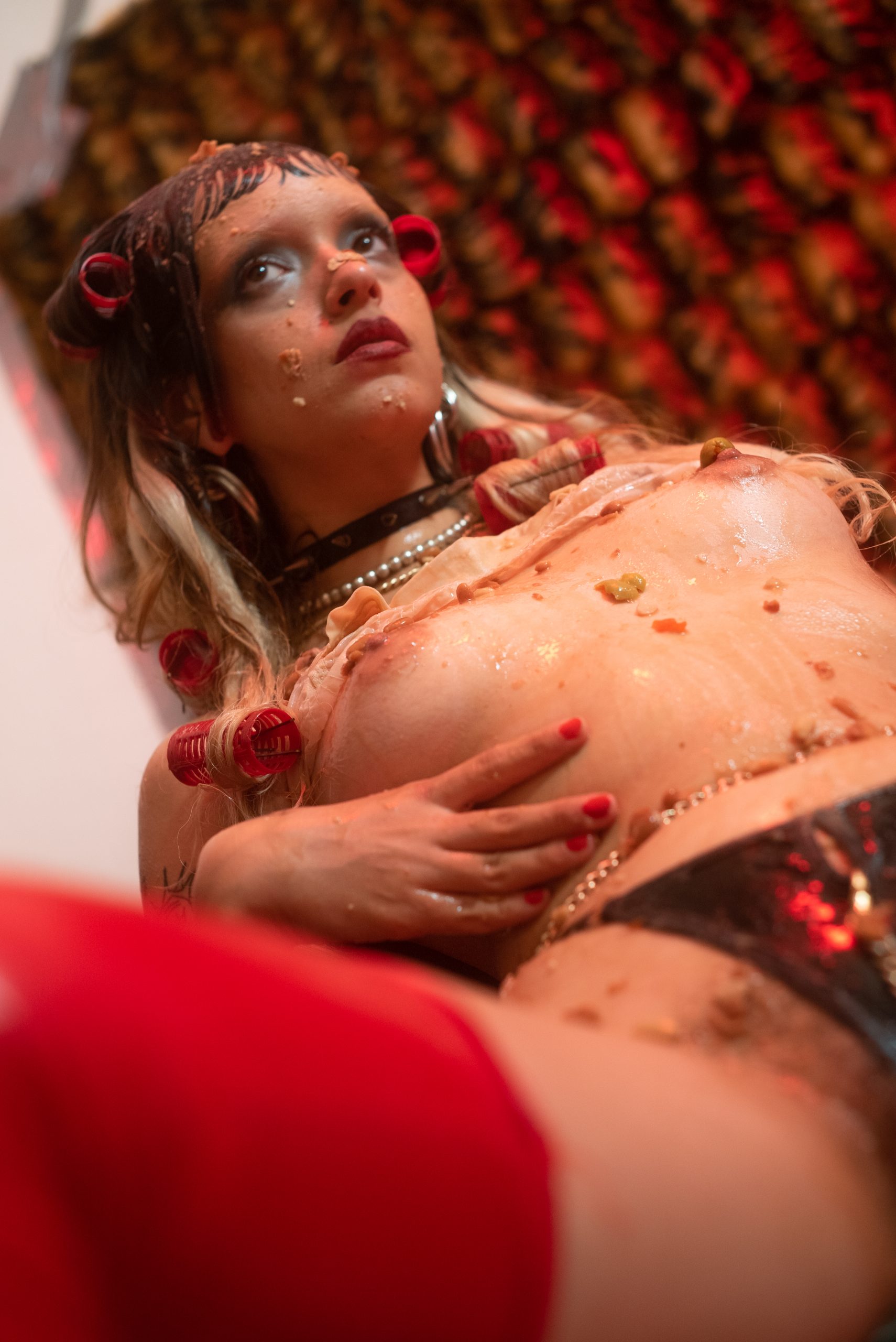 Kickstarter link here: https://www.kickstarter.com/projects/moteroxvanebon/motero-x-vanebon/rewards
What was the thought process behind the concepts of this film, such as the experiences we "submit to as women"?
Andrea: 
I think it's something I always tried to do. But this is the first time that I'm doing it in a more humorous way, or fun way. I think all my previous short films are more dark. I take these ideas that I feel afraid about, or submissive to, as a woman, and try to humanize them or find a way to get in touch with them. It's a very important process for me. You know, the idea of being pregnant or the idea of me doing domestic work, being a housewife, taking all these ideas and trying to make fun of them. 
Vane:
That's what I love about working with you, Andrea, because I think there's this energy of addressing things in a very direct way. But humor is the most wonderful way that I've seen you do it. And I read the script, and I'm like, why am I laughing? Like, this is really good. But it also makes you think about things because it's important. I find it a really nice way to work, because these topics are important. But it's always more interesting to address them from humor or an entertaining way. They're better received that way.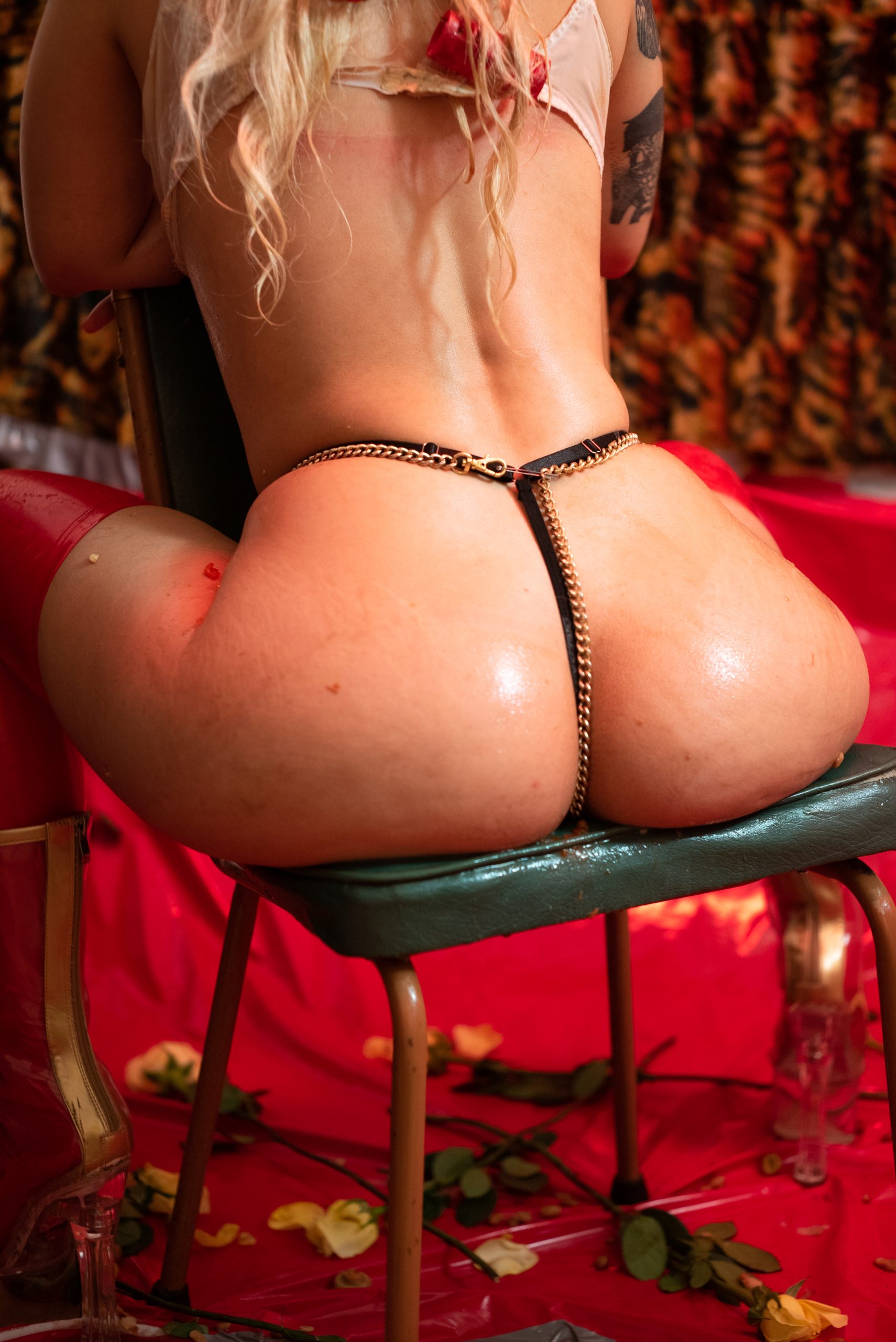 How has your independent work inspired this collaborative one?
Andrea:
So something, like, about being sexualized beings, it's from my photography project Motero. I always try to include things, like: as a sexualized being, I also poop, I also throw up. I include that all in my human experience, and not only include it, but make that one of my first tools of work. I'm gonna portray myself as a sexualized being that throws up. So I think that also brings humor, but it also can be a little bit challenging to think about, even for myself, because even if I publish these pictures or make them part of my photography project, doesn't mean that I'm comfortable with it. But if it doesn't scare me, I don't think it's worth doing it. If it doesn't challenge me, I don't think it's worth doing. If it didn't push you to the limit.
Vane:
VANEBON is a project more than anything. It is fashion. And that's where I'm primarily trained in, and what I particularly love doing, but I think we've tried to make it— we, me whatever— I've tried to make it vulnerable, and a project where we also do a lot of other artistic disciplines. So I invite a lot of people to collaborate with us, and do things that are not just fashion. Like, how can fashion serve in different disciplines? How can I? So that's why we're doing a film. And that's why in the past, I've done sculpture with other artists, fine art, and I did a short film before as well, where it was, yes, a fashion film, because there's fashion in it. But it's just a film that I happen to make from my creative training, you know?
Part of the film is about reclaiming sexualization and being sexual. How do you imagine that in the film?
Andrea:
I was talking with a friend about it, and she said, desire is what moves you, desire is what makes you do things. And if you're being an object of desire, you have control, you're making people move. So I was thinking, if I'm very sexualized and I'm an object of desire, if I retake control of that, I can gain from opposition, that benefits me. And that's not always the case, you know, but when I think through projects and through art, then it's very— (laughs)
Vane:
Further, I feel it's about being aware. As a woman, you're always being sexualized, and Motero and I always post stuff— even on the VANEBON brand Instagram— I don't care, I'm getting on all fours in a mirror. And I'm like, just covering my boobs. I'm not even trying to sell anything, I just feel hot, and I know that, as we said, there is an energy that drives people when you are in that position. But as long as you're aware of what you're doing (and I think it's also true that it doesn't always work out) but at least you know where you stand. And as a woman, in most situations, like if you watch "The Office" or any TV program, women are always sexualized, in the workplace and just walking down the street, in all these different places. If you have that powerful information, and you know what's going on, then you act from there and try to regain your position with yourself in charge of that sexuality.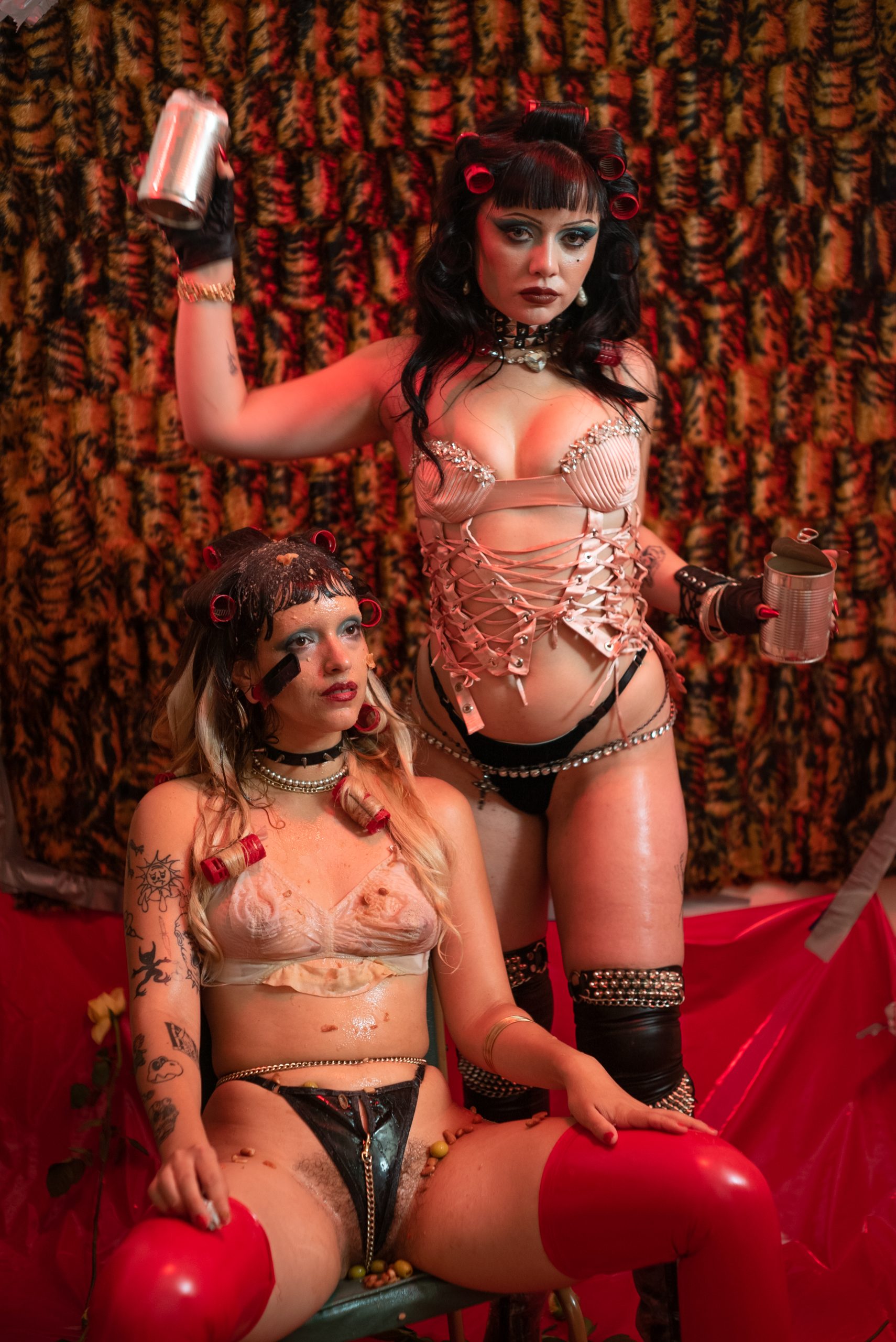 There are some burgeoning feminist movements, such as the 4b movement in South Korea, that are fighting the patriarchy by completely removing them from the equation. Their tenets are: "no heterosexual sex, no heterosexual marriage, no childbirth, no heterosexual relationships." Are these ideas of cutting men out of the picture also part of your feminist thinking?
Vane:
The thing is with you and how you feel. Obviously, men are part of the equation because they're the opposite sex, and you're doing things, and you're addressing messages. From my perspective, I never tried to change men. It's about me and how I feel in an environment. It's very important to be heard when I've got something important to say, or when I'm at work in the studio. The studio is three men and me, but they're three wonderful men and I don't have a problem with them, and we work just fine together. We're not excluding men, but it's just like, we don't even think about you. We're just doing this. I think it's more about talking. We're not particularly trying to send a message to them. No, we're just doing this. There is obviously a message that will translate but it's not our goal, to translate a part of feminism. We're just doing this and we just like ideas and the visual universes of these roles of domesticity, when you're at home, how can we address that from a point that we really love.
Who are some people who have inspired your thinking? 
Andrea: My mom is a very feminist woman that I admire a lot. And she taught me a lot of what I think right now, that is, the same system that doesn't benefit you is the system that makes men act a certain way. And that doesn't mean you have to submit or tolerate certain things. But if you think critically, they're also having a bad time. Like, dude, you're fucked up. And it's fucking me up. I still don't tolerate or submit to anything. But I also like that idea, because there are people out there, cis men, that are open to hearing.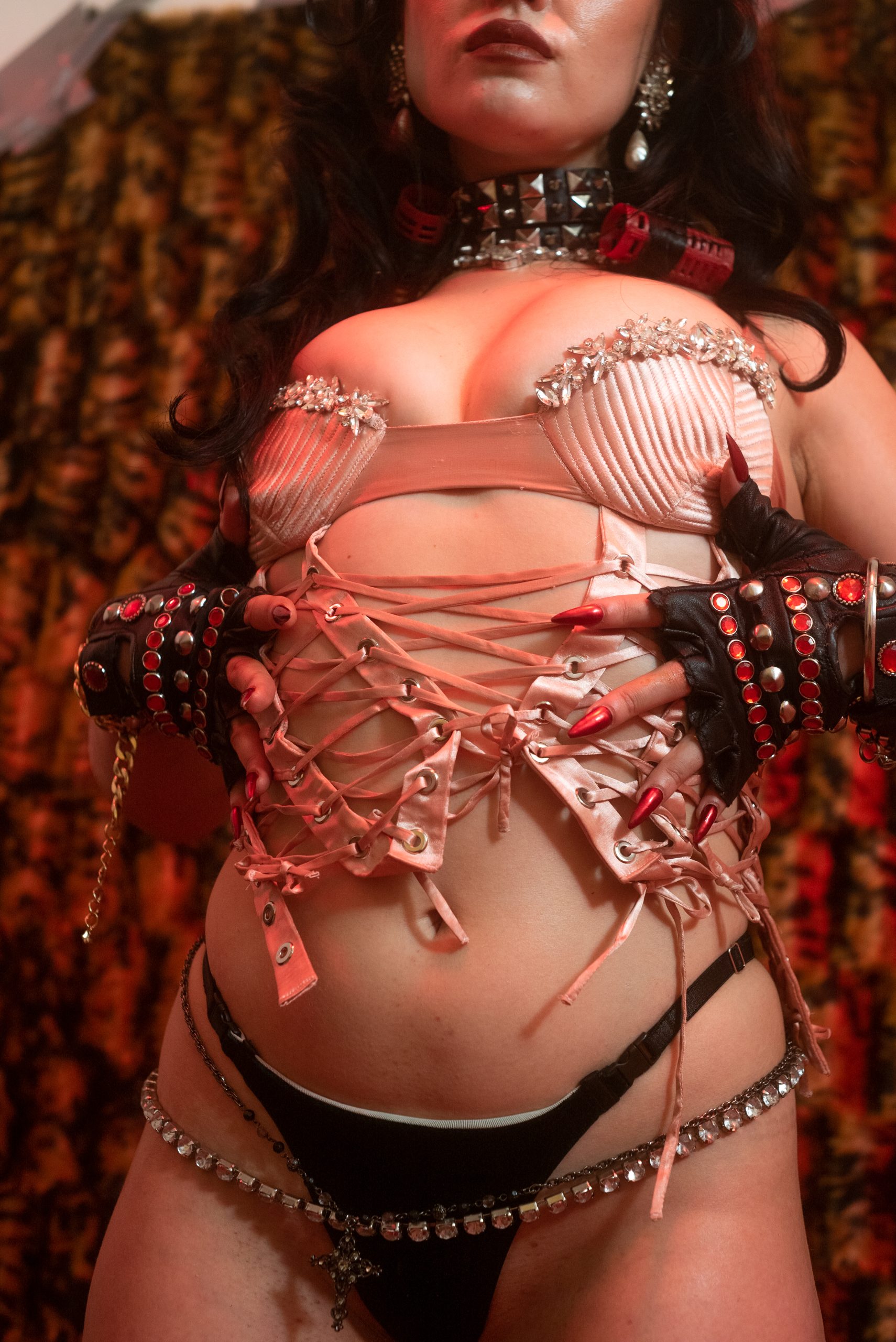 CONNECT WITH VANEBON