Hard work and attitude make up an already winning combination for anyone in any field but add some real, tangible talent to that mix and you got yourself something that seems… inevitable. Such is the cocktail of abilities which Sumi X is working on right now, and her debut single "
Electric Baby
" is her way of stunning and making a strong, lasting first impression with all of us.
The rising pop star was Born Sumi Krishnan in Pittsburgh, PA. The Daughter of two proud Indian immigrant parents who taught her all about hard work, ethics, and relentless dedication to pursuing her goals and dreams. When she was eight years old,
Sumi
watched her older sister play the flute in a marching band and she was transfixed by the muses ever since, later joining her school's band with the trumpet and even winning the esteemed "Jazz at Lincoln Center"  accolade as a senior and sharing the stage with Wynton Marsalis. 
Music took a backseat role in her life for some time, after graduating college, she started and scaled a 200-person IT and management services company, winning numerous awards and media recognition including Inc. Magazine's "30 under 30" and making Inc. 500's "fastest growing companies" list year over year. 
After a downtime of about 10 years,
Sumi
realized there was one goal for her worth pursuing that she had abandoned. Music called out to her once again, so she sold her company off and made a move to Nashville to get working once more in her passion.
Tell us a bit about Sumi Krishnan from Pittsburgh.
Sumi Krishnan from Pittsburgh is the reason why I'm here today. When I picture her in my mind, I see a wide-eyed little girl with a big heart and big dreams but lacking the confidence to take her creative dreams seriously. The dream in her heart was to be a singer, songwriter, and performer, but before she would get there, she'd end up pursuing another path.
But one thing about her – when she puts her mind to something, she makes it happen. She gets that work ethic from her parents. Her tenacity and will to succeed are the reasons why Sumi was able to start and scale a healthcare consulting firm. 
If I'm honest, Sumi also grew up feeling like an outsider – an outsider to others – as she was bullied while in school for being Indian American… and also an outsider to herself –  following cultural norms and expectations for success and achievement instead of listening to her own heart. 
While this path hasn't been linear and Sumi's had to adapt along the way, I'm so proud of her journey and so excited to share the courage she has to live life on her own terms.
And who is Sumi X in contrast?
Sumi X is the reason why I work so hard every single day – she is the battle cry of my soul that we're here to create our dream life, to leave nothing left unsaid and undone because our time on earth is limited. Sumi X is a safe haven for dreamers like herself – she knows that being yourself is a superpower and she wants others to be free to be themselves and to know they are loved just as they are. She models by example the truth that, if you don't fit in, it's because you were born to stand out. 
So many of us don't feel like we have a place to call home, a place we truly identify with and that's okay. It's okay because there are so many people out there in the world that feel the same way, but maybe feel scared to talk about it publicly.  Sumi X creates a space for these gorgeous beings to co-exist and create a community.
The ever-green question to nascent artists: Who inspires you? Who has influenced your sound so far?
I'm inspired by any artist who is fearless enough to be themselves and who has something to say. Lady Gaga, Rihanna, Lana Del Rey, to name a few.  
Growing up, I listened to a lot of The Beatles, Led Zeppelin, Nirvana, and Pearl Jam. I also loved early R&B… I remember listening to TLC's Waterfall on repeat on my tape player… having recorded it from the radio to learn the lyrics. I'd sing it nonstop around the house, much to the annoyance of my three sisters! 
I've recently been really digging the sounds of Saint John and am inspired by the marketing prowess of newer artists like Ice Spice.
How would you define your sound and your style?
It's something like living inside a disco ball that's spinning in a temple of self-love and collective empowerment. Sonically, I'd say it's Lana Del Rey meets Rihanna. 
What do you feel is your biggest musical asset? What's the foundation upon which your music is and will be made?
Courageous honesty. I'm not afraid to use my art to tell my truth and to use my music as a way to explore and express my most authentic self. My music stands on the principle that we are all creators and we have the power to create our dream life. For me, that dream life is music. 
I'd also say that playing the trumpet from 5th to 12th grade gave me a solid musical foundation. Winning Jazz at Lincoln Center and being mentored by Wynton Marsalis taught me music. I sang jazz vocals in college and you can still hear a heavy jazz influence in my vocal delivery. It's definitely added to my sensibility.
How do you see yourself as a songwriter? what topics and ideas do you like to explore the most when making a new song?
With every song I write, I share the spectrum of my feelings – the highest of highs and the lowest of lows. I think people resonate with that vulnerability because they can see themselves in our shared human experience. I love to explore the very nature of being human – dreaming big dreams, being in love, massive disappointments and loss, the yearning of life itself to create and express. I'm so very grateful for this gift. 
As a Songwriter, you must be sitting on a heap of songs you're eager to record and release, so picking and choosing was probably not that easy. What made you go for 'Electric Baby'?
This is a great question because each of my songs speaks to different facets of my experience – lived or observed. I ultimately decided to go with Electric Baby because it captures a moment that we're all so familiar with – the intoxicating passion of young love or infatuation. Spoiler alert: we're currently in the process of shooting the video and I think fans are going to love the plot twist – in the end, it's about finding out that true love isn't toxic infatuation that you can't seem to get out of your head – but instead knowing that you yourself are the electricity in every situation.
Of all of my current songs, Electric Baby took the most blood sweat, and tears from me to get it to its final state. It just felt appropriate to birth it first and not have it wait any longer. 
What have you got planned this year? When's the next release?
Buckle your seatbelts because this is the year of Sumi X. My team and I are currently finalizing the release schedule for the singles from my debut EP. I'm so excited to share what we've been working on. Next up we've got Bad Decisions. I think this is gonna be the perfect anthem for Summer *wink, wink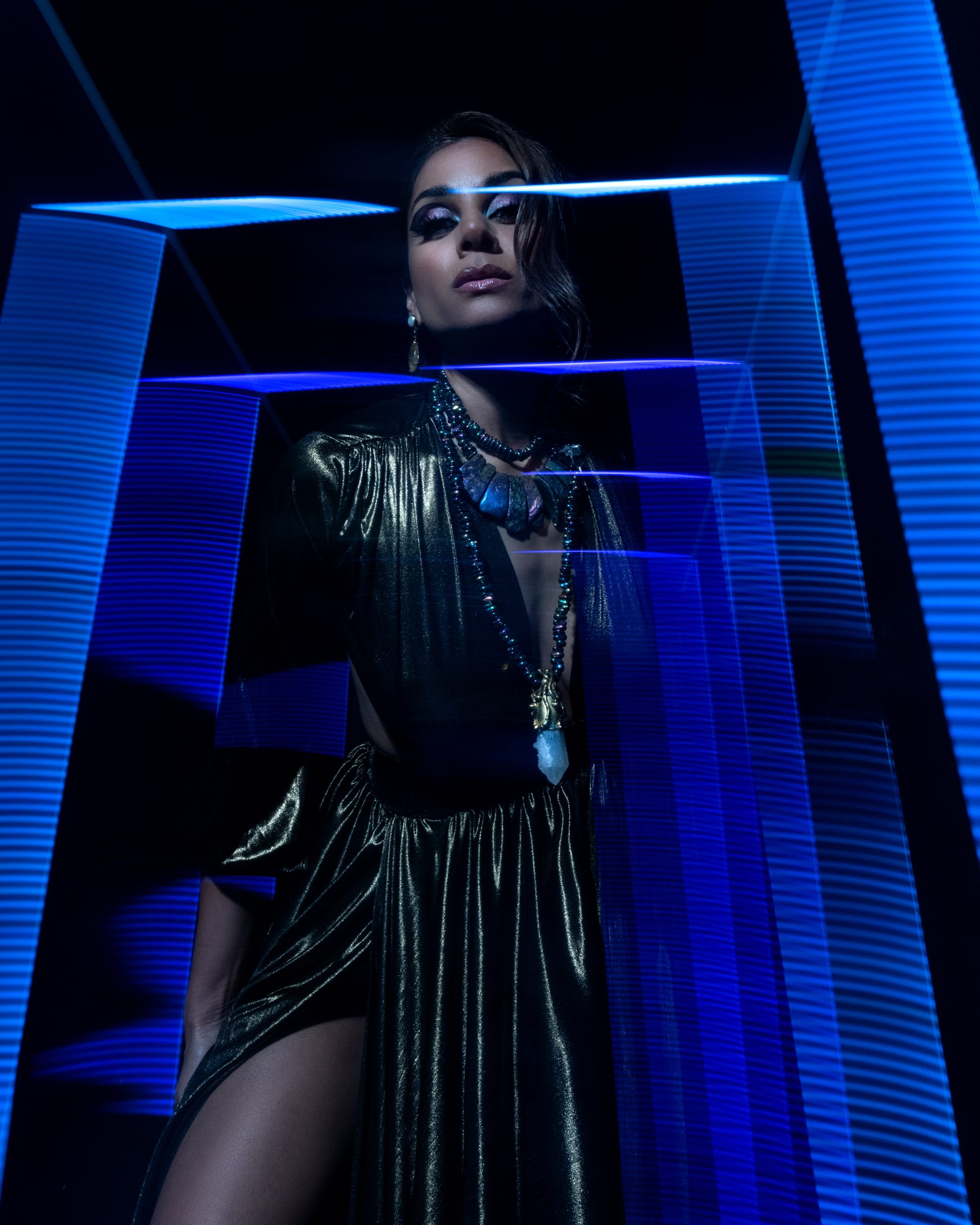 FOLLOW SUMI X