Vogue Giambri is a playwright, director, Jazz Baroness, and un-diagnosed poet. Vogue received her BA at The New School in Literary Studies & Theatre, where she immediately made friends with the Jazz School and dove head first into the music scene in New York. Writing plays and poetry, and performing her writing with live jazz in venues like Cornelia Street theater and Three of Cups. In 2018, she moved to London to pursue her Masters at Central St Martins' Drama Centre where her play 'ROBBED' premiered at the Arcola Theater. In January 2021, Vogue made the move to film and to Los Angeles, CA. In the last year and a half she has written, directed, and produced three short films: 'Are there bobcats in New Jersey?' which was a Vimeo Staff Pick 2022,  'You Ruin Everything' a lesbian horror film, and a short film based on a piece from her upcoming poetry book 'Nothing Left To Ruin' both of which are in post-production and set to be finished this Fall. She also made a skate film where she convinced pro skaters to write and read poems they wrote over their clips called "How many kickflips I gotta do for you to love me?"
'The Jazz of Our Lives' is her first venture into the fashion film world, a memory jazz poem following a relationship that thrives on fighting. The film features the archives of streetwear brands COME TEES and Frankies Bikinis.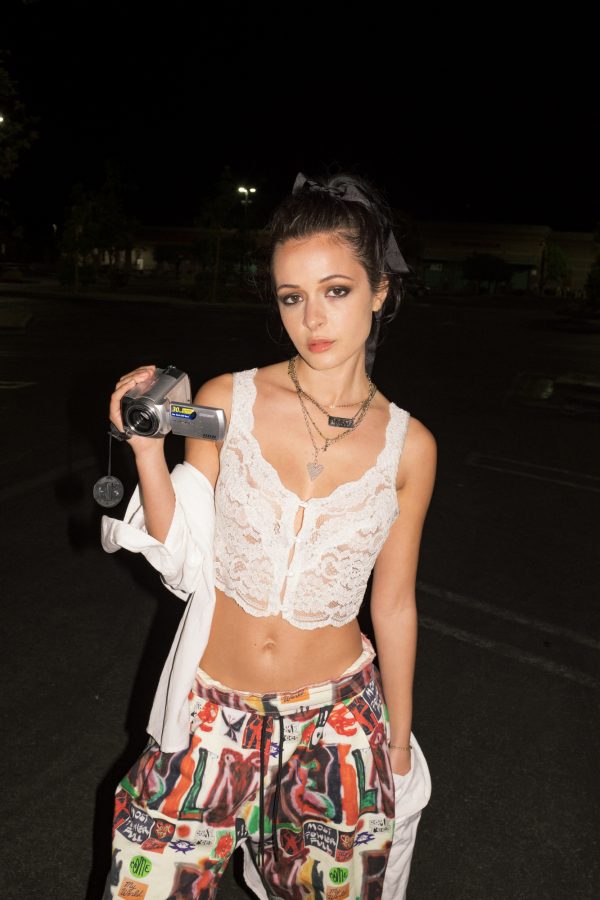 Lauren Fern: Hi my long-distance lover, can't believe we finally get to showcase this project of ours. Thanks so much for bringing me along for the ride and tossing me in the ocean. Whenever I work with you I feel fearless and I feel like a rockstar, it's always so much fun. Let's get into these questions and finally give everyone a glimpse into your jazzy mind. Why did you name it "Jazz of our Lives"? Where did it come from?
Vogue Giambri: I love you, I hate you, you're drama, you make me happy, you ruin my life, yada yada yada, but at the end of the day you'd be bored without the jazz of our lives. I'm not sure it's a universal thing. Maybe it's just a me thing. I'm sure it's not. My best friend texted me after seeing the first cut and said something like "it makes me hopeful and confused." I love that. I want to make people feel two conflicting feelings because that's the story of my life and the story I need to communicate right now so I can understand it.
Lauren: Who or what inspires you??
Vogue: Frank O'Hara. Art Blakey & the Jazz Messengers. Curtis Fuller. Sam Shepard. 'Moby Dick'. 'The Picture of Dorian Gray'. Skateboarding. Being on the ocean. Paris. The theaters in London. Strangers. New York City. YOU.
Lauren: Do you believe in love?
Vogue: I don't know but when I was watching David Lynch's 'Wild at Heart' the other night, I was thinking to myself; "Wow this movie literally illustrates love and passion." And for a second I was like have I ever been in love? Will I ever find love? And I had a flashback of being wild and in love with my ex-boyfriend in London and I literally cry gasped out loud for 15 seconds and moved on like. Ok. Fine. So maybe? Sometimes I don't trust my memory.
Lauren: How would you describe your personal style? How do you express what you're feeling through your personal style?
Vogue: *laughs* My style is pretty much your character in"Jazz of Our Lives." When we were dressing you everyone was saying 'ok so basically it's just Vogue'. In my fantasy, it's like I wanna feel like a hot skater chick who steals her boyfriend's clothes. I wanted the film to have that feeling of sharing clothes like it's their love language.
Lauren: What was your favorite memory working on 'Jazz of Our Lives'?
Vogue: When you got thrown into the ocean even though you can't swim AND get sea sick. *laughs* Everyone was like "Vogue are you sure you want to make her do this?" like I was some monster. I'm like "Don't worry she WANTS to do this". And then when we had Will strip almost naked and jump into the freezing ocean waiting to save your life when you get thrown overboard. So fun. I will never forget it. The weather was perfect. The sun. The ocean. Ugh.
Lauren: What is your biggest dream as a filmmaker?
Vogue: I want to get to do whatever I want and imagine. Where I can hand pluck 10 of the best jazz musicians in the world. Put them together. Have them compose an unsettling love song. Write a film inspired by it. Have it take place on the moon. Get Angelina Jolie to play my mother. Animate a portion of it like a princess video game. And then celebrate by throwing a huge party, open bar, SZA performing, red carpet premiere, even if the film is only a few minutes long.
Lauren: Where do you feel most inspired?
Vogue: Walking.
Lauren: What absolutely pisses you off?
Vogue: When I visit home and I turn into a little kid again and act in ways that I spent a long time working on not acting like. 
Lauren: What scares you the most about being an artist?
Vogue: Well my favorite thing about being an artist is being able to collaborate with anyone. So I guess what scares me, and it's not a rational thought, is that no one will want to collaborate with me anymore and that I suck.
Lauren: How do you usually get over writers block?
Vogue: Go for a really long walk. Smoke pot. Cry. Try to write down what I see or smell or hear and it usually turns into a tangent that turns into something else.
Lauren: What's your favorite film?
Vogue: 'Fat Girl' by Catherine Breillat. Or 'YiYi' by Edward Yang. Or most recently 'Official Competition' by Mariano Cohn & Gastón Duprat, and obviously 'Wild at Heart' by David Lynch.
Lauren: Why this brand? And why a fashion film instead of simply another narrative short?
Vogue: I'm such a theatre nerd but for some reason, a lot of my friends are in fashion and I've been around fashion in New York City and around Parsons and I always felt like I didn't fit into the scene or that I couldn't fit in or wasn't cool enough or didn't know enough, so I kinda have been a fly on the wall about it trying to figure my way in. Then I knew I wanted to make a film and I'm lucky that I got to make this film with all of my really good friends. I think COME TEES is really punk and something I would wear to make myself feel hot when I went skating. I realized the freedom in fashion films and I just made a film full of my obsessions and fantasies.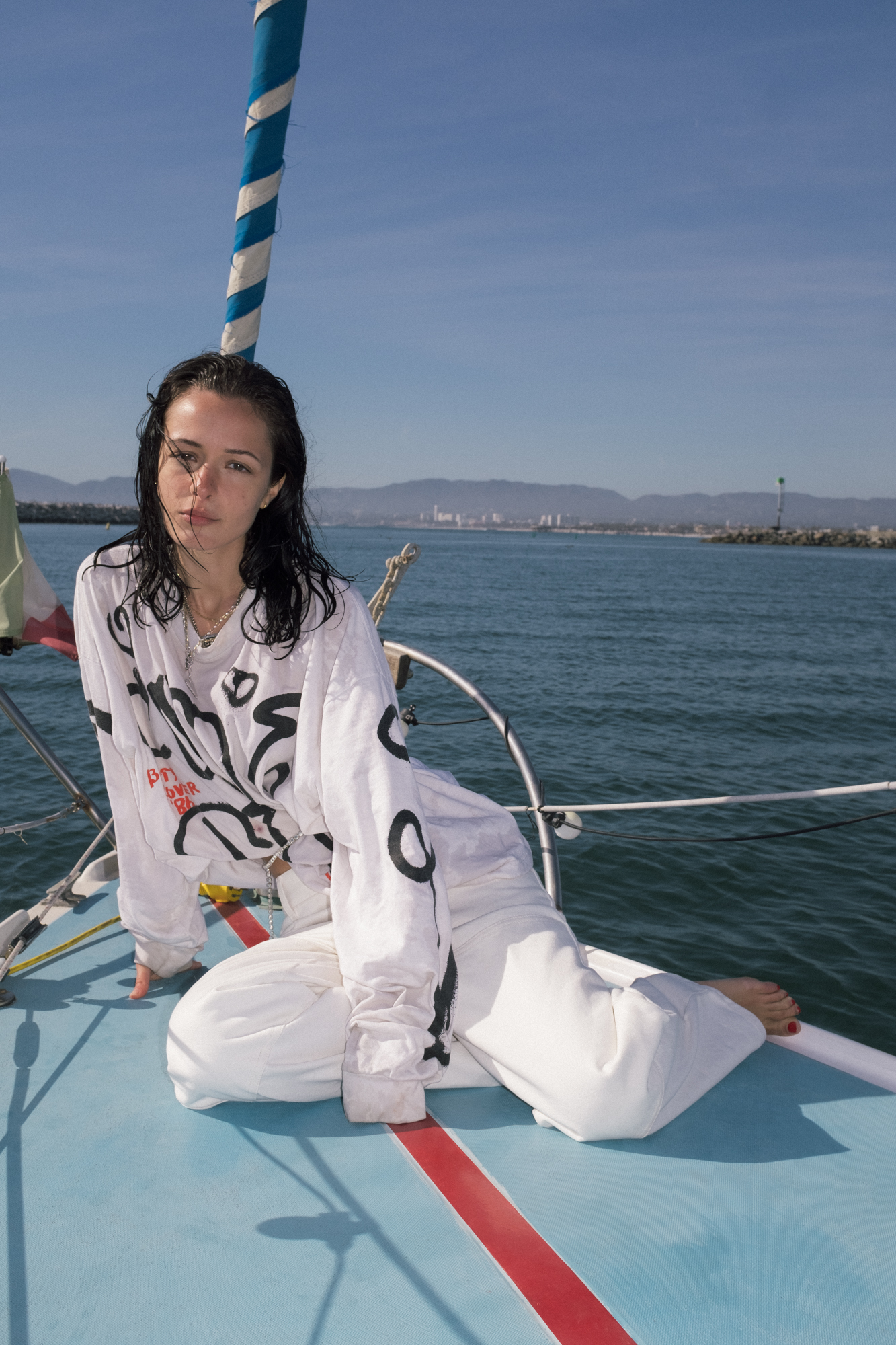 Written & Directed by Vogue Giambri Starring: Lauren Fern & Colin Sussingham Cinematography: Germano Assuncao Original Score by: Ravi Campbell Styed by: Kat Typaldos Makeup Artist: Katie Mann Hair: Sera Sloane-Lippman Produced by: Vogue Giambri & Kat Typaldos & Fernado Ruiz & Andrea Longacre-White Associate Producer: Will Gisel Edited by: Jack Hessler Key Art: Brinton Jaecks Boat Specialist: Tony Chiusano Voice Over: Victoria Ratermanis Special Thanks to COME TEES & Frankies BikinisPhotos: COLIN SUSSINGHAM