Top,  Malan Breton. Dress, 42/54.
 The first thing I noticed on the zoom call was the wallpaper. Cheetahs draped over tree branches looking powerful, strong and confident. These same qualities radiate from Natacha Karam as LADYGUNN caught up with her and talked about filming the second season of "911: Lonestar" in a COVID-shaped world, what it really means for her to put on boxing gloves, and the trip to the 99-cent store that changed lives.  
Natacha talks to us as she resumes filming season two of "9-1-1 Lonestar" after production was halted due to the COVID-19 pandemic.  In the crime drama, she plays Marjan Marwani, a Hijabi firefighter. When it comes to acting roles, she has a type: unstereotypical, strong female characters that are changing the representation of women on screen.
The French-Lebanese and Northern Irish actress's career in acting began in London, where she recalls going to auditions for the role of someone's girlfriend or someone's wife and there "wouldn't be much to the scene." When her agent would call and ask for feedback, the director would say "there was just something a bit more than necessary there. I just wanted her to be just someone's girlfriend."  
Natacha knew she was more than "just someone's girlfriend." Her time in London was shaped by multi-faceted female role models that inspired her to explore boxing and to challenge her physical capability. What started as a part of personal training sessions became an integral part of her identity and changed her life entirely.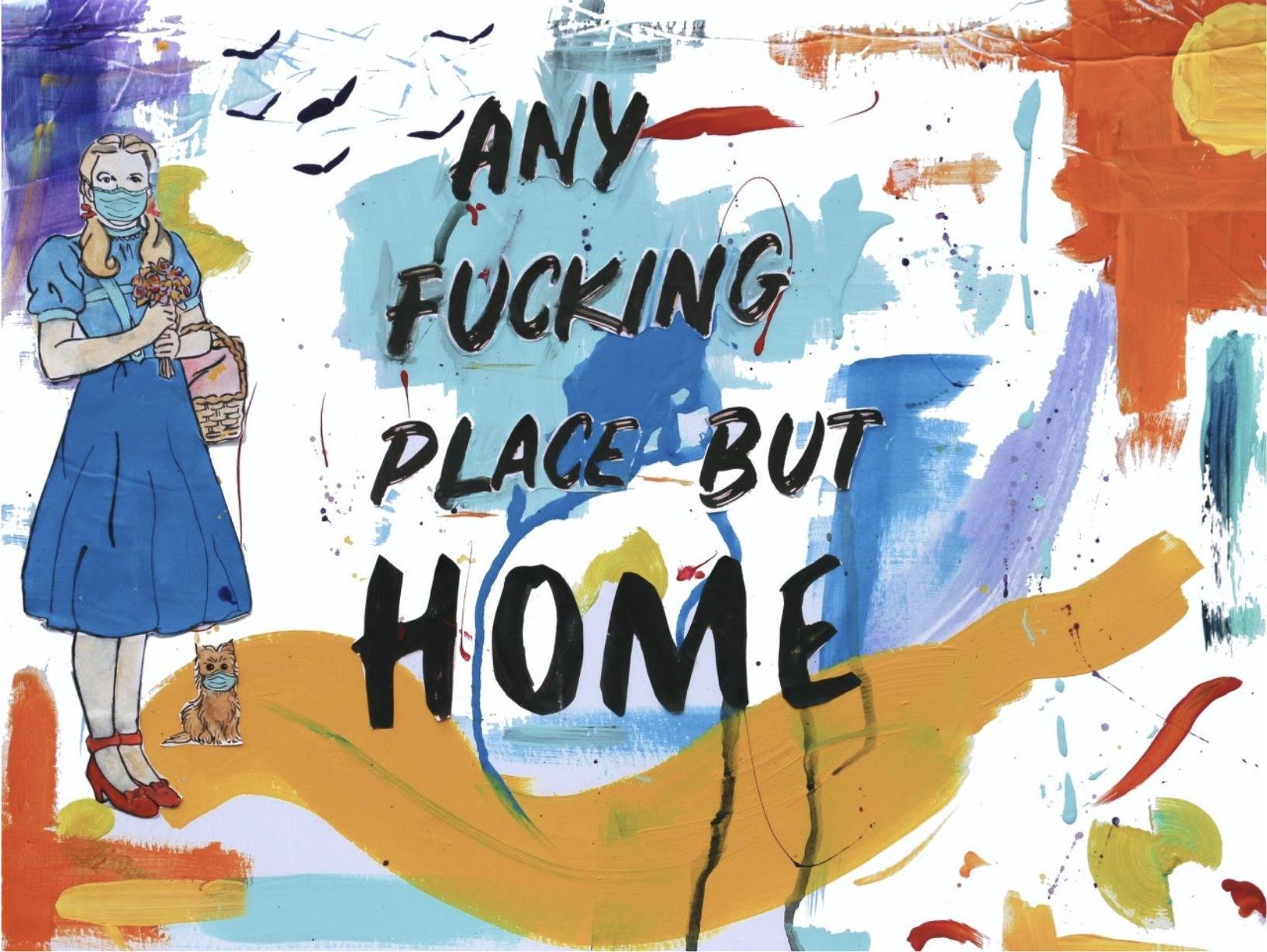 As someone that is used to bouncing from set to set, hitting the boxing ring, and hopping on planes for business and pleasure, when the world hit pause in March, Natacha was left with an uncomfortable amount of free time. The question of how to spend the days led her to pick up a paintbrush and start creating.
Her work is a satirical take on the chaotic uncertainty of the the world, incorporating iconic fantasy characters. A personal favorite is The Wizard of Oz's Dorothy, adorning a facemask. The background is a crazy mix of colors and the stand-out statement reads "any fucking place but home." What started as a way to pass time transformed into a small business that has raised over $8,000 for the non-profit organizations, BLM, KidSAVE and DINEONEONE.
It is hard to characterize Natacha as simply an actress when there is vivacious energy put into boxing, painting and reclaiming what it means to be a woman in today's world. She is "naturally nothing but determined."
How is it being back filming onset in the COVID-19 world?

 
It feels so good to be back and playing. The night shoots for us is when there's fire, and there's all kinds of crazy stuff going on. I think everyone on set, even though it's 3:00 AM and it's cold,  everyone is so grateful. I think if there's one thing that the pandemic did for everyone, was it made people take nothing for granted. So, the things that you tend to find yourself complaining about suddenly you're finding yourself being grateful for. 
They have protocols in place now so it is very different. A lot of being on set for me, is about the comradery. Here we are a bunch of artists making things together. The artistry permeates the entire set, hair, makeup, lighting, camera department, photographers.  Everyone is an artist and we all get to be artists in space together, have fun, play and build connections.  
What protocols are in place now?

 

Do you feel comfortable being back on set? 
We get tested three times a week. I don't really have anxiety about it being at work. If anything it feels safer than being in the world because there are more regulations. We have to wear masks and then anyone who's exposed to the actors has to wear masks and face shields. We are separated into two zones which allows them to do contact tracing easier. 
 How did you keep your sanity during the quarantine?

 
My little brother came out to visit me in LA for Christmas and he never left. He stayed with me for six months, which was as long as his visitor visa would allow. We had this amazing time that we didn't think we would ever have got together because I'm always so busy. I had this sudden break where I got to soak it all up. I think a lot of people felt fortified in their connections with their family or friends or relationships, grounded and connected. We had a blast. We got matching tattoos a couple of days before he left.  
That's true sibling bonding right there. What is the tattoo of?

 
Well, the Paul Rudd video "Look at us who would've thought? Not me."  We said that to each other so many different moments of quarantine. We did it in like the really high moments and in the really low moments where we were fully discussing yeast and how to activate yeast and make bread with no context of our lives, other than this one task.  I would realize what we were doing, and be like, "look at us, who would have thought," with the satire behind it. "Not me. Absolutely not me." So, we got that tattooed in Arabic with a Palm tree and because of our Arabic background and there were Palm trees everywhere we grew up and then in LA the palm trees everywhere too. I have that moment all the time where it's like look at me who would have thought this would be my actual life.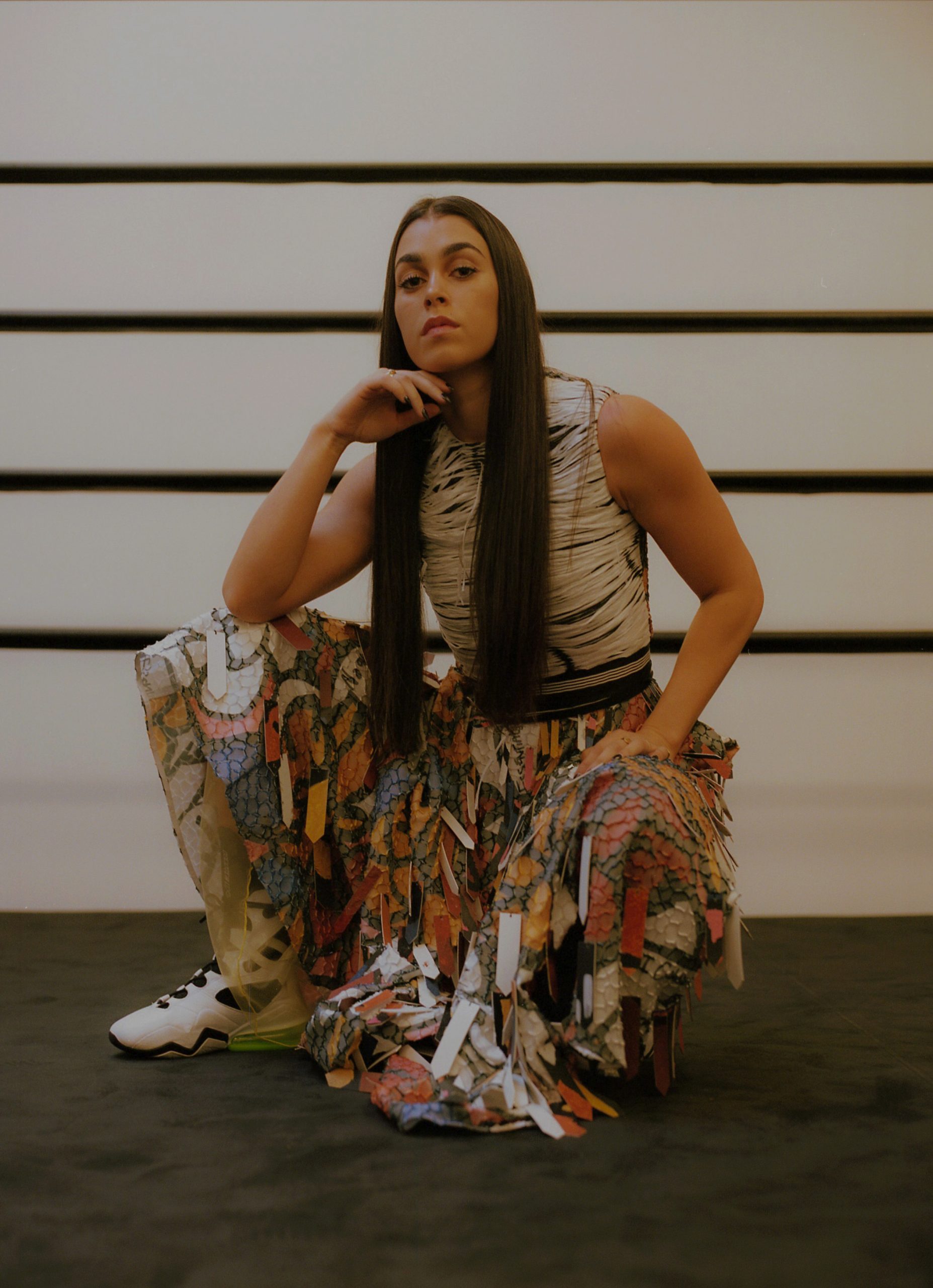 Dress, Teatum Jones.

Black shirt and parachute dress, Bohemian Society.
Natacha's' dog, Cleopatra, enters the video chat. Her appearance leads me to learn about the other tattoo Natacha has which features an incredibly detailed and extremely cute portrait of Cleopatras' face. What inspired this tattoo? 
So, I also got a tattoo of her little face over quarantine. I had no intention of getting her face tattooed on me and then I discovered this artist whose thing is detailed dog portraits, and I was like, wow, I have to. 
Some people think getting a tattoo is a bit cliche, but I like the intentional marking of a moment. To me, it links with my body, my choice. My body is my canvas. I get to do whatever I want with it. This is my body and I am going to adorn it with these beautiful illustrations. For me being an artist, it means something to get other people's art on my body. A lot of people don't know I actually went to art school in London.  
So as a former art student, it only makes sense you were drawn to creating art during quarantine. Did you always intend to sell artwork?

 
Things were wild for me, that was another one of those things where I was just with my little brother in the kitchen, you know, learning how to make sourdough or whatever people were doing quarantine. I live opposite a 99-cent store and there's so much shit in there and I can see it from my windows. And I was like, oh, I'll just buy something to do and brought back a bunch of paint. 
The thing that was lacking was the inspiration and I figured let's do this satire on everything that's going on and make these kind of time capsules for this weird moment.  I needed some purpose. I decided to start an Etsy shop and donate 100% of the profits to BLM, KIDSAVE and DINEONEONE.  I ended up being able to raise over $8,000 that was donated directly to those three organizations. 
From an outside perspective, boxing is an intimidating sport generally dominated by men. What inspired you to pick up boxing gloves and start training?
I had this friend in London. She is one of the most incredible women I've ever met. She's a therapist, a black belt, an actress, she's all kinds of things. I think she was my first example of how many different things a human being can be, but more specifically, a woman.  I would look at her and be so inspired to be more like her or to walk a path more like hers.  
But, when I was a kid I was in a wheelchair and I wasn't physically capable of doing such things. I never did much exercise or participate in sports. Then when I was out of my wheelchair, I was so used to that being my space, the person who doesn't. I had this subliminal messaging that my body is weak. I had this false belief of my body will break. I thought the more time I spent with her in London and the more I got this kind of feedback on the roles I was auditioning for, I started thinking, well, what would match that? What could change? How do people see what I feel on the inside on the outside? 
I think one of the things I know most about myself is that I know am extremely resilient. I persevere and I have the lived experience of things getting better and evolving as a human. I got a personal trainer and there were so many things that I felt like I couldn't do. I couldn't do this squat. I couldn't run, I couldn't do this. I couldn't do that.  The trainer would have me spar at the end of the session instead of running and I started waiting the entire time for that moment.  
I stopped doing personal training and started just doing boxing.  I booked a commercial and I spent half my paycheck on a boxing coach. People thought I was insane. I went from never having done it before to doing it five days a week and having no idea what I was doing.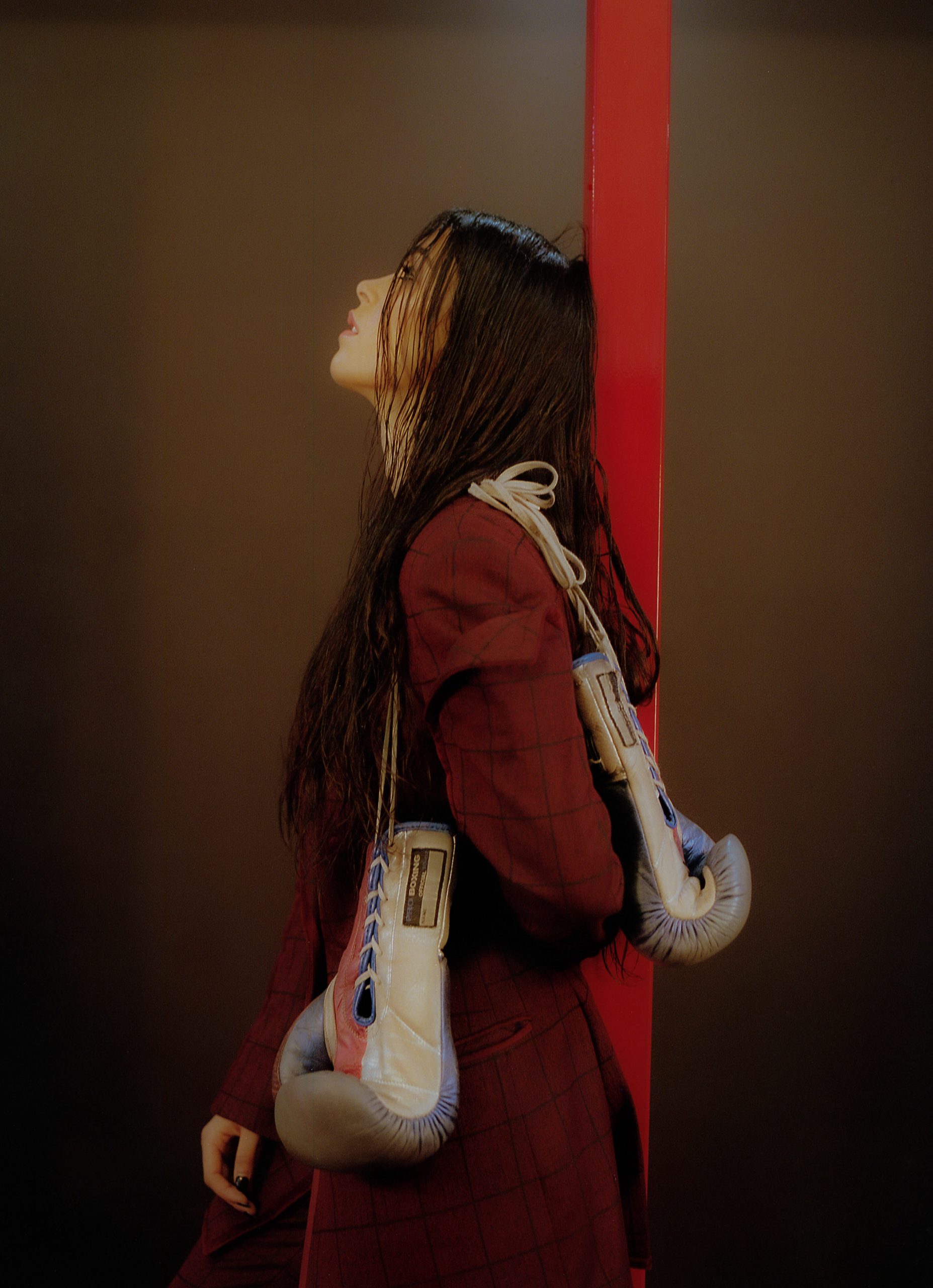 Pantsuit, Malan Breton.
What does boxing mean to you now?

 
I would lose my mind if I didn't box.  I think for me, the simplest way to put it in now is it's a physical embodiment of strength. It reminds me that I am strong in my body and has encouraged me to take up more space. I feel like my body speaks a different language now that I am so much more aware of how capable I am. I look at other women and I see something I didn't see before. I see people's capabilities. I see people's physical stature. I want to help anyone around me to be able to have that embodied experience that I've had of knowing what my body is capable of. There is no one right way or wrong way to be a woman. I want to abolish the idea that women are weak or fragile or frail. There are fragile, frail people everywhere, no matter what gender they identify with. However, the flip side is also true. There are strong, powerful, determined and capable women. 
I think boxing is one of these things where I've learned to have a community through it as well. A community that exists purely because boxing gyms are full of people who are fighting for, or against something. People who want to be in space together, but are ultimately fighting their fight alone. And that's life. It's like everyone that I meet, everything that I read, everything that I learn.  I have all these experiences and I  carry them with me, but they are just in me whenever I have a moment to face all those people like they're with me. 
You have played roles as Jasmine Khan, a special forces agent on The Brave & currently a Hijabi firefighter, Marjan Marwani. How did your castings change after you started boxing? 
My shoulders were broader and my back was broader. I moved in space differently and I felt more rooted and grounded.  I think people started seeing it and my casting changed. I ended up getting a team in America and by the time I was with them, that's all they knew me as. My casting was more focused on action hero and more physical roles. It takes me stopping and telling stories like this to realize how far I've come. There are people who know me now who can't imagine me as anything other than this. I came to America for my first pilot season ever and had offers for military roles and where my career really kind of kicked off was playing a sniper on the brave. From then I had military training and got into weightlifting and things started to change. Now,  I love it so much. It's definitely in line with my sense of self. 
As someone who is in the public eye,  social media can be both a great platform to speak up for what you believe in and also a scary place to be your authentic self. Do you think you leverage your social media to be vocal about the issues you support?
I would like to think I am, but I would also like to start getting more vocal about certain things. I think is so important to be changing narratives and participating in conversations. That's what I do with my career. That's what I do with my job and the roles I choose to pay. They tell stories, they represent humans and women. When those women exist on screens and in those stories, other women see themselves. One of the things about feeling seen is this idea that if you can see her, you can be her. When you erase entire groups of people, they watch TV and movies and look in the media and they don't see themselves. Making people feel seen, humanized and whole, not just as stereotypes is one way of doing storytelling- I see you. I hear you. I know you. I am you. The other way is in conversation, to be able to have conversations with people and be like, "Hey, that thing, I see you, I feel you, I know you, I've lived it." We're all human. 
I love having the opportunity to talk about things that matter. I don't think anyone is above or below anything. And the more you can connect, the more shame can't survive. The quote by Berne Brown sums it up: "If we share our story with someone who responds with empathy and understanding, then shame can't survive."  
What are you watching right now?

 
I watched I May Destroy You on HBO and loved it. Absolutely loved it. I think everyone should watch it if they have not seen it. It has some great storytelling,  great acting, important messages. It is clever, beautiful, well shot and makes me miss London.   
And listening to?
Burna boy.  I find it hard to not move my body when I'm listening to Burna Boy.  The more you start dancing, the more you're like life's okay.   
What outfit do you feel the most confident in?

 
Usually a loud tracksuit. Patterns. Something comfy. Some cool sneakers (Nikes). Where I'm like, I'm sexy, but I'm powerful and I'm casual, but I'm also deliberate.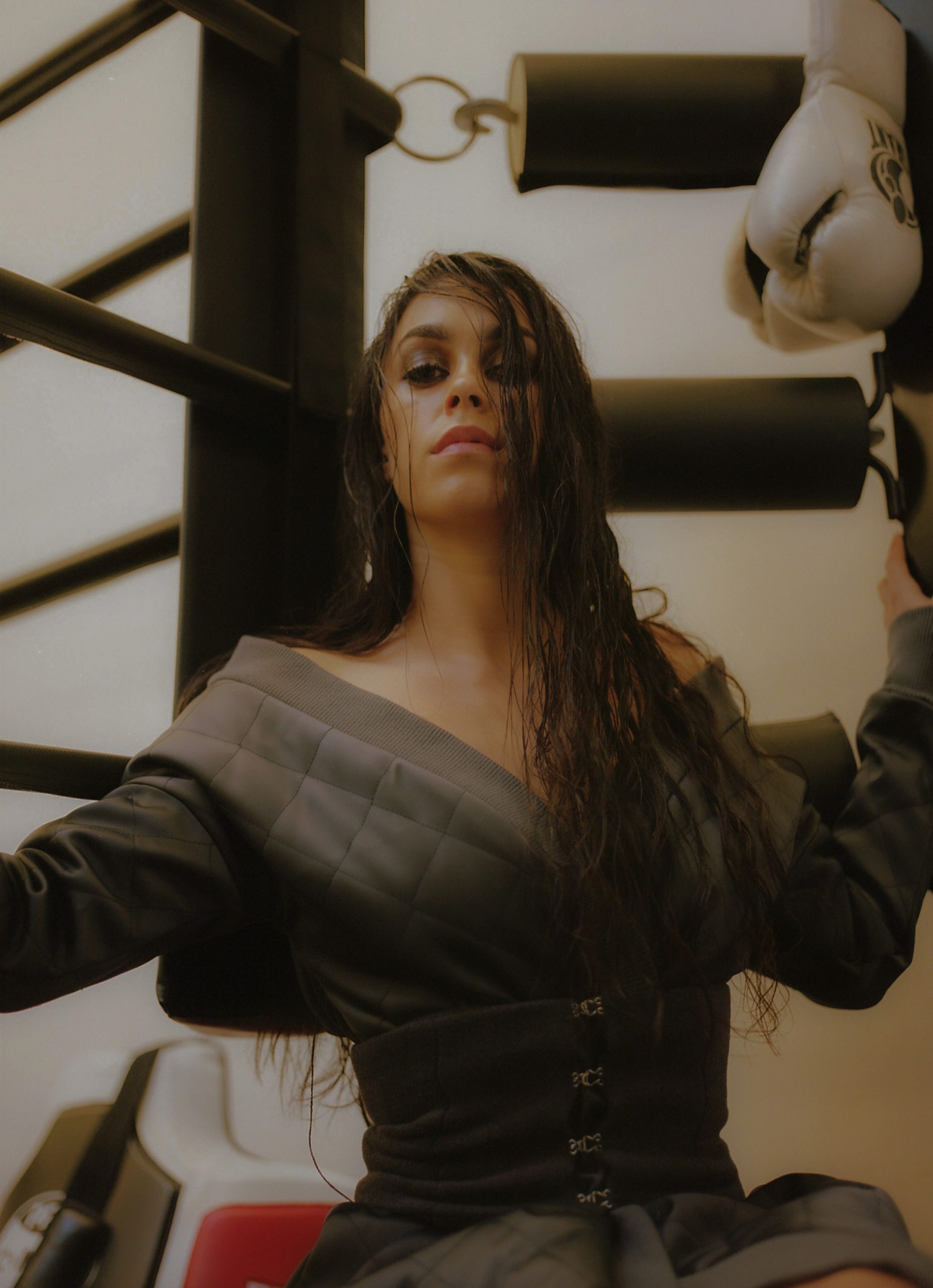 Dress, Abel Honor.
CONNECT WITH NATACHA KARAM
 INSTAGRAM  // TWITTER  // FACEBOOK  
story / Abigale Speight
photos /Mikayla Jean Miller @mikaylajeanmiller
talent / Natacha Karam @natacha.karam
makeup / Anthony Merante @anthonymerante
hair/ Gui Schoedler @guiniushair
wardrobe / Devon Nuszer @devonnuszer
wardrobe assistant / Jannely Gomez @jannely_gomez