Photos/ Emily Malan
Styling / Shahirah Ahmed
Makeup /

 

Bethany Garita
Hair /

 

Nena Soul Fly
story / Koko Ntuen
It's Saturday morning, and DeWanda Wise in on her favorite corner of the couch enjoying her morning coffee and watching her husband and fellow actor Alano Miller run lines on the other end. The light shines in the windows and her cat is meowing on her lap. She hasn't consumed the "the soul-crushing daily news yet" and is "relishing in a little bit of heaven".
Los Angeles is a long way from the various Maryland cities that raised her,  Jessup, Woodlawn, Cherry Hill, Catonsville, Laurel, Silver Spring, and Clarksville was where she called home. She was a popular teen which is easy to imagine with her hazel colored eyes, high cheekbones, and symmetry defined face. "Dumb popular, " she says sheepishly.
"I'm talking Homecoming and Prom Queen, but it wasn't because I was "movie-cool".  I just really loved my classmates. All of them. I thought they were all so interesting, and I never chose a single clique (outside of my Brother's group—The L Mob. Hey y'all!) What's great about being super popular in High School, and to be fair, college too is that you get your fill. So now, in the High School that is Hollywood, I don't concern myself with popularity. I'm happy with my little tribe."
Growing up she wanted to be a theater actor. It's as pretentious as it sounds. She thought the stage, like  Shakespeare and  Tennessee Williams before her,  was what  "real art." was.
"Needless to say,"  DeWanda giggles, "I'm glad I got out of my own way. In my defense, I could not have envisioned at the time that the work I have access to now would exist in Film/TV,"
Success was not a straight path for the actor. She spent ten years being a step away from applying for grad programs, envious of others' success in her dream career, crying and throwing self-pity parties. Her husband  Alano was one of her biggest motivators to keep going,
"Alano is the kind of person who watches Hitch on TBS like he's never seen it before. His optimism and energy know no bounds. He's tireless and gives the greatest pep-talks known to man. There was no quitting in this house for either of us and over the past ten years we've both happily picked up the financial slack if/when the other was going through a hard time career-wise. We literally started from the bottom."
That carefree bohemian spirit that excludes from DeWanda has followed her through her various roles.  Most famously as Nola Darling in Spike Lee's  Netflix series, She's Gotta Have It. Adapted from his debut 1986 feature film, the film went on to attain cult movie status not without its controversies. In her reprised for TV role, DeWanda settled into Nola like a second skin bringing complexities, struggles, and beauty of black womanhood to life. She also suddenly became pushed to the front of the media's watch list as Mr. Lee's new anti-ingénue and star of one of the most talked-about shows of the season.
"Playing Nola and working with Mr. Lee was the actualization of 'If you can make it here, you can make it anywhere.' Our show was incredibly fast-paced, and even though she was a woman who felt impulsive and unpredictable, I could not actually afford to be. She proved to me that I have the stamina, discipline, and leadership skills to be #1 on the call sheet. On the spiritual side, when you come primarily from Independent cinema and theater, you are accustomed to your work reaching the relatively few people it's meant to reach and touch. Nola meant a lot to many people, and I could not be more grateful to have that heart/soul connection with people from all over the world."
The roles that she has taken on have been a variety of personalities and topics showcasing her range. Changing the narrative is something that DeWanda wants to do for not just herself but Hollywood as well. She adds a dimension of naivety & fresh vision that is disrupting the archaic gatekeepers.
"I've been very fortunate to play a vast variety of things. Besides the bohemian vibes you've mentioned before, I've played immensely affluent and bougie in The Weekend,  1860's Gullah in Underground, a grieving mother in Shots Fired,  incarcerated in Firelight, an astronaut in Twilight Zone, and those are just the on-screen things. I've played revolutionaries, a lawyer, a woman living with HIV, done Greek Tragedy and Shakespeare. I'm putting this in print because often folks have seen about 10 percent of most actors work. I don't expect people to have seen everything—that would just be narcissistic and ridiculous—but I do expect gatekeepers to presume that actors act. To call them in even if they "can't see it." I'm happy with what I've done so far, so really I'm speaking for my cohorts and colleagues whom I personally want to see a whole lot more of. It bears repeating that artists of color are the first to be type-cast in the worst ways. It takes tenacity as an artist to continue shifting people's POV. So I'm saying here: STOP. Let us be great."
Playing roles that approach being a black woman in a multi-faceted way is important to DeWanda.
"I think many of us, both artists and viewers, are strongly and positively responding to stories that are not predicated on Black Suffering. Personally, I actually have zero shame about the history of Black Americans in this country. It is my strong belief that if transgenerational trauma is passed through our DNA, then transgenerational triumph must be as well. As an actor, I just move through threads of exploration, and this thread of what you describe as 'bohemian free love" women started with a simple desire to be pretty and smart in something, which was my allure to Tahir Jetter's "How to Tell You A Douchebag." Before that film, no one saw me as sexy/desirable. I was a character actress with a pretty face. So Douchebag led me to Nola, which led me to Erin, and I think I have two more coming before I exhaust the exploration and move on to something else."
This year is a year for exploration for DeWanda in the various projects she has coming up. One of them being Twilight Zone with Jordan Peele, one of the most anticipated projects of the decade. 
"Working on Twilight Zone was like being back in Theater School in the absolute best way! We had an intimate cast of some acting beasts: Jefferson White, Jessica Williams, Lucinda Dryzek, and Jonathan Whitesell. Our director Jakob Verbruggen is by far the most enthusiastic and specific director I've worked with in television next to Anthony Hemingway. It was so much fun, and such a new challenge. I can't say much because nothing's been announced, but remember what I said before about exploring a concept to exhaustion? The Twilight Zone marked the beginning of a new phase of exploration for me for sure."
For now, she is submerging into herself fully.
"When I'm really in my flow, my intuition is quite high. I can tell what's "mine," I dream for myself and my friends. It's only gotten more pronounced in the last few years, and I intend to honor that. And, listen, I have basic around-the-way-girl goals. I gotta buy Momma Margie a house. She DESERVES."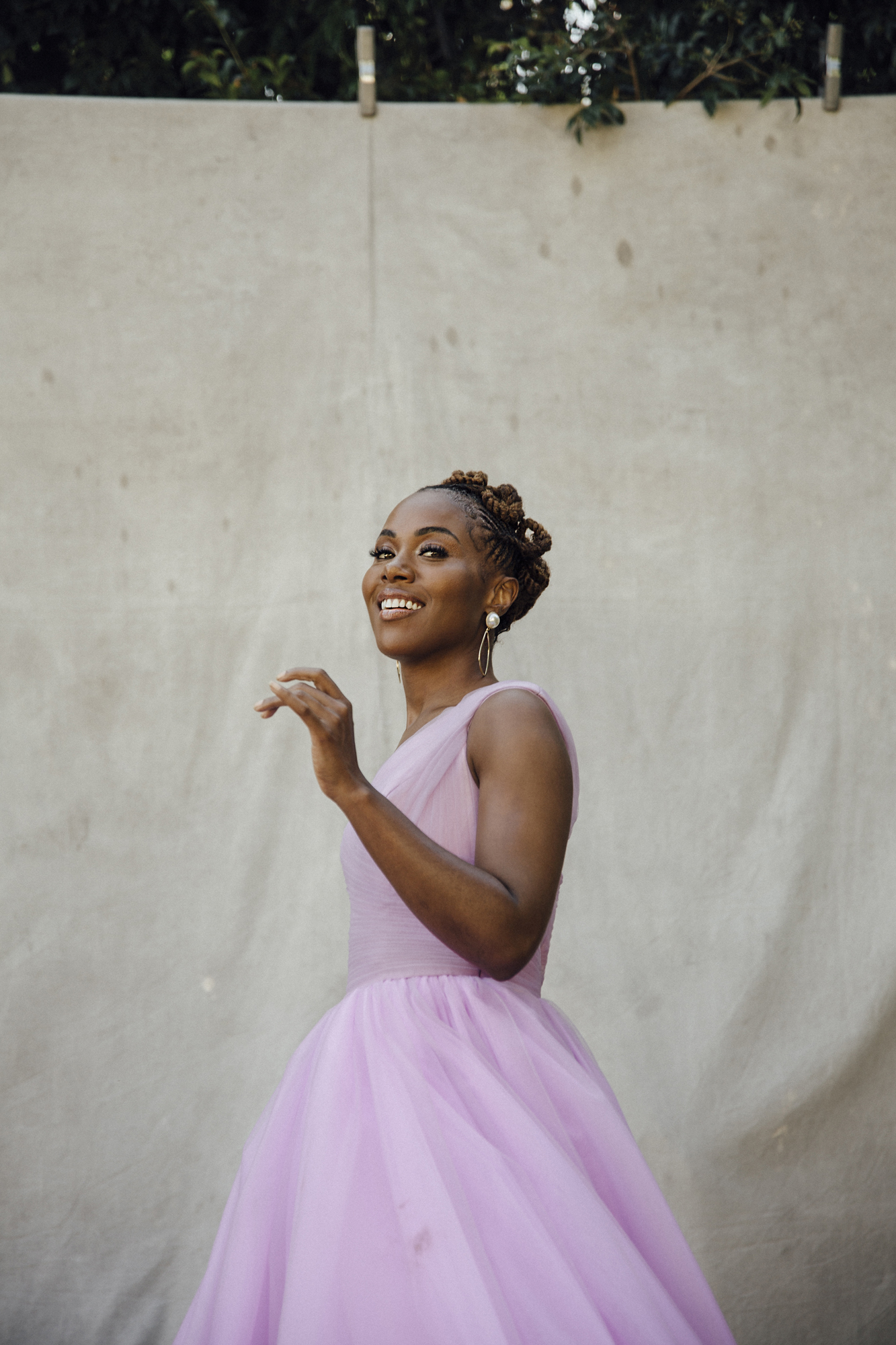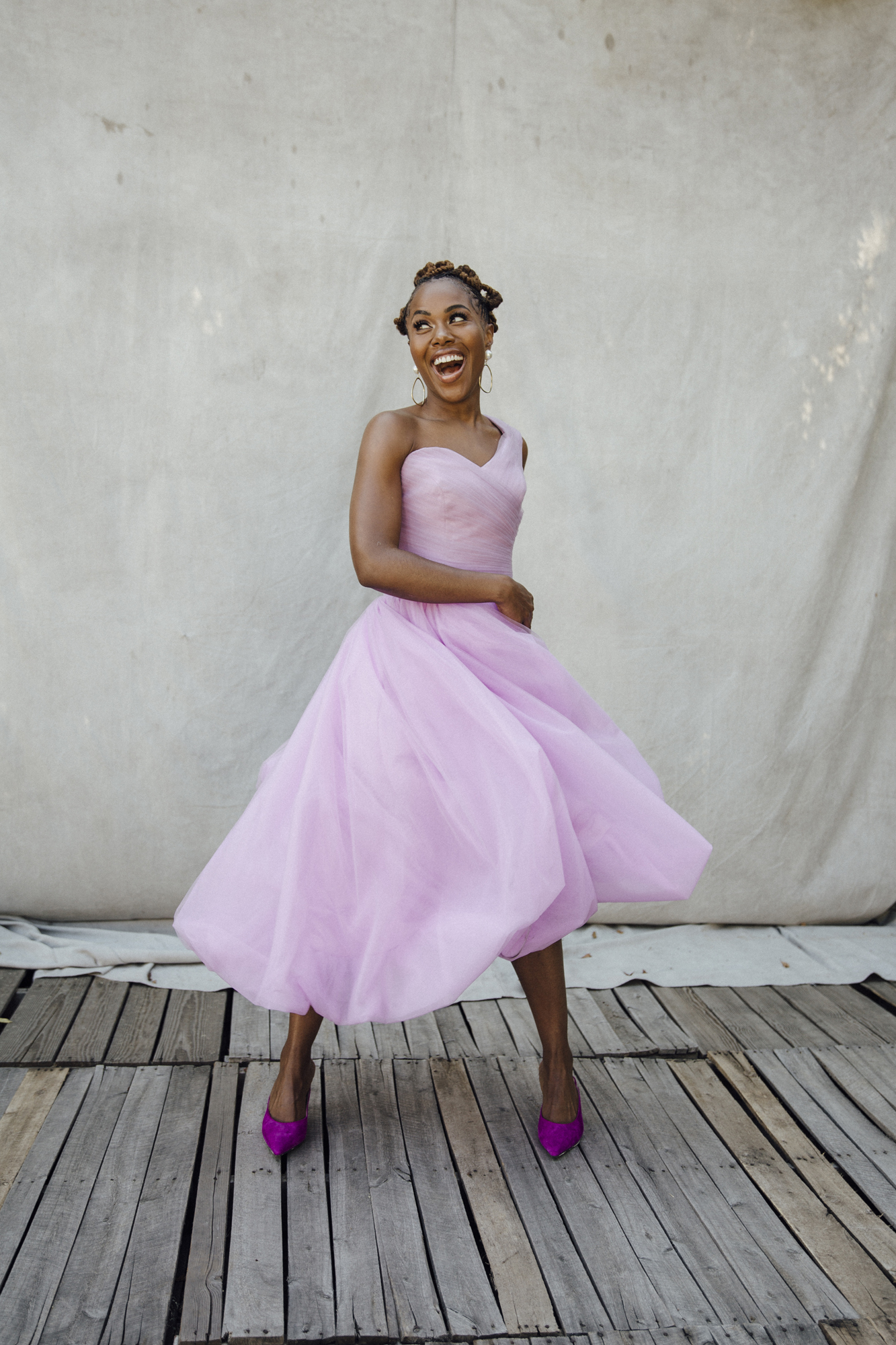 dress,
Malan

Breton. Stylist's Own Jewelry.
Yellow Dress, Zara . Stylist's Own Jewelry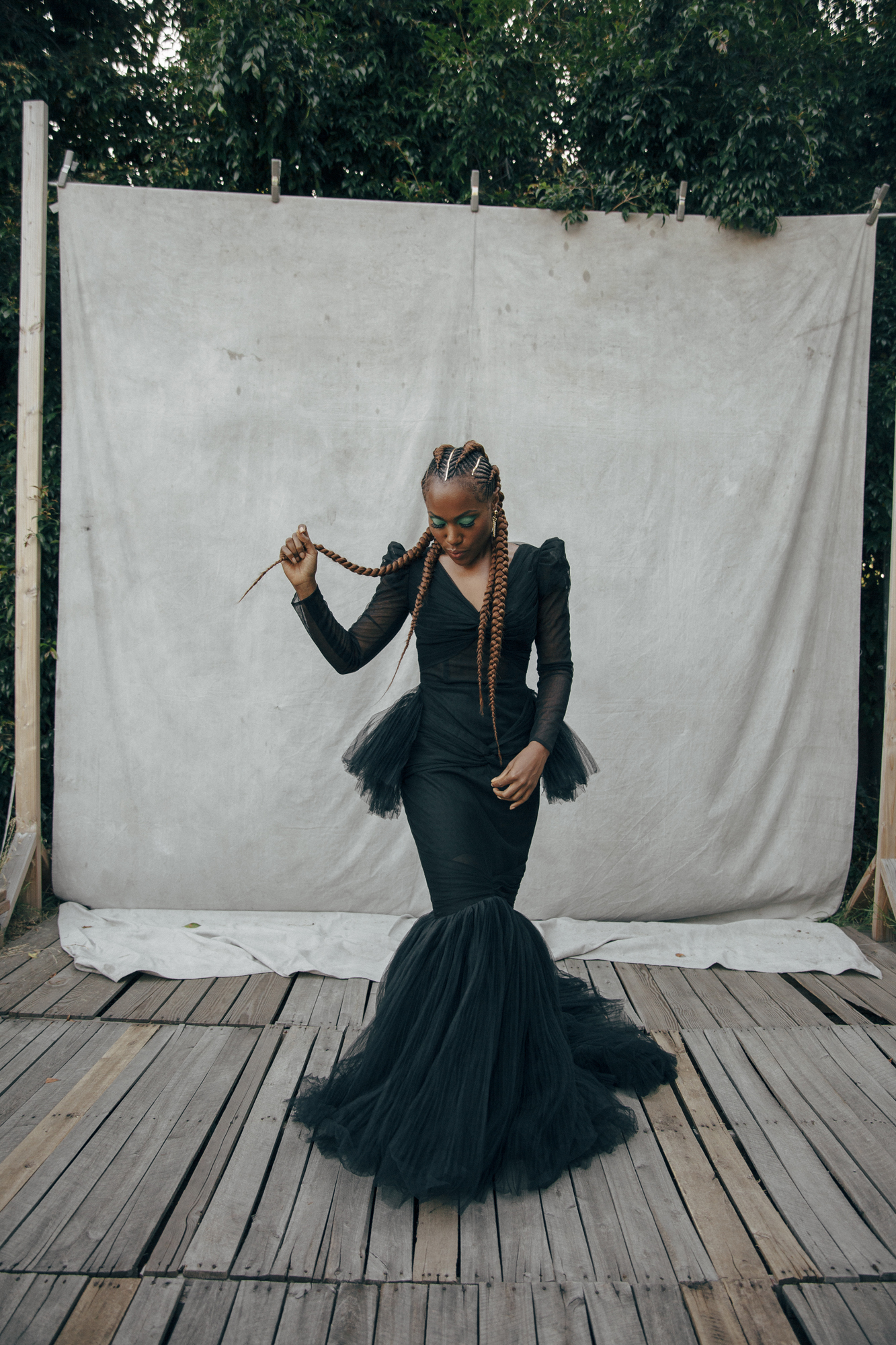 dress, Malan Breton. Stylist's Own Jewelry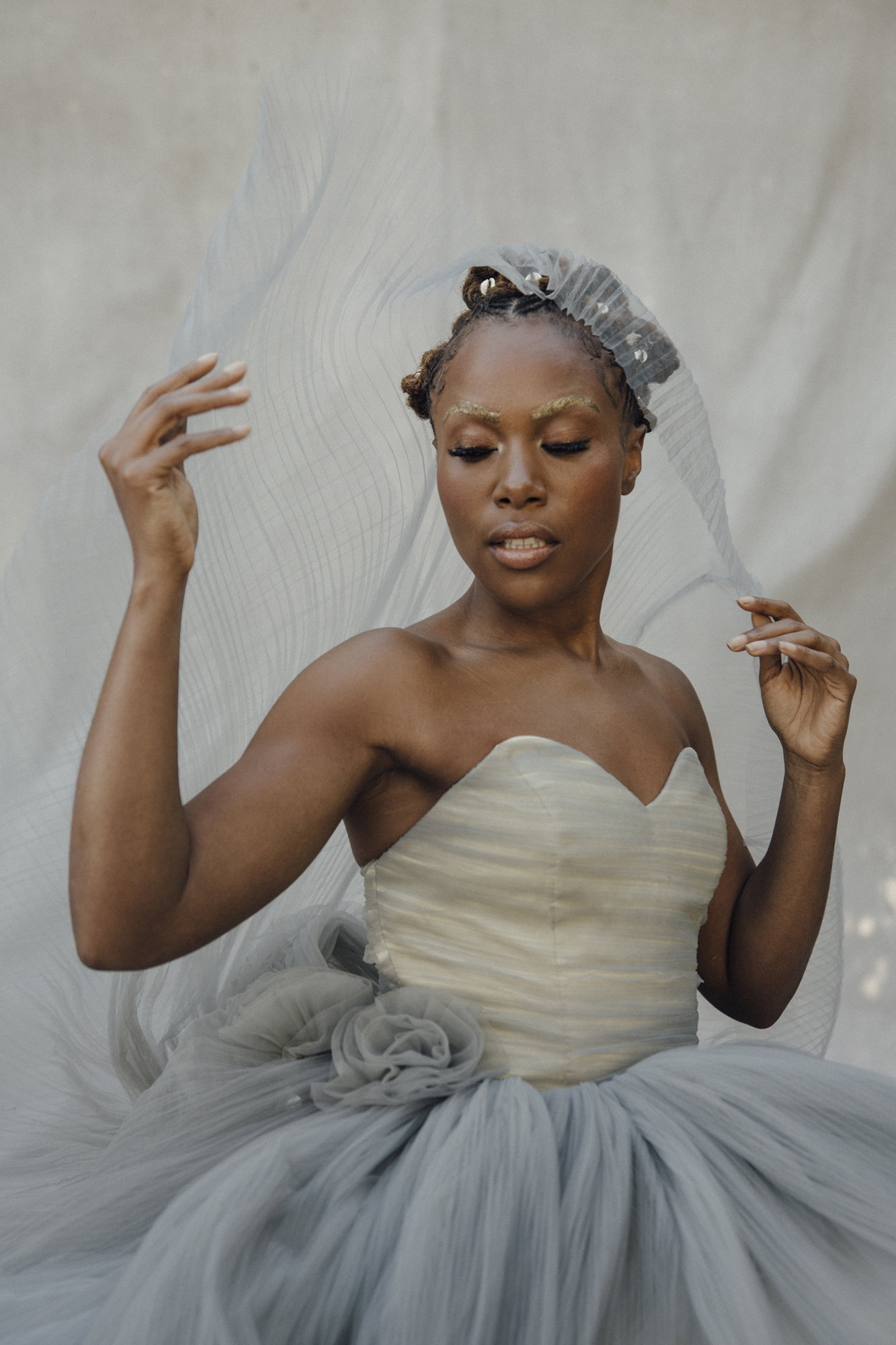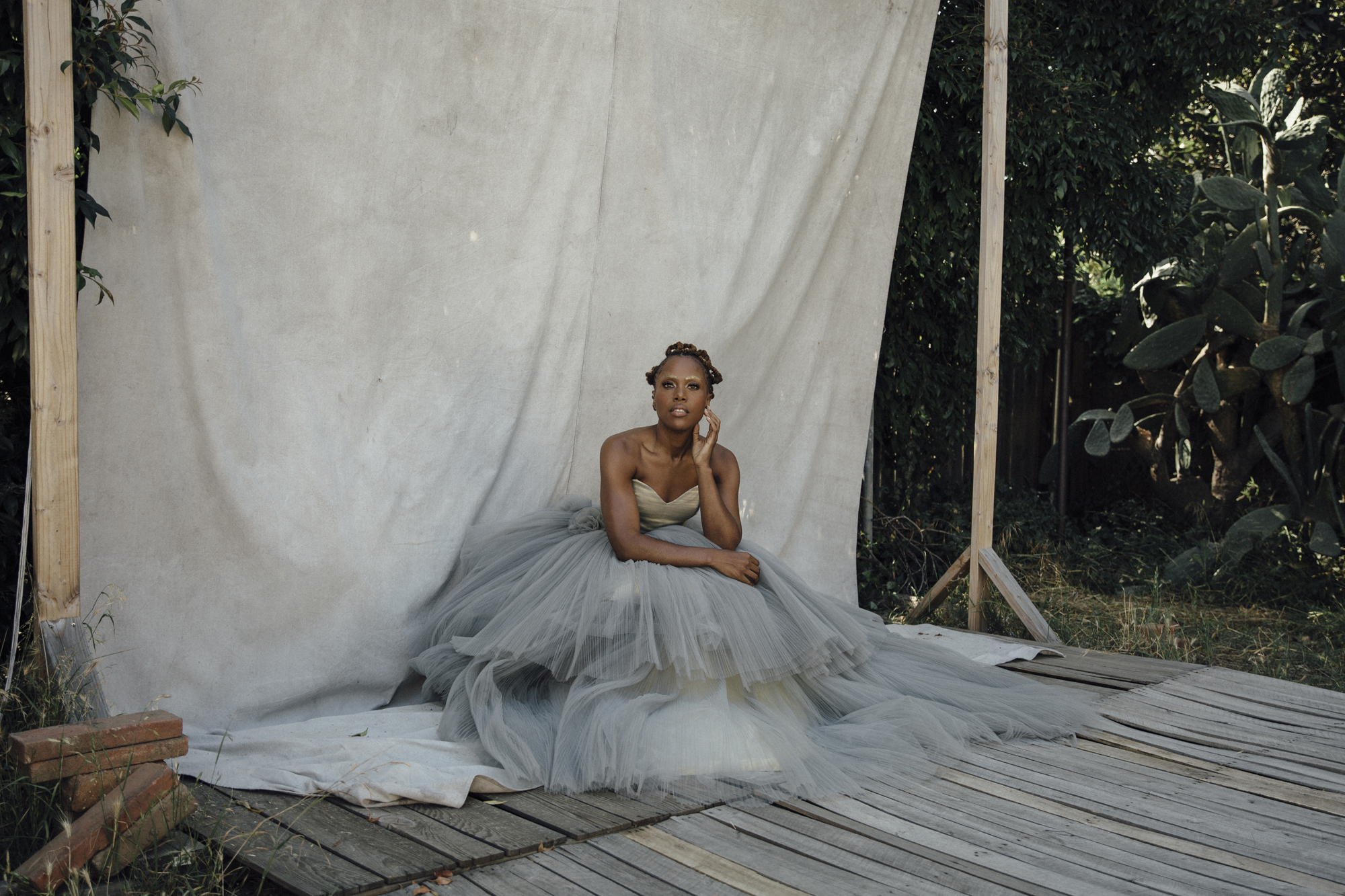 dress,
Malan

Breton. Stylist's Own Jewelry.

 dress,
Malan

Breton. Stylist's Own Jewelry.