Read in Spanish.
____
It feels wrong that "Safaera," Bad Bunny's magnum opus, came out when all the clubs are closed, and no one is more upset about it than Jowell & Randy. The reggaeton pioneers, who Bad Bunny tapped for the eclectic standout from sophomore record YHLQMDLG, are in the midst of their own post-release high after dropping their latest LP Viva El Perreo. 
Largely produced alongside San Benito (aka Bad Bunny), the album is a molotov cocktail of surrealist cross-genre perreo. Hones in on the key changes that made "Safaera" a modern classic, the record spans hard reggaeton beats, vocal distortions, radio samples and bouncy percussion. It's absolutely torture to listen to in our current context—and a balm for those of us itching to shake our asses at the club.
The prolific duo have done as much to put reggaeton on the map as Daddy Yankee, and are clear predecessors to the heartbreaking romance and filthy perreo that's come to define not just Bad Bunny but the neo-perreo vanguard such as Tomasa Del Real and Ms Nina. Reflecting on a twenty year career can seem a daunting task, but when you've had as much fun as they have along the way—mixing rhythms, getting down, soundtracking summer nights in Puerto Rico—the conversation flows effortlessly. The two have developed a brotherhood in perreo, and rather than let the current state of the world keep these party monsters down, Jowell & Randy already planning the marquesinas (underground garage parties) of tomorrow.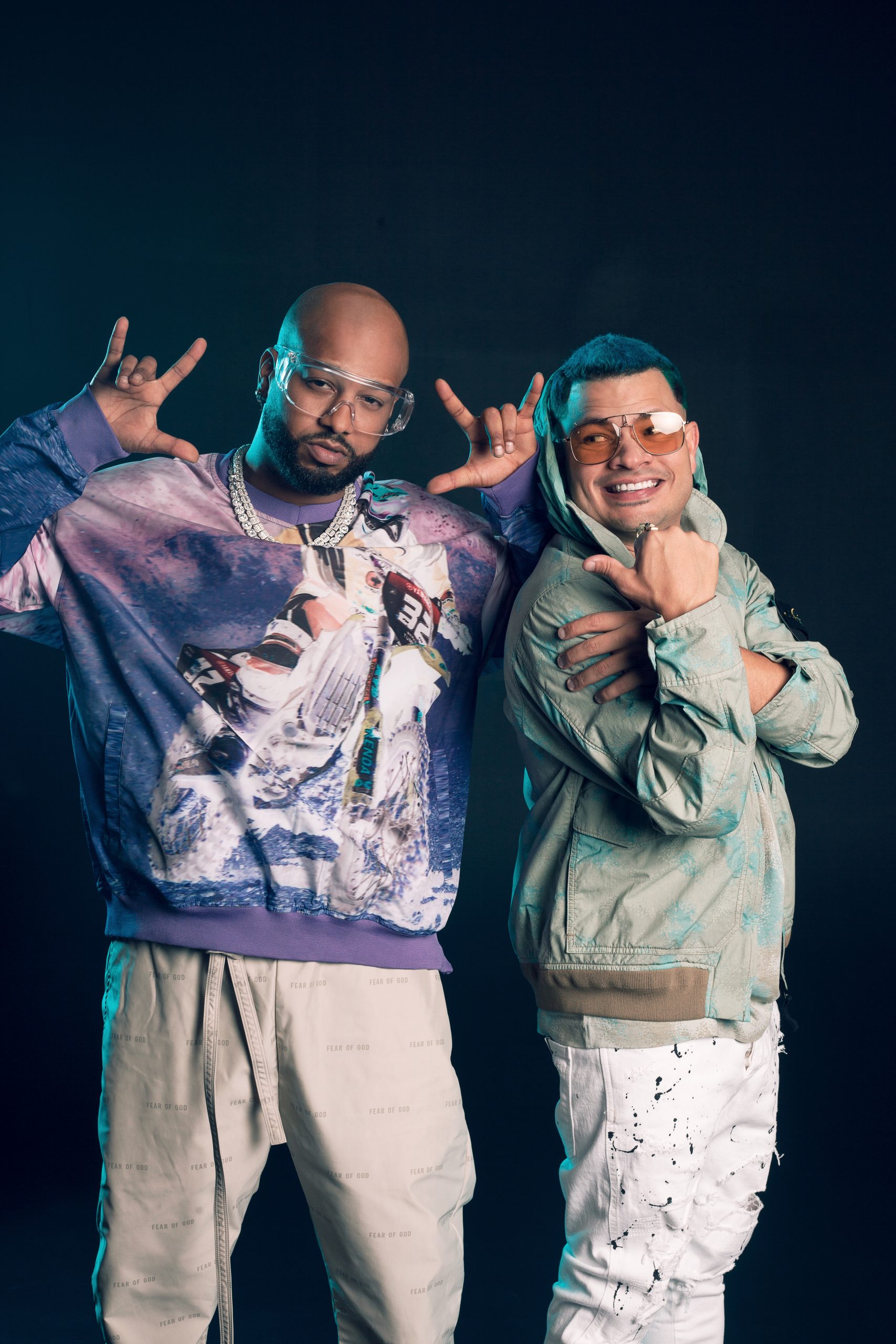 ___
Randy: The International Day of Perreo started August 7th. When we dropped the album we celebrated, and in one year it'll be the same. We need to get this on the Puertorican calendar…we have Columbus Day, Halloween, all these holidays…we gotta try and stamp that day as National Perreo Day!
Jowell: It also has to do with the inundation of perreo on that day. Remember that we got the album out on the sixth, so the days since then it's like "wow, Jowell & Randy dropped something!" The world can share in the excitement of the record—let it be known that on the seventh, nobody heard anything but perreo.
Randy: I've noticed that people don't use "reggaeton" to describe what we do. They know we're reggaetoneros, but they use perreo. What we do is a branch of reggaeton—it's the dark side of the genre. It's more explicit, more sensual, more rude. Reggaeton isn't quite music for dogs; even the word "reggaeton" is beautiful. A sweet reggaeton song can get kids dancing, but what we make…is not for kids. My son says "Daddy, I love the peleo album," and he walks around with his little perreo mask. He loves "La Golda", which I guess is like perreo-lite. It makes me happy.
Jowell: Between us, and we've been reggaeton fans since the jump, in what moment did the word perreo first enter your mind?
Randy: In general, I think it has to do with Daddy Yankee and DJ Nelson, who had a lot to do with shifting the genre. For me, it was Eddie "Dee" Ávila, who came out with that song that was like "perros y perras."
Jowell: Did it say perreo?
Randy: I think…that was also the moment Yankee and Eddie worked together. Papi, for that moment, had so much influence from Eddie, who was also so creative. They just kept dropping hits, and with strange words: "Taladro," "Gasolina"…I remember a song Eddie did with Mayestic—
Jowell:  "Soltero Y Sin Compromiso?"
Randy: We gotta look into it. I feel like DJ Nelson would know. I wonder if he'll pick up the phone…
Jowell: Yo, DJ Nelson's a legend. That man is a reggaeton pioneer.
Randy: That man invented reggaeton. Hold on, I'll call him…
[RANDY CALLS DJ NELSON. HE DOESN'T PICK UP.]
Randy: Oh well…and what about the word "reggaeton," papi? It used to be called rap & reggae. They called us rappers because we dressed in that style, we loved the music and flow coming out of the U.S. I remember we were listening to Snoop Dogg and were thinking "wow, these Americans have swag and the music is hard." We definitely had influence from them, but we also had influence from Panama and Jamaica. It's a mix of both things—society kept looking at us as these crazy kids in big pants, but there was a street culture and they had to respect it.
Jowell: Reggaeton was a mix, when you look at the last years of 80s rap in New York City. Vico C was the first Puerto Rican artist who made it with rap over there and he came back with all the influence from New York. When he got to Puerto Rico, you would hear a lot of music from Panama and it was the same Jamaican music translated into Spanish. I think it was then that the Panamanian wave and New York hip-hop fused, and reggaeton began to form in Puerto Rico from the 2000s on.
Randy: Like in 2002 and 2003 is when the word perreo began to be in use, and by then the word "reggaeton" had already been invented.
Jowell: Perreo is the dance, if we're putting it that way. When we make that music and call it perreo, it's because it's designed to get people into that groove, into that swing, into that dance. I think that it's called perreo because of the comparison to dogging.
Randy: As far as specifics, perreo continues to exist within reggaeton and dembow. Dominican dembow comes from reggaeton. I think of vallenatos as reggaeton with an accordion…it becomes reggaeton if you put someone like Daddy Yankee on the track and they tear it up. The vibe is there. I saw it coming…the way that rhythm and flavor has every intention of making someone move. The first time I heard reggaeton I found it so strange and enchanting. Slowly all the people who talked shit are now fascinated with it. We're seeing cultural exchanges, like Mexican reggaetoneros mixing sounds with Norteño beats. I'd love to hear more hard regional Mexican infused with trap. It doesn't sound forced at all. Mixing everything with reggaeton will allow it to function at its max level. Americans are making reggaeton, Argentinians…people who were so against it are now bumping these songs. There's mad people who still have to really listen to perreo.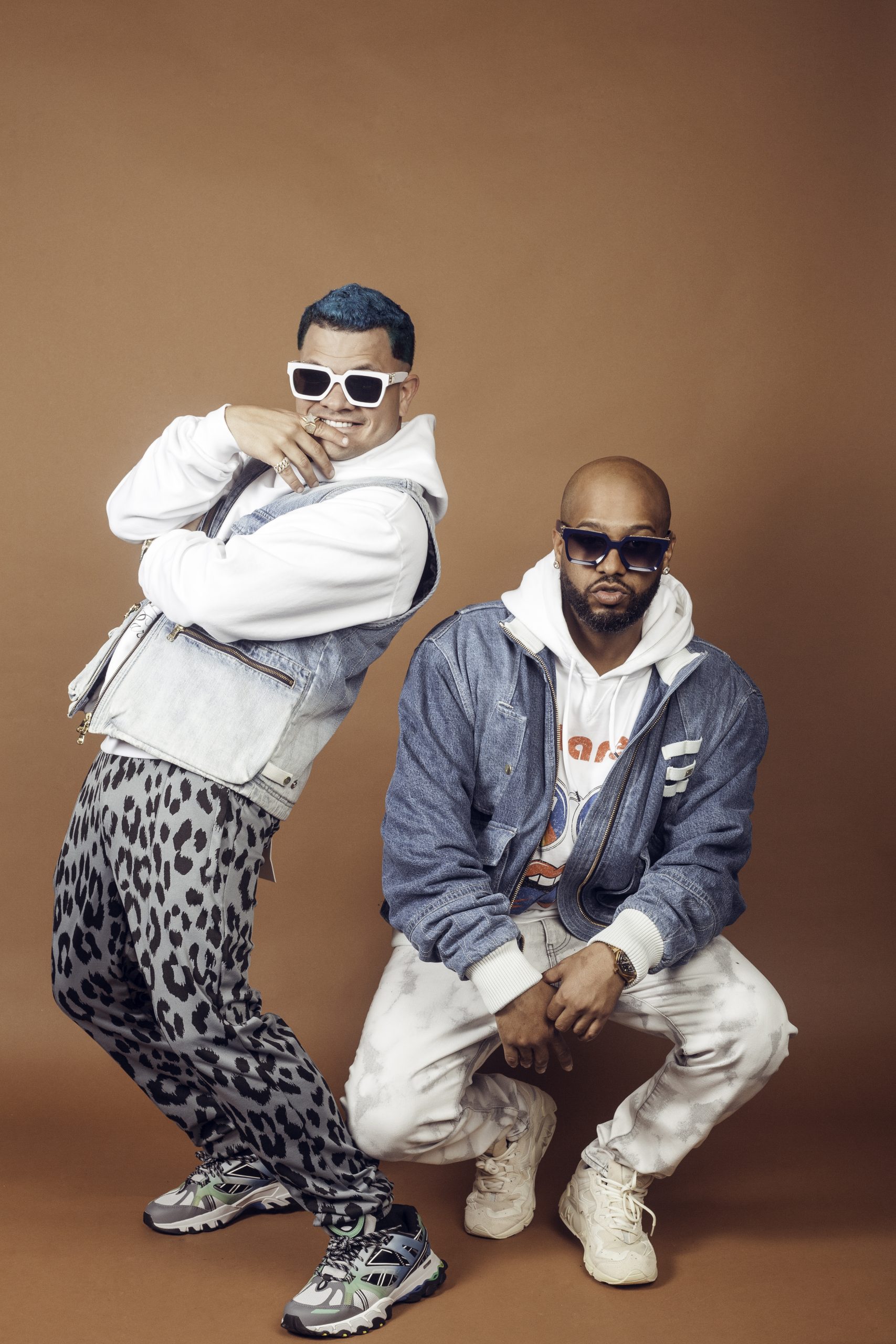 Jowell: This album was the first time we made something basically completely remote. We were constantly sending ideas to each other over the phone, constantly on the Internet. Bad Bunny would make the beats and send them the next day and we'd make things in a day…it's not the same because when people are in the studio together the vibe is completely different, but I feel like we also knew the mission of this album was a different one. We're in the middle of a pandemic trying to make something with what we had.
Randy: We've been training for this all our career.
Jowell: It's true.
Randy: We spent years training for this kind of situation! Honestly, we needed to spend a month without partying, not focusing on anyone or anything but the music. We had Viva El Perreo for breakfast, lunch, and dinner, and now the moment arrived to show the world that after a 20 year career we could do the impossible: make a record in a month. These songs stuck so quickly. I miss the energy of those two weeks—it was like BAM, BAM, BAM! Creating, writing, recording, and moving on to the next one. We were making two, three, four songs daily. I think it's the first time we do something like that, Jowell…something where the energy was that urgent.
Jowell: I think for us it was a new way of making. Going forward from this album, I was thinking about how we're going to maintain the momentum. I think I mentioned that to you.
Randy: Just give me the date, papi. Give me the date and time right now so I can run to the studio and get started on the next one.
Jowell: Exactly! We need to take advantage of this energy and this time and finish recording all the rest of what we have for next year. 
Randy: We're going 100 with some hard verses.
Randy: Papi…would you say "Safaera" is a merengue?
Jowell: It's an invention from the fog of the marquesina. We had started doing something like that song, and we needed someone who dared to think about even making something like that—it had six key changes! For people to accept it opened the door to it allowed our own album to have weird things like that. There 's several songs on Viva El Perreo where the rhythm changes three or four times. We wanted to take advantage of this door while it 's still open. I hope that after Viva El Perreo we see a lot more of this in the genre.
Randy: I still get chills when it starts: "Diablo, que safaera…" it just starts so hard! And then the "Mami que tu quiere aqui llego tu tiburon" becomes classic reggaeton, super 90s with the melody from "Get Your Freak On" layered over it. It's a classic, papi…people really don't get it yet. This kind of reggaeton needed a platform that was bigger, like Bad Bunny's. That kid has swing and flavor, and his audience knows that. The song had zero support for what it said and what it sounded like, but we knew it was a hit. When Bad Bunny came out with it as a single, it hit the top ten, and I calmed down, but honestly didn't see it coming. It's a song of a very specific moment, that time of night when you're in a club and everyone is dancing, ready to fuck around with a drink in their hand. People don't go out dancing for the philosophy of it; it's about having fun. I miss the graduations in Puerto Rico. May, June, and July…those months we used to easily do 70 parties for the graduates on the island. For me, it's the most beautiful time in the world. I don't have to get on a plane. I'm just on my small island, maybe doing four parties in one night and all of them are wild! Since we came out of the marquesinas, those small spaces where the sound was for us and only us, it doesn't matter to me that there are thousands of people in a crowd. We felt so big in those spaces…I was dying to play "Safaera" in one of them. 
Jowell: If we were to do something out, what song would we start the show with?
Randy: "Safaera", of course! Picture it: you and me in the car, the DJ puts the track on, everyone is there and we arrive. I get goosebumps, Jowell. There's no amount of money that can buy the feeling of seeing one of your songs explode. We have a repertoire of perreo that sounds like it was on all the radio stations. I hope this year we get to throw parties again. That's what our music is made for: it's frenzied party music. I've been locked up like six months now slamming my head against the wall.
Jowell: Next time we throw a party we're gonna have to do the entire album.
Randy: Oh, absolutely. It'll be one of the biggest things we've ever done, once the opportunity presents itself. I dream about it every day, but I do still think we should take advantage of this time to rest. I'm happy we can get a good rest and then when things pick up again, we'll have our voices rested. The days are getting away from me, though…I remember when we released "Se Acabo La Cuarentena " and we thought this shit would be over and then BOOM it explodes again. No parties until 2021, maybe even 2022.
Jowell: What we have to do in the meantime is create and prepare concepts for the parties, Randy…one for Viva El Perreo, one for the classic shit, one for our romantic stuff…
Randy: I love that we can go hard with the perreo and the romantiqueo…what we did, for me, is a whole other lifetime and galaxy ago, so the fact that we're still active energizes me. We're like Daddy Yankee, who's like fifty. The man feels like he's 21! That 's how I want us to be, like that guy. Daddy Yankee is the Madonna of reggaeton.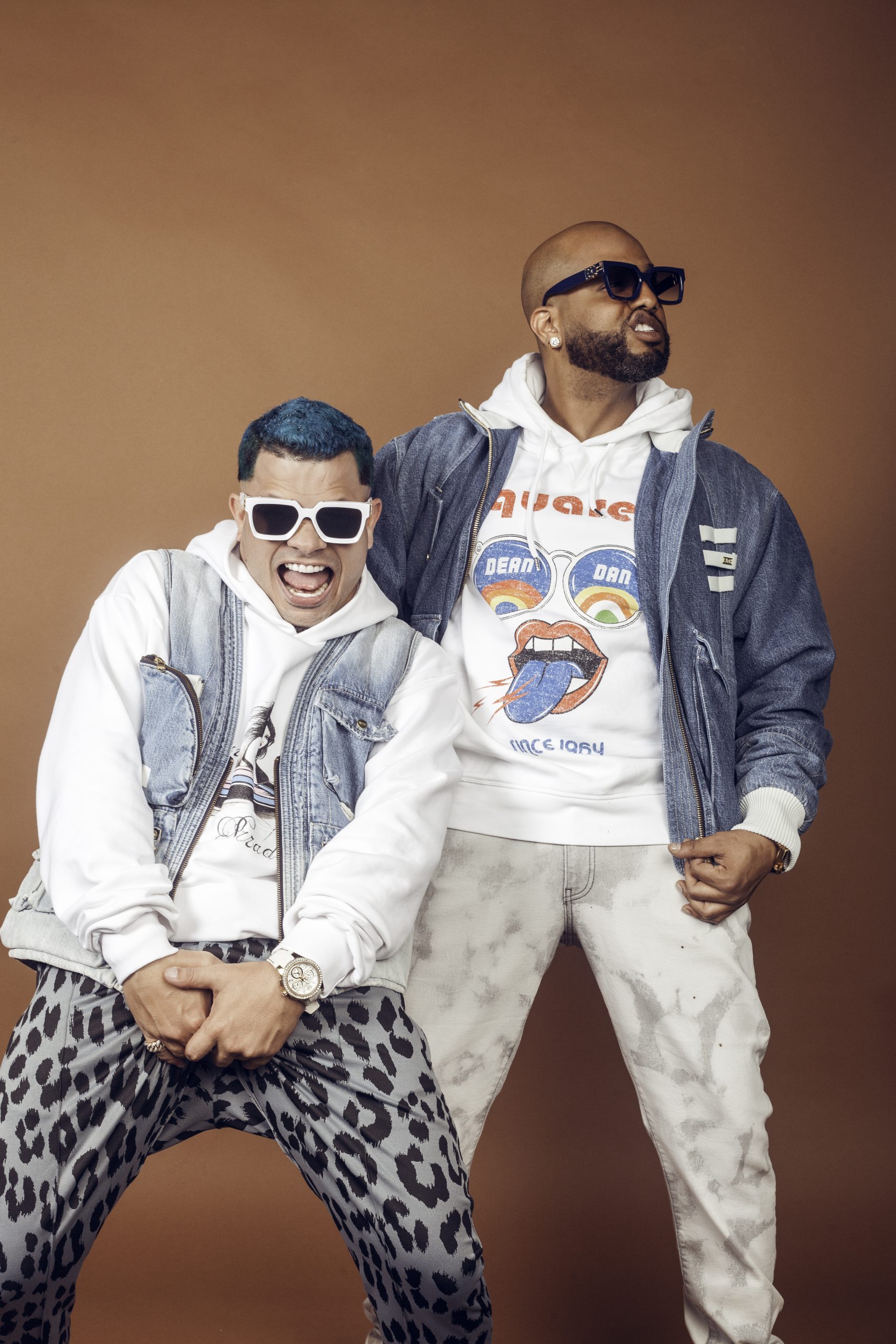 CONNECT WITH JOWELL & RANDY
INSTAGRAM // SPOTIFY // WEBSITE
photos / Natalia Aguilera
story / E.R. Pulgar