When every summer feels like it could be the last, TwoLips' calls for fabulous rebellion. Produced by Berlin-based producer delwyn, "MFKN Free" is built upon a hype ballroom 808 ballroom-type beat, encouraging the listener to dance harder or drive faster. Lyrically explosive, the song takes pleasure in skewering forces of opposition and rigidity. The chorus is hard to forget. An anthem for youth as they search for personal and artistic freedom. Throughout the track, there's a juxtaposition, shifting from foreboding operatic scales, to poignant rap flows. The song eludes to existential dread. Protests litter the subtext, ushering in a new era of re-wilding. The new generation of kids know the paradigm is coming to a close. A shift is afoot.
The music video, set in the iconic DTLA, is an homage to the 90's style girl-groups who dominated MTV. It also nods to TwoLips' origin as a graffiti artist, b-girl, and punk-rocker. Such motifs can be attributed to Tara Cassette, a styling legend in the LA scene. The palette of the video gives 'Zenon: Girl of the 21st Century" while the rhythm conveys a vital eternity. Is this the past or the future?
I caught up with the talented multidimensional artist in her downtown LA loft, to talk about life, love, art and the pursuit of the raw and real. For when you hold a knife to your flesh, there will surely be blood. Yet TwoLips is so "MFKN Free".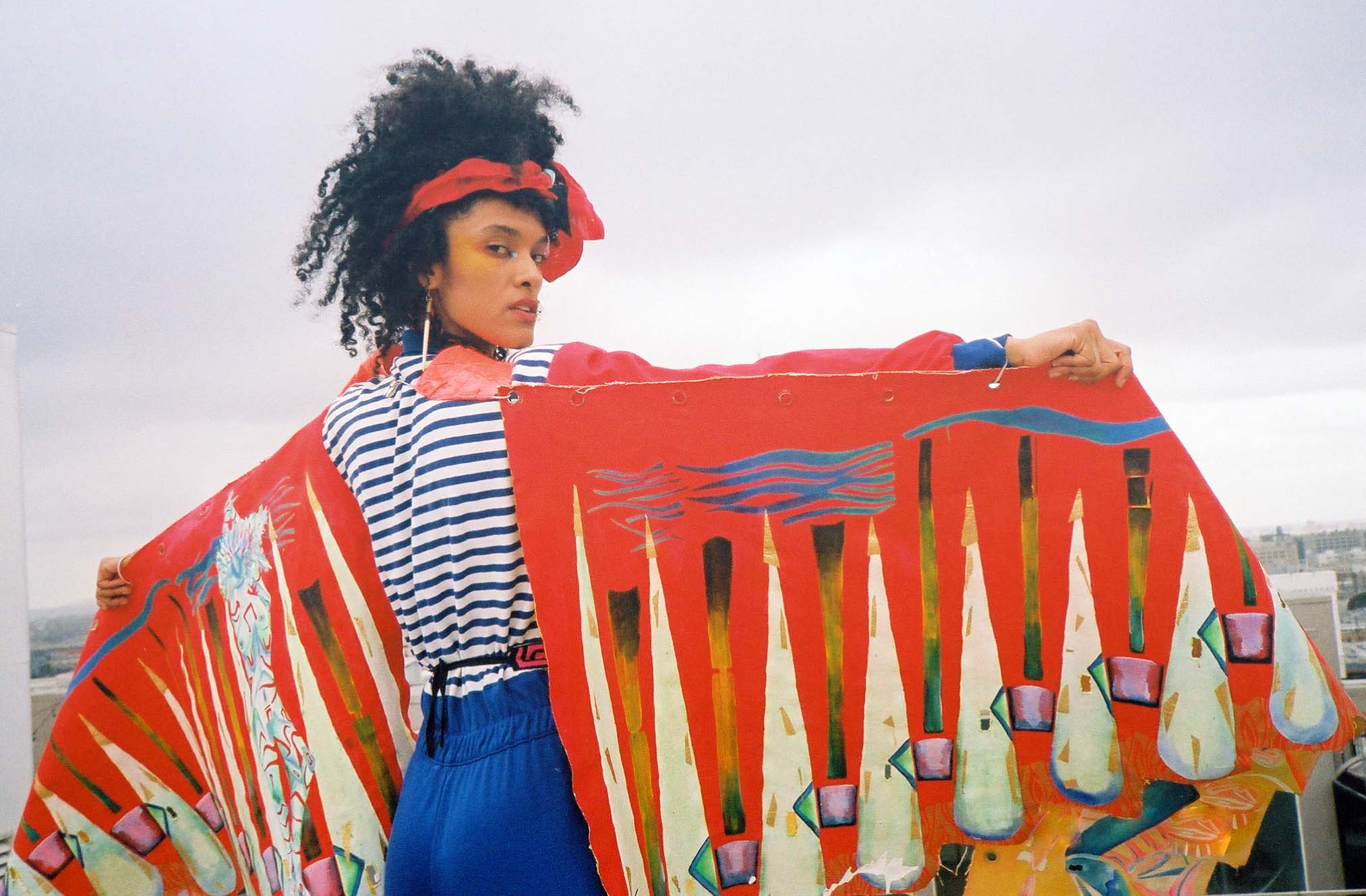 E: Hey thank you for taking the time to chat with me. You are very inspiring and it's been so cool and special to watch you grow into the motherly activist era of your life journey.
It's always so good to see you! The admiration is mutual and I receive those kind words. Grateful for folks who are giving us new language and insights each day.
E: You and I both come the kind of places where most people were taught not to question things. Most of the kids we went to highschool with stayed in their comfort zone and never left. How did you break free and find yourself in LA?
I've come to appreciate the pace and beauty of my home state. I credit it for much of my artistry and outlook, and I'm homesick alllll the time. Dirt roads, southwest palettes and architecture, long childhoods, kind people, vibrant culture, a stunning land-to-sky-ratio, and more. They call New Mexico the "Land of Enchantment" AKA the "Land of Entrapment". As a younger person, the second title reflected my outlook. Desperate to see the world and live a global metropolitan life, I had an early obsession with the entertainment industry. I got a passport as soon as I turned 18. After getting scouted locally, I was picked up by modeling agencies in Miami and New York. I moved to LA at 21 after completing my bachelor's degree at UNM. I was and am encouraged by my family, given and chosen. But the day came and I moved forward alone. Not every artist needs to relocate to transform. Communities in this country would benefit from their best thinkers and creatives remaining in them, so I've got some complicated feelings as I reflect on my own path.
E: What's your experience so far living in LA? The good, the bad and the ugly? Give it to me! Would love to hear about your experience living downtown.
The city's been good to me! My pops is from SoCal and I have a couple of half-siblings here, so I grew up visiting. I spent my first two years flailing, but it's amazing what we're capable of! I'm blessed to find myself in a community of powerful movers and groovers. So far, I've lived in K-town, East Hollywood, Echo Park, Boyle Heights, and now DTLA #eastsideftw haha Sometimes the sprawl still feels foreign and claustrophobic. I've had some bizarre gigs. Seen some bizarre thangs. Has me feeling like a shapeshifter. In a city so segregated, DTLA is a juxtaposition. Million-dollar units near Skid Row. Tents and Teslas. This is Babylon. I can't financially afford to buy distance from the houseless crisis and I can't afford to single-handedly end it but I help where I can and keep my heart open. Seems this is part of my spiritual assignment. Grateful to have a safe place to live, work, and love.
E: You have an interesting background and heritage and have grown up in a world of intersectionality, of "in-between-ness". I'm fascinated by the juxtaposition between your strength and softness. How have you found your perspective, power, and unlocked your potential within the cultural marginalization you've faced?
My mom is indigenous (Lakota, Dena'Ina) and my dad is Black. They separated before I was born so my mom raised me alone in Tesuque, NM with the help of her girlfriends/aunties. The other kids and I would ride bikes, race, explore, and rough-house while our moms would unwind on the porch. She was a social worker and humanitarian. It was important to her that I know my culture and lineage. All of them. She advocated for me to participate in Indigenous youth conferences even though I wasn't immediately digestible as an Indigenous person. It was clear that I had a responsibility to contribute to the well-being of my human and more-than-human relatives. That we were a small part of the 'natural world'. Stinginess was ugly, generosity was the code. "Be a strong domino", she'd say, encouraging me to abandon the status quo and stand up for the underdog. I was given Black barbies and surrounded by music, film, and television from people that looked like me. Admirable were her efforts to educate both of us about Black history since public education neglected to. As a woman of color, she was familiar with prejudice. I applaud her for addressing anti-Blackness when it reared its ugly head at her child. There aren't too many Black people in NM so I stood out everywhere I went. She'd swat strangers' hands away from my hair. I was called dirty and brown by my classmates. More than once, I was called Reeses or Oreo. My mom would tell me "They're just jealous." That was an over-simplification, but it gave me the strength to celebrate differences and stand proudly in the face of doubt. I'm not half-anything. I'm proud to be a full person. An Afro-Indigenous person.
E: I know origin is extremely important to you. Can you tell me a little bit about your background and origin story as an artist?
Generations of influence go into shaping an artist. My grandparents on my mom's side met at the Institute of American Indian Arts in Santa Fe as painters and photographers. My mom likedto sculpt, draw, and make art in the sand. Though he didn't raise me, my father is a drummer, break-dancer, athlete, and artisan which had an impact on me, I'm sure. My house was a loud one, with music on and pots boiling. Food and music were the reasons for living. Everything else was squeezed around those. My god mom put me in ballet class when I was 2 because I wouldn't sit still. That was my first craft, and I trained for sixteen years. When I wouldn't be quiet, it was opera training. Then I gravitated toward musical theater. Played upright bass in middle school too. Guess I wanted to try it all. By 15, I was anxious to make original music so I joined a punk band called Emergency Ahead. What fun that was, destroying basements and being the bad influence. That's probably why I had a stint as a graffiti artist as well, though a short one. These formative years forever weaved expression, protest, and music together in my process. I don't know how to separate them. I pretty much just wanted to be on stage n have some control over the spectacle I already was. The stories we tell matter. Pinche 'just for fun'.
E: Were there any artists you looked up to growing up that have inspired your art and music?
I loved strong performers such as Destiny's Child, Prince, Janet, Sade, Santana, Missy Elliot, Bob Marley, No Doubt, Marvin Gaye, Lenny Kravitz, Pink Floyd, Robert Mirabal, and pretty much whatever else my mom listened to. She had eclectic tastes. The first big concert she took me to was Korn, Evanescence, Atreyu, Hellyeah, Trivium, and Flyleaf. I watched my mom disappear into the mosh pit and decided that live music was the COOLEST. An obsession began. As far as visual art, I was most informed by the landscapes I grew up in and the strong women i trusted and loved. The lands that raised me. Georgia O'keeffe had a massive visual impact due to her depiction of NM. I can see how these influences present themselves in my work
E: You seem like someone who needs to create in order to survive. What drives you and moves you to make art?
I'm a busybody with many mediums. I've accepted too many callings!! It feels beyond myself. I respond to invitations. Someone once told me your gifts are the tasks that you're repeatedly asked to do for others, or the space you're asked to make. We all have these gifts. Our liberation comes from rising to those occasions.
E: You are more than just a musician. You use your body, hands, etc. to express yourself. How have you found your freedom within that and used art as resistance?
Making things is my favorite way to spend time. Cooking, recording, painting, scene study, all that. It's when I feel best and I'm not alone in that. Given the chance, most of us would choose to sit around and make art. That's why we have nepo-babies. It's the most natural impulse. We're all artists. To spend one's time in a still and focused way is absolutely revolutionary because capitalism would have us contributing to the empire sixteen hours a day. My divine compulsion comes first. My human-ness comes first. I feel we're on the brink of a major pivot. Do we need to work harder or smarter? I think we deserve better days.
E: Gen Z seems to really connect to those who aren't afraid to use their voice. What is your take on the new era of artists and activists that are popping up?
I like that Gen-Z side-steps whatever we market at them. They engage with low-effort unbranded content and have an excellent sense of humor. And reason! For all the blasé attitudes they tout, they're sensitive and highly educated in ways that outpace institutions. I don't see them as people-pleasing. They seem to care more about valuing their time over prioritizing a future that can't be promised. Their respect can't be appealed to, it can only be earned.
E: Tell me how the dance community has inspired you as an artist and storyteller?
The dance circle is as old as civilization. It's communication. The ancestors talk through our movement. Dance has connected me with countless souls. I was part of the National Dance Institute of New Mexico, a non-profit dance program that targets low-income students and teaches excellence. I can't speak more highly of them. I began with ballet but embraced jazz, tap, and modern. hip-hop, and break. Choreography makes music more human. Dancers agree to feel music and emotion in their bodies to tell stories without words. They're my favorite sort of artist. Excellent team players. Unlike all other mediums, there's rarely glory to be had apart from the impact of the whole. To stun, all must be on point. Pun intended.
E: Tell me about what's next and a little bit about your upcoming solo show.
My first solo art exhibition "HEIRLOOMS" is on view May 4-mid June at the Heart Department 🙂 It's a two-floor collection of visual work and site-specific installations and soundscapes. This phase of my life has me exploring themes of embodiment, longing, ongoingness, stewardship, and how they (must) work together. A response to the search for sacredness. What do we hold dear? Check out my Instagram or theirs to see our events and programming for the duration of the show, or to schedule a private viewing!! The Heart Department opened last year and is already transforming our city in countless ways. the space they've created is unlike anything we've seen. Black•Woman•Owned!
E: Where can people find you?
I'm on instagram (@TwoLipsMusic) and all steaming platforms! Listen to MFKN Free on repeat while you sleep! Dance a little every day! N don't let the BS get you down! Love y'all n thanks for reading.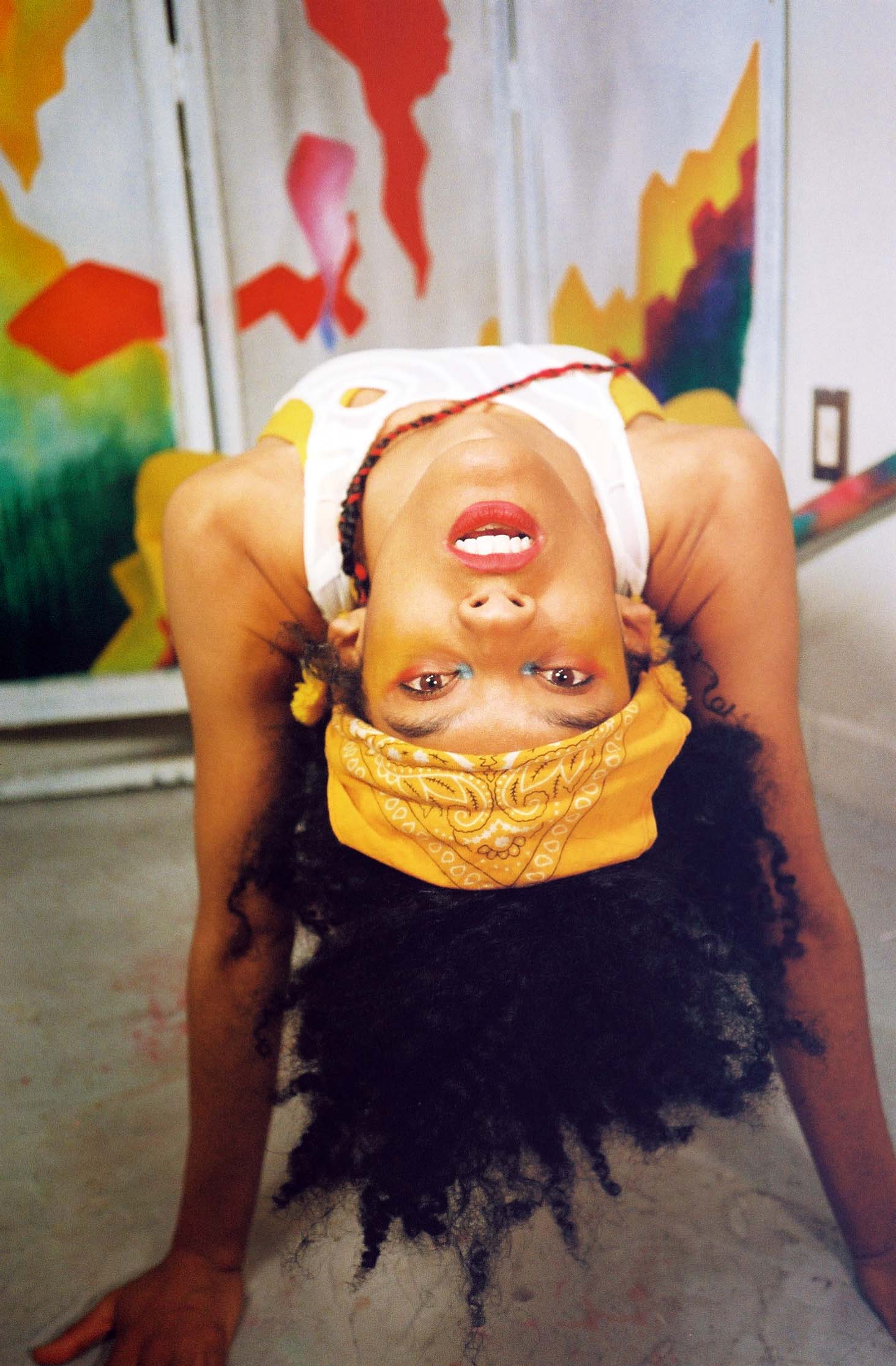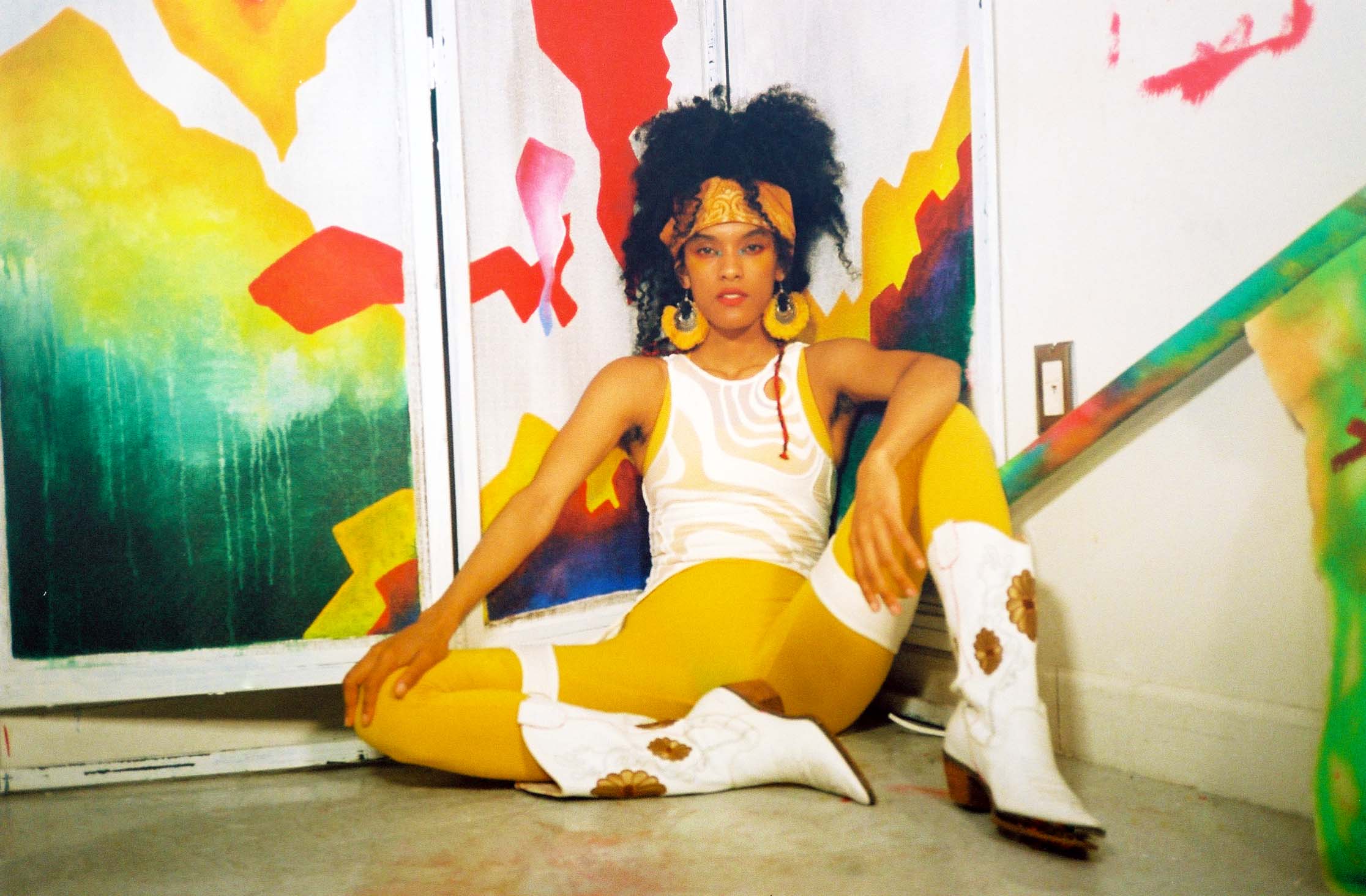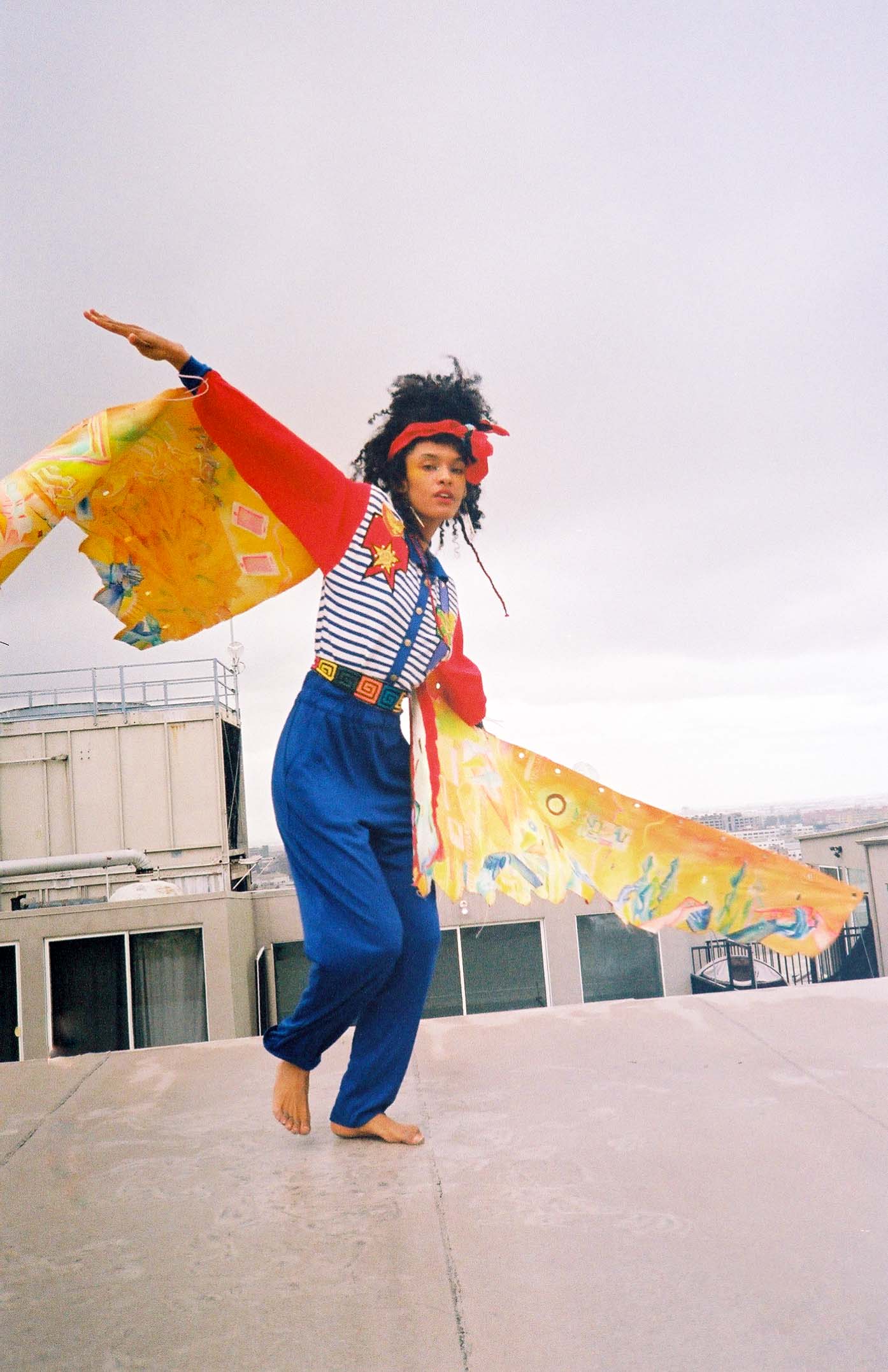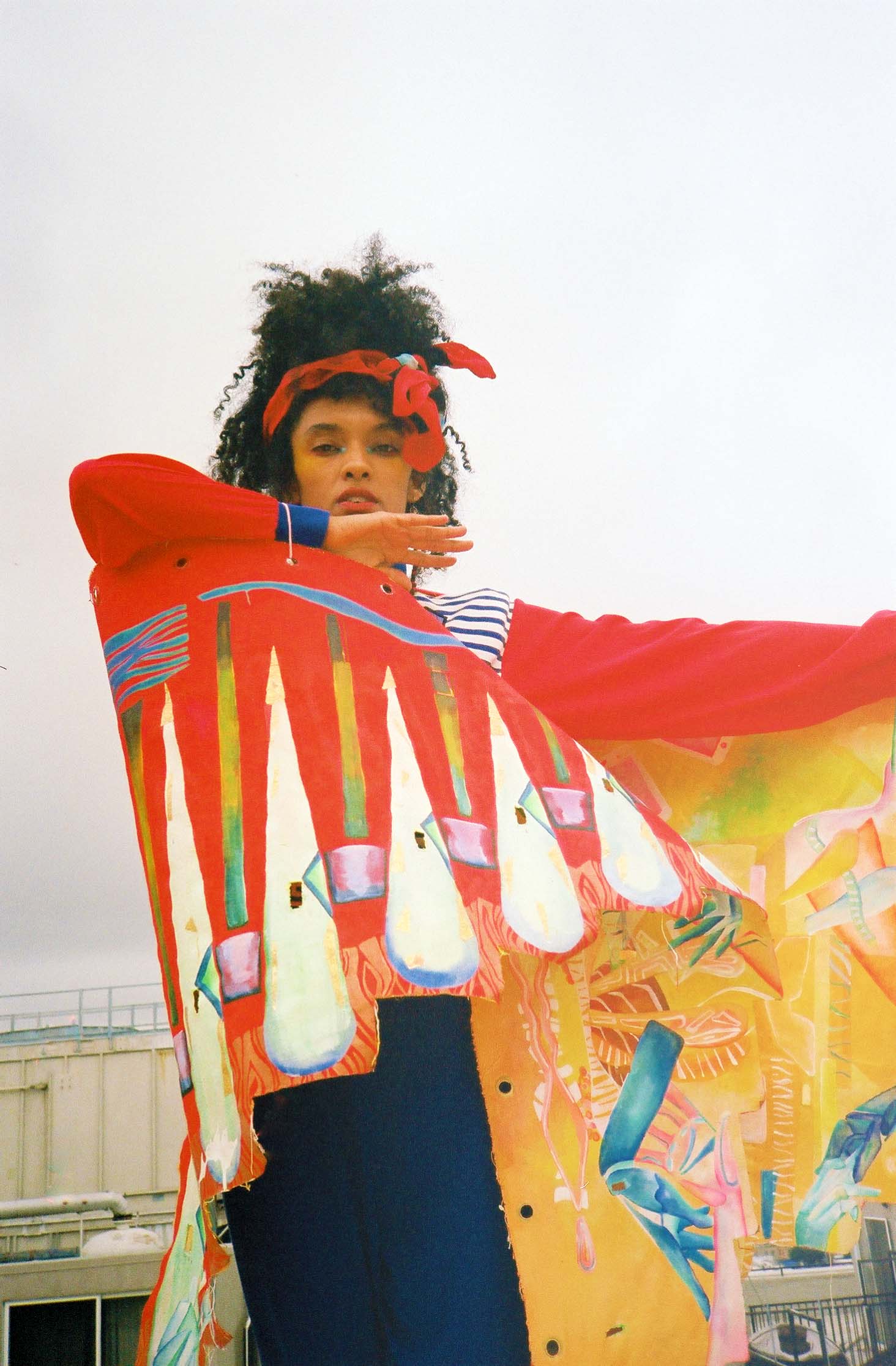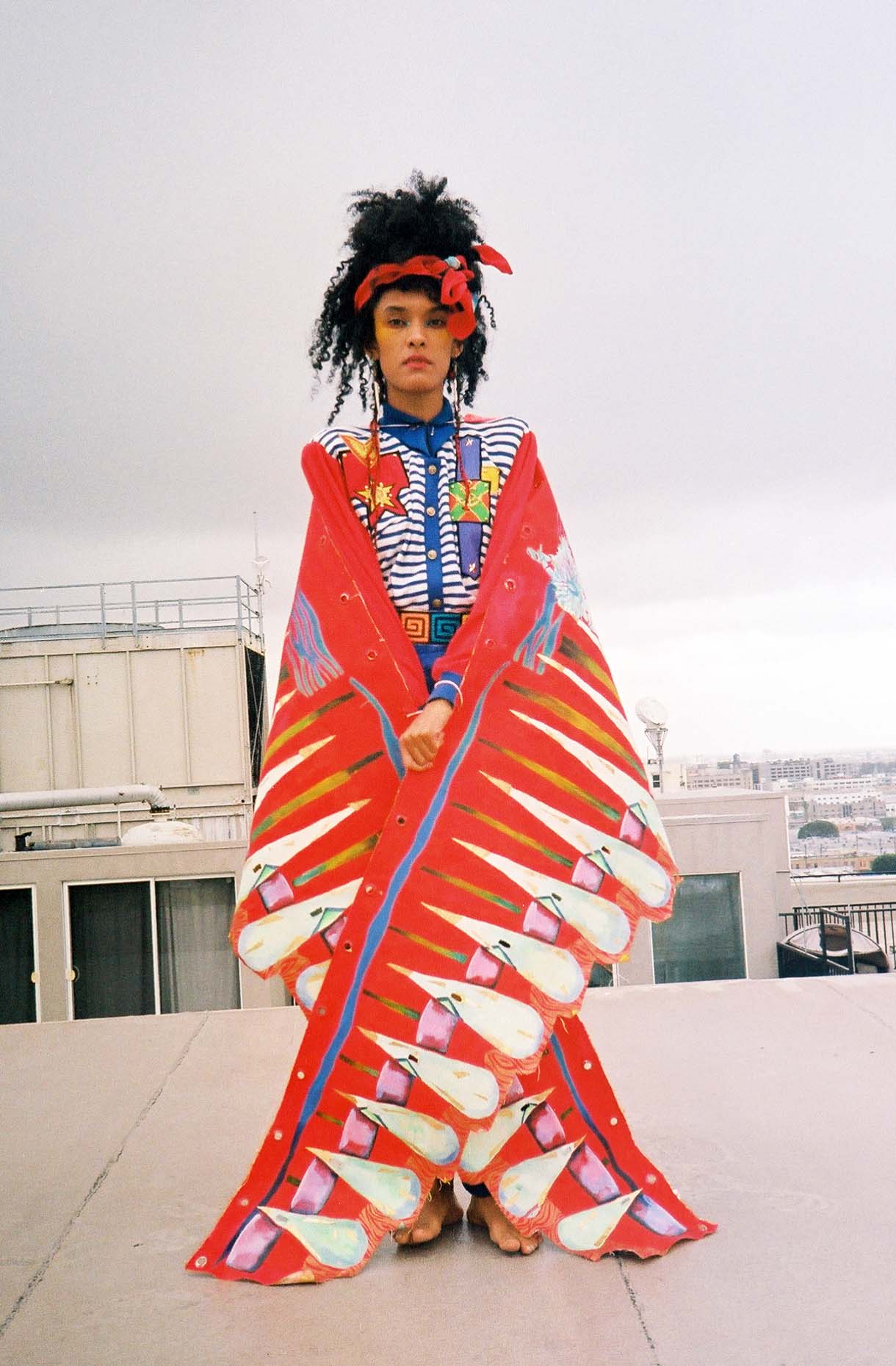 Story and photos / Ericka Clevenger