Sweatshirt: Ashton Michael. Bottoms: Ashton Michael
Photos /

 

Danielle DeFoe
Styling / Britton Litow
Makeup / Michelle Parker
Hair / Johnny Stuntz @ Crosby carter mgmt
Illustrations /

 

Sloane Sexton
Story / Koko Ntuen
While everyone was having their version of a "hot girl" summer, Yung Miami was living a few notches above the rest having a City Girl summer. This type of summer was reserved for the rarest birds who were ready to risk it all for a good time and look back with no regrets. For Miami this included back to back number 1's for hit singles "Twerk" and "Act Up",  BET nominations, getting "flewed" out, getting shot at by some psycho bitch while leaving a recording studio and carrying her chart-topping group through festivals and media appearances solo.  
The other half of the City Girls, JT is currently in state penitentiary close to finishing her 2-year sentence for fraud. She corresponds from jail for the interview but assures me she is ok, "I'm doing really good, chilling! She says, "I stay inspired by all the features I hear that Yung Miami do!"
It's a hot Tuesday afternoon when I talk to Miami. There is clamor all around as the pregnant artist navigates doing an interview, a toddler at her feet and having a management team and full production crew with a laser focus on her every move. She is in the middle of filming Part II of the Quality Control x Mass Appeal's documentary Point Blank Period. Miami is a beauty in a traditional sense but also through an Instagram filtered reality.  Her hair is tinted an expensive green shade, skin like half coffee half cream and her eyelashes seem to frame her large set eyes like flower petals. She looks like a Bratz doll come to life but prettier.
"You know sometimes it's annoying, she says with a smile and her southern homegirl drawl taking in her surroundings, " I love it though. I always wanted this life. So it's annoying sometimes but overall I'm excited." 
The City Girls' meteoric rise has been signed sealed and delivered by everyone from Cardi B to Lil Baby to the king of the charts Drake. Their chirpy feature on "Kiki Do You Love Me" was an unescapable viral hit that gave the girls a whole new dimension to their stardom.
 "Drake cosigned the city girls. I'm not going to lie.," Miami says, "Like, Drake really gave us that exposure that we needed, like the next level first exposure. He really like took us to the next level. We never expected that. Not so bad just to be rapping like for a year to get a feature with Drake.  Like, you know, that comes with time. So, when he reached out to us like, I got to work with the City Girls. We were like, we got to be dreaming or you know, somebody's playing us. But, it was really Drake. It was like, it was God's willing. Like, God had a plan for us. So, thankful and grateful."
The girls seem to have wrapped the industry around their lacquer tipped fingers with their signature nonchalant sex and violence infused monologues. Easy E comes to mind when listening to their palm tree gangster raps.  They only had 2 songs under their name when they got signed to Quality Control Music. Migos, Lil Yachty, Stefflon Don and Lil Baby are labelmates amongst others.  
They made a career out of being themselves. Their narrative is a multi-faceted affair that brings female empowerment to the front in a risqué street smart style that revives control of their bodies, their sexuality, getting money, their desires and vulnerabilities over catchy club approved beats. I imagine Tipper Gore is hyperventilating into a paper bag while Yung Miami raps about getting a hickey on her pussy.  Their music is as explicit as it is danceable.
"I'm never bothered because, at the end of the day, everybody's entitled to their own opinion. Like, guys rap about fucking bitches and not calling bitches. This is what I think, music should be fun.  Like, you in the club or at a bar with your friends or your sister, you're trying to have fun and then you hear a song come on about, like a rapper that's so lyrical and she's talking about how the struggle is, you know, how we should have good credit. I would rather be hearing Future rap abut fucking two bitches, and get high and turn it up. You know what I'm saying. So, it's like people make different types of music for different types of vibes and for different types of things, and people shouldn't put people down for rapping about, you know, what they want to rap about. "
They are open books in their chronicles as quick to tell you about their pains as they are about their bling. Their story pens itself as a hood to riches fairytale that ends with the girls at the top of the charts.  Even though they don't want the burden of being a role model to land on their shoulders you can't help but take solace in their confident messages.
"I'm not a role model, and I don't want to be someone's role model. At the end of the day, I'm just being myself. I understand that people look up to me, but I just see it as you can put your mind to anything. You could be anything in the world that you put your mind to. You know, just be a woman with confidence when it comes to men. It's just like be your best self, live your best life. Be confident in who you are. Be an individual. Be yourself. And don't take any mess from no man.  Don't let no man run over you."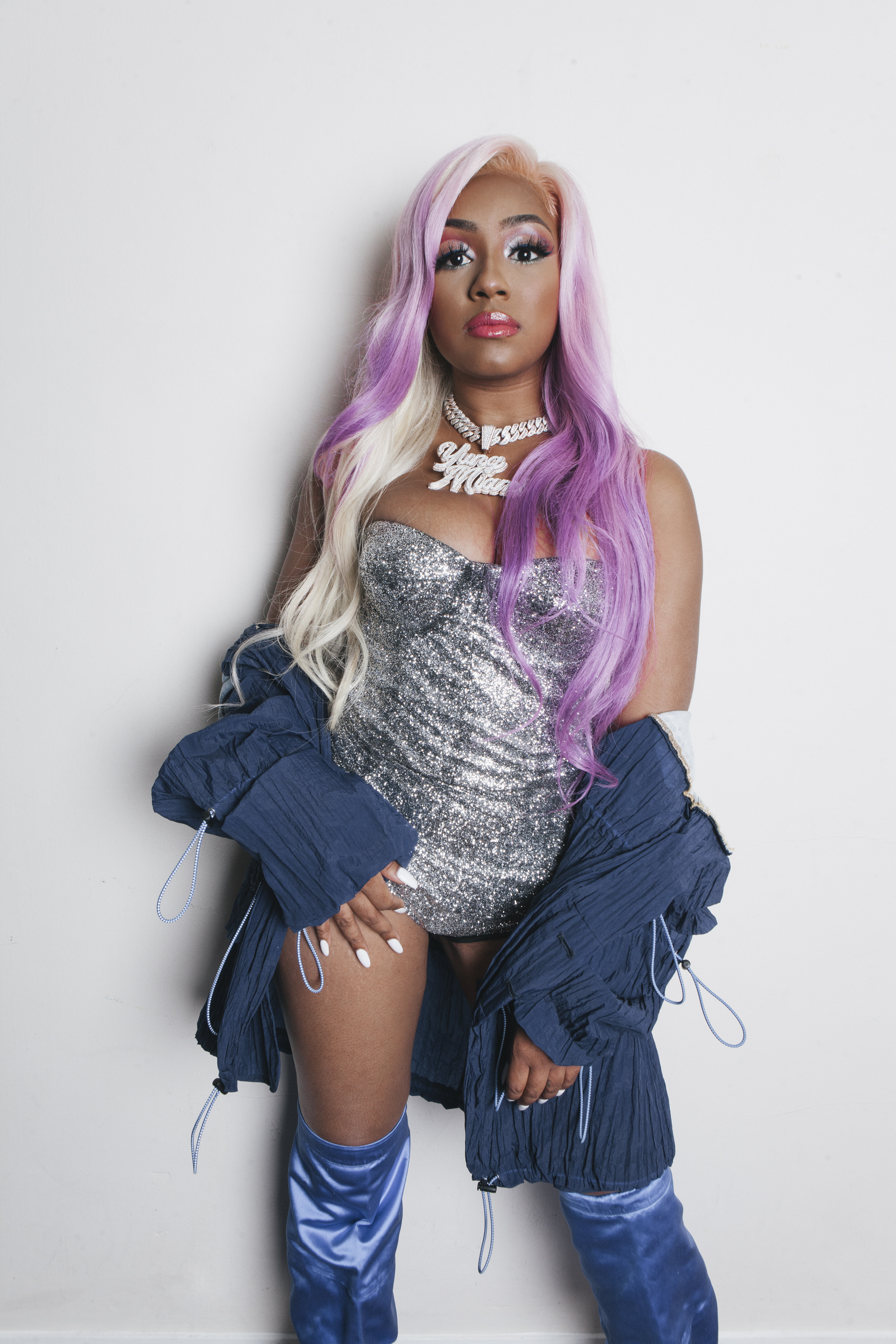 Jacket+ Shoes: Unravel. Corset and bottoms: AyA by DK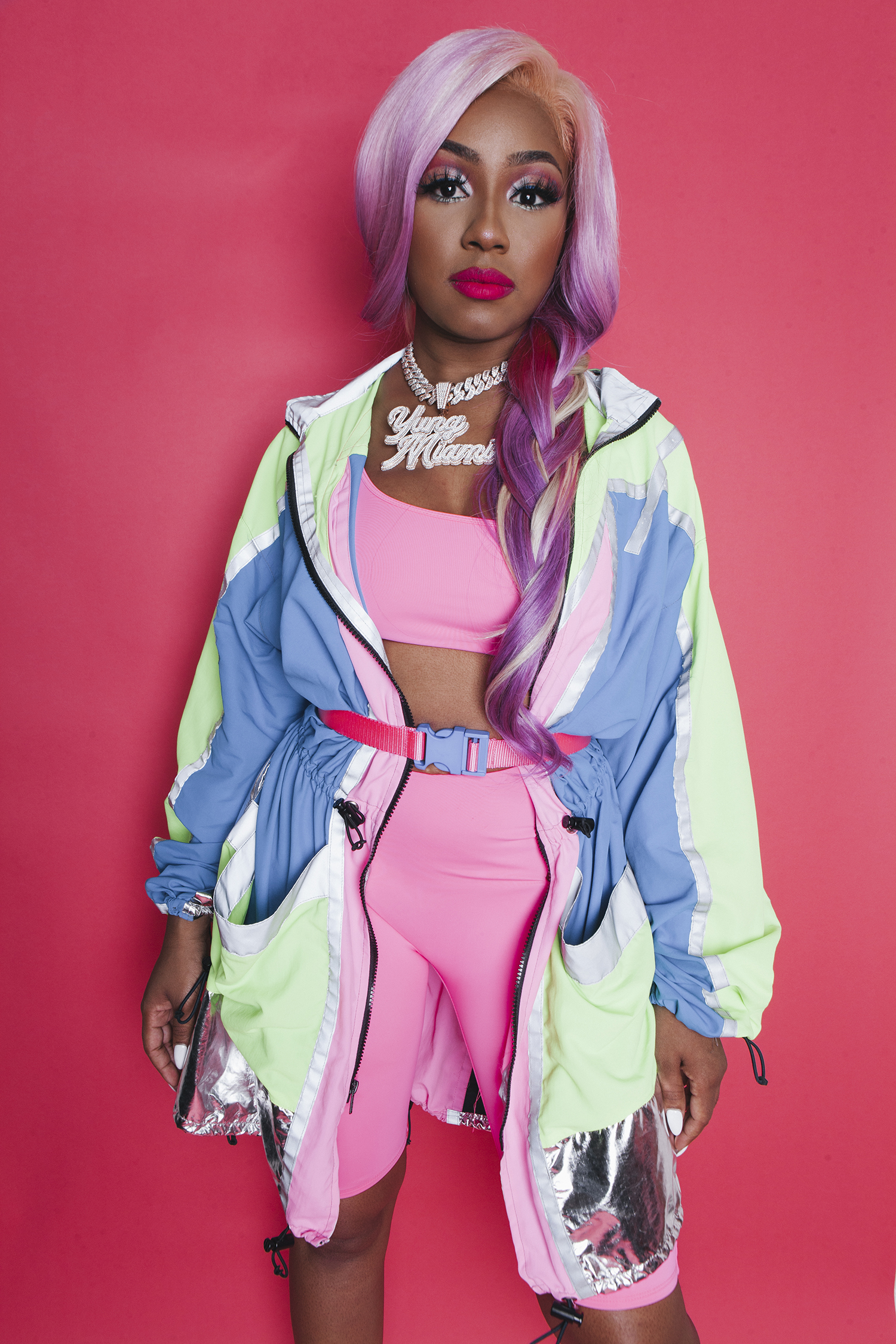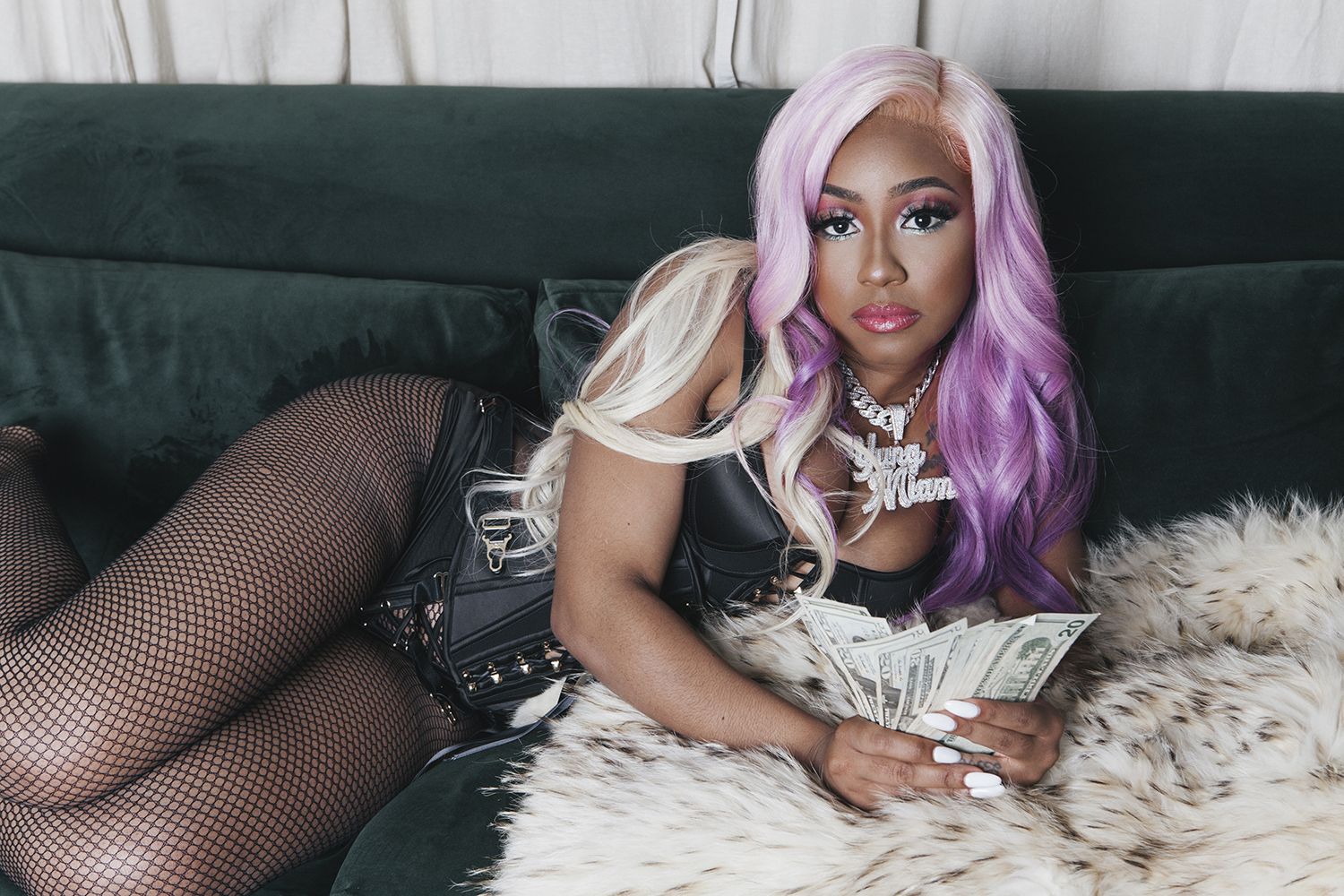 lingerie, Honey Birdette
The duo met as teenagers in the parts of Miami that seem worlds away from the white sand beaches and oceanfront mansions. No one had it easy, but they had each other. 
"We were just two regular hood girls that were just friends. Like, we friends but, we're sisters." Yung Miami recalls.
JT, the original rapper of the group, caught refuge at Yung Miami's house. A place were freedom and creative pursuits were encouraged. Trina was Yung Miami's godmother and a frequent in the household. She approached Yung Miami one day with two beats and wanting to do a song. 
"I always knew we would be something," JT laments, "Miami was always perfect for me so us together is just perfect, period!"
Sitting around the house they brainstormed ways to record before connecting with the affluent Miami producer Iceberg who let them use the studio. 
Yung Miami giggles when she looks back, "When we was in the studio doing the song, we was laughing and saying, oh my god, we so foolish.  We really using up people studio time, like why we doing this? Like, why we playing with people. You know, why we wasting the engineer time. And then, there was the moment when we put out the song, and the song started getting, you know, views and plays, you know, getting played in the club, and people making videos.  I am like, okay, it's fun like people were really fucking with us."
There is a certain laissez-faire attitude to their music that has paved a way for a carefree #DGAF type of girl that rap about subjects that are taboo even by raunchy standards. Their music highlights the ethos of get money or die trying, scheming, popping off, drinking, twerking and having fun. They aren't here for broke boys or people who try to come from them, as they so eloquently put it, "act up and you can get snatched up." They are authentically them.
"You know, being a female rap artist, they always trying to compare us to, you know, Nicki Minaj or Meg Thee Stallion. Nicki Minaj is lyrical, Meg Thee Stallion. Is lyrical. The City Girl's not lyrical. That was always their passion and itch. That was always their goal to be rappers. We have to defend ourselves when people try to compare it to whoever. We always try to tell them, we not that, but we are city girls. We are international.  Everybody knows who we is. Everybody loves us for who we are. Our goals weren't to come in the game to become the next Nicki Minaj or the next Lil Kim, or, you know, rap legends. We just came to make the kind of music that people all over the world can have fun with. When they're having a bad day turn our music in their car after work, and just have fun. We're not trying to, you know, step on nobody else toes, or take the title from somebody else.  We just being ourselves. Making music and have fun."
This is just the beginning for the twosome and there is a lot they want to explore. The City Girls is more than a rap group it's a burgeoning enterprise. 
"I want to Explore like, you know, doing shows overseas. Like, I want to see the culture.  And feel the love and energy over there. We want to do like, arenas and maybe the Super Bowl one day. We want to do a cosmetic line.  Want to have our own clothing store. You know, we just want to branch off into different things. We don't want to be known for our music.  We want to be fashion icons. We want to be in cosmetics. We want our own nail polish one day. You know, we want to take our break into the next stage of the City Girls. To show people that we're two girls from the hood, and we just have fun within ourselves. Now, we just, we movie stars, we rappers. We fashion icons and just stuff like that. But most of all to have fun."
Jacket+ Bodysuit Death by Dolls.Shoes: Fila