Empowerment is more than a feeling, it's an inherent trait found deep within our veins. At least, that's what Venezuelan artist Andrekza is here to declare. A rising star in the world of Latin urban pop, Andrekza has the backing of some of music's biggest artists including being the first lady of Dim Mak en Fuego – Steve Aoki's Latin imprint label. Stepping onto the scene with her first EP release, Cassette – Lado A, Andrekza is now back to showcase a whole new array of sounds and visuals to add to her multifaceted and multi-talented world. 
This brings us to her latest, "Sangre Poderosa," the third single off her forthcoming EP Cassette – Lado B. Written alongside Rubén Coello and produced by Epikh Pro (Cardi B, Bryson Tiller, Eminem) and Roark (Post Malone, French Montana, Drake), the single brings us a new layer of creative sonic and visual palettes, fusing upbeat Afro-beats, hard-hitting Latin trap and vocals laced with an eased air of upmost confidence. 
Get a LADYGUNN exclusive look at the empowerment anthem for Latinas of all shapes and skin tones below: 

LADYGUNN spoke with the singer and creative director before her latest release to discuss the inspiration behind the single, the importance of celebrating and honoring women's strength and what's next for the rising star. 
Interview has been translated and condensed for clarity purposes. 
Can you talk about the creative process that led to the creation of "Sangre Poderosa" from concept to final form?
It was a very lovely process because as a first generation Latina woman, I wanted to create a song that would empower me, make me feel strong and represented everything that I am and have seen in all Latin women. I went into the studio and had the opportunity to work with Roark and with Epikh Pro, who are two incredible producers, as well as a great friend Ruben Cohello. We got together to make a song and we wrote "Sangre Poderosa." The creating process was very interesting for me because I wanted to mix traditional sounds and new rhythms. To make this mixture was an adventure and it was very enriching for me to blend Latin and Afro-Latin melodies with this new genre of trap to create this fusion. I think this project represents the true power of Latin women in all aspects of life. The creators, the entrepreneurs, the independents. I'm a "Sangre Poderosa" woman, bringing strength and empowerment to the song and creating projects like this gives me life.
Was there a specific event or moment of inspiration that sparked your desire to create an empowering anthem that encompassed all Latinas?
I grew up in a very matriarchal family, we're all women. My father passed away when I was 11 months, so I grew up with my mom, grandmother and my aunts. I grew up seeing the power and "Sangre Poderosa" of women, and Latina women, all around me my whole life. It was a concept that was very interesting, especially in this moment of time when we have fought for so long to have a voice and the voices of Latinos, especially in the US, are finally being raised and uplifted. And I think women have made such great contributions towards that and to giving us the recognition that we all deserve. I, as a first-generation Latina, identify as independent and someone who has fought for her dreams, but also as someone who had to leave her home country of Venezuela under tragic conditions. So to have the opportunity to be here now, and share that sentiment of overcoming, feeling empowered and uplifting others inspired me to make a global anthem for my sisters who should always feel the same. 
The video itself shares a very interesting reference point for its inspiration. Many turn to fashion or art, but you were inspired by history and the Triangle Shirtwaist Factory Fire of 1911. How did that connection come to you?
The video, which I created along with a good friend from Costa Rica, Sebastian Coto, was inspired by the idea to showcase the incredible hard working women from different parts of Latin America. As an immigrant woman myself, I found it important to pay homage to the 1911 Triangle Shirtwaist Factory fire in New York. I found it so important to pay homage to that situation because so many immigrant women lost their lives in that tragic event and that is why  we now have international women's day. I think it's important to pay attention to those moments so that we can learn where we come from. Sometimes we can get so caught up in what is happening currently, that we don't see that we have been in this fight for many years and that can give us clear direction in what is happening now. It inspired me a lot to bring this moment that happened so long ago to today's time and share the history with many young people who may not know the history and hopefully they too can feel inspired by the situation.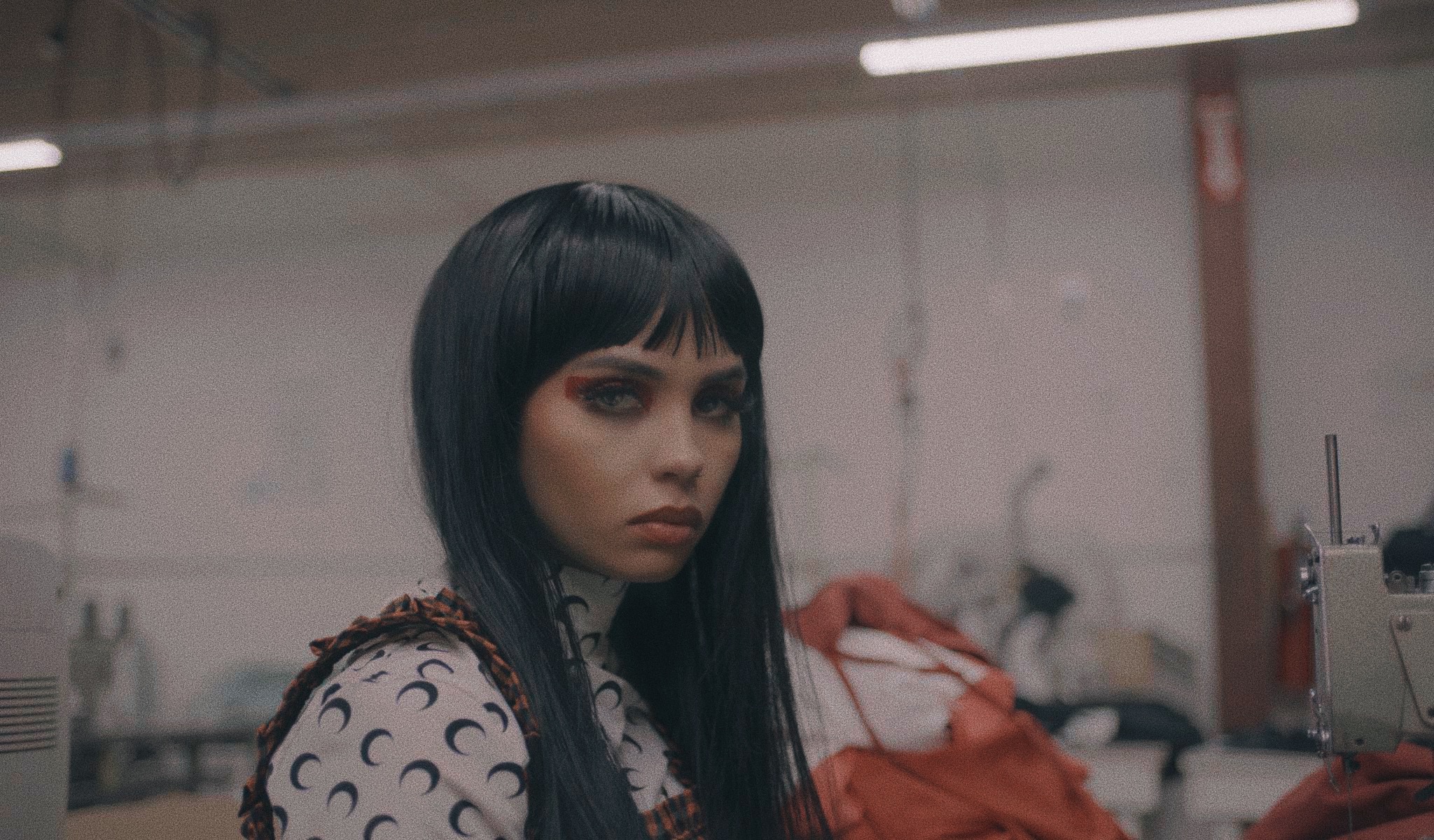 You highlight different Latina women throughout the video – who at the end get introduced as a variety of modern day Latina powerhouses. How did you decide on finding the subjects?
These women, a lot of them are my friends, but apart from that they are young, powerful Latina women who are making magic of their lives in the US. They are women who have followed their dreams, who have worked everyday towards their goals and who are making changes in their communities  in a lot of different ways. I think it's very powerful to see these images of independent women in this way. It was just such an interesting idea to me, each individually with their own beautiful story. Since moving to LA, I have had the chance to see the growth of these women, so to showcase them in my video was really magical.
What do you want the audience and listeners to take away from this song? 
The message is to go out there and follow your dreams, especially Latina women. You shouldn't feel pressured to be quiet, ashamed for being who you are or falling into what we've been told we should be. This is our moment to raise our voices and make sure it's heard. And I think this is a perfect song to remind you of that power. Your power.
With Cassette – Lado B, the second part to your EP, coming out soon – what evolution of Andrekza will people see that they haven't prior with Cassette – Lado A? 
I think that with this next collection of songs, is definitely an evolution of my world. I didn't grow up in one place, or listening to just one thing, so this is my biggest experiment but my creativity is at one hundred percent. There are a lot of different rhythms, but that's the beauty of the cassette. For those who had the opportunity to have one, we know that they were all mixes. You  had a little bit of everything in one cassette. That's what my EP's are modeled after. 
You also have a fashion line in the works. How do you feel, as an overall creative, that fashion inspires your music or vice versa? 
They are two worlds that completely collide. My fashion is my mood and it comes completely from how I feel, how I want to connect. I think my creativity expresses itself in both those ways. It has those two sides, music and fashion, that are always alive consistently, one hundred percent, all of the time. So it's been very enjoyable to mix both of those worlds. I am also very excited that on top of making music, I am also working on my own fashion line right now, a streetwear collection, and my first one as a creative designer. So I am putting all my love and effort into it as well. I think everyone is going to love it.
CONNECT WITH ANDREKZA
story | JEANETTE DIAZ
photos | COURTESY OF ARTIST