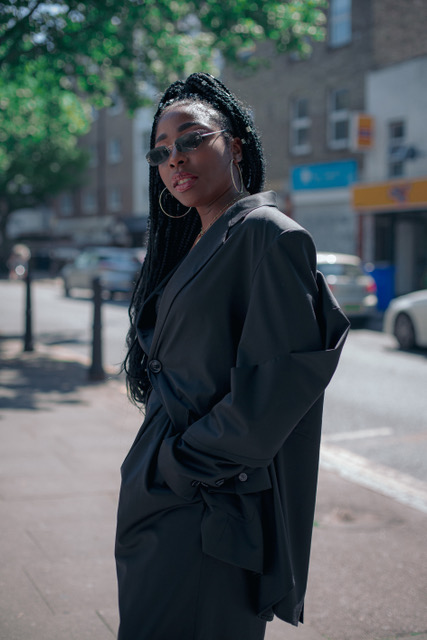 If you haven't heard of London-based Nissi, you probably don't know the beachy euphoria we've all missed in quarantine. Her Nigerian influence invites the listener to a tropical instrumentation and her new EP "Ignite" features seven feel-good dance tracks. Her message is to let go and feel empowered by your own powerful self. The EP features lyrics in English, Yoruba, and pidgin which makes for prose rarely ever heard in mainstream music. Nissi makes way for authenticity and won't let her music boil down to the simple mainstream template. 
Music runs through her veins, and some say it is genetic. Her brother is the talented Afro-fusion artist Burna Boy. "My mom has a music room," Nissi told LADYGUNN. "I started recording at 13. My inspiration was my family and people around me." Not only is she a musician, but Nissi also owns an animation studio! Talk about badass independent woman. 
LADYGUNN talked to Nissi about what music is on her playlist and what is it like being a Nigerian woman in a white male-dominated industry.
Who do you listen to in your free time? 
Many people from HER, to Alicia Keys, Snoh Allegra, Jay Z, Beyoncé, Burna Boy, 21 Savage. So many, my playlist is fully packed.
With the way of the world right now, what do you think is the importance of Afro inspired music? 
Regardless where the world is, it's music that stands out for a deeply rooted culture. It tries to push the boundaries of the music around the world because of its authenticity.
Some would say you're a Nigerian style icon. How do you decide on new hairstyles and outfits? It seems that you're driven to bold color, would you agree?
Yes as a visual artist it's very important for me to create portrait visuals and stay true to myself. This is when the natural hairstyle and color skin come from. Regarding the styling that's all handled by my sister and chief stylist Ronami Ogulu.
What do you think is the overall responsibility of artists using their platforms to incite change?
I think you said the answer in the question.
Would you say it is harder to break into the male dominated Nigerian music scene or the white dominated American scene? Is there a difference? 
It's two different questions because you are dealing with two different cultures; it adds up to a similar experience. As long as the music can relate to or be enjoyed by people of various backgrounds, as an African and a woman, life is a challenge yet we rise to the occasion.
How have you been keeping creative during quarantine? Is there any advice you'd like to give to your listeners about how to stay inspired during times like these? 
I've been pretty busy with work sessions, arts, and animation. It's been a busier time for me than before COVID. But my advice would be to pick up a hobby or learn something new because it's the perfect time for it.
Do you think the political/humanitarian turmoil of the world in 2020 will influence any of your future works? 
Most definitely. I always want to talk about the reality of life.