Photos + Editing /

 

Andrew T. White
Styling + Creative Direction

 

/

 

Sam Bates
Makeup

 

/ Tony Tulve using

 

Fluid Beauty + Starlina +Megan Kelly 
Photography Assistant / Owen Benfield
Set Created by Indie Studios
STORY / ERICA RUSSELL
If Charli XCX is the Nick Fury of pop music — always geniusly one step ahead of the game, whether she's behind the scenes or at the forefront of the battle for next-level music — then Nasty Cherry are the Avengers of pop-rock.
Featuring model Gabbriette Bechtel on lead vocals, Charli XCX live drummer Debbie Knox-Hewson on drums, Kitten frontwoman Chloe Chaidez on guitar, and set decorator Georgia Somary on bass, Nasty Cherry are a who's who of diverse It Girl power players. Signed to Charli's label, Vroom Vroom Recordings, the alt-pop group was conceptualized and A&R'd by the pop heavyweight in 2018.
"She had this idea a long time ago, about putting her friends together to make an all-girl band that actually played instruments," Gabbriette shares of Charli's involvement in their formation. "We all knew her at different points in her life. She brought us together to make music and, at the time, none of us even knew each other that well. She's a curator in that way."
While the band is autonomous, Charli maintains a deeply collaborative relationship with Nasty Cherry, helping them with promotion and even co-writing on some of their songs. "She's very much like a pop artist fairy godmother," Georgia quips. "We all respect her as an artist. She's included in official things, as well as fun things and music that we work on. She's part of it. She also has such a great ear and eye, so we all look to her."
Adds Gabbriette, "She's always told us to be absolutely and completely ourselves all the time. To listen to each other and not be afraid to speak up—even argue if there's something we really believe in, but come together in the end. She's also helped us by showing us the way she writes. I think we've all learned a lot from her about writing and how to collaborate."
On New Year's Day 2019, Nasty Cherry was introduced to the world in a way that can only be described as the epitome of group's irreverent, badass, sexy bravado: with an Instagram video of champagne being poured into two flutes balanced on Georgia's flawless bare ass in a jacuzzi.
"We thought it would be a really fun way of getting it out there," Gabbriette admits, laughing. "I don't think we thought that was going to be how we announced it, but we decided to tell the world we were a band and that was our favorite moment captured together at that point. So, we thought we'd share the love!"
Three months later, the band released their official debut single, "Win." The track, a delightfully cocky, glittering, Garbage-esque guitar-driven anthem about not letting shit get you down, offered a promising, instantly-catchy sonic introduction — but by then the four women had already garnered a considerable fanbase online courtesy of their mysterious social media rollout.
"It was quite mental," Georgia says of gaining a following before the band even knew when they would release their first track. "It was funny to see people commenting, 'We can't wait to hear your music!' We were like, 'We hope you like you like it! We promise we're not just putting our asses in front of your face!' You really want people to like the music when they've already been invested. It's amazing how much people care."
Aside from coming from four very different backgrounds and not really knowing each other before jamming together for the first time, the women of Nasty Cherry also hail from opposite sides of the pond: Gabbriette and Chloe from the U.S., Georgia and Debbie from the U.K. Their cross-cultural roots lend an expansive edge to their distinct sound, which pulls influence from hallmarks of both American and British pop and rock.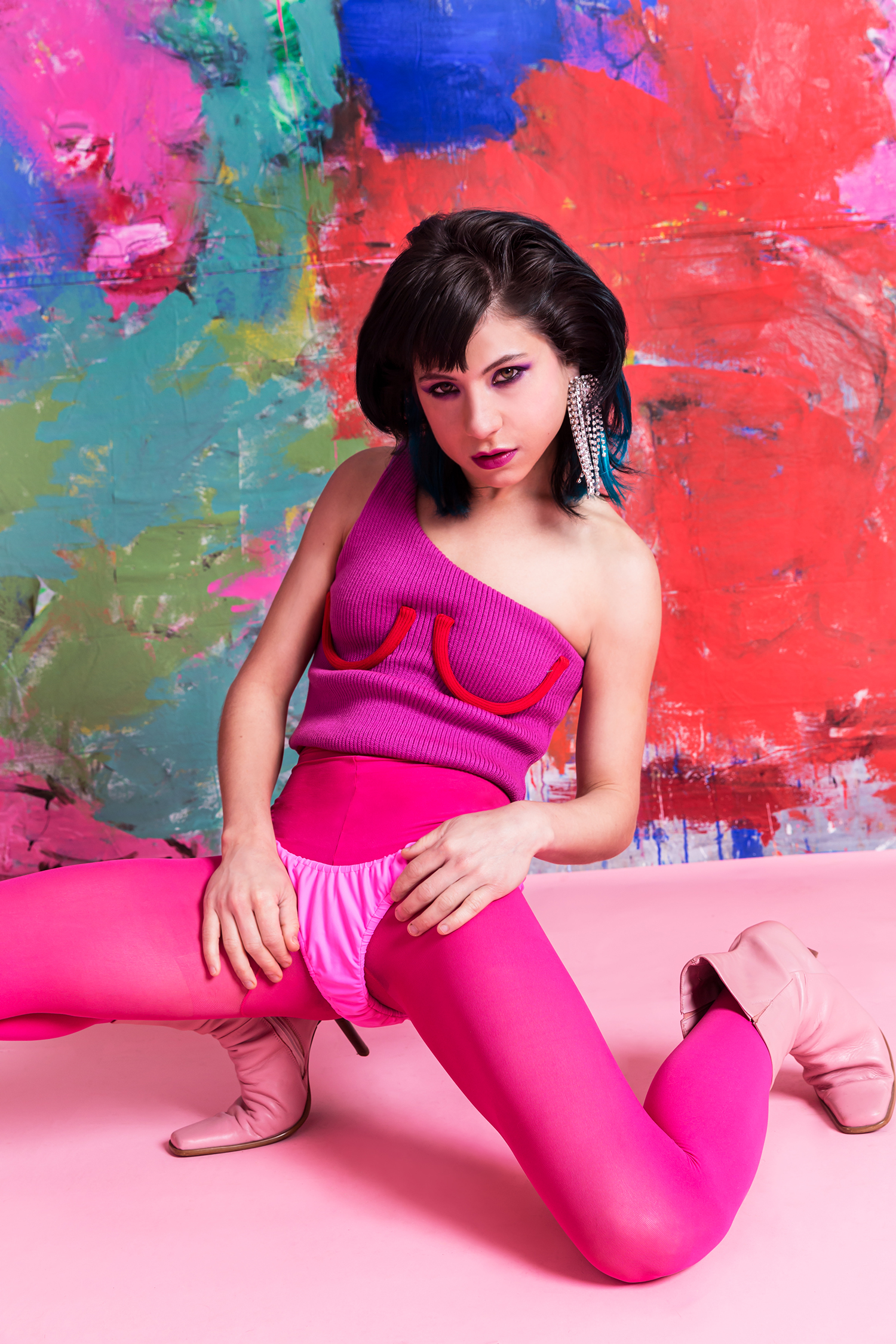 On Georgia: 
Top / Orseund Iris
Skirt / Greta Constantine 
Boots / Model's Own 
Jewelry / Shiny Squirrel 
On Gabi: 
Dress / Sies Marjan 
Shoes / Tabitha Simmons 
Jewelry / Shiny Squirrel 
Briefs / Fisch 
On Debbie: 
Jacket / Sally Lapointe 
Dress / Cinq a Sept 
Shoes / Salvatore Ferragamo 
Jewelry / Shiny Squirrel 
Belt / Orseund Iris 
On Chloe: 
Top / Orseund Iris 
Tights / Stine Goya 
(Bottom Option 1) Briefs : VDM the Label 
Jewelry / Shiny Squirrel 
Boots / Joseph
Nasty Cherry's myriad visual and musical influences are deeply apparent in the songs they've released thus far, from the '90s electro-grunge glam of "Win," to the surfy sparkle of "Live Forever," to the dreamy, lo-fi, '60s girl group shoegaze of "What Do You Like in Me." (The latter track's spooky '80s VHS tape-meets-Elvira aesthetic is not to be missed.) Luckily, the band's collective library of favorite songs helps to stimulate the ladies' creative mojo.
"Gabby stays in a classic rock zone, like Bob Dylan and The Doors," Chloe shares. "Her influences are always influencing me. It might not be new bands, but it's her library that's refreshing for me. I've never felt freaked out by any music reference anyone has shared!"
"We have quite a few bands that we love, like The Runaways. It's definitely fun to share artists we grew up with, like Hilary Duff." Georgia adds. "We just play songs that have meant a lot to us. There hasn't been a U.K.-U.S. split—it's been a big melting pot."
Plus, Gabbriette says, much of the group's influences "come from attitude and aesthetic": "A lot of the stuff Georgia brings visually influences us directly. We're all big fans of Josie and the Pussycats and The Runaways. The Spice Girls are such a huge influence as both a band and an attitude."
A DIY spirit runs heavy through Nasty Cherry's veins, whether they're using their own clothes and housewares as props in music videos ("WDYLIM") or self-directing them ("Live Forever"). But embracing a passionate do-it-yourself attitude is part of the band's message of feminist empowerment, and allows the women freedom outside of potentially restrictive budgets or sponsorships.
"Being in a band with three other women, you've got your three biggest hype girls with you all the time," Debbie shares. "Every idea is championed to at least give it a go. That's all you need to be in a band. We hope that people see that. Anyone can start a band and start making music."
Adds Georgia, "I think there's a joy in making things and not having to ask permission from someone else, especially when you have an all-female band. It's been such a joy for us. The DIY nature of it means you can control your stuff a bit more."
From the get-go, Nasty Cherry has largely been celebrated — and incessantly referred to — as a "girl band." While the group, whose debut EP is due out in the autumn, is indeed comprised of four women, the gendered marginalization and connotations of the "girl band" designation has left Chloe, Georgia, Gabbriette, and Debbie with mixed feelings. Some find the phrasing problematic; others, uplifting and intentional.
"I like being referred to as a band, that feels more natural to me," Georgia admits. "I've definitely used the term 'girl band' though—some days it feels empowering, other days it feels really demeaning. It's an up and down for me. I'd love for people to think of Nasty Cherry as just a band. I'd love to live in a world where we don't have to put the word 'girl' in front of that."
"There doesn't need to be any 'girl' context or whatever," Gabbriette insists. "We're working just as hard as any other bands that are all-male or mixed gender. Our sound is different from anyone else's and it doesn't fucking matter."
Debbie, meanwhile, "actually really likes the term." "There was a drumming day in London a couple weeks ago. It's super geeky, but I live for that kind of thing. There were 200 drummers and I was the only female there. I don't want to try and fit into the masses of the music industry. I want to make it clear. I want people to know that this is a girl band and put it out there. Maybe one day that'll be something that won't need to be explicitly stated, but for now, for me, it feels empowering."
Chloe adds that the topic is a "can of worms," but that the term has lent a sense of visibility she didn't quite lean into early in her career. "In my other band [Kitten], I'd often get asked what it felt like to be a woman in music. For years, I didn't like that question, and it's still a little irritating when you get asked over and over again. But I wasn't vocal about female empowerment throughout my teen years. Now that I'm older, I think it's really important to vocalize that you're a woman in music, that you love women who make music. I feel both ways about it."
"When you get those kinds of questions about being women in the industry and being in a girl band, I think, 'Well, is it going to be young girls reading that, wanting to know what the answer is?' At which point I don't want to be like, 'No, I just want to fit in,'" Debbie muses. "That's how I feel about it. Women are great and I just want to see them make more music."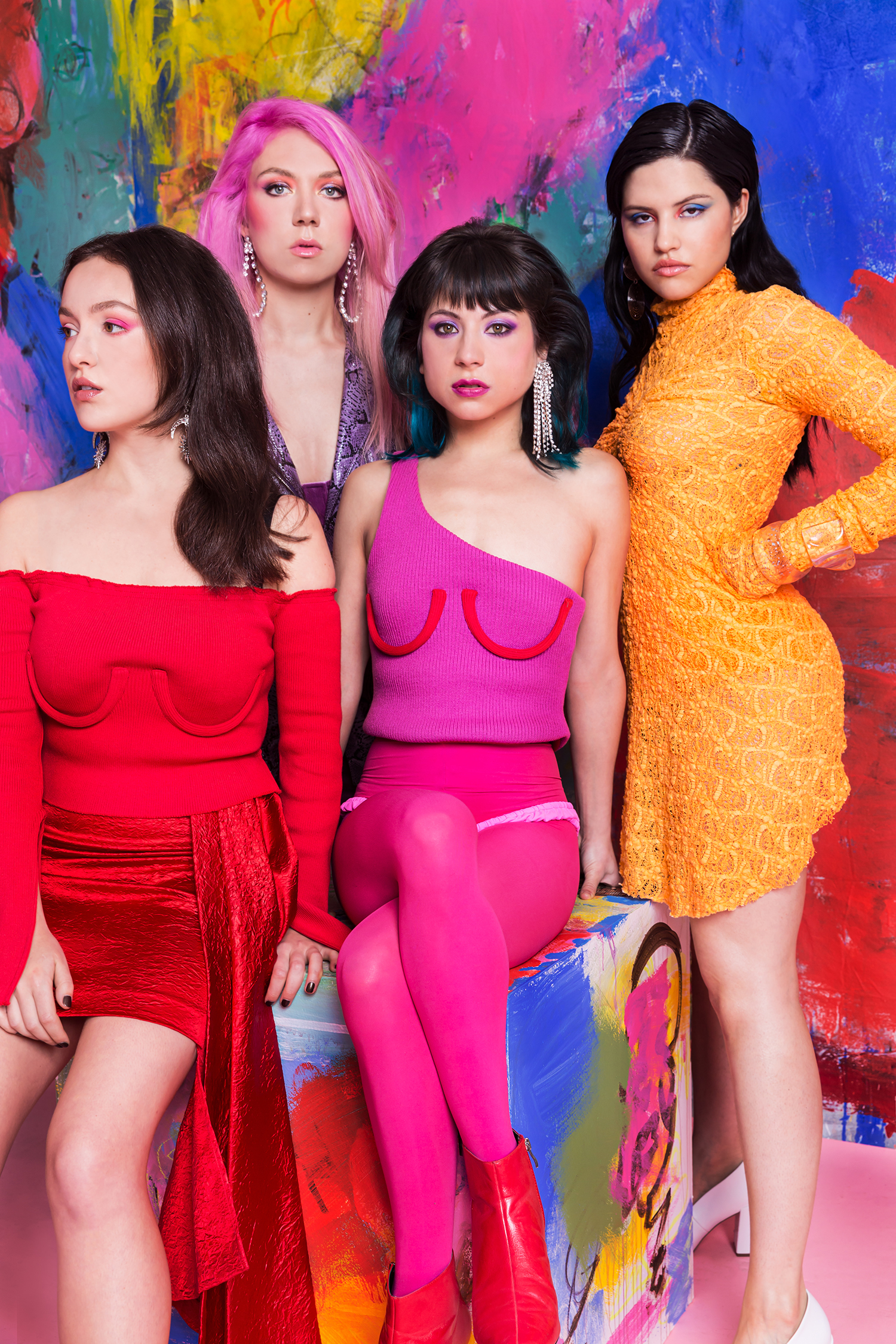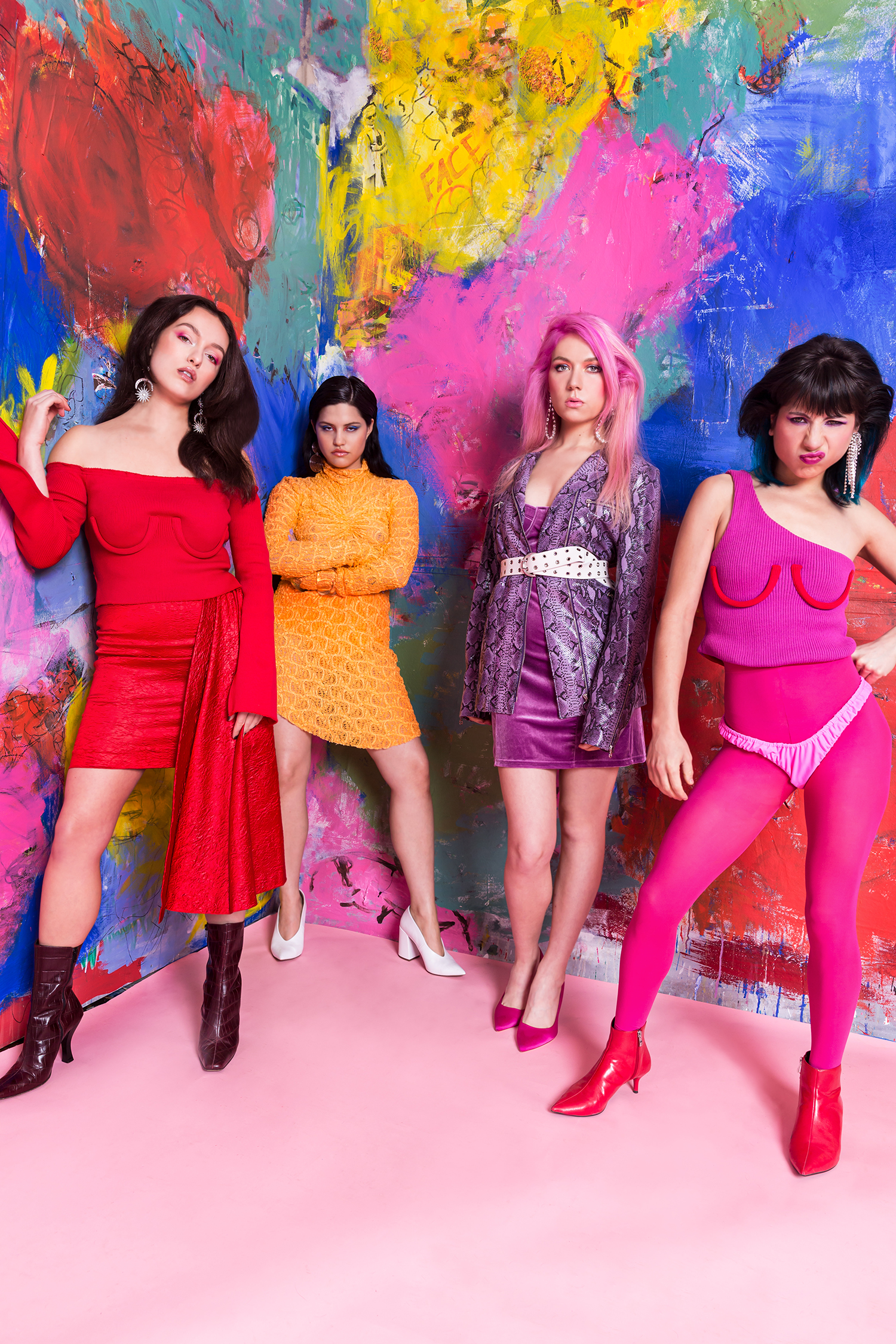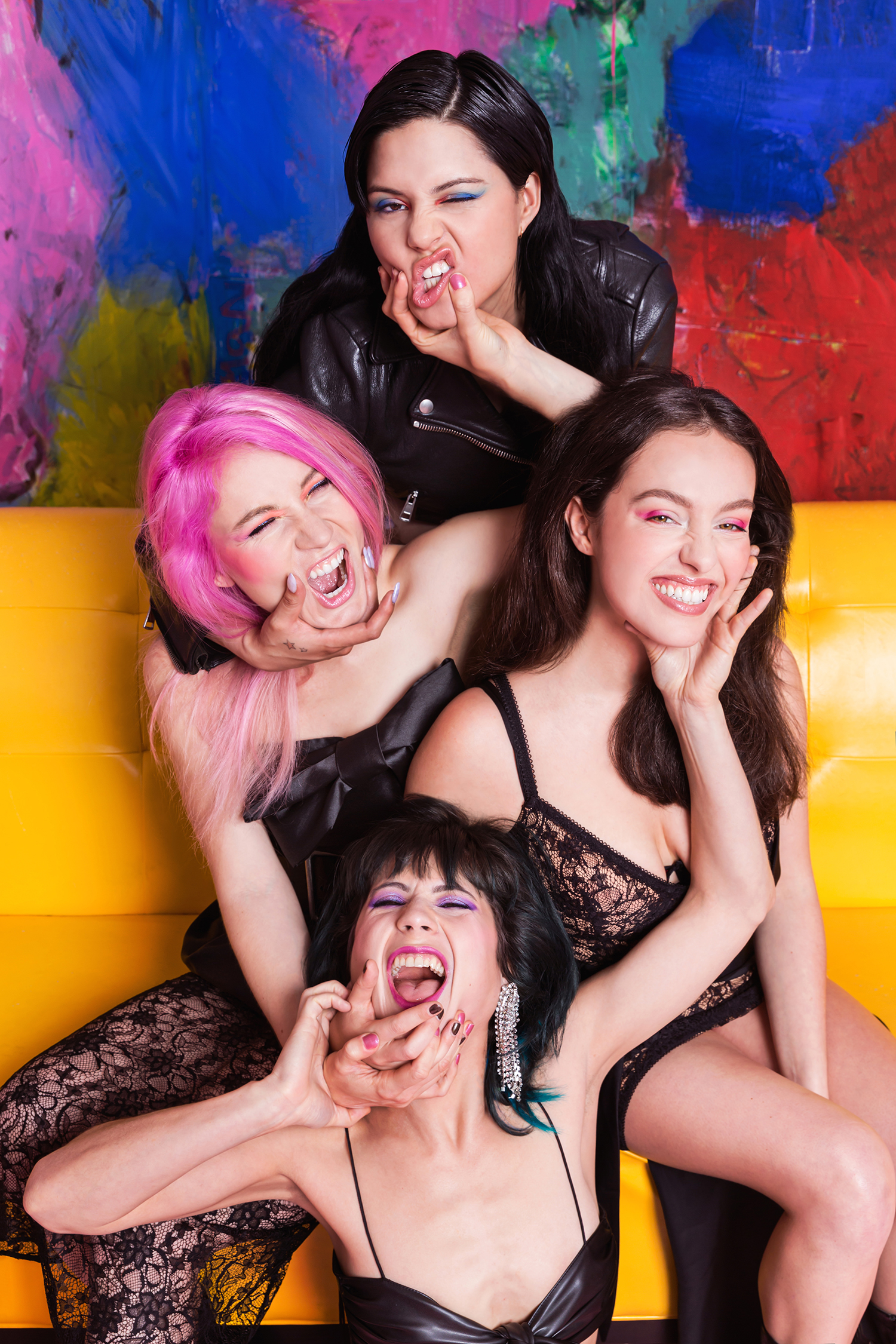 On Gabbi: Jacket / Acne Studios Dress / Orseund Iris Boots / Frye On Georgia: Dress / Kalmanovich Boots / Georgia's Own On Chloe: Top / Orseund Iris Skirt / Orseund Iris Shoes / Isa Tapia Earring / Shiny Squirrel On Debbie: Dress / Kalmanovich Shoes / Isa Tapia
CONNECT WITH NASTY CHERRY: