In an increasingly cruel world, Love Moor offers a respite for tired and broken hearts.
Her music screams, "why care less when you could love more?"
Born In New York and raised in Miami, Love Moor's got rhythm and melody in her veins, crystalizing the musical dreams of her parents through her vibrant, thumping hybrid sound. Love's dad was a DJ and her mom came to America to become a singer, and the two nourished her from a young age with everything from Diana Ross to Bob Marley, and the result was an inevitable soulful vibe that permeates everything she does with an honest layer of positivity and fellowship which she describes by saying "I just wanna be everybody's homegirl!".
For Love, 2023 is shaping up to be a big year, with an EP on the works centered precisely on the first half of her name, and her latest track ahead of this release is titled "Pacifier" for which she enlisted the help of Ghanaian-American singer and songwriter Moliy.
"Pacifier" is Love Moor at her most seductive and sultry. The song's sexy for sure but there's a dimension of emotional depth in it that cannot be dismissed because it is ultimately an anthem in praise of the safety found in the joys of intimacy.
Love Moor has recently opened up tours for Durand Bernarr and Gene Noble and supported acts like H.E.R., Tank and the Bangas, Dessa, St. Paul, Broken Bones, R.LUM.R., Amasa Hines, Mega Ran, and Nnamdi Ogbonnaya. This rising artist has also shared the stage with Sammus, The New Respects, Boyfriend, and Lando Chill, among others.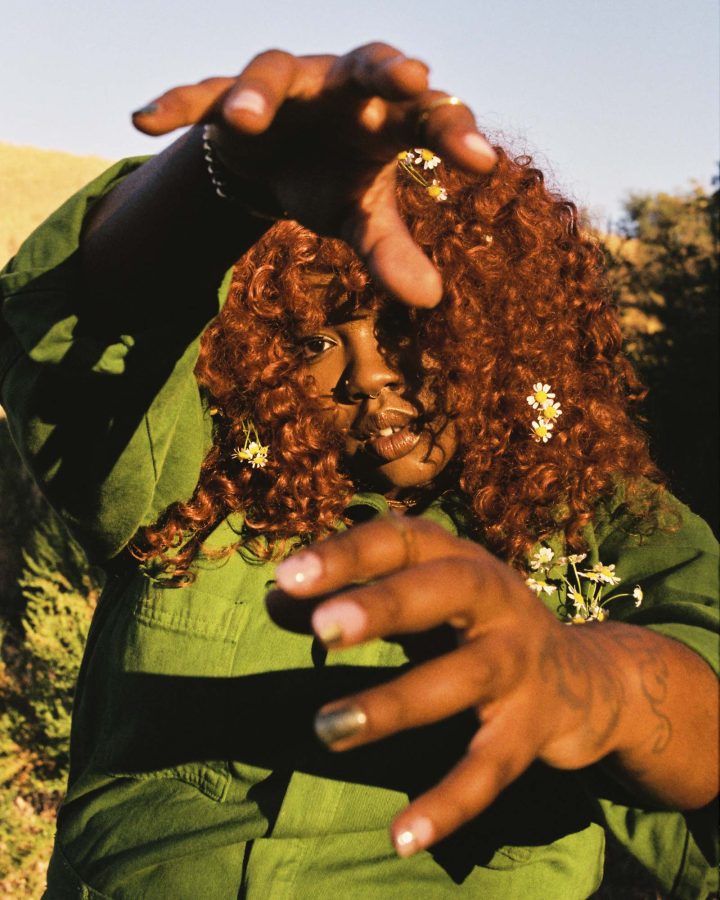 Who is Love Moor right now? What "phase" would you say your career is in right now?
Love Moor represents self-love and me really coming into my own as a Black woman. I'd said I'm in my redefining phase. I'm a Libra. I have ADHD and I love a good vibe. I come with that good energy… I always have and always will. I'm at the point in my career where I just want to share that positivity through my creative outlets. My music, performances, and personhood are really an experience and I just want to share it with some good folks.
Once a song is done and out, it's often the case that artists get a different perspective on the song than when they were working on it. How do you see "Pacifier" right now?
When I first wrote "Pacifier" I definitely wasn't feeling the guy that I was "pacifying" anymore lol but the sentiment of this record still rings true for the next I decide to give my love to. "Pacifier" as a song is completely fire and the perspective hasn't changed now that it's out in the world. I want all friends, lovers, and lusters getting grinded to this song this summer!
What's your favorite verse/line in the song?
That first line, "I want to own you, own me too"… As intense as the word "own", I think that's the agreement between lovers. The aspect of ownership in this line is meant as loving declaration of responsibility for one another. Establishing the idea that I'm safe with you and you're safe with me. 
How would you describe your music right now? This song in particular is very rich, but also difficult to label under any one genre in a way that feels satisfactory!
If there is a box, I wouldn't be in it lol I find inspiration influenced from so many genres and it all comes through in my music. I think a blend of Alt/Dancehall/R&B would be the closest description for my music, but there are more influences in the midst of that. 
You come from a family of musicians. What would you say you got musically from your mom and dad?
I think the actual vocal talent comes from mom. She would sing to me as a kid. Give her the chance and she will still sing to me. Then, I think my ear for music comes from my dad. The man can mix and definitely exposed me to many different genres at a young age. 
Who would you cite as your biggest influence at the moment?
This was hard for me to answer, but I think when I get down to the nitty-gritty, it's no other than Rihanna. Seeing that island girl became the larger-than-life person she is now. Sheesh! Gets me worked up! 
Tell us about how it all came together with Moliy. Do you think we'll be hearing the two of you together in the near future?
I knew Moliy would be a great collab for this record and so my A&R connected us. We linked up, she did her thing, and look how cute it really turned out. I think we were both low-key shocked at how perfectly we complimented each other. Working with Moliy was like getting locked in with my long, lost cousin. Definitely more to come!
The song is about an aspect of love, and your upcoming EP will be centered around it as well. Can you give us any details about what's to come?
You remember that vibe I was telling you about? My drive to radiate love and positivity… This project embodies just that. I am a very sensual woman, but I'm a little goofy, so you get that. My confident side of love also shines on this EP. It's really just a feel-good project, and every time I listen to the full body of work I have to bring myself down from the physical high that I feel from listening to it. So brace yourself – you're going to enjoy the vibe!
Besides the upcoming EP, what else have you got planned for 2023? What can we look forward to?
More music! I'm working on teeing up some sick performances this year. I'm excited for my fans to watch and grow with me.
Credit: Courtesy of the artist
Story: LADYGUNN Staff
FOLLOW LOVE MOOR