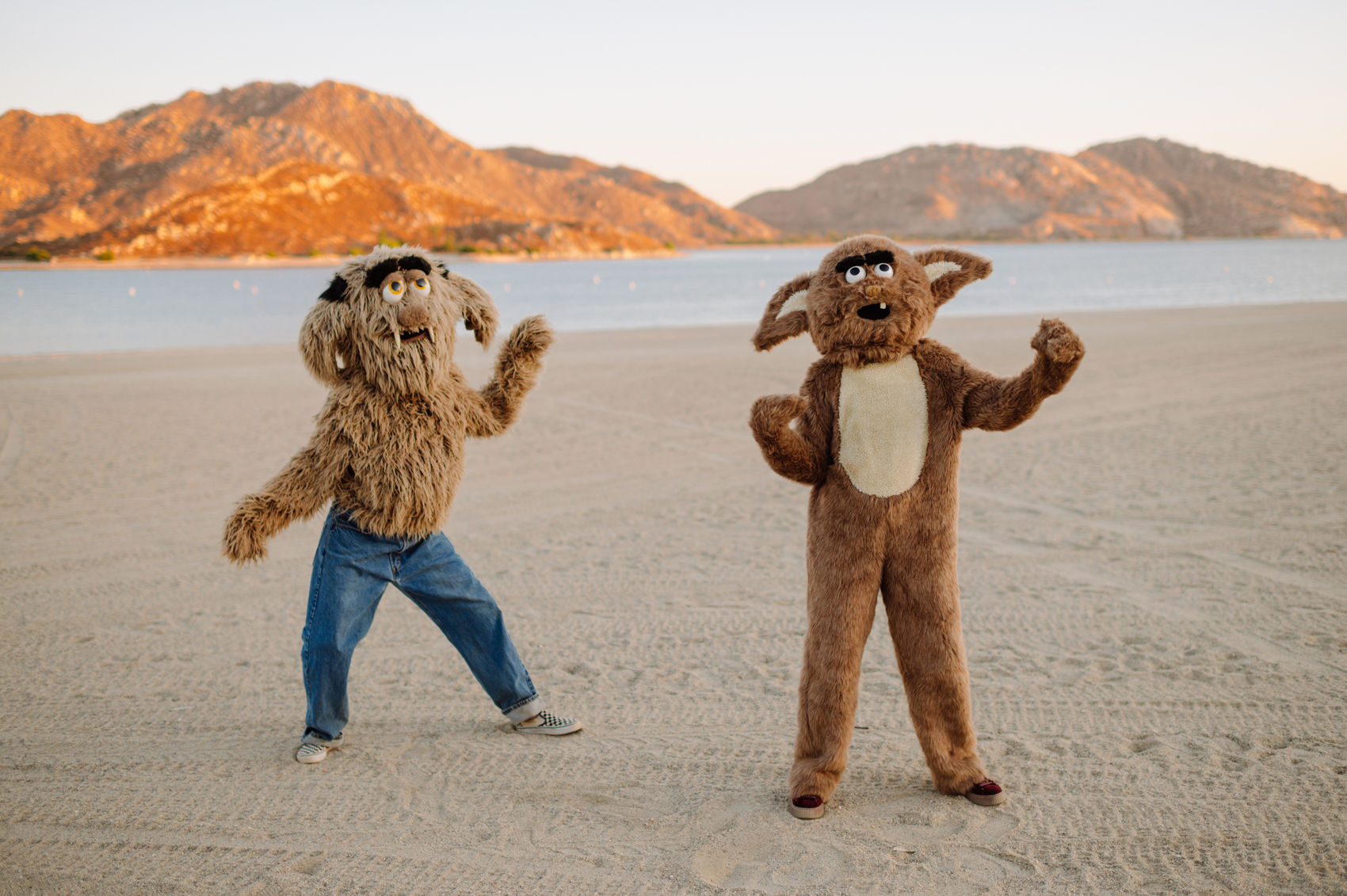 story + polaroids + 35mm / Ericka Clevenger
digital photos / David Morrison
Last weekend, Desert Daze returned to Lake Perris and proved once again it could nail that perfect balance between art, music and culture. Featuring today's hottest acts from the Flaming Lips, Wu-Tang and Pussy Riot to local bands like Part Time, Jerry Paper and Surfbort. I saw more bands than I thought possible and made memories that will last a lifetime.
The festival was very well organized with smooth in's and outs, intuitively laid out campsites and amazing interactive art experiences. Settled less than two hours from LA, this intimate festival is one I recommend to every music lover. Unlike Coachella, Desert Daze embodies the spirit of indie music, speaking directly to the reality of what people are into. People aren't coming here just to take MDMA and party with celebrities, they are here because they love the music.
This festival is really special because there is an undeniable energy present. Everyone is here because of their love for each other and you can feel it in the air. I've known Desert Daze founder, Phil Pirrone for about a decade and have always been blown away by his passion and dedication to the music community.
After eight years of fathering this festival, Phil is still joined by his original crew, his wife Julie Edwards (Deap Vally) and his incredible daughter Mira. Watching him seamlessly oversee the day to day operations of the festival, interact with guests, play with his daughter and perform was inspiring to say the least. I'm so honored to be a part of this extended Desert Daze family and can't wait to share my weekend highlights with you.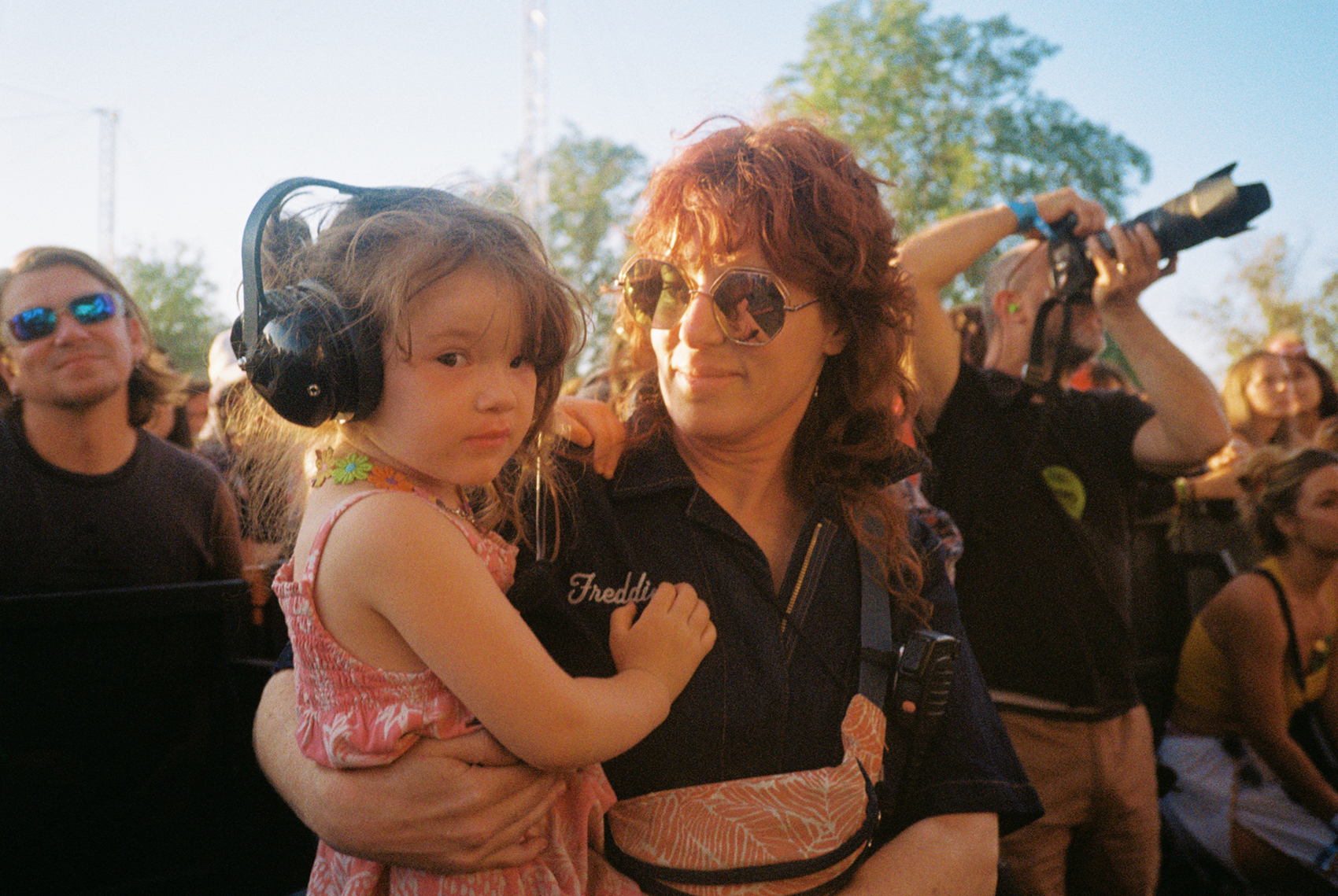 Day 1 Highlights:
FRED ARMISEN: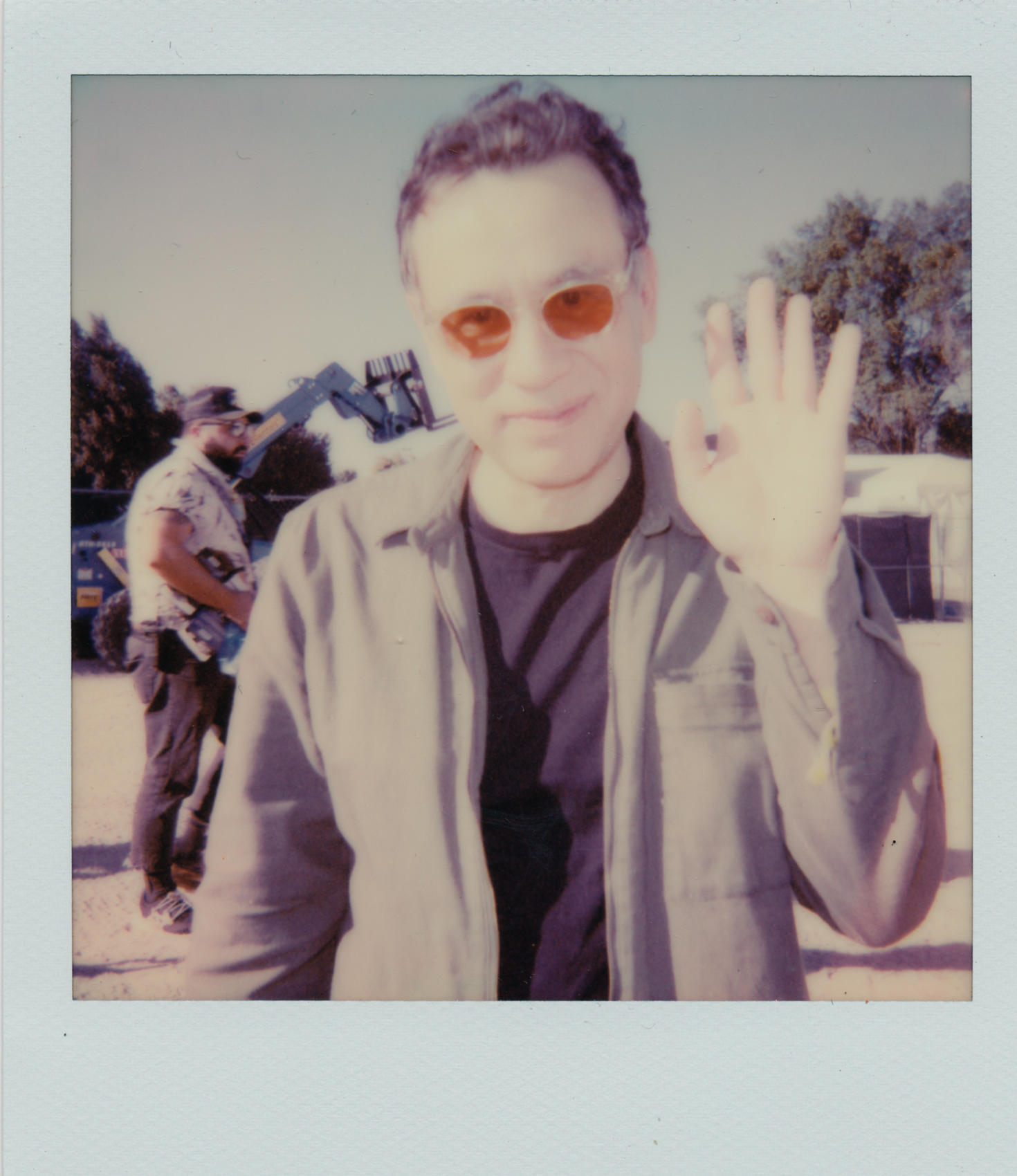 Everybody loves Fred Armisen and his performance at Desert Daze was a great reminder of why this hilarious talent continues to steal our hearts year after year. His ability to weave his musical talents with comedic timing is something of the gods and had me smiling from ear to ear. He has a gift to be able to connect with the people and made the entire tent roll over with laughter.
It's amazing because not only is he funny as hell but he is also a genuinely talented musician. He has a gift for being able to imitate the way specific musicians sing and play from vocal cadence to playing style. It takes a really talented person to be able to pull it off in the way he does and it was definitely amazing to see live!
After the show he was super sweet and took the time to pose for a couple of photos. Thank you Fred for spreading smiles everywhere you go!
PART TIME: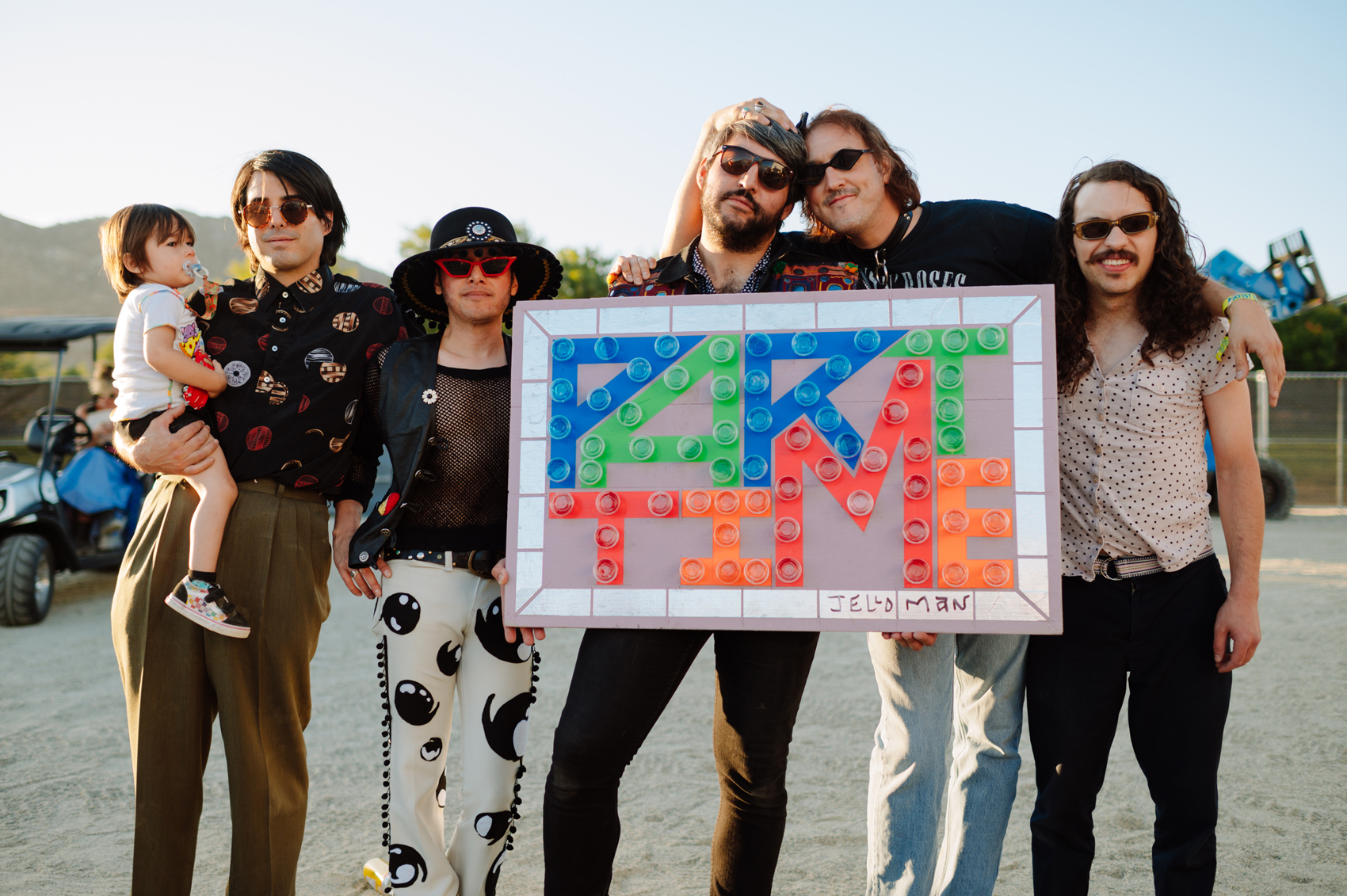 The first band I saw on Friday was Part Time, who has quickly become one of my new favorite LA bands. Their songs are filled with a blend of dream-pop experimental fantasy, paired with lo-fi ardent sadness, falling somewhere between a broken heart and being madly in love.
Their minimal laid-back approach to performance created a subtle sweetness that pairs beautifully with their grunge-glam, vintage high-fashion aesthetic. I really connected to the music and saw a lot of people around me dancing, having a great time.
It was really sweet because after the show a bunch of young kids all lined up to tell the band how much the music meant to them. The bands humble interaction to their fans was a great reminder of why I was there this weekend and what music and connection is really about.
Thank you Part Time for being so dope and putting on a really amazing show.
FAYE WEBSTER: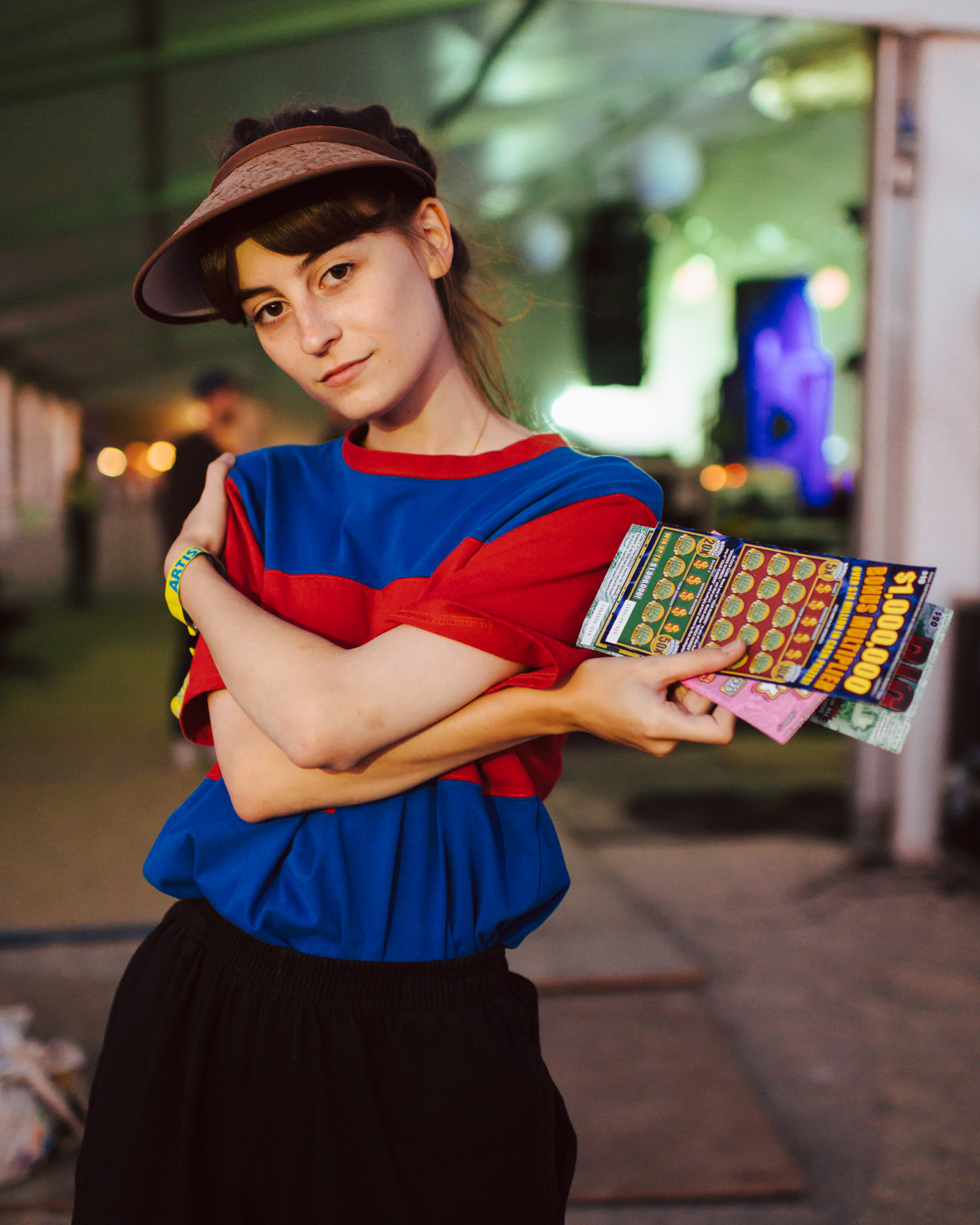 If you don't know who Faye Webster is then you are missing out. This adorable young talent is quickly making a name for herself with her ability to create her own unique sound blending various music genres like folk, R&B and minimal pop.
Her music is sad, yet hopeful in a heavy hitting youthful kind of way. When you listen to her songs, you get the feeling of being young and carefree yet feeling everything so much. There is a sadness to her music but she doesn't take herself too seriously which gives her pain a hopeful edge. It's refreshing to see that sort of juxtaposition realized at her young age.
I can't wait to see what Faye Webster does in the future!
ANIMAL COLLECTIVE
I'm not going to lie, I kinda freaked out when I saw Animal Collective. I've seen them quite a few times but they were one of the first "cool bands" I liked in high school, so they will always hold a special place in my heart. I remember laying down in my living room in LA and listening to My Girls and like blasting off to the moon and being so hyped on all the different sounds listening to vocals drenched with emotion.
It was really special to see them with my friends and I jumping up and down, singing like a kid the entire show. I didn't take many pictures but luckily David Morrison was there to capture these beautiful digitals.
FLAMING LIPS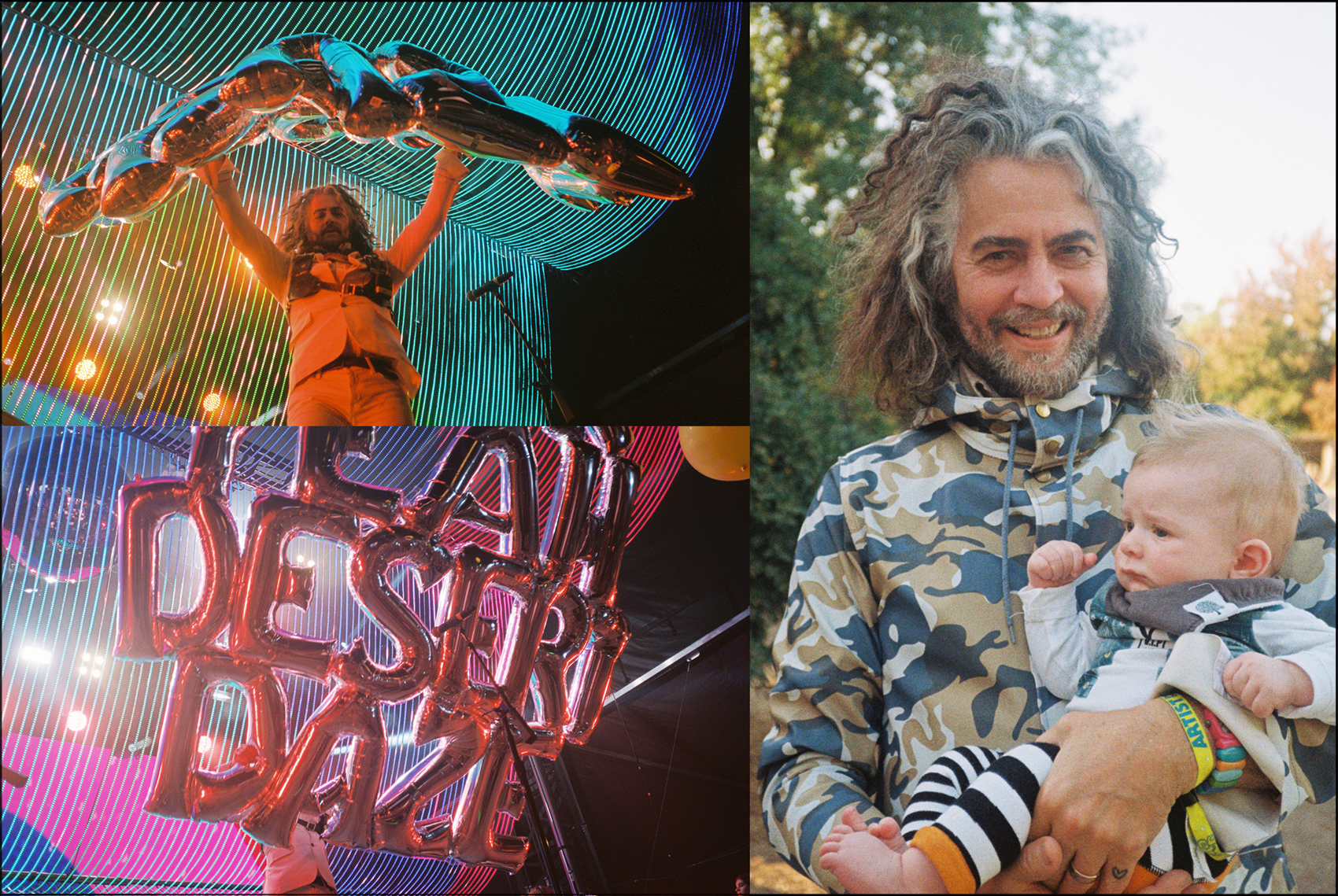 I don't think I could ever fully express how amazing the Flaming Lips show was. I have seen them five times and every time the show gets better. Wayne Coyne is such a trip magical genius and I definitely saw him as a true wizard on stage controlling our souls with his music. I have loved this band since the beginning and will never stop feeling overwhelmed with joy when I get the chance to see them live.
My good friend Lindsey Troy of Deap Vally is friends with him and she made it possible for me to meet and photograph him. She gave me his number and Friday afternoon I texted Wayne and he texted back. I literally screamed when he wrote me back and felt like I was a teenager all over again.
That's the beauty of living in a place like LA, you can ask your friends to connect you with one of your favorite musicians and there is a good chance you could be texting them later that day. The little Nebraska girl in me still can't believe that life can sometimes be that perfect.
I was everywhere for the Flaming Lips, backstage in the press pit, side stage, etc. But at the end of the third song all I wanted was to be smashed in the sweaty crowd singing my heart out. He played all the best songs from Soft Bulletin and ended with "Yoshimi Battles the Pink Robots" and "Do you Realize".
What I love about Wayne is that he really cares about the music and the people. Even after playing these songs for many years he still plays them with such passion and dedication, it is truly a gift to his fans and the music community. I laughed, I cried and I yet again fell madly in love with the Flaming lips.
Later that weekend I met him outside the bathrooms and took a couple photos of him and his beautiful son. We talked about our love for animals and parted ways. His kindness and connection is something I will never forget.
Day Two Highlights:
SURFBORT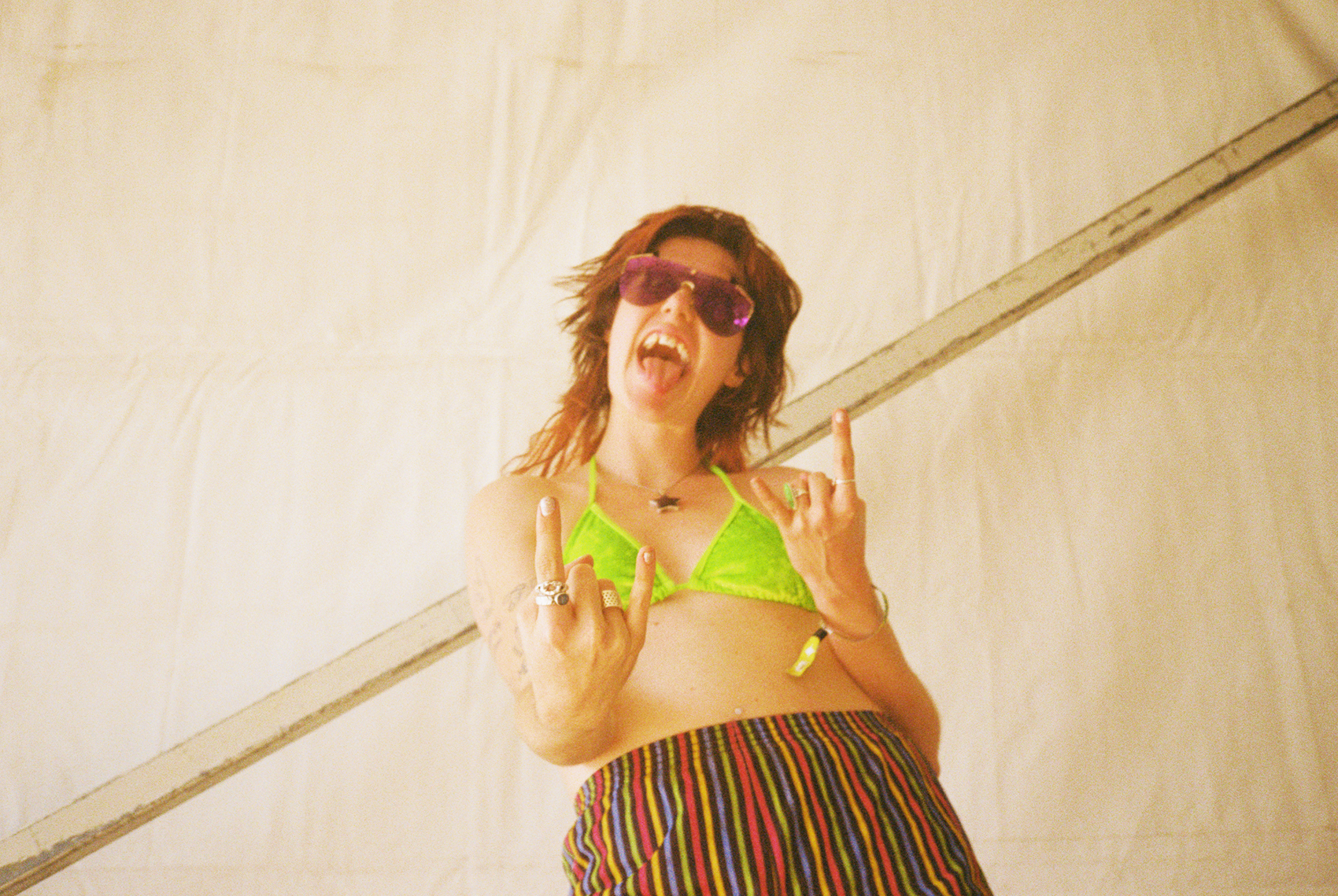 Surfboart is hands down one of the best Punk bands right now. Their live performance is absolutely insane and Dani Miller shreds both on and off stage. This Gucci muse gives zero fucks as she thrashes her body around the stage making faces that can only be compared to squeezing a lemon into your mouth. She is funny, sweet and very accommodating towards her fans.
Going to a Surfboart show is an experience to say the least. They rock so hard sometimes you think the stage is going to collapse and Dani is going to blast off to the moon. She screams and jumps off stage to dance and interact with the crowd singing and dancing as adoring fans scream and rush to touch her.
I read somewhere that Dani threw up mid performance during her first show and that's how she won the hearts of her punk Texas bandmates. This group is fascinating and changing the game for weirdos everywhere. The days of perfection in models and musicians are over and now front and center stands Dani Miller.
They performed in the theatre tent which was a throw back to old school desert daze grounds with a dusty pit that filled the air as all the freaks came out to party. I had so much dust up my nose from moshing in the pit that I was literally blowing black boogies for the rest of the day. TMI?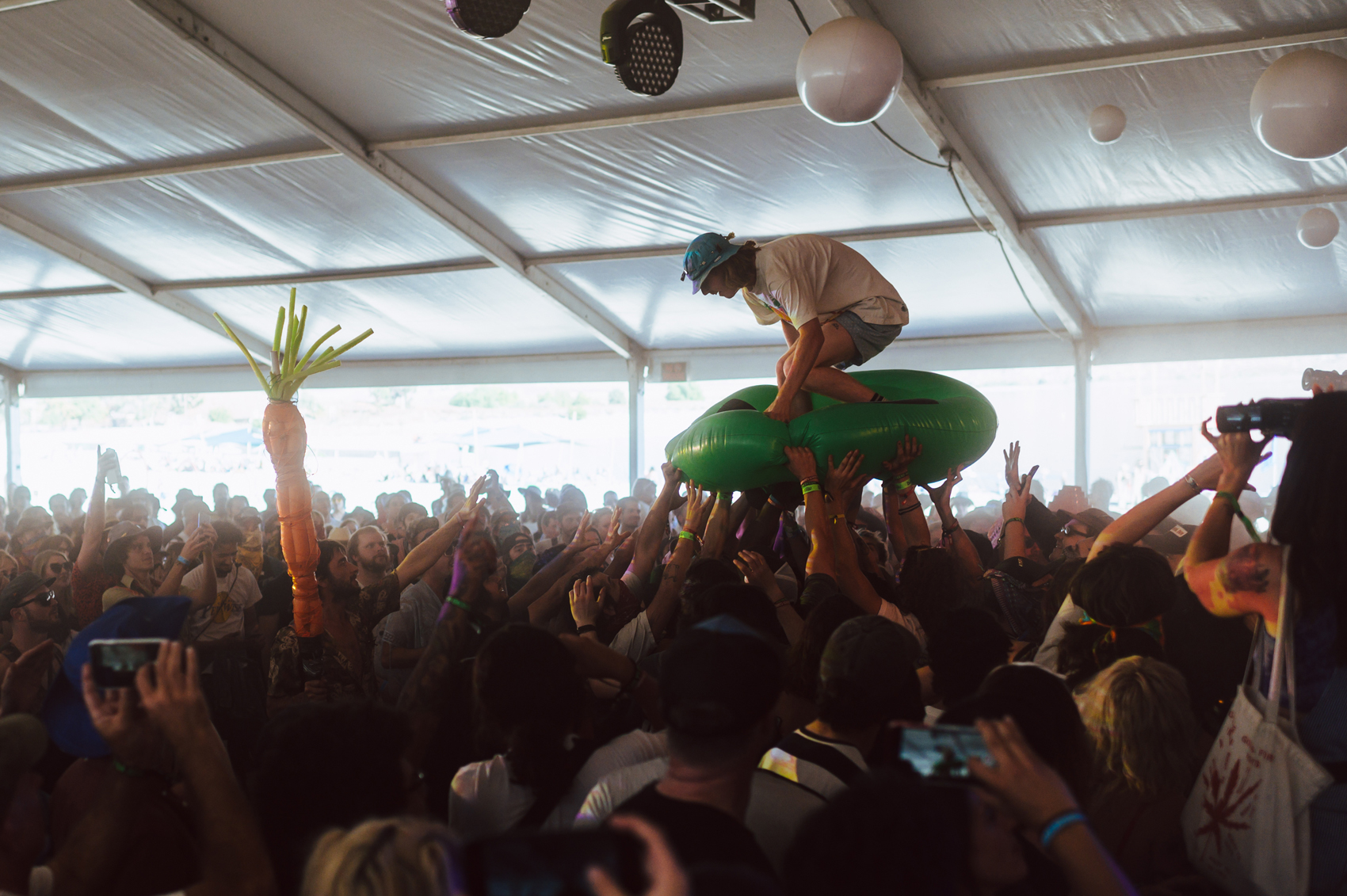 JJUUJJUU
JJuu JJuu's frontman Phil Pirrone aka Daddy Desert Daze took the stage Saturday evening and lit the sky on fire. This was one of the best sets I have seen and it was so amazing to watch the show from the photo pit with his wife and daughter. I can only imagine how proud Phil must have been shredding onstage in front of thousands of people who are here because of all of his hard work.
This psychedelic staple has been in the scene for quite some time and never disappoints with their hard hitting sounds that stand out from traditional psych rock music. Hints of metal swirl around the dusty haze of desert rock and lo-fi environs as the music filled the festival grounds, floating over the campgrounds and into the ether.
Thank you Phil for being such an inspiration to us all!
PARQUE COURTS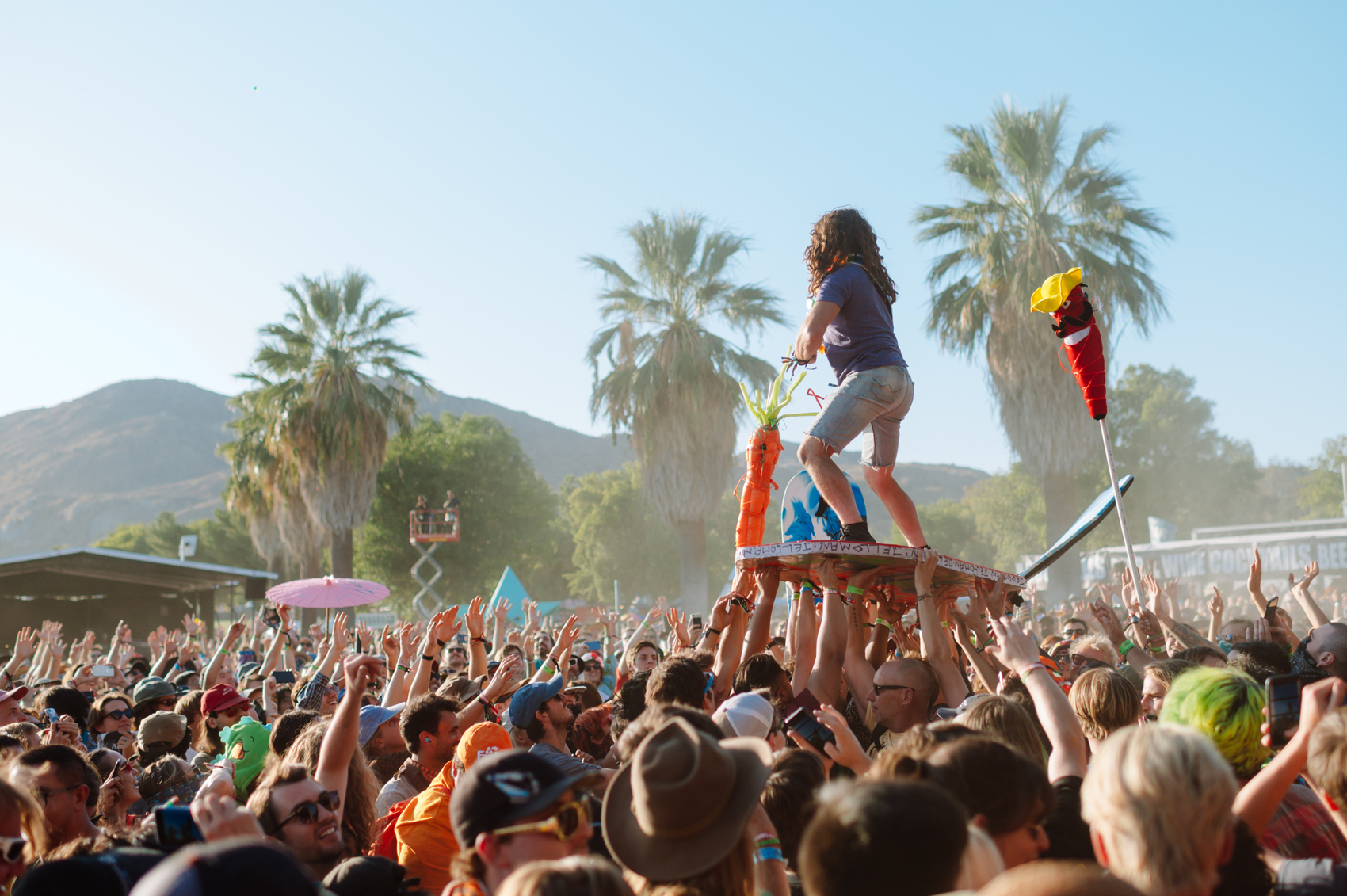 I can't believe I'm admitting this, but I had never heard of Parque Courts until Desert Daze announced their lineup. Now after experiencing their show, they are one of my new favorite bands. The way they explore different sounds and mix them together in such a catchy way, makes you feel so many things at once. They are soft, funky, nostalgic and make you want to dance your face off. Some of their songs made me feel a tinge of butterflies in my stomach and almost made me cry as it reminded me of a softer time when life was easy. I'm not sure why their music makes me feel that way, but that's the beauty of it all. Music has a way of entering and changing you without your permission. It shakes you to your core and sometimes brings you face to face with your memories. That's what Parque Courts did to me and I'm so thankful my friend David convinced me to see their show.I can't wait to see them again and explore more music from this awesome band.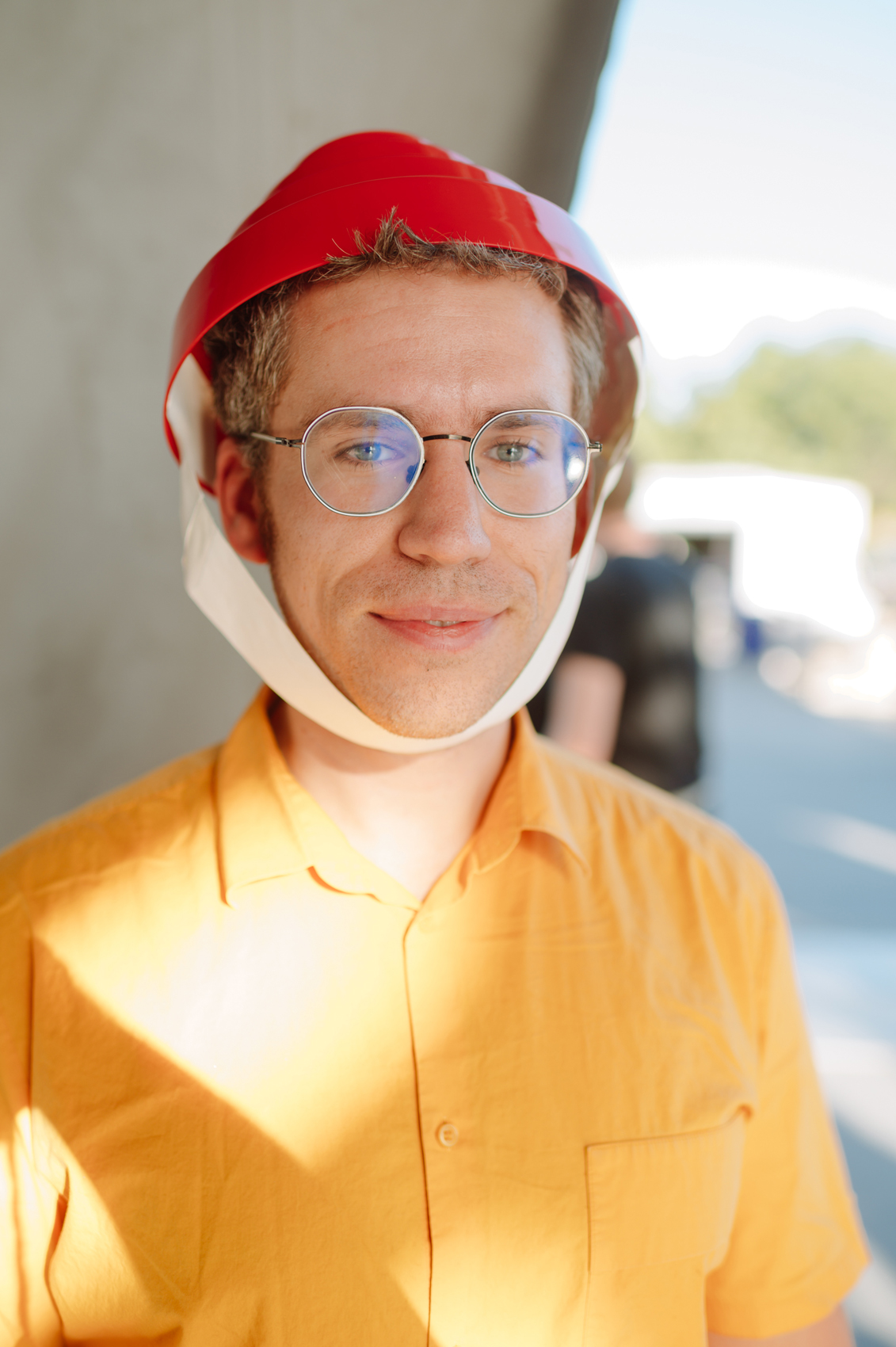 DEVO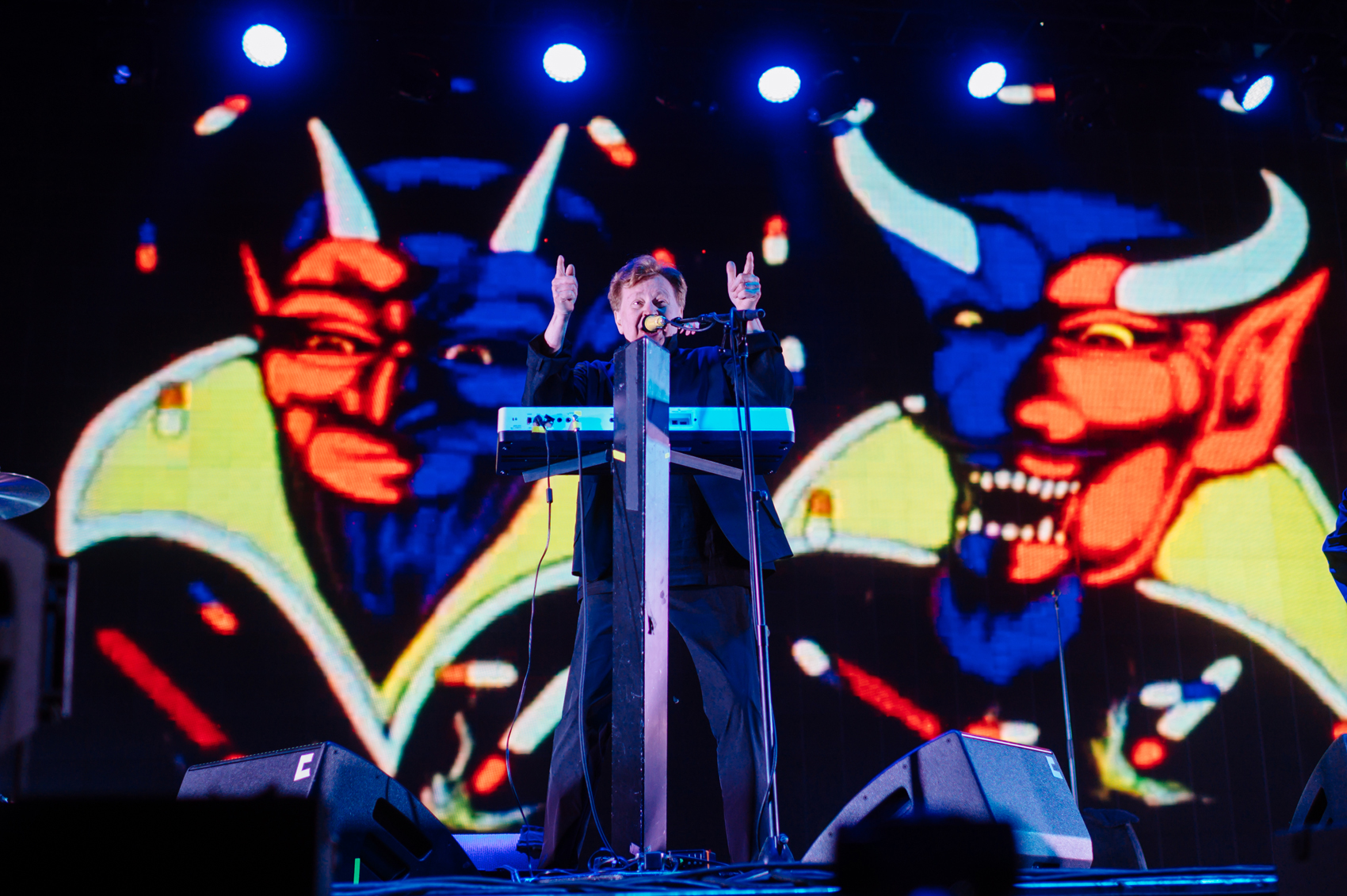 I'm not sure how Devo keeps getting better with age but there performance was absolute perfection. The jumpsuits were amazing, the choreographed dances were perfectly on point as they rebreathed life into the de-volution! Honestly I don't remember the specifics of the show because I was too busy dancing and singing.
It was such an amazing experience to reach a "Devo state of mind" with all my friends and was so happy they ended with bringing Boogie Boy onstage for "Beautiful World". This was their first show since 2014 and I feel like the luckiest girl in the world to have attended such a perfect performance.
FLYING LOTUS 3D
WOW! If you ever get a chance to see Steven Ellison aka Flying Lotus perform his 3D set…do it! I can't exactly put it into words but this psychedelic experience takes you on a journey through the center of the earth and shoots you back out the other side into outer space.
It is beautiful, scary, intimate and massive. Sometimes it makes you want to laugh and other times it makes you want to cry. There were times I had to take off the 3D glasses because the quick cutting, hard hitting imagery was so intense I felt as if my heart was going to jump out of my chest. He stood on an asteroid playing the mad scientist of Desert Daze mixing dreams with reality in a subconscious mixing pot of pain and pleasure. I wish I could tell you more but you will just have to go see if for yourself!
CONAN MOCKASIN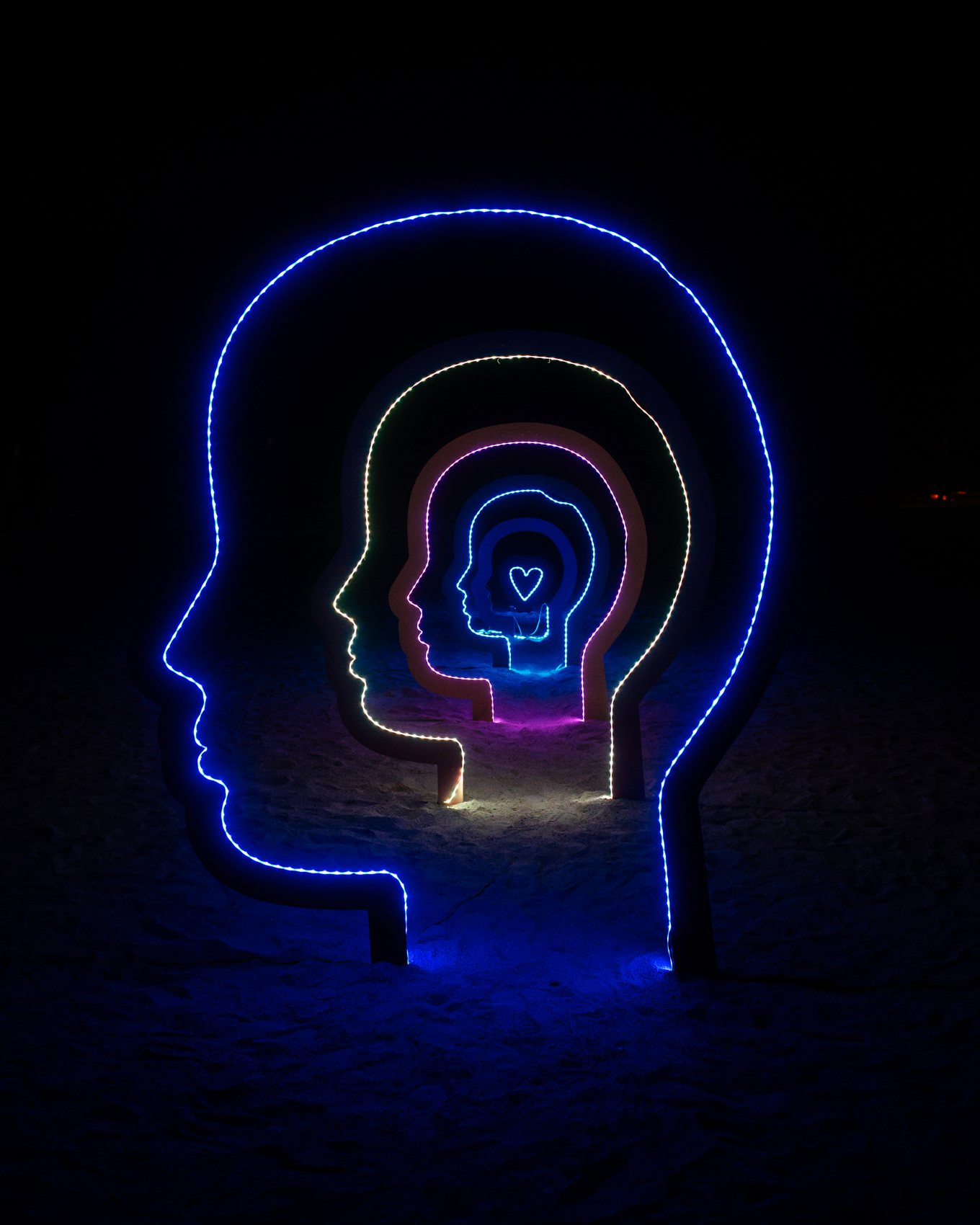 Conan Mockasin moves at the beat of his own drum. His ability to float between genres is done with such a subtle intention, you feel as if you have been sucked into a milky orbit. His tender reflections pair perfectly with his funky R&B beats, creating music that could be the soundtrack to almost anything in life.
This strange and fascinating New Zealand Native has collaborated with some of the best musicians in the world and have helped him identify his unique sound. He is passionate and weirdly sexy in a sensual 1970's pimp sort of way. He definitely isn't from this planet and is weirdly underrated for how incredibly talented he is. I'm not kidding when I say he can literally pull off anything and he does it with such ease.
I am so happy that Desert Daze chose to include this amazing musician in their lineup and I hope more people get turned on to this genius human.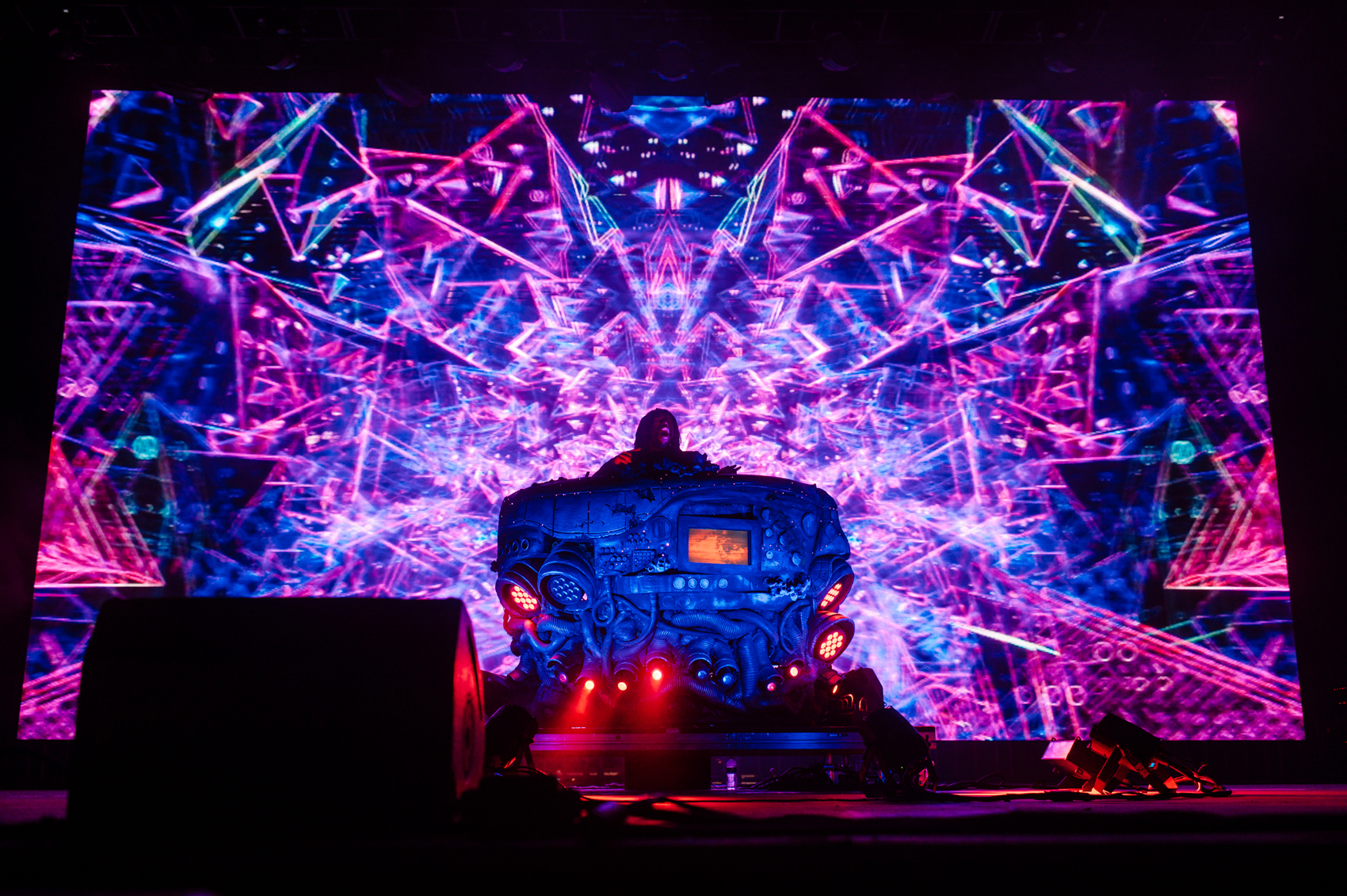 Day 3 Highlights:
THE PARANOYDS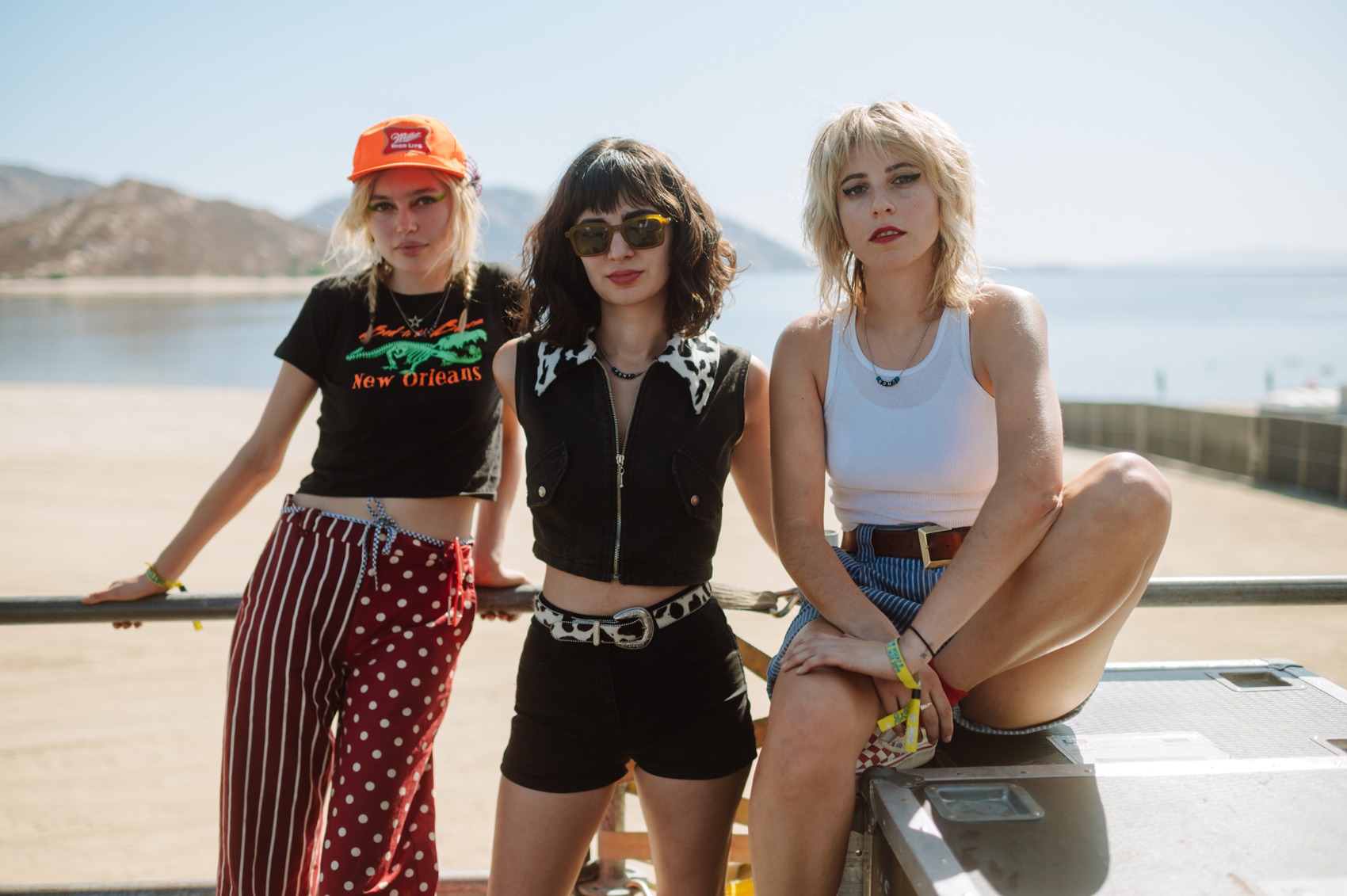 There is nothing I love more than a badass girl band and the Paranoyds slay with their ability to turn their music from upbeat to ominous in a blink of an eye. They are edgy and cute all at once and their music reflects that youthful energy that you wish you could bottle.
They are adorable and cool and their bubble gum music sounds like it has been chewed and spit back out into the warm sun. There music is angsty, psychedelic and catchy all at the same time mixing warm and fuzzy with that hard hitting punch.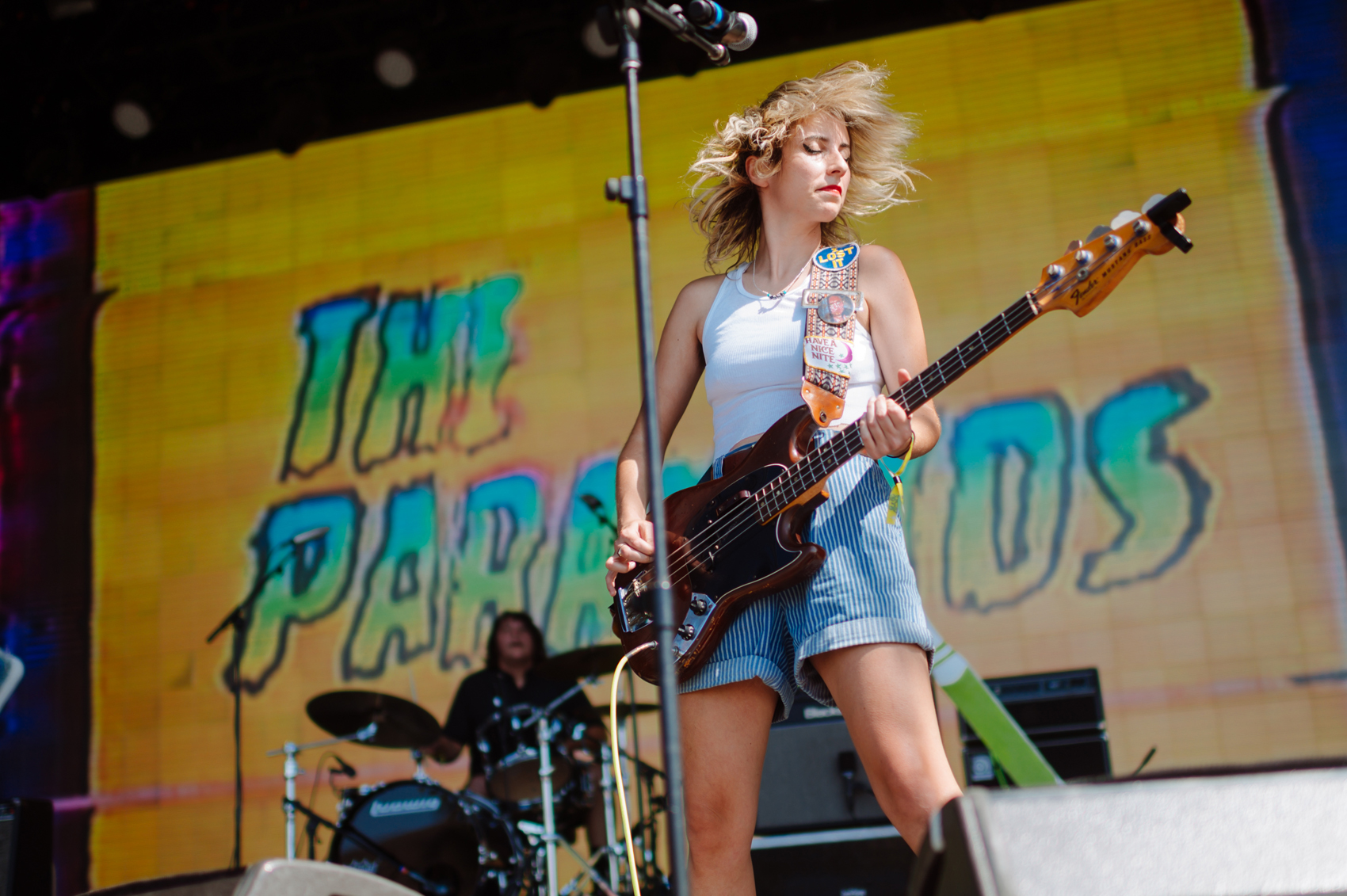 KILLS BIRDS
I raced across the Desert Daze grounds only to arrive at Kills Birds right after they finished their last song. I was so disappointed to miss the amazing performance by frontwoman Nina Ljeti, who LA Times calls, "LA's most electrifying new rock singer."
The band consists of guitarist Jacob Loeb, bassist Fielder Thomas and drummer Bosh Rothman who all were gracious to pose for a photo after their show. One thing certain, I will definitely be seeing Kills Birds live ASAP.
JERRY PAPER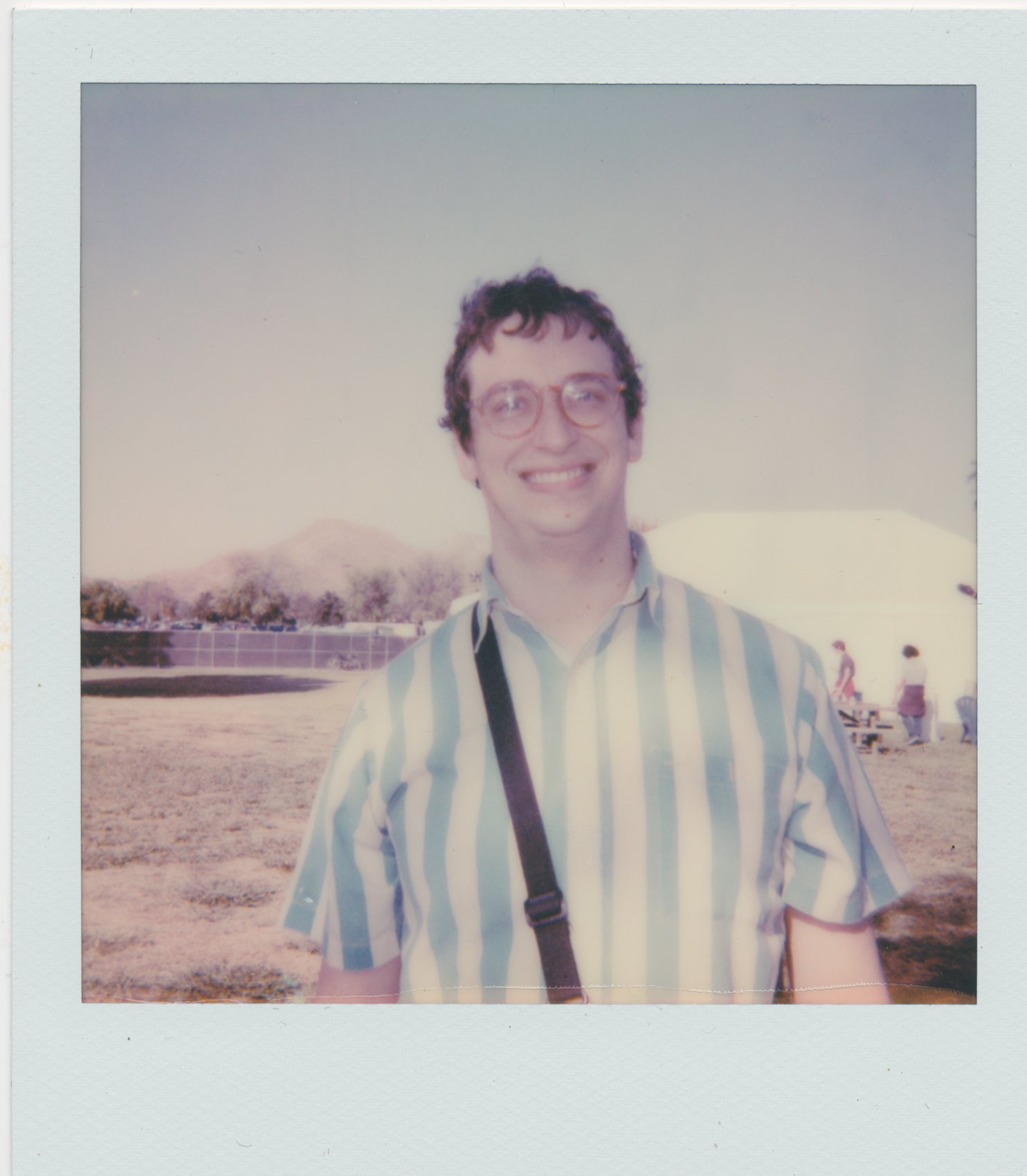 I first learned of Lucas a few years back after seeing his performance at Basic Flowers in downtown LA. I sat in the audience with my mouth wide open as I watched this magical man float across the stage with such perfection I thought I was experiencing Nirvana.
Jerry Paper is legit one of the best bands in LA. Their sounds are so perfect you feel like you are listening to a produced track when you see them live. Every person in this band is the cream of the crop and you can hear it in the fullness of the music they produce together.
Lucas is silly, funny and the way he moved about the stage brought a giant smile to my face. He is unconventional yet his sounds are so familiar and fill you up with a sense of security as if his music was giving you a hug. His retro-futuristic synth sounds mixed with dreamy pop vocals make you want to fall in love over an over in an ice cream Sunday while riding a rainbow.
I love you Jerry Paper!
GEORGE CLANTON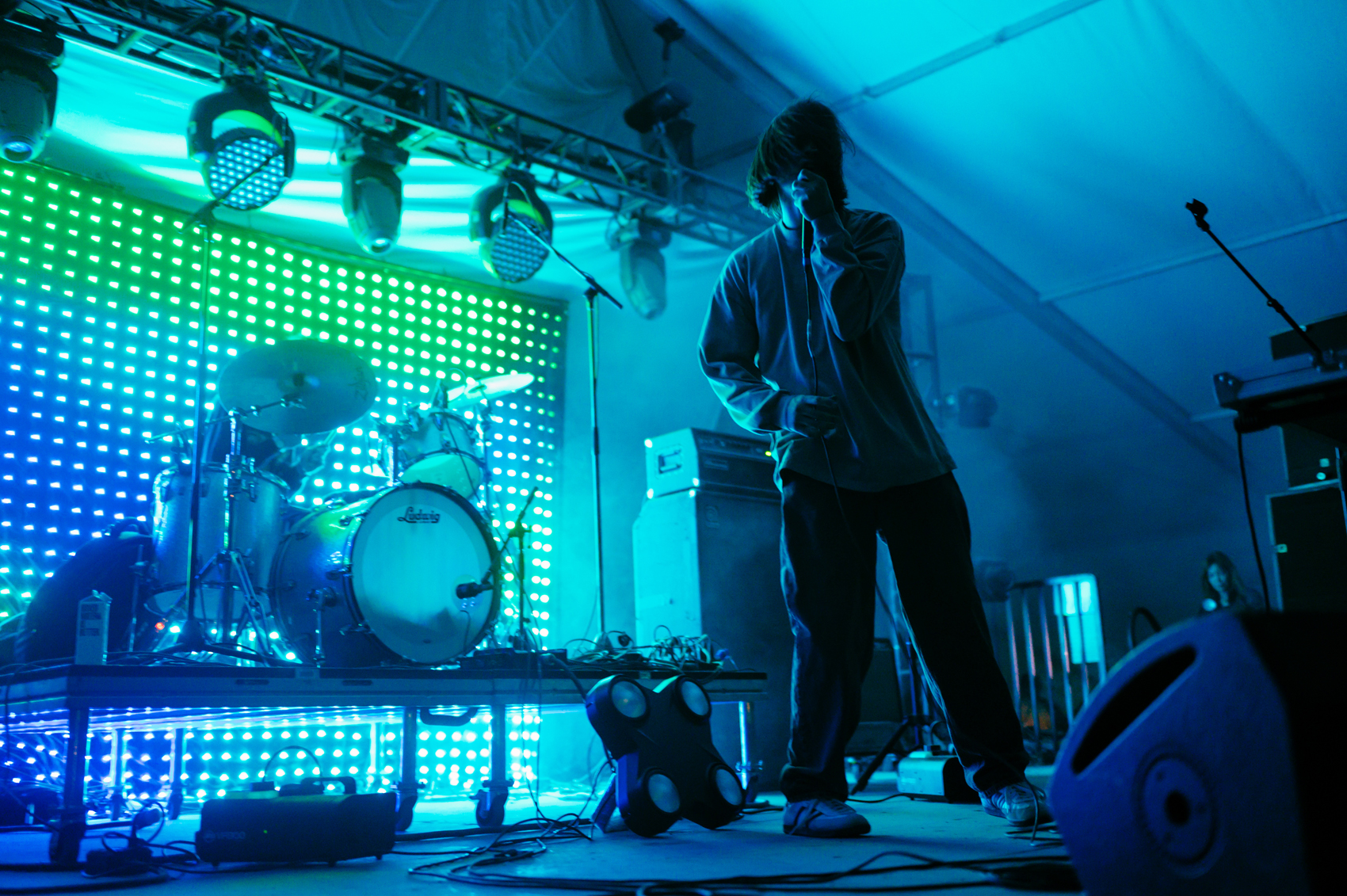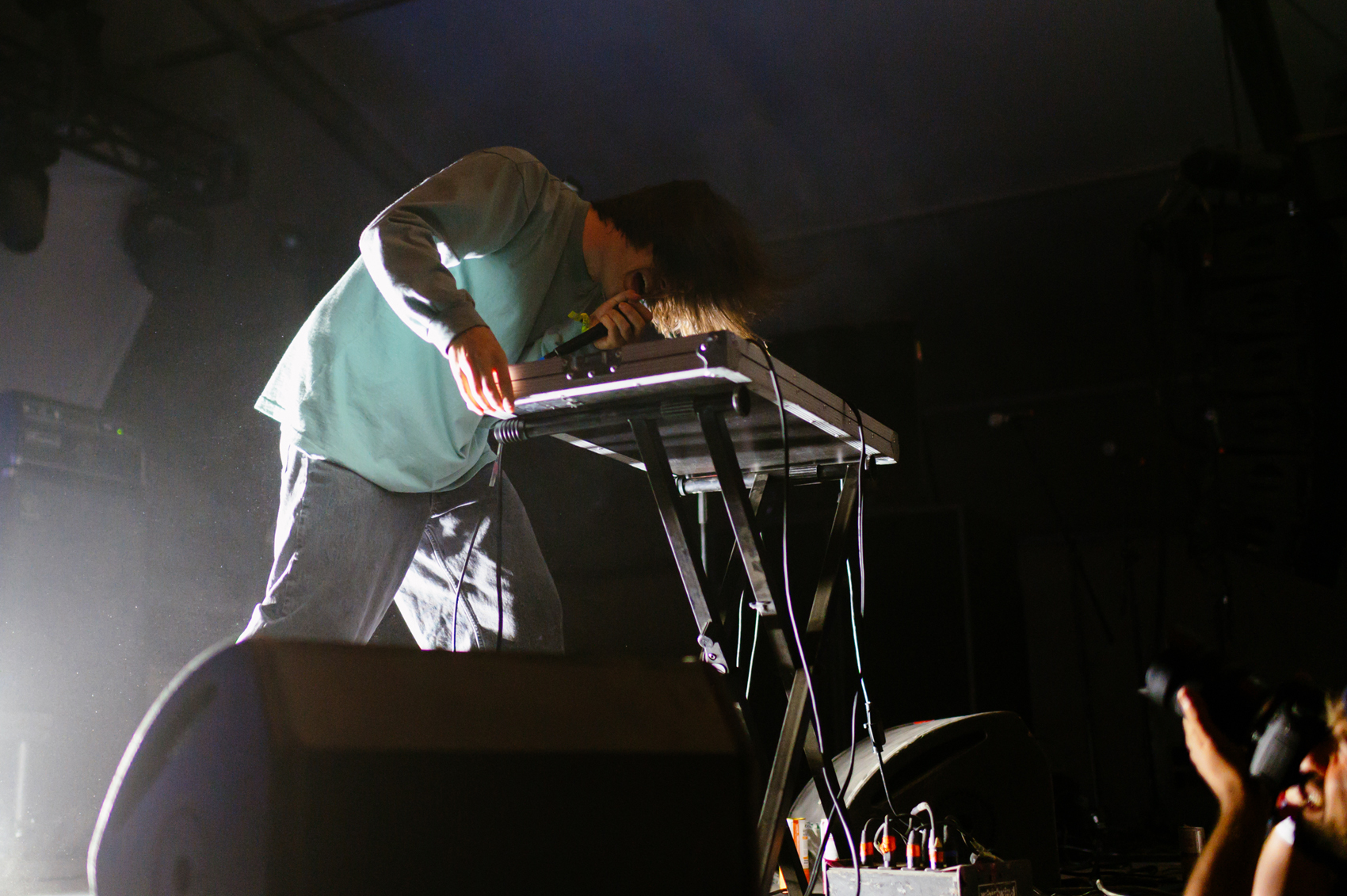 I don't know much about George Clanton but was super impressed with his show this weekend. His music mixes all the best 80's and 90's electronic sounds in a unique and modern way. My friend Josh introduced me to him and I'm super stoked I attended his show.
He mesmerized the crowd with amazing vocals mixing new wave, chill wave and synth pop as he danced on stage with a Panda who crowd surfed through his set. He is a total babe, doesn't care about being cool and the king of vapor wave. I jumped around so much during his show I gave myself at least two blisters. His music is gloomy and dark yet unrestricted and funny. If the devil was a comedian I think he would come in the form of George Clanton!
KHRUANGBIN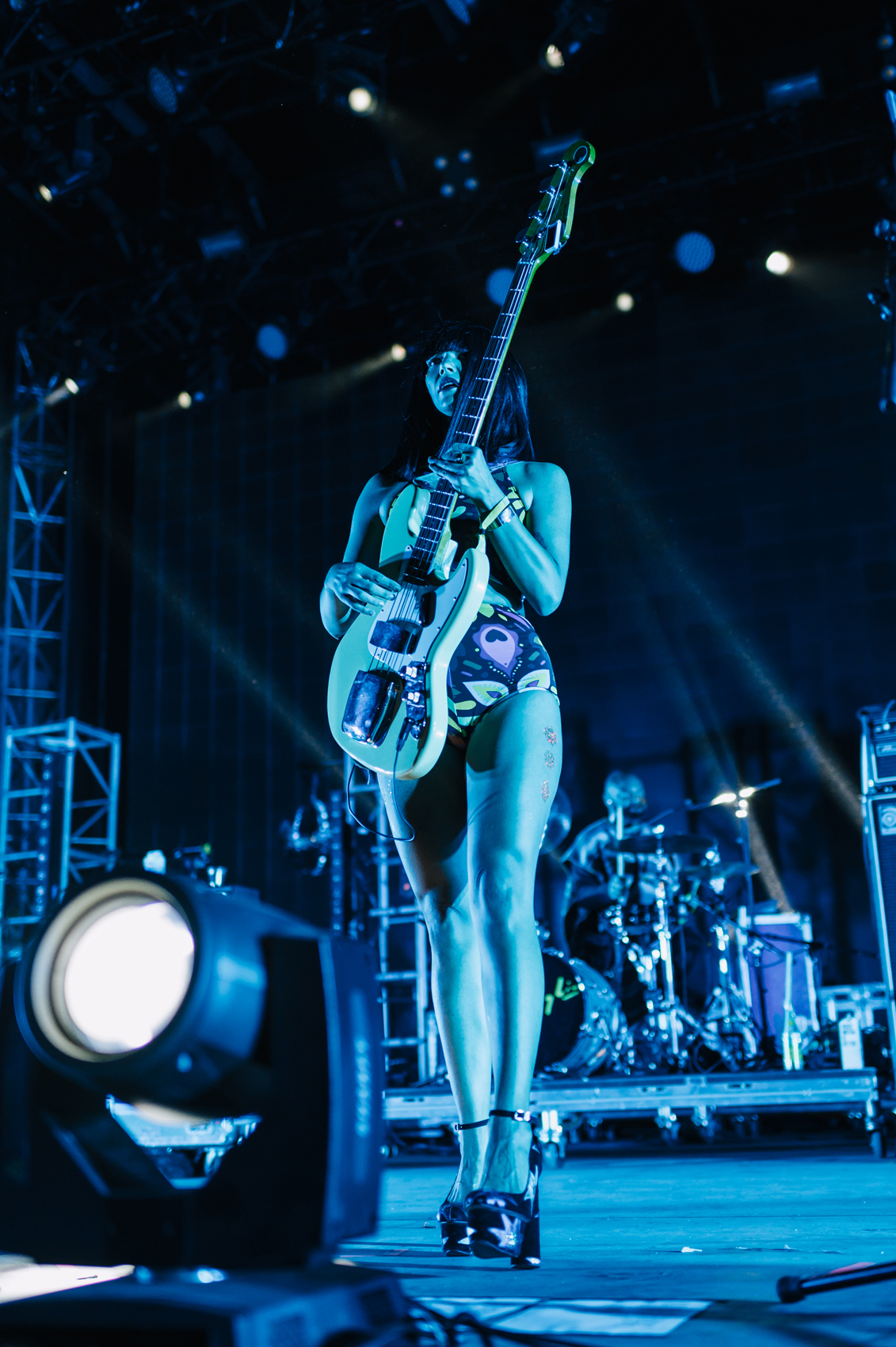 Khruangbin is my favorite band right now. They are so hot and glam and embody true rock and roll legends. These Texas natives stole the show with their funky grooves that fill you up with a sense of magic, like you are traveling the world during a single song. They beautifully blend global music influences in a funky, dub and psychedelic way without seeming pretentious.
The way they interact with the crowd and with each other is sexy and electrifying. Laura Lee is a musical goddess and her calves are the most perfect thing I have ever seen.
I saw a toddler head banging side stage, a young couple bawling from happiness front row and hundreds dancing and singing to their amazing music. One thing is certain, weather you are six or sixty you will absolutely love this band.
MOSES SUMNEY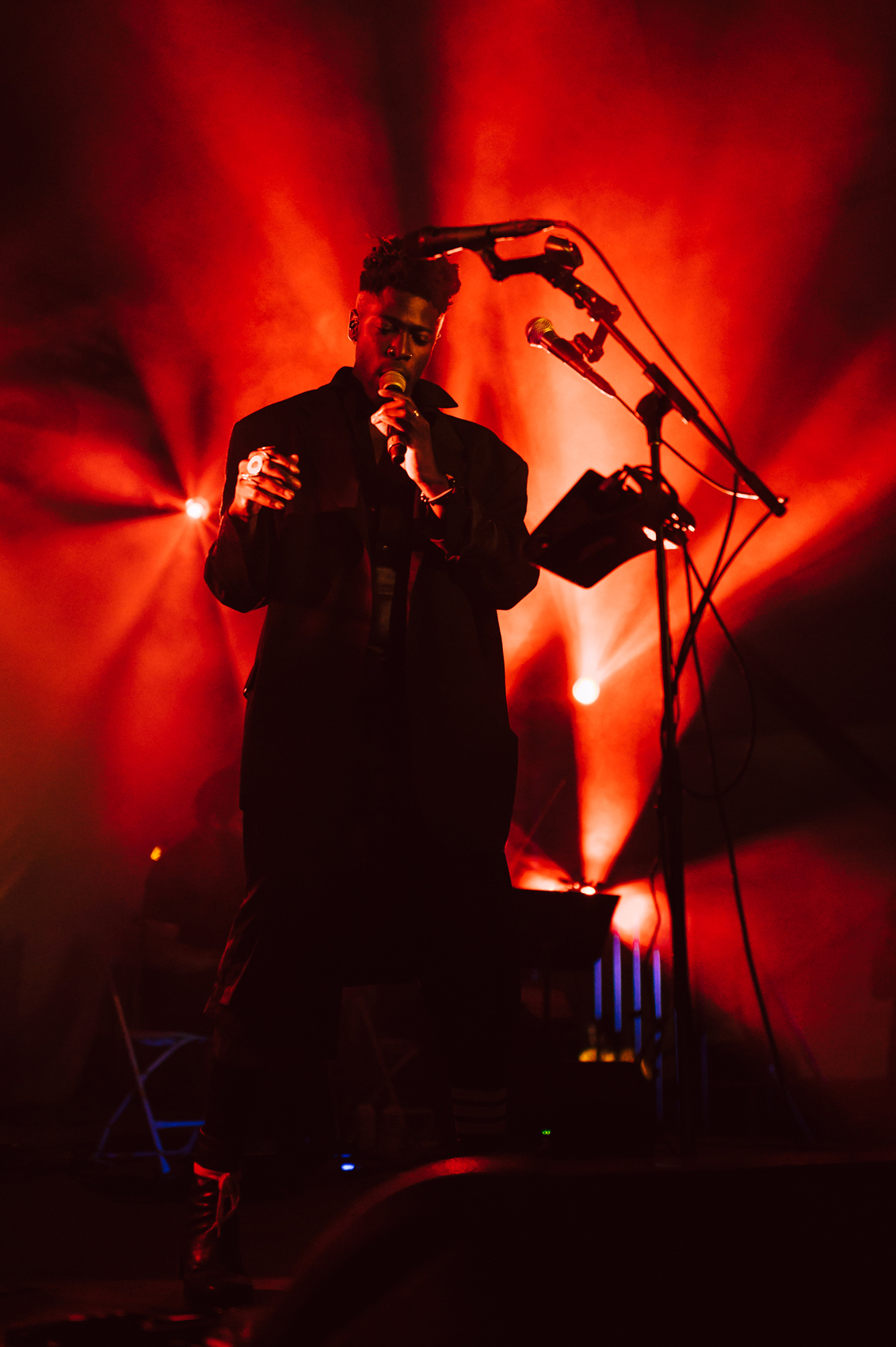 Watching Moses Sumney perform is like going to church. His vocals fill you up from the tips of your toes to the top of your head and right before you explode he releases as you gently fall back to earth. He is a tall, strong beautiful man who sings like an angel who has come to earth to save us from our suffering.
He was joined with a small orchestra that accompanied him, elevating his beautiful vocals and creating a soundscape that could end wars. I stood with my hand on my chest and let the sounds of Moses Sumney wash over me.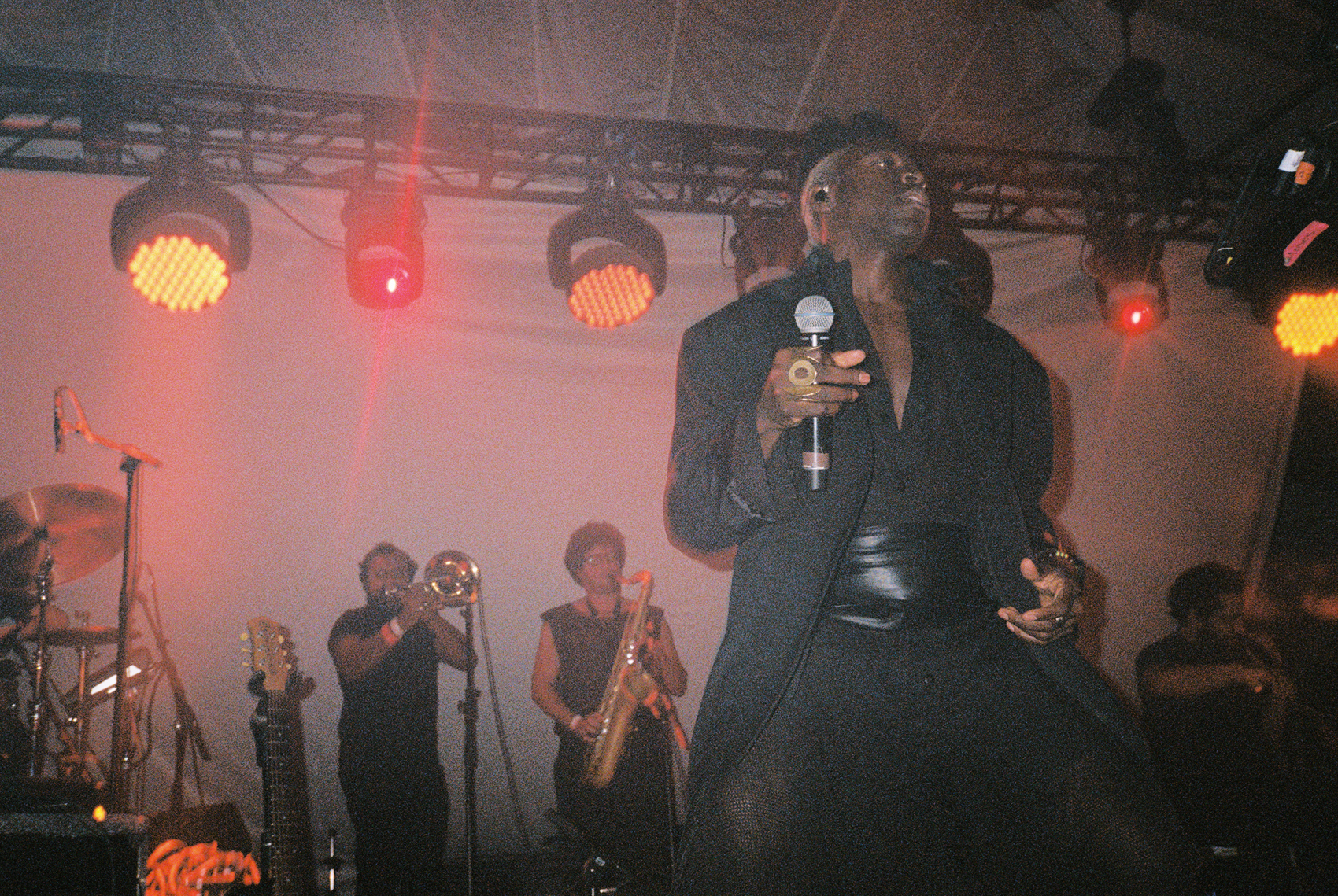 WU-TANG
In true Ericka fashion (that's me) I somehow talked my way onstage for Wu-Tang. Maybe it was the hard Kombuchas that gave me confidence but none the less I was geeking out to be this close to so many legends.
They played all their hits and the crowd freaked when they played C.R.E.A.M. In true Wu-Tang fashion there were mad blunts floating around the crowd and hundreds of fists in the air. The spirt of Wu-Tang is alive today in the old and new generation of hip hop punks that are tired of politics and speaking their truths through lyrics.
When Khruangbin joined them on stage the crowd went wild and there was an electric energy that filled the air. The only photo I got was this single 35mm that I will cherish forever.
__________
Thank you Desert Daze for creating such a special place for everyone to come together and listen to music. In this day and age finding time to connect with people is more important than ever and learning to put differences aside and come together is the mentality that will change and save the world. Thank you for creating a safe space for all of us to fall in love with music and change our hearts forever.