CALLING ALL FREAKS: SURFBORT'S DANI MILLER WANTS YOU TO LOVE YOURSELF
Sex, drugs, and rock and roll. The long-associated hedonistic trio has shaped our idea of musicians' lifestyles and priorities. While there's surely a fair amount of depravity behind certain closed doors, the culture around rock music is changing. With musicians like Dani Miller at the helm of this new era, drugs are losing their appeal. 
"I think definitely there's a shift," Miller tells me over the phone. "There's a group of people in LA that are all in punk bands, but they also are sober and go to meetings and connect in that way. So I think that's really cool." Miller fronts Surfbort, a punk band whose name references a bathtub-based sex position that entered the cultural vernacular with Beyonce's 2013 hit, "Drunk in Love".
Of course, Surfbort's music is nothing like Beyonce's, but the group maintains respect for the pop diva. Miller holds particular admiration for Queen B; after all, she is a Millennial. "One of my first concerts was Destiny's Child," she says when I ask about the band's subtly irreverent name. "And I just remember being like, 'Oh, my God.' They were so badass and powerful and just killing it."
Miller joined Surfbort when she was just 21, stumbling into a music career by accident. She moved to New York City in 2014 to pursue filmmaking but found herself singing in a friend's show one night. She instantly fell in love with performing, but was recently clean and had trouble navigating the substance-heavy music scene. "When you're in the darkness of drugs, you feel like that's the only way to do it and that's the only thing that's good," Miller says. "But actually there's a huge supportive community out there that has your back and makes art and has a blast off drugs. [Surfbort] is kind of like my reaction to that, to getting off drugs and still existing in the world."
After a bit of trial and error with bandmates, Miller eventually settled in with punk veterans David Head, Alex Kilgore, and Sean Powell, who she views as father figures. "They just have so much in their brains about music and life. I think building your own family, your own crew of people let you be a freak and support you and really understand you is super important," she says. She later sends me a text to emphasize that her biological family is just as supportive of her. "My real dad was the original dad to let me know it's ok to be a freak and a weirdo," her message reads.
The band's first album, 2018's Friendship Music, is a thrashing, sharp-tongued commentary on the current chaotic state of America. Songs like High Anxiety, Trashworld, and White People showcase Surfbort's knack for tackling serious topics without taking themselves too seriously. "I think Surfbort is very about letting out your angst and like all the frustrations in the world," Miller says. "The world always feels like it's imploding. It's just like, 'What is real?' Like, we have frickin' evil people ruling the country. So we're always responding to that." The band's next album, hopefully to be released in 2020, will continue this approach, while also expanding into new territory. "We're always trying to evolve and I don't want to have strict boundaries for sound," she says of her forthcoming music. "So there's definitely going to be classic Surfbort shitty rock punk. But then kind of adding more romance. Ballads and stuff."
Regardless of creative choices, Surfbort's overarching message remains one of acceptance, love, and community. "I just always want our music to just be like another best friend that you're hanging out with," Miller says. After coming off of hard drugs, the singer struggled to find a sense of self. But after giving herself space to heal and reflect, Miller emerged clear of mind, stronger and more secure than ever. Now, she lives her life on a mission to spread that feeling to others. 
"Some people will be like, 'Oh, wow, you're so confident. Your life rules, you have everything,'" Miller says. "And I'm just like, 'No, I definitely work on it.' I wake up sometimes and I'm like 'I look really weird right now. Do I want to go out?' And then I'm like, "Wait, I'm sick-looking like this. This is me today, this is what I'm offering today to the world. This is happening.' And then you just push through that off-feeling and it's just all good things.
That confidence is what led Miller to star in Gucci's controversial 2019 beauty campaign, her wild, gap-toothed smile proudly showing off cherry-red lipstick. "I was kind of used to myself, like my dorky smile," Miller laughs. "But when it came out, I really realized the impact. And I realized, 'Wow, this just gave a ton of people an even bigger excuse to just feel beautiful for being themselves.' Sometimes that can be hard. And it also kind of reawakened my own journey of embracing myself and loving myself too."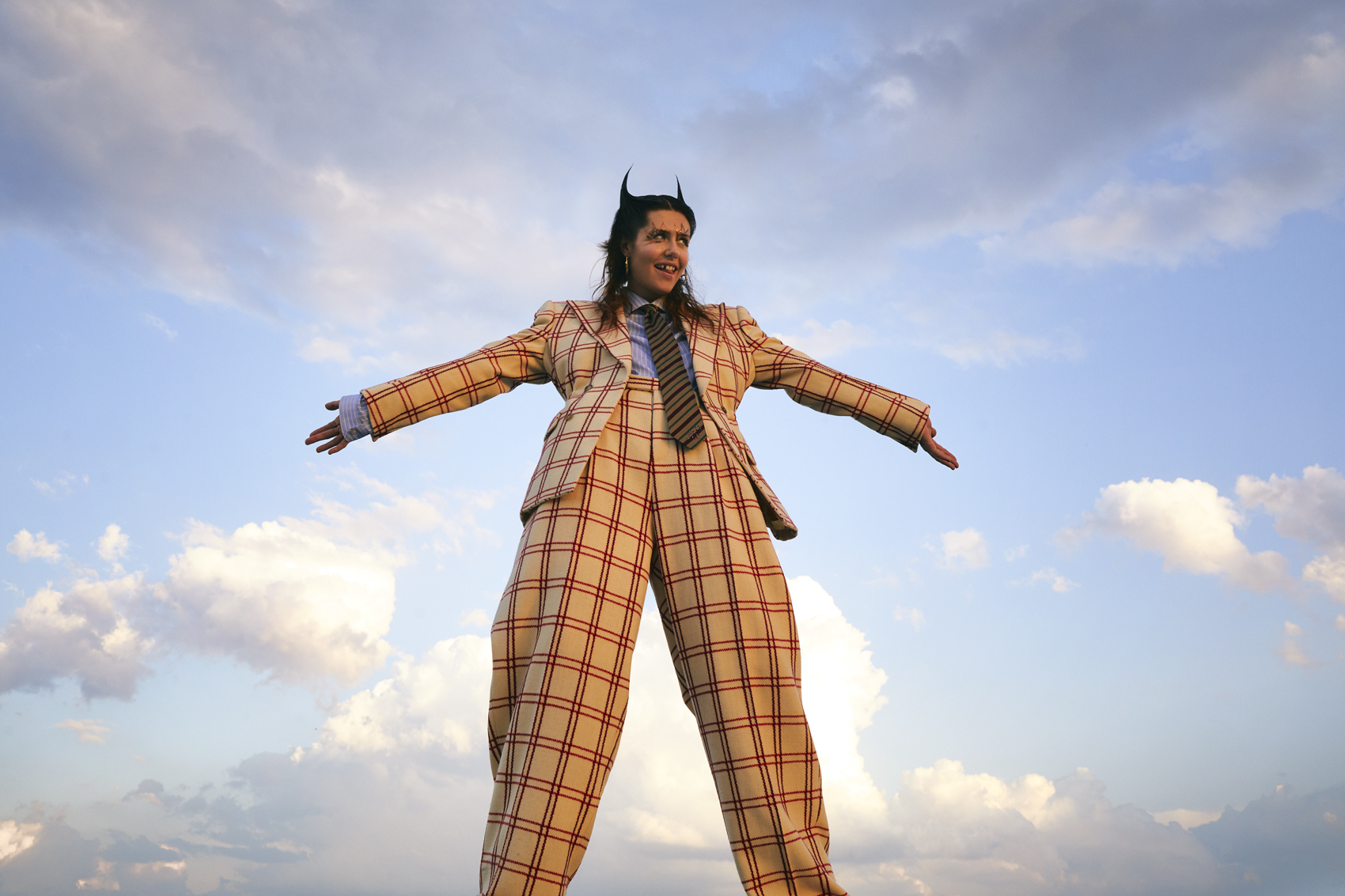 Outfit / GUCCI. Earrings / L. JARDIM. Shoes / ASOS.
Miller praises the fashion house's creative director, Alessandro Michele, for shattering beauty standards in such an influential way. "Alessandro's feeling is that the freakier you are or the weirder you are, the better," she explains. "Anything about you that would be deemed weird in a negative way, he thinks is like, prime beautiful. Which is awesome, which is just true."
Through the campaign, Miller also challenges the idea that only a certain type of woman wears or is interested in makeup. "Makeup can be looked at in a negative way, but I feel good when I put it on," she says. "It's exciting. You feel hot even if the lipstick is like on your teeth, it's just like another color in the world." She recalls an early memory with makeup in which she got in trouble in church—not by her parents, but by staff—for wearing blue eyeshadow all over her face. Her approach now isn't too dissimilar; her trademark stage look is exaggerated cat-eye makeup that extends well past her eyebrows. Miller cites punk legends Nina Hagen and Wendy O. Williams as the inspiration behind the dramatic look. "It just makes me feel super empowered," she says. "And then fast forward to today, I show up at shows and they'll be like 30 girls, or even guys, just humans, wearing the same makeup. And it feels so fun."
What started as a childhood game of dress-up has become not only a career for Miller, but a life mission. This goes far beyond smeared-on eyeshadow, of course. Her way of moving through the world fearlessly and authentically is, in itself, an art form. "Oh, I read this quote. I thought it was so cool," she says before we hang up, scrambling to find it. "'Everything in life is art. What you do, how you dress, the way you love someone. How you talk, your smile, your personality, what you believe in, all your dreams, the way you drink your tea, how you decorate your home. Or party. Your grocery list, the food you make, how your writing looks and the way you feel. Life is art.' I think that's so dope."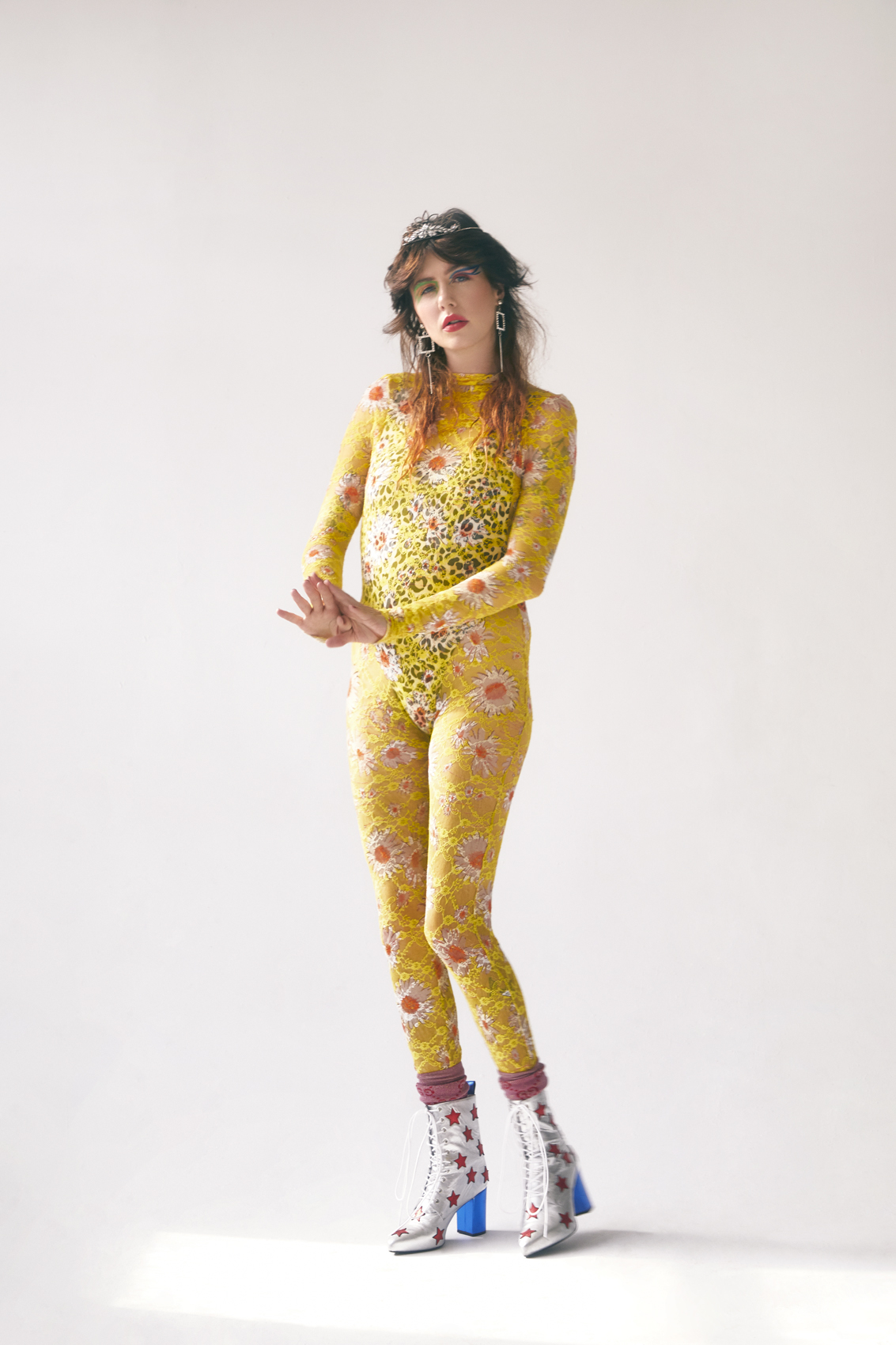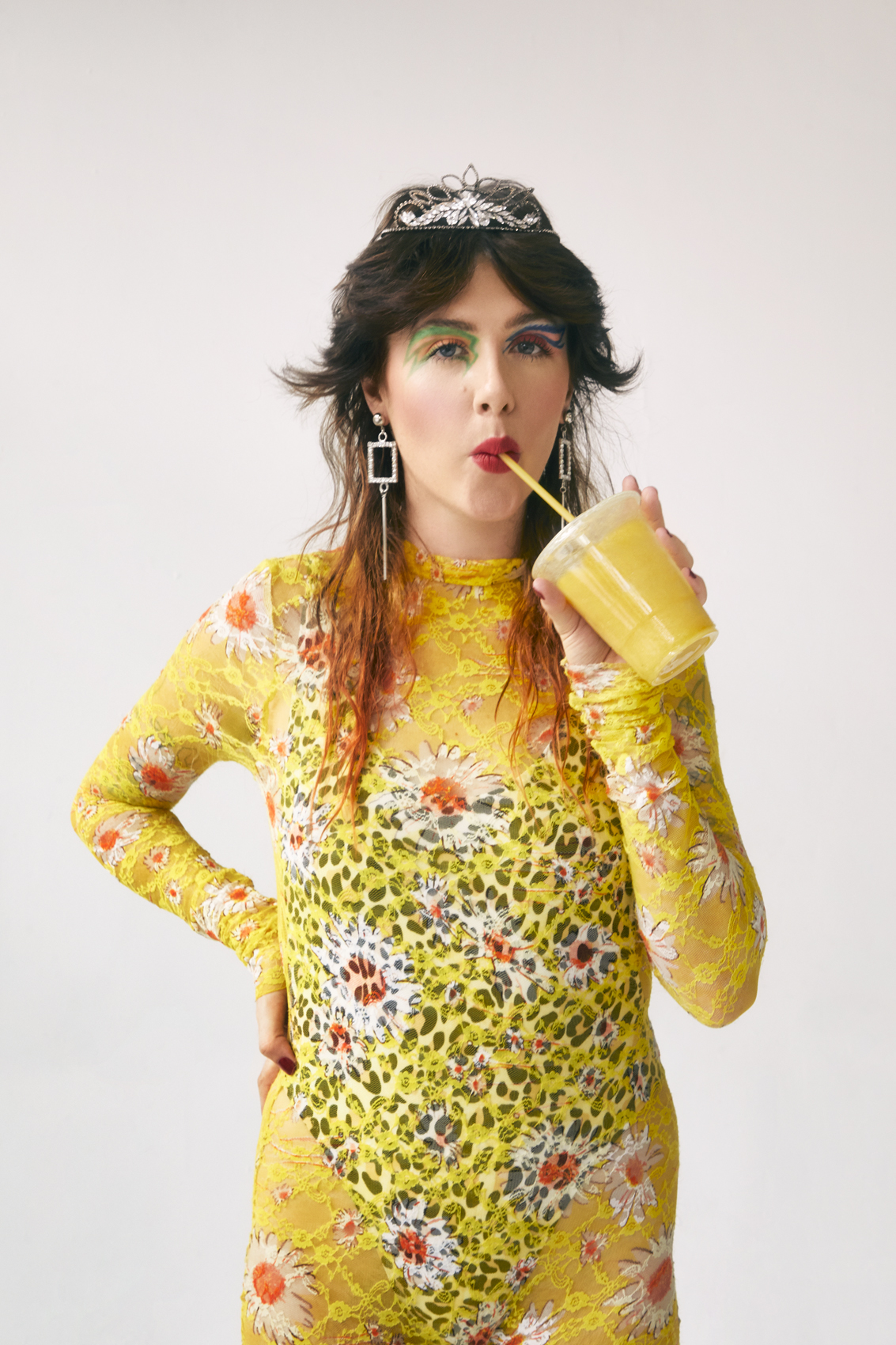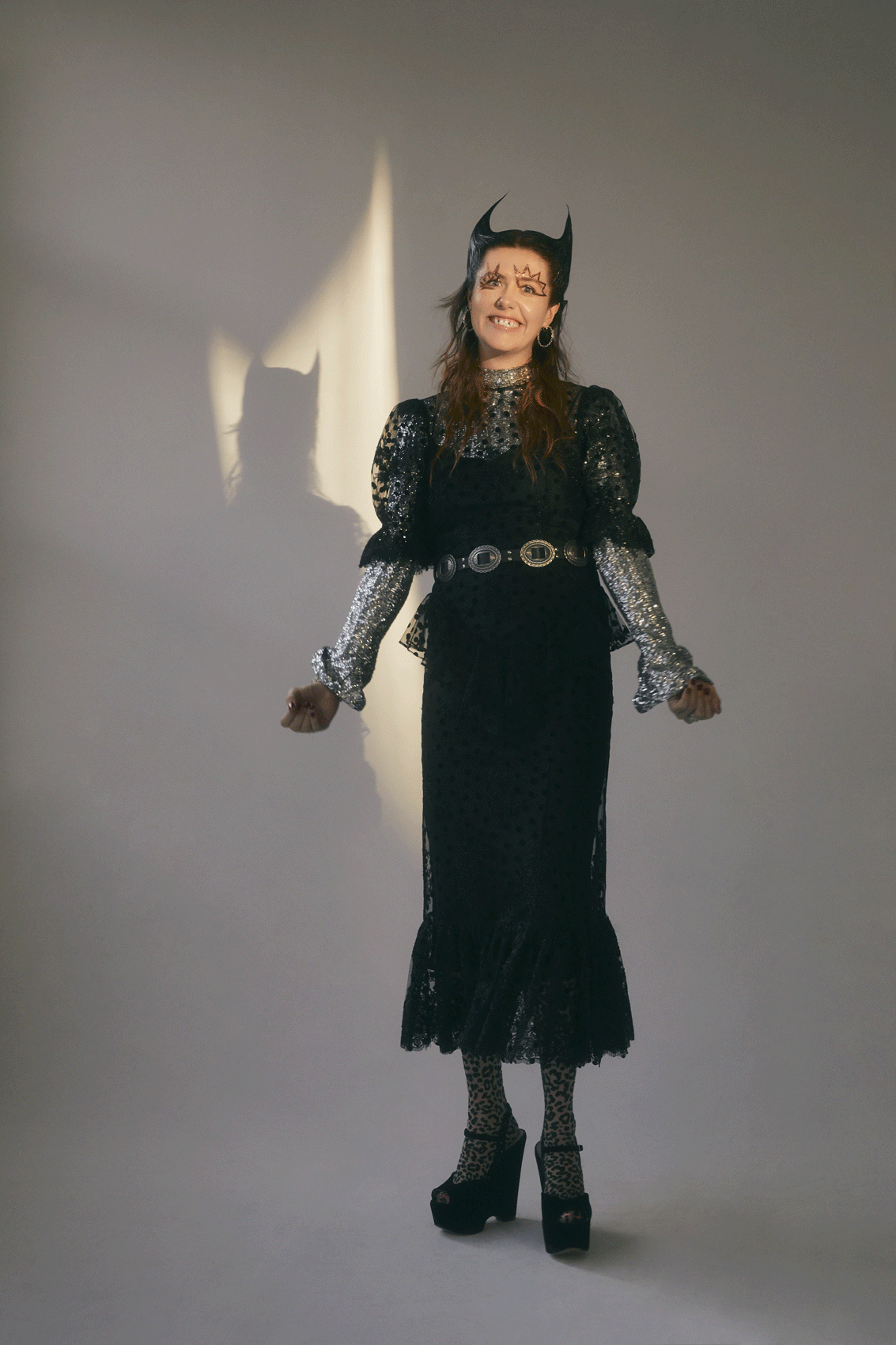 Dress & shoes / JILL STUART. Turtleneck / HILDUR YEOMAN. Belt / REDEMPTION. Pantyhose / THE SOCK MAN. Jewelry / L. JARDIM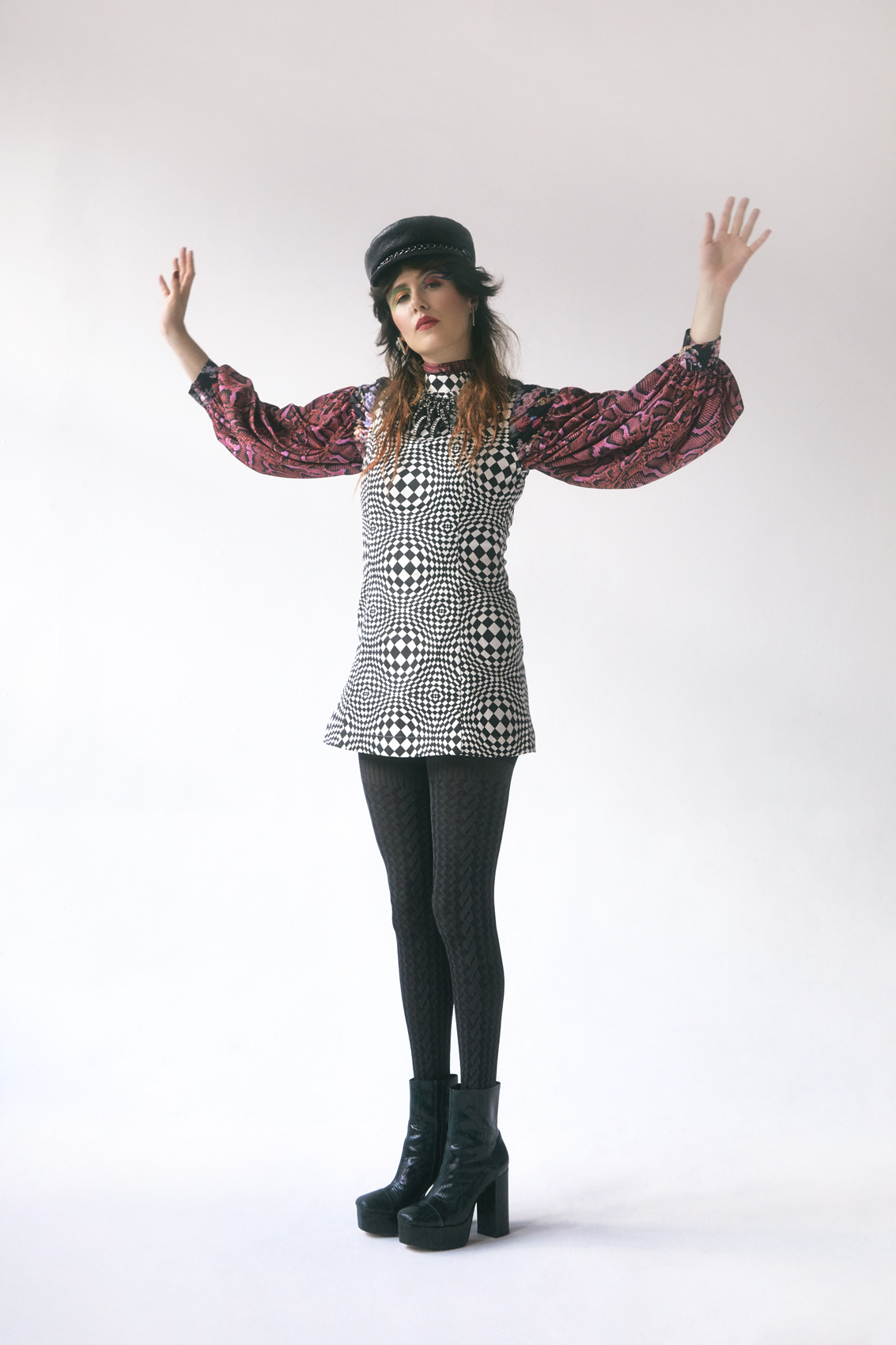 Dress / ROSE CUT.Shirt & shoes / ASOS.Hat / EUGENIA KIM. Necklace / ERICKSON BEAMON. Earrings / DEMARSON NEW YORK.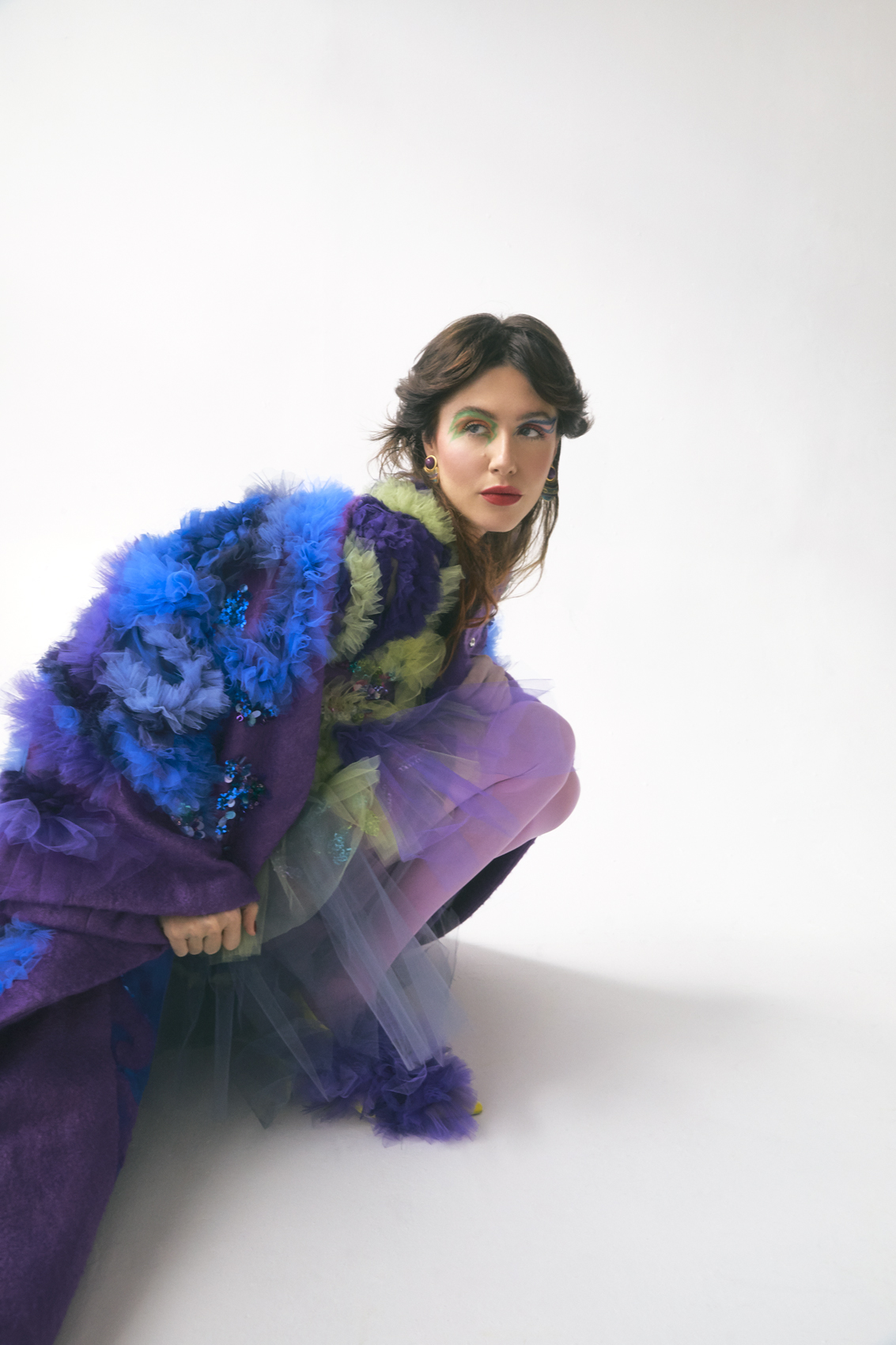 Dress, jacket, shoes / SAYA ZALEL. Earrings / STYLIST'S GRANDMA'S. Bodysuit & tights / LYELL.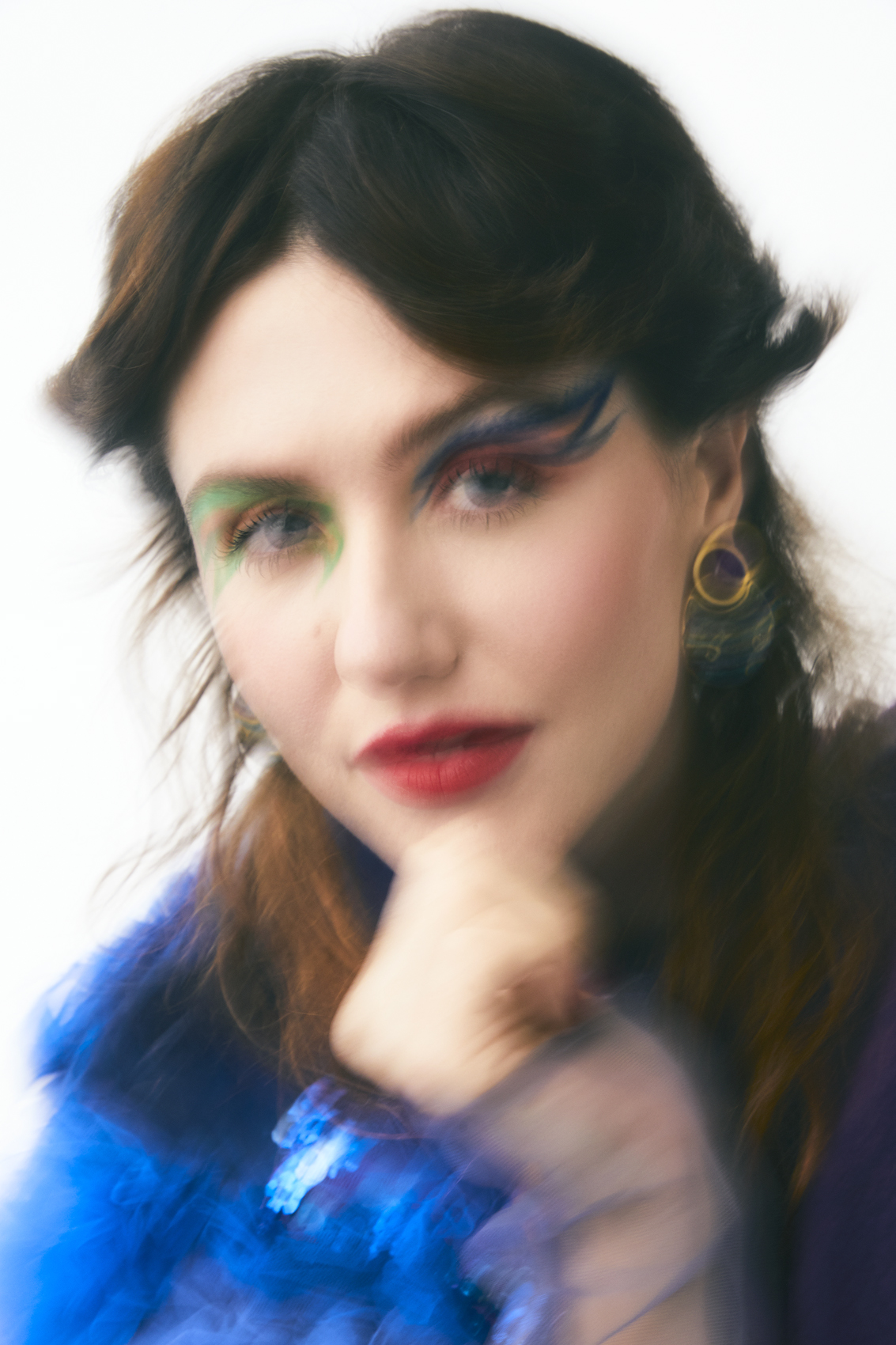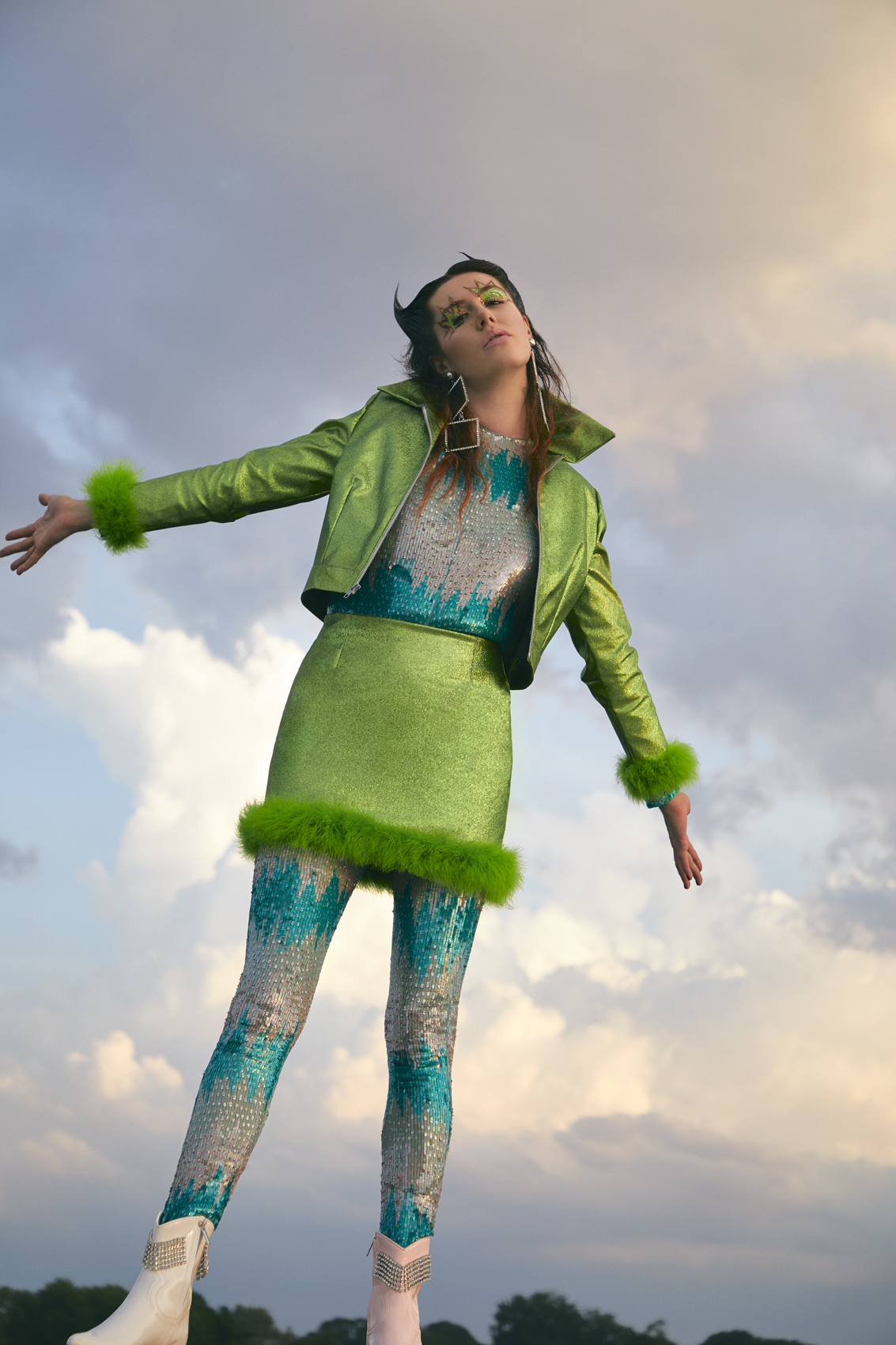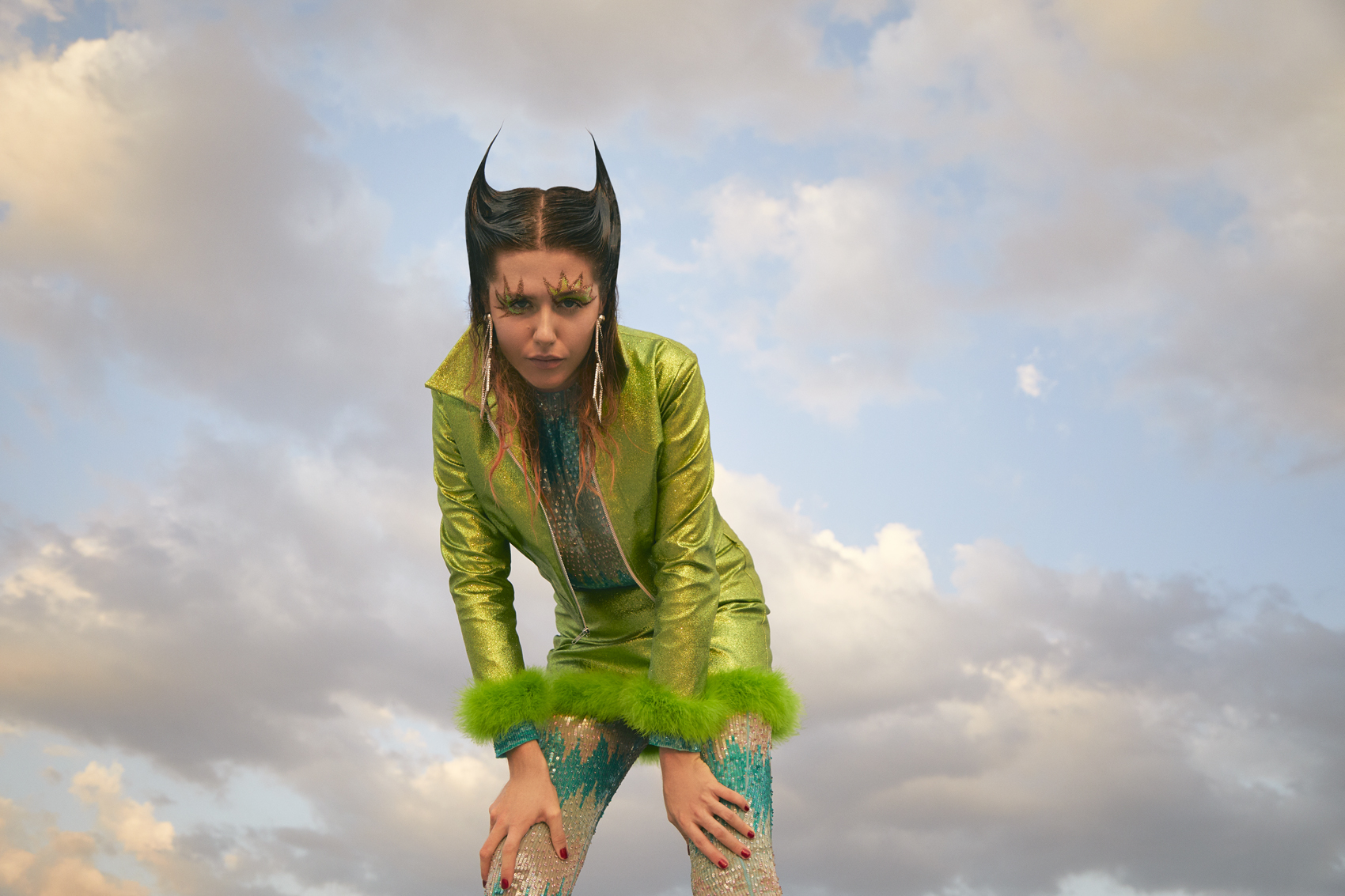 Two-piece set / ROSE CUT. Jumpsuit / LYELL. Boots / CHIARA FERRAGNI. Earrings / LARUICCI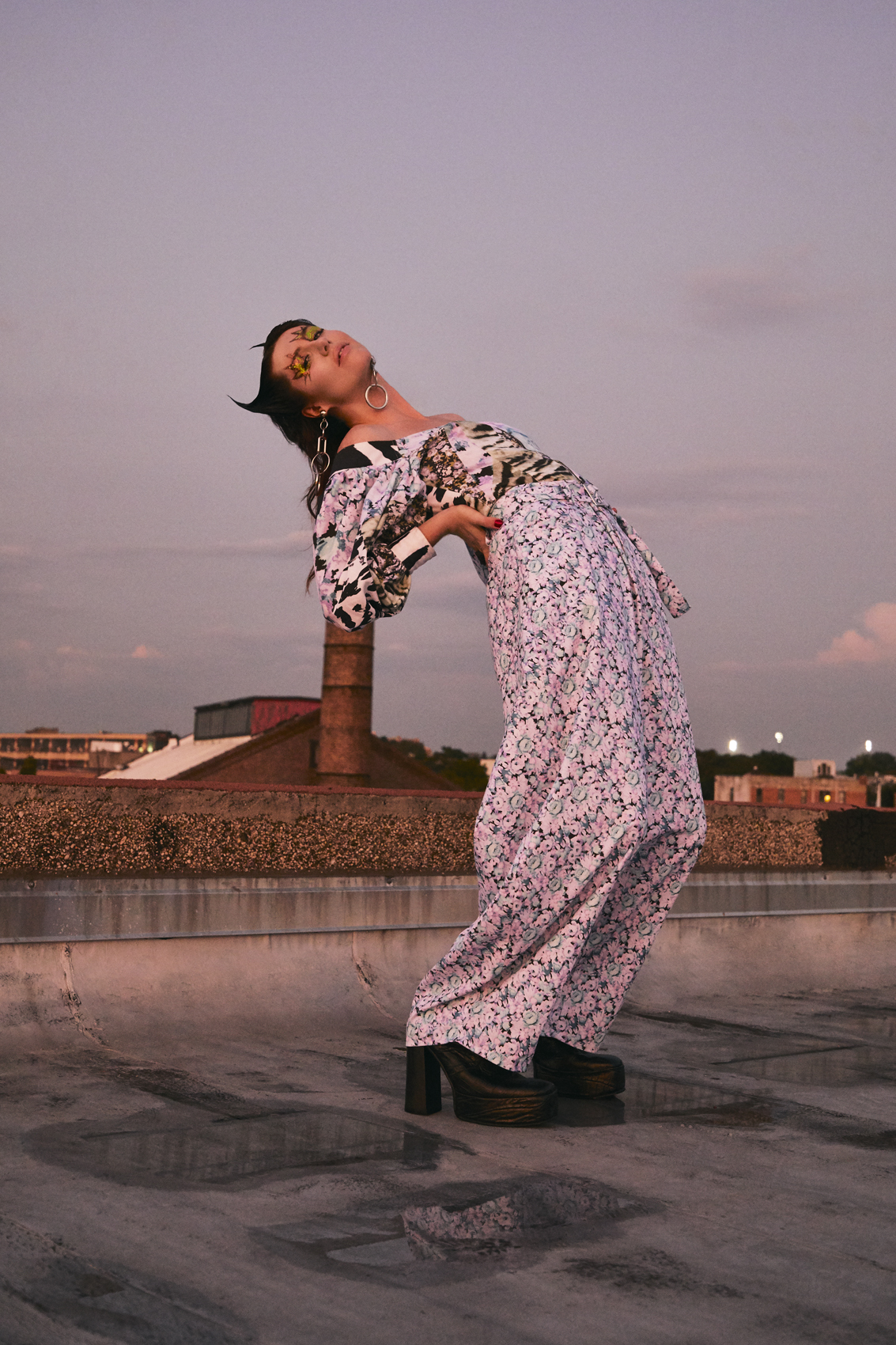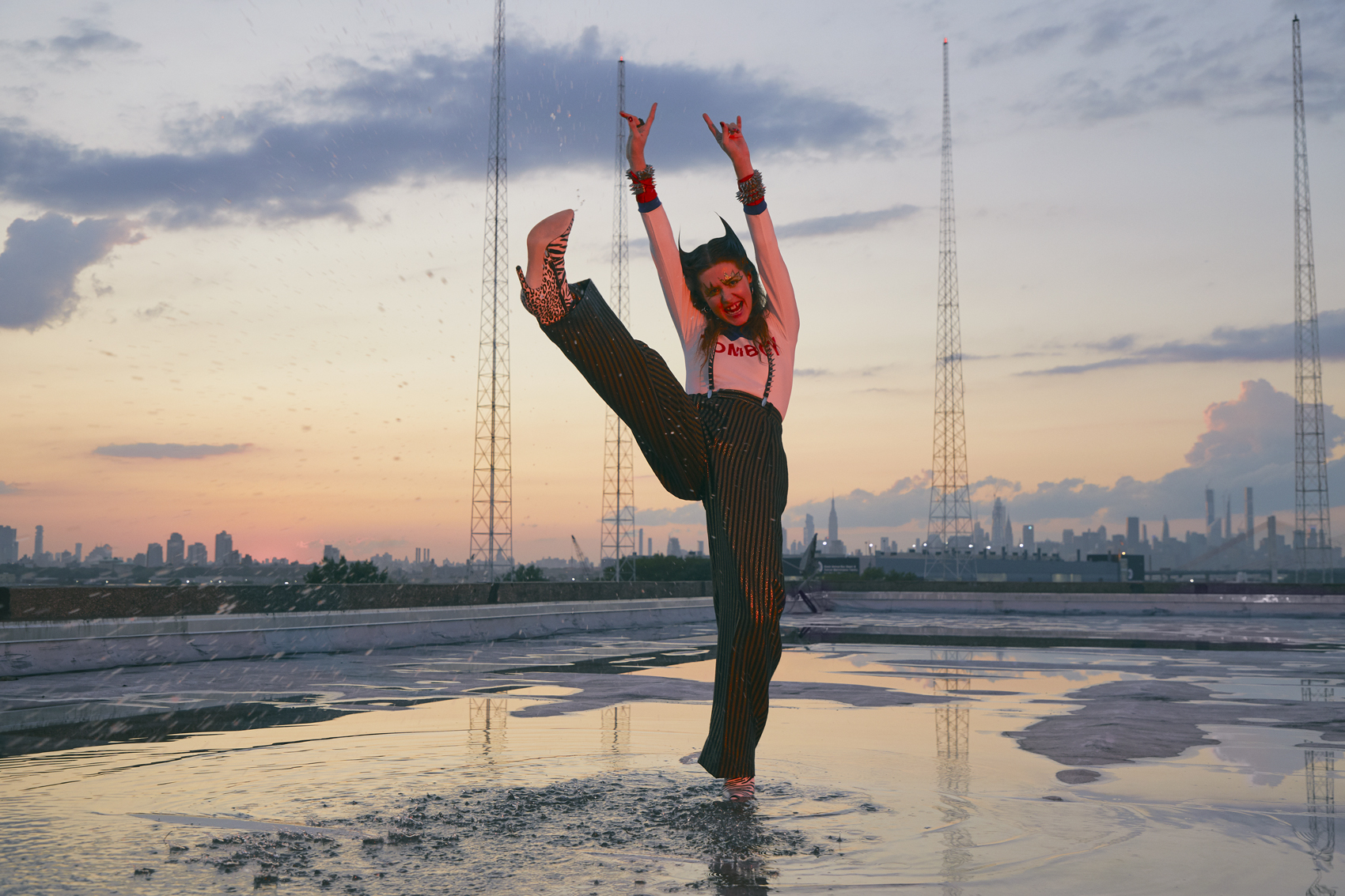 Pant & suspenders / GUCCI. Shirt / FILLES À PAPA. Shoes / GUESS. Bracelets / ERICKSON BEAMON.Earrings / LADY GREY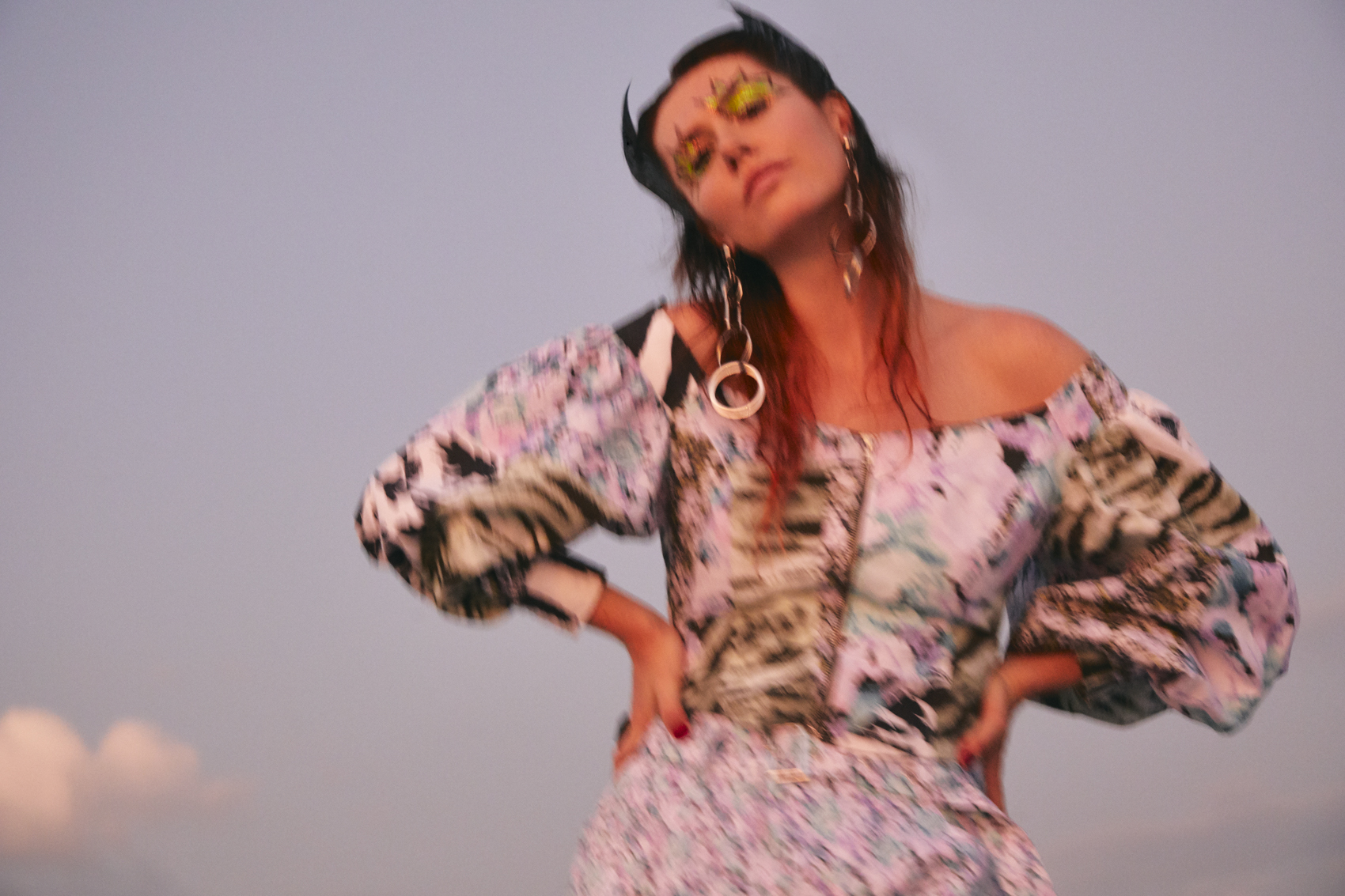 Outfit / ASOS. Boots / FLOYD HOGAN. Earrings / LARUICCI. Ring / ELIZABETH BERDANN.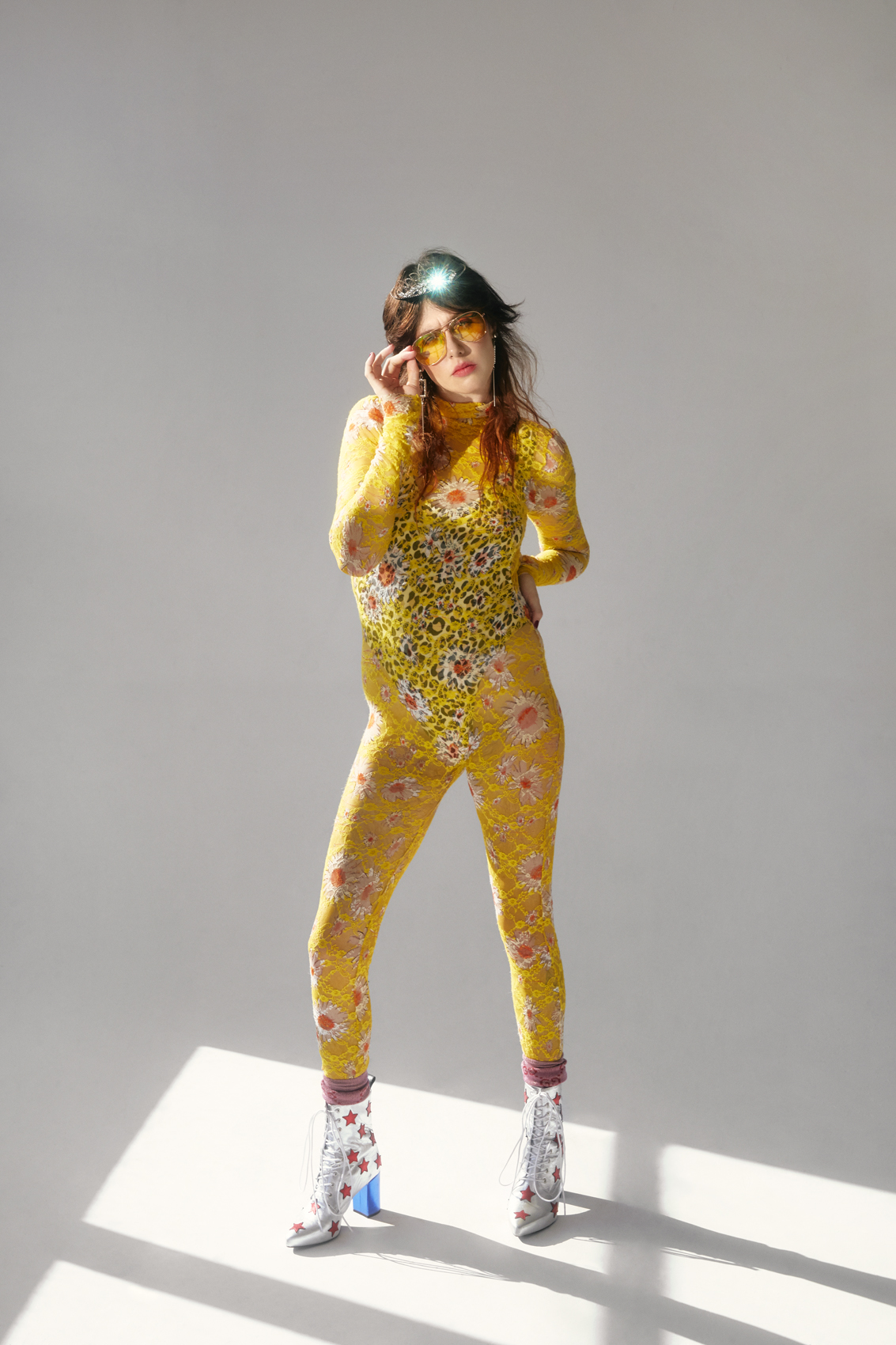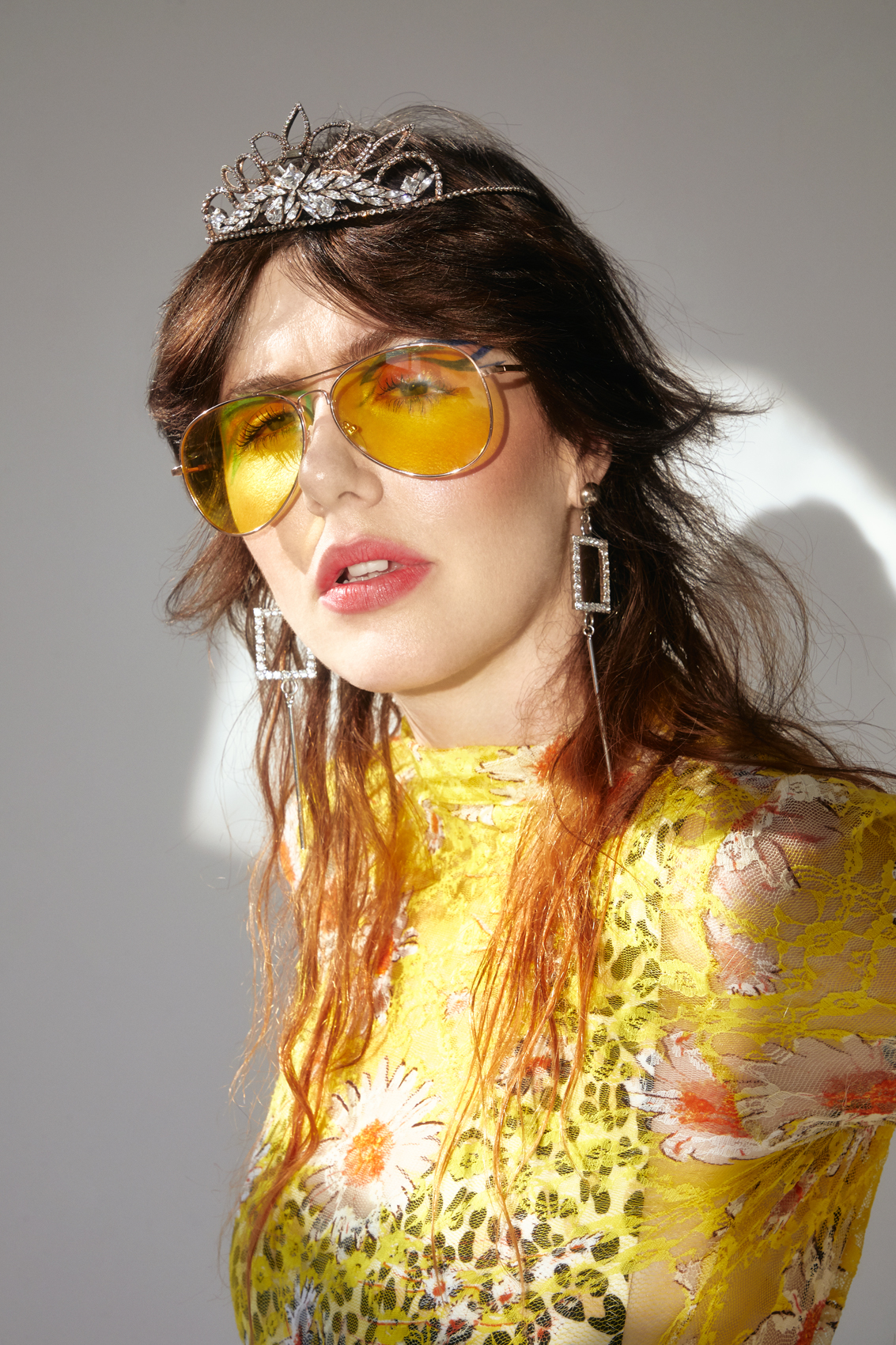 Yellow jumpsuit / COLLINA STRADA. Leopard bodysuit / NORMA KAMALI. Boots / FILLES À PAPA. Socks / GUCCI. Tiara / ERICKSON BEAMON. Earrings / LARUICCI.

CONNECT WITH DANI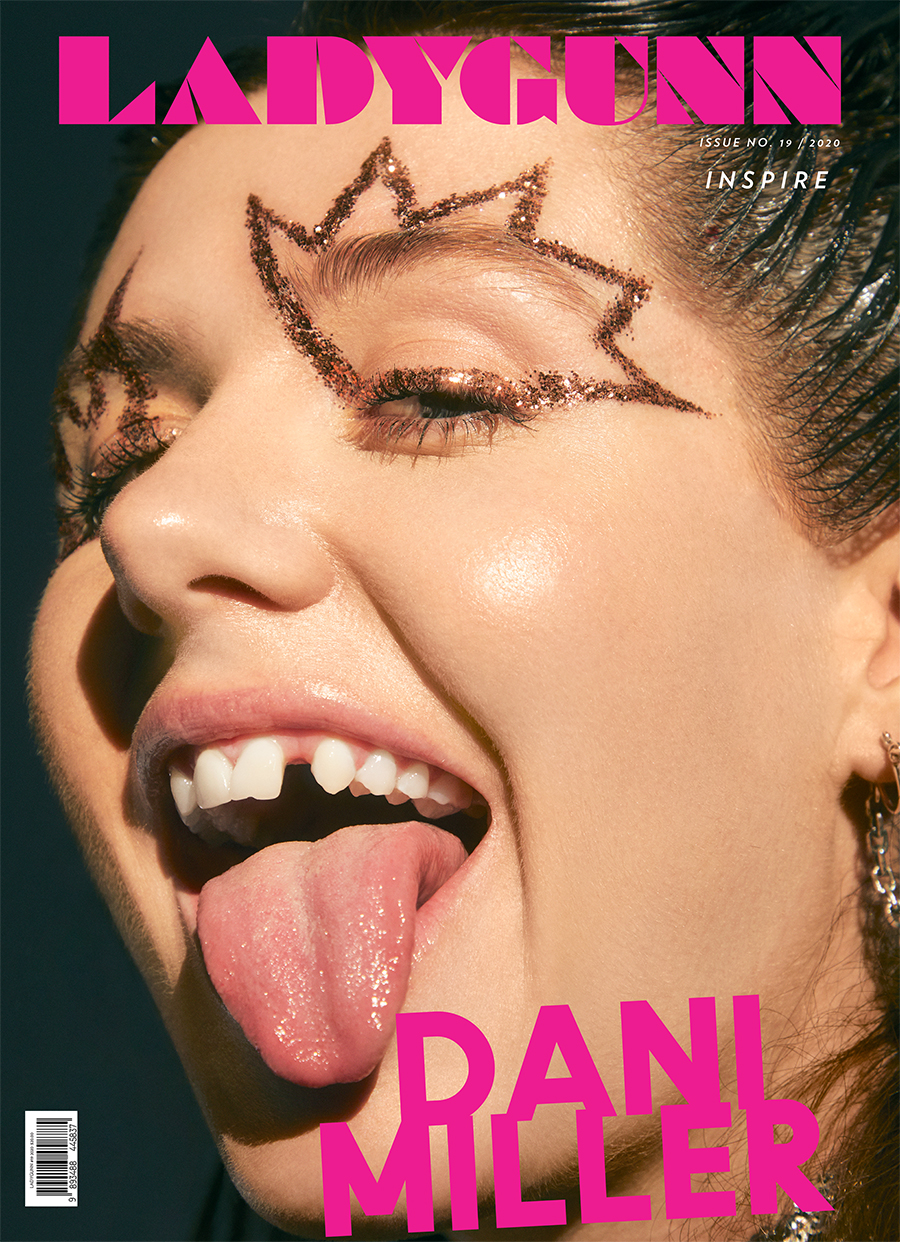 ---
styling/ Chelsea Volpe
makeup/ Marygene Rose
hair/ Dylan Chavles