Story / Catherine Santino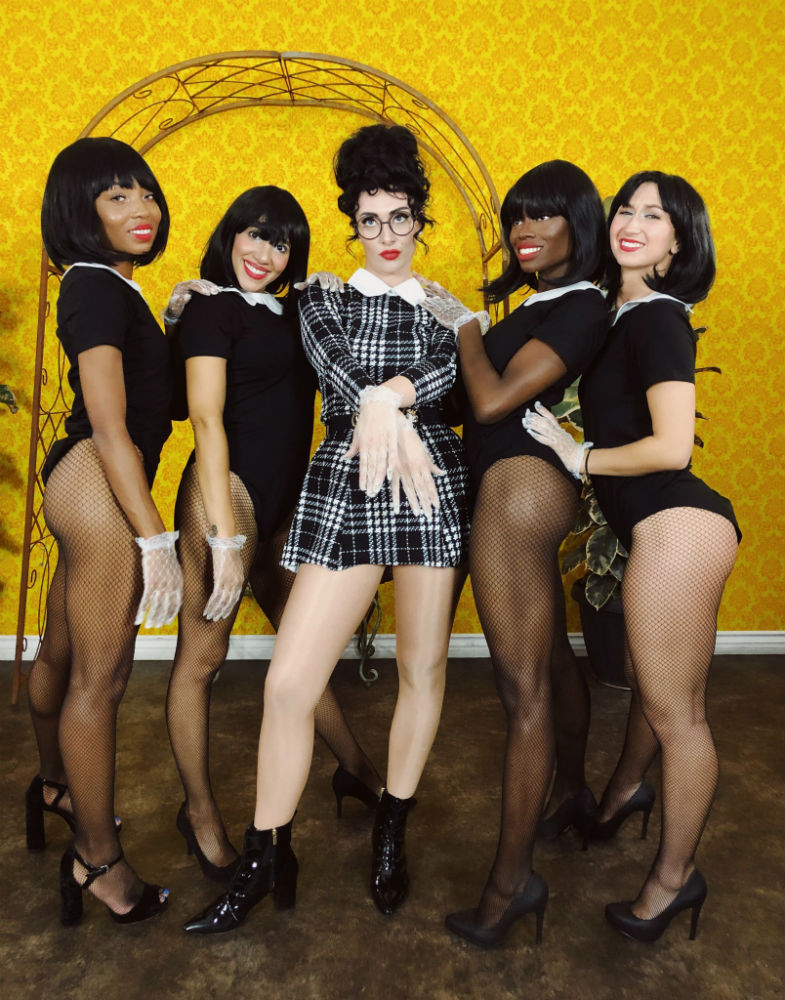 If you came to know Amy Noonan through her pop duo Karmin, her current pursuits might be a bit confusing. After all, it's jarring to see the singer you knew as a buttoned-up retro-babe suddenly dripping diamonds and rapping about "big dick energy". Noonan's emergence as Qveen Herby has thrown a lot of fans for a loop; mostly because up until now, she hasn't shared her process. "I always thought the music would just speak for itself," she tells me in a rare interview for LADYGUNN. "But it is important to give the flowers to the people who opened these doors for me and inspired me."
She's certainly aware of the optics of Qveen Herby; white artists approaching rap doesn't typically go over well (Macklemore and Iggy Azalea have similarly ruffled feathers). But Noonan isn't here to capitalize off the work of the legends who came before her; rather, she's standing on their shoulders to better voice her overarching message of empowerment.
And it's not like she woke up one day and decided on a whim to start rapping. Her rap abilities are what rose her to fame in the first place in a series of YouTube covers with her husband and producer, Nick Noonan. The pair uploaded videos in which Amy sang and rapped, while Nick accompanied her, occasionally lending backup vocals. Their cover of Chris Brown's "Look At Me Now" went viral, eventually gaining the attention of Epic Records. Though their first radio hit as Karmin (2012's "Brokenhearted") was rightly billed as pop, Noonan rapped her way through the bridge, and continued to incorporate rap into the duo's EP Hello and first studio album, Pulses. Karmin eventually left Epic, going on to release their second LP, Leo Rising, independently in 2016. 
Though the band's squeaky-clean image was never disingenuous, it was beginning to feel forced. "I always say that Karmin was for my family," says Noonan, who grew up in "Jesus town", Nebraska. "I feel blessed that I could take the curse words out of the Busta Rhymes song that blew up, so it was open to such a larger audience. It's a timeless song." But despite commercial success, Noonan was ready to put Karmin to rest. After about a year hiatus, she silently rebranded all of Karmin's social media platforms to Qveen Herby, along with the campaign slogan "Karmin is dead, long live the Qveen." In 2017, she dropped her first EP, featuring a track titled "Busta Rhymes", a nod to her beginnings. Since then, Noonan and her team have dropped an EP every few months, an unconventional approach that most labels are scared of. 
"Back in the day with Karmin, we used to drop a new song every week," Noonan says. "Then we signed a big fat record deal and they were like 'Oh, we're gonna do a single twice a year.' I was like, 'What?' Every six months is a long time for fans to wait. So we found what we feel like is the perfect schedule for our team, which is every three months." 
And yes, she clarifies, this team still includes Nick. Noonan explains that after touring for five years, he grew uncomfortable with the outward-facing elements of fame, like photoshoots and meet-and-greets. So when Qveen Herby was born, he delved deep into production, spending two years teaching himself technique. From the outside it might seem like Nick took a backseat so that the spotlight could shine brighter on Amy, but in reality, they each shifted into roles that felt natural to them. "Nick realized he wanted to go the creative part," Amy explains. "And no one believes in me more. We try not to talk about it too much because we're not all PDA like that, but we're pretty lucky that we found each other."
"It's so fulfilling but at times, but it can be really toxic because we're both so ambitious and we both work so hard," she continues. "So we have to learn to balance it. We have to two poodles for that. They're a great distraction."
While Nick was immersing himself in production, Amy was learning the craft and historical significance of rap. "I didn't grow up on the streets free styling," she says. "So, to find a way to contribute meaningfully to the culture of hip hop definitely took some studying." Aside from exploring iconic hip-hop albums like A Tribe Called Quests's Midnight Marauders and Snoop Dogg's Doggy Style, Noonan recruited friends to mentor her about writing rap. "It's so different from writing a pop song," she says. "When you're rapping, it's much more conversational and you have a lot more tricks to play with."
In her EPs, Noonan utilizes the melodic sensibility she's gained from years of singing while incorporating culturally relevant vernacular. On EP 5, she dropped "BDE", her take on the wave of "big dick energy" that made the rounds on social media earlier this year. The track layers the playfully obscene term over a soft melody, creating a juxtaposition that has come to be Qveen Herby's trademark. Is she a singer who can rap or a rapper who can sing? It's hard to tell, and that's the beauty of it.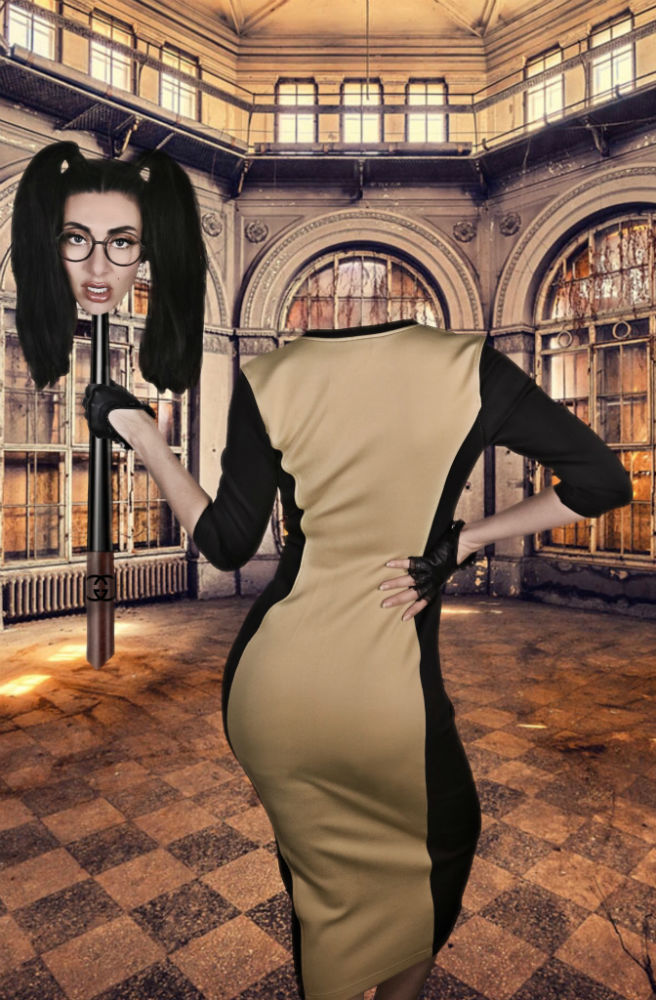 Her newest drop, EP 7, releases today and is perhaps her best work yet. The opening track "Vitamins" plays with the buzzy concept of self-care. "Been focused on my shit / makin' moves in silence / workin' out, sleepin' in, taking vitamins" she raps on the chorus, an insight into what it's taken to build the empire that is Qveen Herby. 
A part of that empire has been her beauty company, Qveen Studio. While her music reinvention was underway, Noonan and her friend Audrey Napoleon decided to launch a makeup line, which features liquid lipsticks, false eyelashes, and even the round-framed glasses that have become an iconic element of the Herby rebrand. "She came up around the same time and she had the same issue with signing a bad record deal and being taken advantage of because she's a woman," Noonan says of her collaboration with Napoleon. The driving force behind the business was the same one fueling Noonan's music: empowering people to be the best versions of themselves. "There's nothing more empowering than putting on red lipstick. If you ever feel like shit, just force yourself to put on red lipstick," she says. "We're raising a generation of boss bitches. And that's not just women. It's really a beautiful little family."
Noonan used beauty and fashion to transform herself into Qveen Herby, and continues to explore facets of the persona. The art for EP 6 features Noonan in a full granny get-up, complete with grey wig and housecoat. EPs 4 and 5 show a softer side of Herby, enveloped in flowers with long, flowing hair. "I love that – the transforming," she says. "I was thinking the other day that I could never go through life with the same haircut, that would drive me insane. But that's my talent – I really can flip it. A lot of the positive feedback about Qveen Herby has been "How did she do this? This rebrand is so crazy.' And I'm like 'Well, I'm probably gonna do it two or three more times.'"
"I'm kind of waiting for it to stop getting better," she says of her journey as Qveen Herby so far. "I think that's what a good artist does. Just continuously evolve. That's why we had to kill Karmin in the first place because it was like, kind of done."
But no matter how many iterations of Qveen Herby we see, one thing will always stay constant: Noonan's desire to create music that gives people confidence. "I see so many people that are just dissatisfied with their situation," she says. "And I know that music is a loud speaker loud enough for me to make an impact on them in some way. I've transformed and changed so much in my life. I want everyone to feel like anything is possible. I know the music is gonna be dope, but if can add anything else, that would be it. And let's wear some crazy outfits and beautiful makeup along the way."
CONNECT WITH QVEEN HERBY: