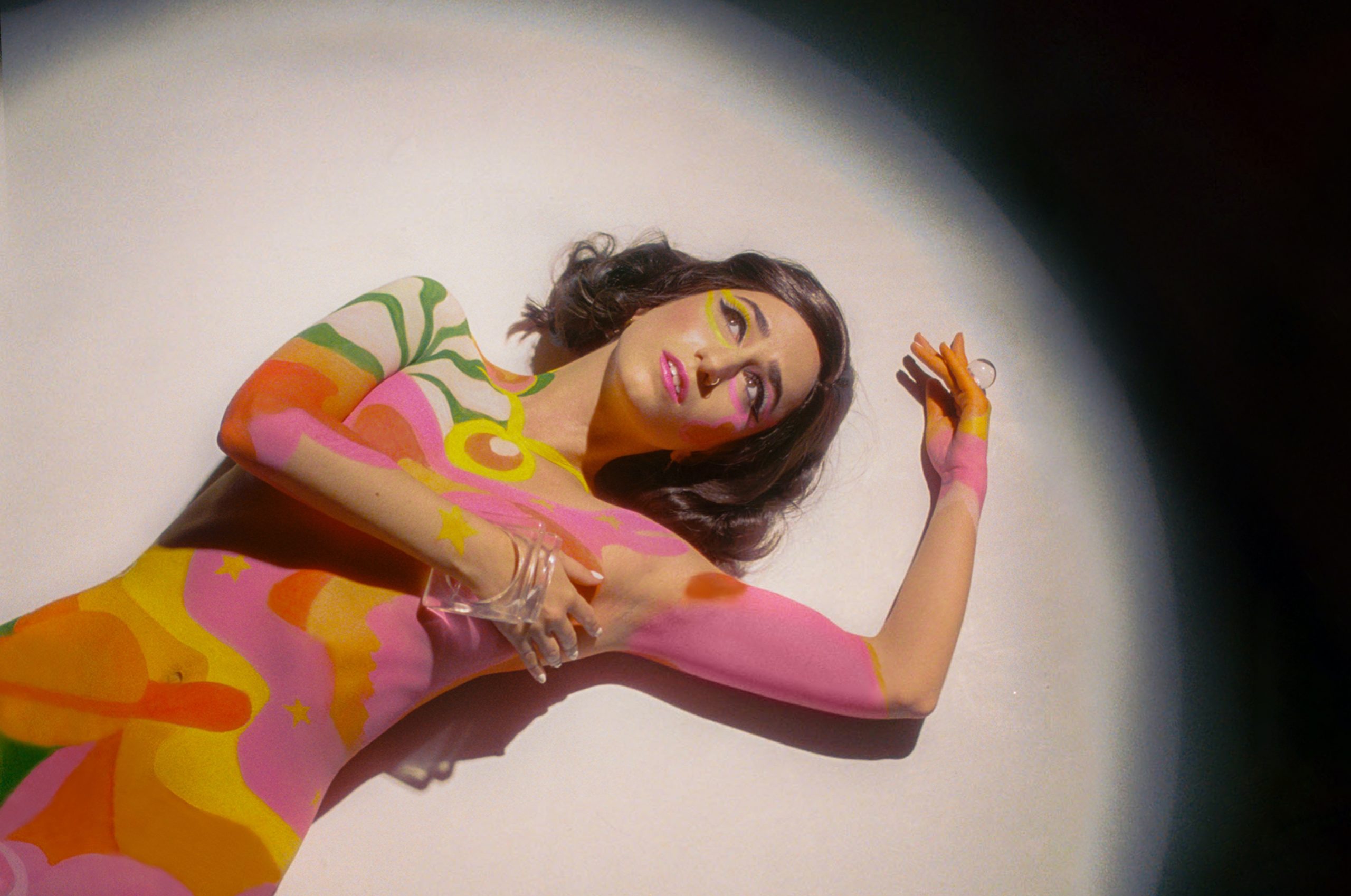 Indie pop presence STACEY wraps us up with her cozy charm. Her music possesses a stunning ethereal quality. Through her silky, retro sound, listeners drift away, lost in a delicate daydream. She just released her album Saturn Return and it features an alluring line-up of tracks all with that same gentle atmosphere. With lush, psychedelic flair, you are transported straight back to the 60s/70s era. Through beguiling vocals, introspective lyricism and glossy arrangements, the dazzling release is a true achievement.
The Los Angeles-based artist concocts music seeped in rosy romantics. A singer, songwriter and Wurlitzer enthusiast, STACEY is an eccentric artist putting her most authentic self on display. A buttery textured tone paired with her song's intimate meanings connects us so deeply as we hang on every word. It is easy to fall in love with this highly captivating talent. Ladygunn spoke with STACEY discussing her classic style, singles/videos and more.
Your unique indie-pop style takes influence from 60s and 70s classic feels i.e. The Beach Boys and The Beatles. What inspired your bright, retro sound?
You got 2! I'd add The Carpenters, Carole King, Bread, Wings, 10cc, Fleetwood Mac, Simon & Garfunkel, Pink Floyd to the inspiration list. I have no idea if these come through sonically but that's mostly what I'm listening to. I didn't listen to any classic music growing up so I feel extremely eager to make up for lost time and wrap myself in what I feel was the coolest era for music, fashion, design, architecture. I feel so happy exploring this space. I wanted to make classic songs with a modern mix; it's something I wanted to hear more of in today's pop music.
Your delicate tune "The Songwriter" possesses that same sunny quality through lush vocals gliding atop gentle keys. How did you develop the song's stunning simplicity?
I write most of the songs from start to finish alone at my Wurlitzer, including this one. I then worked closely with producer, James Younger, who is responsible for the vocal arrangement and bass. I loved the simplicity and intimacy of it at that point and was initially going to keep it to just those elements. But it tugged at me that there was an opportunity to build it up a bit more. I happened to be connected with LA based producer, Andrew Lappin, around that time, who ended up curating the rest of the Beach Boys Smile era inspired production and taking it over the finish line. It was definitely a balancing act kind of song – we wanted to lift it while maintaining the intimacy and simplicity.
A riveting romanticism shines within the track's tale of a chance meeting. Can you explain this in more detail?
It was really just a missed connection with someone I bumped into at my local dry-cleaners. I thought he was cute, we chatted briefly and that was that. To be honest I was probably pretty awkward in the actual encounter but I stepped out of myself and saw it as an observer, and I absolutely loved the idea of two neighbourhood songwriters writing about each other as a concept and a contemplation.
There is something so enchanting and magical about the idea of two songwriters each writing a song about one another. What intrigued you about this idea?
The concept just felt really charming. It's got a real 70s Laurel Canyon artist romance energy to me. It makes me think of Mamas and The Papas, Dylan, Joni, CSNY, etc. living in the canyon era and they're the characters, striking up a conversation down at the Canyon Country Store. I also liked its meta quality.

Your video evokes wistful nostalgia. From riding your bike to the 60s inspired outfits, the vintage vibes make the visuals a delightful viewing experience. How was the video's concept conceived?
I wanted to keep it simple and down to earth to reflect the song, and to visually feel like a moving version of the cover photo for Carole King's Tapestry. I thought biking around my neighbourhood mirrored the time I spent daydreaming about this connection through my every day solo activities.
The video was shot on a Super 8, also adding to the old-school aesthetic. What was your experience using that kind of camera for the shoot?
I've done a handful of Super 8 videos in the past, mostly with great film director and cinematographer Laura-Lynn Petrick. I like shooting on film; it forces you to really plan the shots out because you can't see it in real time and you only have so much of it. I enjoy the process of getting the footage back as well — it's like Christmas morning.
Your latest single "Strange (But I Like It)" is a retro-sounding psychedelic tune. What is the message behind the song?
I wrote Strange soon after moving to LA. I was taking stock of my new surroundings and existence living in a new, strange place. Its really about finding your like-minded community, where you fit in as a weirdo. It's a thank you to the place that has been a #1 destination for creatives past and present. There are many things that are strange about LA and that's what makes it beautiful (and why I like it).

The visuals for the track showcase your directorial debut and display a Barbarella-inspired space adventure. What sparked the colorful 60s-esque visuals? 
The first seed that was planted was the Futuro House. I'm constantly exploring Pinterest and 60s/70s hashtags on Instagram and got pretty obsessed with Futuros once I discovered them. This was mid-COVID and I was watching a lot of films. I revisited Barbarella and another old Italian 60s film called The 10th Victim which has some epic space age costume design. I built the concept around the visual elements I wanted to include. I wanted to incorporate a lot of outfits from my favourite space age designers – Pierre Cardin, Rudi Gernreich. I didn't want to put a band together for the video however because it felt like too large a crew for COVID, so I decided to learn the instruments and create different characters for myself as a STACEY band.
Finally, what advice would you give to other singers/songwriters trying to navigate their way through the industry?
Ironically, I'd say no one person has all the answers and what works for some people, won't for others. In addition, however, I will proceed with:
1) Song is king
2) Be yourself, ignore the trends
3) Trust your intuition
4) Get it in writing
5) Don't be a jerk
CONNECT WITH STACEY
photos / Billie Black
story / Chloe Robinson