Miami-based psych-rock collective MOLD! is bringing anxiety-infused psych-noise rock to masses by way of their newly released single "I CAN SEE THE GHOST!," the sophomore release from their debut full-length effort 'NO SILENCE!,' due out in September. The track is accompanied by a trippy visual counterpart, animated by Peruvian artists Bruna Denegri and Tomàs Del Prado. The teaser lays bare the outfit's musical mission: To express their emotional conflict about leaving their home in Lima, Peru back in 2017, to embark on their journey to the United States–and the existentialism that arises from leaving everything behind to start anew. The founding member and mastermind of the collective, Carlo Barbacci took some time to speak with Ladygunn about the conception of Mold! And their forthcoming debut full-length.
Who is MOLD! And how did the band come to be?
Mold started as a solo project of mine. I came to Miami from Peru on Christmas, 2017. I would get messages from Miami musicians wanting to collaborate, and that's how Mold! became a band. I prefer to call it a collective because musicians are always coming and going. There is a positive side to it, because everyone that plays in the band leaves a legacy. The band is currently composed of Jake Lara on the synths, Julian Beltran on bass, Carlos Dearmas on drums, and me on guitar, vocals, synths and the production side.
How did the transition from Lima to Miami affect your artistry?
Well as an artist, I really like to take in the cultures I interact with. To me, it is all about studying what is going on in the city and making music that says something that is relevant, something that people can connect with. Being in Miami and going to shows made me realize what music people are into here. I remember going to my first good show in Miami. It was Las Nubes, Zeta, and Palomino Blond playing at Gramps. That night I went "Ok! This is what I want to do." Also, in Peru, I was more like a bedroom songwriter. Here in Miami I learned to work as a team with other people. NO SILENCE! has a long list of people involved in its creation. This was also my first time writing lyrics in English! It was cool to leave my comfort zone of writing in spanish, even though I will go back to writing in spanish at some point.
It sounds like you find yourself mining from the musical traditions of both locals. In what ways does this tend to play out? What were some major inspirations for NO SILENCE!?
To make a piece of art that is original, me, and whoever I'm collaborating with, try to draw inspiration from as many sources as possible. On NO SILENCE! we tried to channel the art and films of David Lynch, Gaspar Noé, and Francis Bacon among others. The writings of Albert Camus and Friedrich Nietzche were also impactful. The current cultural happenings in the USA also made a mark. There is a lot of anxiety, depression, racism, and sexism playing out in front of us. The killing of George Floyd, and learning about the endless list of people murdered by police played a big role when we were working on the record. Oh, and living through a pandemic. All these events find their way into the music. Not necessarily the lyrics, but the mood and subtext of the music. Most of the album has a very "protest" vibe to it. It is a call for "no silence!," urging people to always fight for their rights, and for what each of us deserve. As far as musical inspirations, we are influenced by early noise rock/shoegaze bands like Sonic Youth, My Bloody Valentine and even  electronic music like Flying Lotus, Aphex Twin; and jazz, particularly "Bitches Brew" by Miles Davis. That record is very important to us. Finally the main influence for the vocal work would be The Beatles.
Do you look at the LP as one continuous story, or snapshots into several different ones?
Yes, for us, the music is one continuous story, but we keep the lyrics very abstract and change topics from song to song, or sometimes even from verse to verse. I always like to mention the Argentinian songwriter from Soda Stereo Gustavo Cerati. I've always loved his lyrics because they are just so open for interpretation.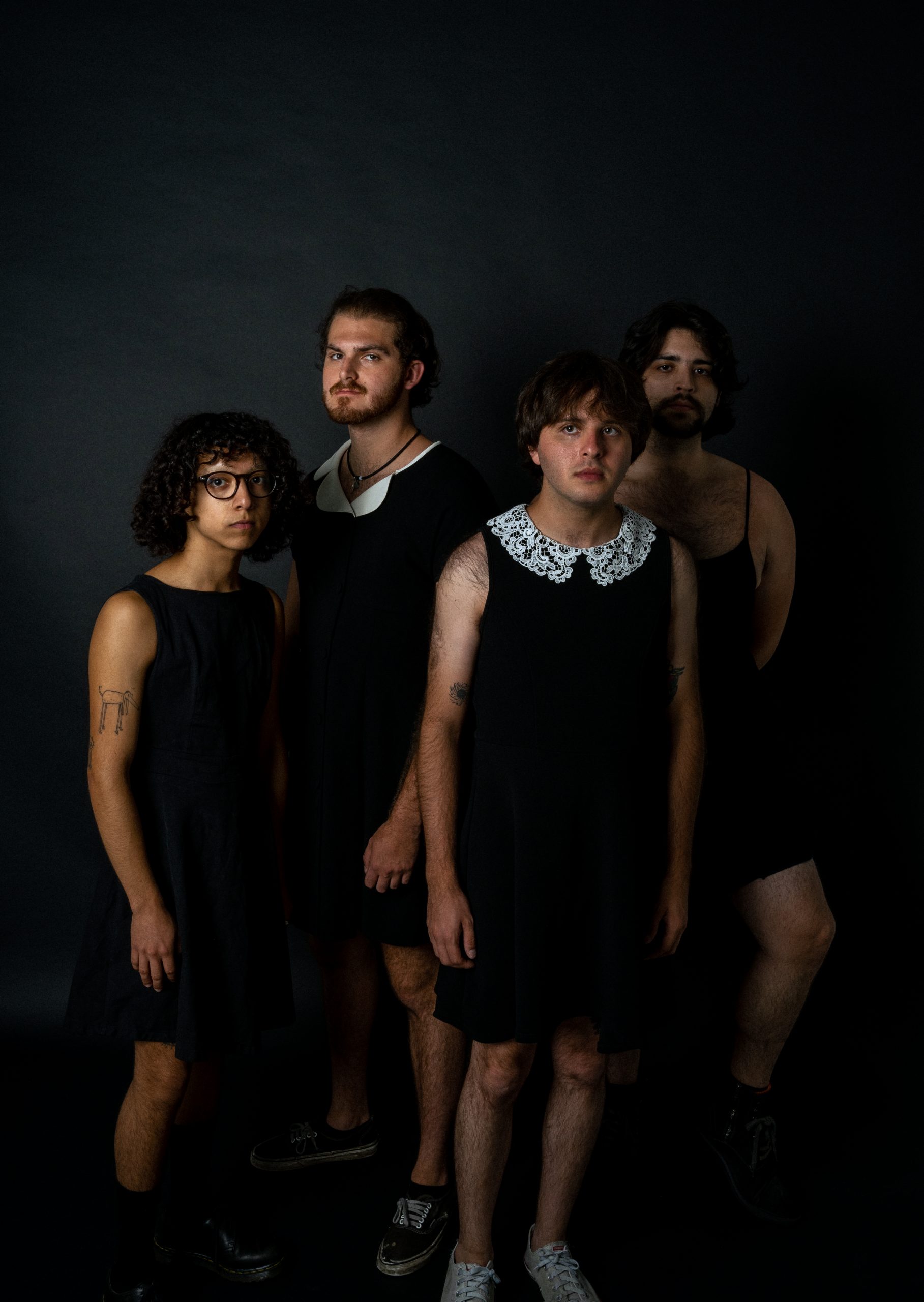 The music video for "I CAN SEE THE GHOST! is trippy and kitschy magic. What was the process like collaborating with Peruvian artists Bruna Denegri and Tomàs Del Prado on the animation? Was it fun to see the song come alive?
It was great. Since we began making the video during the pandemic, we thought animated videos would be safer. I've always admired Peruvian artist Bruna Denegri, so I reached out to her. The music video is just Bruna showing her world freely. There was no need for it to make sense, or for a traditional story, we only agreed that we wanted it to feel like a dream. I like that her art is colorful, bizarre, bold, and most of all it is a feminist statement. It just felt right to work with her.
What is the unifying subtextual message of the track and video?
The message will be different for each listener and viewer. But to answer the question I will say freedom! And no silence ever!
Is collaboration a big part of your creative journey as a band? Who are your dream collaborators?
Yes, this band is a direct product of many artists collaborating to keep the project alive. I really hope one day we have members that stay forever, but for now that is what has worked for the project. Excluding all exceptions, I deeply believe that rock is a genre that is supposed to be made as a team. Dream Collabs? Not sure, but Juan Wauters just popped into my mind, so maybe them!
What are some creative ways you have been keeping inspired and connected with your community during the pandemic?
Well the pandemic was a dark period for me because I lost the team I was recording the music and financing the album with. So I actually had to stay away from being creative and just focus on working 12 hours a day for a year so that I could pay for all the expenses on my own. Producing an album is really expensive! Things are really, really good now. The band is composed of musicians that I really love and admire. And yes, nowadays we are very involved with our music communities, playing shows every month, releasing music and connecting with new people all the time.
What are you most excited for in your near future?
The album's release in September, and of course touring next year if Covid allows it!
CONNECT WITH MOLD!
photos / Gabriel Duque
story / Olivia McAuley