Elle Baez's latest single "Stereotype" is the perfect song to listen to on a bad day so you can remember that it ain't so bad. Baez combines her love for music and her love for herself in this song. While reminiscing on all the stereotypical microaggressions that she's been through in her life, her body and mind positivity shines through. She sings, "I'm sorry my jeans are tight, I'm sorry I got all this might to fight your stereotype."
Nothing looks more fun than the music video accompanying "Stereotype." Hot girls eating cake out of wine glasses and inviting hot strangers to join them. They go from the beach, to the convertible, to the pool. A feel good visual to accompany a song that is meant to remind you that you should feel good about yourself. No matter what. We got to talk to the baddie about the ups and downs of musician life, filming the music video and writing "Stereotype."
What sparked the idea for "Stereotype"? How was the writing process?
I wrote "Stereotype" to celebrate all of the confidence I have found in myself today and how the younger me would be so proud. Growing up plus sized and Latina, I was constantly told to lose weight and change my appearance by so many around me.. All I could think about was what if the little me had the confidence I have today, who knows how much more success could've come my way.
I had been wanting to write a song to address fighting society's beauty standards and it all came pouring out of me one night when I felt DANG AMAZING!! I had just done a fierce bikini photo shoot that day and I felt super powerful. I showed it to my producer Tiger Darrow and she loved how strong the message was, I wanted it to sound like a BANGER and she delivered!
The Music Video looks so fun! How did it all come together? What was filming like?
Thank you, it was such a BLAST to shoot!
The video tells the story of me bringing a self-conscious younger version of myself, played by Rachel Berrios (who has experienced the same pressures of society in her own real life), along on my day of fun and introducing her to the body positive world that she needs to put a smile on her face.
I had always wanted to host my own Body Positive Pool Party and I am co-founder of "The Curvy Artists Collective" so I invited the members out, 20 body positive models and influencers, to come join me for the day in a fun and inspirational shoot! All of the girls were so incredible and I made it my top priority to create a safe environment where everyone felt supported and loved that day. It was a truly liberating experience and a day I will never forget – something special was made.
How did the collaboration with Adore Me come together?
I LOVE "Adore Me"!! As soon as I had the idea to host my own body positivity pool party I knew that Adore Me would be the perfect fit because they promote body positivity with their brand and have embraced so many diverse beautiful bodies in their community. Plus, their swimsuits are to die for! They agreed to help support my message by teaming up with me and working with them was an absolute dream come true. It really made my music video vision come to life perfectly!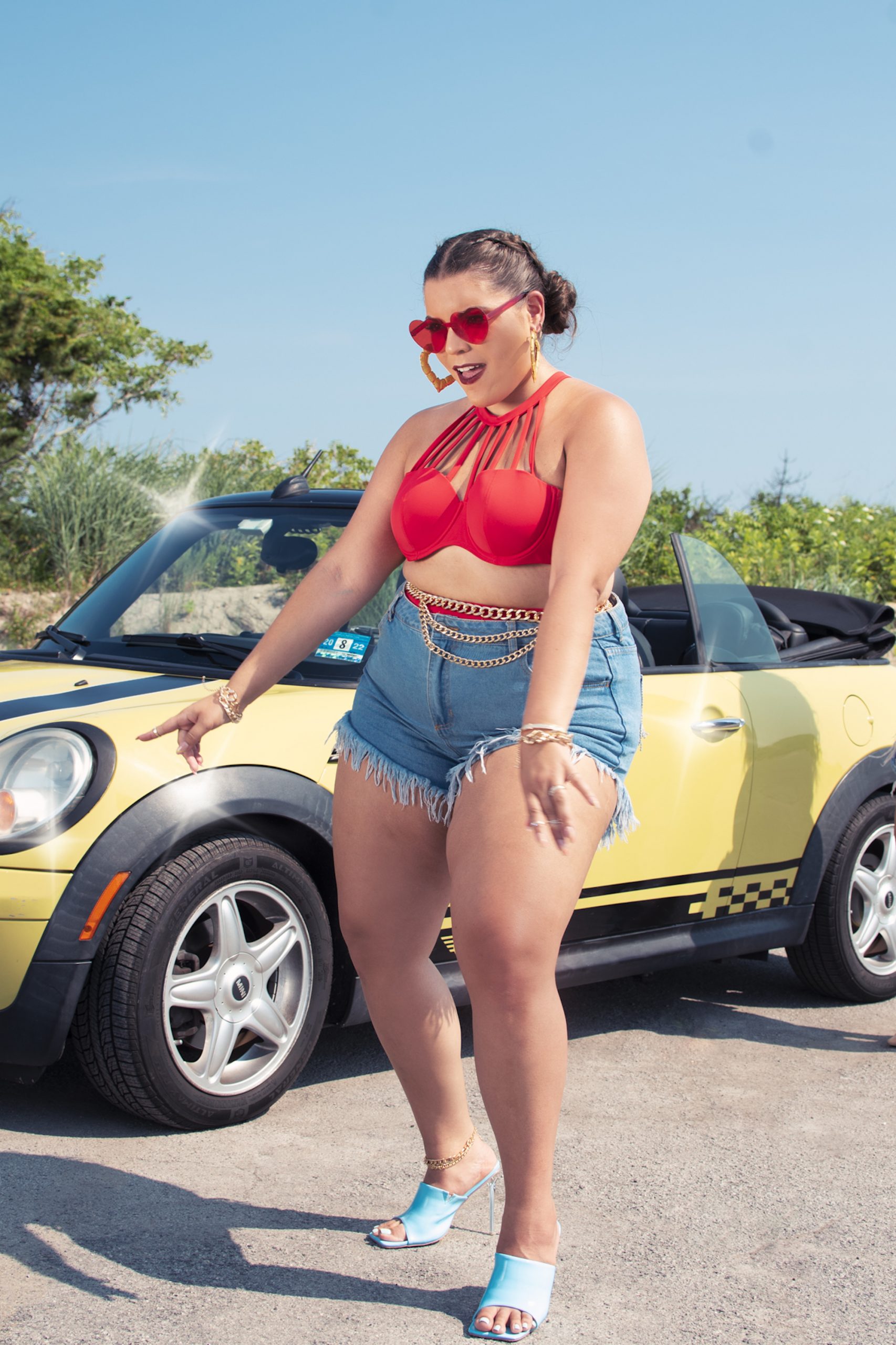 What first got you into music and how have you evolved since then?
I've been singing since I was 3 years old and writing little songs. My Dad was a DJ in the '70s and I grew up listening & dancing to jazz, latin, funk, disco and every genre imaginable in my house. Both of my siblings were also musicians and music became my preferred language. I was actually quite shy growing up but when I sang that is when I really came alive. I did a lot of theatre and went on to study it in college. After experiencing lots of consistent body shaming and fatphobia in that world, I decided that I wanted to create my own art. I started to work on producing my songs and I realized how much happier it made me. I am now able to be my own artist with my own personal message for the world to hear and be inspired by vs. playing a character. I perform because I want to connect with others and what better way than with my own music.
What's your favorite thing about making music? What's the hardest part?
My favorite thing would have to be hearing fans tell me how much my music has touched and helped them. I also love putting visuals to my music and creating a whole other world around my song – that is why I love to work on my music videos.
The hardest part is the second guessing and the uphill journey. There are lots of ups and downs and moments where you feel like you want to quit but it's pushing through those exact moments when something beautiful is born. Also, dealing with haters but I think this song will get that under control. 😉
What are you looking forward to?
I am so excited to announce that my debut EP will be dropping before the end of 2021. I have been working on it all year and it is going to be all about being bold and following your soul. I can't wait for you to hear!
CONNECT WITH ELLE BAEZ
photos / courtesy of the artist
story / Vogue Giambri