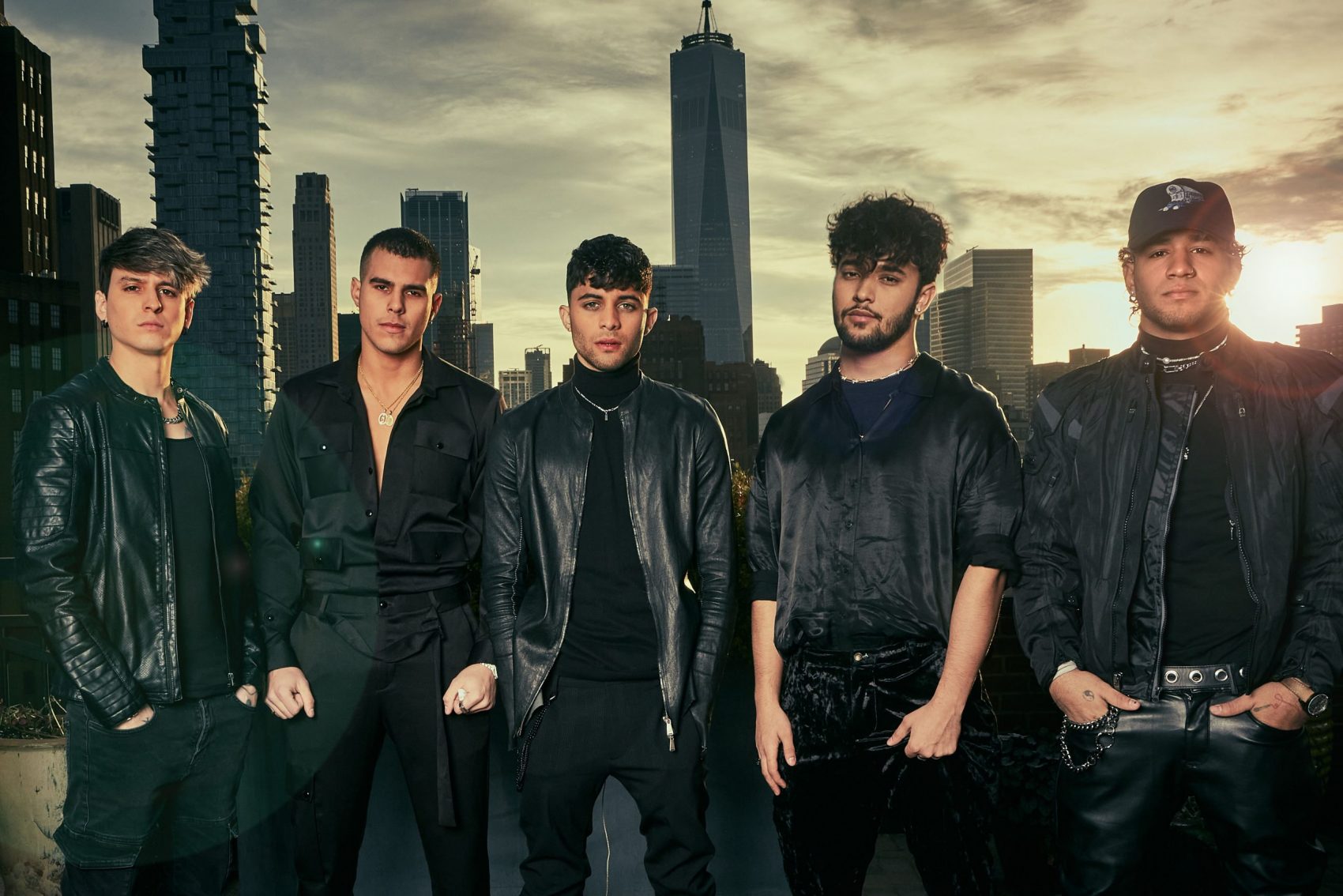 Five has proven to be a fateful number for CNCO, the Latin boyband named after the No. 5 in Spanish. The guys are coming on five years since their formation on the reality TV competition La Banda on Dec. 13, 2015. The five members, who were just teenagers at the time of taking the life-changing opportunity, have grown up in the global spotlight to become one of the premier boybands in a post One Direction-world. At the same time, they're proudly representing their diverse Latinx cultures wherever they go.
"It feels nice to have the opportunity to represent Latin youth," says Zabdiel De Jesús. "For example, we were at the [MTV] VMAs and we performed. It was nice to be there to represent Latinos. It's a big responsibility, but we enjoy it a lot."
This past year was especially breakthrough for CNCO when the band made its mainstage debut at the VMAs to perform the Spanish hit "Beso." The guys also took home their first Moon Person in the inaugural (and timely) Best Quarantine Performance category for their MTV Unplugged at Home medley. Their competition for the fan-voted honor included Lady Gaga, John Legend, and Post Malone.
"It was amazing to be nominated with all these legends," says Christopher Vélez. "To be honest, we didn't think we were going to win, but thanks to [our fanbase] the CNCOwners, we got that award and we were super happy."
Five years ago, the guys were standing on the La Banda stage without any idea of the journey that was ahead of them. The series was created by Simon Cowell, the guy behind 1D's success, and Puerto Rican superstar Ricky Martin, who knows a thing or two about Latin boybands as a former member of Menudo. Hundreds of boys competed for a spot in CNCO until the public chose the five members with roots in different parts of Latin America: De Jesús (Puerto Rico), Vélez (Ecuador), Joel Pimentel (Mexico), Erick Brian Colón (Cuba), and Richard Camacho (Dominican Republic).
As CNCO, the guys debuted at No. 1 on Billboard's Top Latin Albums chart twice with 2016's Primera Cita and 2018's self-titled album while placing both in the top 40 of the all-genre Billboard 200 chart. Their breakthrough smash "Reggaetón Lento" is the most-streamed Latin song from 2016 on Spotify and the remix with British girl group Little Mix earned them a top five hit in the U.K.
With their third album Déjà Vu due out next year, the members of CNCO are covering 13 classics by Latinx icons like Martin, Cristian Castro, Ricardo Montaner, and Cheyenne to expose their Gen-Z fans to the hits from yesteryear. The music videos pay tribute to the boybands that came before them, including New Kids on the Block, *NSYNC, and the Backstreet Boys.
In throwback mode, CNCO reflected with LADYGUNN about the past five years, going chicos to hombres, and talked what to expect next.  
HOW WOULD YOU DESCRIBE THE PAST FIVE YEARS OF CNCO?
Richard: It's been a roller coaster of good and bad things. So much has happened in our lives. So many memories that we created. So many things that we've learned, as humans and as musicians. We've evolved in terms of being onstage, and being in the studio writing and making music. We've been super united. I think these five years have worked for the best for us where we're in control of our image and everything that we want to sound like. Now we're more involved in that creative side.
WHAT'S THE EXPERIENCE BEEN LIKE TO GO THROUGH THIS JOURNEY AS A BAND?
Joel: Amazing. I would say it's a lot easier. For example, if one of us is sick, we can always have the other person's back. We love what we're doing together. We complement each other super well. We don't think there could be any other better way to be doing music.
WHAT ADVICE WOULD YOU GIVE THOSE FIVE GUYS STANDING ON THE LA BANDA STAGE?
Richard: Be a little patient.
Christopher: Take more pictures.
Richard: We've been to so many places and half of us don't have pictures of those places.  That's it. I think everything happens for a reason. We did what we had to do to get here and we're doing what we're doing now to be able to move forward.
ONE DIRECTION ALSO GAVE YOU GUYS A SHOUTOUT IN THAT FINALE EPISODE.
Joel: I think that's when they did their last performance together. They're like, "We're out. It's you guys' turn."
HAVE YOU GUYS LEARNED ABOUT EACH OTHERS' CULTURES IN THE BAND?
Erick: Yeah, for sure. Me talking personally, I didn't know that much about Ecuador, the Dominican Republic- all the other countries, or the United States. But it's crazy what we have learned through the years that we've spent  together. We're always learning something new [about each other]. We have learned a lot about our cultures.
WHAT WAS IT LIKE TO WORK WITH LITTLE MIX ON THE "REGGAETÓN LENTO" REMIX?
Christopher: Working with Little Mix was amazing. We wanted to record the video, but we couldn't travel to their place, to the U.K., so we recorded half of the video in Miami, and they recorded half of the video over there. It was like we were in the same place. They're super humble and beautiful.
Joel: We later performed on it for The X Factor finale in London. We went to the club after that and everyone was singing it in Spanish. We were like, "What the heck?" We didn't know how it was to be recognized over there in the U.K. We're glad that our Latin roots could be spread out to places that aren't really exposed to Latin culture. We're proud of what we've done.
YOUR SONG "BESO" IS SUPER SENSUAL. WHAT WAS THE INSPIRATION BEHIND THAT ONE?
Richard: It's like telling her that you just want to kiss and kind of go crazy. It's that evolution of CNCO. To change from the very innocent lyrics to a little bit more dirty. To talk about different things in our lives that have happened. It's part of the process. We love the whole edgy lyrics and the more sensual feeling of the music that we're doing now. We're seeing that you guys are also enjoying it, so why not keep creating and touch different bases?   
HOW DID YOU FEEL TO PERFORM THAT SONG AT THE VMAs?
Joel: Ever since we were younger, we've always been watching the VMAs. I remember we said it from the beginning that we wanted to perform there. I even tweeted about two years ago, saying, "Imagine how it would feel performing at the VMAs." Two years later to be able to accomplish that, it was like proof of what you set your mind to with hard work, you can accomplish your goals.
JOEL, BACK IN SEPTEMBER YOU RETWEETED YOUR FRIEND YOANDRI'S TWEET ("BEFORE YOU WANNA GO TELL SOMEONE WHAT YOU THINK ABOUT THEIR SEXUALITY, TAKE A DEEP BREATHE AND SHUT THE FUCK UP") WITH "TEA" AND THE TEA EMOJI. I WAS WONDERING IF YOU GUYS HAD A MESSAGE FOR YOUR FANS IN THE LGBTQ+ COMMUNITY.
Joel: Hell yeah! We love them and we support them. We're with them. My best friend is part of the community, so if you don't have anything nice to comment, just don't say anything.
Christopher: Love is love!
WHY DID YOU GUYS DECIDE TO DO A COVERS ALBUM?
Richard: In quarantine everyone was listening to the old school songs. We just listened to our ground roots, to our old legendary Latino songs. We were like, "Yo, why not do a project like this?" To give this to the new generation and also give back to the older generation. We talked about it with Sony and they loved the idea. They started sending us lists of songs and we came up with this project Déjà Vu.
WHICH SONG DID YOU LIKE REMAKING THE MOST?
Erick: For everybody all the songs are super special, but If I had to choose one, I would go with "Dejaría Todo" just because [Cheyanne] influenced me a lot since I was little. And my mom loves him like crazy.
Richard: For me, I would say "Un Beso" by Aventura just because I grew up with that. Listening to it in New York. At home, we listened to it a lot in D.R. That was my childhood song. 
Zabdiel: Personally I love "Tan Enamorados."
Christopher: For me, it would be "Entra En Mi Vida" by Sin Bandera.
Joel: For me, it would be [Enrique Iglesias'] "Hero."
WHAT DID YOU THINK WHEN RICARDO MONTANER SAID THAT HE LIKED YOUR VERSION OF "TAN ENAMORADOS" BETTER THAN THE ORIGINAL?
Joel: When we saw that came from his actual account, we were in shock. We didn't think that he would say that about the song, which made us feel very proud of ourselves. This legend telling us that we did his song better and with more rhythm made us feel super proud and happy. We're super excited to see what the rest of the artists say once we release the rest of the songs.
ANOTHER HUGE BOYBAND IS BTS. WOULD YOU EVER COLLABORATE WITH THEM?
Richard: Yeah, man! Why not?
Christopher: It could be dope! 12 people onstage. [Laughs.]
Joel: That would be cool!
Richard: A whole mob! We could do a Step Up Revolution-type moment.
WHAT'S YOUR MESSAGE TO YOUR FANS FOR THE PAST FIVE YEARS?
Zabdiel: That we love you so much. That we appreciate the love that you guys always give us. We're still working on a lot of stuff that we want to show you guys and we cannot wait to release it all.
WHAT DO YOU GUYS SEE FOR THE FUTURE OF CNCO?
Christopher: A series! Grammys! Movies!
Joel: Traveling around the world!
Erick: A residency in Las Vegas!
All: Let's go!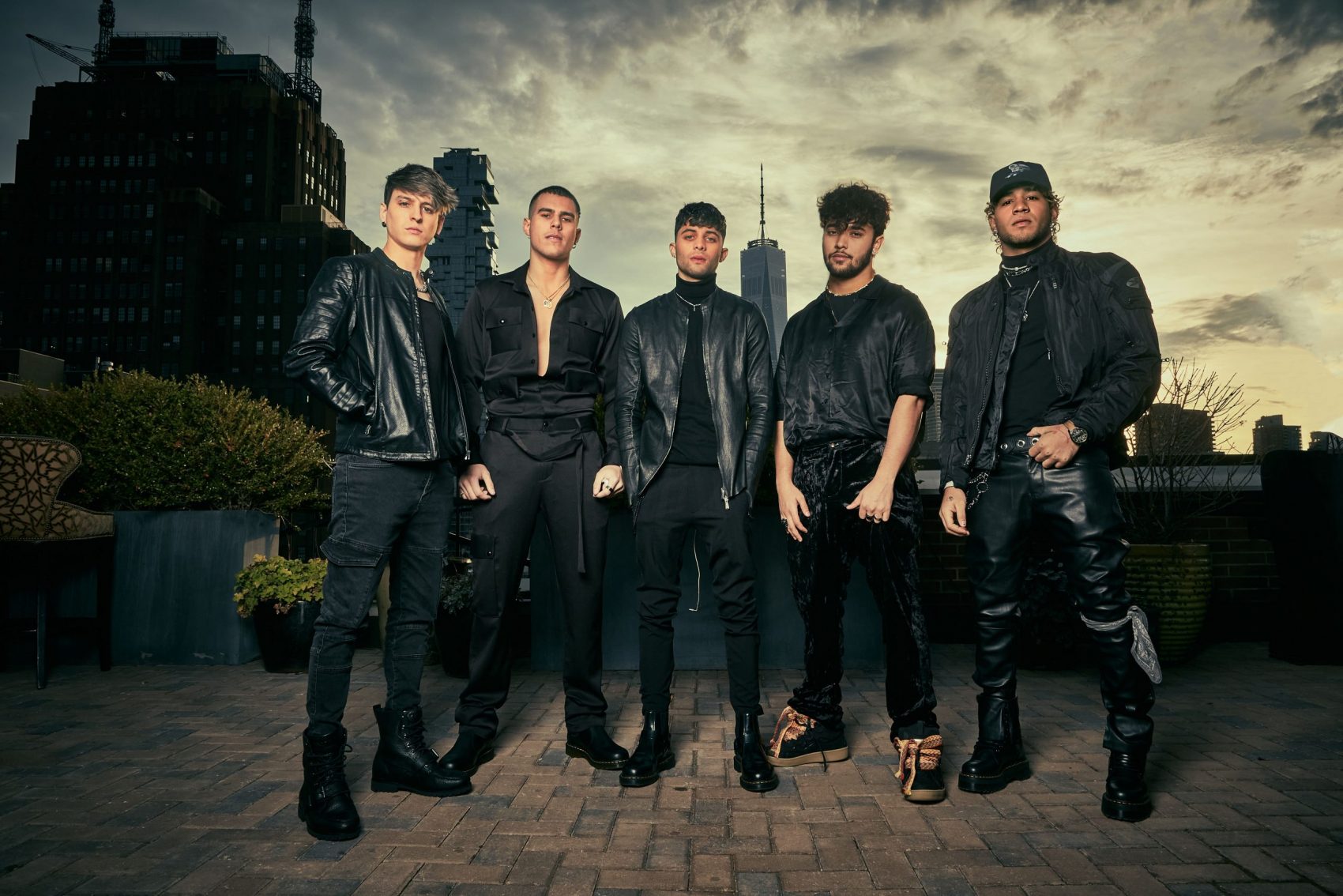 CONNECT WITH CNCO
INSTAGRAM // TWITTER // SPOTIFY
photos / Aaron Snaiderman
editor / E.R. Pulgar
story / Lucas Villa