How the Arkansas-born LA Native Transforms the Ordinary into Music 
bLAck pARty wears a shirt that says "Always Smell IT First."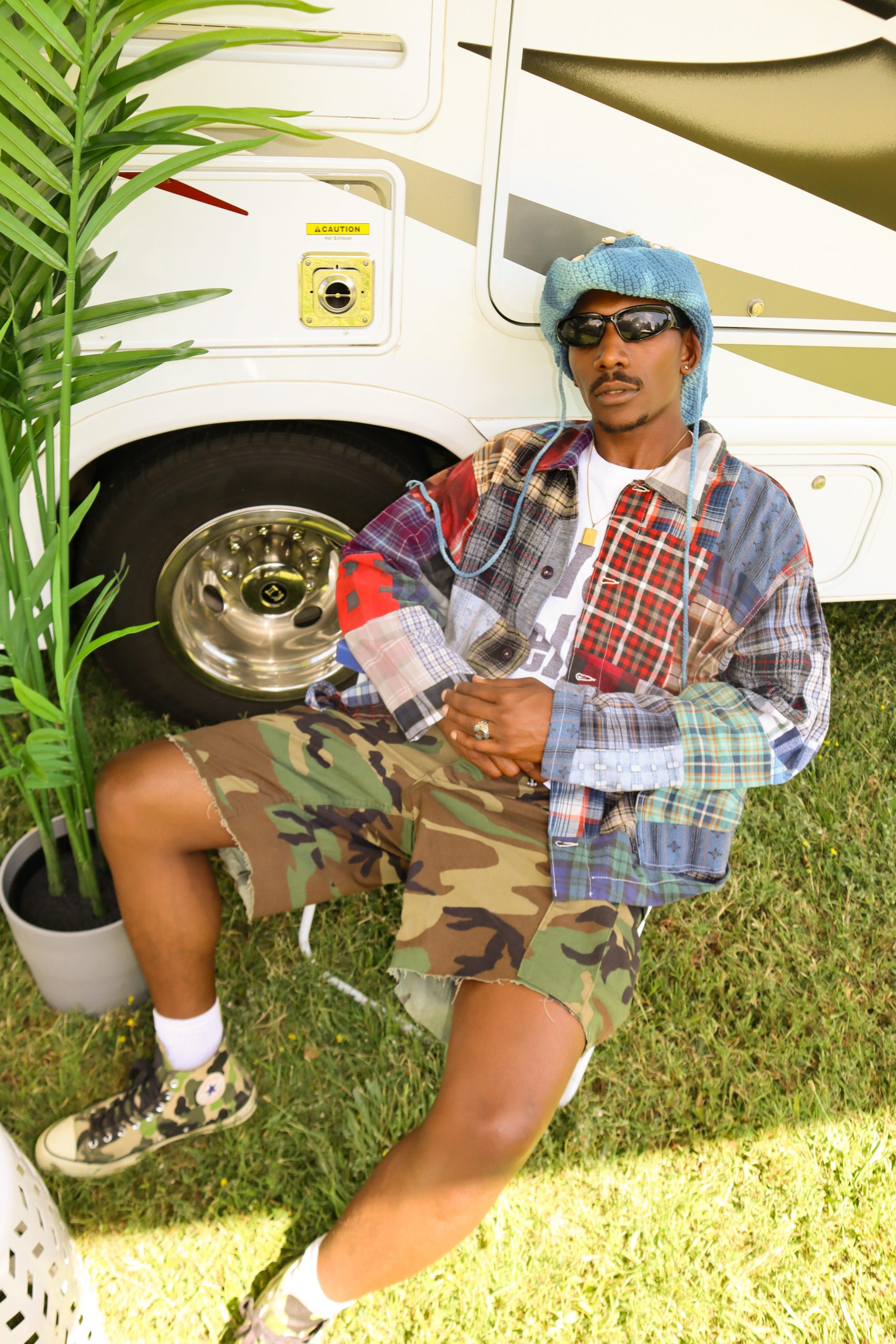 WORDS // Jennalynn Fung 
PHOTOS // Cerys
Although meant to be a pseudo-ironic fashion statement inspired by Mad Max, the t-shirt paired with rare camo 70s Converse, a green jacket, a blue cowry shell hat, and motocross glasses, gives a subtle hint as to how bLAck pARty acclimates himself to all of his environments – taking in all the senses before making a decision. 
The singer, songwriter and producer took a metaphorical sniff of Sol Blume the day he arrived in sunny Sacramento, California, and chose his setlist the morning of. "I feel like music is based on where you're at. The weather, the vibes, who you're with. Music is like the timestamp – I felt like these [songs] would work in the daytime. It's about actually being present in the moment. It's [music] is meant to enhance the environment."
Born Malik Flint, he devoted his stage name, bLAck pARty, to the places he has grown most as an individual and an artist. "I asked all the people around me in my life, what do you think of this name? Everybody across the board was like, 'yeah, that's a solid name.'" 
The LA stands for Los Angeles, where he is currently based, while AR is for Little Rock, Arkansas – his hometown. Both are formative to his career, but in different ways. 
Arkansas was his introduction to music – his family is composed of musicians, and he's been in the studio since he was three years old. He began to play trumpet in middle school band, and later taught himself guitar, the keys, and bass in high school. Eventually, he was doing his own engineering and recording. 
"Once I was 13, I had my mind set on being in and producing music. From that point [junior high] on, I was not interested in school. I could have easily went to some of the top schools in the world, but that just was of no interest to me, whatsoever," he states, fully assured. "Like, I'd rather just make music. That was everything to me." 
It still is; bLAck pARty reveals that he continues to take decisive steps forward in improving his artistry, treating every new project as a learning experience. He mentions that he recently took vocal lessons for six months, and it is something he wants to showcase for his upcoming project. He believes that the markers of maturity in his music actually come down to the quality of his work – how he harnesses and fortifies the tools that he's been working with since the beginning. 
"It's a good thing for the listener," bLAck pARty adds cooly. "As humans, we evolve and change, so the music that you listen to should do that as well."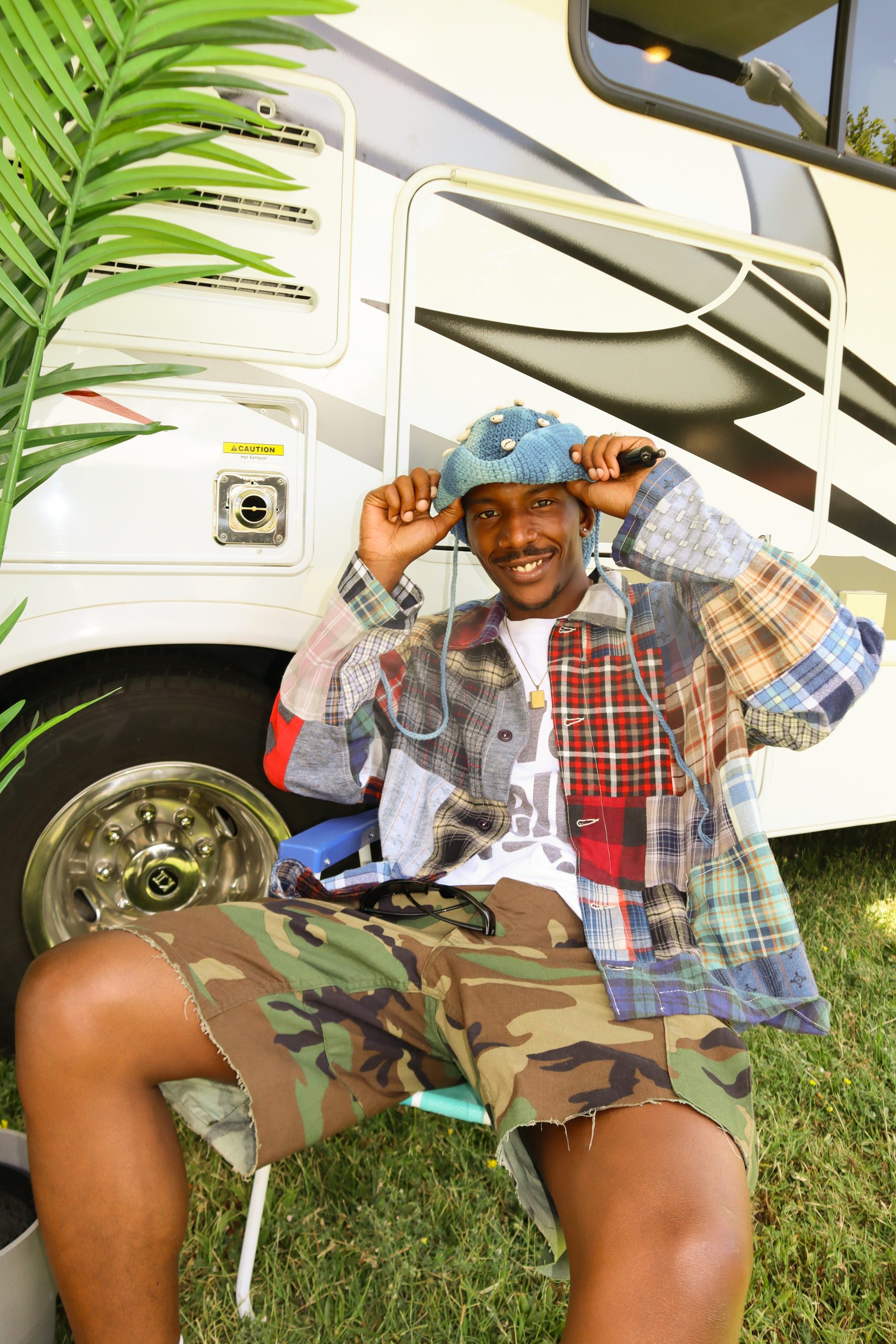 Striving for reinvention with each release, he acknowledges how important his roots are, and how listeners might expect the traditional funk, lo-fi, soul-embedded RnB of his Mango and Endless Summer from him. "We like things we are familiar with, but we always want new things," he says. "Balancing those two human desires in a musical form is the ideal pocket that I tend to aim for – something that you've heard before, but also sounds new." His music often hits the bullseye. 
With "BOMB" featuring Kari Faux, he revealed that he wanted to bring back the vibes of SoundCloud. "It's more genuine," he confesses. "It breaks the barrier, the industry, and the music propaganda. I like the energy of that SoundCloud era, where people were just making music and trying and experimenting." 
This philosophy extends to the way he raises his son, too. Although bLAck pARty grew up in a family of musicians, he never felt the pressure to follow suit – , and he parents his own child in the same fashion. Although, his son often accompanies him to the studio. "I don't have any control over what the kid wants to do. I would rather introduce my kids to all the things and all the possibilities, and then allow them to choose. I don't want them to grow up and do something that they don't enjoy. I support my kid 100%."
Fatherhood has only reinforced the values that the artist held before too. "Being a father, you understand the importance of the balance of masculinity and femininity. Respecting that balance and allowing kids to just be themselves, allowing them to experience life." 
His parents have both been supportive of his decision making from the beginning. When bLAck pARty decided college wasn't for him, his mother saw why: "the music thing is obviously what he [bLAck pARty] is obsessed with, so like, let him do that." Masculinity has played an important role in his art, though. His last album was named Hummingbirds because of the parallels between his life and the animal's – always being in motion, and doing extreme stunts as a mating ritual. 
Black Party's album Hummingbird is a captivating musical journey that defies easy categorization. Much like the intricate flight patterns of its namesake, this album weaves through a tapestry of diverse influences and emotions, creating a sonic landscape that is both intricate and expansive. This album showcases his ability to exist outside the framework of a certain genre. He writes typical lyrics about desire in "Hotline" to "Soakin" ft. Gwen Bunn, but then hones in on the vulnerability of unconditional love, perhaps written from the lens of a parent, in "I Love You More Than You Know" ft. Childish Gambino. The tracks on this album are both thought-provoking and emotionally resonant.
The similarities between hummingbirds and him don't stop there. By virtue of being a musician, bLAck pARty is heard first, as are hummingbirds. Their wings beat so fast that their hovering around a flower or honey becomes audible, but often fly away before you can get a real good glimpse at them. The musician is the same, echoing at music festivals and springtime picnics and summer pool parties. You hear him first, and for some, that is all it is. 
"Bloom," the last song he sang at Sol Blume, was written when he was homesick. bLAck pARty said it had been written in a "stream of consciousness" when he had been in California and was missing his little sister, whom he remains close with. "I feel like that's [Bloom] the one I'm most proud of because it's a good song with well intentions, which is hard to pull off. To have a positive song with a dope beat that people actually enjoy," he smiles genuinely from cheek to cheek. "The song is beyond me." 
He deeply considers his impact when he composes and produces his music, too. When he was younger, bLAck pARty got in trouble. But now that he has a kid, he is more mindful of the situations he involves himself in. He treats his music legacy the same way, wanting his music to be accessible to all kinds of crowds. "Music reflects back on my name. I want music that children and grandparents can listen to, music which can reach a wider web of people while remaining true to myself."
His work is an honest snapshot of his life – bLAck pARty's environment has continuously played a serendipitous part in all of his discography. On the makings of Mango, he reflects on his inspiration for the album cover – literally seeing a mango, alone in the kitchen. At the time, he had been roommates with Ibra Ake, Donald Glover (who is featured on "I Love You More Than You Know" as Childish Gambino), and others in a house in the hills. They had been working on the hit network show Atlanta. "It was one of those days where there's nothing in here [kitchen]. Literally just one mango, just chilling on the counter. Then the name and sticker idea came." 
He's a multi-faceted artist whose creativity is deeply rooted in his unique gift to seamlessly translate everyday encounters into captivating melodies. His music, much like his distinctive fashion choices, reflects his penchant for being mindful of the world through all senses before crafting his sonic tapestries that preserve that moment in time. 
bLAck pARty is not content with resting on his laurels; instead, he consistently seeks to push the boundaries of his craft by continuously evolving and exploring new facets of his musicianship. Whether it's taking vocal lessons or experimenting with different musical styles, he is dedicated to delivering music that grows, alongside both himself as an individual and the individuals that make up his audience. This commitment to growth and authenticity ensures that his music remains accessible and enjoyable for audiences of all ages and backgrounds, making his work a timeless reflection of his life and the world he inhabits. 
What can one expect next from bLAck pARty? More music coming at the top of the year.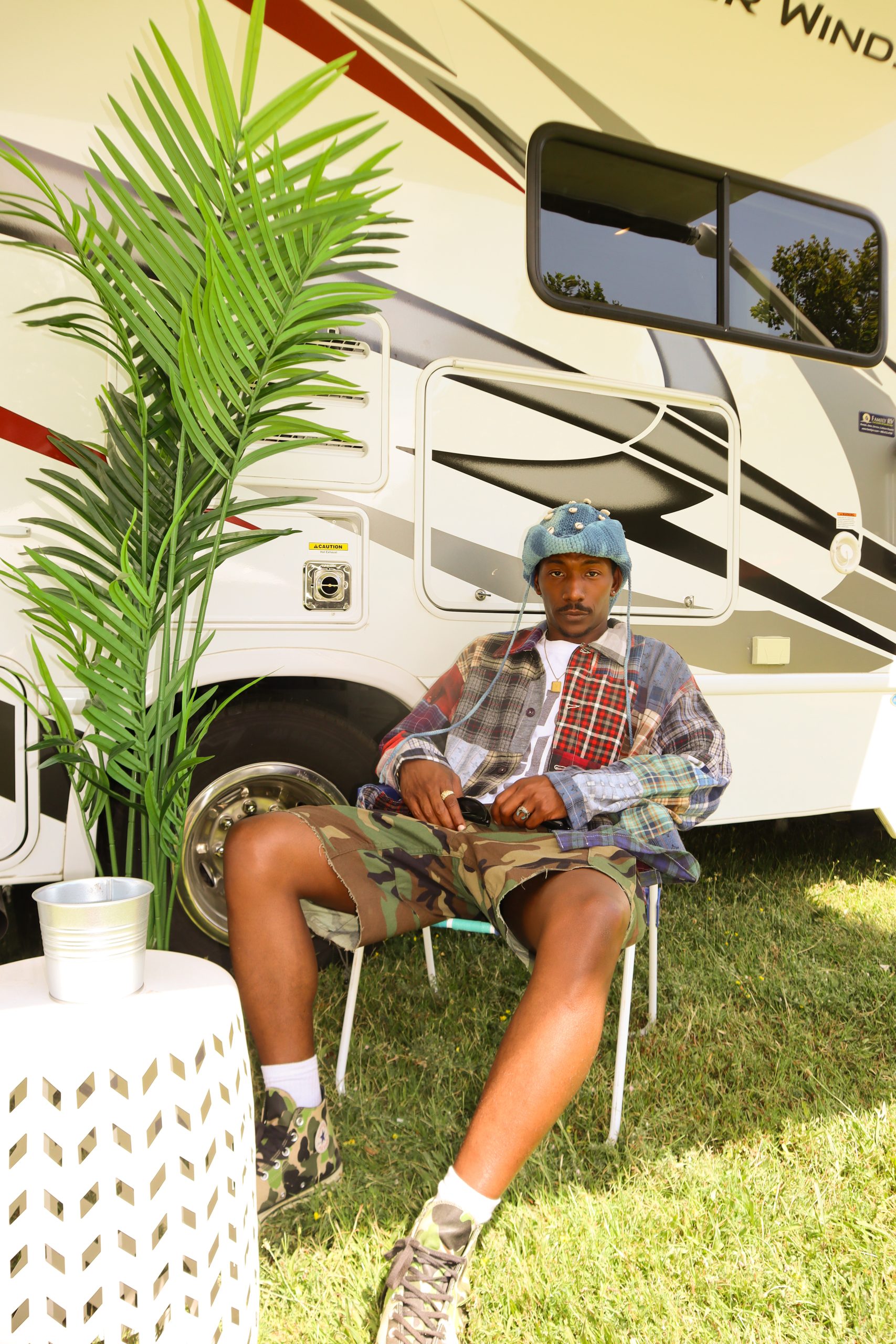 bLAck pARty