Cool-wave artist BIIANCO sings, writes and plays multiple instruments, but something was missing. BIIANCO attended a 'women only' music production retreat in Joshua Tree and found her lost piece. There are too few women in the producing chair and BIIANCO, determined to change that disappointing statistic, produced her own EP afterwards, completely taking control of her career.
BIIANCO's latest single "I'm Not Invited" made with new bff TRACE, has iconic, moody melodies and lyrics. The duo gives us an LA anthem dedicated to all those try-hards in the Hollywood scene and all the ones feeling left out. They give us chill and dominant. They give us cool and weird. They've even graced us with an impressive music video. BIIANCO is literally pulling a parachute behind her, in the middle of the dessert, which we found out was 116 degrees. She drips power. We got to sit down with the LA-based singer-songwriter-producer-instrumentalist extraordinaire BIIANCO about working with womxn crews, her career changing retreat, and how she met her new friend and collaborator TRACE.
What was writing "I'm Not Invited" like? What kind of inspo did you pull from real life?
TRACE and I actually met the day we wrote I'm Not Invited.  As soon as she walked in the door it was like an instant connection over our inherently authentic and awkward vibes.  We connected over feeling like being the black sheep in so many situations and decided to write an anthem dedicated to that.
How did this collaboration between you and TRACE come together?
We hit each other up on Instagram.  It's like we knew through the screen we'd end up BFFs.
I know you like to work with mostly all womxn crews. Thank you for that. What is it like?
It's amazing!  Womxn are so dedicated to their craft because a lot of times they need to work harder to climb the ladder as far as their male counterparts.  I love working with artists who are dedicated and ambitious.
When did you start producing your own stuff? What's it like to be in control of every aspect of the song?
I started producing all my own material when I started BIIANCO which was after an Ableton retreat in Joshua Tree.  I was so inspired by artists there like Madame Gandhi (who ended up performing on one of my songs later) and realized I could do it myself.  To be honest, it can be a bit exhausting at times.  Everything falls on you.  But at the end of the day, I am constantly pushing myself and I love being able to see an idea all the way through.
Tell me about the music video. Was it really hard to pull the huge parachute behind you? Where did the concept come from?
Oh my.  This video was the hardest thing I've ever had to shoot.  That moment in the desert with the parachute on me was one of the most physically exhausting things I've ever done.  What you can't see in the video is that it was 116 degrees F outside.  The whole crew was dying.  We were dying.  At one point, the DP said he wanted to stop but because I kept going he kept going.
What's your favorite thing to do in LA?
Make music with my friends.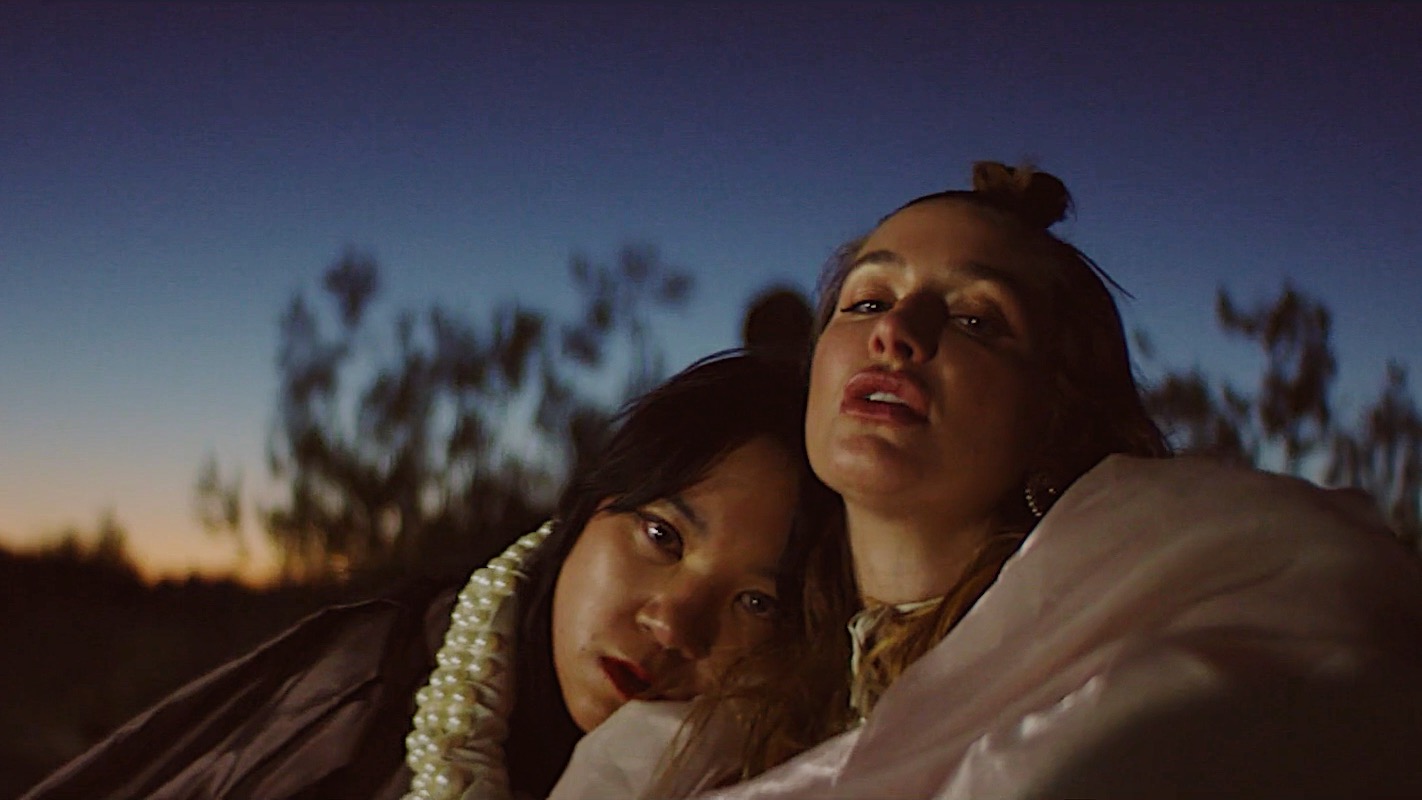 CONNECT WITH BIIANCO
CONNECT WITH TRACE
photos / courtesy of artist
story / Vogue Giambri