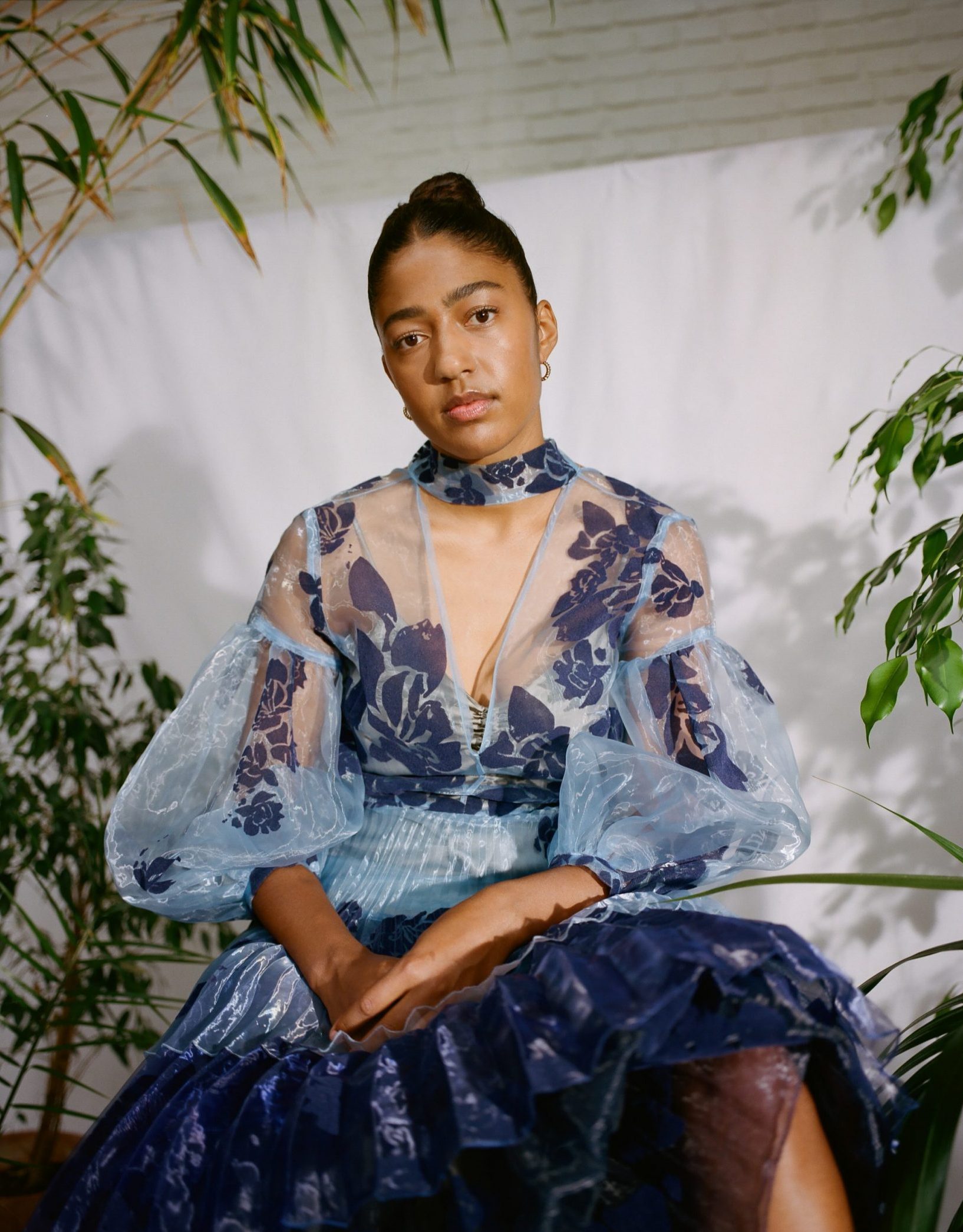 Like flowers on a tree or fruit in the garden, music is seasonal. New weather, new vibe. But Hope Tala, the UK born artist bringing Bossa nova to the mainstream, creates music with a forever vibe. Hope's EP, 'Girl Eats Sun,' which was released yesterday, could've come in any season. The timeless taste of a Hope Tala song brings you charm, intimacy, and vivacity. 
Each song on 'Girl Eats Sun' has a distinct flavor brought to you by Latin guitar and R&B beats, all delicately holding Hope's refined lyricism. The instruments seem to speak to each other, creating a world that is both familiar and uniquely Hope's. She's been churning this cohesive sound all her life, but entirely in her head. Hope was taken by music at an early age but it wasn't until age 18 that Hope began spinning her own worlds within a single track. 
Hope tells us that unlike her previous works, 'Girl Eats Sun' was written from scratch and on the spot in the studio. Track number two, "Cherries" ft. Amine, is like an ambient summertime drifting into winter, with the aroma of cherries lingering in your mouth; "All My Girls Like To Fight" invokes a mysterious, side-eye confidence – like a gentle storm that could fuck you up with just one look. Hope admits that "Crazy" is her favorite track, as it feels the most like her, and says that in the future, she's looking forward to exploring even more of that R&B self. 
Many artists twist and turn into different genres, but Hope has created a sound and stuck to it. The nuances come from her brilliantly attuned mind: one that is observant, intellectual, and creative. Written just after graduating from college (where she was on track to get her PhD in literature) this project finds Hope in a new light. Over the course of her music career her storytelling has become more and more focused, and with 'Girl Eats Sun,' we're hearing a snapshot of Hope's new reality. A single thought or mantra gets woven into a very catchy, steamy, personal narrative. 
So before she goes back for that PhD, we sat down with Hope to get to know her process and that effortless, forever vibe. 
 What's something that you've learned from quarantine?
I've learned that not everything is going to go to plan, which is such an obvious thing but honestly, you just get caught up in how great life is and momentum and things going well…and I think everyone's had such a reality check. You never know what's going to hit you.
What've you been doing to pass the time?
Yeah I've been writing in the studio a bit, working on a new EP. Playing a lot of tennis with my dad and my brother which is great. Spending a lot of time with my family and friends, when that's allowed. Luckily in London you're still allowed to see people, socially distanced. Just living a more muted version of normal life. 
So you're writing new material as well? What's that like? Is it different at all?
This is such a hard question to answer as the artist. Wherever I make new music I've had to ask people what they think, if it's similar or different to stuff I've made before. Because I'm so in the world of the music, I don't have any type of, like, perspective over it. 
I think I definitely have a sound…and I've always been connected to what that sound is, but it's kind of manifested and grown in different ways. So everytime I make new music it evolves but has the main elements of things I like. Like bossa nova influenced, latin guitar, and R&B hip hop beats. But at the moment, I think my lyrics are changing a bit. As I write more, my lyrics become less abstract. In the beginning I was scared of saying what I really wanted to say so I kind of disguised it in more flowery language, or a lot of metaphors. I think I'm doing that less because I'm way more confident in what I'm saying and my lyricism. 
That's wonderful. If the music is sort of staying the same – genre doesn't really exist anyway – how are you different in the creation process of Girl Eats Sun than you were in the previous two?
*chuckles* It was the first time I'd written music outside of being in education, which I think is really important because I am a creature of habit and routine. So I graduated last summer and all of the songs from GES were made after I graduated and I think the person I was before I graduated was very much in her comfort zone, in a cozy type of life. I was told what I needed to do everyday, because I was either in high school or university, and things were very laid out for me. When I left education, it was a major thing for me because I loved learning and academia, and obviously I'd been in that environment since I was four years old.  
Girl Eats Sun – I felt I needed to be way more inventive and go more rogue with what I was saying, because I was having these major life changes. For some people, leaving school and going to work is a very natural progression whereas for me it was a really big deal. So in my music, I was like I really need to make a statement and be out there with what I'm saying. 
That's really beautiful! I'm really excited for you, too. You've talked a little bit about you having a sound, and a style of music that naturally seems to come out of you. Did you ever have a period of finding yourself musically, where you were discovering different genres and different styles? 
I mean…I listened to the first couple of songs that I put on soundcloud, the first songs that I ever made, and it sits so much in the same world to me sonically, that I think it was just always there. 
I started making music when I was 18 – quite late – because I had been listening to music for so many years before that. I remember getting an iPod when I was 8 years old, and that was an important thing in terms of becoming independent with the music I was consuming, and ever since then having so many different musical influences I was kind of forming my sound in my head even though I wasn't making music, and I didn't know I wanted to make music at this point.
So since I've been making music, I've kind of known what I wanted it to be like. 
I love that. Let's talk about confidence! All My Girls Like To Fight is your sound, but there's a force to it. Can you talk a little bit about that song and where the message came from?
Yeah! So I really just wanted to make a song that felt super strong and confident. I tend to start with just a guitar line or chords, and we started with these very strong atmospheric chords. This was also around the time that I started writing from scratch in the studio; with the other two EPs, all the songs except maybe one or two, I rewrote at home and took to a producer.  
So I was in the studio with these chords and I just started thinking of action movies, like Mission Impossible and Bourne Identity. I love those types of movies…and all this energy was coming into my head. I often have loads of notes in my phone, little poems or just phrases, and I had the phrase "All my girls like to fight" in my phone. I was just thinking of action imagery and strong women and that's how it came about. 
Did you grow up with a lot of strong women in your life? 
Yeah there's a lot of strong women in my life. The two women I always think of are my grandmothers. My dad's mother, who's Jamaican, is like the matriarch of our family. She's been through a lot in her life…moved to the UK from Jamaica at a really young age, had loads of kids in a pretty hostile place to black people, and you know, had been through a lot. I always think about her. My other grandmother, similarly, was like a matriarch. My mom too, and I have a lot of aunts. I think there's always been a strong women vibe in my family, which I'm very very grateful for.
Yeah, that really changes a person. What or who did you think you might become if it wasn't for music? What track were you on? 
Well, I was supposed to be going to Cambridge to do a master's degree [in] English Literature. I was always very very academic and high achieving and really wanted to succeed academically. So I think I would've done my masters, and then I probably would've done a PhD. I either would've gone into academia or book publishing, or something. 
I remember when I was a kid, everyone told me I should be a lawyer because I was quite opinionated. I was always like a leader, telling the other kids what to do. I don't like the word bossy cause I think it's misogynistic because no one ever calls guys bossy. But I think I could've been CEO of a company…maybe a professor. 
There are so many different things I could've done, and maybe I'll still do them, who knows. I hopefully have a long life ahead of me. I definitely want to get my PhD one day, when no one wants to listen to my music anymore. *laughs*
Haha! When no one's looking, you can run off back to school. You're very much a storyteller, too. Do you have any favorite storytellers or lyricists that you admire?
Kendrick Lamar is I think the best storyteller since Shakespeare. I literally stan him, I think he's a genius. I wrote my undergraduate thesis on him, on To Pimp A Butterfly. I think what's great about him is that he tells stories about his own life but then also about such massive political events and theories. He really goes from a kind of small level stuff to the really high level, expansive stuff, too.
I think Taylor Swift, I've grown to love this year. I'm a big fan of a lot of the songs on her latest album and I think a lot of people bash her but even if you don't like her music you have to admit that she's an incredible storyteller. Even when I was a kid, and Lovestory came out, I think she can do it like nobody in pop can.
There's so many but those are the top two coming to my head. 
You said you wrote your thesis on Kendrick Lamar? What was the premise?
How he portrays white spectatorship and the white gaze in his album To Pimp A Butterfly. My theory was that he was painting white spectatorship as being both simultaneously fascinated and really fearful of black masculinity. So I was looking at black masculinity in the album cover, and the video, and the lyrics, and how the white gaze have shaped that to have all these different connotations and how that also feeds into consumer and pop culture. And how we consume blackness. 
Thank you for sharing that. I think that's important to talk about and I'm excited that you brought it up. One last question for you…what's your favorite song on the EP and can you give us a teeny foreshadow of what it's about? 
I love these questions. Because honestly, I love every single song on the EP and I would never put out a song that I wasn't 100% in love with BUT gun to my head…the song is called Crazy. It's going to be the next single that comes out.
The way that I decide my favorites is, if an artist I love put out all of these songs, which ones would I rinse and listen to over and over again…and Crazy is the one I'm obsessed with. If it was a lyrical favorite I would say All My Girls Like To Fight. But in terms of one that is the most me – is Crazy. It's so fun and catchy, and has a lot of magic I think.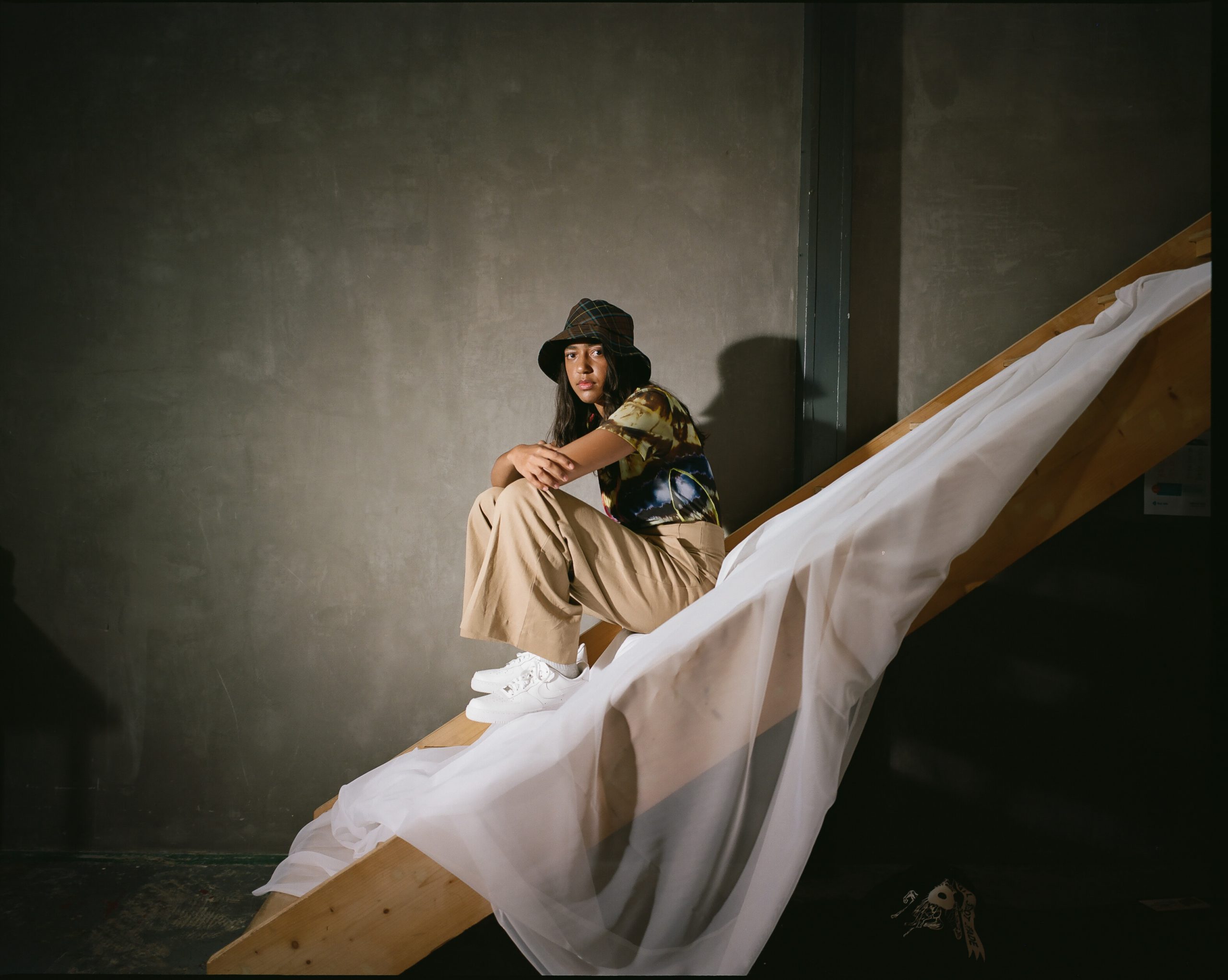 CONNECT WITH HOPE TALA
Instagram // Spotify // Twitter
photos / Rosie Matheson
story / Ariana Tibi