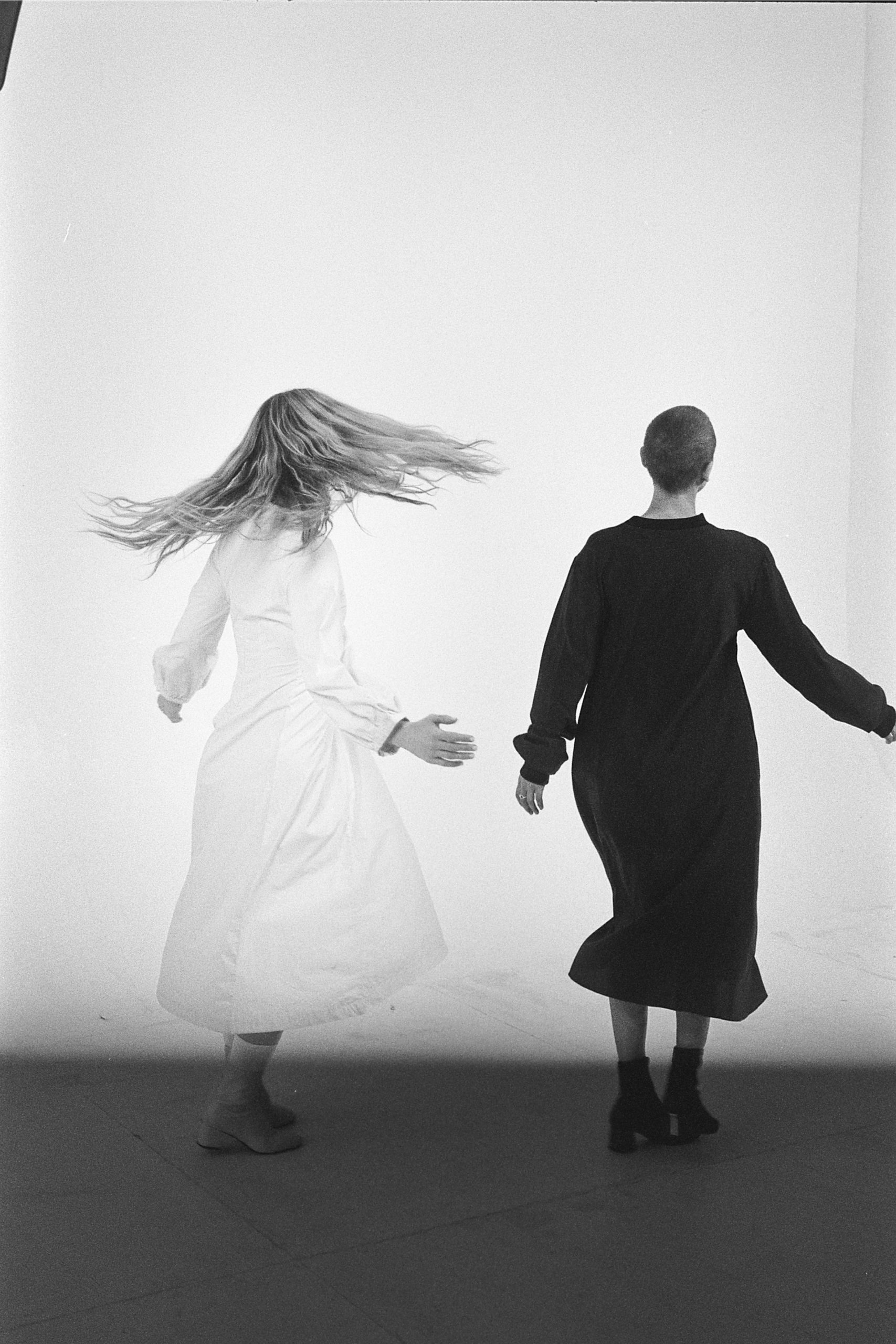 Sometimes, perfection is attained in the form of balance. The way a sound meets a lyric, or a voice finds its match in an instrument. When two people authentically so aware, enlightened to humanness find an empowered path to forge forward in unison. The collaboration that is Gracie and Rachel embodies all of this. The two are musical partners, friends, roommates. Their talents orbit each other; with Gracie as keyboardist/vocalist and Rachel as a classically trained violinist. Their personalities align in an ebb and flow that comes so naturally even in speaking with each other or answering a question is cooperative.
And releasing their sophomore album Hello Weakness, You Make Me Strong on Ani DiFranco's Righteous Babe Records is yet another testament to their strengths together. The album breezes through cathartic harmonies; vulnerable and relatable lyrics laced within. Their connection to each other shines through from song to song. The duo made a point to feature non-binary, female, underrepresented producers. "It's so easy to find that white boy band, so we have to do the work to find these artists and lift them up." And with DiFranco's "feisty, no bullshit, and gentle" force guiding the way for them, Gracie and Rachel have nowhere to go but forward and up.
You wrote Hello Weakness, You Make Me Strong some time ago, yet it's so timely…
Both: The record was written and completed before the pandemic. We've kind of always been in a certain type of isolation… We had just spent a year and a half in a chosen isolation living in this space and not touring—just writing and recording. It feels like kind of an extension of where we've been. Maybe some of the songs are about feeling like that, communication about how to live within your world together, and how to navigate that.
In such a time of self-reflection and unlearning, this whole album hits a lot of current life themes. Trust, with lyrics like "Turn up, tune in, a revolution will begin" speaks so loudly.
Both: We wrote some of those lyrics around the time that Christine Blasey Ford was coming forward [against Judge Brett Kavanaugh] and we were feeling like a revolution was happening through the screen while watching that testimony but also just women coming forward when the odds are against [us]. But finding connections through our screens in a way. Tuning in. Figuring out new ways to have a revolution.
Say more about Ideas…
Gracie: I think Ideas centers in on a theme of creating problems for yourself like we can manifest good things and also manifest negative cyclical thinking. So "Ideas" was a song to help us get out of that space and will our way to take the ideas that are serving us and build on those and throw out the ones that are kind of eating away at our psyche's. That's something I deal with a lot with my anxious introspection.
Rachel: For me, it's a lot about… what are the ways, and how many ways, can you express yourself? What is your tool of expression? Even sonically, being a violinist, I was sort of bred into this system of being in the classical world, and like, was that just the only track for me or are there other ideas I could explore and feel confident in? For me that song is about, how can you express yourself in ways you don't even know yet… And have faith in that.
Your style is one of balance, yin and yang, all the magnetic things. What's been your biggest challenge working together?
Gracie: We have none. We're perfect. [Laughs all around] We have a lot of challenges! We are really opposite in a lot of ways, naturally. Like, I will talk forever. We are opposing in simplified kinds of ways: extrovert/introvert, classical/contemporary. I think that's why we come together, and complete each other in that way, in musical statements or emotional sentiments or lyrical ideas. It's hard to not get the ego involved sometimes. We have to constantly check ourselves and remember why we're here and what the bigger picture is, which can be hard to remember. I need to talk about everything and confront everything and Rachel often needs to not do that to work through something—it's like constant therapy in a way. I think we wrote some of these songs to ourselves to get through that challenging process of being so different and working with somebody, and just trying to have compassion and understanding.
Rachel: Just given our living/working situation, it's like suddenly I've just deflated the creative zone with a look or something I said that knocks the air out of the room. How do you recover from that? How do you show up for those conversations? It's trickier for me to do, to form my words into a constructive one but Gracie is really good at guiding that.

How have feminism and high powered advocates within the space played an integral role in your careers?
Both: We've been trying to examine the banner of feminism and be mindful of when we are excluding marginalized populations or experiences. There is so much white feminism in the world we live in! And we are trying to look at that and expand our thinking when it comes to what is considered a feminist issue. How can we encompass intersectional values, not just a finite sexist theory? What we're trying to learn is that in order to have a dialogue about feminism we need to have a conversation about racism—how we are trying to reconstruct our associations around this term. Reading about the Black womxn's experience in feminist progress and beyond is critical, and we want to give more love and respect to the activists who are working to dismantle single-minded white feminism which we know we've been subscribed to for so many years. We're taking cues right now from folks like Audre Lorde, Keeanga-Yamahtta Taylor, Angela Davis, and all the radical Black womxn who founded the Combahee River Collective back in the late 70s, coining the term intersectional. Just a small way we're working to acknowledge that there's such an immense amount of hard and important work we all need to do to educate ourselves out of racial ignorance. We're always looking to growgrowgrow…
And as feminist artists, how do you feel the music industry has lifted you up or held you down?
Gracie: It's changed a lot, over the last couple of years there's more accountability for artists. We got our start opening for Betty, a feminist rock band. Gloria Stenheim was on the bill every year [we'd do these shows]. To more intimately follow along with these womxn who were uncompromising in their words, that started to urge us to write less narcissistically and more about what it really means to empower the self and how big that can be. So many womxn and feminists have inspired us…
Rachel: It's tuning in, watching people, being inspired by people. And we're trying to have a little more control of our art and take things into our own hands with this record. We spearheaded a lot of the production. Initially, there was a team being formed for us to work with, mostly male-driven, and it just wasn't working.
Underneath… just whew. What was happening in your lives when you wrote this song?
Gracie: It's been the biggest labor of love. It was almost not on the record. The stories you tell yourself about yourself—we just wanted to strip all that away, because… we're not the stories that we always tell about ourselves.
Rachel: I think that was one of the biggest breakthrough moments for a song on this record, where it evolved into something so different than the original. It was really empowering and a good lesson for future songs.
Will you share something random about you both that most people don't know?
We don't often get asked that, so SHIT! LOL
Gracie: Rachel is a really intense chef/cook. We have a menu on our fridge that she curated. She'll make hand-rolled sushi, but it's really stressful cuz she takes it so seriously so it's not the most enjoyable. Also, we both do the worm at dance parties. I only do it backward and she does it forward.
Rachel: Cooking is like writing a song. Take your ingredients, figure out your frequency. Tart flavors, the fat, the saltiness: you have to balance it and mix it. Then the mastering is really in the plating. Gracie likes to host, she's a great entertainer. I like it when she gets really excited about card tricks. And she makes napkin animals.

CONNECT WITH GRACIE AND RACHEL
INSTAGRAM // TWITTER // SPOTIFY // YOUTUBE
photos / Sam Margevicius
story/ Eve Simonsen