"I wanted to transfer the feeling that I felt that night…to everyone." Valida Carroll talks about the full moon gathering that introduced her to the world of electronic dance music.
Just a few weeks before Los Angeles, California went into a pandemic lockdown, I sat less than six feet apart from the illustrious KCRW DJ Valida Carroll and her hairdresser (and fellow musician), Lauren Ruth Ward. The SoCal sun shone into Ward's home studio, lighting up Valida's tin foil curls; the bleach was ready to set, and I had 15 minutes on the clock to find out how Valida went from international student to music community builder.
A Bosnian native, Valida was raised in the most artistic of families, singing and performing since the ripe age of four. The war sent Valida to the States to study, still with every intention of returning home. But upon her arrival, Valida found herself so taken with the electronic dance music scene she began forming projects of her own. In an effort to bring people of different artistic and cultural backgrounds together, one of these projects turned into Desert Nights.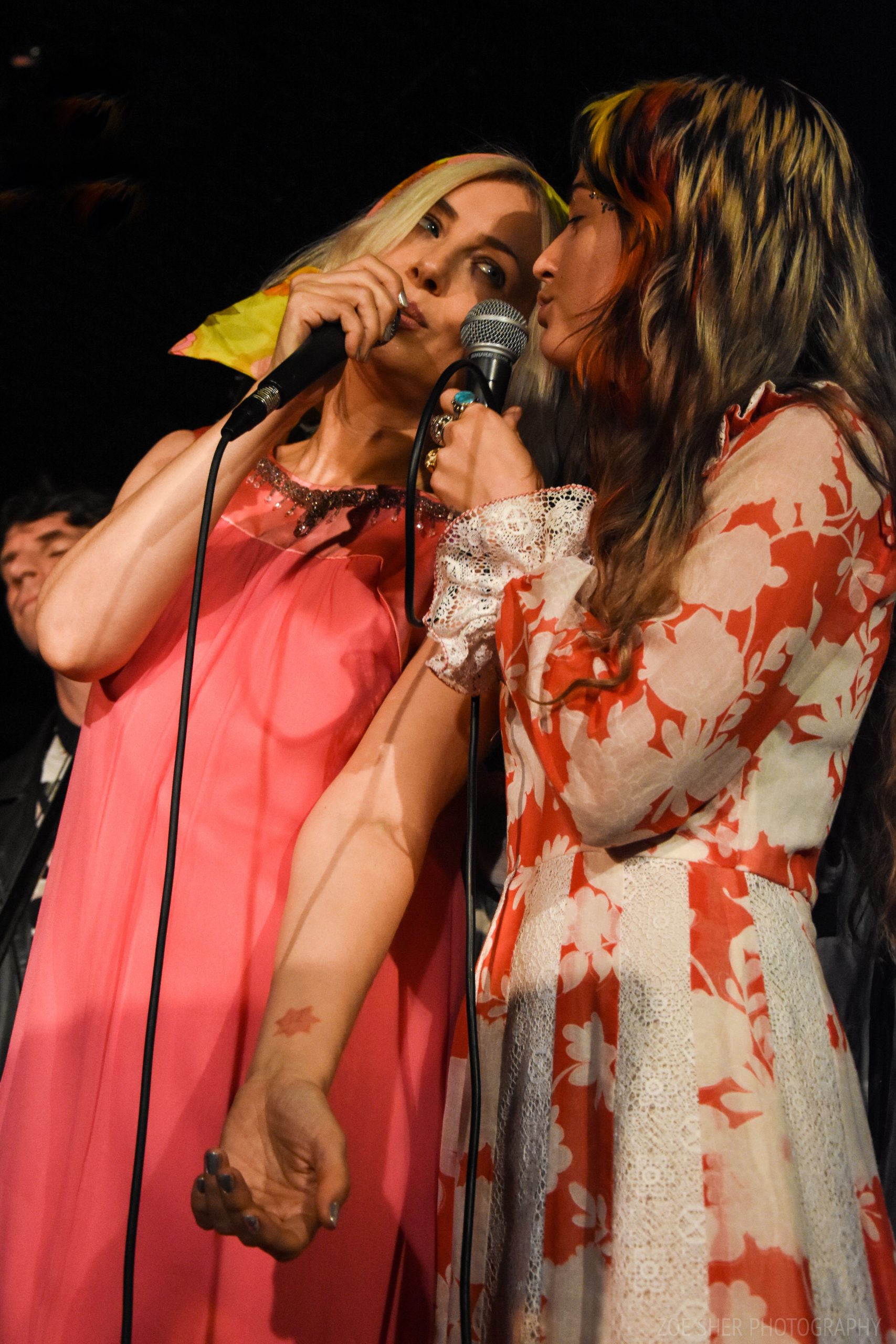 Every Wednesday night, in the heart of the Sunset Strip, Valida hosts what has become a well cherished home for the music community. Desert Nights was conceived as an homage to the Laurel Canyon late 60s & 70s counter-culture movement. Beginning in the summer of 2010, the weekly residency was previously hosted inside the Cactus Lounge at the Standard in West Hollywood, the popular boutique hotel chain's original property. Forwarding the acoustic era of the 60s & 70s to the songwriters of today, the intimate concert series has been home to musical acts from all over the world, strengthening the bond between musicians and listeners alike. Celebrating its tenth anniversary this year, Desert Nights is now back weekly on Instagram Live at 7pm.
Jump into our conversation below to get to know the wonderful woman behind it all, Valida Carroll.

Valida, you are such a creative person. You have your own creative side projects, you run your own show, I'm curious what your childhood was like? When and how did music play a part?
I don't remember any family gathering without music. My mom comes from a very musical family and so does my dad; no one did music professionally, but there was always singing in the house. So whether it was in the living room with my sister on the piano, and me singing Bosnian folk songs, or singing in front of hundreds of people at school events. I grew up singing, dancing, and performing; but I never really thought music was going to be such a big part of my livelihood. I always thought I was going to be some sort of a business person.
I was a business major…I was going to be an economist! That's why I came to America!
When do you remember bringing music back into your life?
Somewhere along the way, I discovered you could actually study art. As a student at SMC (Santa Monica College) I had started to take voice classes, along with all the General Ed and Business classes…It was also right around this time that I went to my first full moon gathering in the desert and I took ecstasy for the first time…this was in '95, and I had that experience and realized that this life was very different from what I was used to.
I come from a war zone, so I was very much aware of human suffering. Up until that point, that was a huge part of who I was. In the war back home, my people were the victims…you know, it brought a lot of hardship.
So I go to this full moon gathering and mind you, the war is still raging back home, and I have this weird experience of love on such an extreme level. People being so kind and wonderful to each other…and then the music that I've never heard before! I was like, this is how the world should be!! I knew things had to change.
I want to transfer this feeling that I am feeling tonight…to everyone.
So what did you do? What happened next?
Well, during the war, there were a lot of funds set up to help Bosnian students with the goal of going back to Bosnia one day and helping to rebuild the country.
Was that your goal?
Yes. Although, I always wanted to come to America, that was my dream. I grew up on equal parts of Hollywood, Levi's, and Coca Cola. I knew I was going to end up in America, one way or another, but I didn't think it was the war that would bring me here but you know sometimes you don't choose the path, the path chooses you.

What were some of the early projects that came out of your first years in America?
When I was trying to figure out where to transfer to a four-year University, I discovered this amazing program at UCLA called World Arts and Cultures. It was really an amalgamation of everything I was about. I applied and luckily was accepted. Once I learned the lay of the land at UCLA, I joined the Student Committee for the Arts. It was a body of students who had some say in what cultural projects were featured at UCLA, how funds were distributed for new projects, and how many event tickets were distributed to students. I was fascinated by this idea that we had a say as far as what was presented by this cultural institution. I eventually presented my own project – a musical play that in essence transposed the full moon desert party in a theater setting. During this time, the rave scene was getting a very bad rep in the mainstream media and this was my way to not only counter this mass hysteria associated with dance culture, but also to educate and show the beauty of the movement and of the power of people coming together as a community to celebrate life through art, music, and dance. I created a multi-media, 40 cast member production called Betwixt'n'Between: A Glimpse of the Electronic Dance Culture. I had drummers and DJs and dancers and singers and graffiti artists and video screens…
The World Arts and Cultures dept. at UCLA lived in the Dance building, so I was very involved in the dance community at school…I was taking all kinds of different dance classes and have become friends with many students. So when I approached them to play a part in the production, I was really reaching out to friends and colleagues who were excited to perform in this quite unusual play. I had all these incredible dancers come on the stage and move to electronic music in their traditional dance costumes and make the connection that we're all one; electronic music can really bring us all together.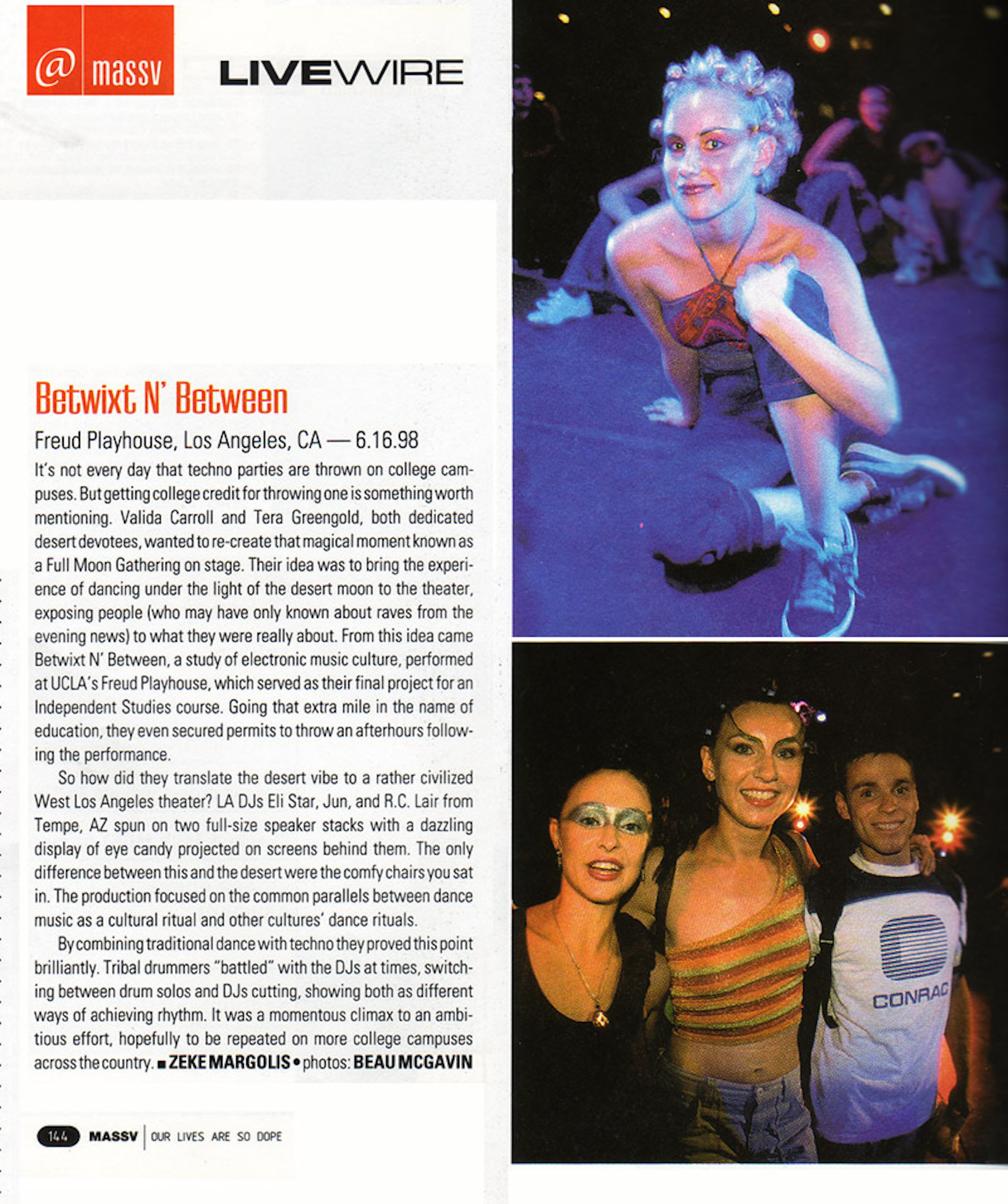 My goal was to present this as a global movement, which it essentially was. I had tango dancers, kathak (West, North and Central India) + Bharatanatyam (Tamil region of India), West-African, Afro-Cuban, Japanese, ballet, hip hop….It was insanely beautiful. I think the audience left the theater with a new appreciation for rave culture and what it was about…And the reviews were very generous. 🙂
In my senior year, I started exploring documentary filmmaking…I wanted to tell the story of the war back home so I traveled to Bosnia after my junior year and shot interviews with young people talking about their experiences. The film,Youth of Sarajevo: After the Aftermath, explores the effects of the war on young people. I remember one of the most fun parts about creating the film was choosing the music. That is, I think, when I first realized how important music was, when telling a story, as far as mood creation. The film was shown at the graduating ceremony at UCLA's Fowler museum in May 1999.

From that I continued on to grad school at UCLA, with a strong emphasis on documentary filmmaking. My masters of arts thesis was a film called Concentric Beats which URB magazine aptly described in their review as "Valida's love letter to the jungle/drum'n'bass community." For those who are not familiar, jungle/drum'n'bass is sub-genre of electronic dance music which originated in the UK. It was first adopted mainly by hip hop DJs in the US who then went on to create a culture around it. It's a fascinating story about how an idea or movement translates and what happens to it once it leaves its home of origin. I went on tour around the US and I interviewed like 70 people – DJs, producers, record label owners, dancers, anyone involved in the scene, to talk about the beauty of dance and music and how important it is to our culture.
We need that. We need to be involved in a community. We do so much better in bigger groups where people help each other.
What led you to start Desert Nights, adding another notch on the LA venue belt?
I fell into the role to be honest. I had been DJing and promoting club nights on the LA nightlife circuit since the late 90s and was brought on by the Standard in 2007 to help manage and book their DJs and the Front Desk vitrine (terrarium) models. At the time, The Standard had two live music events monthly, but it wasn't a good fit because the nights were really loud. They were both British invasion nights – so you can just imagine how that wasn't very sensitive to the needs of the Front Desk and their ability or rather, inability to check-in guests, answer the phones etc (haha) – so they decided to scrap the live music series. They asked me to help out in replacing it with a more acoustic feel, but to be brutally honest, I knew little to nothing about the Los Angeles live music scene. I came from a DJ background…I was so in my lane, but of course I'm gonna do it. I'm gonna figure it out.
How did it become what it is today?
I knew one or two people, and they would just come every Wednesday, and I was just learning on the job. I ended up asking a friend who was in a band to just help me get started. I took him to lunch and he gave me four names. Everything started from those four names; Jenny O. and Henry Wolfe were two of those names. Unfortunately I can't remember the other two…It was so long ago.
I started going to shows, like Hotel Cafe and the Bootleg, and we decided to take it to the next level and give the night a brand. I think I was on a plane when I saw a trailer for a documentary film about Laurel Canyon, narrated by the legendary photographer, Henry Diltz – Legends of the Canyon – this is what we wanted to recreate. We want to be the next torch bearer of the counterculture of the 60s and 70s. We wanted to call it Canyon Nights…but because of the cactus wallpaper…haha, that wasn't going to work. So it was Desert Nights.

I'm so glad you decided to keep Desert Nights going during this quarantine. Tell us a little bit about the new format? 
At first, I wasn't sure I was going to bring it to IG live…To be honest, it took me a few weeks to start processing what was happening. I had such a mixed emotional and intellectual response to the whole COVID-19 situation and I wasn't feeling too creative. Slowly, and more in phases, I began to regain some of that creative spark. Interestingly enough it began by exploring another creative outlet, one that was put on a back burner for so many months for lack of time – my tinted vegan lip balm production. Hahaha! I have been making them for over a year now, I'm obsessed with keeping my lips moisturized, but never had the time to really put it on display. COVID changed all that.
I didn't realize just how insanely therapeutic working with your hands is. There's something in the act of touching that can really bring you peace and calm. So I began to experiment with different colors and scents and actually launched my IG page (@colorsremix) and will slowly begin getting them out in the hands of people other than friends and fam. Once the creative juices started to flow, I realized how much I craved DJing and having a live music outlet…continuing with Desert Nights was the natural progression.
We launched Desert Nights Cozy-ntine IG Live Sessions April 15th with Lauren Ruth Ward and Alicia Blue, last week we had a special Earth Day celebration with musical acts Daniel Blue (Motopony) and Chloe Fuller, as well as a conversation with Zero Waste Life Hacks podcast founder, Sofia Ratcovich. Next week we have a couple local heroes Malena Cadiz and Casey Golden…All sessions take place at 7PM on a Wednesday night, and I typically post little snippets of the live sessions on our IG feed a few days later for those who missed it.
I'm gonna keep doing both as long as people care about hearing live music and DJ streams. For now, it seems like a great way to stay connected in the midst of everything. Nothing can replace the live experience, but we are making the best out of a very sticky situation.

CONNECT WITH VALIDA CARROLL
INSTAGRAM // KCRW // DESERT NIGHTS
Valida's Vegan Lip Balm // ColorsRemix
photos / courtesy of the artist
live photos / Zoe Sher
story / Ariana Tibi