San Francisco-based folk-pop, Americana singer-songwriter on harp and banjo,
EllaHarp
, comes from a lineage of musical greatness. Technically, she was born at her grandfather's house in Malibu in a horse bucket filled with water. Technically, her mother was by herself because who really needs medical personnel for these trivial types of things?
Her childhood was largely beautiful, with lots of time in nature running around with ducks and goats, horses, and chickens – and she considered herself wildly lucky for that.
Having said that, there is something people need to know because she is so proud of it. "Both of my grandfathers were musicians, Gordon Jenkins on my dad's side (conductor composer-arranger who worked with Frank Sinatra, Judy Garland, Louis Armstrong, Ella Fitzgerald, and Billie Holiday) and Bill Ulyate on my mom's side (studio saxophonist who played the original Fox intro theme and leads a dance band at Disneyland called the Disneyland Date Niters). Neither of my parent's played, but they were passionate that their children would, so I knew I was going to have to do something. Thankfully, my mom bought a small harp from a magazine once and that was the start, it's been music ever since".
At the young age of 8, she discovered her passion for the harp and began taking weekly lessons, even though it required a 100-mile journey. Her dedication and perseverance paid off, as she honed her skills on the instrument.
Today, EllaHarp seamlessly blends her mastery of the harp with her gift for songwriting, creating a unique style that fuses pop music with elements of contemporary blues and traditional folk. 
She is now releasing her 3rd album 'Lost In January' and in this interview, we ask some questions about the album and her artistic career. So, keep reading and enjoy.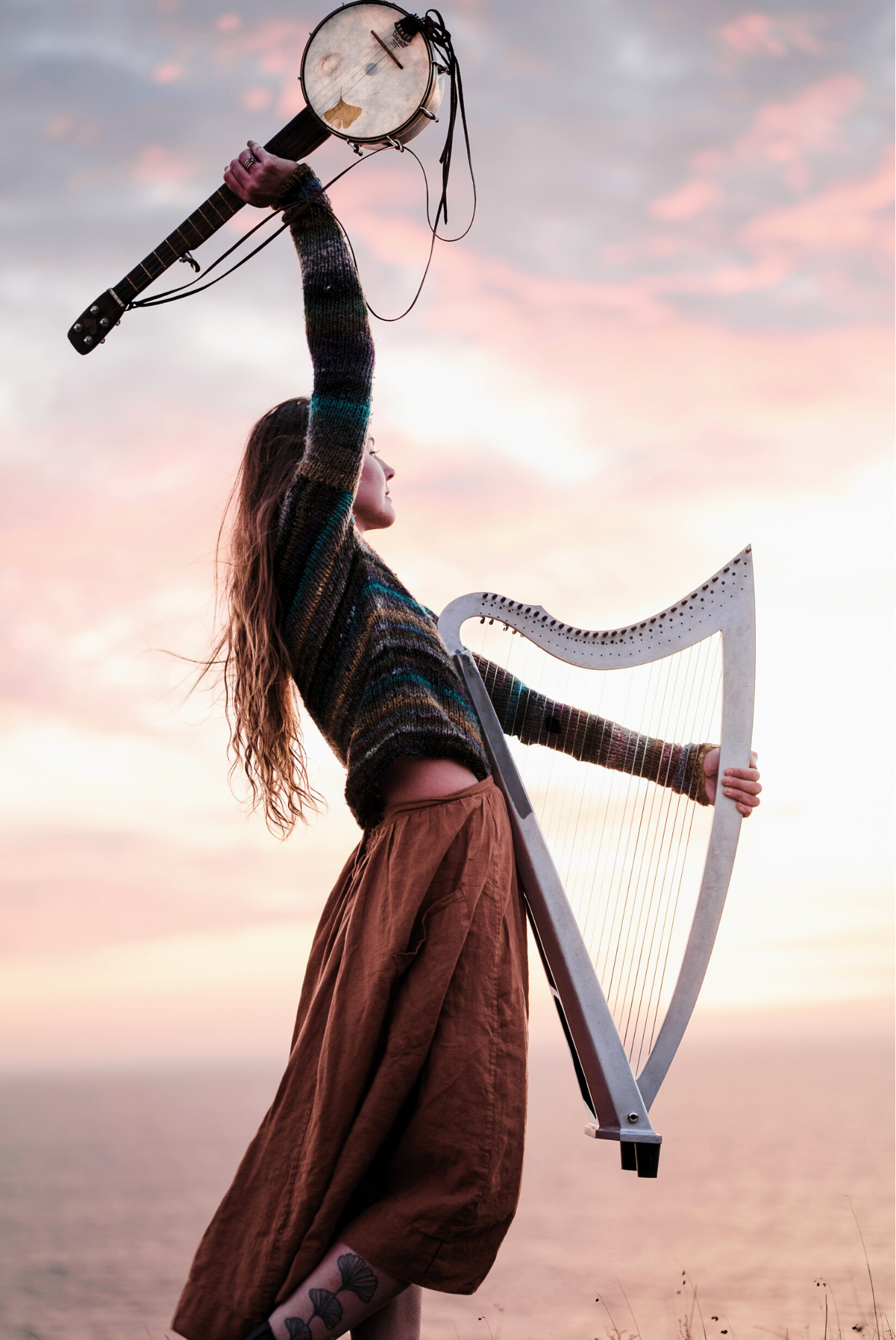 ELLA, HOW WOULD YOU DESCRIBE YOURSELF IN ARTISTIC TERMS?
Whatever the most artistic terms are for scattered, driven, and over-committed. Throw in some artsy ways to reference anxiety, depression, and questionable time management and you've got me.
AND IF YOU HAD TO DESCRIBE THE MUSIC YOU MADE, WHAT WOULD YOU SAY?
Folk-y Americana, on the melancholy side. I like my music miserable and am delighted by the writing of it. I think one of the hardest things in the world has to be writing convincingly happy songs that don't make people want to hurl, and I'm seldom up for the challenge.
YOU ARE NOW RELEASING A NEW EP UNDER THE NAME OF  'LOST IN JANUARY.' WHY NAME THE ALBUM AFTER THIS SONG IN PARTICULAR? AND WHAT'S THE STORY BEHIND IT?
January is an odd time void, we're supposed to go back to being people that do things after December but the transition always feels austere and awkward to me, with an absence of structure I'm never sure how to navigate. I wrote it in January of 2022 which was one of the warmest on record, so it started off about the California drought but took on other meanings of the phrase as the month went on; the rushing of time, getting stuck in one's mind and the rapid decline and passing of a very dear person on Jan 31. One song always seems to encapsulate the arc of each of my albums/life chapters and Lost in January was it this time.
THE PRESS RELEASE SAYS THIS IS AN ALBUM FOR A 'CLOUDY AFTERNOON, WITH A CUP OF TEA AND A WANDERING MIND.' WHY IS THAT ACCORDING TO YOU?
It's a short listen, 9 tracks at 31 minutes (which first of all is the perfect amount of time for a good cup of tea) and I like to think it emulates the sonic landscape of overcast skies and the contemplative mindset that accompanies those days for me. It could be a little heavy feeling, but only if you listen closely or your psyche wants to go there. Either way, I think a wandering mind and clouds are the best setting for all of my music – a little miserable, but presented as prettily as I could.
WHAT IS THE CONCEPTUAL IDEA OF THIS ALBUM? WHAT DID YOU WANT TO EXPRESS THROUGH IT?
Songwriting is a way in and out of life's unpleasantries for me. It's a way to (hopefully) turn personal turmoil into something I like better than I dislike the pain that caused it, and my best way of processing horrible things in the world that I don't know how to make sense of. The core of this set of songs stems from some dark source material (loss, writer's block, social injustice, mass shootings, and crippling anxiety) but they needed to be felt. Perhaps that's the point of it, to sit back and allow some reflective melancholy in.
ONE OF THE THINGS THAT CAUGHT MY ATTENTION WAS THE DIVERSITY OF MELODIES YOU PUT ON THIS EP. WHAT WAS YOUR INSPIRATION?
I gather inspiration from many sources, but at the end of the day, I don't seem to have all that much control over what comes out. The words surprise me, the tunes surprise me, and that's how I like things best.
IS THERE ANY COMMON LINE THAT CONNECTS THE 9 SONGS ON THE ALBUM?
More of a wavy thread than a straight line, but every song expresses a different angle of dealing with loss (or the fear of it) in some way.
WHAT OBSTACLES DID YOU HAVE TO FACE DURING THE PRODUCTION OF THE ALBUM?
I'm always challenged by the recording/production process because, in an odd way, it's like hearing the song for the first time. In writing them, practicing them, and performing them you'd think that would do it, but things really sound remarkably different outside of your head. I take a long while to listen and try to hear the song from an outside perspective before I can be objective about what a track needs or doesn't. I'm extremely grateful in this for my producer, Andrew Heringer, who is endlessly patient and understanding of my process while full of brilliant ideas I'd never thought of.
HARP AND BANJO ARE TWO INSTRUMENTS VERY PRESENT IN THE WHOLE EP. LET'S TALK ABOUT THIS. GOING A BIT TO THE PAST, HOW AND WHY DID YOU LEARN THESE INSTRUMENTS?
Harp I've played since I was 8 because my mother thought it was a good idea, and she was right. She drove my sister and I 100 miles every Friday for 8 years to take lessons and I kept up with it through college, studying folk music in Scotland. Banjo came after shipping my big harp home to LA and desperately wishing for an instrument I could travel with. Guitar seemed hard and I fancied the idea of open tuning, so banjo it was. I'm self-taught and shoddy at best, but I adore playing it and appreciate the sonic shakeup it brings to my music.
WHAT'S THE MEANING OF THEM FOR YOU?
The harp is serious; study, focus, and carry on the tradition – in both my own family history and music as a whole. Banjo is just for fun, and I love it for that. I also designed and made both my instruments (to fit in the overhead bin of an airplane) so they feel a lot like extensions of myself these days. Like little, stringed babies.
WHAT DOES THIS ALBUM REPRESENT IN YOUR CAREER?
Things in 3s are always interesting, and this completes my first set of 3 as an artist. It's difficult to chase forward movement at times while battling all the inner demons, so I'm incredibly grateful for this 3rd album to reach ears and eyes in spite of that.
COULD YOU CHOOSE A TOP 3 SONGS THAT YOU CAN NAME YOUR FAVORITEs?
Favorites change by the week, hour, or who's asking, but I'll say Downfall, Restless Lullaby, and Runaway for today. Tho for darker tunes, Jenna and The 19 win for me.
CREATION SEEMS TO BE AN INTRINSIC PART OF YOU AND SOMETHING YOU EXPLORE QUITE WELL, AND NOT JUST IN MUSICAL TERMS. IN THIS CASE, WE ARE TALKING ABOUT CLOTHES AND HATS THAT YOU ALSO MAKE YOURSELF AND FROM SCRATCH. IS THAT RIGHT?
I sew/knit all my clothes except jeans (learning how at the moment) and recently started making hats which has been an instant new love. It's a fascinating process and the creativity involved is right up my alley, an art more so than a science. I don't make anything particularly flashy but live to create solid basics with a personal flair that holds their own and makes me feel at home wherever I go.
WHERE DOES THAT ABILITY COME FROM?
I possess a troublesome combination of awkward personal form (ex: too tall for everything) highbrow taste and lowbrow budget, so if I have any hope of obtaining the things envision, I'd either have to shell out a bunch of cash or figure out how to make them myself. Reference back to the aforementioned budget, and you reach the crux of my creativity. I have too many ideas for my own good, but learning new skills and seeing if I can figure out each next concept is my absolute favorite personal challenge.
I AM VERY CURIOUS TO KNOW HOW THE ARRIVAL OF ARTIFICIAL INTELLIGENCE AND THIS HIGHLY DEVELOPED TECHNOLOGY THAT SURROUNDS US IS PERCEIVED -FROM YOUR PERSPECTIVE-.
I am a mix of disinterested and terrified when it comes to AI. Maybe I've seen too many movies of things going rogue, but I can't say the headlines I see are doing much to comfort that fear. As an artist, the blatant plagiarism that inevitably fuels its algorithms is strongly at odds with my personal code.
ANY NEARBY TOUR?
At the time of this writing, I'm about to head to Portland for two album launch shows in the PNW (Portland 6.22 and Orcas Island 6.25) before returning to home turf for my local launch show in Half Moon Bay 6.30. I'll probably sleep for a good few weeks after the album is out, but looking forward to hitting the road again later this summer.
CONNECT WITH ELLAHARP
Photos / Alyssa Gruhn