DEER was born out of a time when the world stopped and forced people to reflect. Mexico City-based artist and music insider Gillian had a revelation, she wanted to be on the other side of the industry, front and center sharing her art with the world. The artist's project soon became a solace for her to share her pain, love, and insecurity about finding herself in the midst of creating. In that came the whimsical trap-infused music of DEER, which is both sexy and vulnerable. We talk with the artist about her project below.
What inspired your project DEER?
Deer comes from a place of insecurities and finding a character that could speak up without feeling too vulnerable, by taking emotions to extremes I think Deer allowed me to express a lot of things that personally had been situations where I was told to not make things a "big deal"… you know? Deer is the extreme drama!
The vulnerability is visually pleasing, enticing, mysterious …sad yet sweet!
Who in your head listens to DEER?
I've done some shows and gotten to meet real people that listen to my music and it's usually young creatives! People with an inclination towards fashion and the arts! Emotional, creative, expressive sweet people I think listen go Deer but honestly, it's open to everyone and it's a project that invites people to feel whatever they need to feel when listening to the music! I envision more than a listener a vibe that's a little dark a little pink a little black a little sad.
I THINK I'M DEAD is such a cool visual experience. What is behind the blood and gore?
So the idea of the video was a bride that killed herself, it's a bit extreme yes I know hehe but the concept of the song is a fight where you're stuck in a place you feel dead …in this case a relationship. The bride kills this idea of herself and when the red látex outfit comes out it represents the blood from the bride,  the empowerment again … the rage. The bride's character is much more dramatic and lunatic in contrast with the Blood outfit which is much more serious and in control!
Do you have any plans to release an album?
Yes!! After this release, I'm starting to work on my album. I hope by next year I'll be able to share it with you guys! I want to dedicate time to visual stories, to production, and work with some artists I've already had in mind for a while!
What would that be like?
I think it's gonna be a mixture of musical genres but playing with a similar mood or concept. I like to explore emotions so it's probably gonna be a very emotional album! I'm working with some producers on the house and techno-inspired beats to have a dark dance moment as well! Definitely a brief acoustic moment and some soul, always all of these with the special Deer vibe …a little sad a little cute.
What is it like creating in a bilingual experience?
I grew up speaking both English and Spanish in my house and it's just such a natural way for me to talk and express myself. They say each language you learn has a personality when you speak it and it's fun to play around with how prude I can behave in Spanish, I am shy to speak slang in Spanish and I sound like a translated movie and that the personality when I write in Spanish it's the timid part of the lyrics a little childish, naive …
in English I grew up listening to hip hop, watching MTV and feeling a little more confident with English and it takes that role in the lyrics too! I'd love to incorporate French into my future music as well and play with that romantic and sensual part of the language and the way my brain speaks it! I
've been told it sounds like a French porn star ahaha so that could be an interesting vibe to incorporate into the next phase of my music!
Who are your favorite LatinX pop stars?
I love LOVE Kali Uchis she really inspires me with the Spanglish lyrics. I love how elegant and dreamy she can be while still creating a very sexy and empowered persona. Visually her work is impeccable as well and it's just such a dreamy universe she's created! I've also become a big fan of many local and emergent artists! Pawmps is an artist that is in the same record label as me and we've worked on an ep together we are playing to release soon I admire immensely her musical talent! She's just released recently a feature she has on the new Run The Jewels project and I'm so proud of her!
Can you tell us about the collective you belong to?
 I belong to Shadow Squad a collective and record label that opened its hearts and arms to welcome me. A friend of mine told me about them and just said "you are so shadow" and before I knew it I was in the shadow studio sleeping over week after week! It's a collective where I think we connect by sharing the same vision where we find beauty and strength in darkness. We lean towards speaking about personal experience and dealing with different emotions through music. I feel so lucky to have found them! Not only is it a collective but we also have a mixtape as a group and a new one coming out soon!
How did you cultivate your scene?
Honestly, I've just always been about reaching out, and being transparent and honestly … I feel like sometimes you got to be vulnerable so the rest feel safe. And that's what I did to an extent I just was very open about what I wanted to see and I kept pushing creatives around me to keep working and trying to help them through my agency and what I had learned.
When did you get into creating your own music and aesthetic?
I really started producing and jumped into my personal project beginnings of Covid. I remember perfectly I just started crying… seeing the world panic and stop hit me like a truck my dreams the things I always said I wanted to do… what was scaring me from doing it?
I started crying one day in a friend's house and said out loud "I just want to make music " … and so that happened! About the aesthetic I think I've had that for a while, I studied fashion design so I think I created a pretty solid visual idea of what Deer was through my collections and inspirations behind each one!
My aesthetic is inspired by film, literature,  fashion, fairy tales, and horror.
What prompted you to do so?
I think it was just a need to. I don't know how to explain it but my body just didn't feel right when I walked away from the path that was taking me toward making music. It made me mad, I questioned life and I felt empty … I just needed to share it, create it and whatever happened at least my heart was at peace.
What is next for you and your projects?
More of everything! I want to get lost in work! I want to invest in creating better music, better videos, and better art in general! I want to learn and absorb as much as I can, explore new sounds and work with more creatives!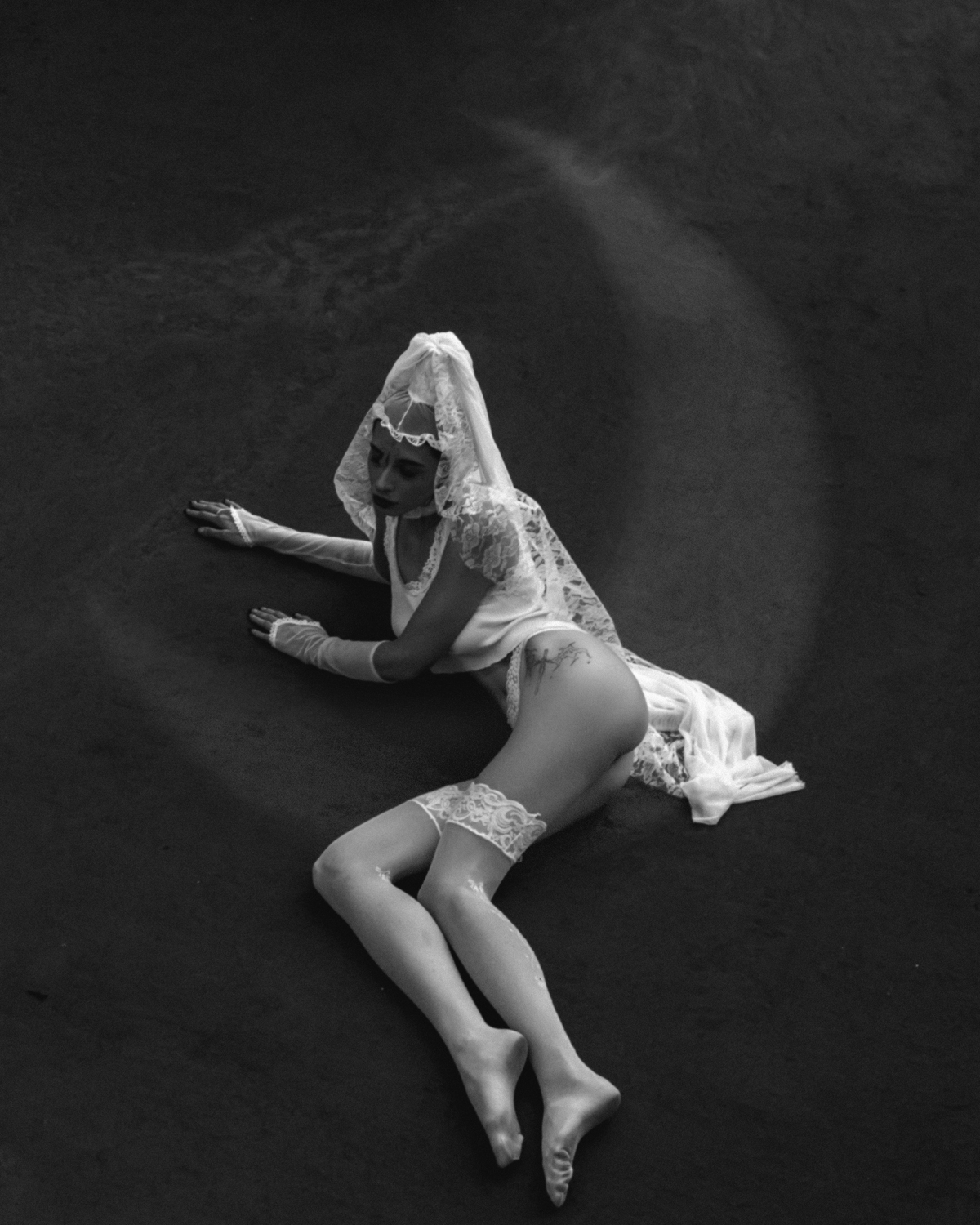 Prod by @dobletttempo
Styled by @fabrizziobregon
Photo @portugalhex
Récord @shvdowsquvd
CONNECT WITH DEER