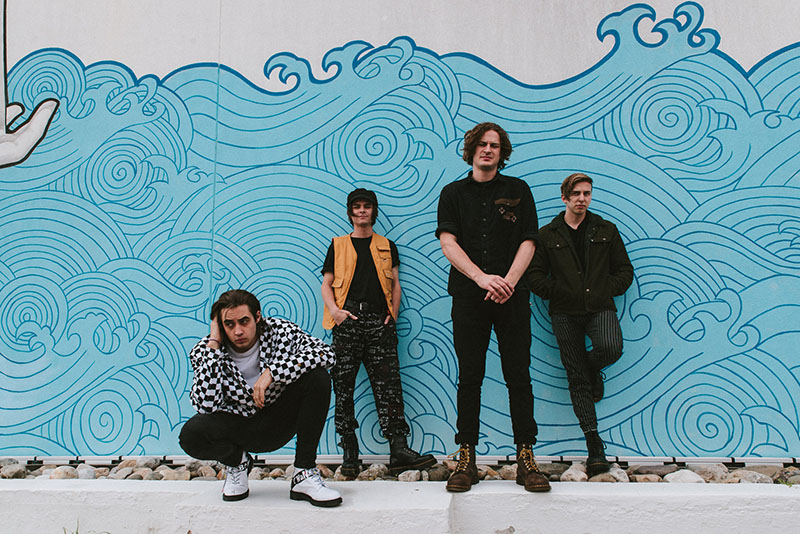 Coming from Perth, Australia, The Faim recently made their second trip around the United States supporting Andy Black. Though they didn't have much chance to explore Asbury Park when they stopped at Asbury Lanes in early May, the tour had offered plenty of opportunities to explore. "There's so much to enjoy about this tour, from the shows to having days off and seeing the wonderful places around this country, and we're all stoked to be here in Asbury Park," guitarist Sam Tye – who was excited to be in the hometown of Bruce Springsteen, one of his favorite artists – shares.
On their debut US trek supporting fellow Australians Hands Like Houses in late 2018, the most significant thing The Faim learned was how to carry themselves. Vocalist Josh Raven says Hands Like Houses were "so humble and down to earth," creating shows that were still intimate no matter how large the crowd. The Faim look up to fellow Australians who get to tour internationally consistently so that tour was humbling and "a learning experience for us… if we grow, if we don't, doesn't matter, but always stick true to who you are as people."

Though they've since toured around Australia, when they first started, The Faim spent a long time staying in Perth – which bassist/keyboardist Stephen Beerkens tells Ladygunn is "far from pretty much everything" – playing shows "over and over again," meeting people, and handing out posters and flyers. Their first time out of Australia was heading to Los Angeles to record with John Feldmann. Drummer Linden Marissen says that recording with Feldmann was "one massive learning process for us," as they stepped their writing up to the next level with co-writers like Pete Wentz, Mark Hoppus, Josh Dun, and Ashton Irwin. But there was more to gain from those sessions than the songs themselves: "We'd try and come out of it every day with not only a song, but also learning from them about how they song-write, the way they conduct themselves in a writing session," Marissen reflects. "That whole experience taught us a lot about writing and where we want to head with our sound."
Each member of The Faim brings different influences to the table, but they all work together so well that "any one of us can bounce any idea off each other and we can all help to bring that idea to the best light it can." They're all creative and expressive in how they handle things; when Raven gets on stage, "an ADHD sort of craziness… comes out more than anything really, 'cause on stage, I feel like I'm a lot more manic than I am most of the time, which – around these guys, I'm a lot more manic [than] when I conduct myself publicly." He's comfortable and feels safe on stage and with his bandmates, but outside of that, "I feel a little bit more insular when I'm out meeting fans and stuff." Raven assures that though he's quiet, he loves meeting people. On stage, he's exuberant, theatrical in his portrayal of the songs and engagement with the room – and that all comes naturally. "It's just whatever comes out, really. A lot of this is an expression of the rawest parts of our identity, and that's all it is."
This raw expression has connected with fans all over the world, creating a dedicated "Faimily" who support the band. The Faim love the people who support their music; Tye waxes poetic, sharing that "Music is essentially twelve notes and a few different inflections, and to see people connect with that sort of emotion that we put into it is really, really special." Writing music can be random and unpredictable, but it's an emotional process, and seeing people on the other side of the world connect with their songs – some even taking it upon themselves to start other bands, or take up poetry or another art form that's creative to them – is "a very rewarding experience."
Following the Summer Is a Curse EP last year, The Faim have released the singles "Fire" and most recently "Amelie." "Amelie" as a whole isn't about a specific person; instead, it's about a struggle we all deal with, of being caught up in a negative situation or environment and believing that it's permanent and that there are only dark roads to go down. It's an acknowledgment to the mindset of being in a dark place and finding no resolution. "Amelie", then, is "that sort of character – that person that couldn't get out of it, that really struggled and pushed themselves in to that hole where they couldn't get out of it, so for us it's almost like a nod to that, that we know people go through that, and that's okay."
Earlier this year, The Faim did their first headlining tour around the UK, Europe, and Australia. They're loving getting to explore the US on this run, but don't shy away from admitting that touring isn't always easy. Headlining taught them more responsibility; the shows were larger, with more advanced production, but beyond giving people a show, "you want people to leave feeling inspired or feeling motivated." From the outside, a touring band can seem "very glitz and very happy," but that's not always the case. Being away from their homes, their families, and a sense of routine isn't easy on anyone, but Raven reflects that although "we love what we do, we live for what we do, I believe that if it was easy, everyone would be doing it." Tye remarks that they're all young, and "we're all still discovering what life's about and enjoying it as much as we can, but at the same time, we're still people, and we still don't know the answer to everything, and we learn every day and… we just enjoy it as much as possible." The routine of tour can take its toll, but the days off on this tour have given them time to reset. Seeing the Grand Canyon and walking around New York City have been a break from the grind, giving them more fuel for the show days.
Although they've been playing together for several years – and been musicians even longer – The Faim "is pretty much beginning now, more than anything," as they work on their debut album. There's no hard timeline for the album; they're eager to get the album done quickly but are mostly working to create something they believe in and are passionate about. "It can't be half-hearted," Marissen says, reflecting on the importance of a debut album to their career. For now, following summer tour dates and performances at festivals like Reading & Leeds, fans can "expect what you've always expected – four dudes who just love playing music."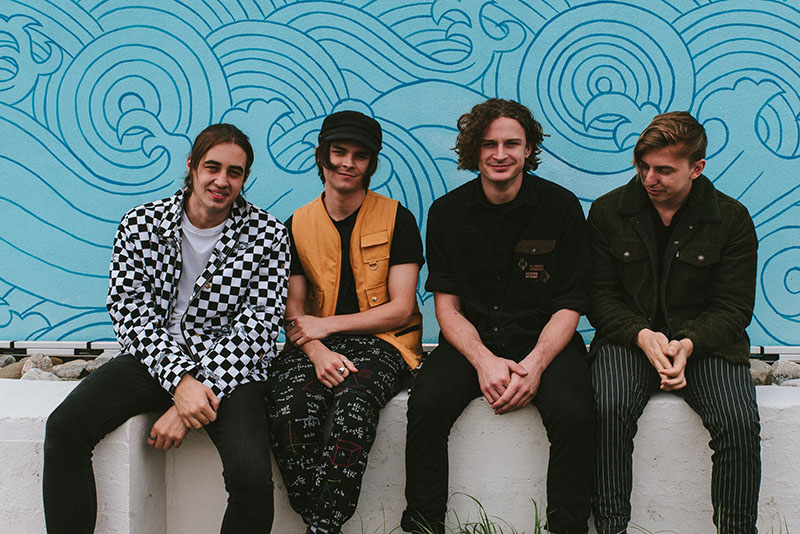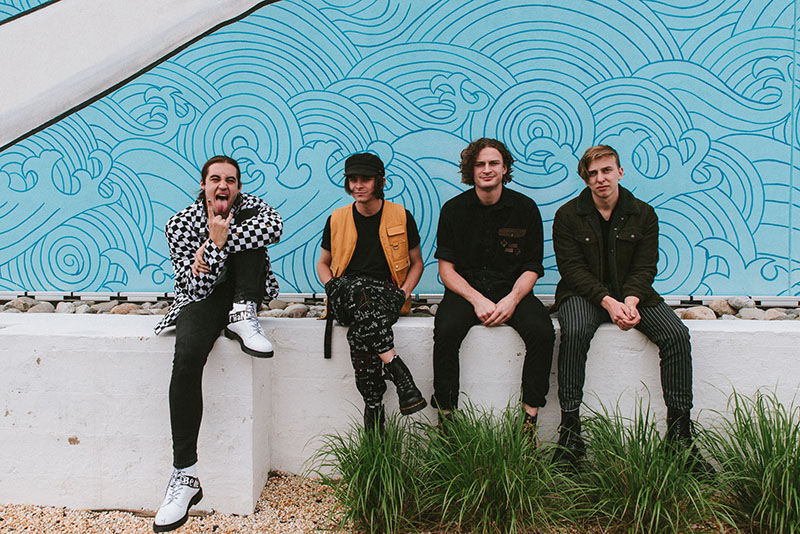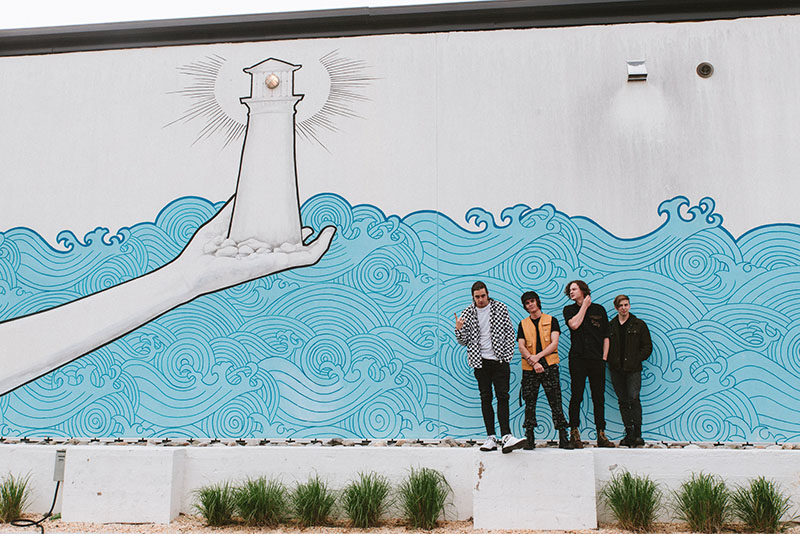 CONNECT WITH THE FAIM: