Life is Beautiful Music Festival is back again in 2022 and boasting some of the best artists on tour right now. We know that gender equality in the music industry is something that has been making progress for some time, but also still has a long way to go.  So this year, we wanted to highlight some of the best sets by female musicians from all over the world that we caught at Life is Beautiful. Here's our list of badass women-identifying acts to watch.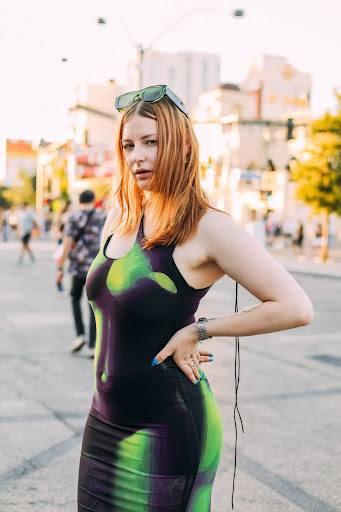 Drawing on her early love for brooding synth pop and new wave, Perel is a German electronic producer, vocalist and DJ who's sound has earned her praise all around the globe. Perel has always stood out by singing over her DJ sets, bridging the mood of her own live sound with her selections. She kicked off Friday evening with a sunset set at the Fremont stage.
Perel commented, "No matter where I play I always hope to inspire people to follow their inner voice – no matter what it is: take it! I loved how diverse Life is Beautiful was and how much people enjoyed themselves! Can't wait to be back!"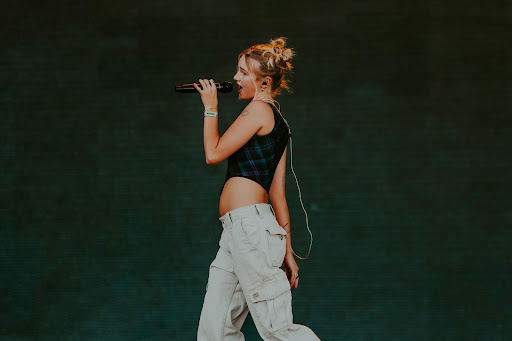 California's Claire Rosinkranz makes lyrical, lo-fi indie pop that's marked by her warm vocals and wry, often playful lyrics. She first began writing songs around age eight and eventually learned how to play the piano, guitar, and ukulele. In 2020, she released her debut EP Beverly Hills Boyfriend which featured the viral hit "Backyard Boyfriend." She made sure to play the tune at Life is Beautiful, getting the crowd going on Friday afternoon.
Charli XCX is an English pop singer and songwriter who straddles pop's experimental and mainstream sides with ease. She brought a lively show with dancers and had the crowd lit up the entire performance. She even performed 'I Love It,' the popular Icona Pop song that the artist wrote for them.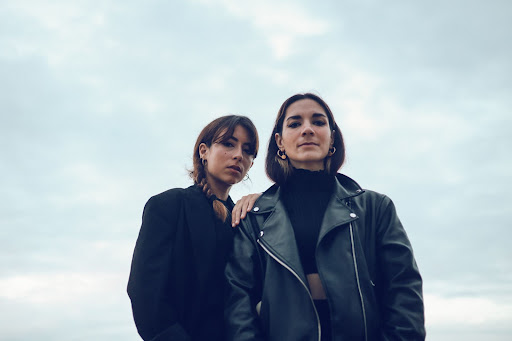 Hailing from Palermo, Italy, Giolì & Assia are instrumentalists, singer/songwriters, DJs and label owners, who create a genre-less sonic sound that is entirely their own. Undoubtedly one of the most innovative and captivating acts in dance music, they have taken the world by storm recently with their live performances and impeccable productions. Members of the LGBTQ+ community, their union as a couple is the foundation upon which they have built their musical duo. Giolì & Assia rocked the Fremont stage on Sunday evening, with singing and a piano performance in addition to their DJing.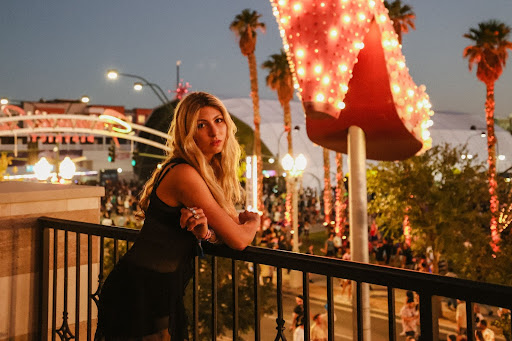 Singer and bassist Blu DeTiger makes arty funk- and disco-influenced indie pop. She first garnered buzz in 2017 playing funky bass during her DJ sets before releasing her own tracks, including 2020's "Figure It Out" and "Cotton Candy Lemonade." A native of Manhattan, DeTiger grew up in a creative family. After signing to Capitol Records, she released the single "Blondes," followed by "Hot Crush Lover" in 2022. She rocked her blue bass during her Friday set and made sure to bounce around the stage, hyping up the crowd on Friday. 
Blu noted, "A lot of my female-identifying friends are also playing this festival which is really cool. Especially on my stage there's a lot of really badass, powerful, empowering performers, which I think is awesome that this festival has highlighted them."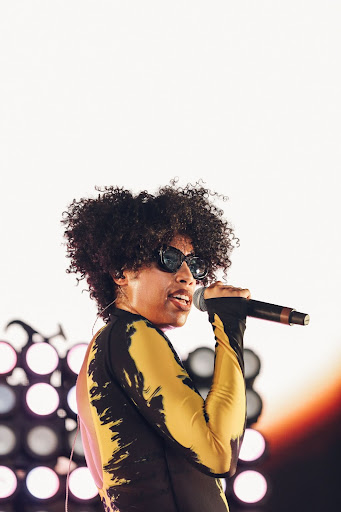 Rochelle Jordan is a progressive R&B singer and songwriter. Born in London to British-Jamaican parents, Jordan and her family relocated to Toronto in the 90's. Her father, a drummer, encouraged her love of art, Northern soul, and Jamaican reggae and dancehall. We were in love with her silky vocals, choreographed dance moves with her dancers and funky dance beats.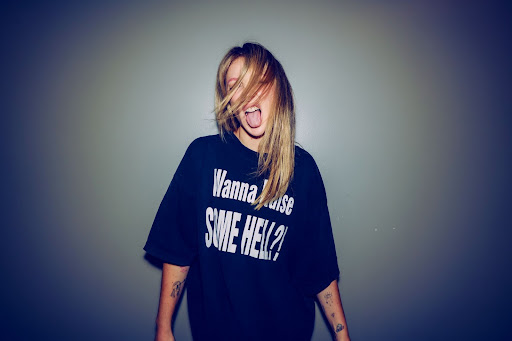 With a sound as big as her name is punny, Alison Wonderland is an Australian EDM producer, DJ, and singer who began her music career on the opposite side of the spectrum as a classically trained cellist. A highly successful DJ known for her energetic sets, which focus on a variety of trap and future bass styles. Her own music is often far more introspective, with lyrics based on her mental health struggles. She closed out the Fremont stage with banger after banger late on Friday night to a massive crowd spilling out onto the sidewalk. This was a not-to-miss set.
When asked about the gender disparity in the music industry, she said, "As a female artist, I feel like it's a lot more equal these days, but I still see the way that people perceive especially new up-and-coming female artists, sometimes they aren't taken as seriously. I do believe women have to work twice as hard, but as long as you know that then it just makes you a better performer and artist. I use that to my advantage. When I was moving up in the scene, and I was being challenged like that, I was like, "Challenge accepted." People would accuse me of not DJing, so I would put go-pro videos of my hands so people could see. I would go home and learn new tricks on the decks and it honestly just made me better. So thank you to anyone that ever doubted me."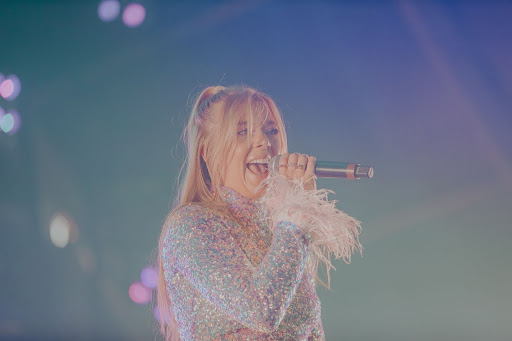 With her highly mature, resonant voice and R&B-influenced style, Becky Hill first came to the public's attention competing on series one of The Voice UK. Ultimately reaching the show's semi-final round, Hill became the first contestant to score a number one single when "Gecko (Overdrive)," her collaboration with Oliver Heldens topped the U.K. singles chart in 2014. Her sultry, soulful, older-than-her-years voice was highly sought-after by dance artists looking for feature vocalists. She commanded the Fremont stage, wearing a fabulous sequin jumpsuit and showcasing her powerful vocals. 
Becky shared her thoughts about the current state of the music industry in terms of gender equality, saying, "There's a long way to go. It's beautiful to see the beginnings of equality in music. I definitely feel like this is the wave that we've been waiting for, for a very long time. What's happening now is historic and I'm really glad to be a part of history for women in music, and especially dance music."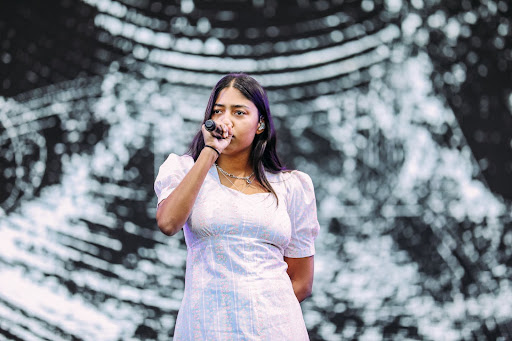 Hope Tala is a Jamaican-Brit singer songwriter known for her atmospheric blend of R&B, bossa nova and Latin influences. Born in West London, Tala played clarinet growing up and participated in her school orchestra and band program. Influenced early on by artists like Brandy, Mariah Carey and Lauryn Hill, she taught herself to play guitar and began writing her own songs. She kicked off Saturday's activities at the Huntridge stage with the perfect weekend vibes.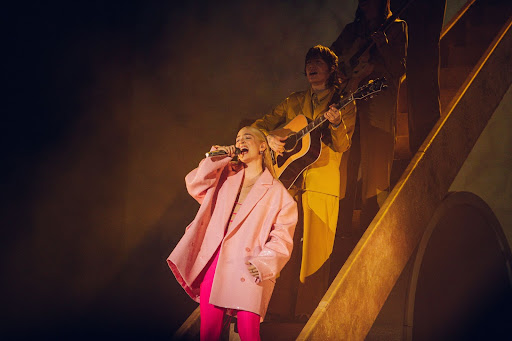 Lorde is a New Zealand singer-songwriter whose moody take on pop won international acclaim starting with her smash single, Royals. Donned in a full-pink outfit, she danced around a giant rotating sun dial and played her classic hits on Saturday night, as well as songs from her new album Solar Power.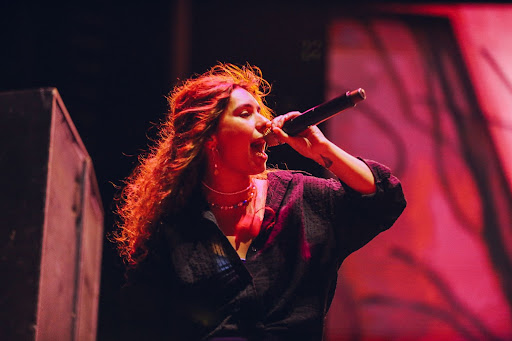 Down-to-earth pop-R&B artist Alessia Cara had a breakthrough 2015 single "Here" which led to numerous platinum certifications and Juno and Grammy awards. She took over the Bacardi stage at a prime Saturday night slot and had an absolutely packed crowd, who kept the energy high with dancing and singing along.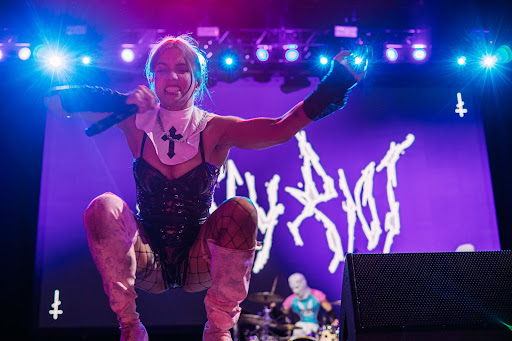 Pussy Riot is a Russian feminist protest and performance art group based in Moscow that became popular for its provocative punk rock music which later turned into a more accessible style. Founded in August 2011, it has had a membership of approximately 11 women. They put on a wildly entertaining performance at Life is Beautiful, with lead singer Nadya Tolokonnikova bringing a whip on stage, taking one of the videocameras from a videographer and recording the band, and of course lots of grinding and twerking.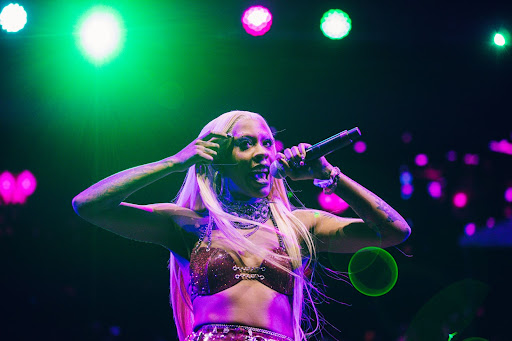 Rico Nasty is an American rapper, songwriter and record producer from New York City. She has modeled her own style of music she calls "sugar trap.' She closed out the Huntridge stage on Sunday night with a Doja Cat cover as well as her hits "Smack A Bitch" and "Rage."
We loved to see so much diversity and so many amazing female artists being represented this year at Life is Beautiful. To learn more about Life is Beautiful, head over to their website, and to stay up to date with the current percentages of female artists that are being booked for music festivals, check out Book More Women.
LIFE IS BEAUTIFUL
INSTAGRAM | WEBSITE | FACEBOOK | TWITTER
Story / Gaby Deimeke
Photos / Gaby Deimeke
Editor / Jeanette Diaz