Where Ayron Jones hails from 'filthy' is used as the highest compliment in the land. The musician pays an ode to that in his track "'Filthy,' a song about his present day and who he has become as a person and a musician. The music video is an intense chronicle of the journey and pain a black artist who doesn't fit in a box and has to overcome in order to find success.
Jones has worked with some of the best in the rock genre and has solidified himself as one of rock's most diverse stars. His memorable guitar riffs and bluesy sonic melodies spark a fire in the listener.
His critically acclaimed album, Child Of The State, lauded the artist multiple recognition across the industry including the 2022 iHeartRadio Music Awards Best New Rock Artist nominee. We get behind the scenes with Ayron on the set of "Filthy" and do deep dive with the artist about growing up in Seattle, what part race plays in his career, and what's next for his guitar.

What were your first experiences with rock music or just music in general?
I grew up in the church, so my experiences with music were singing gospel and performing to the members of my congregation. It's what really got me into rock, honestly.
What was the most inspirational part of growing up in Seattle to you?
The most inspirational part of growing up in Seattle was the tight-knit music community. In Seattle, it's really not uncommon to have artists and bands who've already made it take the time to help bring up younger artists. People like Sir-Mix-A-Lot and Barrett Martin passing down their knowledge and skills are what helped me learn what it really means to be an artist.
Why was "Filthy" important to release? 
"Filthy" embodies the spirit of rock. It's sex, rebellion, drugs and, rock. After a year of straight touring, I felt inspired by the people I saw in my travels and what rock means to them. It's about being a misfit, living free, and not giving a fuck.  "Filthy" is just that: an anthem for the misfits.
What was the songwriting process and inspo behind this?
My love of 808s and hip-hop was the foundation of my inspiration for this song. I felt like I wanted to put out a song that was sexy, something people could bounce their ass to. Instead of grabbing a guitar, we went to the beat pad and built our riff from there. It gave the song a grit and attitude that begged to be expressed and that's how the song came to be.
You mention the police on this track…It sounds pretty heavy but such is America. 
Sure. I suppose, depending on how you're looking at it, it can seem like a heavy subject. For a lot of people that live in poverty, it's a normal part of life. I'm just telling the story I know, and for some, that might resonate and others might have a hard time understanding.
Has race ever been a factor in how people approach you in the industry? If so how? 
Race is always a factor in how people approach me, and unfortunately, the industry is no exception to that. The brunt of the stuff I deal with is usually stereotypes associated with being Black and playing music. People will assume I'm a rapper, or a producer, or a DJ, until they see me perform. It happens ALL the time though.
What's the rock scene like in Seattle for you? I imagine there is some diversity there but as a black woman who grew up in mostly white spaces I can also imagine not enough.
It may come as a surprise, but the music scene in Seattle is EXTREMELY diverse. It's a melting pot of culture and music that you rarely see in other music scenes. The bands and artists that lead the Seattle scene are often led by P.O.C. and there are several all-Black rock bands, as well.
How did you get noticed by Sir Mix-a-Lot?
Sir Mix-a-lot noticed me in 2011, when I was playing in a dive bar in Seattle's U-District. He walked in, loved what he heard, and offered to produce my first record. It dropped in 2013 and set me on a path that led me to where I am today.
John Varvatos + Big Machine are pretty big time too. What was that signing like?
Kind of like a movie. My team sent over my music to John and Big Machine toward the end of 2019. John loved it and flew out to a show I was headlining in Seattle, so he could catch us live, along with a rep from my label. A few months later, I flew to Nashville to put on a showcase for Scott Borchetta and the rest of the team. Shortly after that, I was offered a deal and signed in May of 2020.
You have great style, who are some of your style icons?
I looked to Lenny Kravitz for a bit of my inspiration. I also really try to incorporate the rainy-day NW look into my personal style
What were you like in high school?
In high school, I was really into music and performing arts. I also loved to write and I was OBSESSED with guitar. I never went anywhere without one in my hand. I played all the time and wrote as much as I could. I also loved to act, and actually won some awards for it. As for my personality, I was super outgoing. I wasn't into one crowd or another, but I got along with an eclectic array of people.  I was also into chess, as well as things like video games and anime… typical guitar nerd lol.
How important is Seattle to your sound?
I've spent a lifetime learning what the Seattle sound is and where it came from. I've worked with the bands, the artists, and even the families who are credited with creating this sound. I think of myself as a continuation of a long line of artists who embody the legacy of music that comes from the Seattle and the Northwest region of the United States. Seattle means the world to me when it comes to my sound.
I hear so many influences in your music, from rock to garage, to noise and funk to blues, and they blend so seamlessly. How would you describe your music?
I love this question because every time I describe this, a light bulb goes off in people's heads.
People may not realize this, but one of the biggest influences on Jimi Hendrix was the R&B and jazz that come from his neighborhood, The Central District. This is the same Seattle neighborhood that gave artists like Quincy Jones and Ray Charles their early starts. This also happens to be the neighborhood I grew up in. I just had the blessing of growing up in the 90s when grunge was at its peak.
So, I sound like a kid who grew up in Jimi Hendrix's Neighborhood and listened to Michael Jackson during the grunge era.
If you could record with any contemporary artist today who would it be?
There's a long list of artists I'd love to work with, but if I had to pick one it would be H.E.R.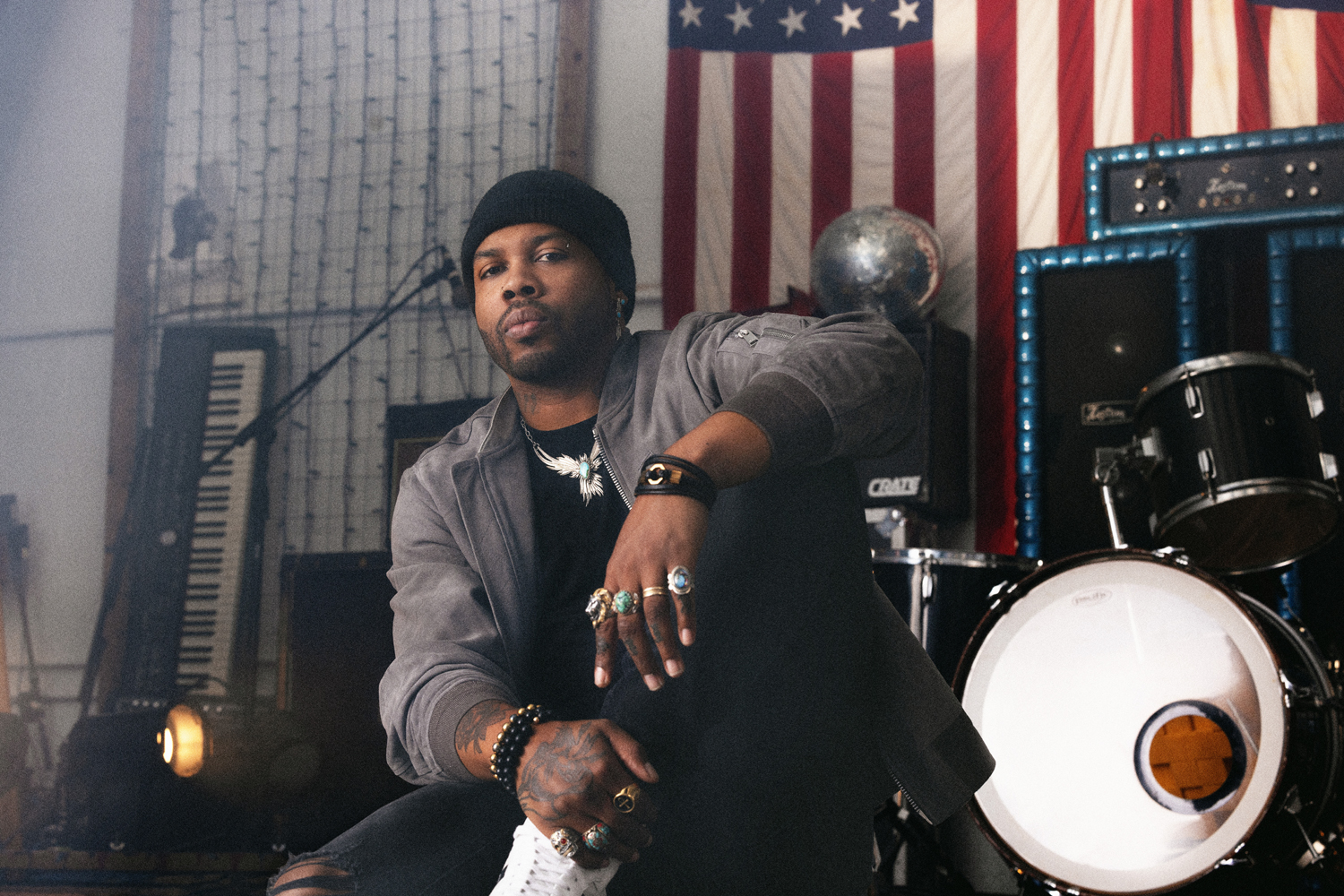 CONNECT WITH AYRON JONES