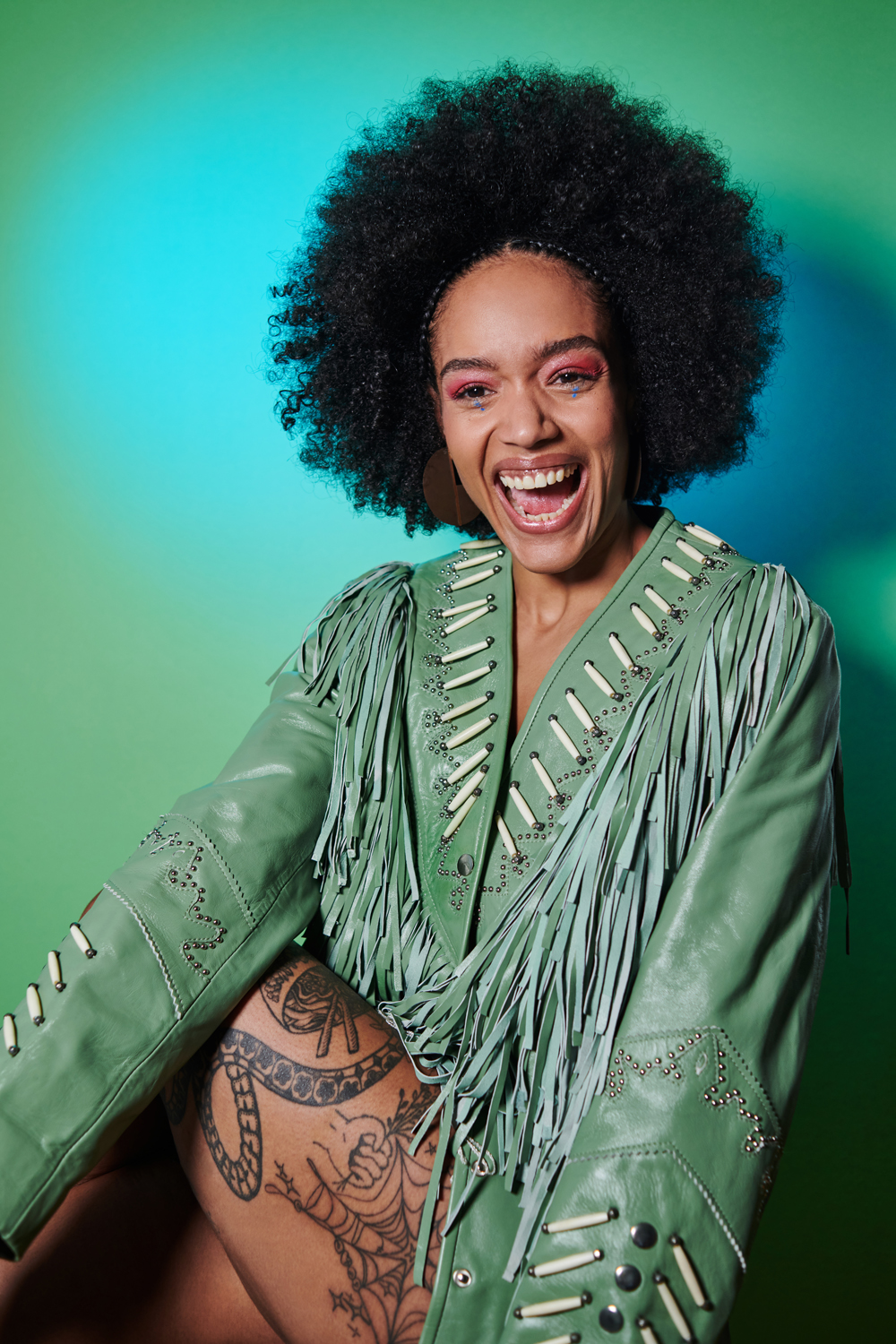 Jacket – ZastaStudio (IG @zastastudio) Two piece fringe set top/bottom – Essgee (IG @essgee_shop) RINGS by Jill.herlands (IG  @Jill.herlands)
April Kae rose to influencer status through the viral success of her self-filmed videos of her playing bass on Instagram. The artist has thoughtfully navigated her rising social media stardom to be a platform for sharing her vision while engaging deeper engagement on what matters most to her and her followers. LADYGUNN caught up with Kae to discuss her growth as an artist and what's next for her creatively.
Hi April! Your at-home Instagram bass videos have been a tour de force on the gram! Was the Cardi B 'UP' video the first time you shared that type of performance or were you doing that on other platforms?
I posted the first video to Instagram of me playing bass when I was getting ready to release the Imanigold 'Ride' on the single. I had about 60,000 followers on Instagram back then and I wanted to share my music with the audience with those people, I decided to share my bass playing because that was how I got into music to the degree that I am now through bass. So I looked on Spotify at the top charts. I saw that Cardi B song 'Up' was the highest charting song that I liked and also felt like it represented me because she's a woman of color from New York. I am a big fan so it was like felt authentic to me even though it's pretty different than the kind of music I make.
And then that video I posted got a couple of million views and went viral and then my bass-playing videos kind of kept going viral. It was the first time I'd ever shared any videos of me playing bass on social media. It was the first time I shared any music-playing videos that were in that short bite-size shareable format. But I have been playing music my whole life so by have shared music videos before. The type of media that I share with Imanigold, which is my band with my sister Nikki is much more I'd say art house-inspired. We definitely lean into our more artistic sensibilities there and that is not the type of thing that tends to go viral, you know like long videos lo-fi things like that, and those types of things are really important for me to keep sharing as well. For me, it's about balancing the types of things that do well on social the with other types of things. Sometimes there are things that I wanna make that are not the type of thing that tends to get as many views or that's as shareable. I like to do all of it, I think there's value in all of it and I like to create things that bring my vision to life and sometimes those things are shareable sometimes they're not.
How has becoming 'more known' on social media influenced what you yourself choose to share? What is one of the best things about having the ability to reach so many people through social platforms?
It's shown me that I can reach more people and connect with people. So now I use my platform even more. I right longer captions than I used to and I make it a point to use that space to answer questions people have. When I do 'Ask Me Anything' in my Instagram stories they're to get questions from people that they want to be answered and to learn what people actually will find useful from me. One thing that has been really surprising and a cool, pleasant surprise is as my social media reach increases, I'm able to get a better sense of the type of people who are interested in me. Those types of people are people like me which means a lot of my followers are queer, a good amount of people identify as trans, many young creatives, super diverse racially, and super sensitive to issues of race. diverse age-wise. Overall I would say my fans are people who have a sense of freedom and who I think want to express that externally and share that. Reading people's comments and really making an effort to create a reciprocal relationship with folks and communicating back to folks and having real conversations validate that the things I have to say matter to them. I think that's a lesson that everyone really deserves to learn, that the things that we say really connect with people and really can do so many positive things to people.
A kind of bigger picture way of looking at this same opportunity is that the way that people find me is through bass playing and music and it is through the pop song videos that go viral that's the way most people still find me and so that's something that we all have in common is enjoying this popular music. Many of them choose to read the comments and then read the captions and that allows us to then engage on a deeper level. It's like keep drilling down deeper and deeper, we create all of these different channels through which we can connect and through which we can feel a sense of belonging and and as we know that sense of belonging is crucial to to to feeling secure in ourselves and to creating change in the world.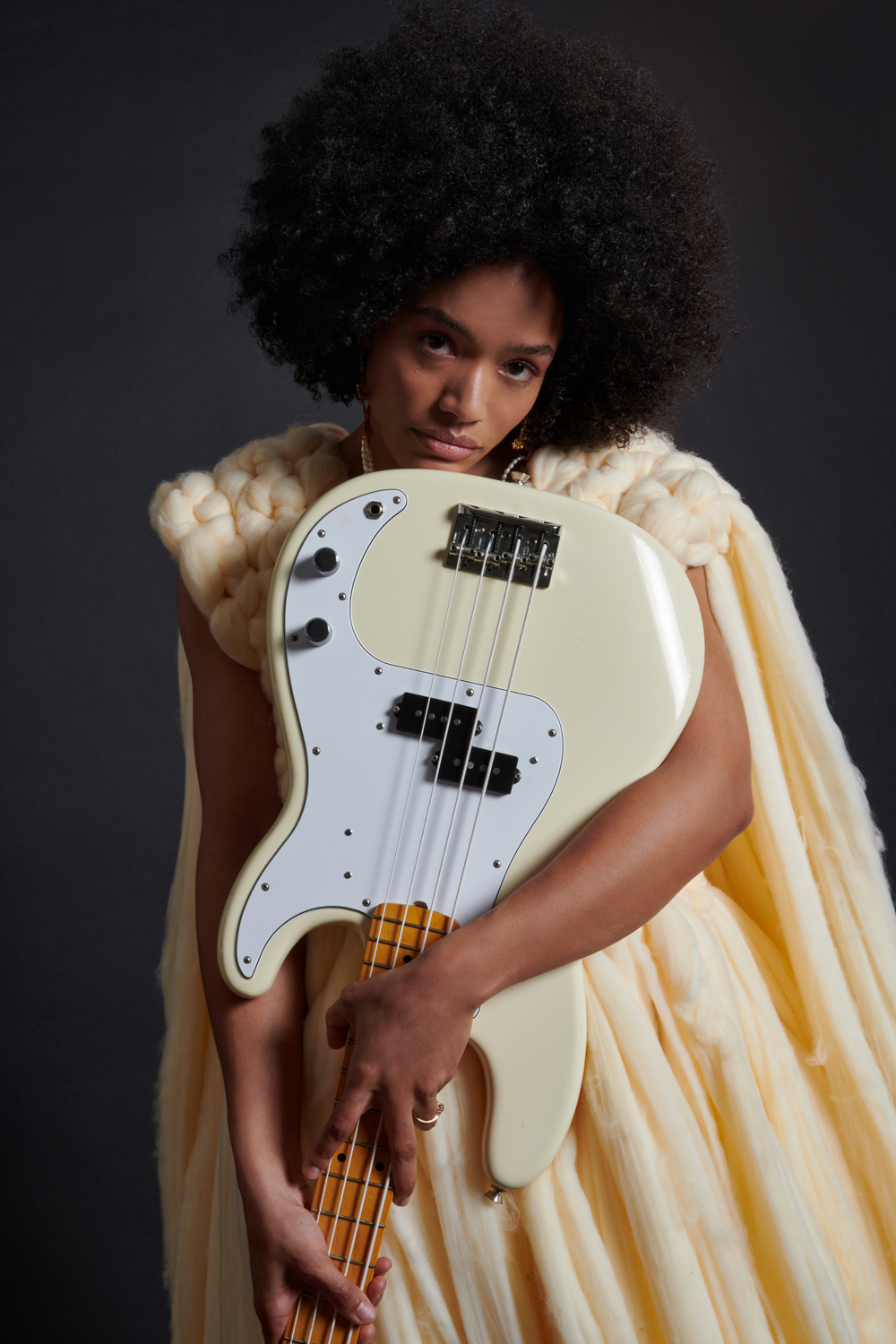 Who is someone that has been a big influence on you and your work?
Bette Davis is an iconic funk musician, designer, artist thinker and brilliant woman who died this year at age 77. One of the records she came out with was 'They Say I'm different,  it was all about her embracing all of the aspects of herself and sharing them. She had a huge influence on pop culture through Miles Davis and her relationship with him, she really influenced his sense of style. She is someone who I identify with because she led with her passion and with her creativity and allowed that to be the driving force in her life. Which meant her work and other aspects of her life enabled her to have the influence and the legacy that she had. It was so moving when she died seeing so many artists that I follow and will look up to post her and talk about how she influenced them as well. We do matter.
You've been a musician since you were a kid, can you tell us how performing feeds into your activism and modeling?
When I was growing up in Austin TX I would organize benefit concerts. I was always in at least one band, sometimes up to three or more at a time!  At the benefit concerts, bands from the youth music scene in Austin back in the early aughts would play shows and we would donate the proceeds to different causes or use it to fund the other activist work we were doing. I was involved with a lot of work ground counter military recruitment as well as organizing labor organizing with the Coalition of Immokalee workers based in southern Florida. So my work my music, activism, and organizing has always been combined. Someone else I really look up to is Aretha Franklin, an activist alongside a musician they're not separate for me and that was a key component of Aretha Franklin's story – her activism was integrated into her music career.
Modeling it's similar to me. I'm curvy, I'm not the usual modeling body type and yeah I also do have a lot of privileges when it comes to including the way I look. Both of those things are true. With modeling, if someone casts me they're making a statement that that model looks different than one type of way. I moved to New York about six years ago and posted to social, building up my following and just being creative on social media, that's how I got my earlier modeling jobs and New York City. Because I was always open about social justice causes that are important to me and was talking about mental health issues, the modeling projects I would get cast for would be along those lines as well. I got signed I signed with the 'We Speak' modeling agency a couple years ago, they're really also activism oriented and so they were always really linked for me, particularly since my time in New York.
Can you share what's next for you musically? Are you able to tell us what band or bands you were doing session work with in LA or is that top secret, yet-to-be-released tracks and videos? One cool thing that I did out there is I worked on the theme music with the abolition X team and their podcast with Spotify so definitely check out that music that was with question culture with Ricky Reseda and with Indigo Mateo so shout out to them and definitely check that out! I've also performed with Caroline Kingsbury and B00ty who are to LA-based bands and so to also check out their music, it's very cool.
I cannot talk about most of the projects right now that are in the works but if you follow me on my Instagram you will definitely see and hear information about them as they drop. There are very very exciting things to come!
Abolition X – https://open.spotify.com/show/2XHbGCYwELws1tRqfWIqSq
B00TY –  https://www.instagram.com/b00tymusic
Caroline Kingsbury – https://www.instagram.com/kingsburyxx/
What else are you looking forward to? Will you and or Imanigold be doing more live shows?
We are releasing our EP in September which is thrilling. I'm looking forward to the song 'Comfort'. The sound is all about the feeling of being with other people, whether that's at a concert or in the subway or even the experience of being alone and knowing you're connected with others. How there's a sense of cathartic release that comes from music. I'm really excited to see how the EP plays out in the world. We've been working on it for a really really long time and I'm so excited to see to put it out there.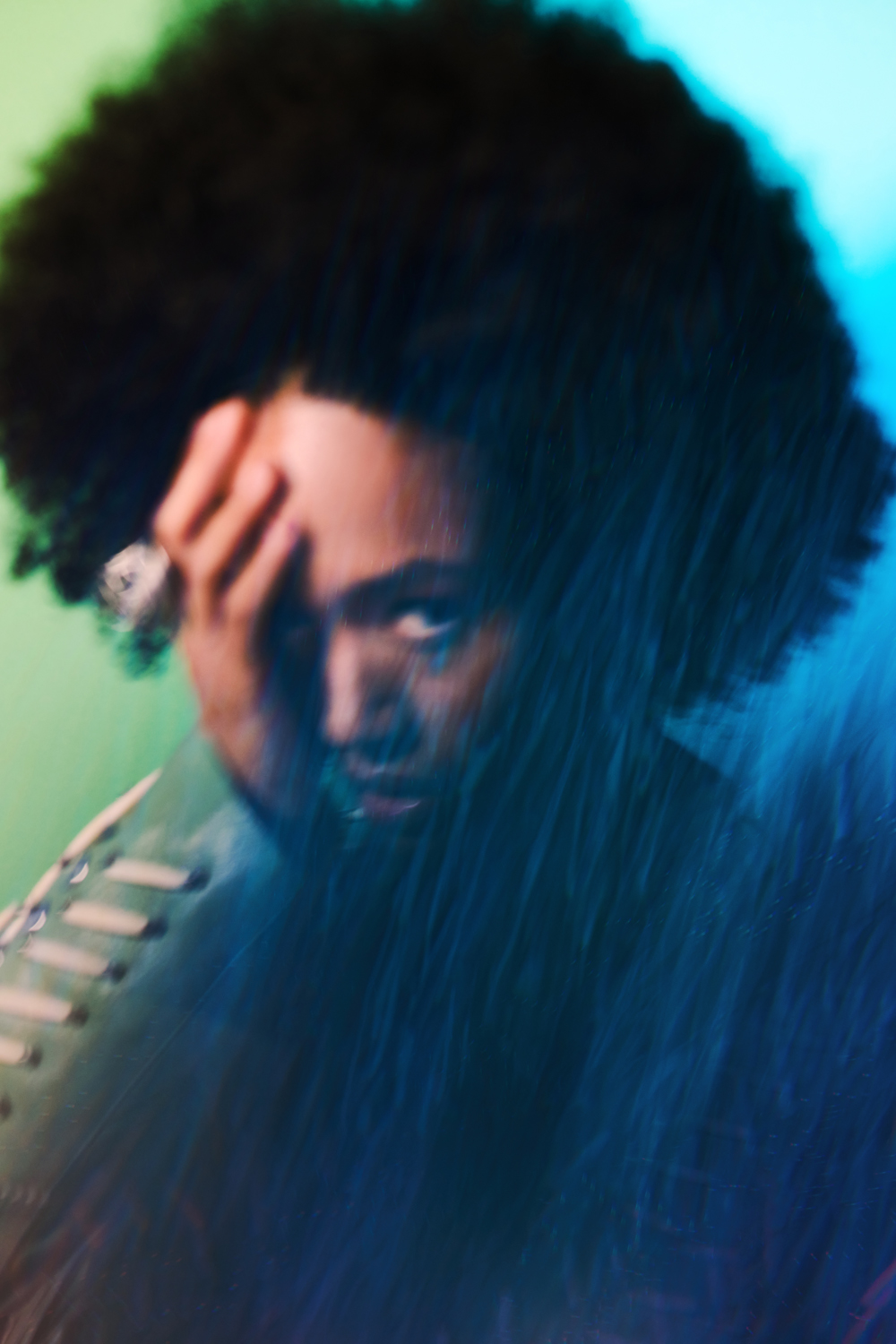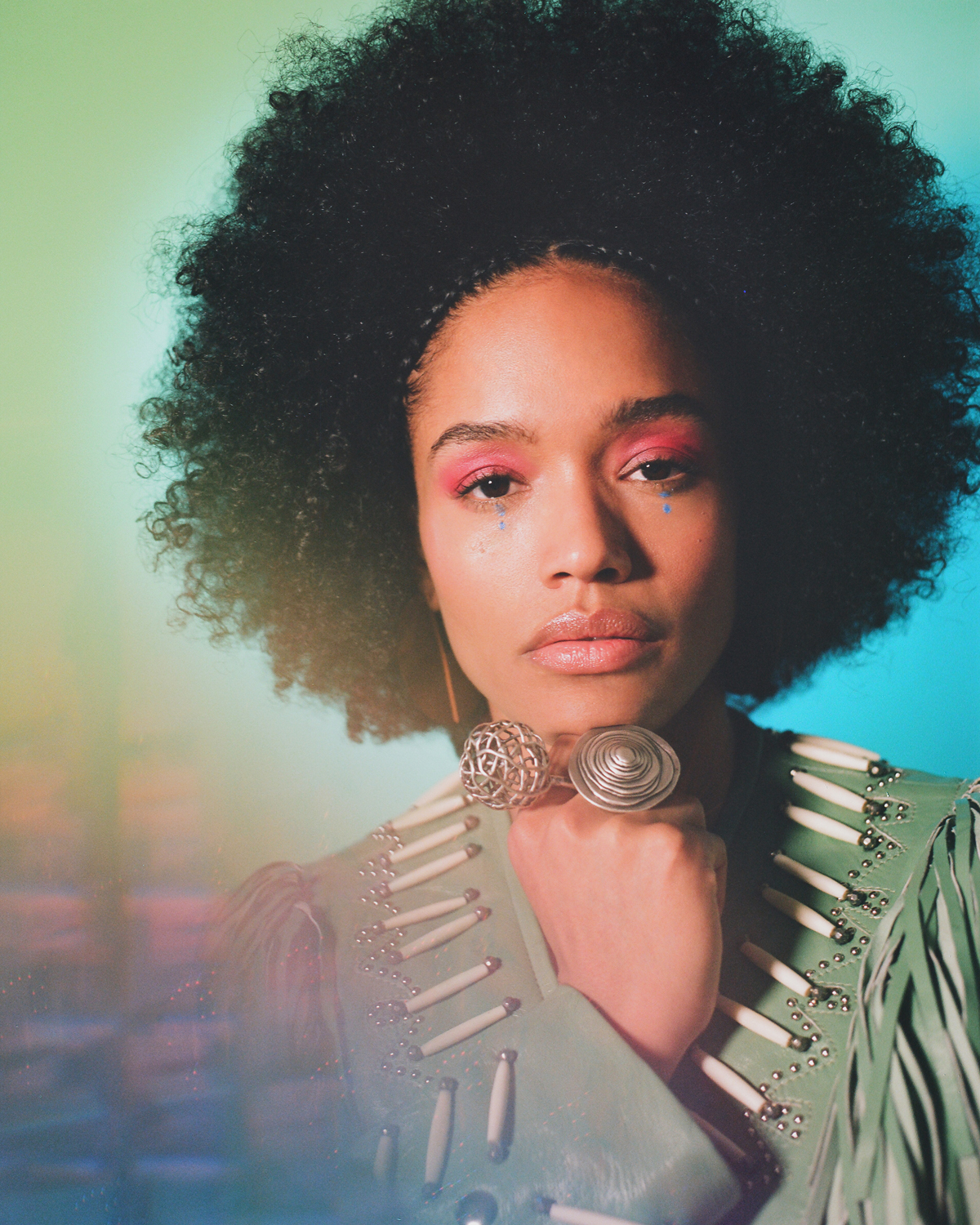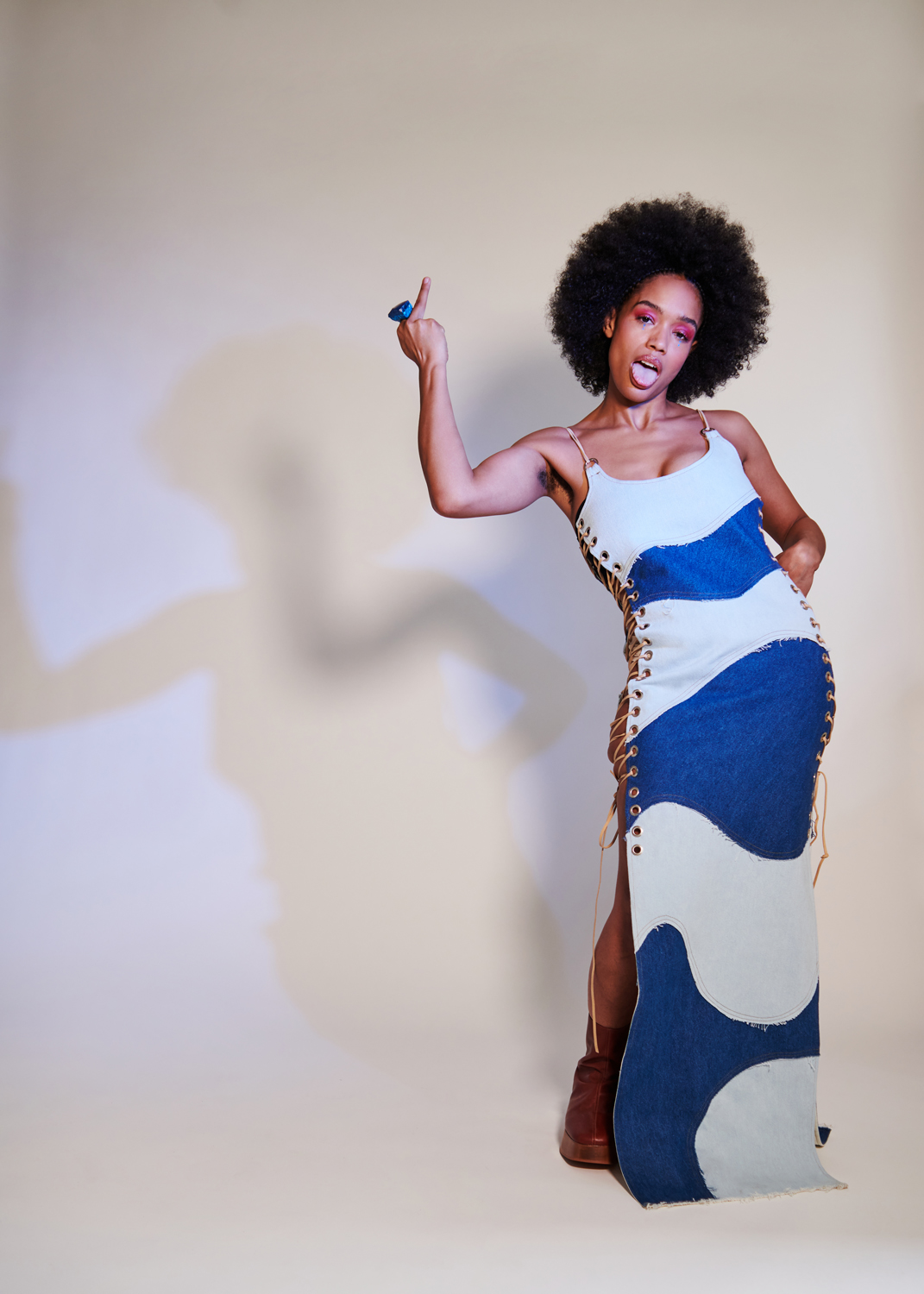 Dress – MPAZ STUDIO (IG @mpazstudio) Shoes – Utilitarian (IG @utilitarian_genderneutral) Ring – Jill.Herlands (IG @Jill.herlands)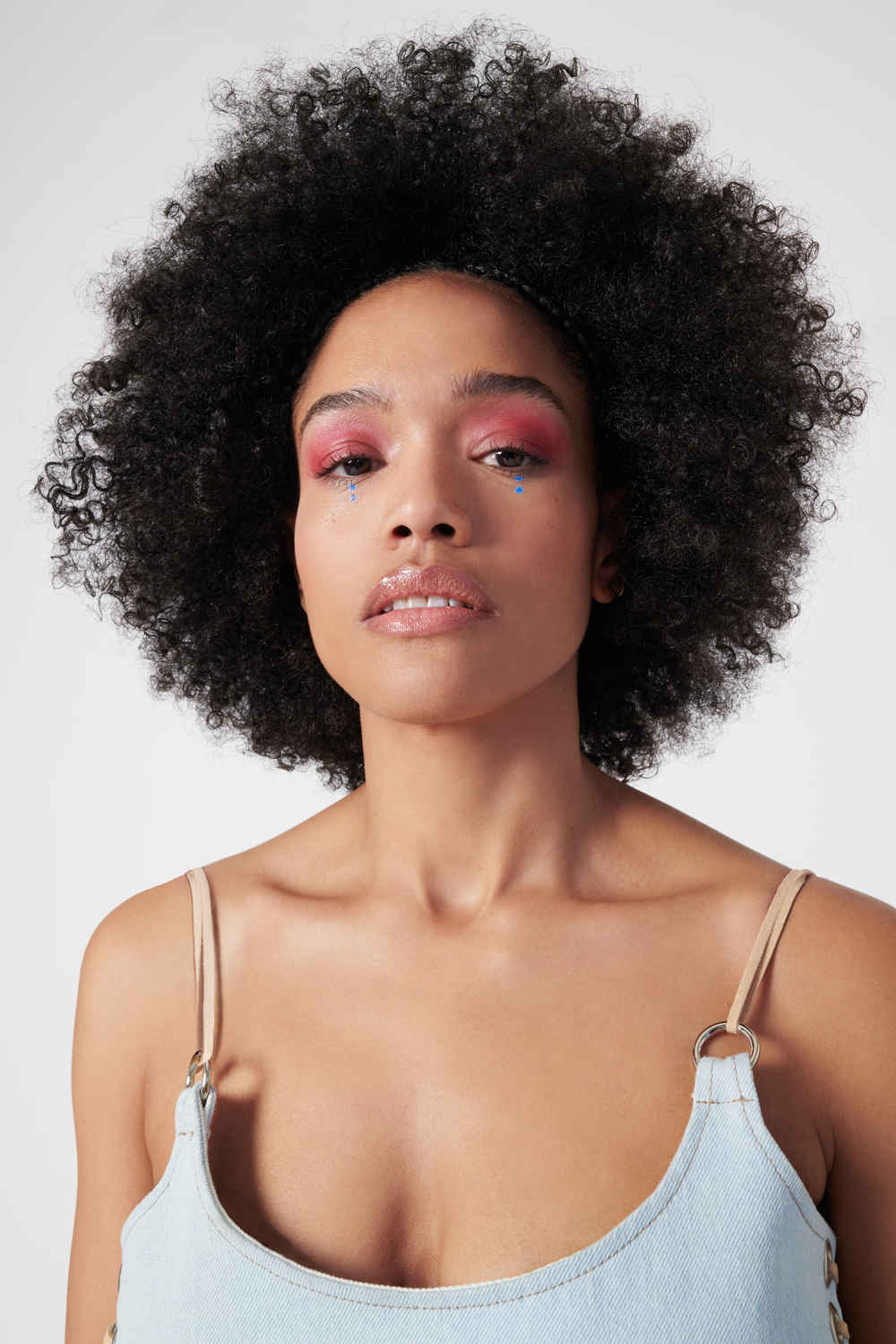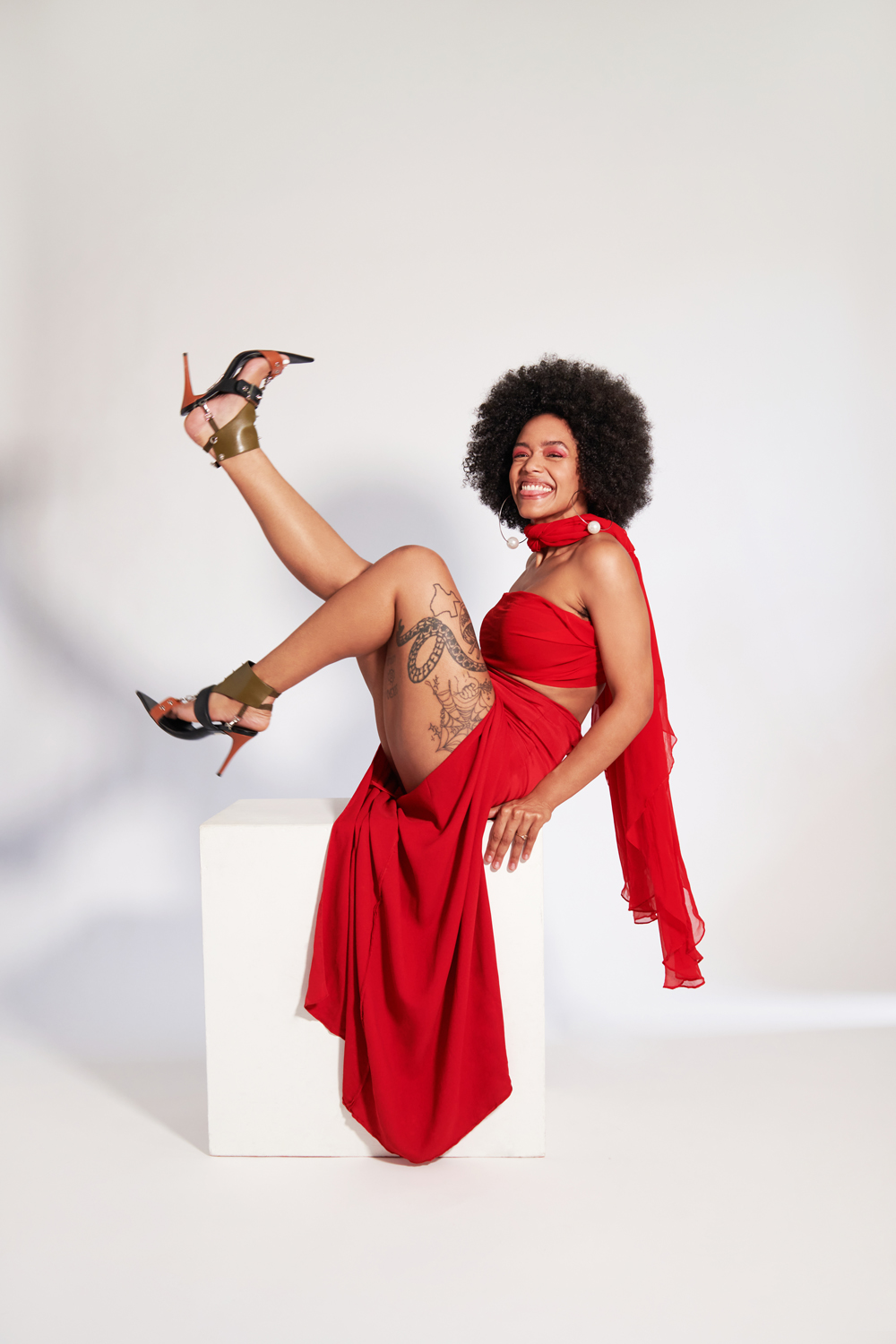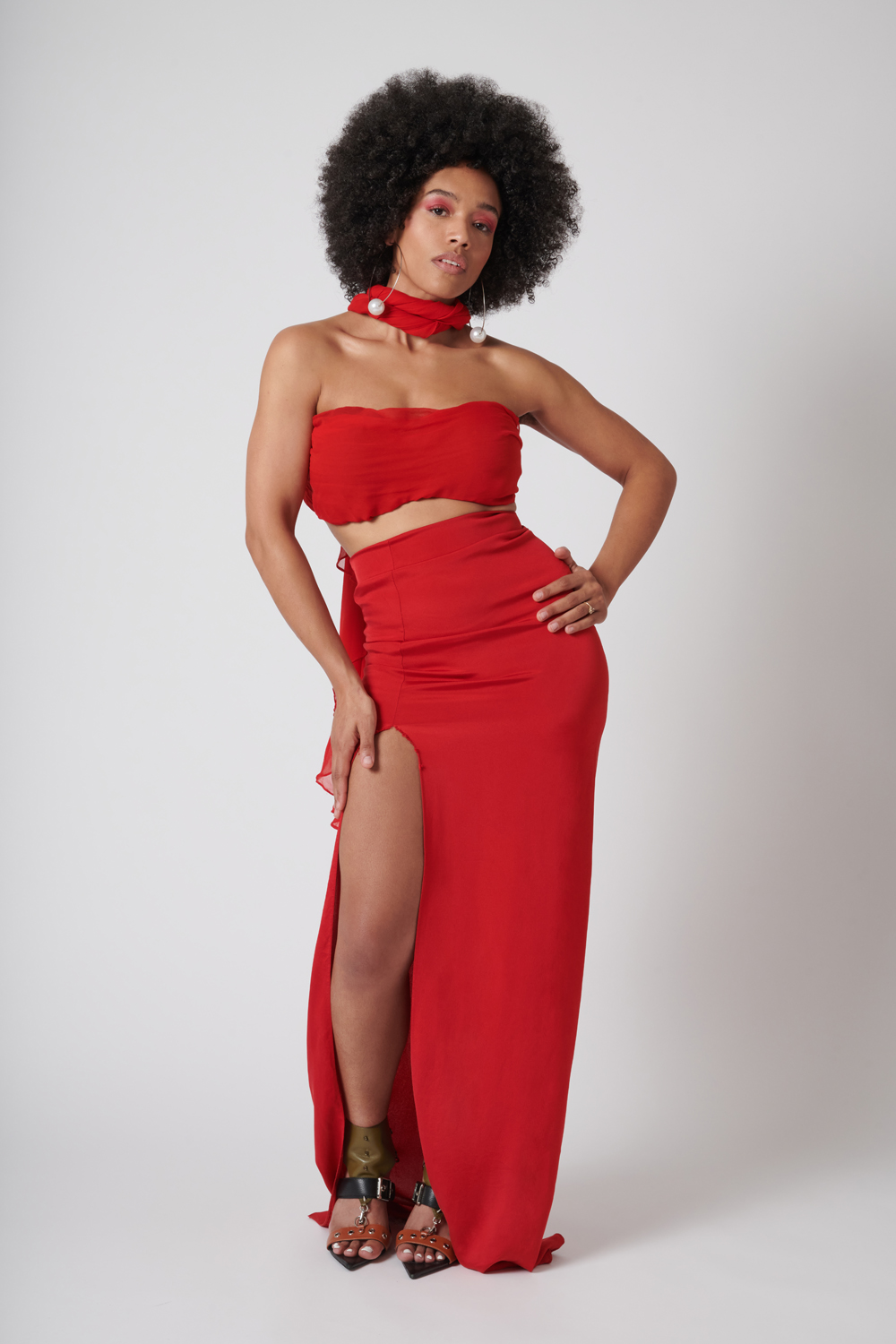 Skirt and top by NABYS VIELMAN (IG @nabysvielman) Earrings – Solomeina (IG @solomeinajewelry) Shoes – MOLLY (IG @brandedbymolly)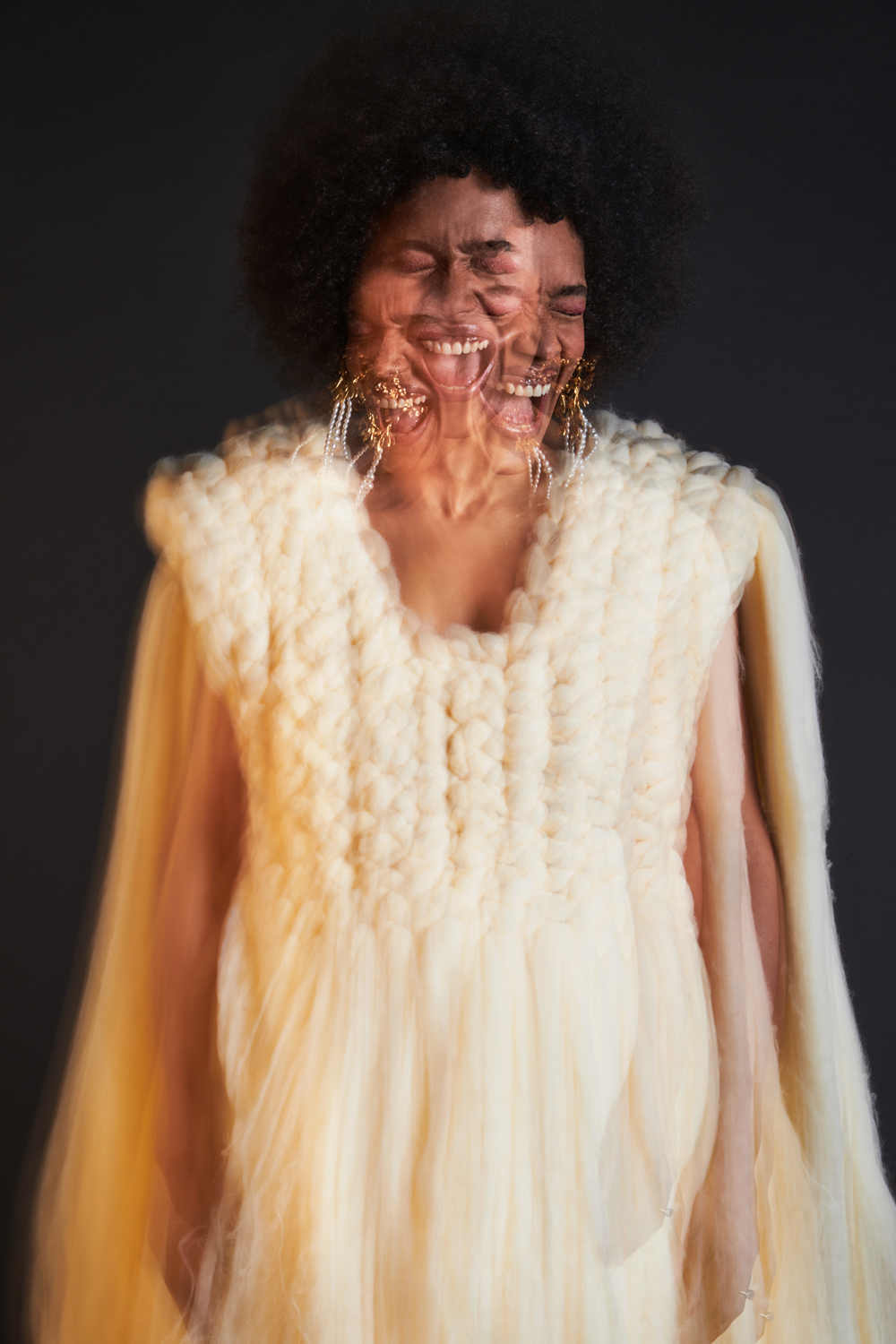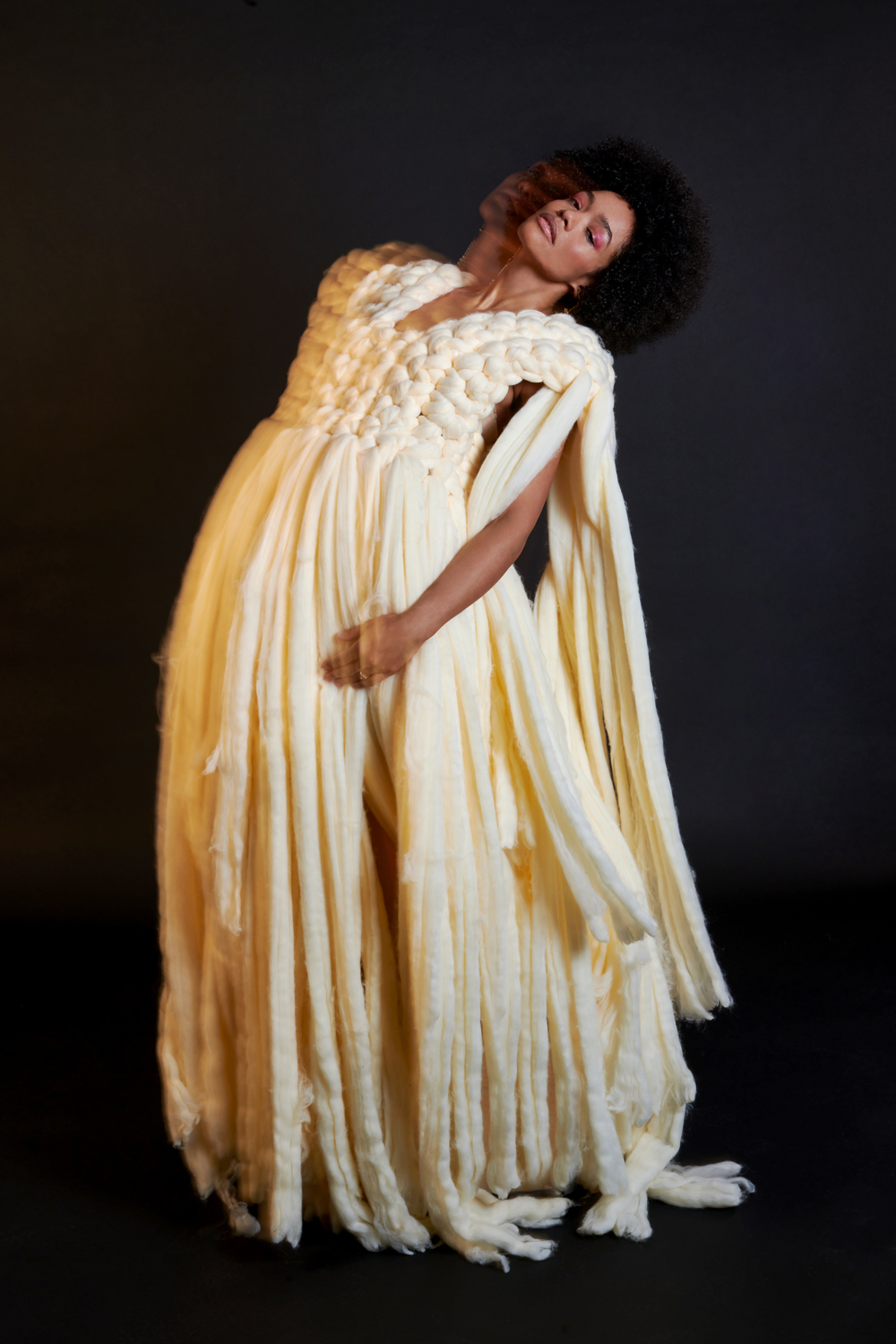 Dress by Viktoria Marchev (IG @viktoria.marchev) Earrings – Aracheli Studio (IG @arachelistudio)
Talent, April Kae, Bassist/musician/creative @aprilkae
Photographer & Interview, Jena Cumbo @jenacumbo
Stylist, Shola Shodipo @thefreestyller
MUA, Toby Klinger @tobymakeup
Hair, Virginia Gamez @virginiagamezhair