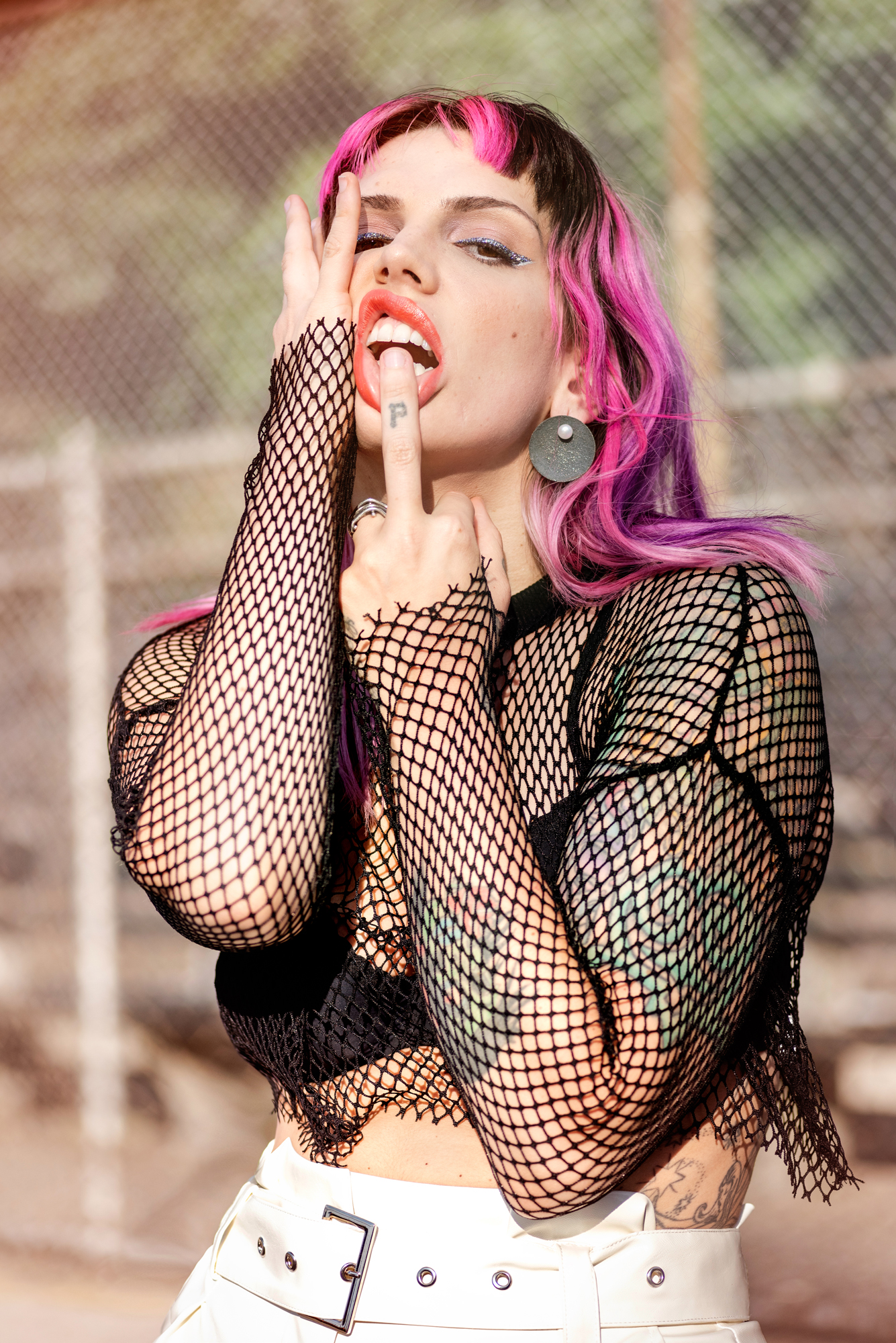 photos/Jena Cumbo
Styling/ Celeste Khosravanlou 
Hair + Makeup/ Gemma Iaquinta
story / Willa Bennett
Grunge-pop artist ALAENA wants to inspire young people to embrace who they are. Her honest lyrics, vivid video content, and genre-defying tracks speak for themselves. After leaving an internationally known death metal band, the artist packed her bags and moved to Los Angeles to pursue her independent music career.
Since then, her music has continued to break boundaries. With poignant lyrics that capture angst and comment on pop-culture, it's evident that ALAENA wants to leave her mark on the music industry.  She also went on to coin the term "grunge-pop."
In anticipation of her debut EP UNGUILTYPLEASURES, ALAENA sat down with LADYGUNN to discuss growing up, the arts, and her new music.
What type of art were you drawn to growing up?
My life growing up explains my eclectic style when it comes to genres. I was a very self-conscious teen. It wasn't until I grew up that I really came into my own. When I finally started to grow into my own, I realized that people could love me for me.
I wouldn't necessarily say that my taste in art has changed drastically since then, but it has definitely developed.  I've always had a part of me that stuck to who I really am. This is all definitely evident in my art.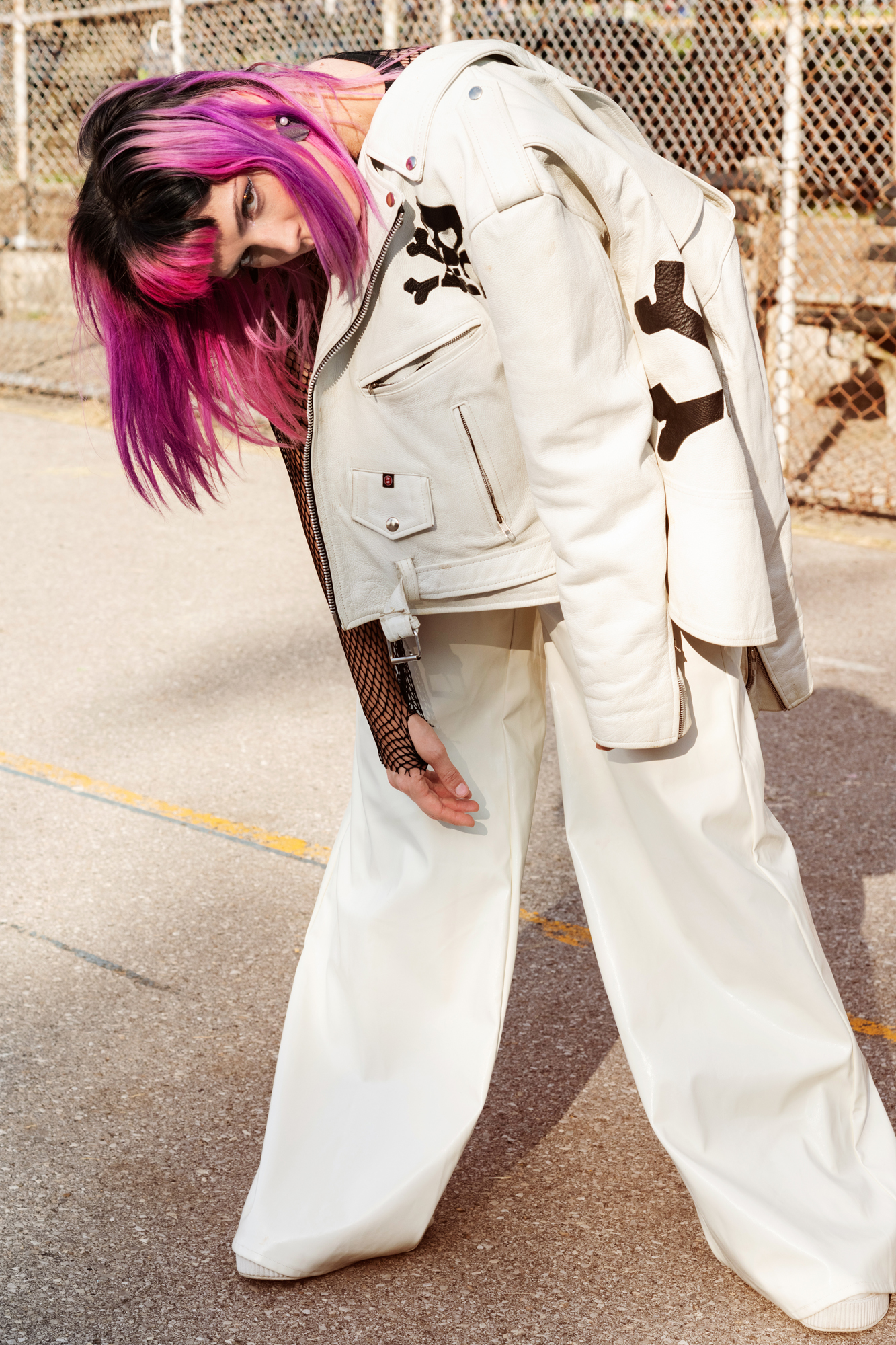 Pearl charcoal earring by Mariella Pilato. white pants by IAMGIA. bra, top, jacket and shoes artists own.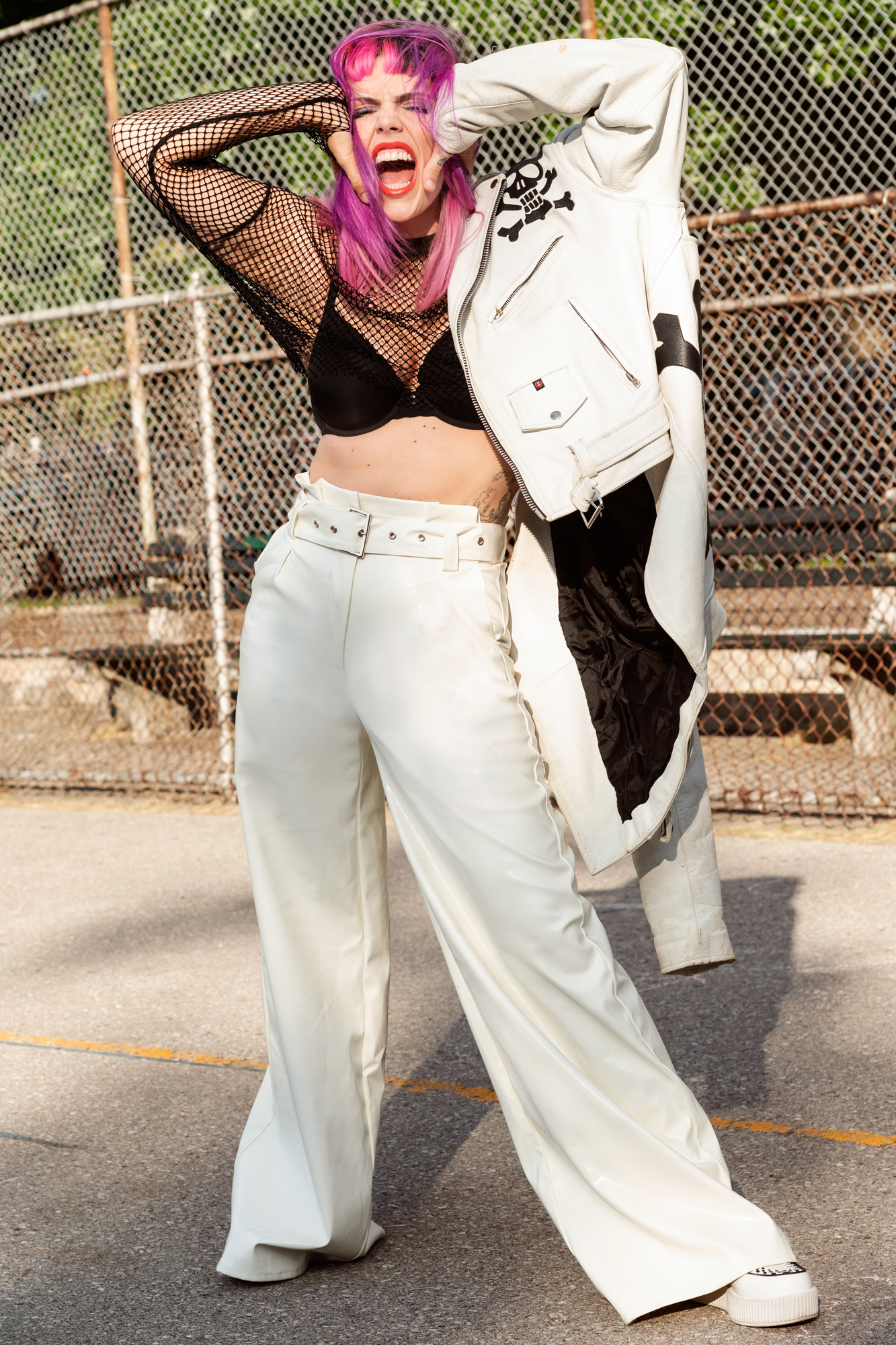 How do you think this influences your sound today?
My mom would listen to music all of the time. Everyday there would be a record playing in her old victorian home. She was an antique collector so records and record players were on every floor. I've always loved singing and I've always envisioned myself as an artist.
My mom used to save her money  to buy me instruments. She really was my push into the whole industry. She loved rock and alternative music, but also loved reggae and pop music. It wasn't until I was 14 when I started listening to metal and fantasy style music which continues to shape my music today.
How would you describe your music to someone who hasn't heard it yet?
If Marilyn Manson and Britney Spears had a baby, I would be that child. I wish my true parents would claim me already!
What are you most proud of?
I am most proud of being able to pull myself out of my darkest places mentally, and focus in on what truly matters. I am proud that I can be a role model to so many young people.  I honestly can't think of anything more fulfilling than that.
Everything I create has a vision in mind.  I take instances that happen in my real life.
How has YouTube influenced your music?
YouTube is a really cool outlet. It has definitely taught me that it is hard to get your music videos to go viral without being able to include trending keywords in the title.
I don't know what I would do if YouTube wasn't around. I'm obsessed with the idea of a "full package" look!
What are some other artists you admire right now?
I have been following Yungblud since he came out with that one video bombarding the college with his band playing his music. I am obsessed with his punk mentality and ability to speak to kids. It really gives me hope for the future generations coming up.
I really really want a collab with Marilyn Manson. I also have really been digging Bones UK, KFlay.. Imagine a female alternative rock collab how sick that could be.
Tell me about your new music!
My new music is full of collaborations. It has been pushing my limits left and I swear it is going to be the best yet. I have been really blessed to work with some really sick creatives that get my style and are down to make some weird and unique music! There is a lot of pop influence but it is still dark angsty and moody.
I can't wait to see what you think.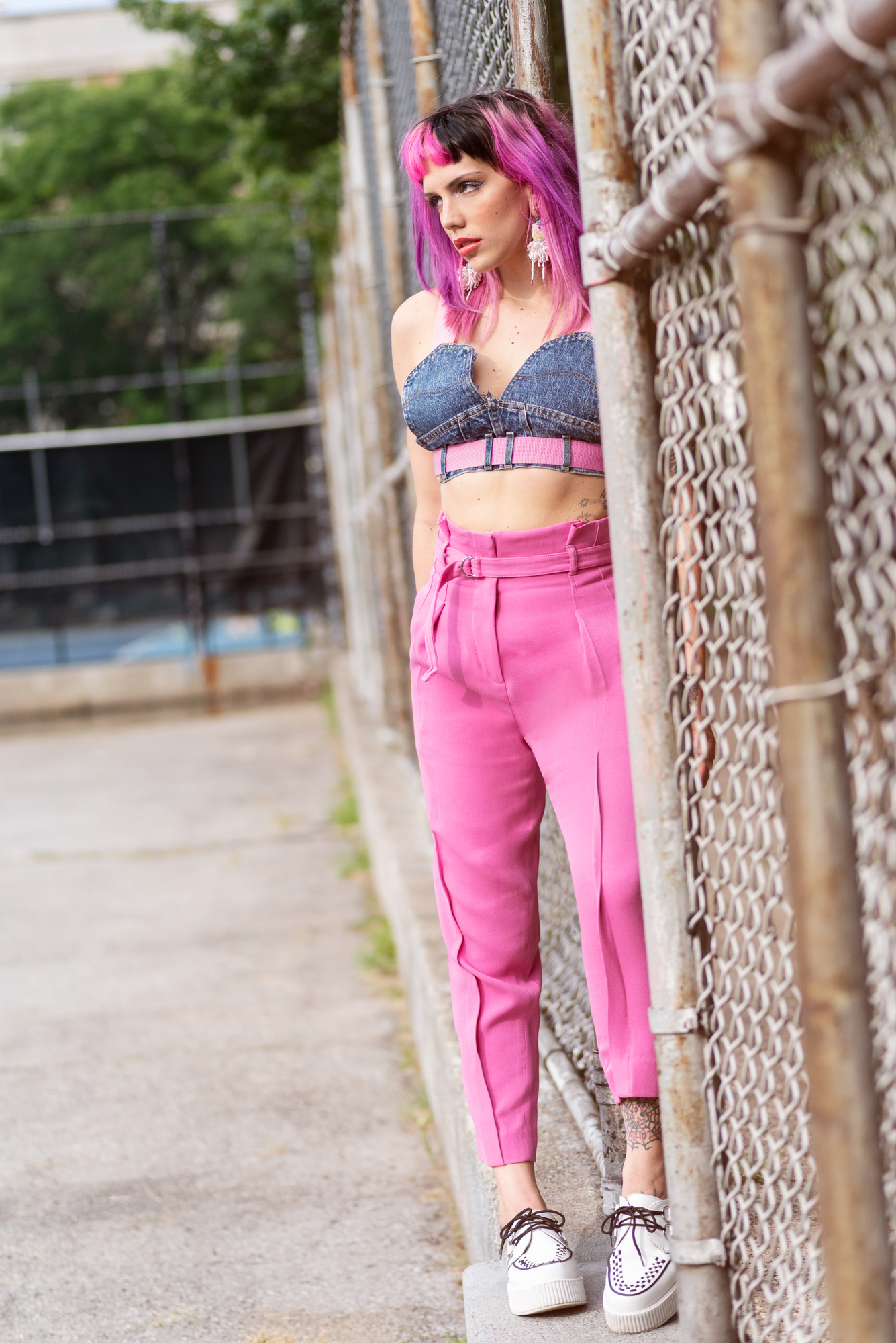 unicorn earrings by Baublebar. pink pants by Philip lim. bra top and shoes, Artist's own.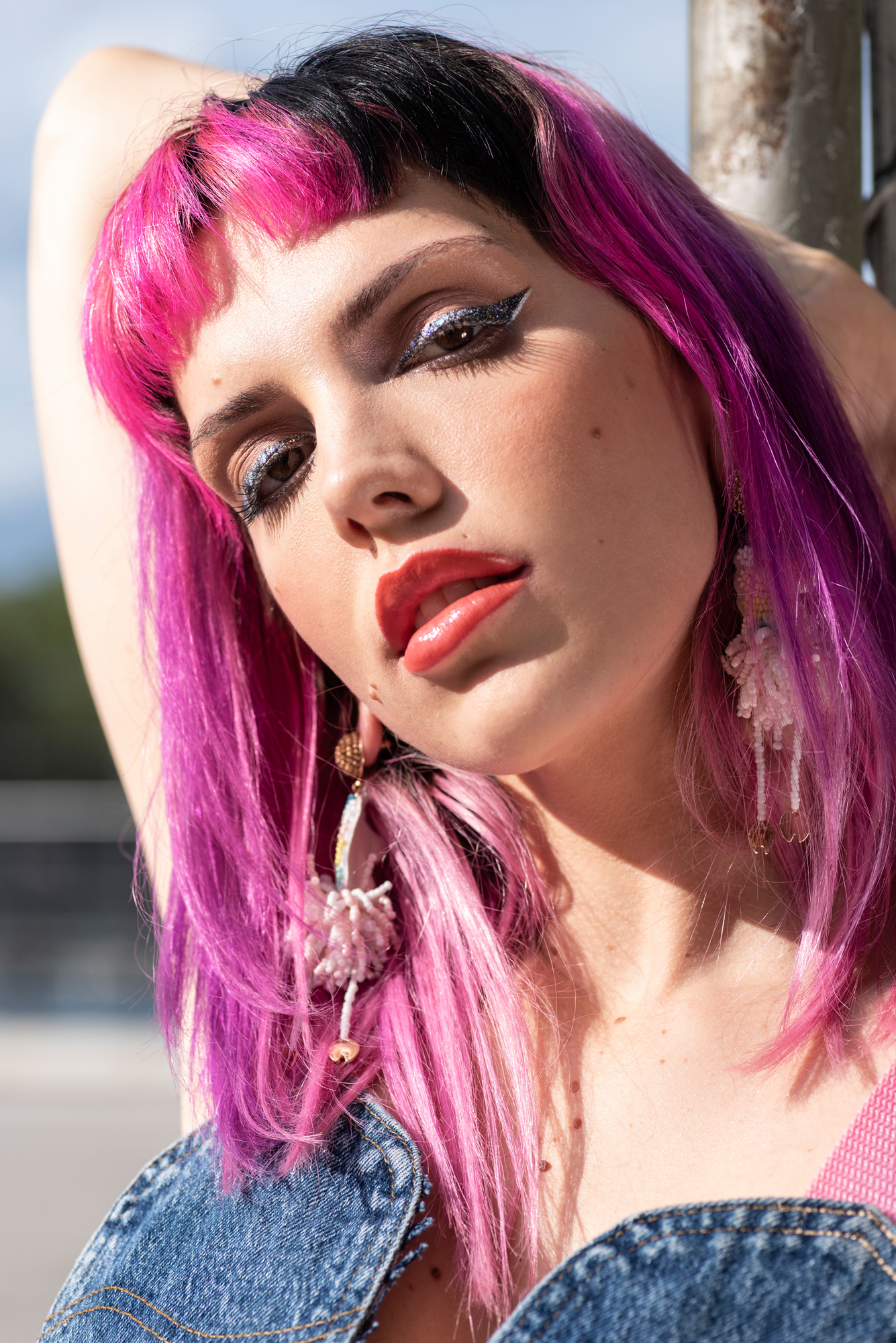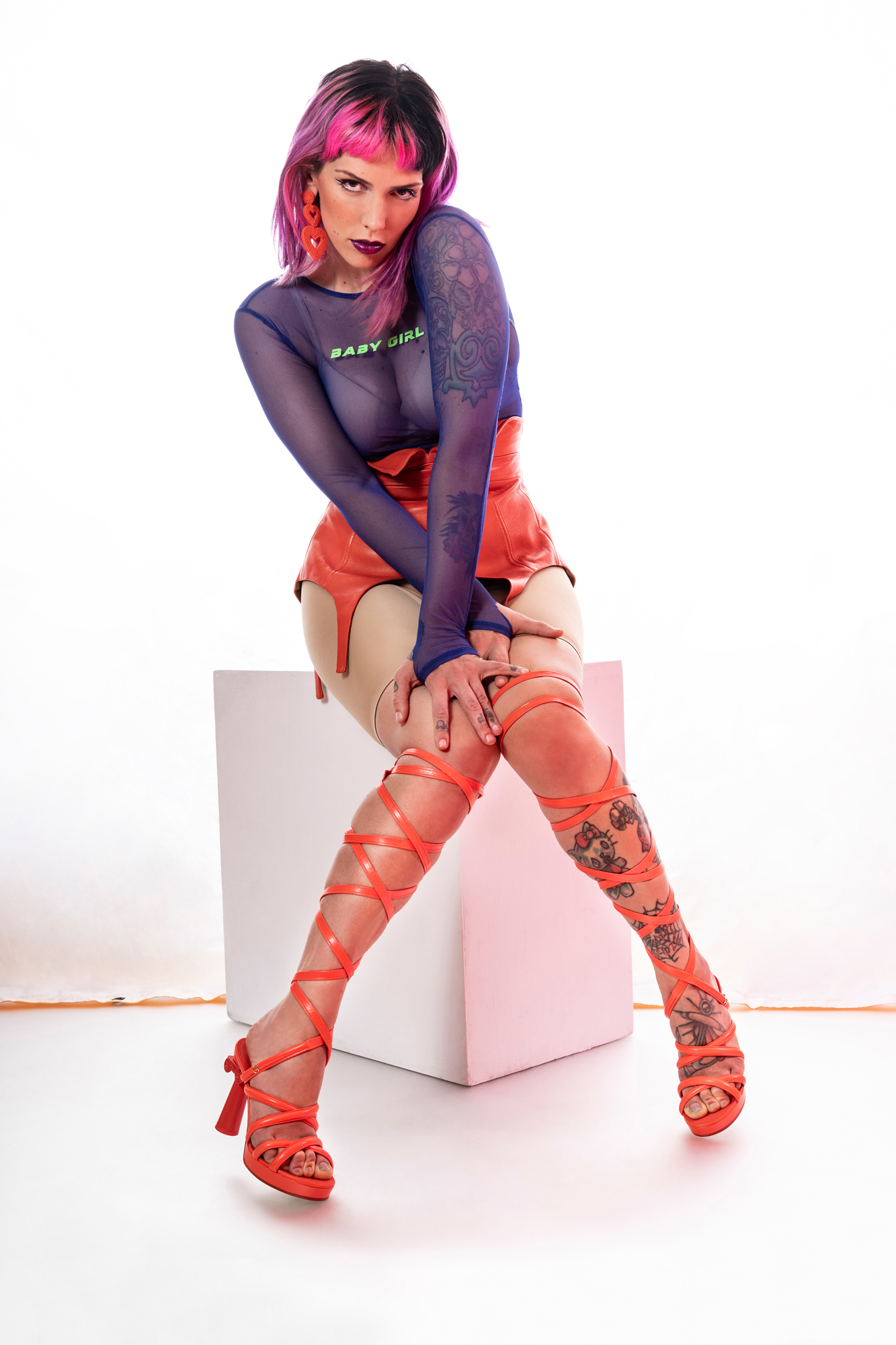 baska (orange belt) by J'ammeme @jammeme. orange shoes by Chanel. orange earrings by Baublebar. top and shorts, artist's own.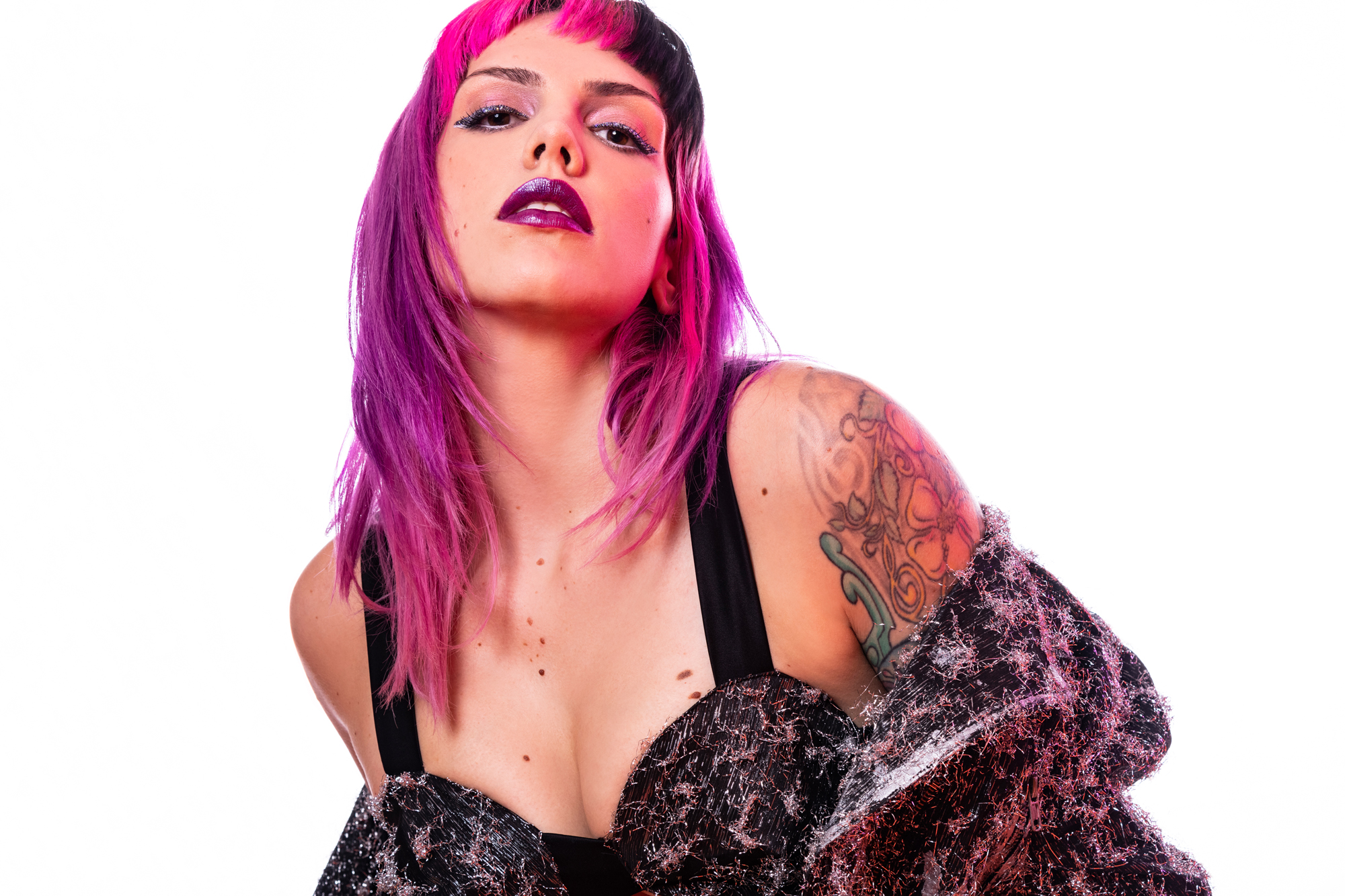 Bra and jacket by Videmus Omnia. black pants by RORA @roraclothing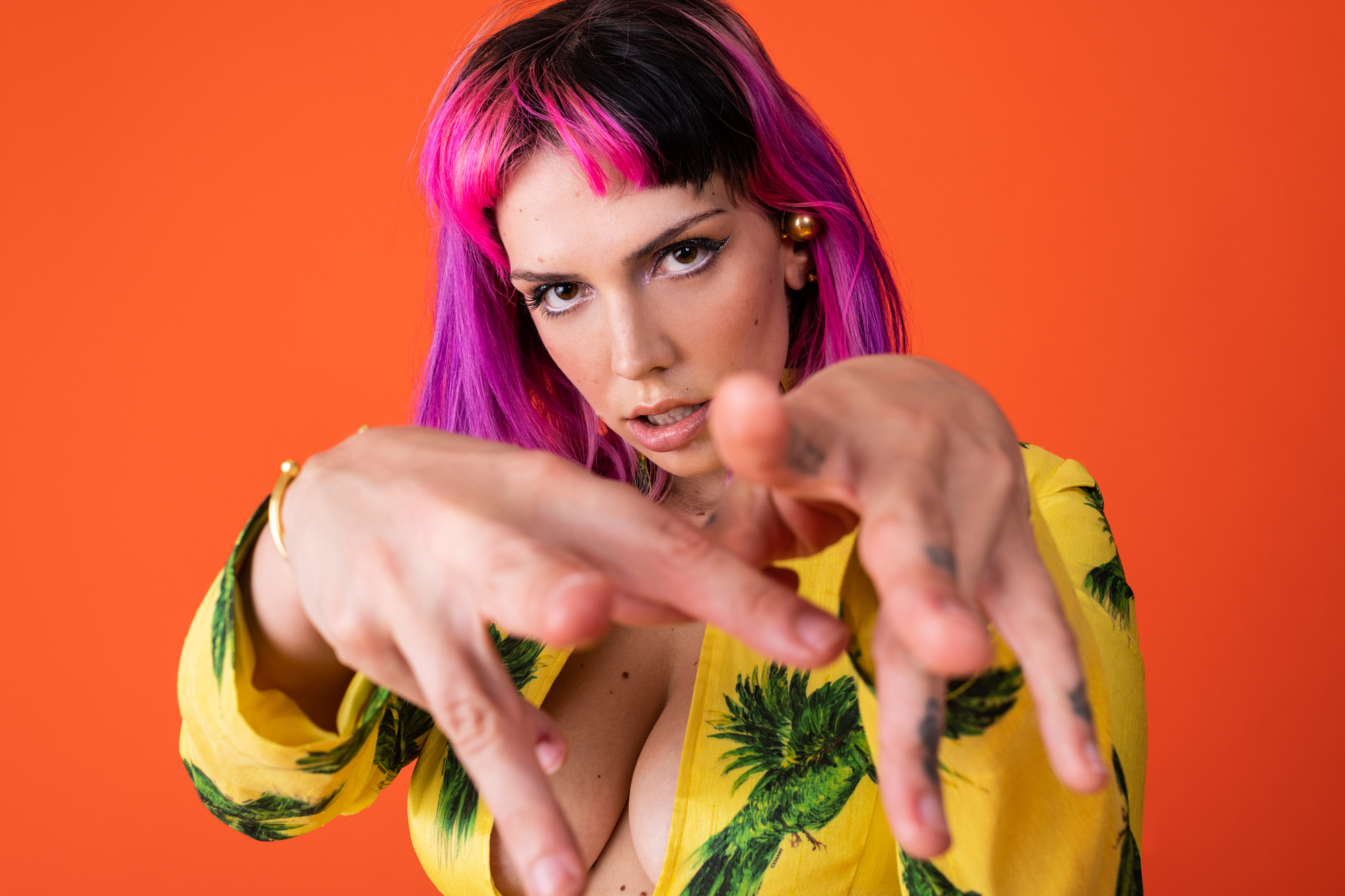 tropical top and bottom by Cessani @cessanimalta. ear cuff by Georgina Herrera @georginaherreradesigner. bracelet by Solomeina @solomeinajewelry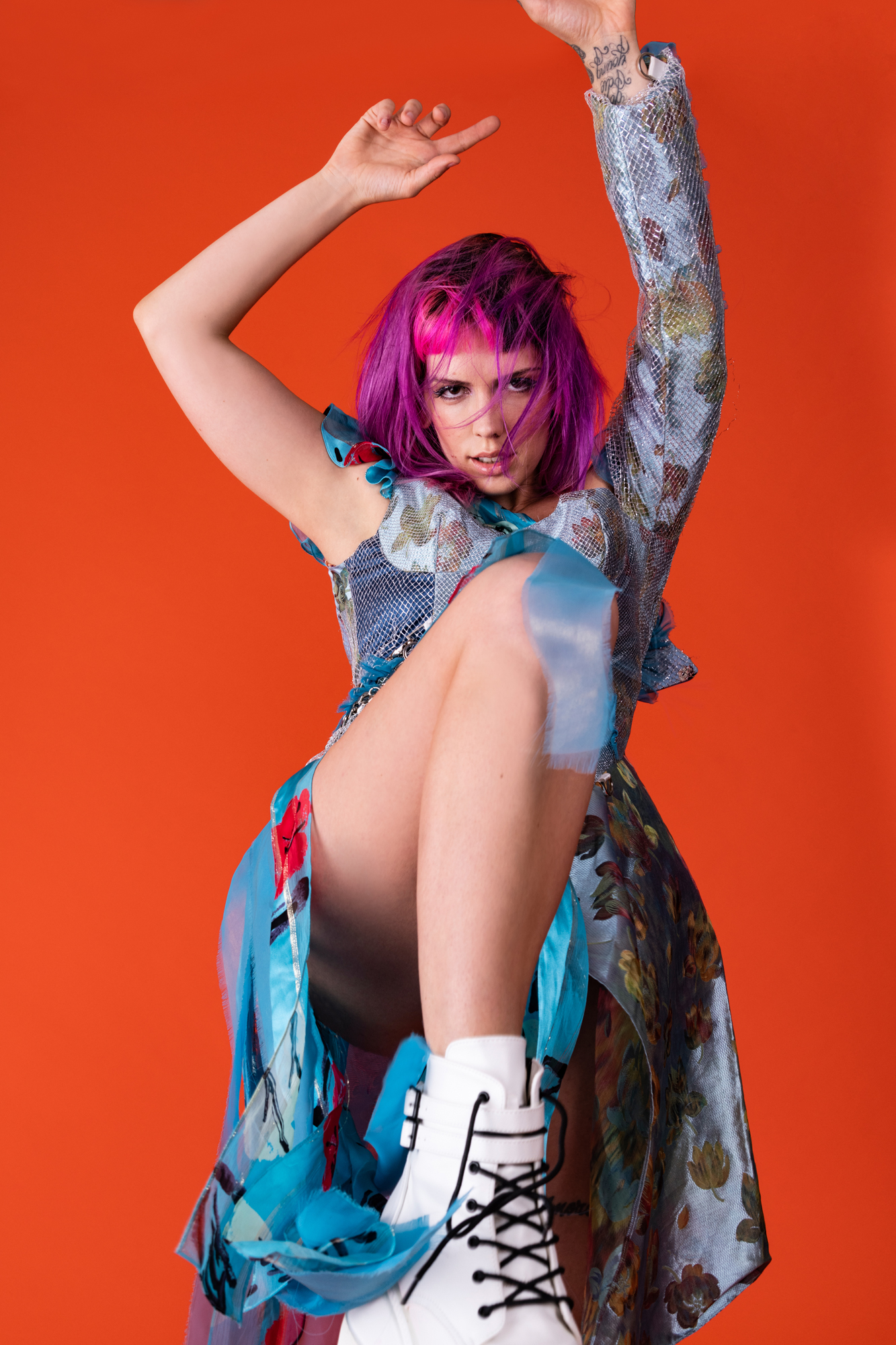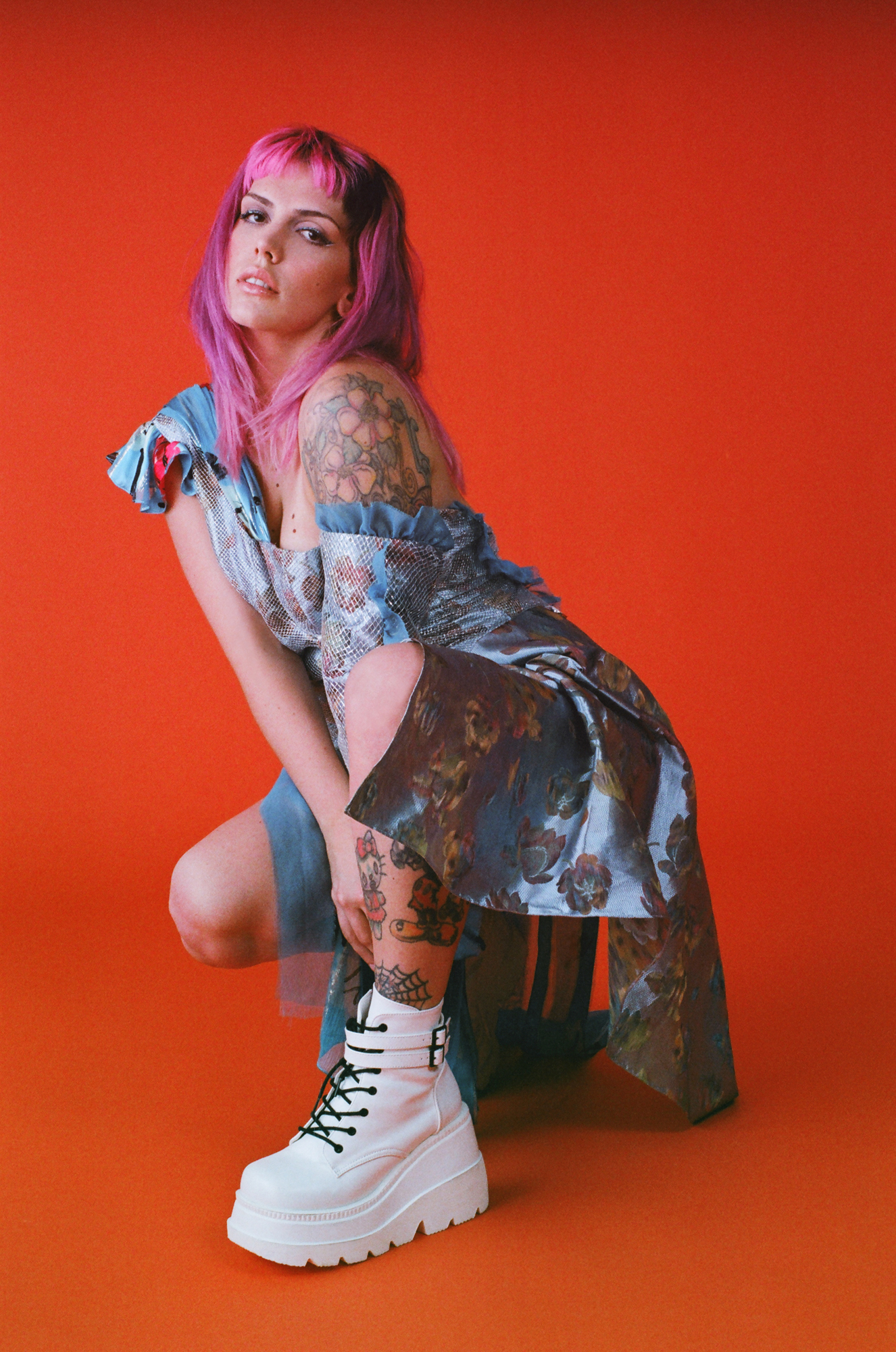 Fish net dress by Videmus Omnia. shoes, artists own
CONNECT WITH ALAENA: