Today we have an awesome interview with the mastermind behind the orchestral bedroom-pop project "Late July". We're of course talking about the wickedly multi-talented and equally hard-working Singer, Songwriter, and filmmaker Nicole Simone.
A proud redhead with a flair for the dramatic, Nicole seems to embody a bit of classic Hollywood starlettdom, however, her stunning appearance isn't just for show, as the Canadian-born artistic polymath also embodies the epitome of the self-made woman whose hands-on approach manifests in an ability to try and adapt to every creative opportunity she comes across with. She even produces and stars in her own tv series, "On A List".
Nicole's latest release is called "Sober", a harrowing yet ultimately uplifting account of what a person experience as they watch someone that they care about stumbling in their journey to sobriety.
Outside of music, Nicole counts with a healthy list of credits as an actor, producer, and director. She also does hella good canine charity work through her org, Redemption paws. Check out the details in this interview: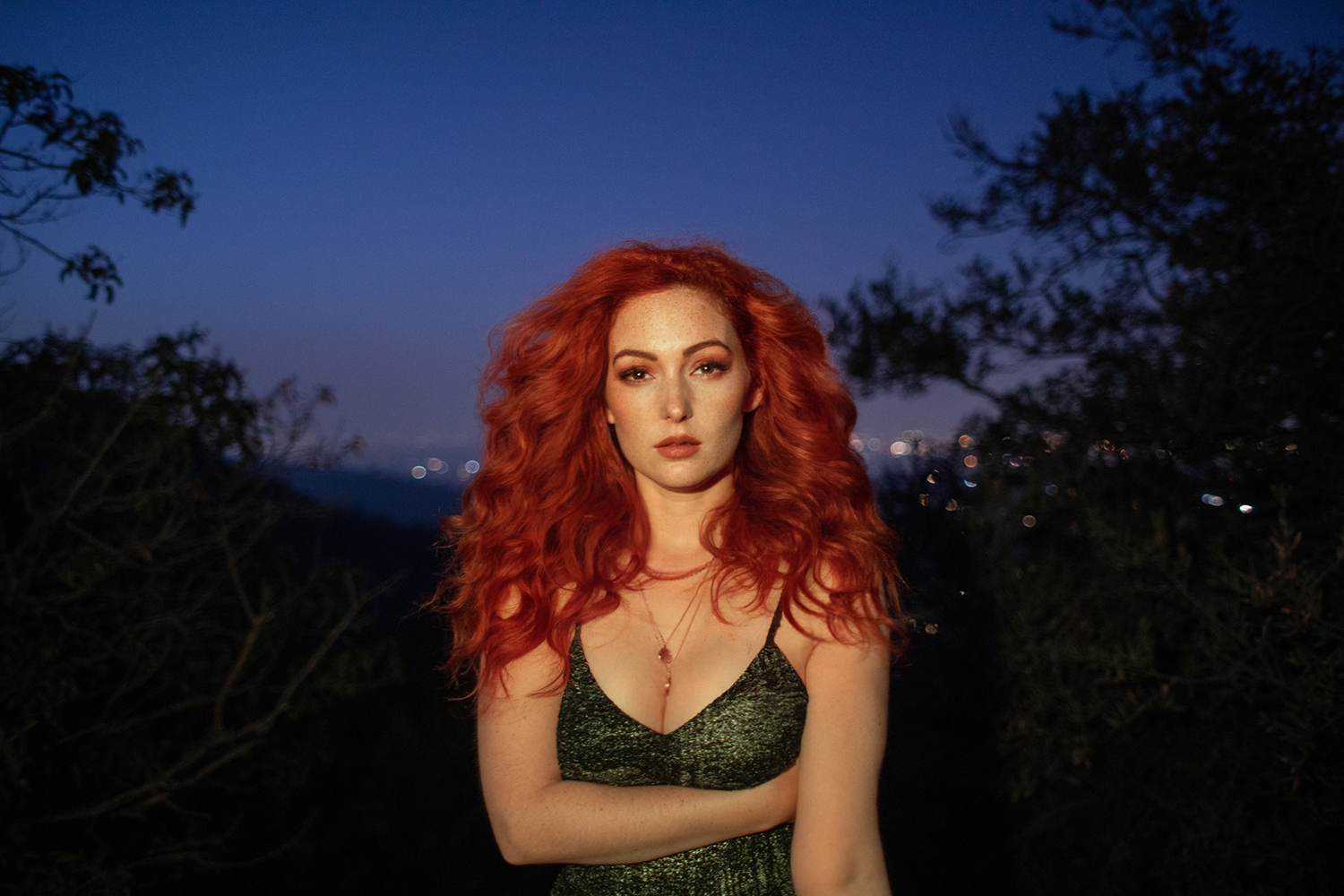 Tell us a bit about "Sober"- On the one hand, it sounds like a difficult song to write, but on the other, it also sounds like it's a weight-off-your-chest kind of piece.
Writing sober wasn't a song I put a lot of thought into initially. It had been some time since I had any interaction with the person but I guess on a long walk my thoughts just emptied out that way. I always wish people well, I want good things for them even when they aren't in my life anymore. Truly. This song was an open letter to that and also understanding that someone getting sober is a decision they can only make for themselves. They have to want to do it and the song is really just being in the perspective of just cheering someone on. I have been straight edge my entire life, I've never been drunk or high – not even a casual drink. So in this weird uncommon space when it comes to sobriety but I get the pressure put on by society to drink and party.
What lesson can you derive from that situation now that the song is out?
No matter how much you care about someone, and how invested you are, they have to do the work and make the changes for themselves. They have to be better, do better, and live better for themselves. Sobriety is kind of selfish in that way, no one else can help you. You can do all the therapy and go to all the meetings but unless you're willing to do all that internal work, nothing's going to change. I think that transcends into any general human struggle – we can dress the part but unless we address what's really going on nothing is going to change.
I really want to know where the Name "Late July" comes from.
I always get super restless in the middle of summer, it's a nice time of year in the Western Hemisphere but something about mid-summer makes me super creative and uneasy. I think that's pretty much what it feels like to be an artist, making yourself uncomfortable in order to create and have beautiful experiences, so I picked the name Late July. It's Leo season, so it's a lot of ostentatious energy but I am actually a Pisces born in March. A lot of people assume it's my birthday and I do have a little late July party every year.
Who do you cite as your biggest influences in music right now?
I'm really on a new wave kick. I guess I forever have been but kind of quirky 80's new wave artists who weren't necessarily huge but definitely had some major bops like Gowan, When In Rome, Strange Advance et cetera. I am always circling back to Elliott Smith's records and old Pavement records. Listening to a lot of new indie pop stuff like Goth Babe and Lean. At the same time, I'm obsessed with anything Jack Antonoff does, especially Bleachers. I think he's so talented.
Tell us a little bit about your work with Redemption Paws, where can people jump in to help?
Redemption Paws was a beautiful accident. One day I was sitting at a desk watching reports of dogs being euthanized in prep for Hurricane Harvey arriving, and five years later we've helped 3000 dogs go home. They can go to RedemptionPaws.org or Instagram.com/redemptionpaws We are launching our five-year fundraiser to keep going. Dog rescue in a recession is grim, dogs are always the first to get dumped – the organization can use all the support it can get!
You're not just a musician but also a pretty well-rounded filmmaker who's filled more than one role in that environment. Where does your passion for that artform come from and where do you see yourself with it in the future?
I always wanted to be Jason Schwartzman, actor/musician/writer – I love multidisciplinarian artists. So much of my core desire in being an artist is to create amazing experiences. I wish I cared more about the finished product at the end of the day but I fall in love with the prep and the process. Getting to make On A List was such a heartbreak, I loved writing and making that series. I am always working on scripts and I'm sure I'm going to pull the trigger on a new film project. In the interim I'm focusing on some fun music videos that I've wanted to make, I am just really careful who I work with, it all has to vibe and I only want to work with people that I'm going to have a lot of fun with while making quality work. It feels a bit selfish but I only want to work on things that I'm going to be having fun on 85% of the time. I used to work at a record store when I was really young like 15, and next door there was a VHS store that was going under called Fabulous Flicks. I used to go over after work and just pick random old VHS tapes like Jacob's Ladder or Deer Hunter or Shortcuts and I just got very into cinema that way. I always felt more compelled to write and direct than act, so I anticipate more of that. When you lead, you never get left behind so I think I always like to take charge for that reason.
Is there a final message relating to "Sober" that you'd like to leave people with?
Being sober is a life hack. The most successful people I know have quit drugs and alcohol. If you're thinking about getting sober, do it, join AA, do the program, it works. If you're with someone who is struggling, don't be afraid to walk away and cheer them on from a distance. We're all just walking each other home at the end of the day.
What's next for Late July?  What can you tell us about what you're working on?
I'm working on music with Kyle McCammon of Lean, working with legendary producer John Agnello and an up-and-coming songwriter and producer Jessica Taylor. I'm working on two movie scripts, a short film, and music videos. I just love that I get to make things, I feel like I'm getting away with something and I love it.
Photo credits: Courtesy of the Artist STORY: LADYGUNN STAFF
CONNECT WITH LATE JULY