Music and fashion feed off of one another. When one is doing well, the other thrives. A singer's talent and fame can help launch and sustain any brand they wear on their back; likewise, a line's popularity and appeal can help a music artist establish themselves aesthetically and socially, via fashion's cultural clout. 
And few brands understand this connection between the two worlds more than Private Policy, whose founders Siying Qu and Haoran Li have put their signature slanted checkerboard prints on sonic stars like Dua Lipa, Billie Eilish, Maluma, all of the Jonas Brothers, Usher, and many more. It would not be unfair to say that the music industry is one of the largest supporters of Private Policy—which can inform why the NYC-based high-end streetwear brand was approached by instrument technology company Donner to collaborate for their SS 23' runway show.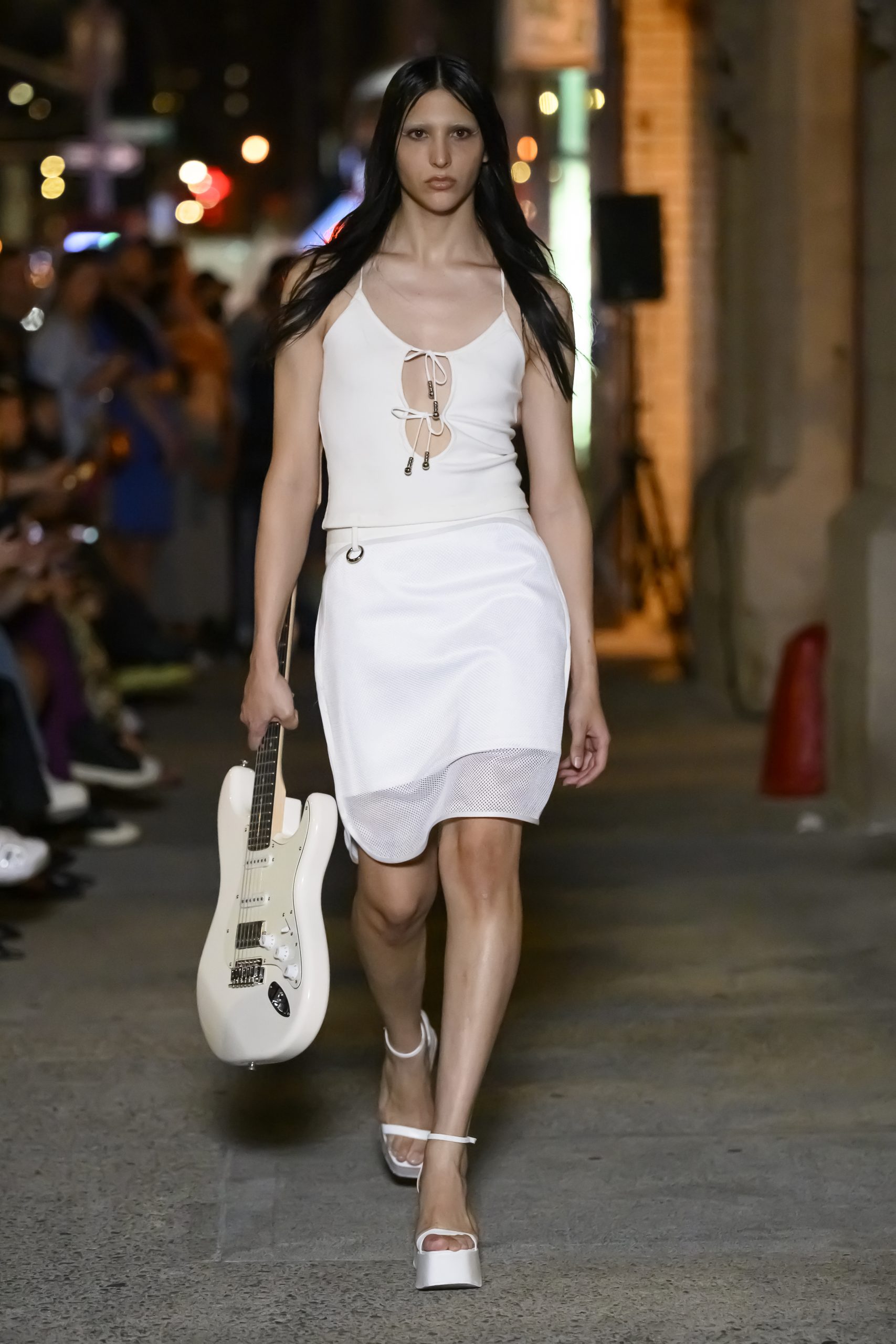 Image courtesy of David Smith
Donner, which was founded in 2012 and targets beginners and burgeoning performers as their customer base, provided a couple of their new DST-152 and DST-400 electric guitars for the show, all in a complimentary creamy white or void black colorway, which were worn by the models as they floated down the catwalk. Although brand new pieces, the Donner guitars all have distinctly 80s'-90s' rocker chick vibes, with poplar bodies and maple necks. The show, entitled "Noah's Ark," was meant to showcase a newfound Peace & Love in the world, and even featured models walking in pairs to symbolize the pairing of animals in the Biblical tale, as well as dove graphics affixed to the usual Private Policy patterns. And, really, what two things bring love and peace to this planet more than music and fashion?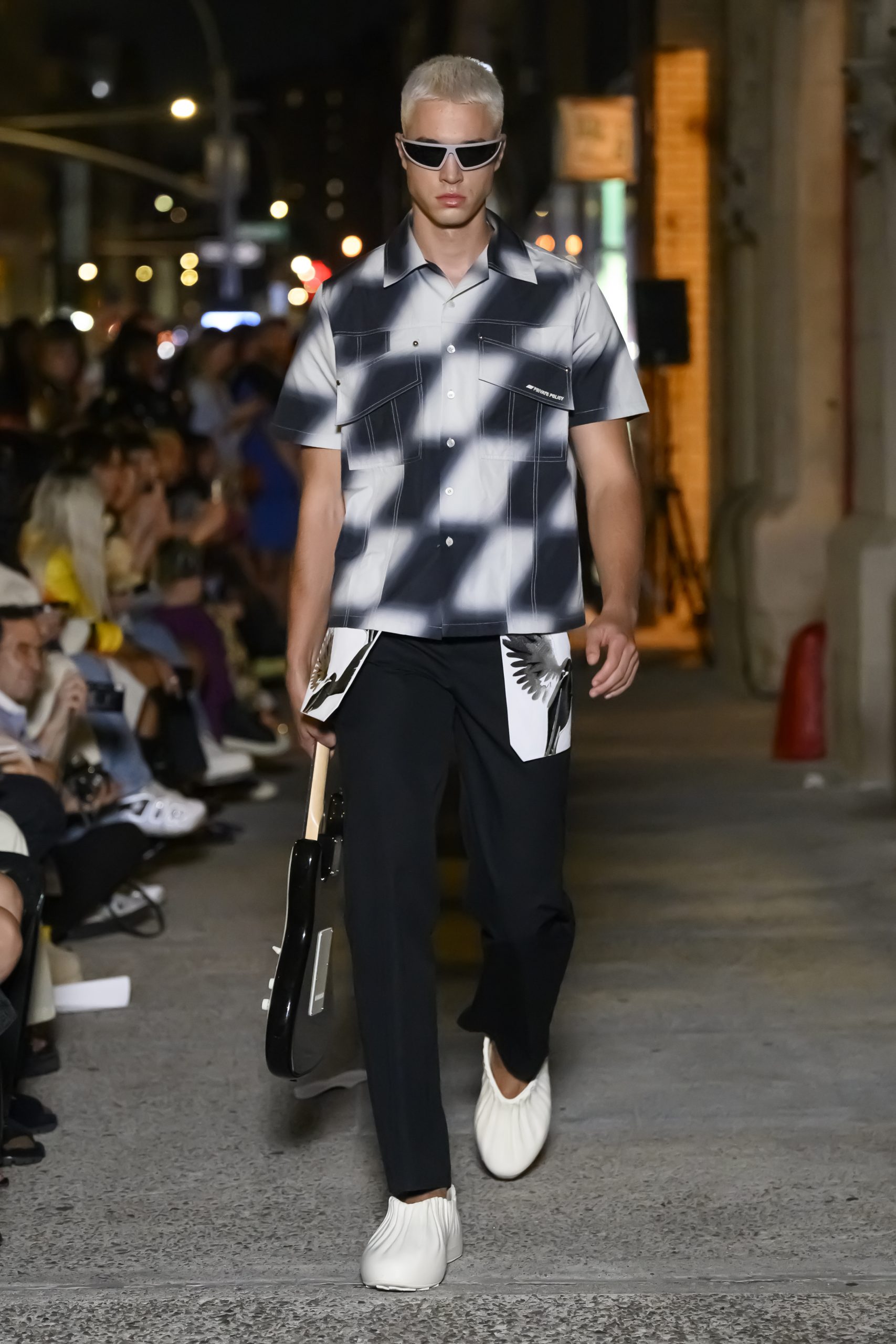 Image courtesy of David Smith
"The connection between the two is super important!" designer Siying Qu tells us of the relationship between the artistic disciplines. "I like to see music as emotion and spirit. A song list, like a closet, can show a lot about a person. And collectively, music and fashion reflect our society. Which is why, I think, the guitar feature with Donner is so special, and so effortlessly cool."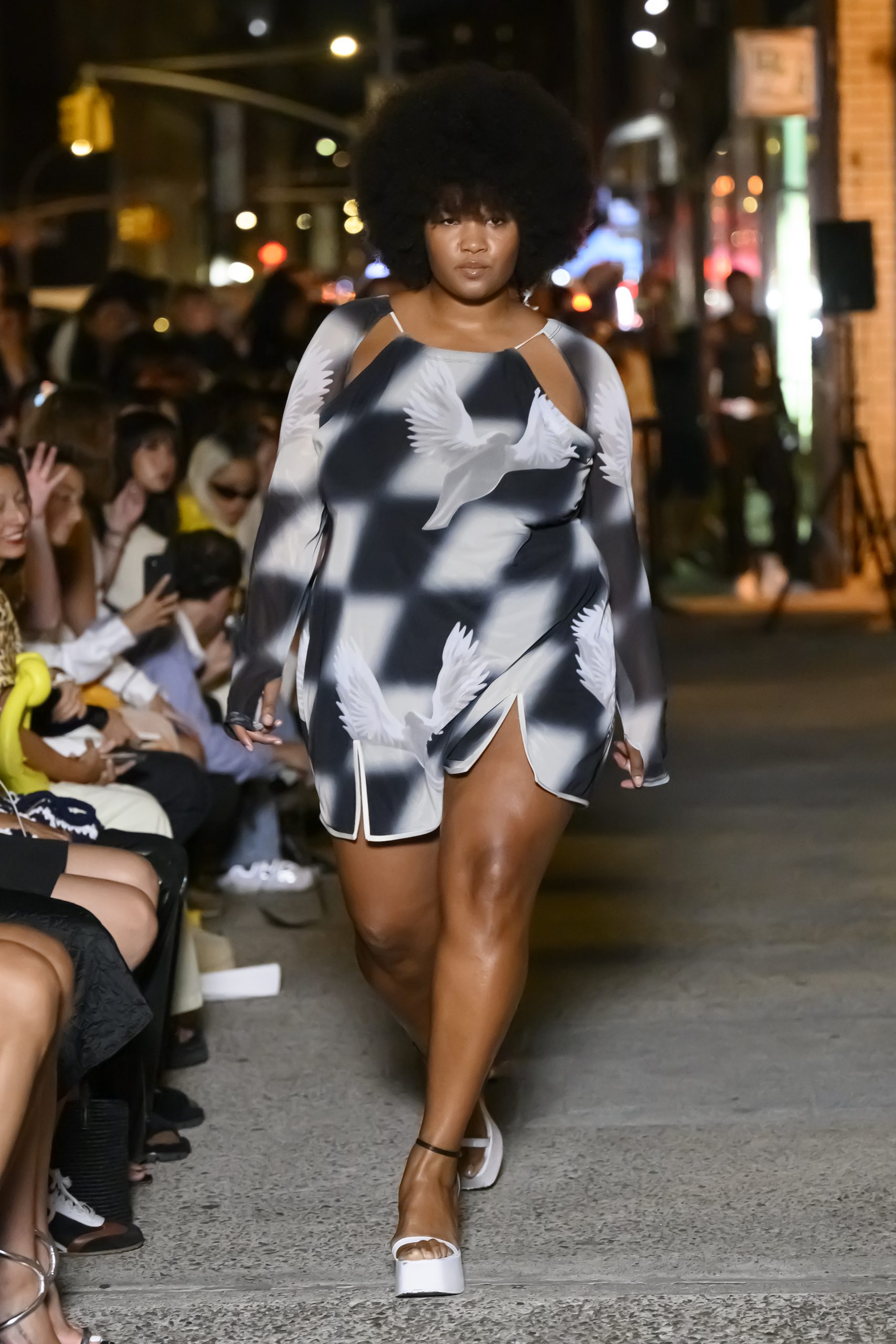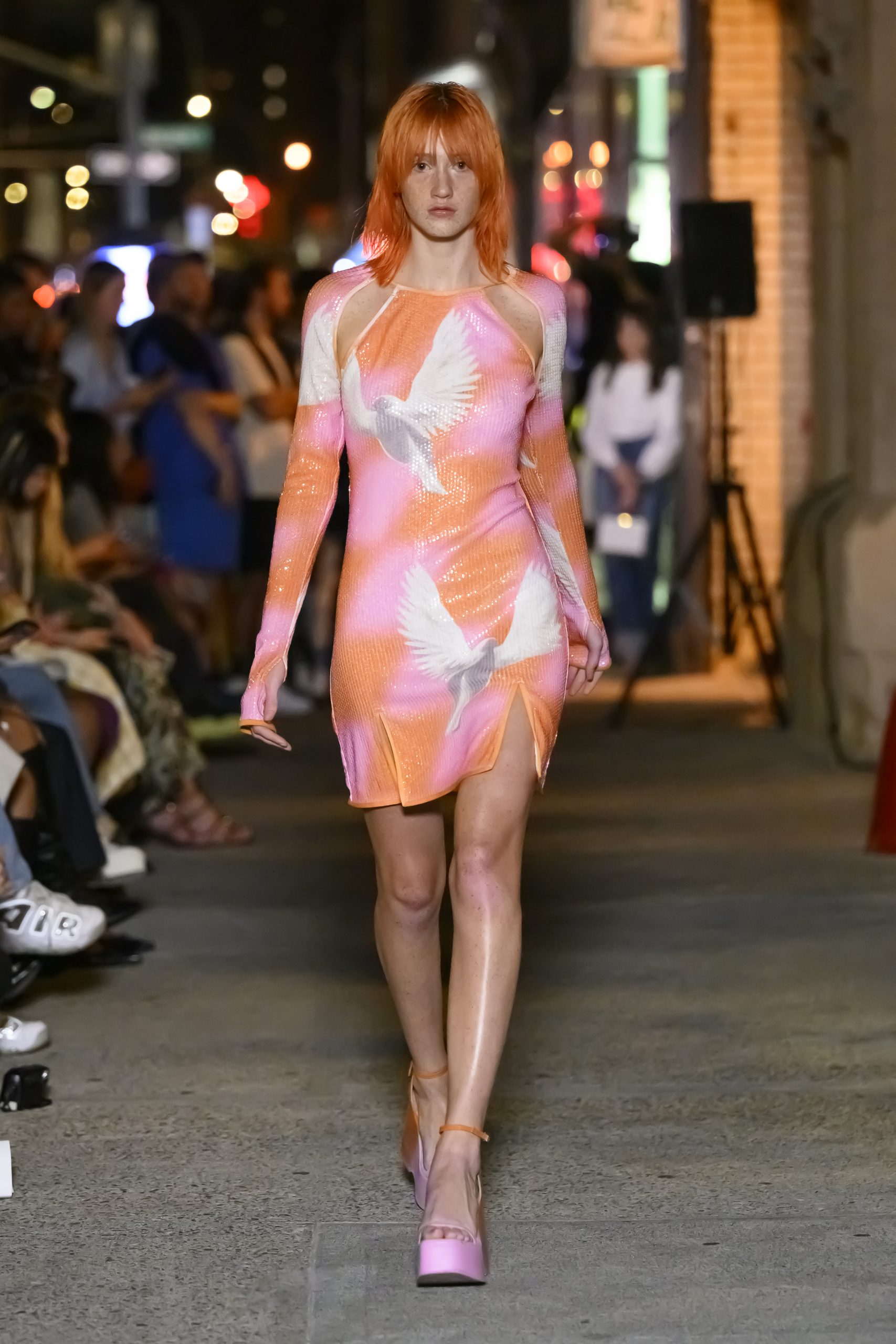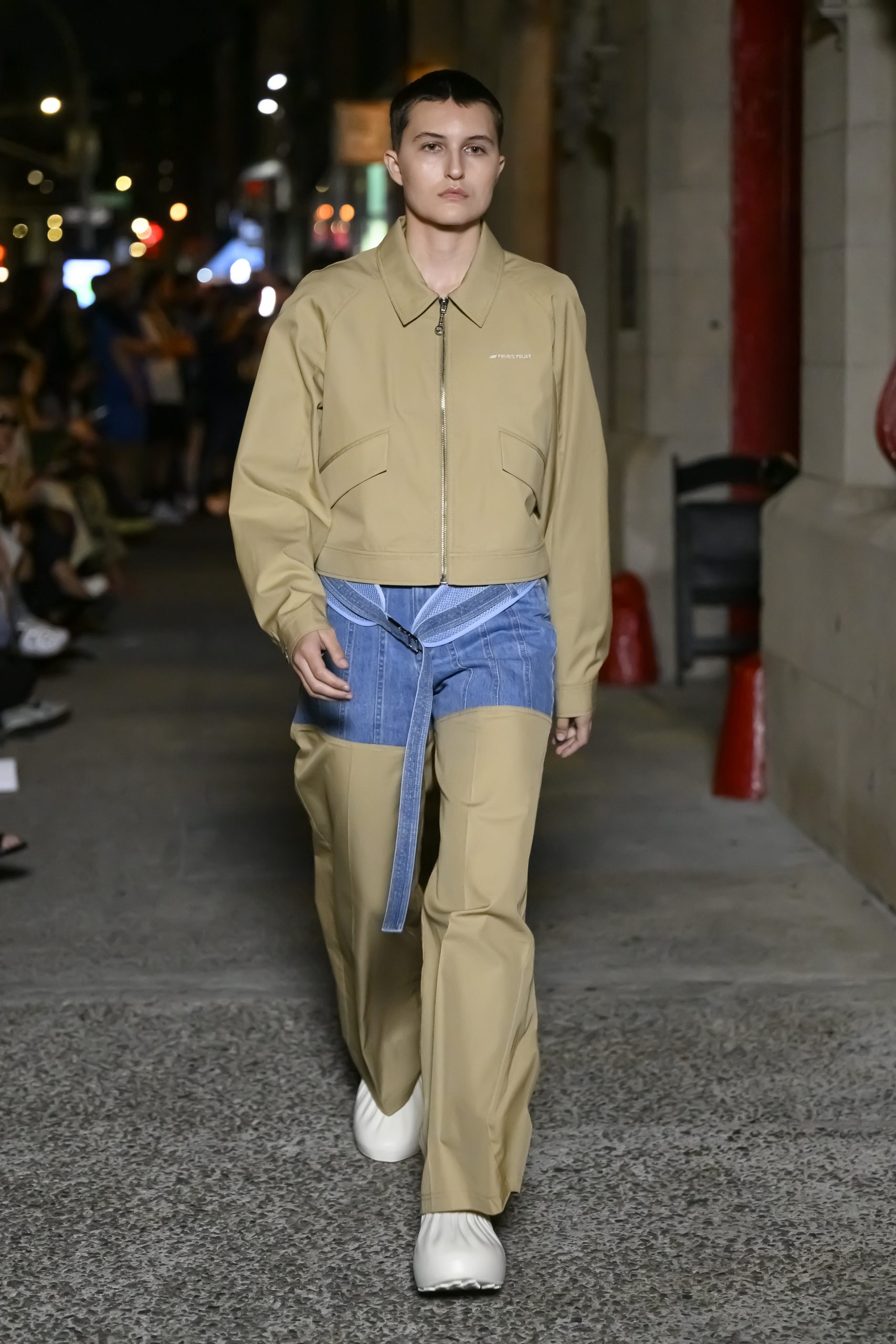 Images courtesy of David Smith
With visual direction help from the masterly photographer and artist Shxpir Huang, the Spring 2023 collection showed Private Policy staples like rave-ready bras and gear, embossed leather and chain link bags, sequin party dresses, baggy trousers, and oversized patterned camp and t-shirts (favorites in my own closet!). Although fans and buyers alike universally praised the collection, many there that night were also rightly intrigued by the use of musical instruments in a runway show.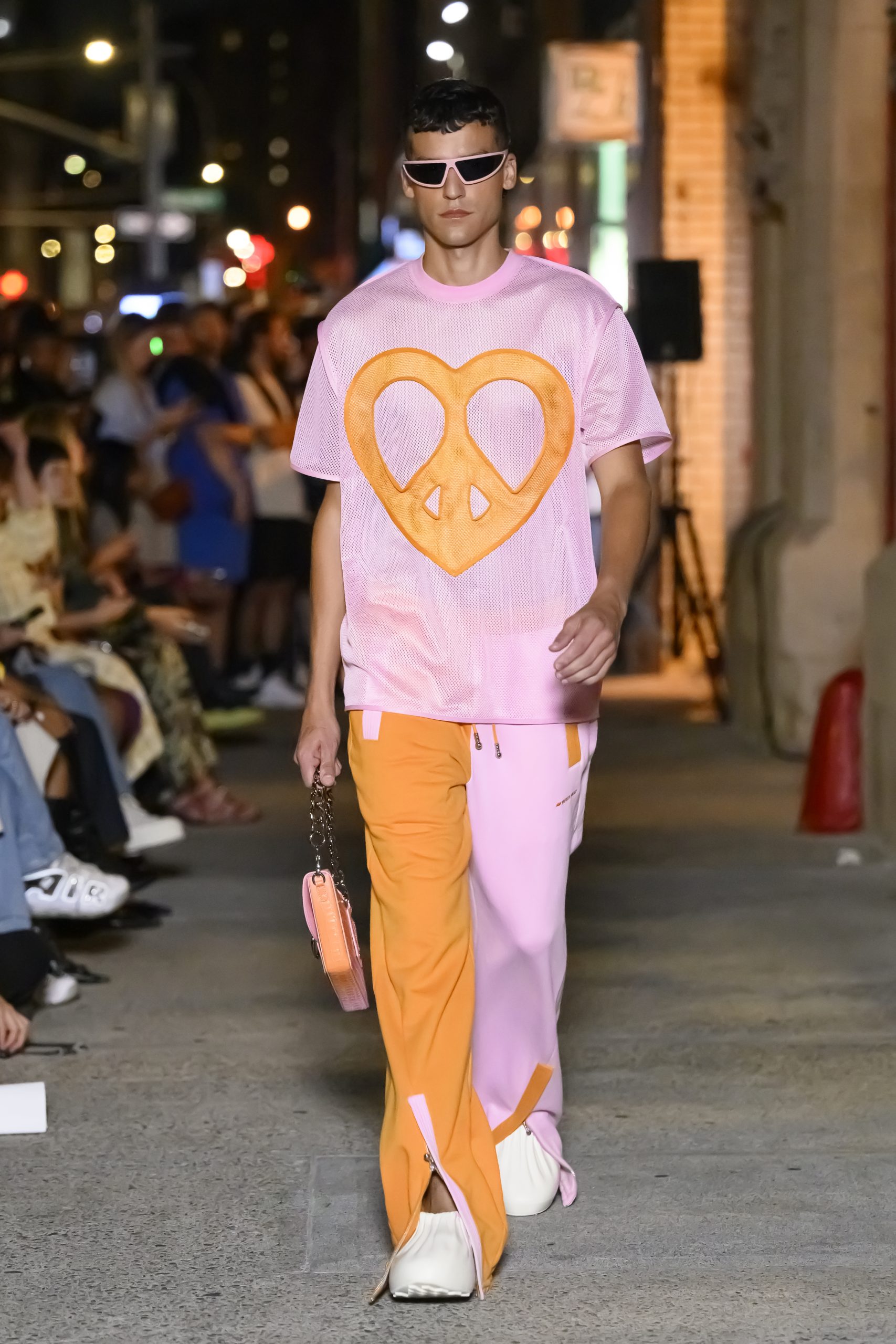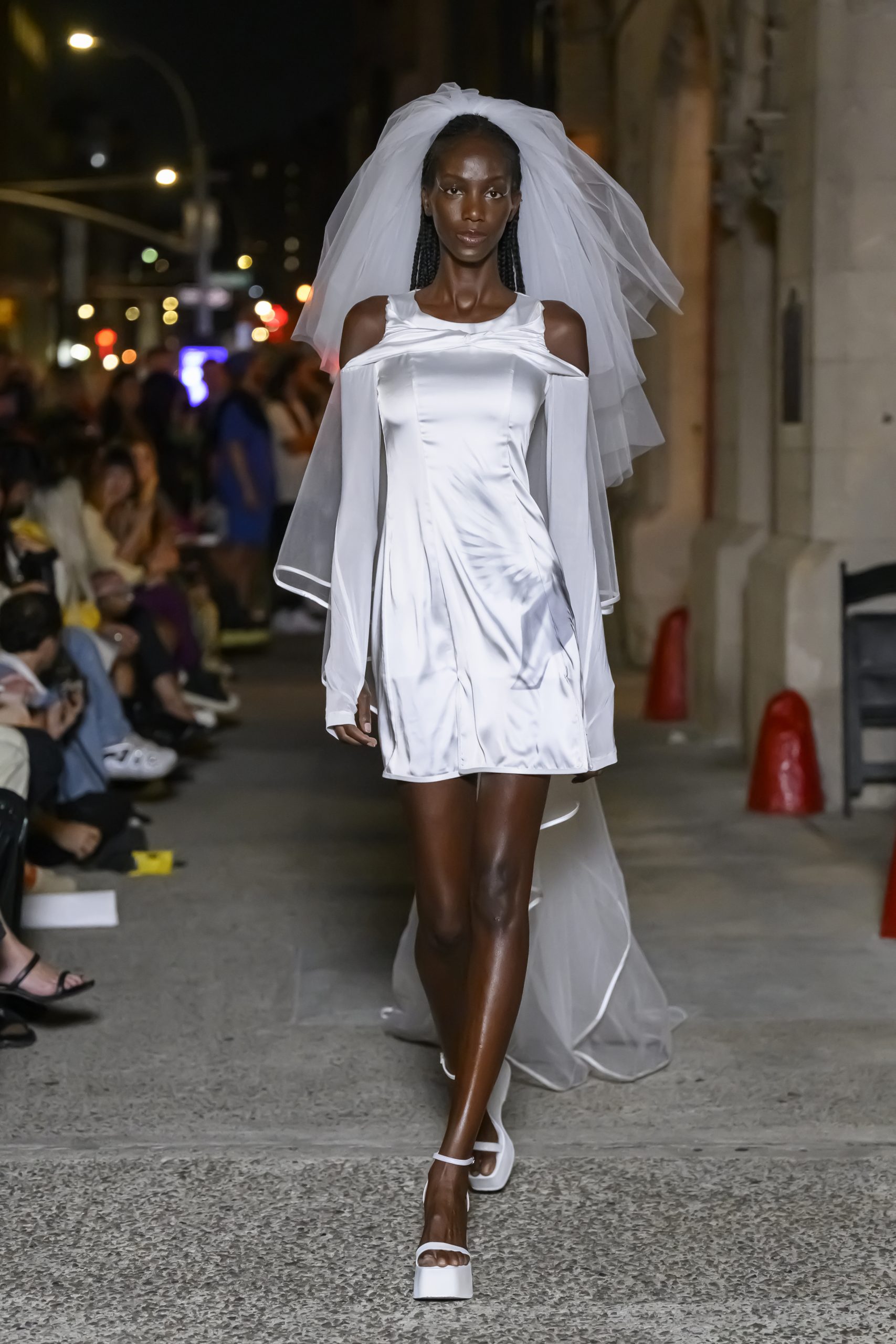 Images courtesy of David Smith
"In the past, we've had models carrying tea pots, Chinese lion dance masks, and recently we even had giant vertical gardens on the runway," says Qu. "This time, we saw the visual designs of the Donner guitars as fashion accessories, much like an it-bag. It's funny, too, because when I was originally sketching out the collection, something about 90s' rock music really spoke to me. So it was a happy coincidence when we realized that Donner's modern take on classic rock guitars were going to be the sponsored accessory this season. We were truly inspired to have them on our runway… they really added to the concept of, 'clothing to wear on a New York City sidewalk, and then to a runway show, and then to a rock concert.'"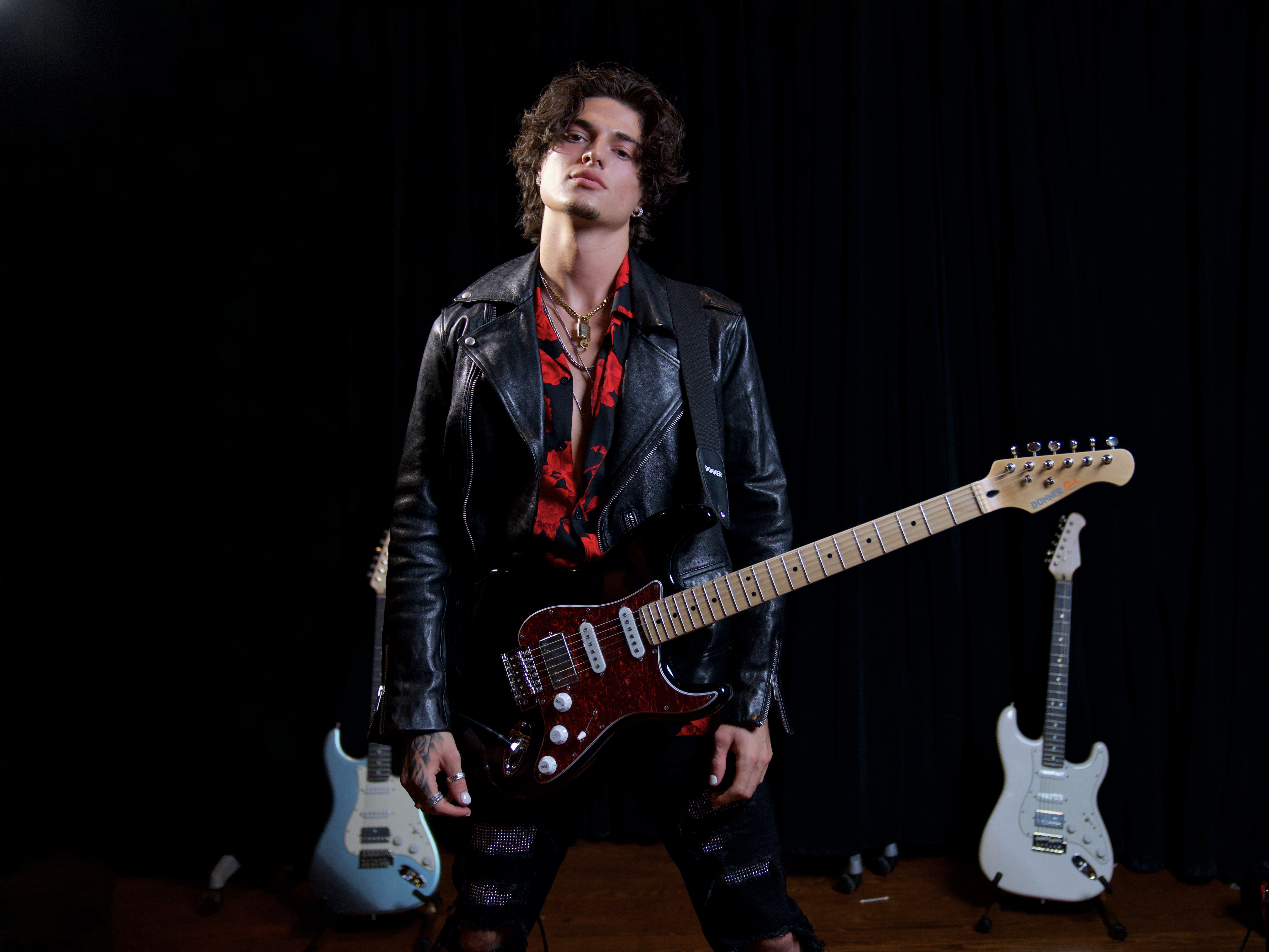 Image courtesy of Donner
And for Donner, this was the perfect opportunity to integrate themselves into an established fashion brand and break into New York's exclusive NYFW scene, getting as many fresh eyes on their product as possible—and all in the chicest of ways. 
Donner's senior marketing lead, Amber Xu, told us, "As a young brand in the musical instrument industry, Donner is obviously different from the old brands most are familiar with, such as Yamaha and Gibson. But Donner pays more attention to the voices of young artists, of Millennials and Gen-Z, the kind of people who respect the trends of the day and, like Private Policy and Donner, make Peace & Love their life's theme!"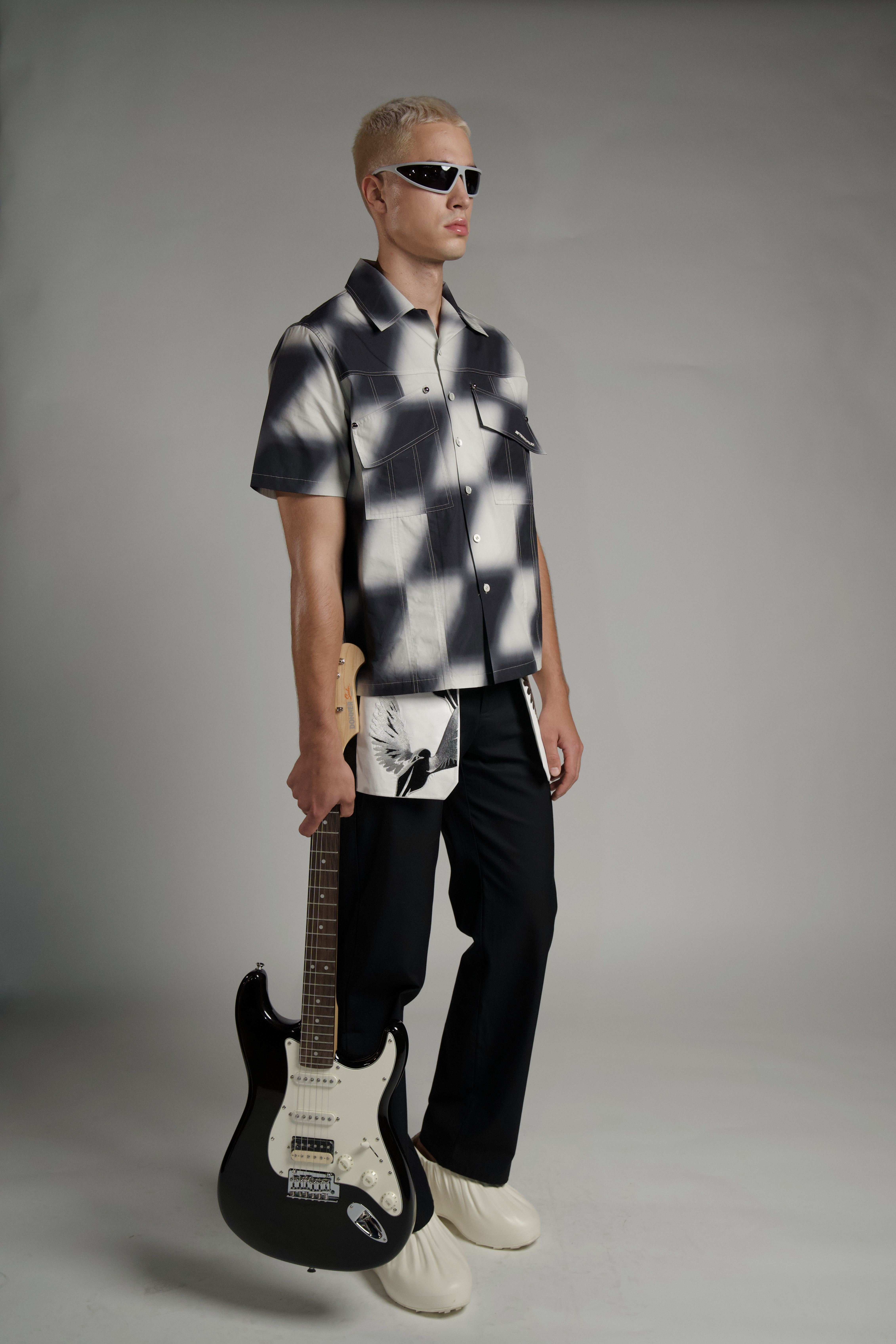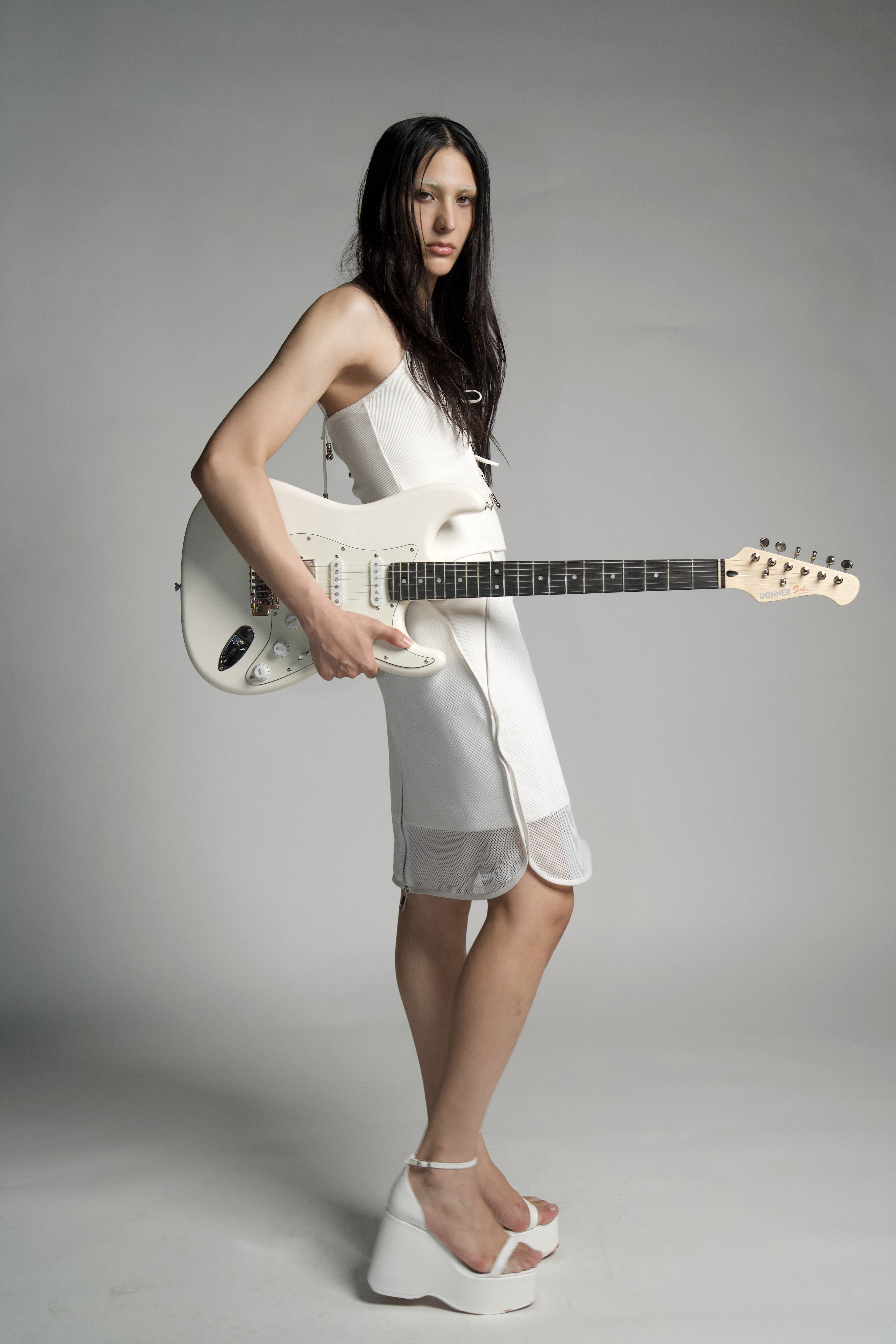 Images courtesy of Guanyu Liu
Story / @alexblynn
Photos / David Smith, Guanyu Liu
This article was created in collaboration with Donner and Private Policy