TAKE A BITE OF THE FRUIT WITH COMPANY XIV
Talent // LEXXE, Clairisa Patton, Syrena, Marcos Antonio, Nick Katen
Story // JoAnn Zhang
Photos // Eric Helgas
Styling // Phil Gomez
Burlesque troupe Company XIV's show Seven Sins is a little velvet Pandora's box, full of drama, smoky red light, and soul. Looking to the stage, a towering bejeweled headpiece, gold-plated pasties, and a glittering thong herald the arrival of the Devil and her company. Burlesque, as an art form, widely embraces sex and queerness, and Company XIV in particular celebrates sexuality with an abundance of feathers, jewels, and theater. Their style of sensual opulence contrasts with the myth of the seven sins, a Judeo-Christian story condemning gluttony, greed, and lust. Who, then, is the Devil, and what does she represent? And what is the moral of the story, where the endgame of the original myth is contradicted so completely by its medium of representation?
In a brief answer, the Devil is LEXXE, a singer who dedicated herself to dance for nearly her entire life until the final year of her dance BFA, when she realized dance didn't fulfill her, not completely. She made the terrifying decision to quit dancing (or thought she was going to), and auditioned for Company XIV as a singer. Austin, the founder of the company, asked her if she could dance. She said yes, and the company revived her dancing career.
A theory: the Devil seeks power by empowering through struggle. Imagine the realization of having committed your entire life to the "wrong" career, and the strength that comes from the decision to change your course. You would be amputated from that previous idea of yourself as a dancer, or banker, or chef, and find yourself still strong, still standing. You would be empowered as a result of your struggle. This is where I first see the Devil in LEXXE during our conversation, this moment early in her career with the company, that bud of power.
Austin McCormick, director of the company, also saw her potential. "Austin saw something for myself that I didn't see. I never thought about being an actor. I was nervous; the Devil is like, a great huge presence that might be terribly mean. And I'm very anxious, a very soft emotional person." If anything, the Devil is commanding and confident, traits misogynistically deemed positive in men, and bad in women. Thus, a commanding and confident woman is bad, is the Devil. Such is Lilith, the first wife of Adam, banished for refusing to obey him, and hence villainized. These feminist figures of freedom in exercising "badness" were fitting guides for LEXXE. "Like, if a woman is loud, she's bitchy. You want to call me the Devil? That's great. I'll be the Devil for you."
Playing the Devil has led to her embodying that kind of power in her real life. "I stand on stage and I command the whole audience as the Devil. I'm not gonna let someone walk over me. So it's a good thing. It's like therapy," she said. "I've always struggled with being a little weaker or quieter when my ides are quite big and my values are quite large. But I couldn't ever put that into fruition before." At one of her first photoshoots with the company, Josh Rowe, who helps produce the show, told her to growl. "I was like, I'm scared!" LEXXE laughed. "But I did it, and those photos are my favorite."
Josh, in a tale fit for the stage, told me that his start with the company began with romance. He began dating Austin after they met at a celebration for one of Austin's Julliard teachers, and after a period of observing the company on the sidelines, he started working in an official capacity training the staff and developing their in-house bar and cocktails. "Business is family, is love to them," he told me, about Austin and his mother, who also works with the company. "To be a part of the McCormick family is to recognize that working together in a business capacity is like expressing the love we have for each other. So we were always talking about it."
When I spoke with LEXXE and Josh, there was abundant use of the word "genius."  "Choosing to incorporate Adam and Eve, the fall of man, Austin knew that it was a hot topic, that there was weight to it," Josh told me. I thought about global warming, huge corporations beating the little guy, and felt, yes, the fall of man is probably going on right now. Josh continued, "But there's this sort of claiming it as our own, and the company does it in such a proudly pansexual way that defies all boundaries. When we're in the theatre, we'll see a lesbian couple canoodling, and we'll have a straight couple canoodling, and everyone in a variety of races. The fact that people can come together in this little theater in Bushwick is why we're doing this. This is a life affirming practice, bringing people together, helping people celebrate and enjoy what it is to be alive."
"XIV is disruptive in a way that is kind," adds LEXXE. "It's letting you know that you're welcome here. You might see stuff you haven't seen before, but you will not leave offended, even if we went against something you believed in." She invited her Catholic grandma, even though she was the Devil and wearing pasties. Her stepdad saw it too, and said, "The seven sins, the things you couldn't live without! Why would you even want to live without it?"
I think about everything terrible in the world. Man is falling, but he has fallen before, in different circumstances, off different cliffs. But whichever sin caused him to fall, was probably also what made him alive. Austin wrote to me revealing the secret I was scratching at, but he went on more excitedly about the sensual experiences he wanted the audience to have, cocktails and hospitality: the material experience above the abstract. Here's his thought: "Ultimately, the piece highlights the beauty and pain of life, love, pleasure, and disillusionment"– a brief idea in an abundant world.
CHECK OUT OUR EXCLUSIVE PHOTOS WITH COMPANY XIV FEATURING SOME OF OUR MOST FAVORITE ACCESSORIES THIS SEASON BELOW:

Red Shoes, GEBEDE Rainbow bag, LES PETITS JOUEURS. Blue heels, CASADEI. Leather knee high boots, ETRO, Wine glass purse, SUSAN ALEXANDRA, Orange leather handbag, ETRO.

Jacket, ZANE PIHLSTROM x XIV. Croc Embossed Mary Janes, ETRO.

Headpiece, ZANE PIHLSTROM x XIV. Bodysuit, LEAK YOUR SEX TAPE.

Full look, ZANE PIHLSTROM x XIV
Dress, REN HAIXI.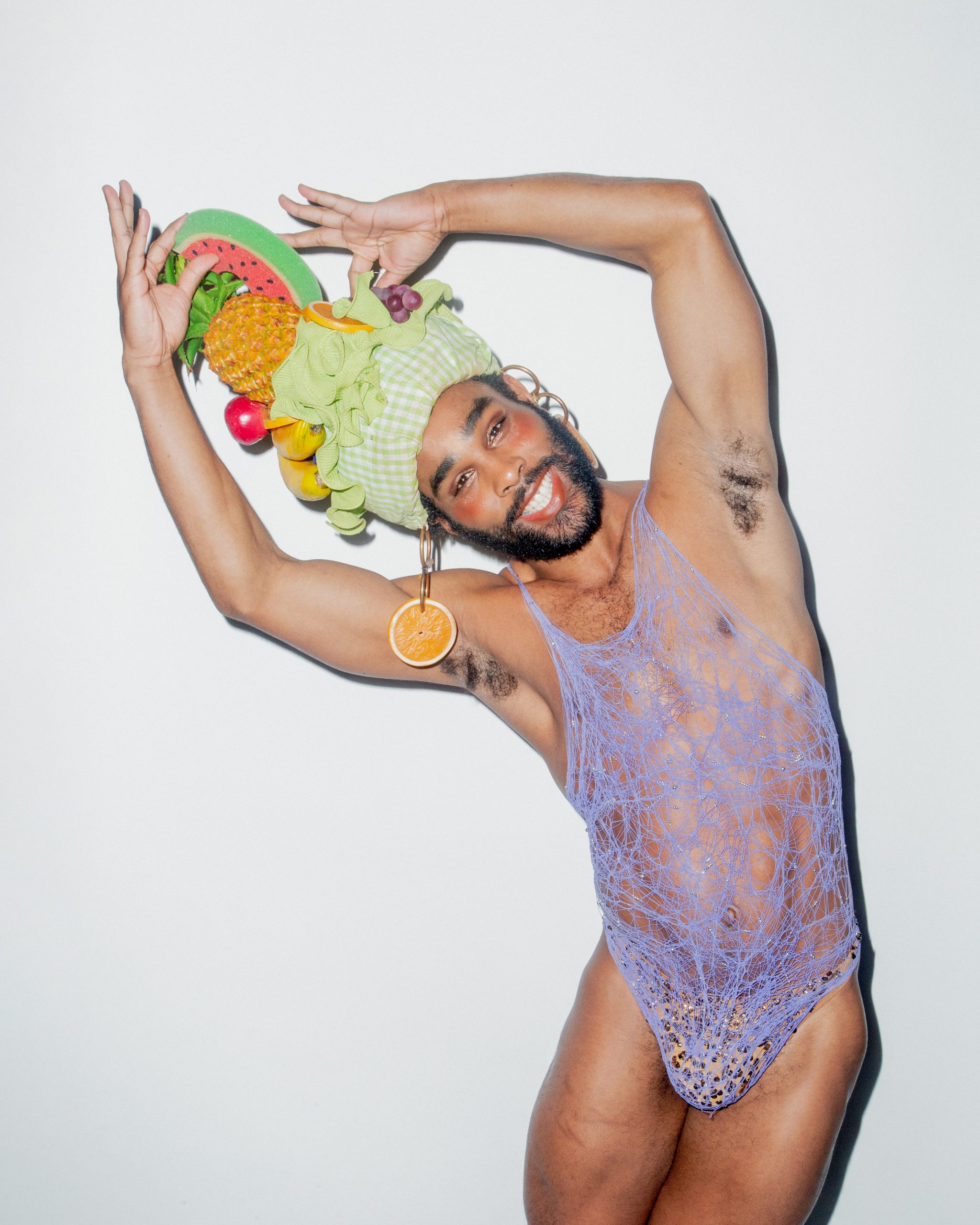 Headpiece, ZANE PIHLSTROM x XIV. Bodysuit, REN HAIXI.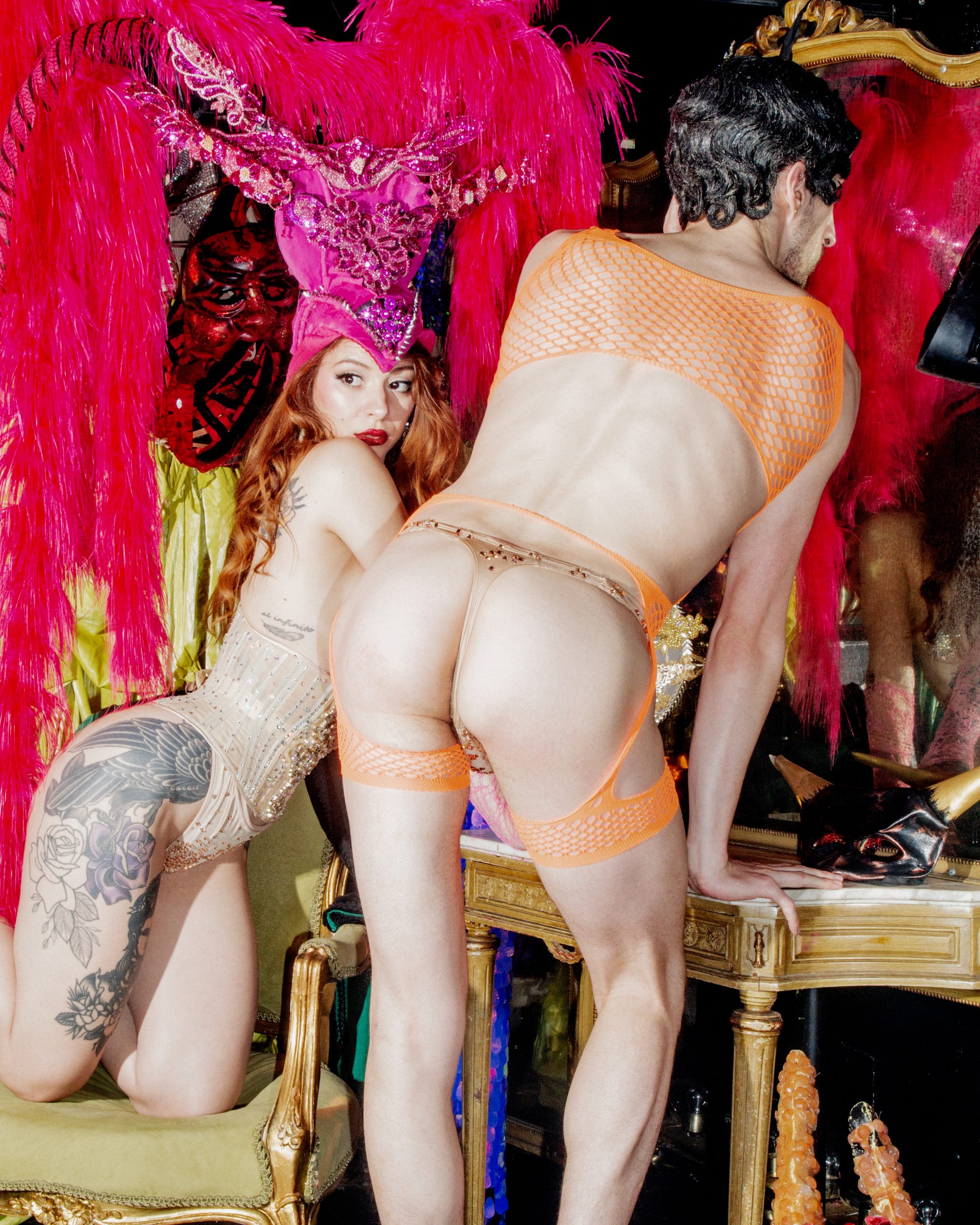 Bodysuit, LEAK YOUR SEX TAPE.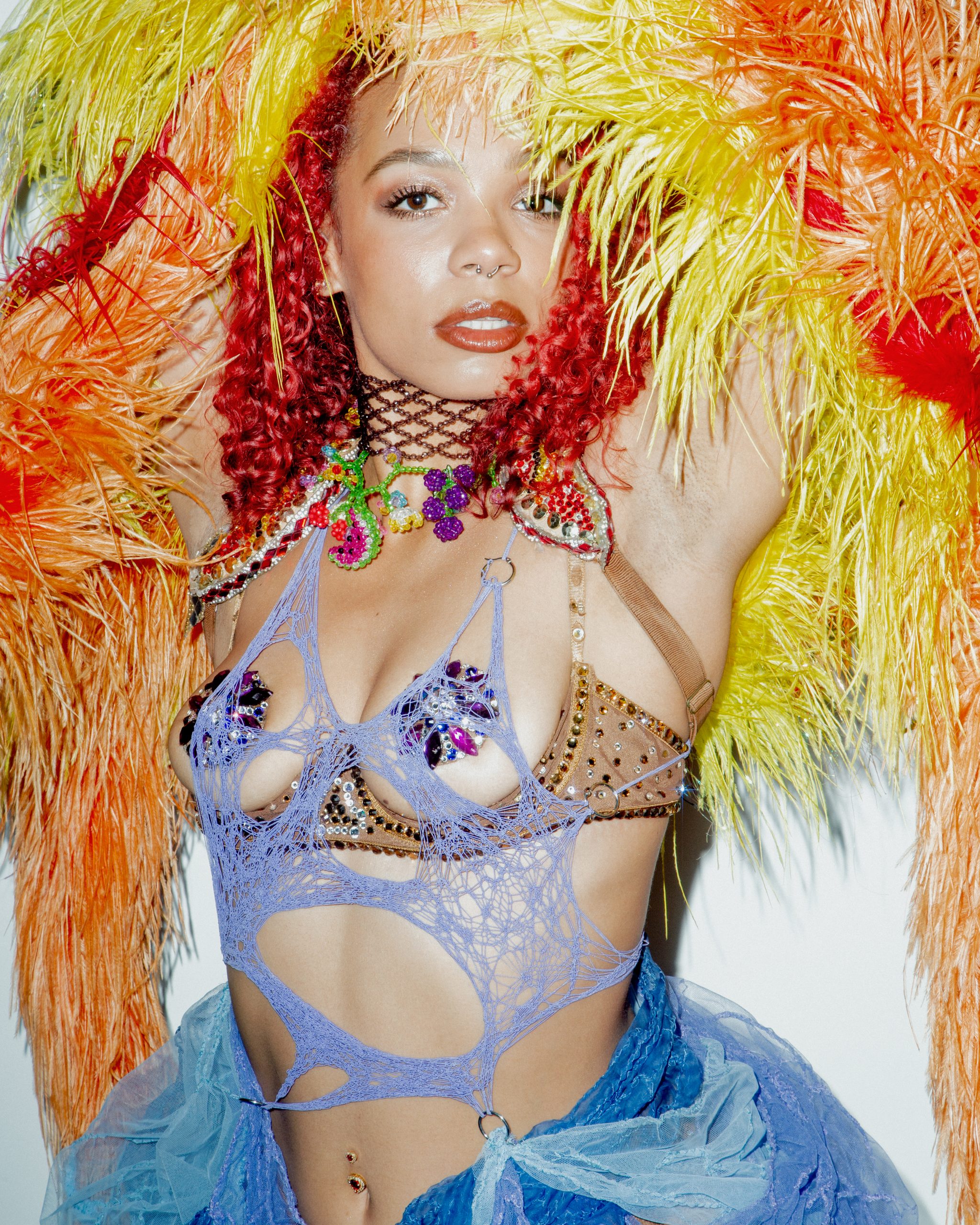 Dress, REN HAIXI. Necklace, SUSAN ALEXANDRA.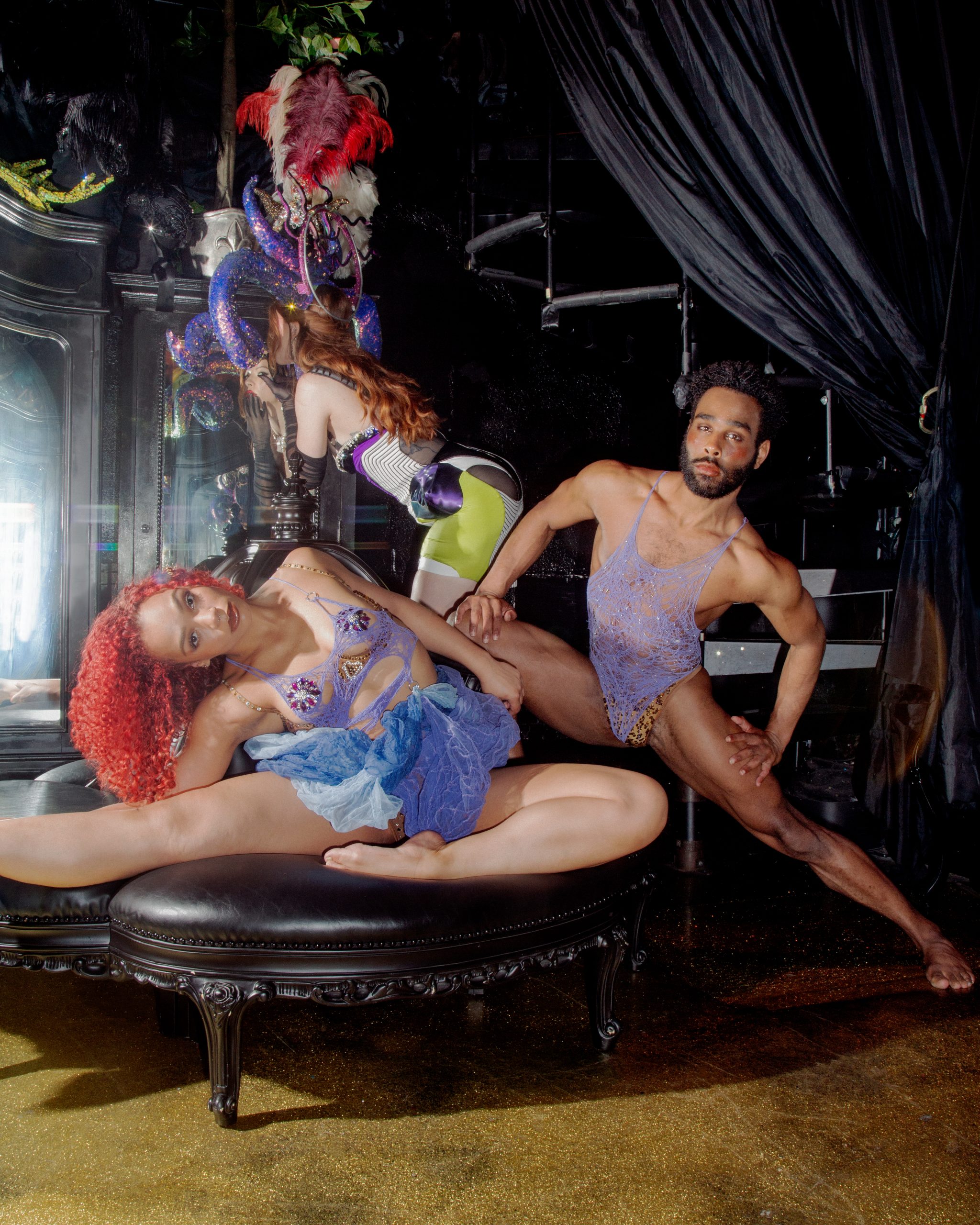 CONNECT WITH  COMPANY XIV