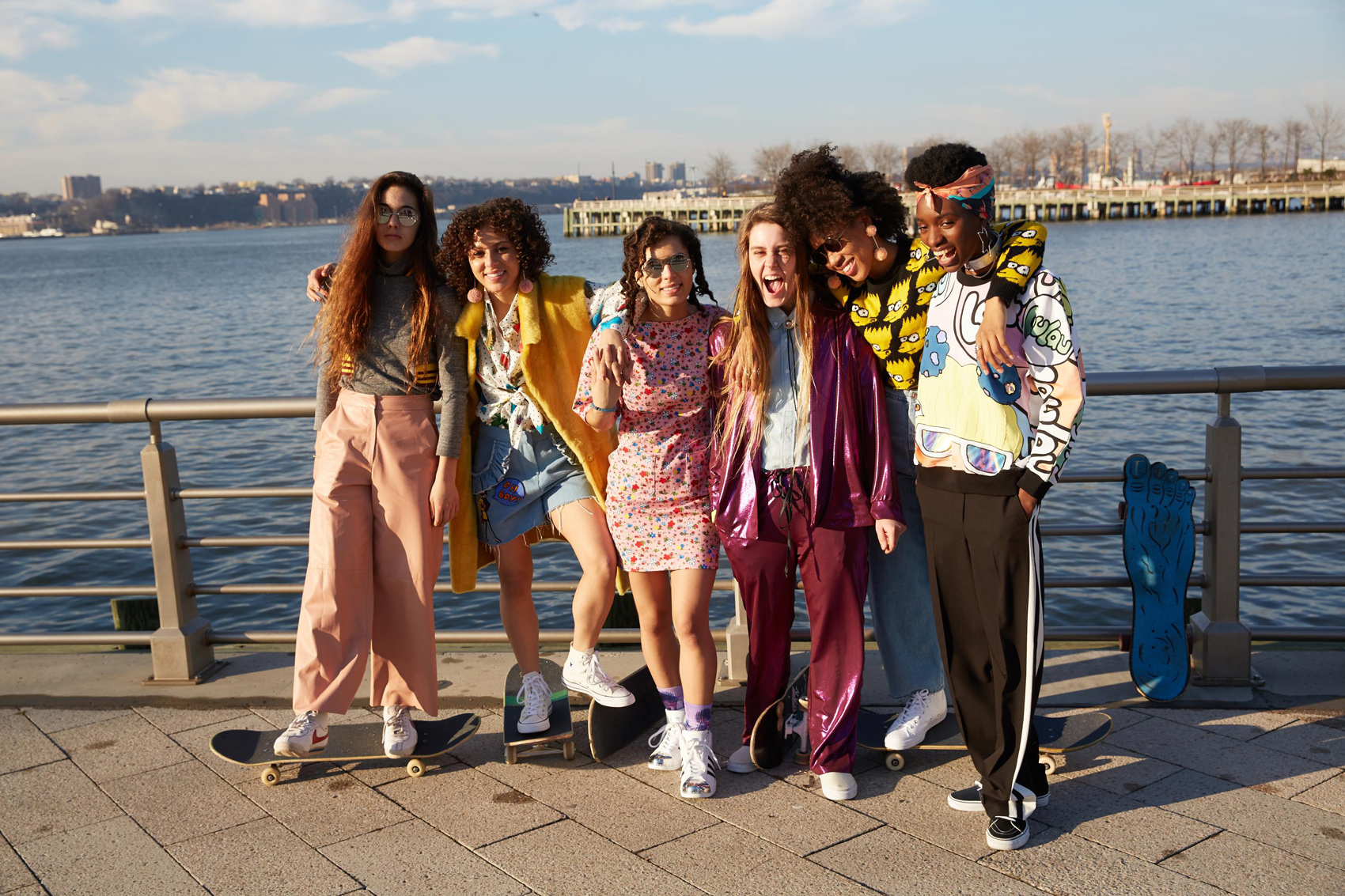 PHOTOS / Eric T. White 
STYLING / Mariana Guerrero 
MAKEUP / Cheyenne Timperio HAIR / John Ruidant
STORY / Tiffany Diane Tso

FROM LEFT TO RIGHT: BLAZER / LAURENCE & CHICO, TOP / VINTAGE, EARRINGS / TULESTE, PANTS/ ASOS, SHOES / VANS + NECKLACE/ ISLYNYC, TOP/ STELLA MCCARTNEY, PANTS/ STELLA MCCARTNEY, SHOES/ VANS + EARRINGS / TULESTE, JACKET / ADIOSFELICIA BY MARIANA, SHIRT / WHAT COMES AROUND NYC, JEANS / MAISON MARGIELA, SHOES / CONVERSE + JACKET / ALL SAINTS, TOP / PANGEA KALI VIRGA, SHORTS / AMERICAN APPAREL, SHOES / CONVERSE + JACKET / IRISHLATINA, JEANS / ADIOSFELICIA BY MARIANA, SHOES / VANS + TOP / DROME, JEANS / LOVELVCE, SHOES / CONVERSE
The Skate Kitchen is not the first or only all-girl skate crew. However, in the incredibly male-dominated world of skateboarding, the seven-woman group from New York City is still seen as an anomaly—even a spectacle.
Attracting attention, whether welcome or unwelcome, is just one side effect of being both female and a skateboarder. The crew's members, Nina Moran, Ardelia "Dede" Lovelace, Brenn Lorenzo, Jules Lorenzo, Rachelle Vinberg, Kabrina Adams and Ajani Russell, can all attest to the complexities of their positioning in society as visible figures in what is notably a boy's club. "When you have a board, for some reason everyone starts looking at you" Nina says.
The group's formation was organic. All of the girls had one mutual friend, Nina, and with the exception of Kabrina who is 23, all are 18 or 19. As young women in present-day American society, they operate within the confines of a patriarchy, one which feels subjectively magnified within the skate community. The name "Skate Kitchen" itself is a reclamation of the "kitchen," a place where female skaters are constantly being told to go back to. Rachelle remembers watching skate videos of girls online when she was younger and comments that the girls should "be in the kitchen" or "make a sandwich."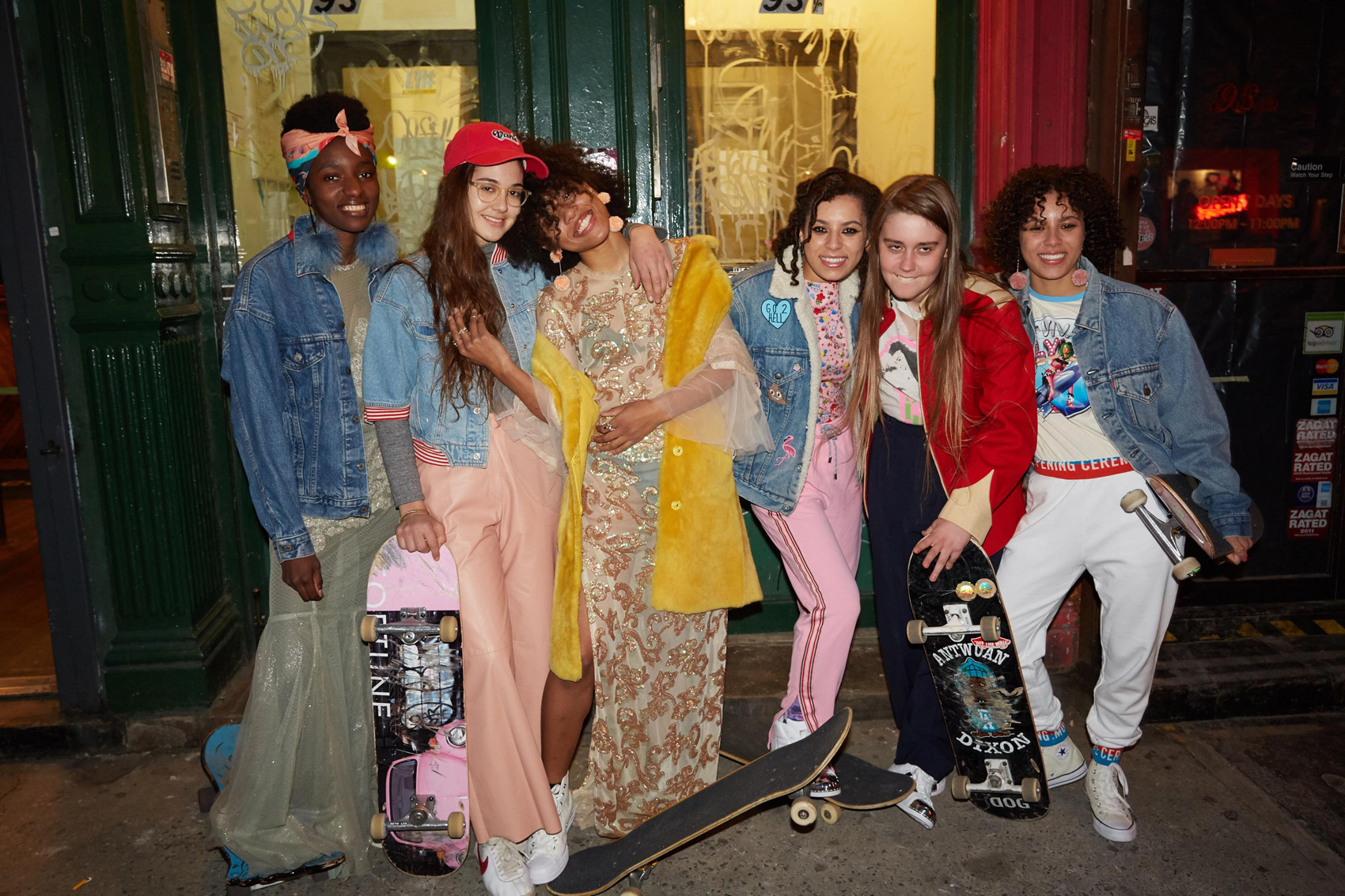 LEFT TO RIGHT: OVERALLS / DICKIES, PINS / ISLYNYC, SHOES / ADIDAS + SUNGLASSES / ALAIN MIKLI, JACKET / IRISHLATINA, BODYSUIT / REDWOLF PDX, JEANS / MAISON MARGIELA, SHOES / CONVERSE + EARRINGS / TULESTE, JACKET / ALL SAINTS, PIN / ISLYNYC, PANTS / OPENING CEREMONY, SHOES / ADIDAS
In the cultural zeitgeist of today, The Skate Kitchen have become role models for other girls and young women to feel encouraged to skate or learn to skate. However, as they point out, the crew never set out to be role models. "It comes along with it," Brenn says, "because we're out here just not caring, doing what we want." Her twin sister, Jules, adds, "I know that there are a lot of girls, who are starting to come into the skate world, are [inspired by] our group, saying 'oh they can do it, I can do it too.'"
Women have made gains in the skate world, beginning as early as the 1960s when Patti McGee became the first female professional skater. Non-male skaters are still a minority, especially when it comes to imaging. "Being a little girl, and seeing skateboarding videos or magazines, and only seeing boys, you kind of subconsciously have this idea that it's only for boys," Rachelle explains. "Seeing more girls in social media and media as skateboarders will make other people assume skating is for both genders."
Rachelle starred in "That One Day," Crystal Moselle's (The Wolfpack) short film for Miu Miu's Women's Tales series. The film featured the whole crew doing what comes naturally for them: skateboarding, being friends, supporting each other and being fly as fuck. The short film is largely biographical, besides the element of skating in couture dresses.

LEFT TO RIGHT: JACKET / ADIOSFELICIA BY MARIANA, SHIRT / WHAT COMES AROUND NYC, JEANS / MAISON MARGIELA, SHOES / CONVERSE + HEADBAND / CENTINELLE, EARRINGS / TULESTE, SHIRT / VINTAGE, BLAZER / LAURENCE & CHICO, PANTS / ASOS, SHOES / VANS
Moselle scouted the crew on the train, she told Vogue in an interview. She was intrigued by them, overhearing them discussing some of the struggles of being girl skaters. Their outspokenness on the topic of sexism in the parks has been met with support and solidarity, as well as negative backlash and derision from both male and female followers on social media. "We get a lot of hate from girls, actually, that say, 'Oh, this thing doesn't happen at skateparks,' or 'Boys aren't mean to me,' Rachelle recounts. "Everyone has a different experience."
Luckily, The Skate Kitchen do not allow the haters to quiet them. They continue to tell their story, growing in visibility with now over 25,000 followers on the platform. Moselle, Pharrell and Patti McGee herself are amongst the skate crew's widening fanbase. "There's so many positive people supporting us, too," Rachelle adds, "and personally I look more towards that than anything negative." Since the Miu Miu campaign debuted, the group has been covered by publications including The New York Times, Vogue and Dazed.
While the mission of the group is mainly geared toward girls, they insist on making it known that they are unprejudiced toward boys and skate with them all the time. The crew's existence is a symbol for feminism, and inclusion is an integral part of their message. When explaining whether or not the group's members associated themselves with the f-word (feminist), Nina puts it bluntly, "The word feminist literally only means that you want equality with men and women. You don't want men to be shitted on more than women; you don't want women to be shitted on more than men." While not all of them choose to ascribe to the label, their motives fit in with the feminist manifesto. They just don't want to be mistaken for "man-haters."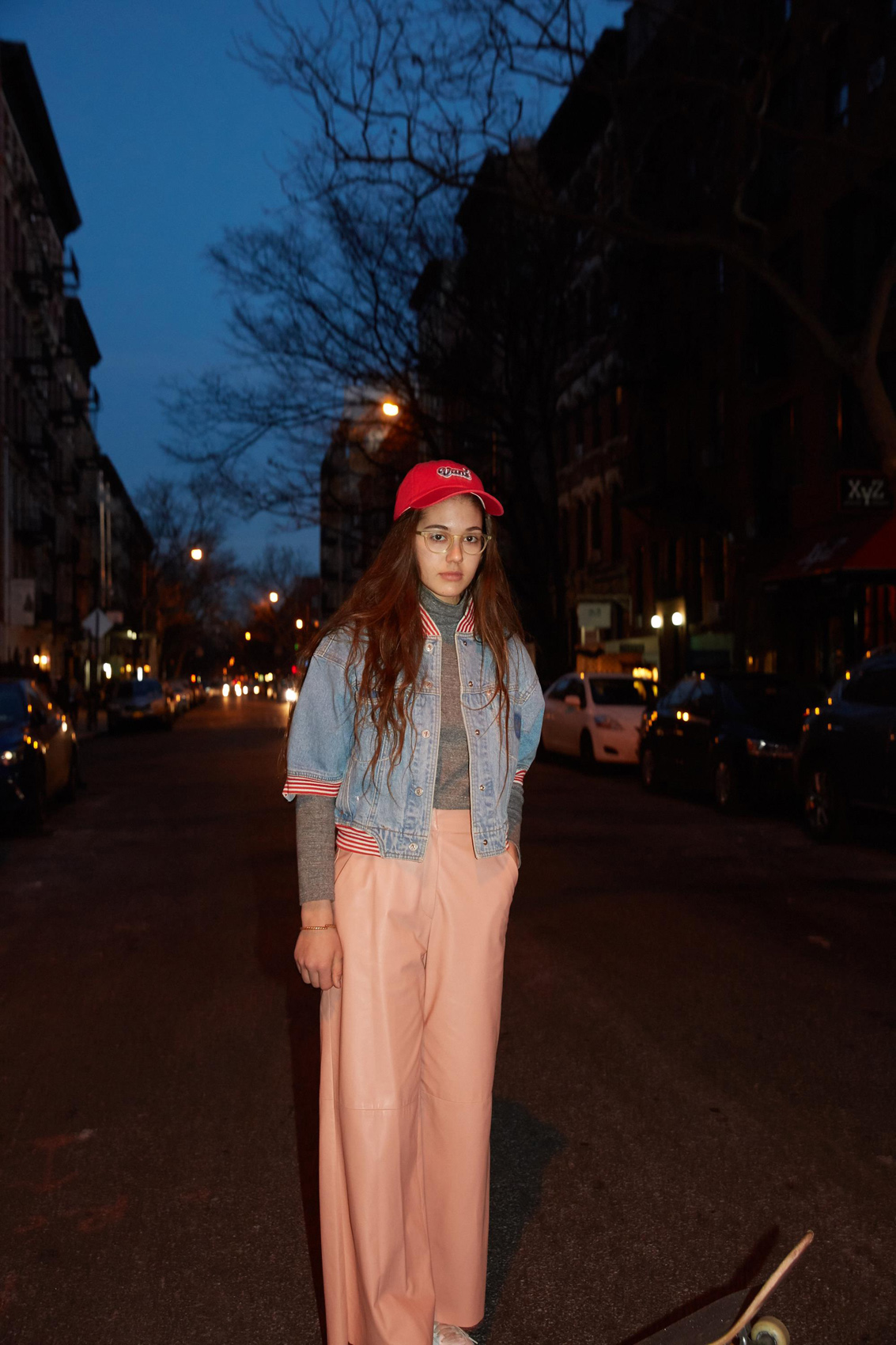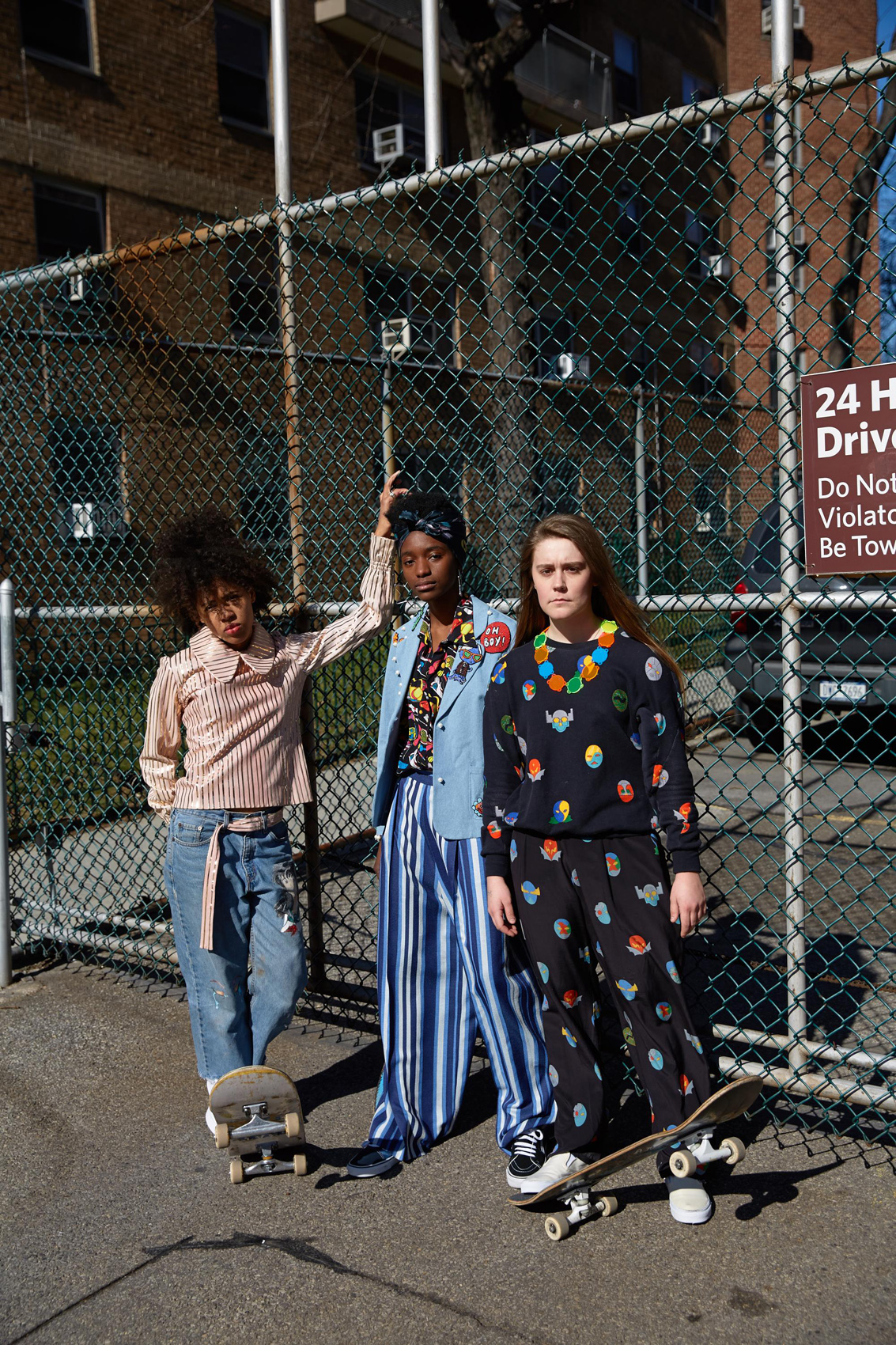 LEFT TO RIGHT: JACKET / ALL SAINTS, CORSET TOP / PANGEA KALI VIRGA, T-SHIRT / SATURDAYS NYC + JACKET / IRISHLATINA, JEANS / ADIOSFELICIA BY MARIANA, SHOES / VANS
The skate crew has been working in community building, teaching girls how to skate and hosting skate meetups. Kabrina suggested that the group will use their platform for advocacy, most recently posting a link raising funds to end famine in Somalia in their Instagram bio.
Outside of skateboarding, they each have career aspirations: Jules and Rachelle are both studying screenwriting in school; Brenn wants to work in fashion; Kabrina is modeling and empowering women on freemyboobs.com; Dede paints and DJs; Nina is undeclared at Brooklyn College; and Ajani is in school in California.
For these young women, it's just the tip of the iceberg. They have been non-stop busy with interviews and brand sponsorships. Amongst the opportunities popping up left and right, they are setting out to shoot a feature film with Moselle, which will be more of a scripted coming-of-age story. It will carry the same universal themes as the short film, friendship between women and taking up space in a male-dominated community.
We're guessing skateboards will be involved.