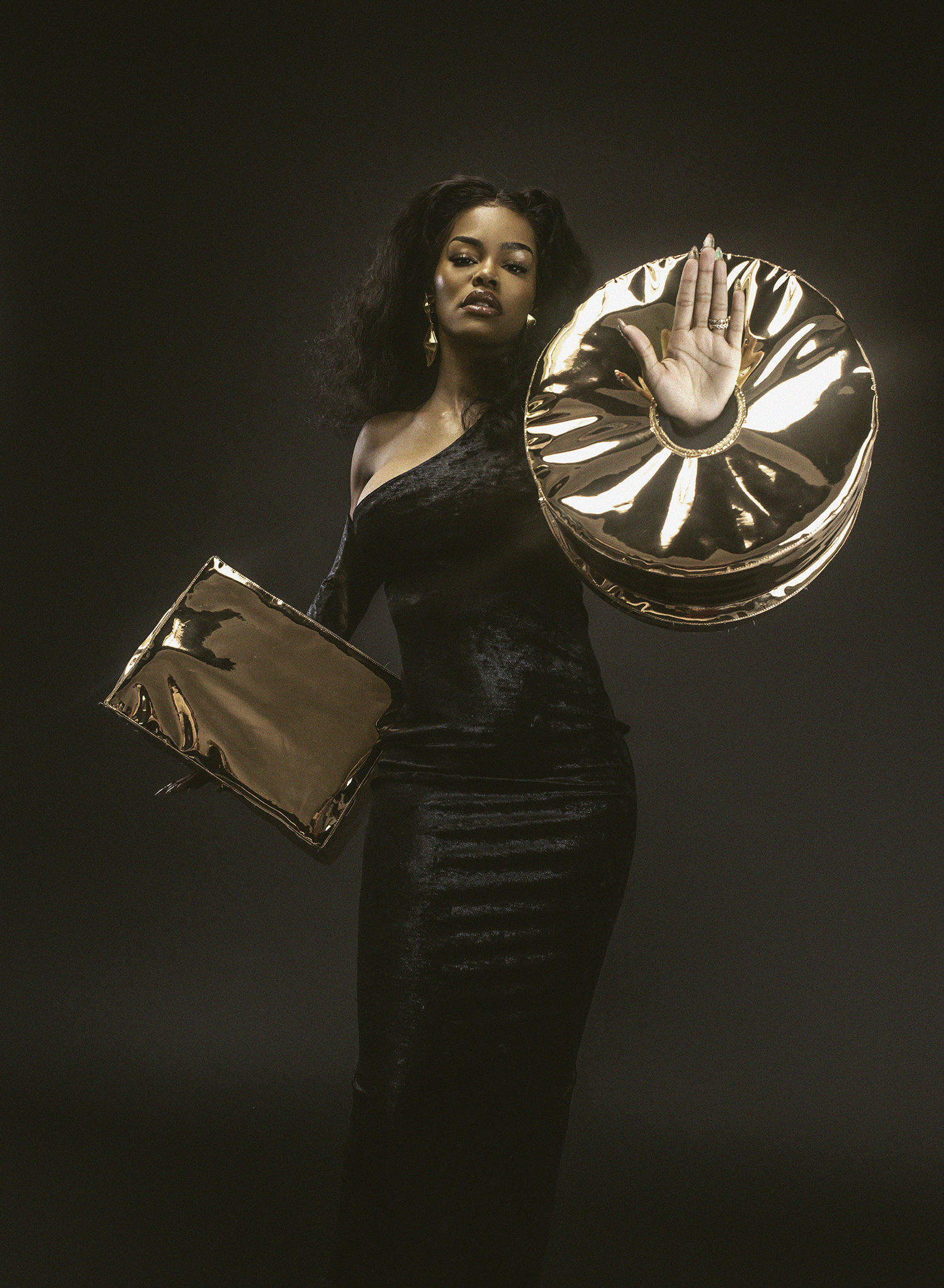 Dress, Bcalla. Earrings, Anna-Karin Karlsson.
When Teyana Taylor walks into the room, it's like your favorite Auntie has just arrived at the cookout. Surrounded by an entourage, she is warm and glamorous, with her mom and 3-year-old daughter closest to her side and a magnetism that seems to hold them all in her orbit.
Taylor is strikingly beautiful and composed like an exotic cat that prances on expensive furniture and purrs in deep vibrato. There is a statuesque quality to her face and body, as if they were molded in earth-colored marble after a vision of God, yet her greetings are like those of an old friend. Her laugh fills the room like a soft blanket. She exudes happiness and strength in an effortless package that leaves the room in a delighted affront. Our guards come down and I'm left thinking, "Who is she?
"What makes you happy?" I ask her, almost immediately. I can't help it. It's as if I know her secrets; maybe they can be mine, too.
It doesn't take her long to answer: "My family, my baby, my husband, my parents, my fans, my supporters, seeing others happy. Helping others makes me happy. Creating makes me happy. Directing. Everything that I'm doing makes me happy. I've never done anything that didn't make me happy. Everything I do. I love it. You know, I'm happy doing it in. And I do it for my big girl, you know. And seeing her every day makes me happy. Even on my lowest days."
Most of us post-millennials—the MTV reality TV generation— grew up with Teyana Taylor, or rather she grew up with us. We watched her go from a super sweet 16-year-old MTV star to a butterfly of a woman. Taylor was just a kid when she started accumulating credits towards stardom. At 16, she was listed as a choreographer for Beyonce's "Ring the Alarm." By 17 she was charting on Billboard, and by 20 she was a mainstay in the entertainment industry, starring in movies, putting out albums and getting co-signed by everyone from Kayne West to Pharrell Williams. Making it past the obscurity and fleeting relevance of child stardom into a strong working adult is not a task that comes easy to most. But Taylor's artistry involved patience and the effort to evolve, outlasting even "Hollywood" standards of time.
Hard work has always been the key to her success, she tells me. "That's the only way that I know," she says. "I don't know other ways. People do a lot of things to get where they are or get where they want to be. And I just choose to do it the hard work way."
Taylor is currently in the epoch of her life, a time when the multi-hyphenate has started to revel in all of her creative outlets. She's the superstar she was always slated to be as a musician, a writer, a director, a dancer, and a producer. (Not to mention part of a celebrity marriage to her NBA player husband, Iman Shumpert.)
Her second studio album, K.T.S.E, is a 70s soul-drenched feel-good record, as well as a reflection of this evolution. It's a lovelorn sexy fete that has all the juxtapositions you might find in one's existence centered on the gospel of life and all the intricacies in between. It's universal but told through the sermon of a strong black woman.
"You really have to take in K.T.S.E, not just like, press play. The album will last a lifetime," Taylor shares. "You can go back and listen to it and be like, 'Oh yeah, this still makes me feel good.' I feel like it's timeless music. I feel like timeless music definitely takes a while to get used to, you know. That's the whole point, for it to still have room to grow. And every time you listen to it, you find something different. You find another reason why you love it or find another reason why you appreciate it."
Nostalgia holds an inspirational place in the artist's heart. In her personal work, most notably when directing under the moniker "Teyana Spike Lee Taylor," you see references in her productions spanning across the decades. She alludes to simpler moments in time when you could feast in love and lostness with less distraction. For Taylor, everything about the 70s is an inspiration.
"The clothes, the music, the hair. The features. Like, everything was [about] what people stood for, you know, and I think what people stand for is definitely coming back. Like the soul, the love, the melanin, the passion… It was real. It was a time where your strong features and everything that you come with was appreciated …  I wish I was there, you know. I really, really feel like sometimes, I just don't belong in this generation."
The emotions she evokes from her subjects as a director, everyone from ASAP Rocky to Monica, envelope the viewer in a velvet brown love den.
"I enjoy being behind the camera so much. I enjoy seeing others. I enjoy bringing visions to life. I enjoy helping, you know, enhance whatever vision an artist might have. It's really fun. I know for a fact when I'm done with music and done being in front of the camera, this directing thing is what I want to do."
Taylor might enjoy sitting in the director's chair, but on stage she is magic. When you watch her perform it's almost a religious cabaret experience that leaves audiences entranced by every performance and appearance.
"Oh my God, I love performing. Literally, if I can get straight to the stage and like, they have like a little remote, where it's like, okay, I'm done. Straight to stage. All the fans already are there, they already know the words. I will skip everything and go straight to the stage. I'm nervous until those curtains open. You know, I just never know what to expect. And when those curtains open and you feel that love and you see that love, all that nervousness really kind of just goes out the window. I think it's the energy that you feel [that] makes you not nervous anymore.
"And I think also seeing people's faces. You [see] people out there crying. There are people out there smiling. They're in awe, you know. You just never know whose day you're making. So, it's just getting out there and giving them a show.  People spending hard-earned money to come and see you. So, I was like, you got to do what you got to do. And you know, and get it done. And be touchable, you know. It's okay to be touchable. I never wanted to be an artist that was untouchable. That's why I love performing—to be touchable and really interact with [fans]."
When the music video for "Fade" released in (YEAR),  the world was introduced to peak Teyana Taylor.  The famous Kayne West video was a cultural moment. The world watched slack-jawed as a postpartum Taylor gyrated suggestively through mid-tempo beats under dark purple lights, a raw and powerful force seeming to move her body and movements.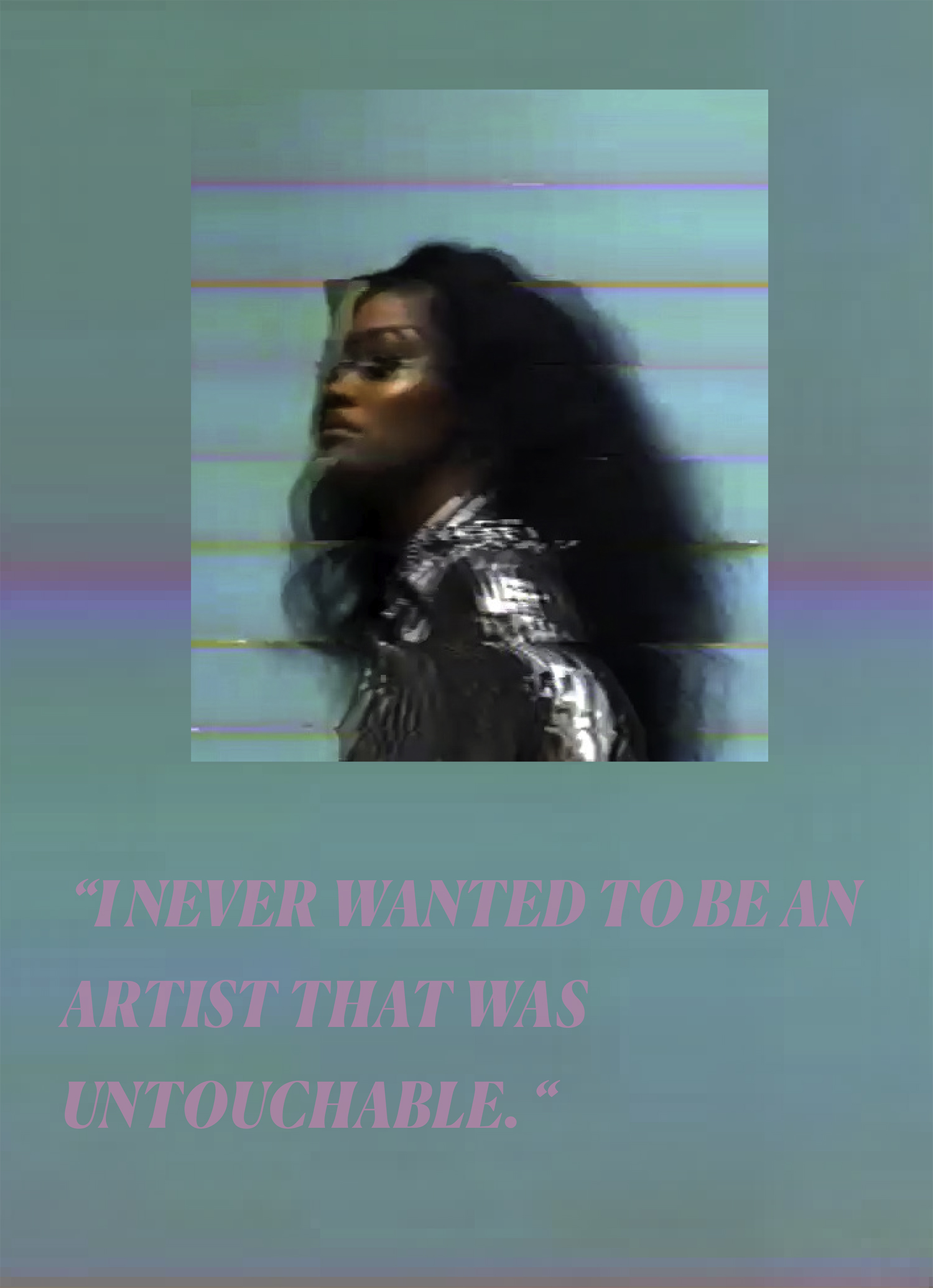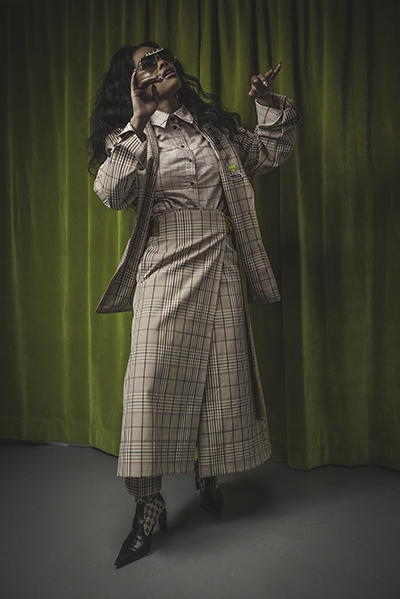 "As I said, I'm all for the world," she reveals. "I'm all for being touchable, and not trying to keep everything to myself. So, it was dope. It opened up a different platform for women that have been going through postpartum depression or postpartum insecurities, different things like that. Because we all go through it. I think it was dope to be an inspiration and to remind us, women, that we are superwomen. I think that was the most important thing.
"I had no clue when it was coming out," Taylor continues. "I wasn't even there. So, to know that I could capture a whole room of people and not even be there, it was a big deal. I felt the energy all the way at home. That video shows marriage. It shows love. It shows family. It shows me as a lioness. For the next year, it was everything. We inspired so many people to want to love, and to be together. It feels so good to have young couples come up to us and tell us we inspired them.  So, that was what we stood for. And that's why we did our TV show after that. It's the touchable factor of showing we're a young couple. We're figuring it out as well, but we love each other."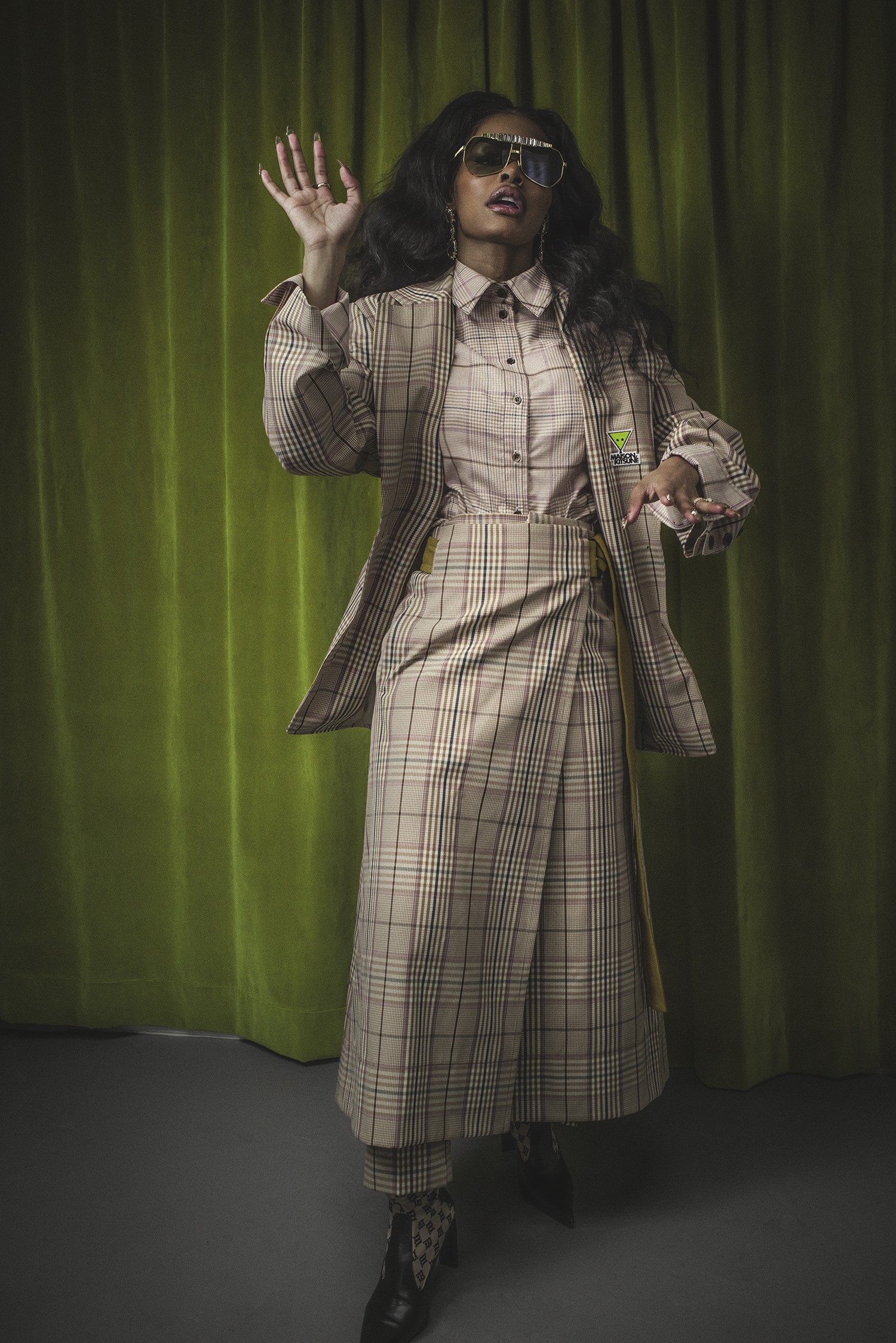 Eyewear, Anna-Karin Karlsson.Earrings,Alexis Bittar. clothing, Maison Kitsuné. BootS, MISBHV. on cover: Hat, Cecilio Leather Designs Gloves, Vex.
She's still exploring herself, her relationship, and her power, and we are blessed to watch it all unwind. There are also plans for a movie: "I have my own production company called The Aunties. Right now, we're already working on writing. I definitely want to get into more TV as well, directing episodes. I'm still learning. I'm still focusing and trying to better myself at everything that I do. I'm definitely ready to do something bigger, where everybody can just soak me in for hours."
'Til then, Taylor is living the dream. It seems worlds away on the other side of the Hollywood sign from most of our humdrum lives, but she wants you to know that any dream is attainable.
"I personally feel like we manifested ourselves. No one person can do it all alone, but it has to be within you. It has to be your dream or vision. You can have a whole team of people, but if you don't believe in yourself and you're not in it the way you should be in it, nothing's going to happen …  Once you love it and you're passionate about it and everyone else gets involved and collectively as a team, we all manifest it, you know. About the people that believe in you and are just as passionate about you as you are, that's what manifests it: You, your team, and your passion."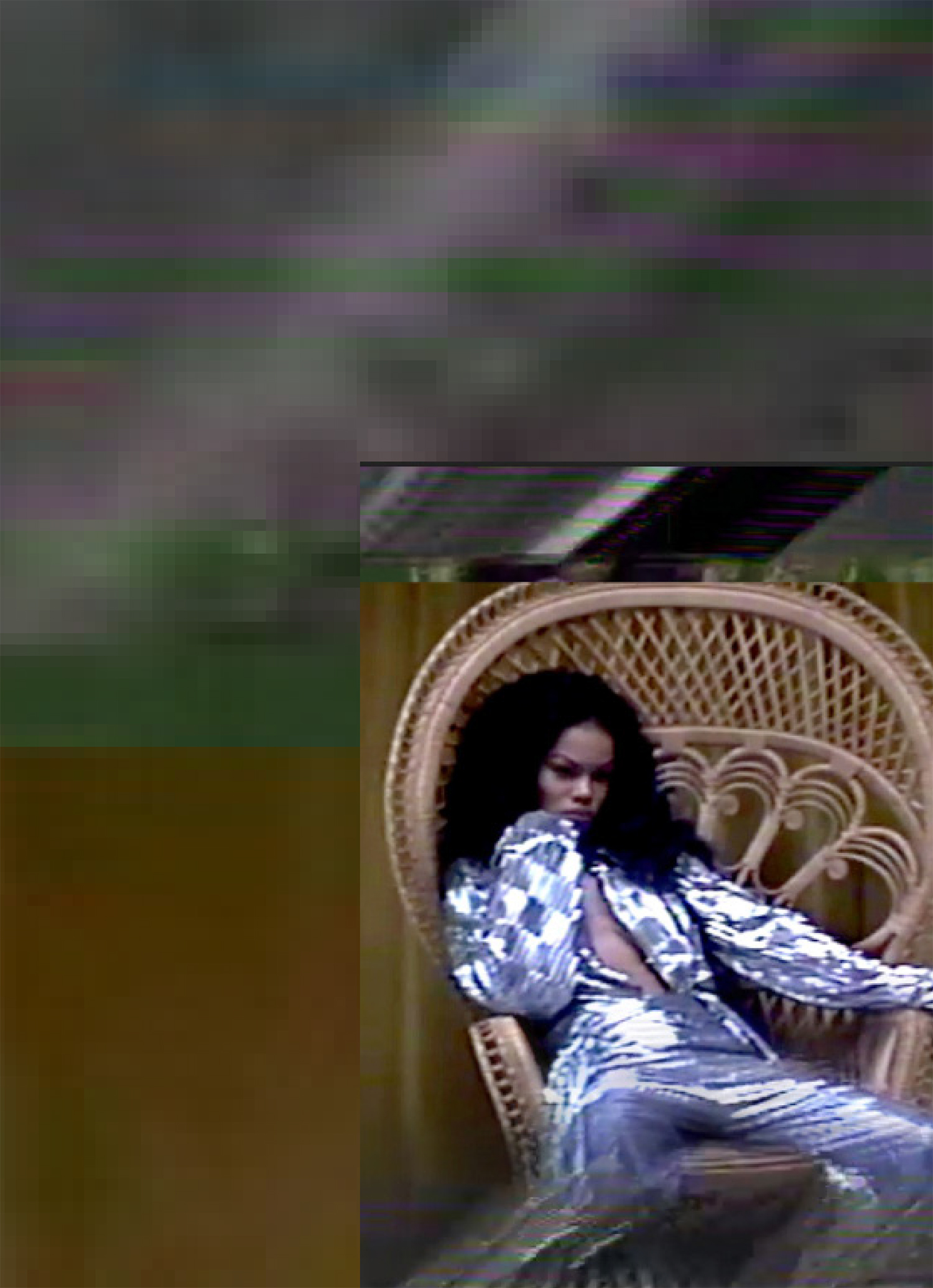 Shirt+pants, Christian Siriano.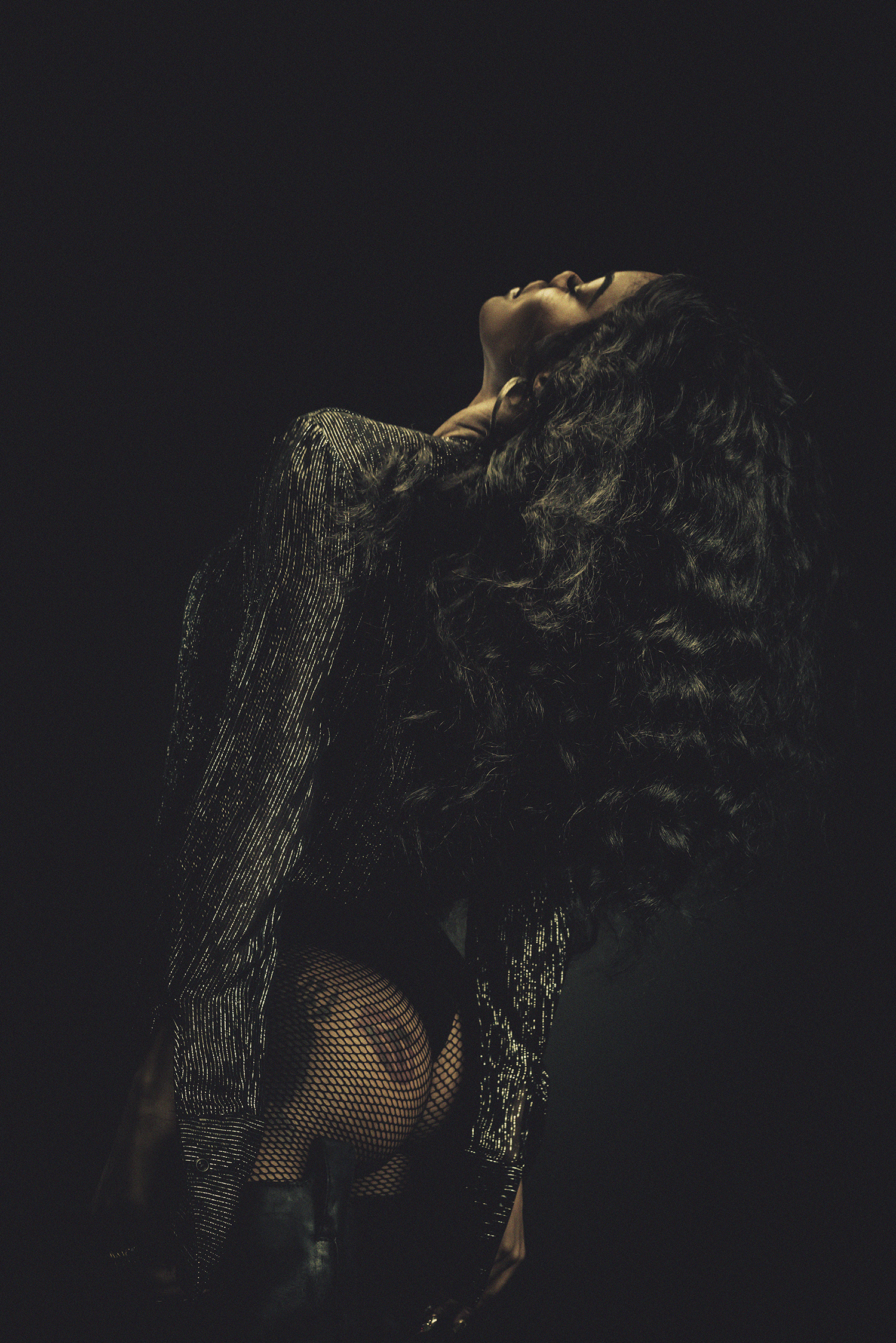 Bodysuit, No.J. Earrings, Alexis Bittar . Boots, Hardeman.
---
photos / Janell Shirtcliff
video stills /

 

Julia Pitch
styling / Styled By Phil
makeup / JAPANESE FACES
hair /

 

STYLEZ OF PORSCHA
story / Koko Ntuen