Story // Mateo Palacio
Location // Fun City Tattoo Shop : 94 St Marks Pl, New York, NY 10002
There are some first experiences that we will never forget, such as falling in love, experiencing your first pregnancy scare, or getting your first tattoo. I was only fifteen years old when I found myself unexpectedly in a random trap house, surrounded by people smoking weed and drinking 40oz, as I showed the eighteen-year-old tattoo apprentice my soon-to-be-first-ever tattoo. It was a moment for me to proudly display my individuality in the most rebellious way possible, embracing self-expression through tattoos.
"So, what design do you want?" he asked.
"I love fashion, so I really want to get the Chanel logo, but it has to be dripping," I replied.
"Sure, man, that'll be $50 bucks."
Before you judge my poor decision of a silly tattoo, let me remind you that I was only fifteen and unaware of the dark history of Chanel, which is a whole other deep dive article in itself. It was only three years later that I became a true fashion enthusiast and felt genuinely embarrassed, but the tattoo remained on my wrist nonetheless.
While most teenagers find it easy to rebel in their own way, I struggled to do so in a manner that felt authentic to me. For me, embracing my queerness became a glamorous form of rebellion, featuring mini skirts, makeup, crop tops, piercings, tattoos, cigarettes, and many chaotic nights of underage drinking.
In the heart of the Saint Marks, lies the iconic "Fun City" the oldest tattoo storefront in NYC, owned by Big Steve and Maxx Starr. Back in the 1980s, Jonathan Shaw established Fun City as a revolutionary fusion of art, hardcore, and punk, pioneering the city's first authentic walk-in shop with a unique vibe. The rebellion started with the punks downtown, a subculture advocating a do-it-yourself (DIY) ethic, expressing a 'f*ck you' attitude towards society, adorned with heavy black liner and anarchy tattoos. Attracting a diverse clientele, the shop enticed everyone from gang members and Hell's Angels bikers to prominent celebrities and artists from New York's high society.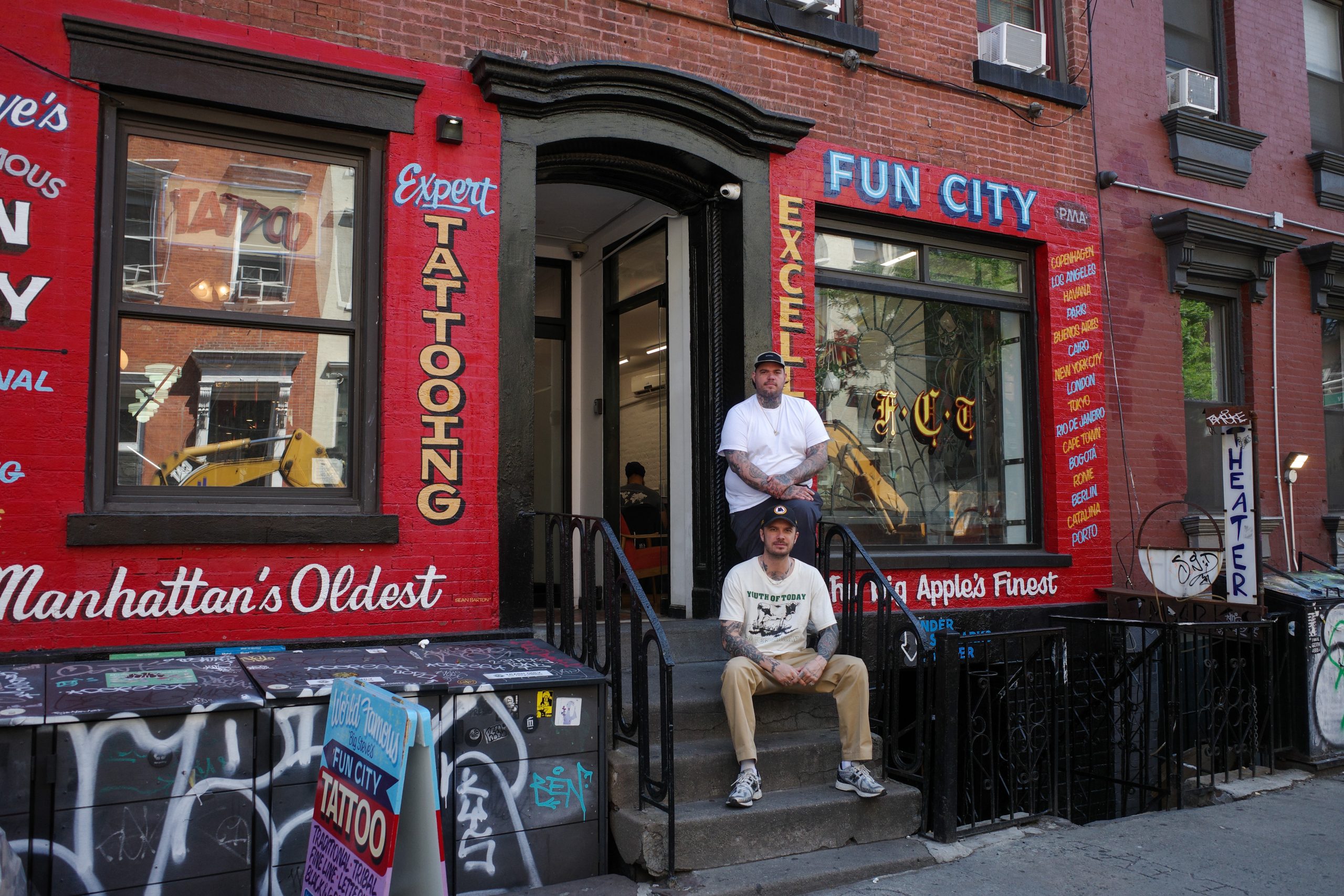 Regulars like Iggy Pop, Jean-Michel Basquiat, Jim Jarmusch, Kate Moss, John Joseph, Naomi Campbell, and a young Freddy Madball found themselves captivated by the enchanting and edgy allure of Fun City's eccentric and wild fantasy world.
In 2001, a young and talented apprentice, affectionately known as Big Steve, embarked on his journey as a shop boy at Fun City. With sheer skill and creativity, Steve quickly rose to prominence in the tattoo community, showcasing diverse artistic styles. Having honed his craft for nearly two decades, Big Steve became a beloved figure in the fine line tattoo community, attracting a notable clientele, including SZA, Kaia Gerber, Miley Cyrus, and Demi Lovato, among others.
Maxx Starr, the co-owner of Fun City, is an accomplished multimedia artist and entrepreneur, calling New York City home for over a decade. His creative endeavors span writing, visual art, and film, often delving into the profound and enigmatic aspects of city life. Notably, Starr's artistic portfolio includes a remarkable book of drawings titled "Freedom, Told Through Line and Color," a collaborative watercolor piece exhibited at the prestigious Gagosian Gallery, and a captivating short film, "The Crusaders," featuring acclaimed actor Peter Green and nightlife legend Sophia Lamar.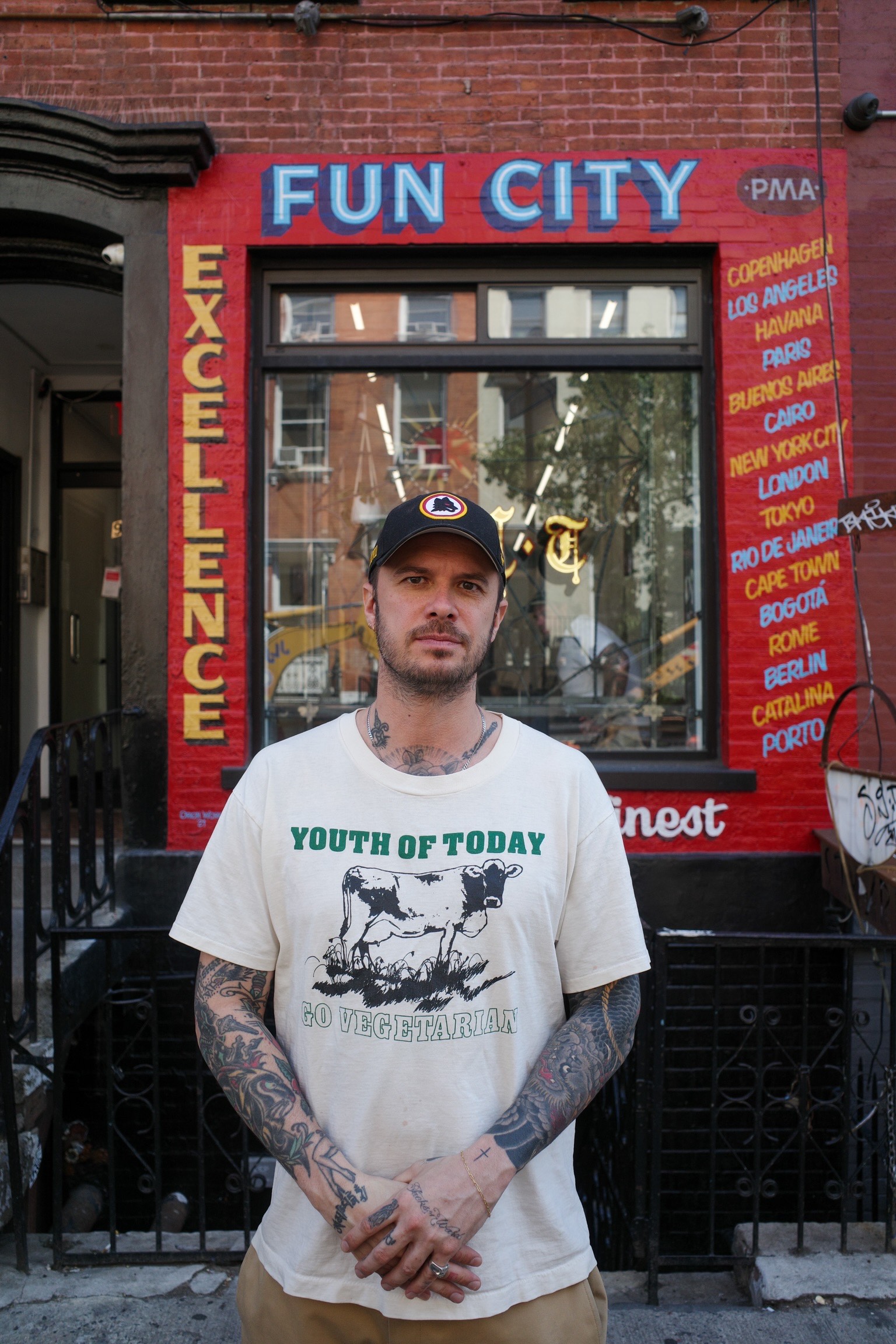 Fast forward to 2023, and Fun City remains stronger than ever, welcoming a new generation of cool kids and "It Girls" (myself included).
During my visit to the shop, I had the opportunity to get a tattoo! Upon arrival, I was warmly greeted by Maxx and Steve. We chatted about the shitty weather and the shop's history. The place was adorned with cool trinkets and vintage memorabilia, and I was particularly fascinated by an artist carefully tattooing the back of his skull with one hand. It was a bit scary, but in a very sexy way.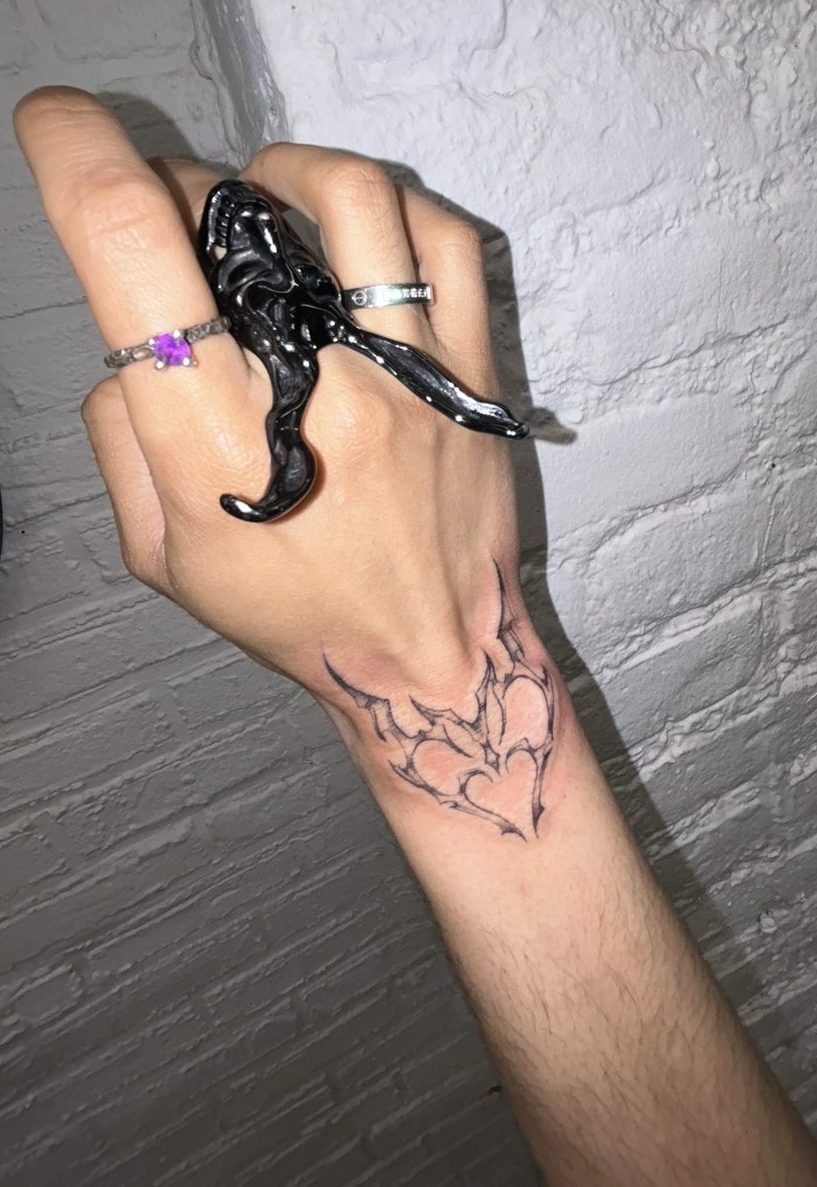 Steve offered me a cold can of JUNESHINE tequila seltzer, one of my favorite alcoholic beverages at the moment. After going through a selection of tattoos, I finally settled on a gothic tribalesque design for my wrist. It was time to taste the needle.
BZZZZ. I still can never get over that initial prick.
The session lasted about 40 minutes, quick, easy, and painless. Fun City stands as a Saint Marks staple, a hidden gem on a street with a rich history and vibrant life. The energy inside the shop is infectious. Made me love my new piece even more. 
Presently, Fun City maintains its tradition of accommodating both walk-ins and scheduled appointments, featuring a diverse team of tattoo artists from various corners of the globe. Among the current lineup are esteemed artists like Joel Baca, Ryan E, Dylan Kraus, Diego, Tessa BX, Jesus Antonio, as well as a dynamic rotation of additional talents on a monthly basis. Having survived the pandemic, it is a true testament to the culture and what the shop has to offer