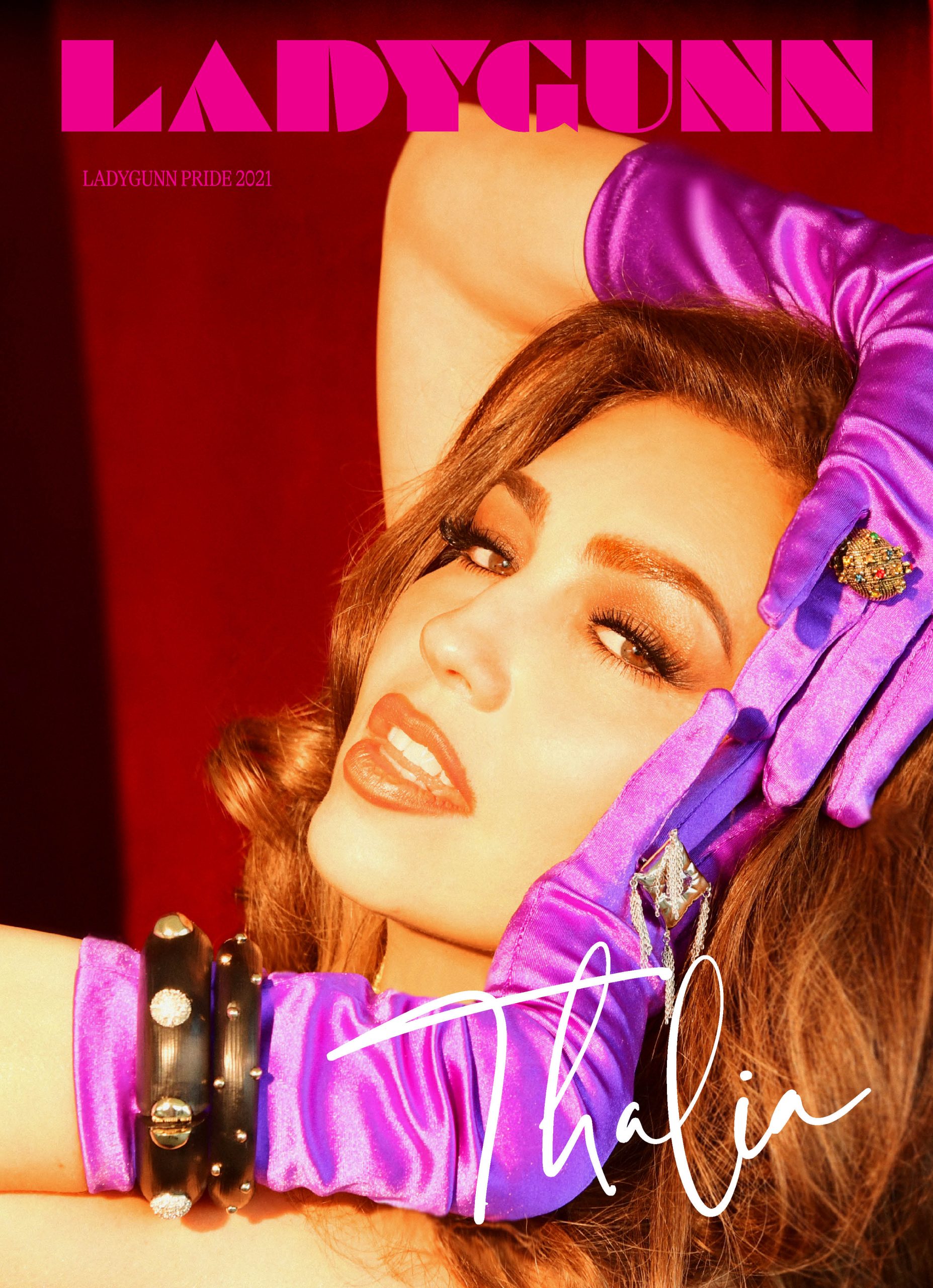 Born Ariadna Thalía Sodi Miranda, the artist who would go on to develop her career under the moniker Thalia, is known as one of the greatest Latin Artists of All Time – and that's only where her resume begins. At the young age of 15, she was a member in the successful Mexican musical group Timbiriche, until breaking into her solo career just three years later. With a trajectory that has now spanned over decades, Thalia's name and music has continuously found itself charting on the hot lists whether the year is 1993 or 2021. More impressively, the multi-hyphenate also adds telenovela mega star, best-selling author, fashion mogul, human rights ambassador and a collection of quite near every award imaginable for a reigning Latin icon from a star on the Hollywood Walk of Fame to a President's Merit Award to her collective resume.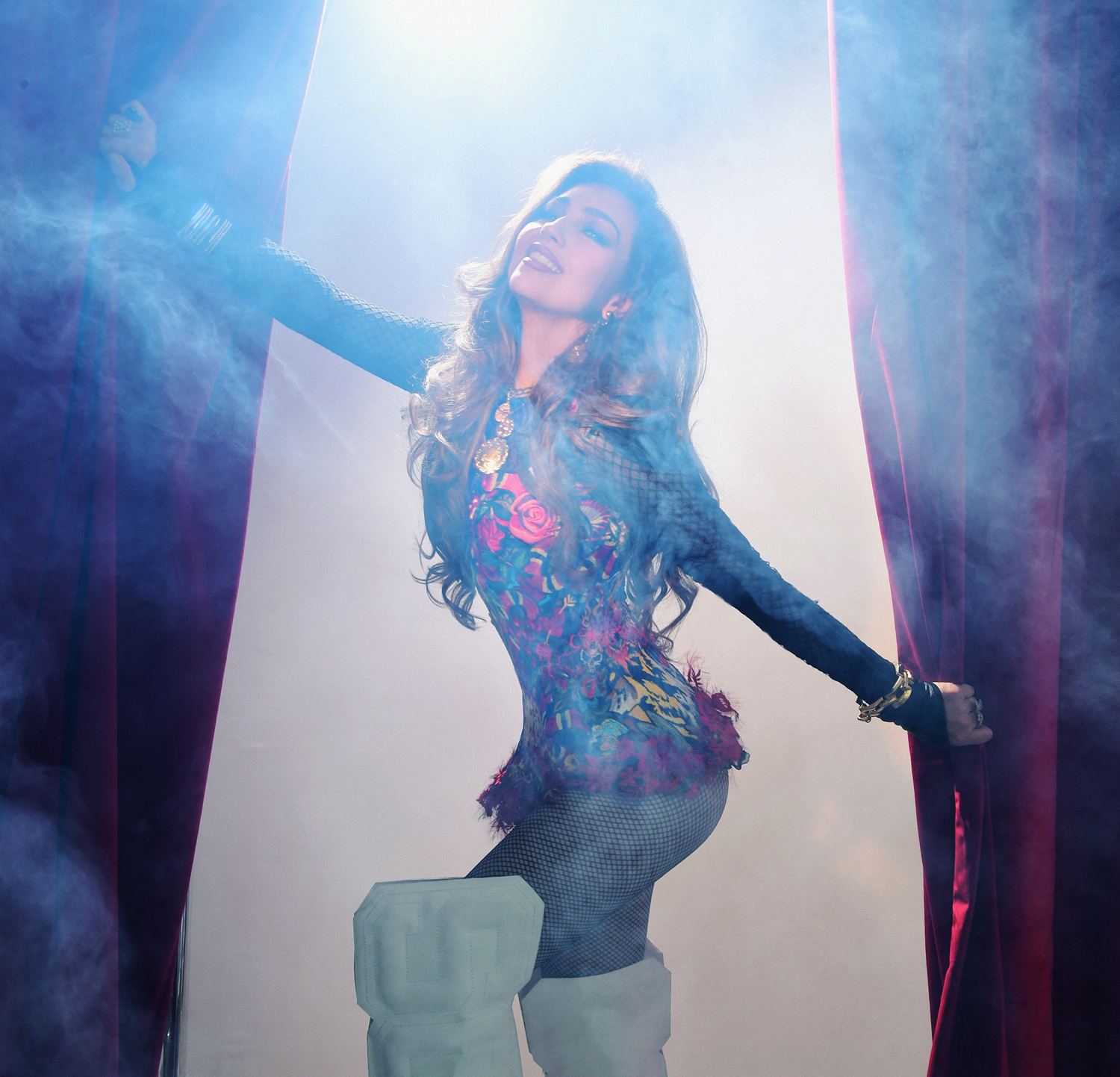 As I waited for Thalia to join our zoom and prepared for our meeting to begin, a particular childhood experience made its way to the forefront of my conscience. It was a sunny summer weekend morning in the early 90's as the radio airwaves blaring the music of the infamous K-LOVE station circulated their way through my home, as it so often does as a staple routine in the homes of bi-national Latin families in Southern California. While transmissions were so often saturated with pop a lá Americana during this era –  I vividly recall hearing "Piel Morena" for the first time. A provided a wondrous step in self-healing for a young, Latinx girl. "That's me!" – the first words I remember saying to my mother "she's talking about me." As the sultry chants of "eres piel morena" continued, the words suddenly became more than a lyric, but a declaration of pride in the skin I lived in. Not able to fully contextualize it's significance until later in life – what that moment provided was an opportunity to feel seen, accepted and celebrated on the global music stage. 
Settling into the introduction of our digital conversation – I indulged the vivid urge to share this recollected memory with Thalia. "I LOVE it!" She expeditiously responds with a warm enthusiasm that reverberated through the remainder of the conversation. Always a risk to expose an inkling of inner fangirl to such a famed persona – but Thalia's responding demeanor assured air of friendly disposition rather than that of an untouchable star. "I love to hear that – that really makes me happy. It makes me so excited and I'm so thankful. It's a gift, saying it's been worth it to work all these years and take the chance to be different. I mean, stories like that make me feel like everything was worth it." 
Thalia's influence transcends well beyond the borders of her native Mexico, where she is regarded a national treasure. Her impact via avant-garde fashion, progressive messaging, and an eclectic flair for all things open and experimental solidify it was all in fact worth it as her music finds home in the hearts of the rebels, trailblazers and innovate experimentalists. She has long served as a beacon for those seeking to express themselves in full honesty, to entertain with full confidence, and to love with no limits. For decades worth of boundary pushing music, fashion and humanitarian work, Thalia now adds to her infinite and always growing list of accolades by gracing LADYGUNN's PRIDE cover, an honor she describes as "a bigger celebration of feeling proud, happy and embracing diversity."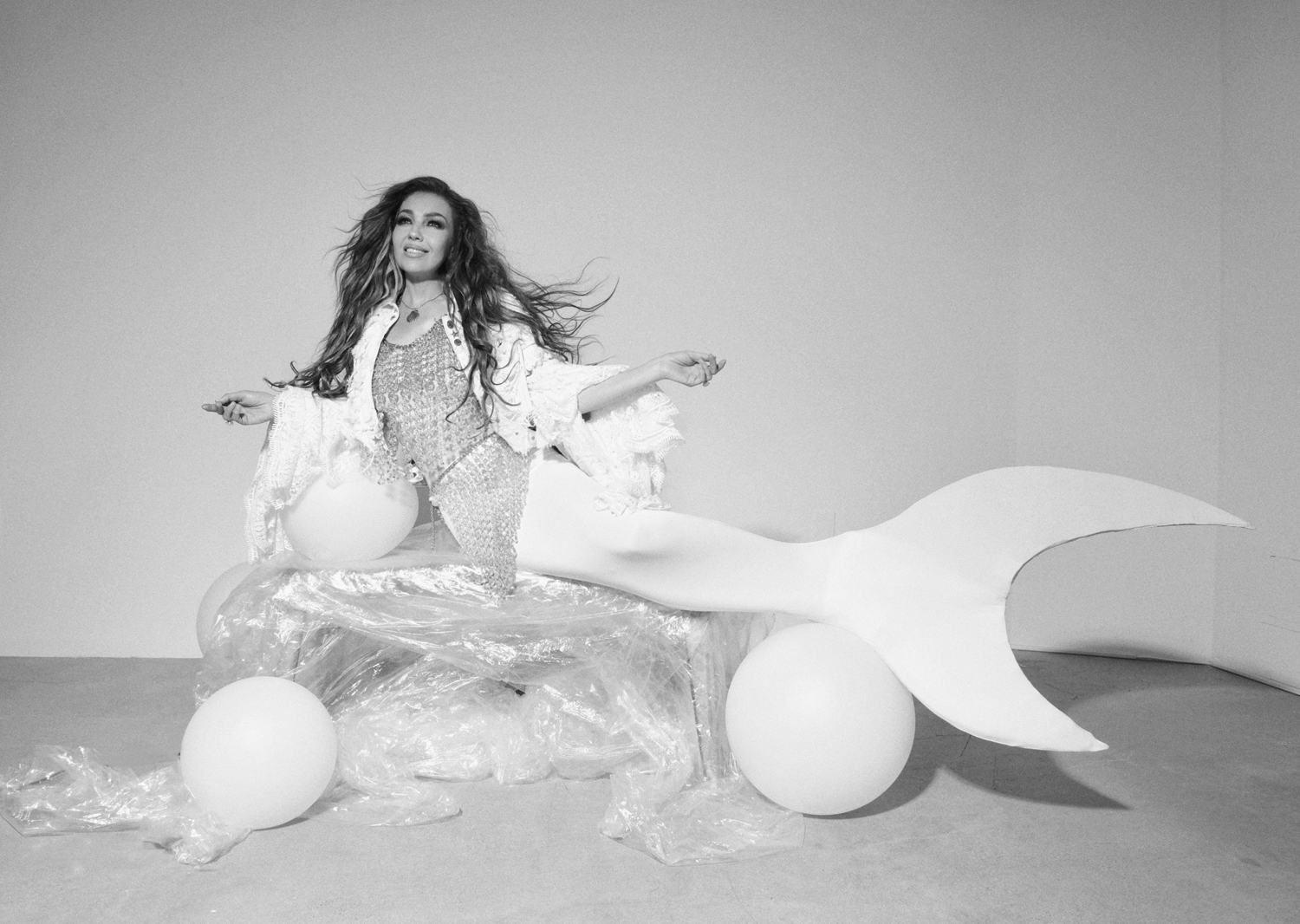 In celebration of the month, we begin by asking the reigning queen how she views her long standing relationship with the LGBTQIA+ community and how it came to be, in which Thalia notably takes us back to her earliest days. "I think Thalia and the LGBTQIIA+ community have had a beautiful love story from the very beginning that has continued through the years. Through music and fashion, the element of identity was always important for me to defend. My point of view, my way of seeing life and how I perceived myself in the world. I'm sure that's what nos unió a la comunidad y a mi. We always try to be ourselves. Different, unique, incredible, over the top, eccentric – and full of love." 
While a recent luxury for Latin music to be regarded as a commonplace for the next hot trends due to its ascension to the forefront center of the global music stage, we need to contextualize Thalia's career as boundary-pushing during eras where being both Latina and a woman could be viewed as heavy impediments in musical climates that were not favorable to either facet. A theme that remains prominent throughout the conversation – Thalia often refers to her key to success as her prioritization to remain honest in her self-expression. She was always fearless in taking up space, and looking wildly fierce while doing it.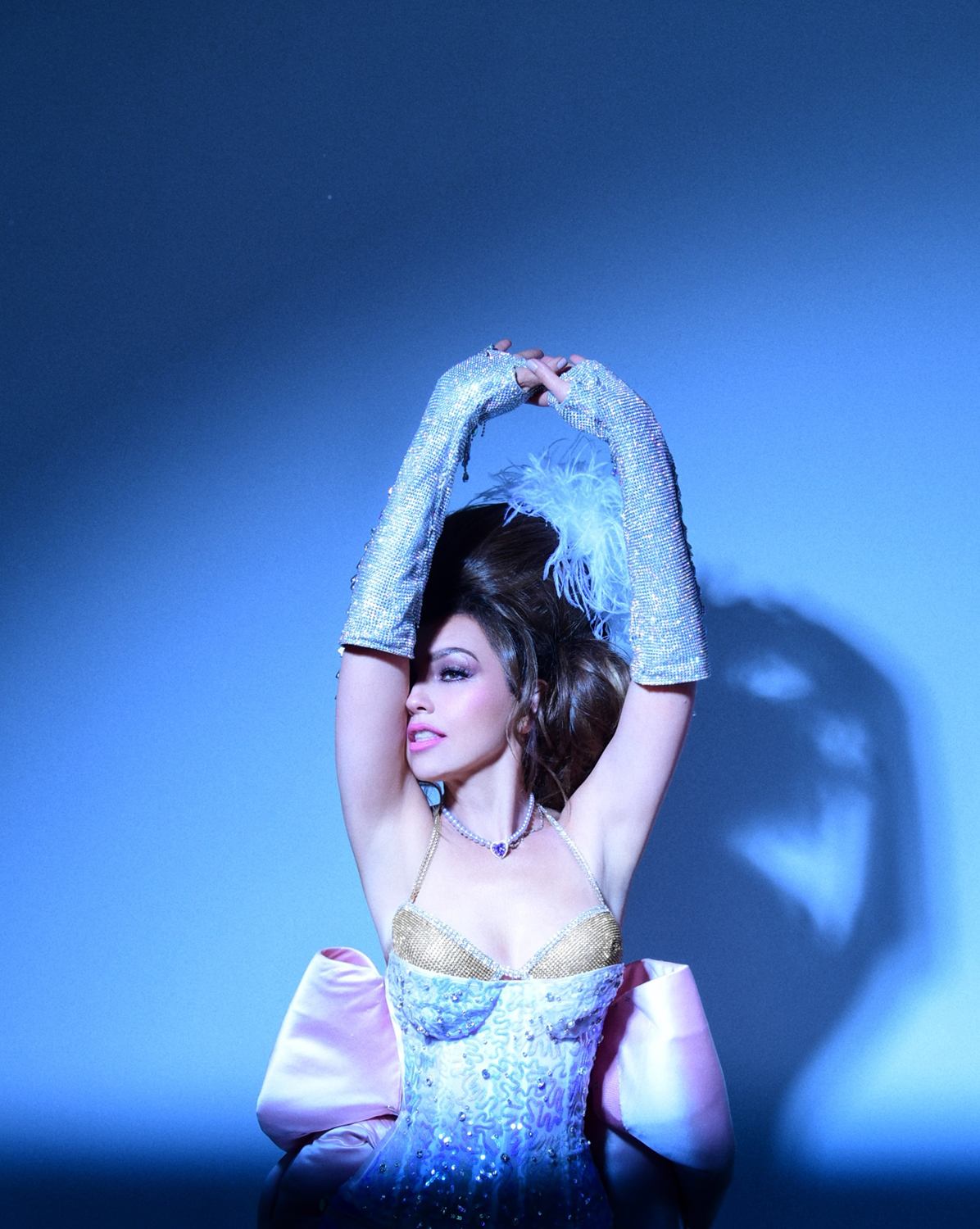 No easy feat, we wanted to know the source of where she collected the inspiration for her "A Quien Le Importa" attitude. She attributes "I've always admired brave and unique women that were not afraid of expressing themselves. Women like Maria Felix, Cher, Tina Turner, Madonna – women that really didn't care. They just wanted to be themselves and sing about whatever they wanted to, dress how they wanted to. It's those kinds of brave icons that paved the way to where I am now standing."
She makes one thing clear: Thalia was meant to exist as an entity on a mission to elevate the idea that being different was not only beautiful, but worthy of celebration and praise. It is through her outlook, experimentation and allyship that she sources a connectedness with fans who may often find themselves othered, misunderstood or still seeking to see themselves fully expressed in mainstream media. She looks towards her most prominent medium of music, as a tool capable of highlighting the healing and empowering nature of music that combines with her own personal priority of championing efforts towards social advancement. 
In exemplary nature, the singer mentions her love of being involved whenever opportunities to utilize her platform and voice arise. Highlighting a bright moment during a dark time – she discusses her involvement in digitally inaugurating Mexico City's PRIDE celebration last year. Thalia took her role with great responsibility, utilizing her social media to bring awareness to messages of allyship, love and respect to be brought upon the LGBTQIA+ community. She also used the moment to dedicate her single "Por El Amor Al Arte" from her album Valiente to her fans celebrating the fight for equal rights. She continues by informing how she landed on her endearing tribute to her long-time fans. "When I heard [Por El Amor Al Arte] for the first time, I knew I had to sing it because I was sure there was someone going through something that would need it. In the same way that I did "A Quien La Importa," it is a kind of an anthem that stands for being just like, `this is the way I am and I love myself the way I am.'"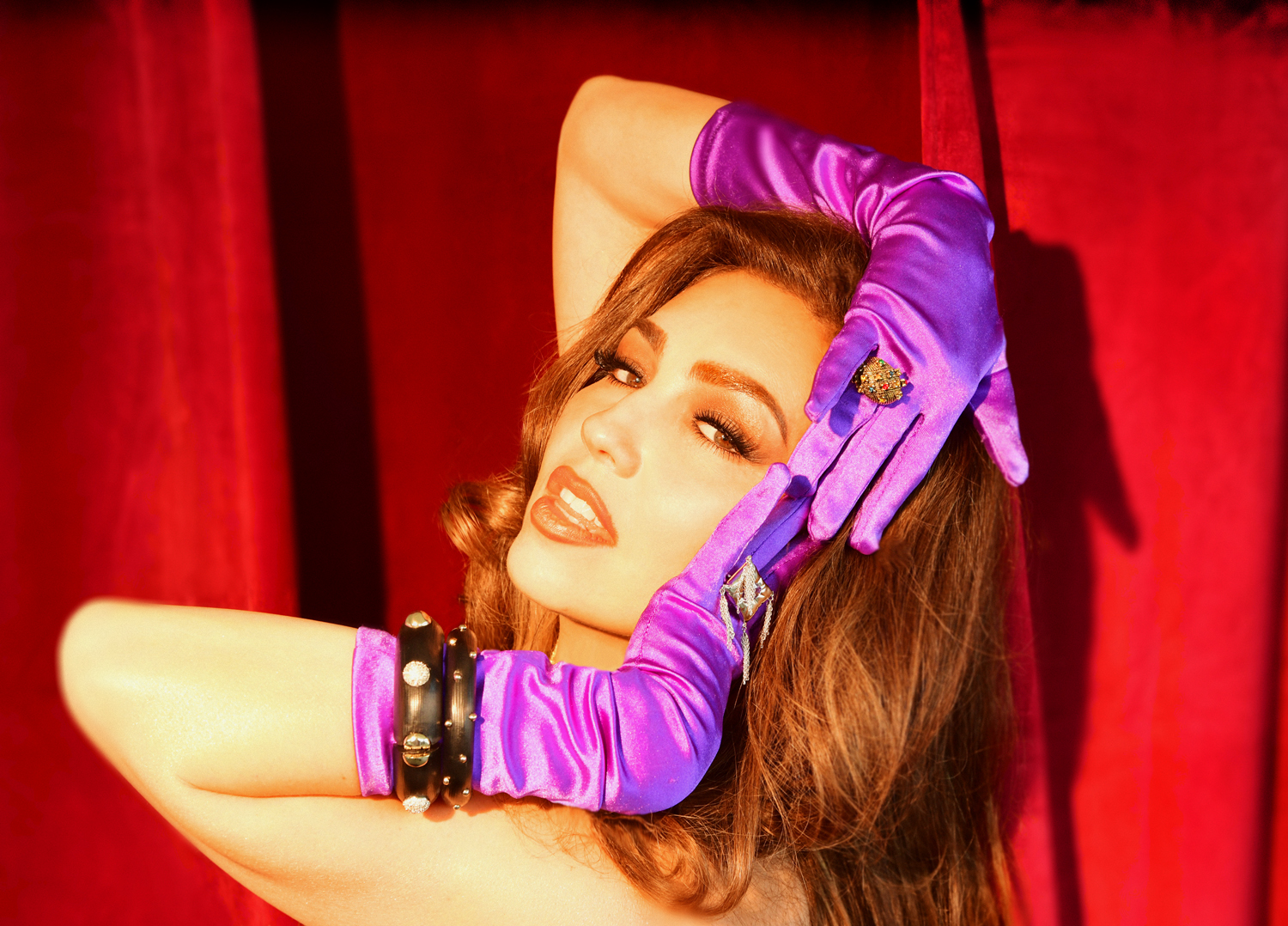 Silver ring, E 51 JOHN. Gold ring, LARUICCI. Bracelets, ALEXIS BITTAR. Gloves, stylist own.
Also utilized in her connection to her adoring LGBTQIA+ fans is her avant-garde fashion that often serves striking, bold and adventurous choices.  "Fashion, to me, is just about having fun and expressing yourself, your ideas and your personality in every step of your life. You're always evolving, you're always changing. So not only do my emotions, thinking or creative process change – but my fashion too." 
When asked about where the fashion icon and now fashion mogul sources her inspiration for the fashion-forward looks she has graced the industry with over the last years she states that the inspiration came from inside her childhood home. "My mother was always creative with her shoes or accessories. My sisters, we're five sisters, we all had a different look and they were very creative. They'd pick up a piece of fabric and create these incredible caftans, dresses or head pieces. I was always amazed at what they could do with a piece of old fabric." 
I go on to praise her wardrobe stylings in one of her latest videos for Tick Tock, one of her latest feat. Sofia Reyes, that includes fiercely vivid colors and shapes lines. "[Fashion] is like a racecar for me. I am always ready to just go and feel the adrenaline to go do something crazy, eccentric or over the top."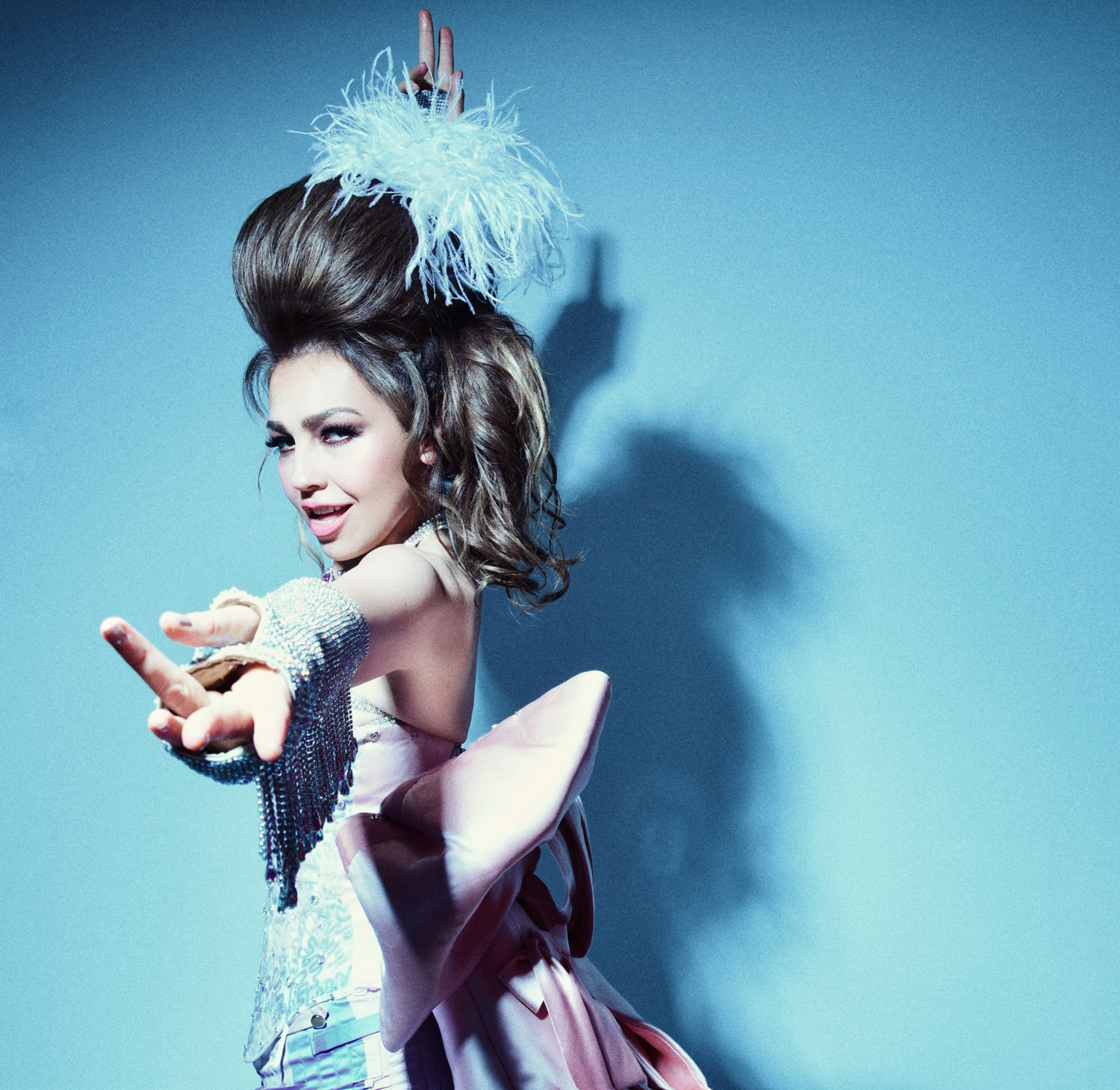 Corset, skirt and bows, SAINT SINTRA. Gloves and bra, JESSICA JADE. Necklace, E 51 JOHN.
The aforementioned track brings us to talk about her latest project and seventeenth studio album, desAMORfosis. The 14-track album brings us the most complete version of the popstar we've received yet. "It is a very personal project that is really digging into my past and present emotions. It was a liberation of so many stories that I kept hidden inside of me, some that are portraits of what I want to live, and some I want to crystallize. It's a very personal journey through love, heartbreak and change. From beginning to end, every song had a part of my story – creating a whole universe and body of work. I feel so proud and happy with this album."
A whole universe the album proves to be. The tracklist ruminates in a courageous effort to cover a considerably large amount of musical ground reflective of the deep versatility of a seasoned popstar. "My core is pop – that's my essence. When I write songs, that pop flavor is always guiding me but since the beginning, I always loved to experience different generos musicales. I always play with different aspects of music and I was never afraid of crossing lines."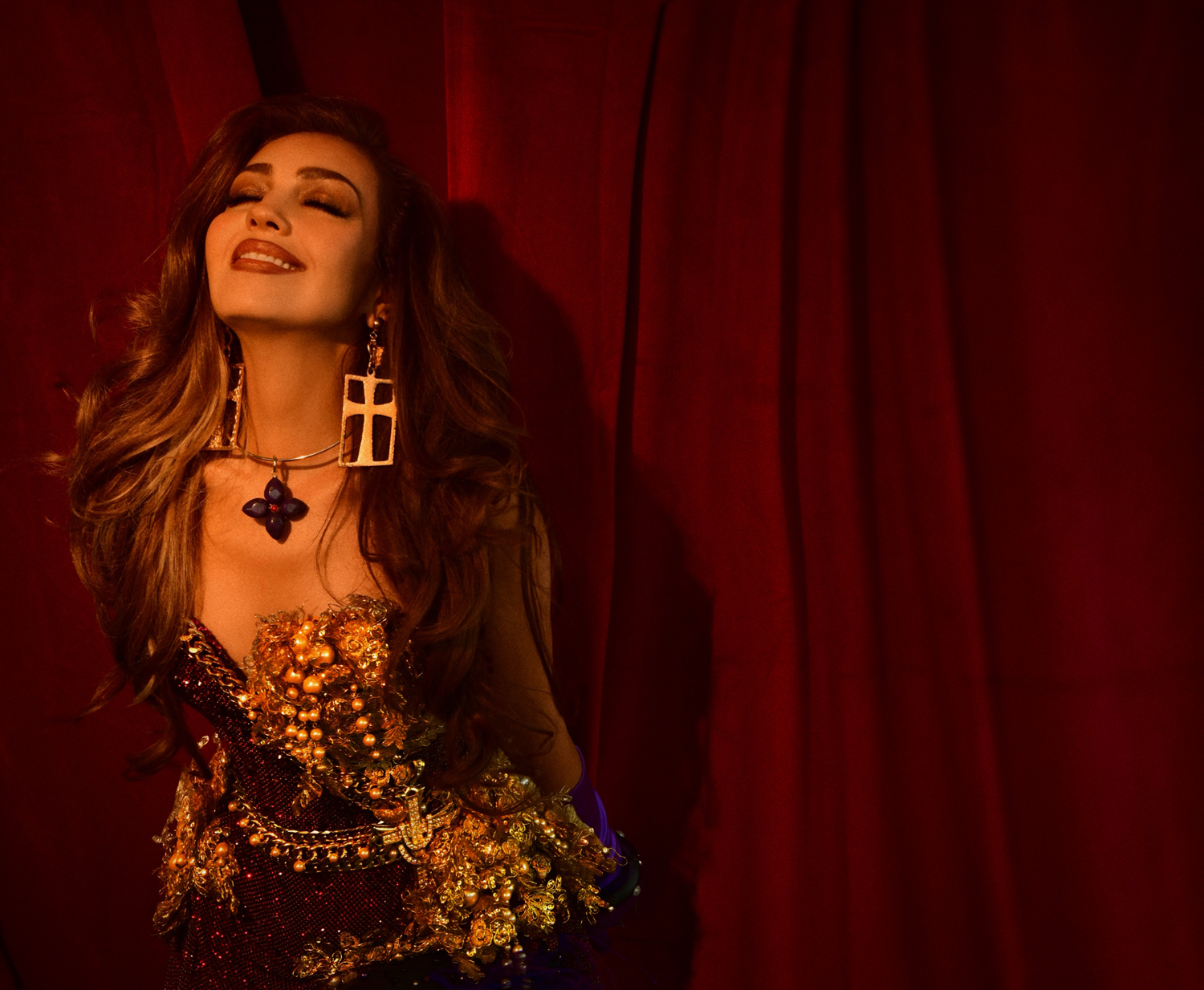 Her album opens with her charting single "Mojito," a playful, upbeat island rhythm, before we're moved along to heavier reggaeton beats on "Mal y Bien" and "La Luz" featuring reggaetonero Myke Towers. She gives us a bachata break with "Por Que" before moving us over to a pop-centered ballada on "Empecemos." We end the album with the singer's personal favorite on the album – "Barrio," a track with a salsa undertone that culminates the album in a celebration of self-love found rooted in the surrounding community. If we hit play on the bonus track, she provides the biggest curveball in the compilation, a banda track accompanied by heavyweights Banda MS. The album is a crafted piece that puts her signature emphasis on experimentation and adaptability on display. 
On desAMORfosis, Thalia is able to seamlessly navigate genre, language and emotion to produce a piece of work reflective of the human experience surrounding love. It is complex, varied, fragmented; yet each section carries its own specific lesson, honesty and truth. At the end of it all, the charismatic aura that radiates from the album and conversation assures one thing. Everything Thalia does is rooted above all, in love. 
Her latest celebrates that concept in all of its abstracted glory. "To me, the whole album is a journey of the whole process of love. When you first get attracted to someone, then the sexiness, then you fall in love and then you're blind. Then you finally notice that this person is maybe not for me. Then you take a break, and you go on with your life. I mean it's all this drama, but at the end of the whole thing is love for yourself and being proud of where you're coming from and where you are standing right now."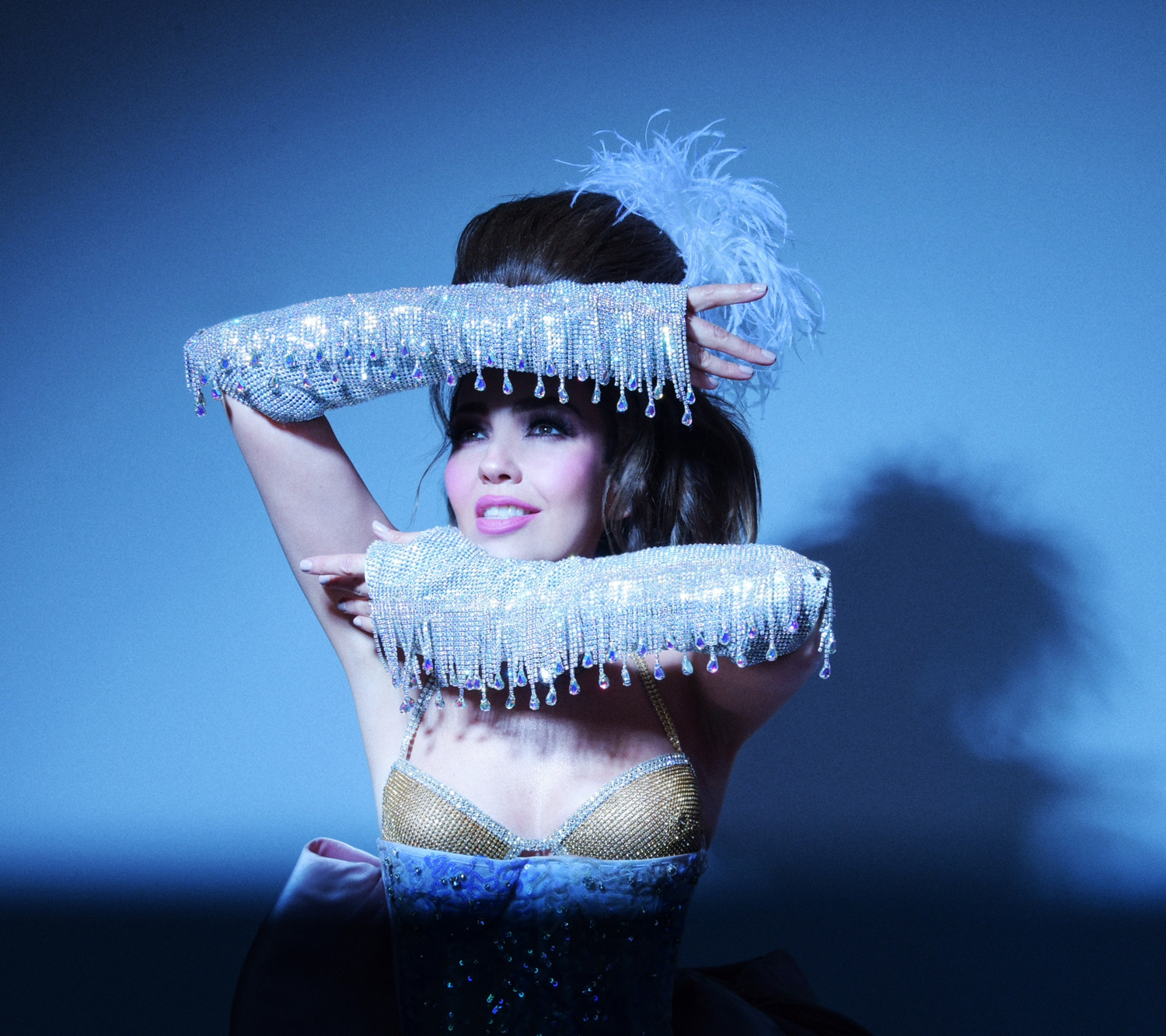 When asked how quarantine has affected what can only be assumed to be a tenured recording and creative process, she continues "It was a very technological driven project in the way we produced and co-wrote it. It was a lot of zooms and FaceTimes versus sitting at a studio, but it was still very personal because it was more intimate." She continues "Recording myself in the studio was an element of freedom. To be alone you're more vulnerable and more open to do things that you we're probably afraid to do if you had someone there next to you. It was just me, the microphone and playing with my vocals on pro tools on my computer. The approach allowed a chance to liberate another side of my voice that I never experienced before. It was extremely personal." 
While physically isolated for much of the recording process, the features list assures that the final product was not a solitary effort. Underlying the importance of community that Thalia carries so dear to her ethos, we go on to discuss her collaborations and their enrichment on her work. "It is very invigorating, intriguing and sexy for my brain," she mentions on working with other artists – a trait long infused into the nature of her music – "just to sit in a studio with other points of view about music or lyrics or structures. To me, that's very exciting. That's why I always love collaborating from different generos because everyone can put in something different, they can learn from my process or I can learn from theirs. It's very enriquecedor and it makes you  feel like you accomplished something bigger."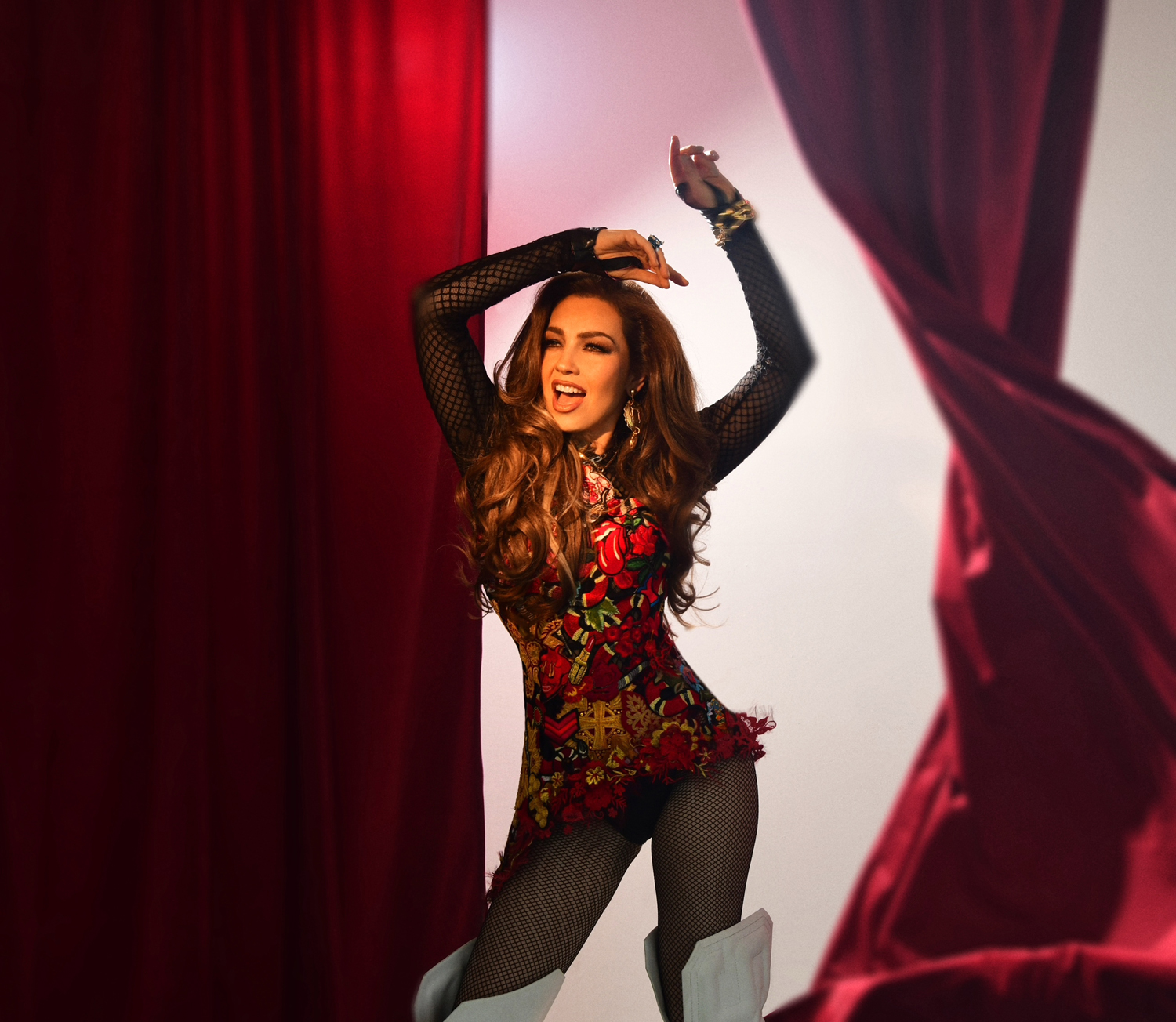 Nearly 30 years into her career, a journey of stardom matching nearly as many years of my own existence on earth, we question a notable choice often made within her more recent collaboration choices. With opportunities to work with, well quite near anyone, she often remains visceral in deciding to work alongside the up and coming. "Everybody that I collaborate with has such good energy. I guide myself through that. Through impulse and intuition and a good feeling when I'm with them. I'm very lucky that everybody I've been working with has been amazing with the best of energies and their own love story with music."
During a year that was entangled with some of the most difficult challenges for the world, Thalia acknowledges the time was no different for herself. "This last year has been very challenging for everybody. It really made you face the angles that we're not that shiny or the ones where you didn't feel as much pride in your personality or stories. It just simplified life. In my case, this whole pandemia has been changing me. It made me focus on people I really appreciate and feel happy around. Same with places or situations. It was like going through deep cleaning of my own emotions." Her most honest and vulnerable album to date exhibits decades' worth of working towards refining the skills and her ability to create something beautiful amongst the adversity thrown her way.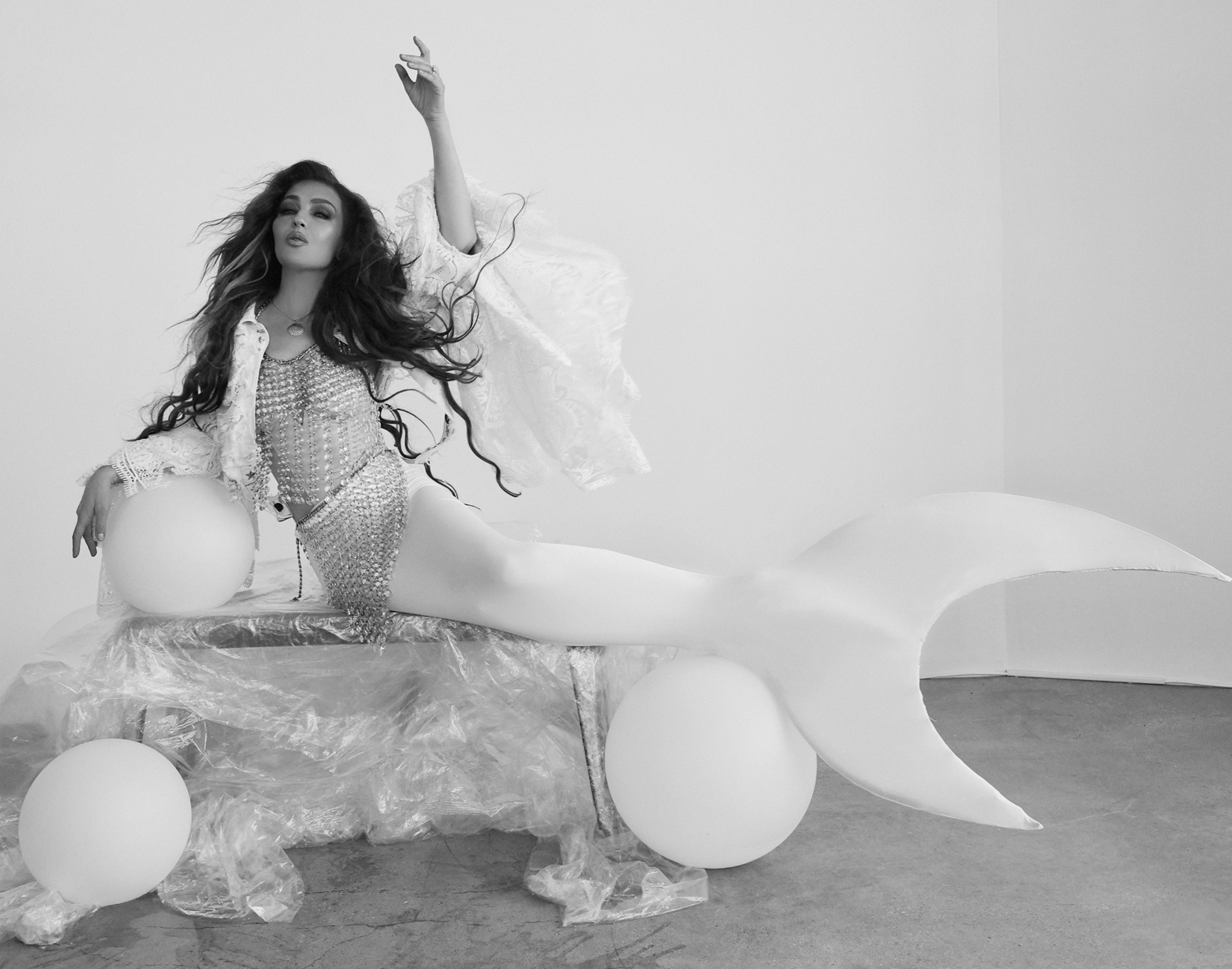 After sharing an appreciation for the artist's open emotional vulnerability, she touches upon the idea of music serving a powerful purpose towards healing. She emphasizes the album's production trajectory as one that has led her to a homecoming of sorts that delivered her into her most authentic skin yet. As much as the album serves as an opportunity for fans to connect with desAMORfosis  the rooted nature of the music was first and foremost a process of healing for the artist herself. "The message through music is that you can heal yourself." Moving onto how she hopes her fans digest the universe she's created she finds "maybe some people don't find the correct words for their feelings or emotions in a situation that they're going through. A song with the correct lyrics and melody that touches your heart can come in handy in the precise moment and helps you get through that experience. Como una salva vidas, music is totally healing."
"It's just about being open to the experience. I think music has no limits. The moment you put a limit on music, then it's not healing. And music has the element of healing people. In order to do that, you just have to be open to the mixture and the emotions."
As we near the culmination of our discussion, Thalia chooses to leave a note honoring her most loyal fans that have so long fostered a loving kinship with the artist, particularly emphasizing the LGBTQIA+ community she has for so long advocated alongside. Her message: "Love is the difference and is real. Be strong, be yourself, and support each other at all times. Don't let anybody change you. Don't let anybody's opinion put you down. You are beautiful. You are unique. And you're so worth it. I love you so much."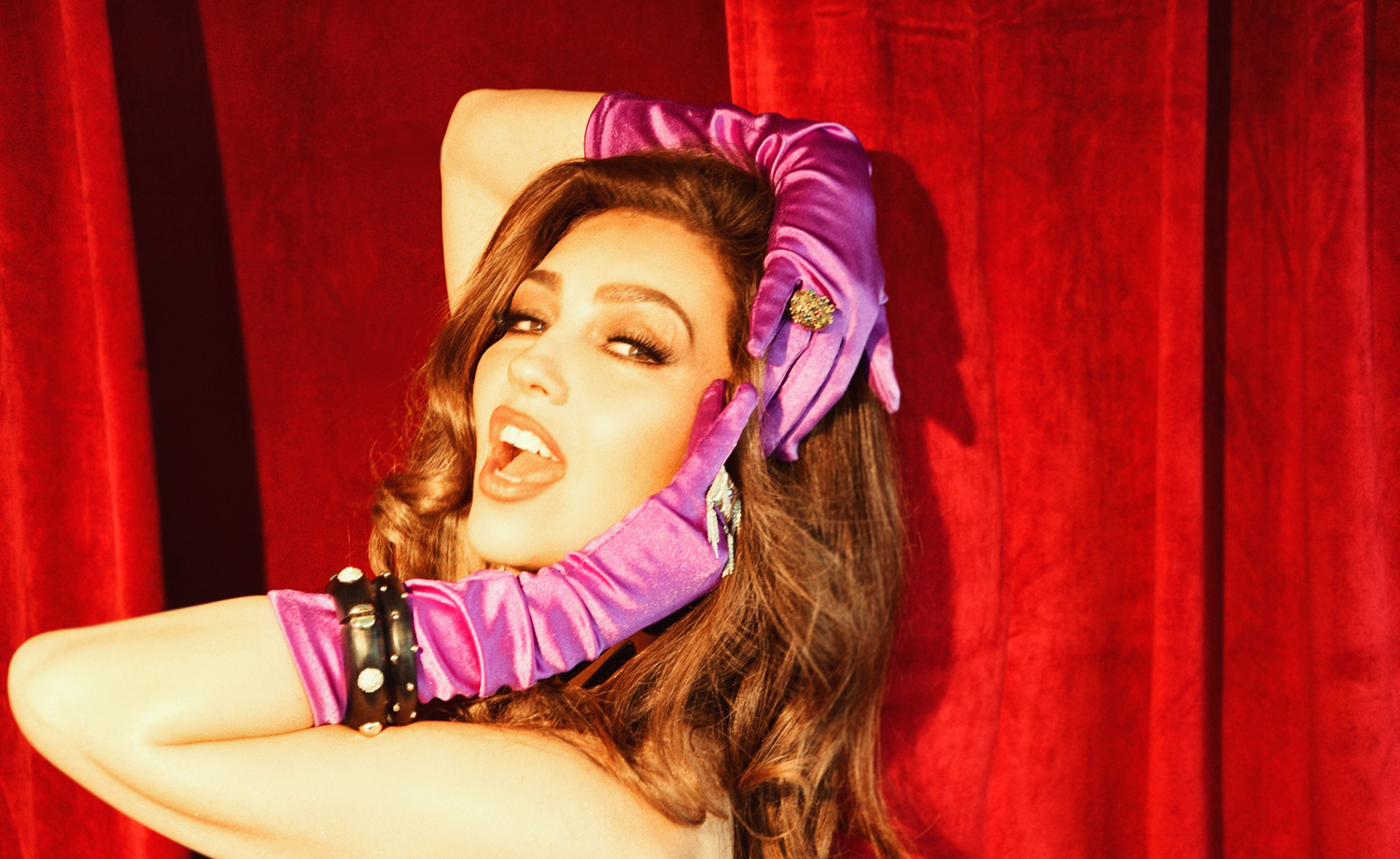 CONNECT WITH THALIA:
creative + styling | 
PHIL GOMEZ
mua | 
ANNELIESE TIECK
represented by @judycaseyinc