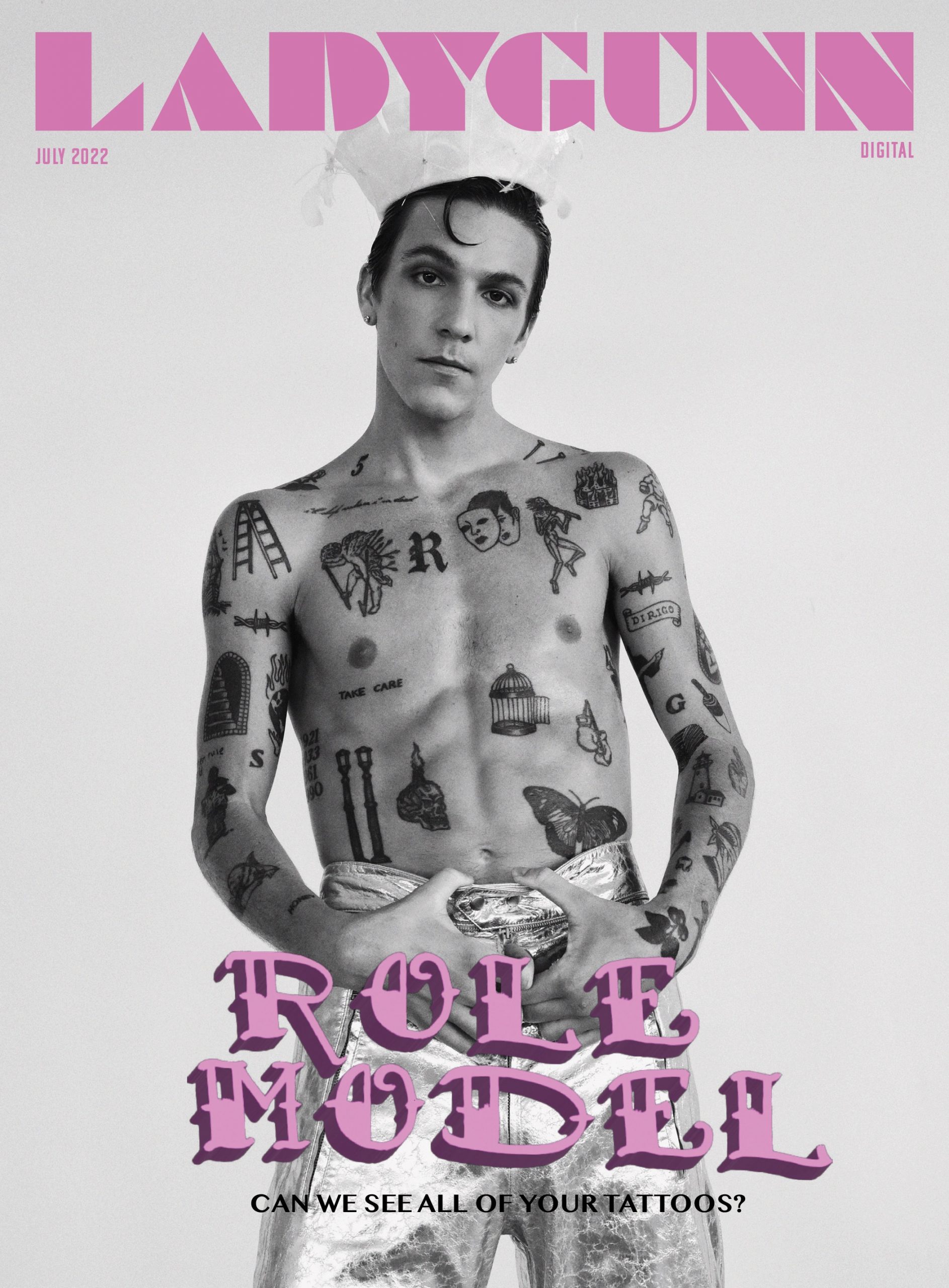 I'm experiencing nostalgia with my eyes half way shut and my ears open. It's 2AM, and I just came back from a party in the East Village. I'm feeling numb, kind of inebriated and sad I didn't go home with anyone. I find myself listening to ROLE MODEL'S "Rx" album. I'm in my room, laying in bed recounting my night as my LED lights turn into dripping watercolor paint with a soothing pop ballad in the background. My mind drifts to a simpler time as "who hurt you" plays in the background. I am reminded of high school dances, kissing a boy behind the bleachers, getting high for the first time and having my heart broken for the first time. Melancholy seeps in as "can you say the same" plays.
An amalgamation of sounds and tunes that feel dreamy and woozy, which really seems to match my current vibe. Everything's blurry but the feelings are real. Singer and songwriter Tucker Pillsbury aka ROLE MODEL is prescribing doses of self reflection and unrequited love in his latest album "Rx". No matter what's your drug of choice, love will always be the most addictive. Have you had your fix as of lately?
The Portland, Maine native's musical journey began in 2016 with rap music and a Soundcloud account under the mononym "Tucker" then soon after "Dillis". In 2017 he decided to go from rapping to singing and eventually came up with the official moniker that we all know as ROLE MODEL. After creating his debut EP "Arizona in The Summer" entirely in his closet, the EP quickly caught traction online and the attention of rapper Mac Miller. The stars aligned and in 2018 Role Model was signed to Interscope.
Fast forward to 2022 and RM is taking a break before going back on tour in Europe. Having a NYC sold out show and performing at Coachella, Bonnaroo, and Lollapalooza. I chatted it up with RM as he spent quality time with his girlfriend, Internet mogul Emma Chamberlain in sunny LA. The two fell in love like doves in the wind, inspiring RM's music and most of all heart. Emma subtly stars in the music video for "neverletyougo" looking unbothered as RM's enchants with a smile.
The beauty of "Rx" is that it has this balance between a high quality production with robust songwriting while at the same time retaining this minimalist approach that sounds like an indie artist just making tunes in his bedroom. Lyrics and high vibrational sounds that pull on the heart strings where one can experience true human emotion. As a self proclaimed Jesus freak, my favorite song on the record is "if jesus saves, she's my type" the song too me references how one only wants to access God or delve into prayer at our lowest point, but the saving grace outside of seeking false idols (if it's not your thing) is finding salvation through, love. This was the first single of "Rx" with an accompanying music video that absolutely sets the tone for the album.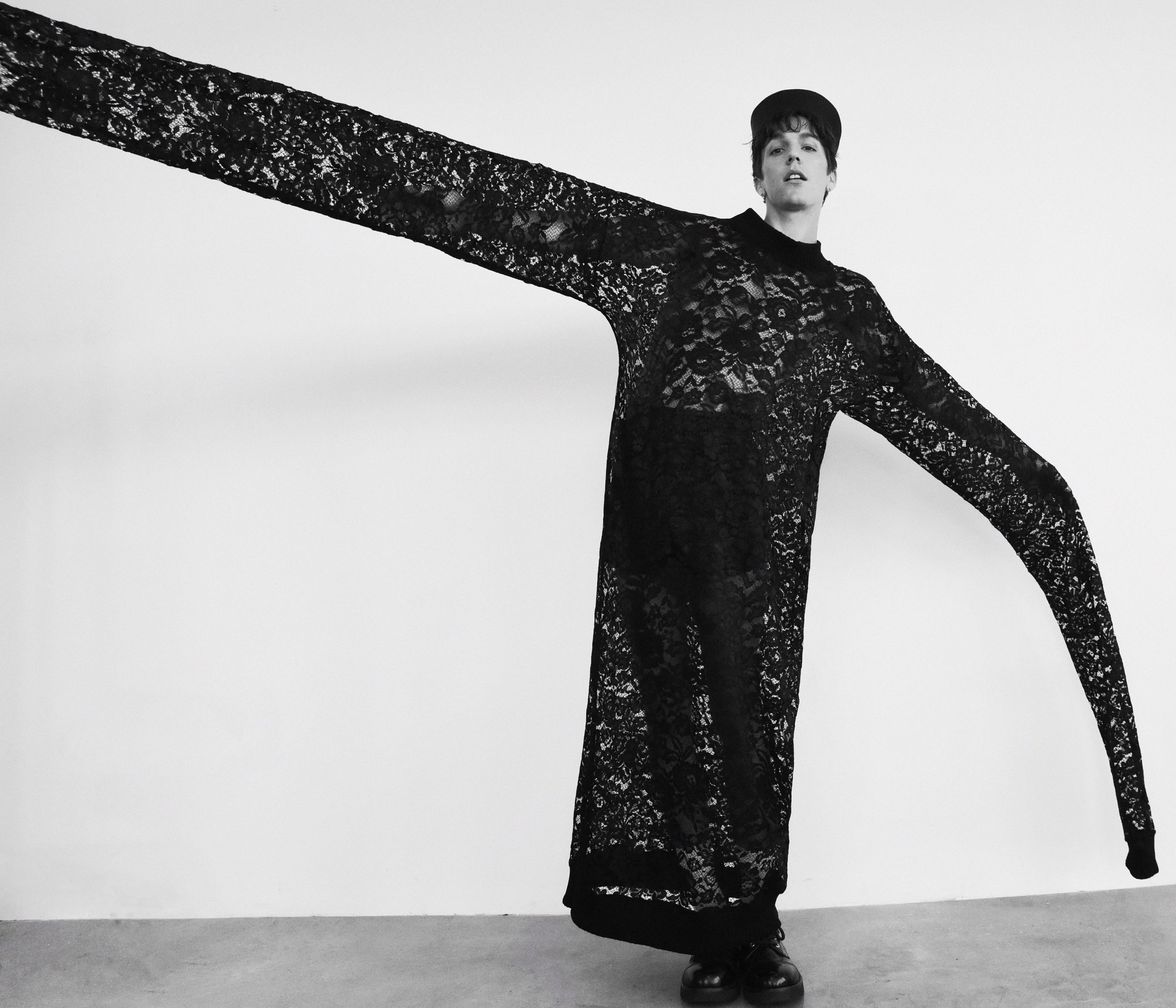 Shirt, DOPE TAVIO. Shorts, Vintage. Hat, ICEBERG. Shoes, DIESEL.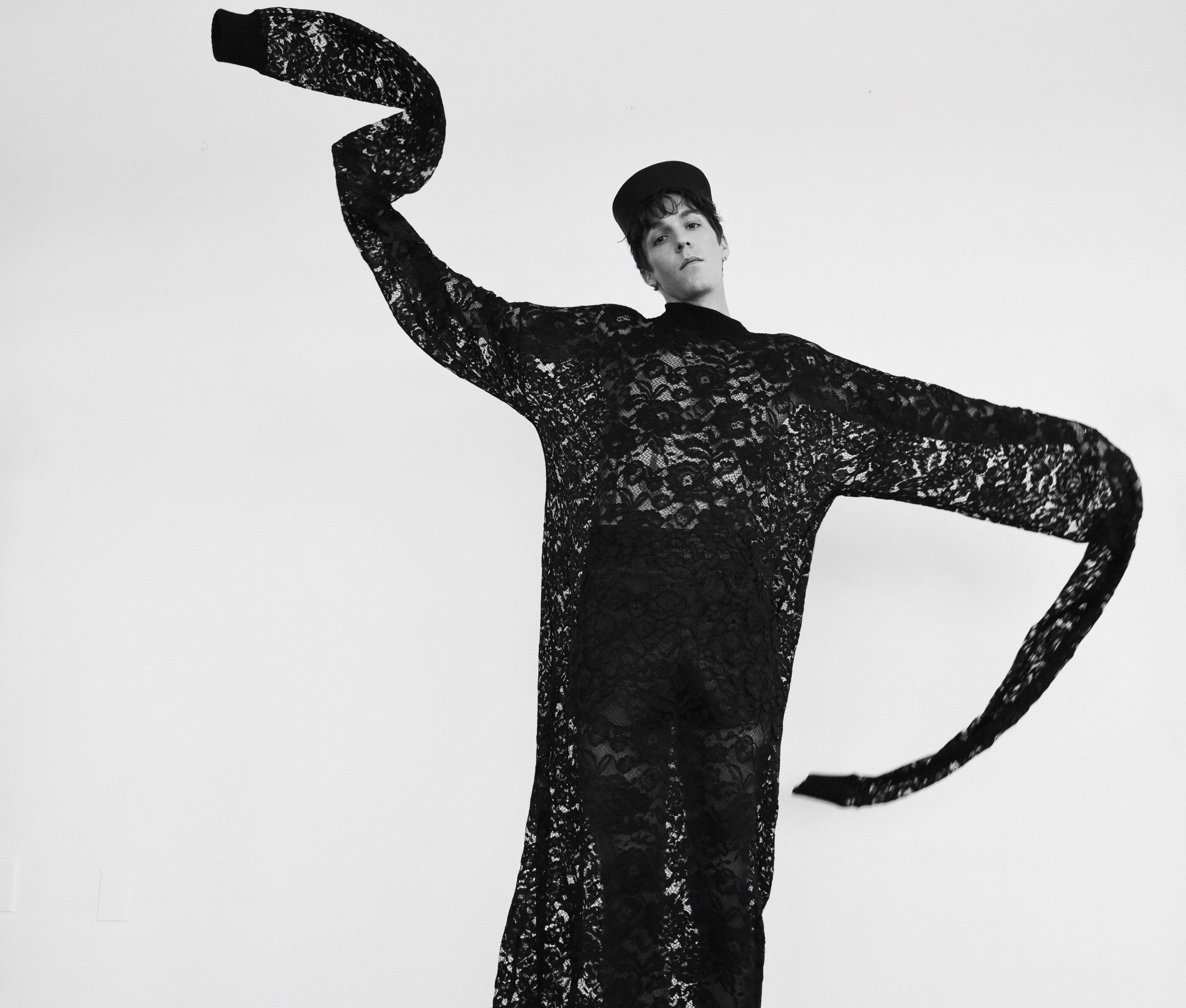 What was your plan before making music?
I was going to film school, I always loved film and my parents wanted me to go to school, so I was like, this is the only thing I like. I lost interest. I didn't like the classes. I didn't want to start from the beginning and learn every button on the camera, it's just not what I wanted to do. And I had found music at that same exact time that I was, like, losing my interest for school. And it was perfect.
How did the name "ROLE MODEL" come into existence?
I changed my name so many times when I first started, and I was just putting music on SoundCloud, as one does, and I was a broke college kid making songs about having a million dollars in my wallet and having a Goyard bag. It's just stupid. At one point, after changing my name 100 times, someone had sent me a guitar loop, a very simple guitar loop. And there were no drums or anything. It was just very raw. So I just tried singing over it and I made a song called Cocaine Babe. I was like, okay, I'm gonna  try singing right now. Let's change my name one last time. And I changed it to Role Model because at the time, I just thought it was  ironic to me and funny, and I was kind of a trash human being,whatever. And so I thought it was funny and I put that song out and it did better than anything. It immediately did better than anything I had put out. And it started kind of catching attention in Pittsburgh, whatever that means in the context of the world, but started getting people's attention and so that felt just more like me being myself. Cocaine Babe was about some girl that I knew who was doing a lot of drugs, specifically cocaine, and I just did not like how she was at the time when she was doing that. And I was  okay, cool. So this type of songwriting can actually help me and help other people and seems to do better. So I stuck with it.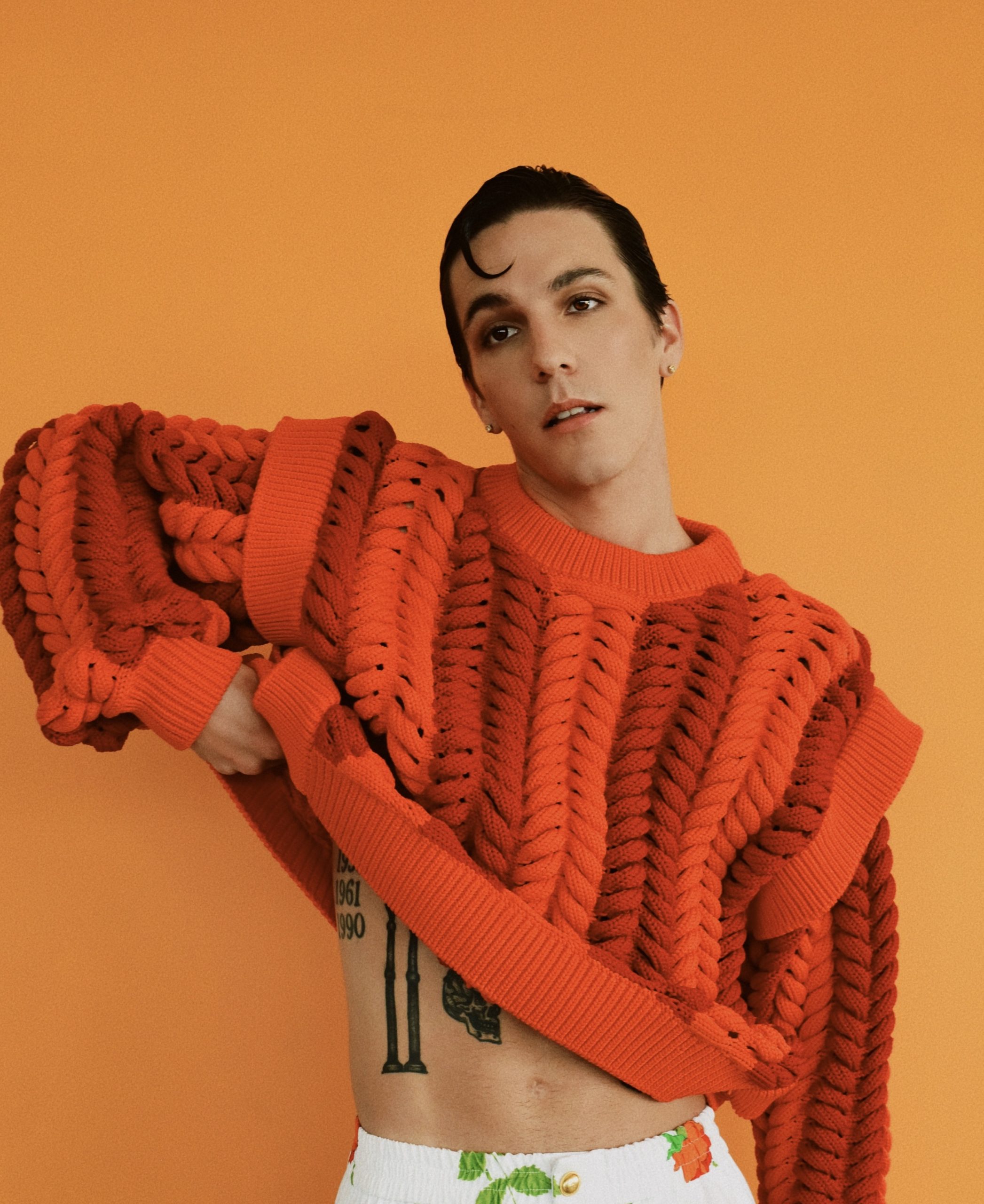 Sweater, AKNVAS. Shorts, TANNER FLETCHER.
I feel like listening to your music reminds me of my teenage angst, having raging hormones, and falling in and out of love for the first time. Tell me how this record makes you feel. 
That's a good question. I started this album at the same time that I had met someone and fallen in love for realistically, the first time in my life. And when you write your own music, you write whatever's happening in the moment and what's the truth in the moment and everything, whatever you're going through. So, inevitably, when I first started the album, it was just 100 love songs. And at a certain point I was like, this is cool and all, and these are great songs, but this is boring to me and I would not want to just listen to an album that's happy, jolly, everything's perfect. I don't know, I felt I was leaving out a huge part of me that helped me get to the point where I was and a lot of that early music that was about struggles and my view and whatever. And so at a certain point, we scrapped a lot of the songs and I just kind of want to change the perspective and yes, there's like a few songs on there that are about falling in love and blah, blah, blah, but I wanted to have songs like "Rx" and "Can You Say The Same" or "Save A Seat". And to just give context as to why falling in love was important to me because I was really in pretty shit place my whole life before that and made a lot of I don't know, I feel I had made a name off of talking about the things that just fucking kill me on a daily basis. And so I wanted to come back to that a little bit.
You give me like modern day "boy next door" vibes who secretly has an onlyfans with a ton of subscribers. What does intimacy mean for you and how does it influence your music?
I think a lot of it for me is like I said, I love the juxtaposition of things, especially in the early music. I mean, this whole album, too, honestly, I guess that's just the type of music I make. But I love having very just raw, depressing lyrics and then throwing in things about sex and shit like that, and having the juxtaposition or talking about sex over  what should be a piano ballad about how you're dying on the inside, but instead you're talking about having sex and giving details. I just like the juxtaposition and the contrast in lyrics and the actual music side of it. I love that.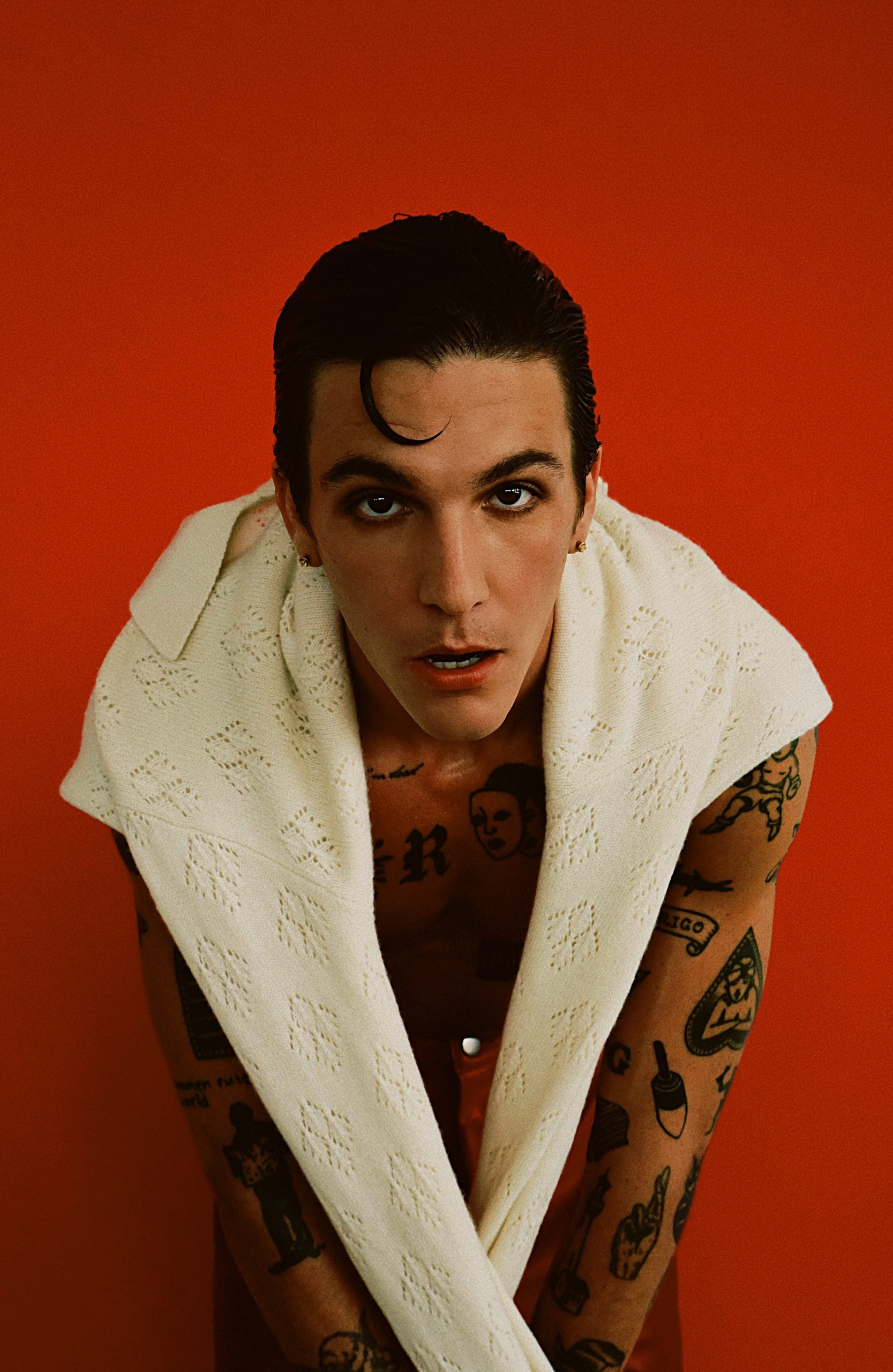 Sweater, TANNER FLETCHER. Pants, NICHOLAS RAEFSKIL.
Love is a constant theme in Rx and you gave us all a glimpse of how deep in love you are with Emma Chamberlain in the music video for "neverletyougo", how has this relationship given you new perspectives on love and what it means to you now?
I was really scared at first. When I say this is the first 1st time I fell in love. This is like the first time. And I think I was always very scared of it because of how it would change my music. Because from the start I had made a name or brand, whatever, off of just being very anti love, being fuck everyone. Being a lot of just heartbreak songs about whatever, one night stands people. It was the opposite of where I am now. And I was just very scared of how falling in love and being obsessed with a human being would change my music and if people who liked my music before would be turned off. And so that scared me. But I think inevitably, when I'm the one writing music, those same pieces of me that were coming out in the music, the older songs, it's still going to be in there. I wanted to keep that, especially with this new album, too, just,  making sure it's not just this happy ending type of thing, because it's not realistic. I'm still depressed and fucking I don't know. I'm still dealing with the same issues.
My favorite songs on this record are " if jesus saves, she's my type" and "life is funny" I love your religious references. Do you have any spiritual views and what do you think about God? 
I mean, this is the thing. I referenced God and Jesus way too much in that album. I swear. I lost some people from that. But I'm not a religious person. I really don't have any religious background, but I fully understand religion. I respect it, I get it. I understand why people need it or fall back on it, whatever. So I get that. And I never want to call myself an atheist because it has the darkest connotations. It just sounds evil to me. Yes, I get it. I'm just not religious. And again, with those lyrics, I love the juxtaposition. I don't know, I think there are some dark things. I will say there are some darker sides of religion that talk about things that I don't really believe in or agree with. And so I think it's fun to put those into songs. And again, the juxtaposition of talking about Jesus, kissing on the same sex, dancing to some of that is just a cool thing to me.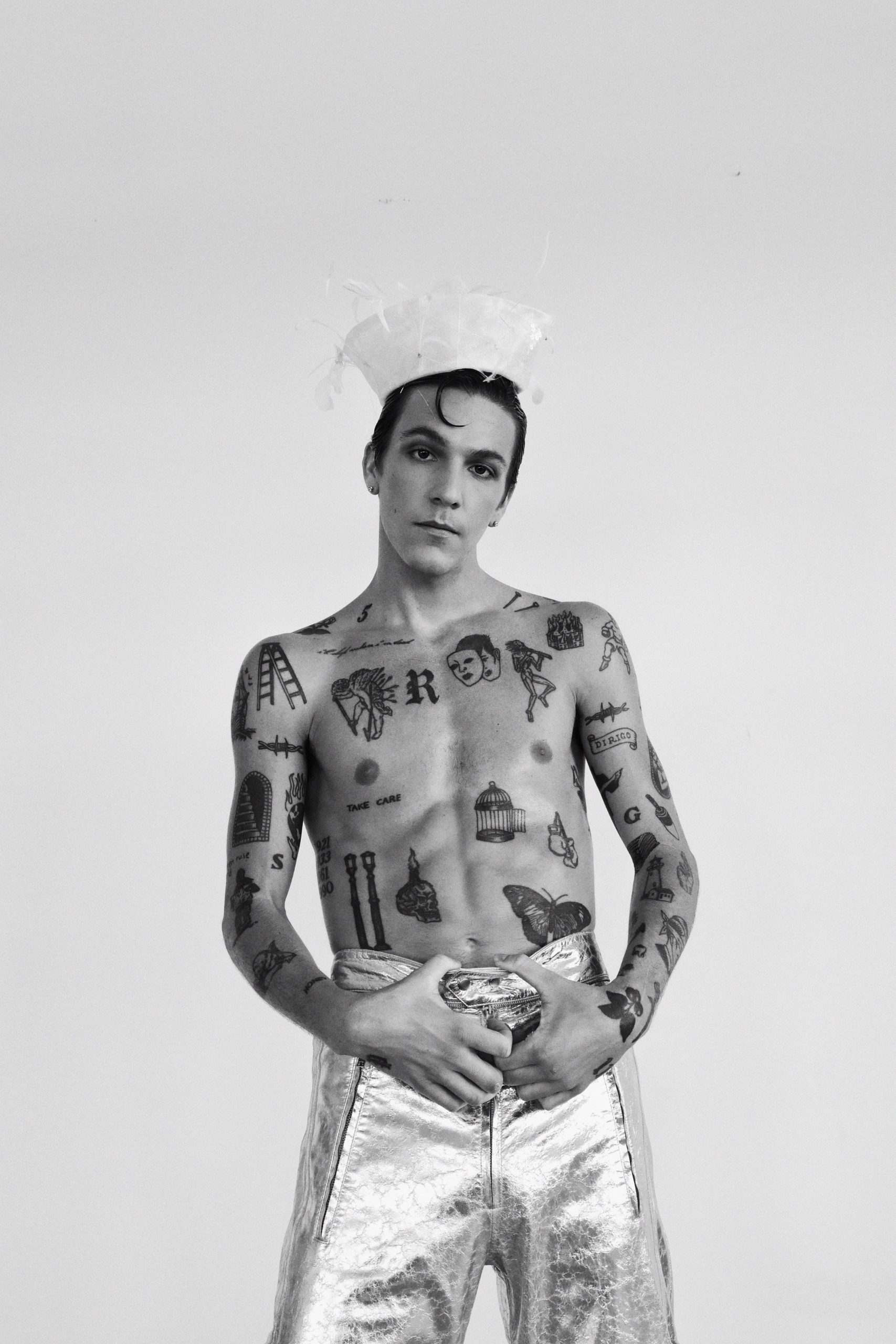 Pants, ISABEL MARANT. Hat, WIEDERHOEFT.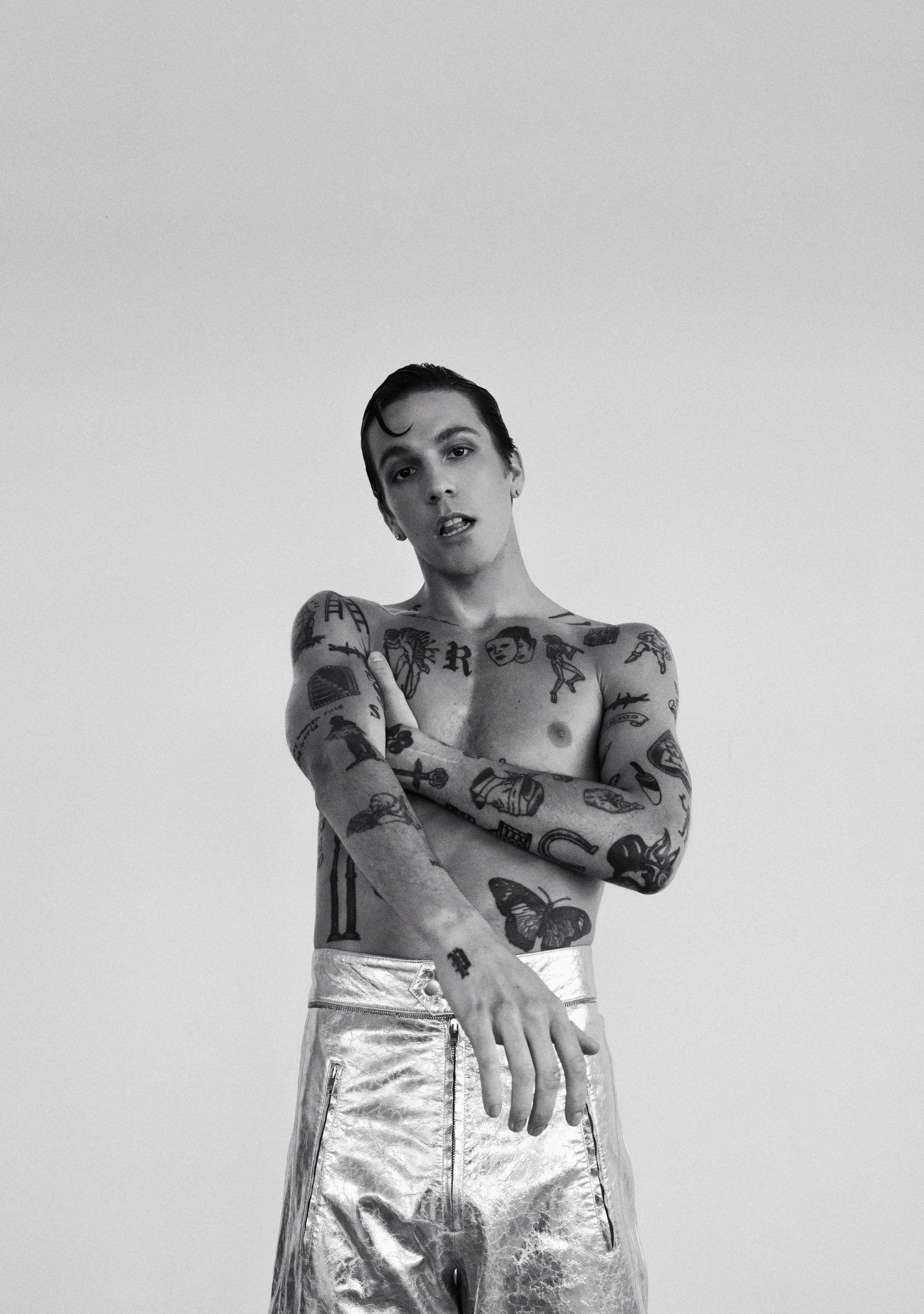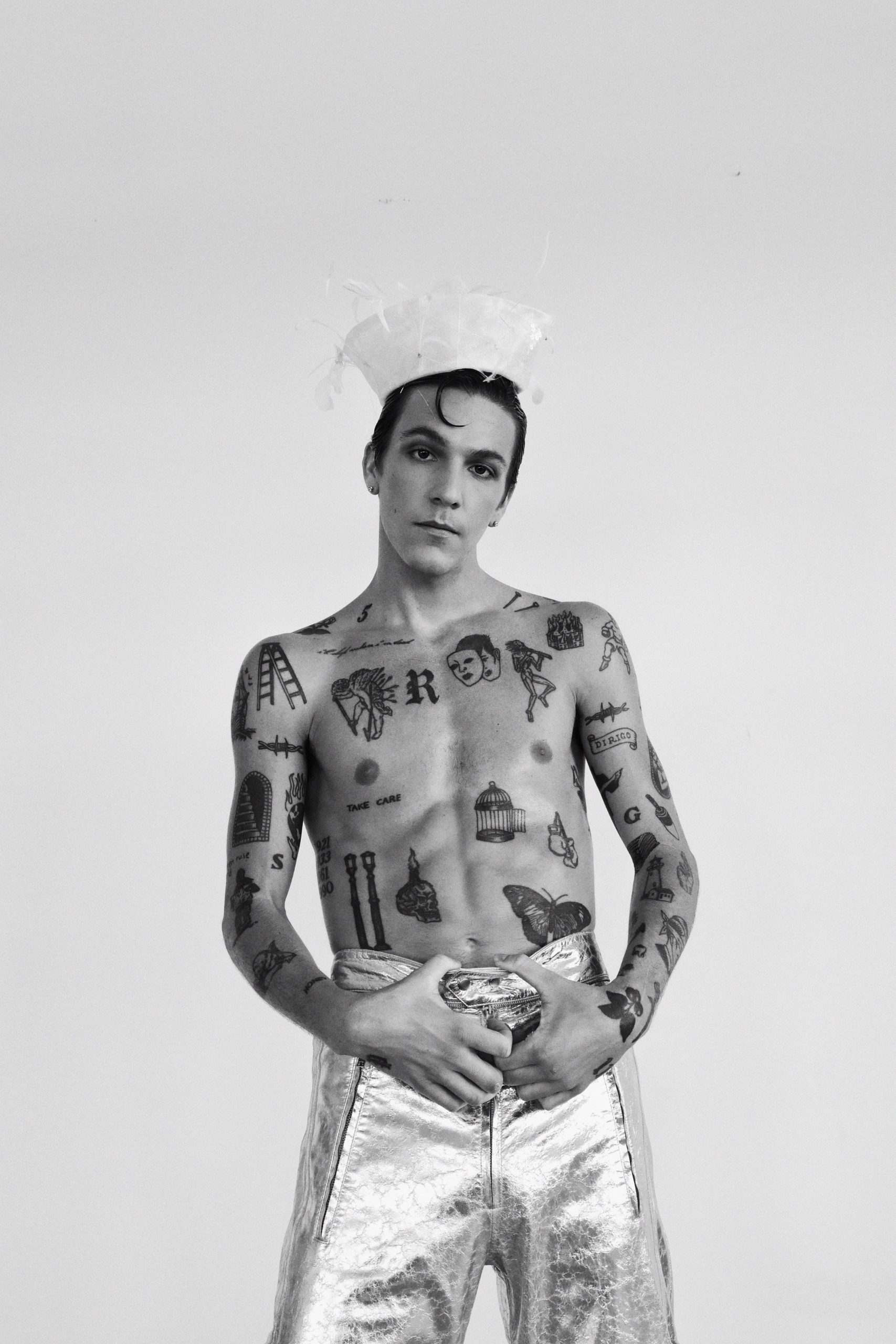 What is your most memorable music moment ?
I think it's just the tour in general, especially this tour, I think this tour was really fucking insane to me. And there were a lot of songs that I play off of this album that I did not think people would sing the lyrics to. I don't know, it blows my mind every night. Especially when you're in the middle of fucking Ohio or in the middle of Alabama doing a festival. It still blows my mind and puts a huge smile on my face every time I think people can see that I'm just on cloud nine when I'm on stage. So I think touring in general. It blows my mind every night. I genuinely love it.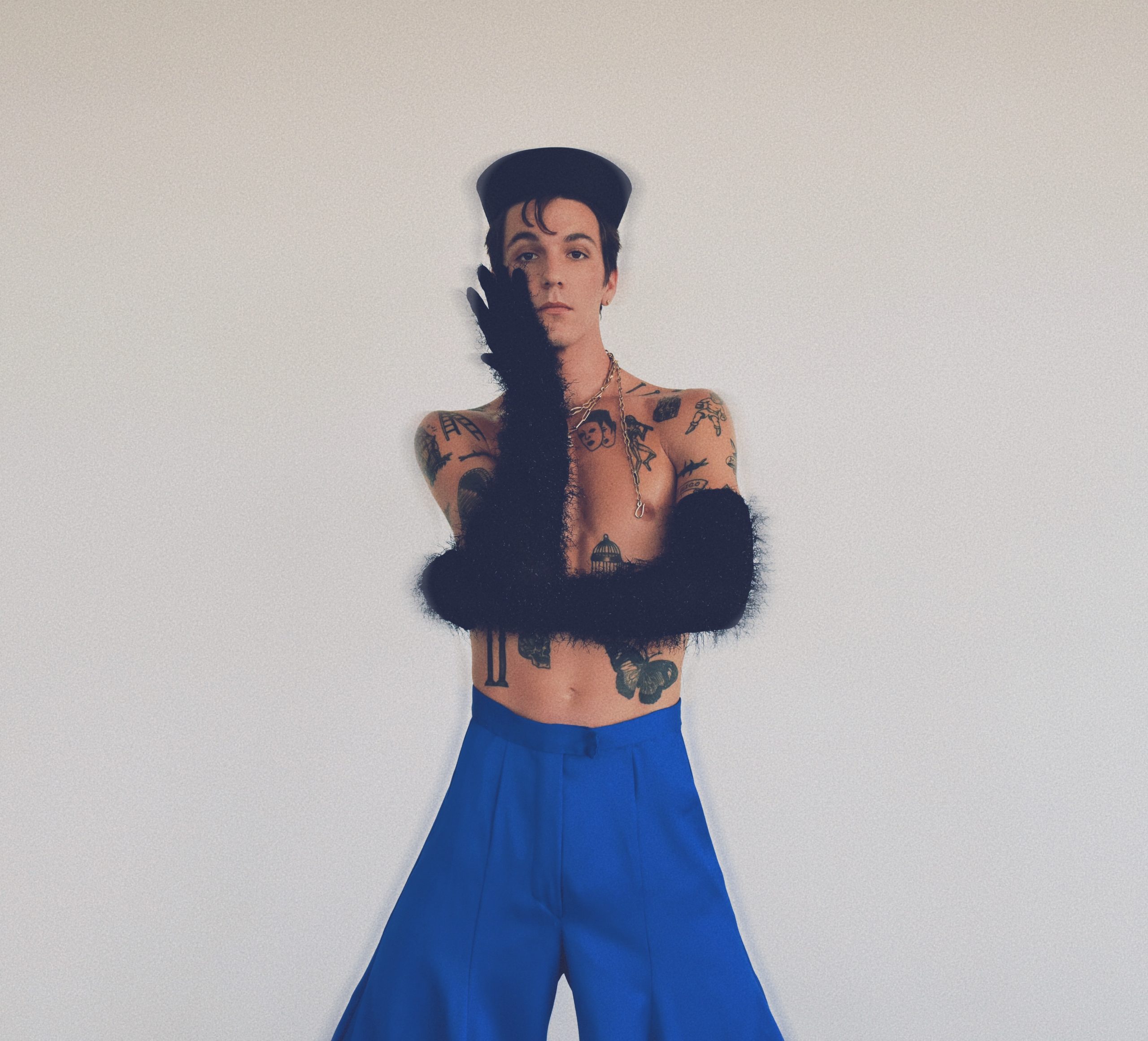 Hat, ICEBERG. Gloves, LANDEROS. Pants, MICHAEL CHAMBERLIN.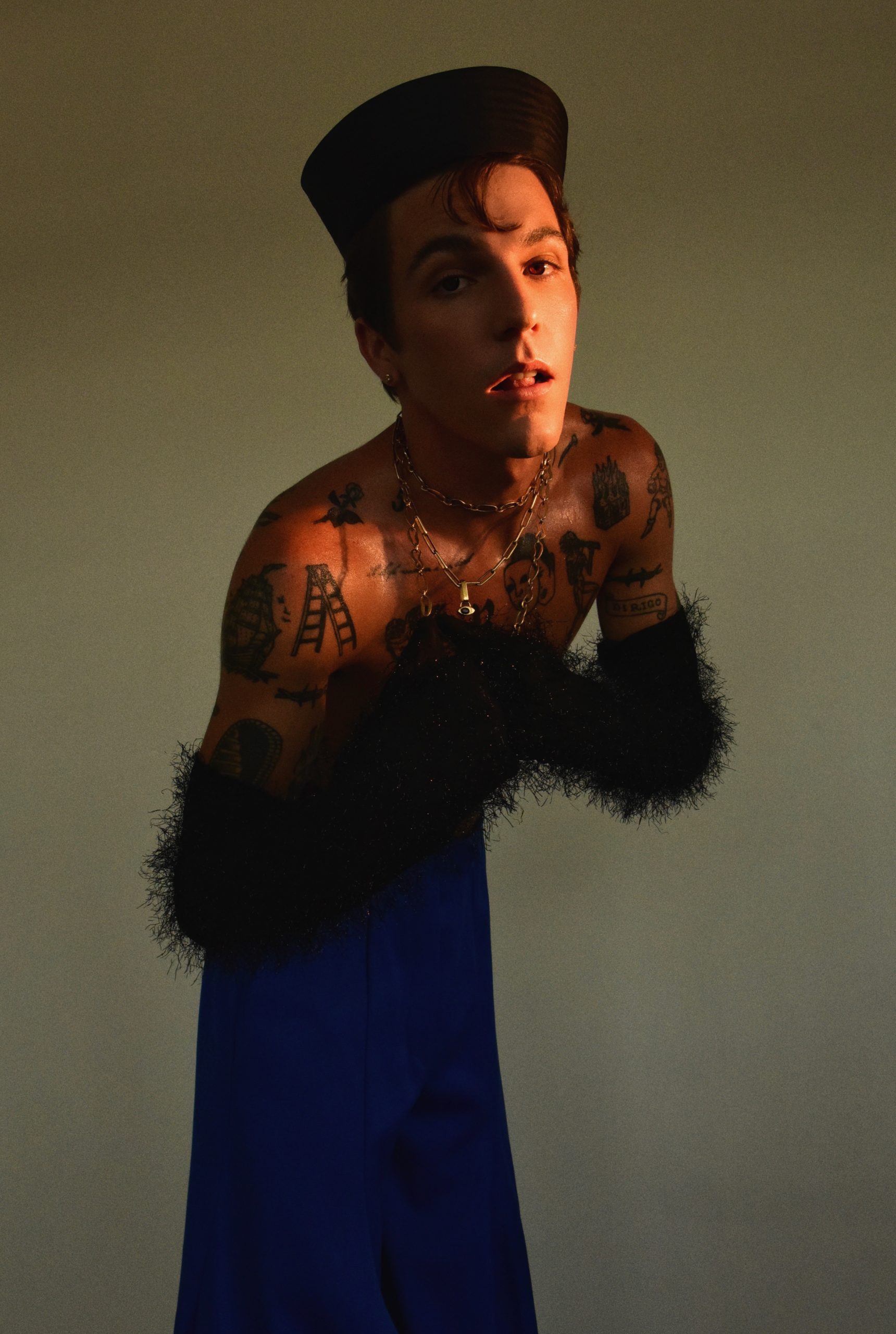 Tell me about your daydreams? 
It's a good question. I don't know. It's hard because I just don't have any hobbies outside of music. So I do think as boring as it is, that alone consumes me and the constant fight to find inspiration and things. To be somewhere else. I know. Well, I do think about I guess home, the biggest thing that I missed. I just went back for the first time since December, and that was the longest I've been away from home. And it's my favorite place on Earth, and it kills me to be away from it, and I think about that a lot. Yeah
What are you looking forward to most for the rest of the year and what should we look forward too ? 
We're going over to Europe for a couple of months in the first week of August. So we'll be over there touring, and we'll definitely be having some new music soon. So I'm very excited.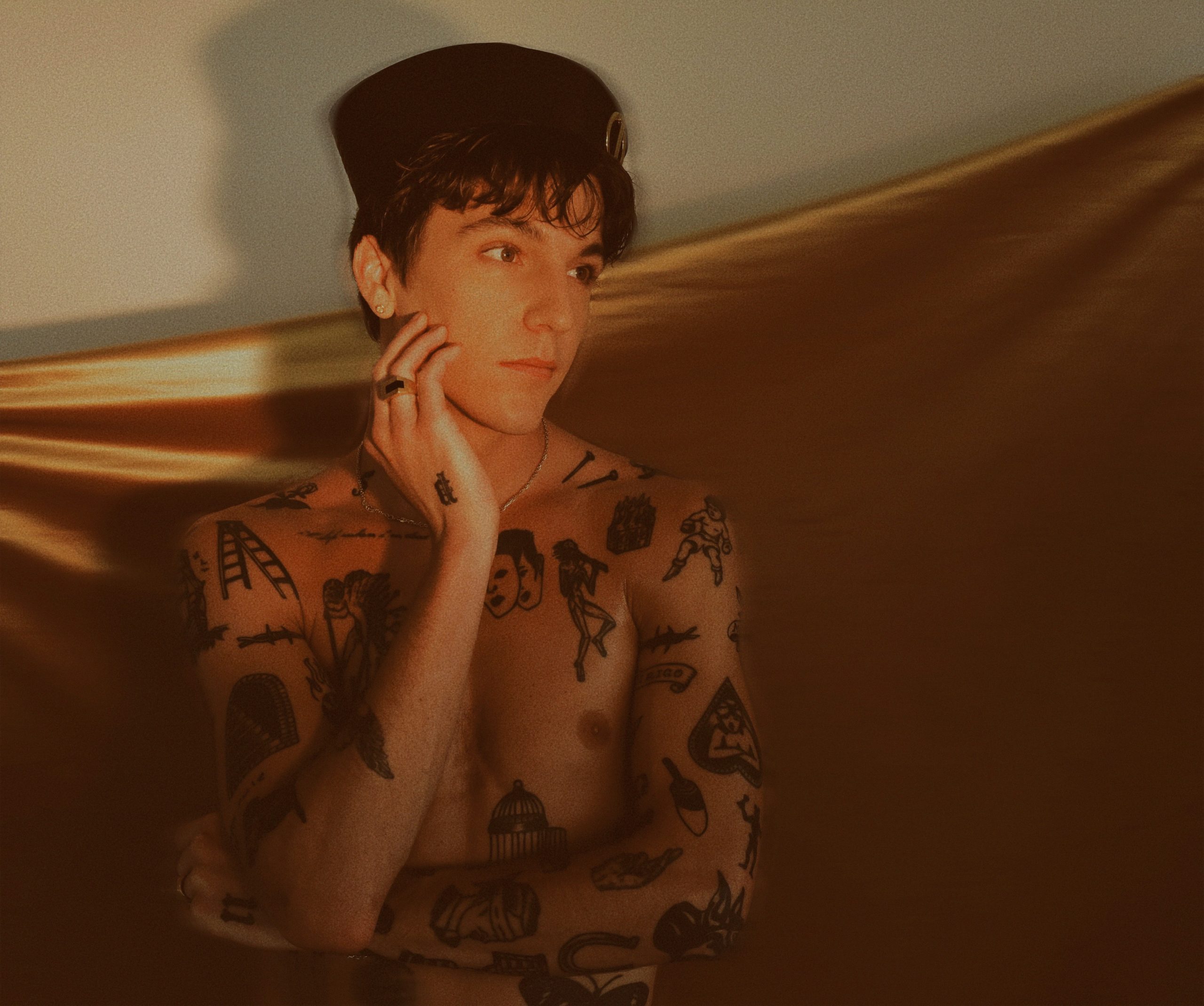 Hat, ICEBERG.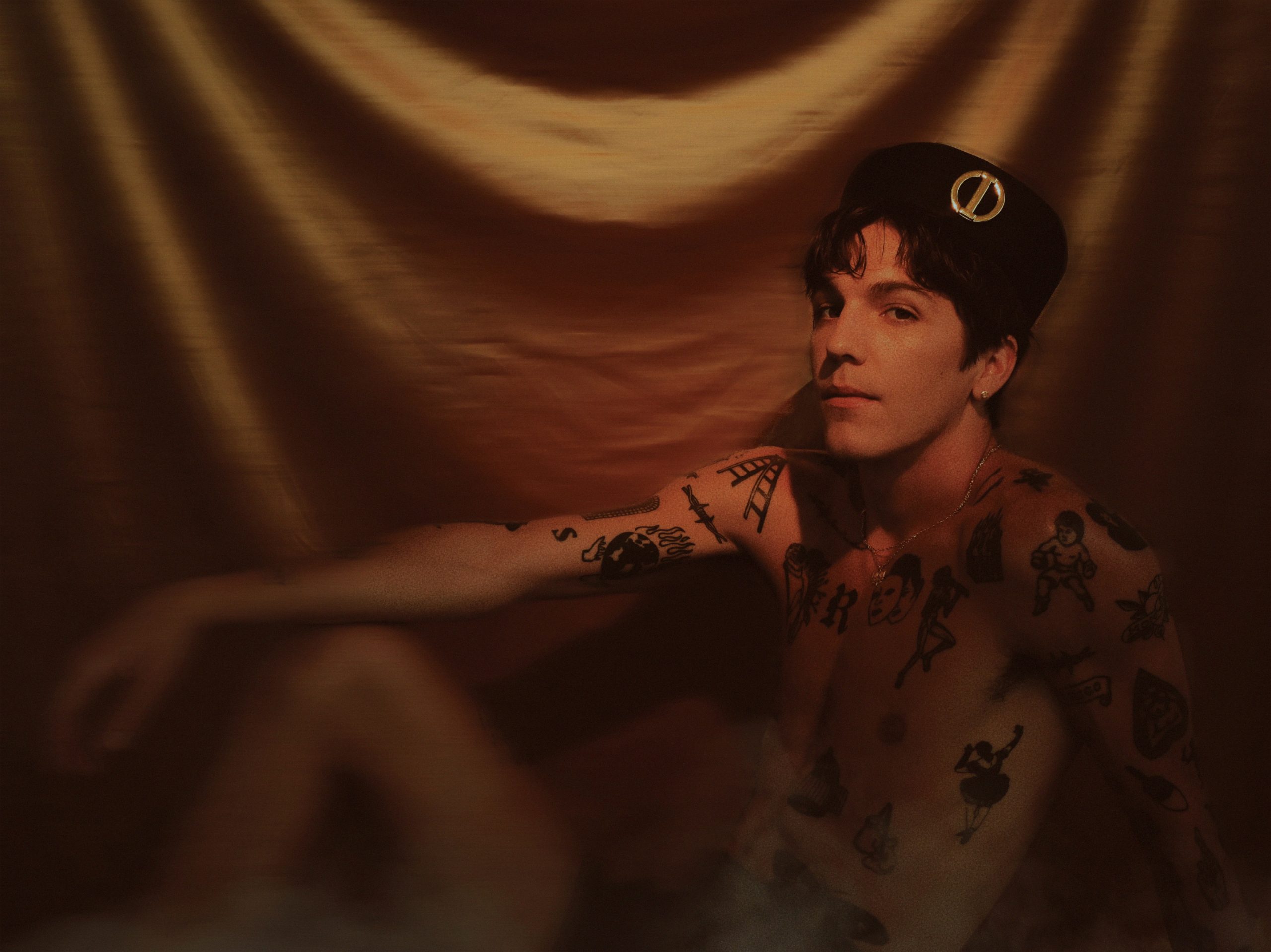 CONNECT WITH ROLE MODEL:
creative + fashion direction / Phil Gomez
assistant / Meekah