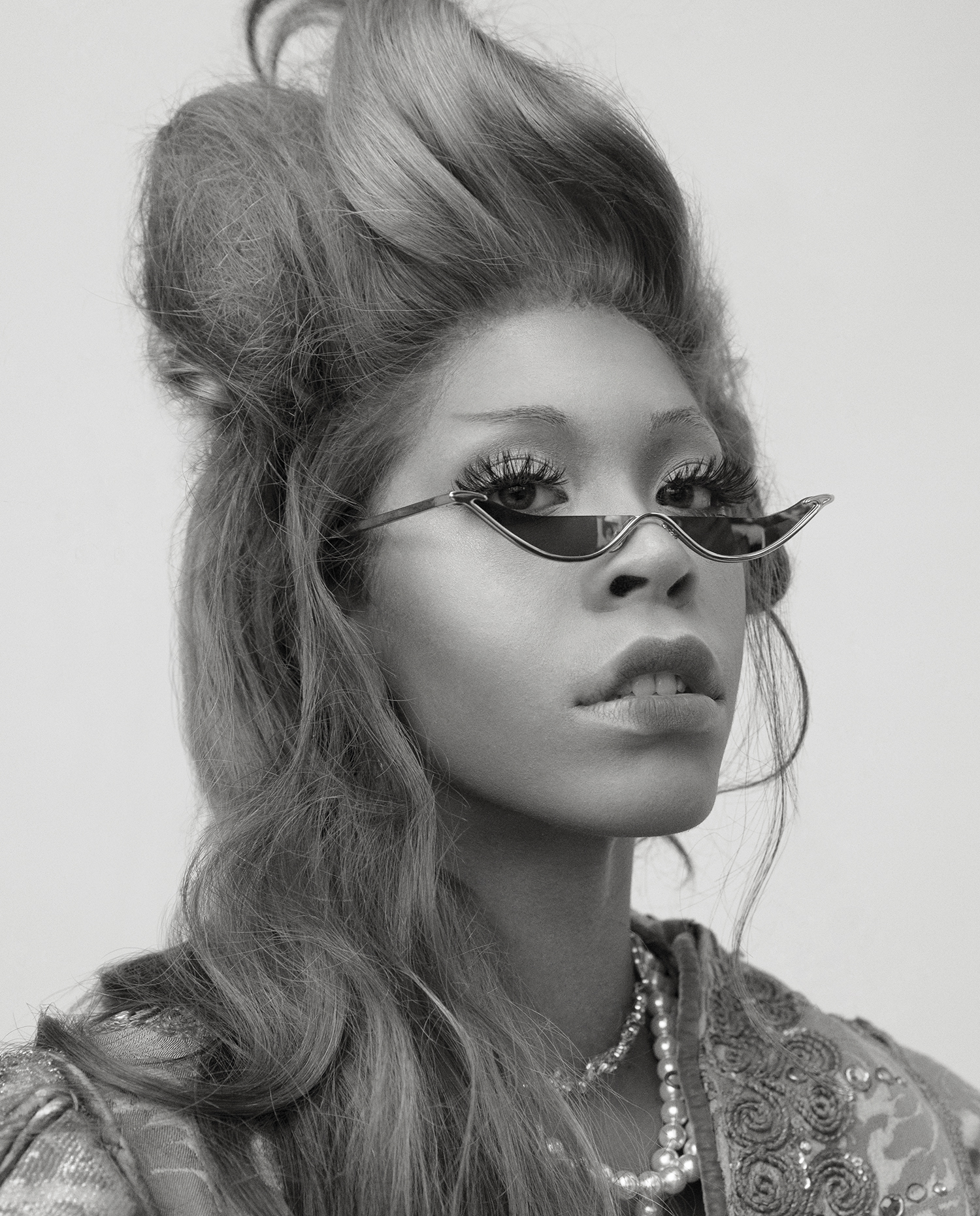 photos / Jason Rodgers
photo assistant /Richard Luong
styling / Tiffani Williams
makeup / Scott Osbourne of The Scott Edit
hair / Deborah Brider
story /  Koko Ntuen + Madison Frausto
production assistant + BTS video / Sam Berlin
shot @ MEDIUMPLEX DAYLIGHT STUDIO
When Rico Nasty released her latest Kenny Beats produced Anger Management earlier this year, it was by all accounts a big dick energy affair. It's a hype by proxy that gives the listener all the agency of a punk rock-inspired rage. 
"Anger Management is me exploring more of my lyrics, my voice and a lot of having fun. Saying crazy shit and hyping them up… I just wanted to show people I can rap. I don't want them (fans) to get too comfortable with it." she says nonchalantly
The Maryland raised rapper's story comes at you hard in pronounced chatter and beats that weave together the pieces of her life as part fairytale part grit and grime that she has had to rise above. 
"I think this music shit was the only way I was gonna get out of what I was coming from."
What she was coming from was being a single mother working in the hospital and over the humdrum existence. She knew she was sitting on a goldmine with her lyrical skills. Rap was always her forte. She started young and by fifteen she was garnering local attention. In an interview with HotNewHipHop last year she says,
"I know for a fact that rapping was what I wanted to do 'cause I've always done music. When I was in high school, when I was in 10th grade, I was the only girl in Prince George — shit, I was the only bitch in Maryland who had a fuckin' tape out. Fuck all that, I was the only bitch. And people used to come up to me and my 15-year-old ass like "Yo! You was going dumb!" N****s tryna book me for shows. I'm 15, my mom's like "girl, get the fuck on like you already out here not going to school, you got this lil' mixtape out."
Her process is a natural one that doesn't feel forced or falsely narrated. It's a very "shoot from the hip" point of view taking the world as a front-seat passenger in her ride, driving fast but never losing control. Her inspirations come from life.
"I feel like a lot of people might think I am rude or something because I pick up my phone randomly a lot and it's just because you get bars you get lyrics from experience and I could literally be talking to someone they say some funny ass shit, and I'm like Oh shit that's a bar. I just write that shit that down right there and then. I don't waste no time. I don't have a specific time of the day where I'm like 'Oh Let me write', your imagination is working at all times during the day. If you have a dream and wake up and you are able to remember that shit, you should write that shit down cause that's God talking to you."
Before she made music she was a painter and she would draw what she saw in her dreams. It's the same with music she says but with words.
"When I was transitioning from being an artist to being a rapper I didn't want to tell anyone I was making music, I didn't want people to listen to my music. Even when I would record my voice would be very fucking low.  I would never yell or scream because there would be other people in the studio and I was just super self-conscious. After that, I finally made a good song in front of a bunch of people and I was like, what the fuck am I being shy for they're gonna bop their heads to whatever I do. As an artist and a person who paints, I kinda had to just go with that confidence. When I draw a picture bro I'm not drawing this to prove to people, I'm drawing it because there will be one person who understands what I was trying to get across and then wanna buy this shit. That's the same approach you use with music, you have to take your confidence and say 'Im my biggest fan. They'll understand later."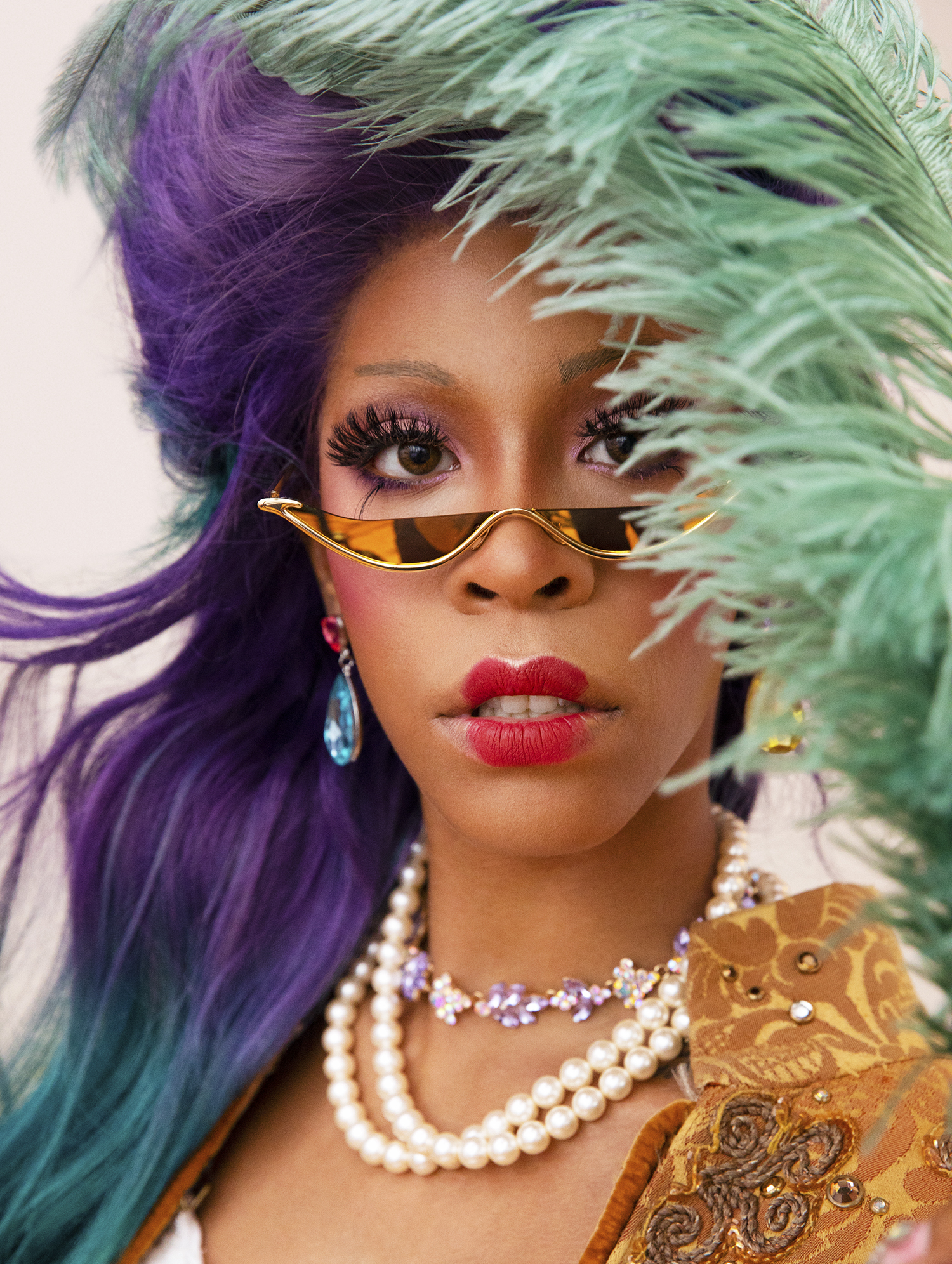 Sunglasses Chris Habanna Bracelet Solomeina Choker Stylist Own Earring Stylist Own Necklace Ben-Amun Robe CFB Costume Design Lingerie Cosabella Shoes Per Fedim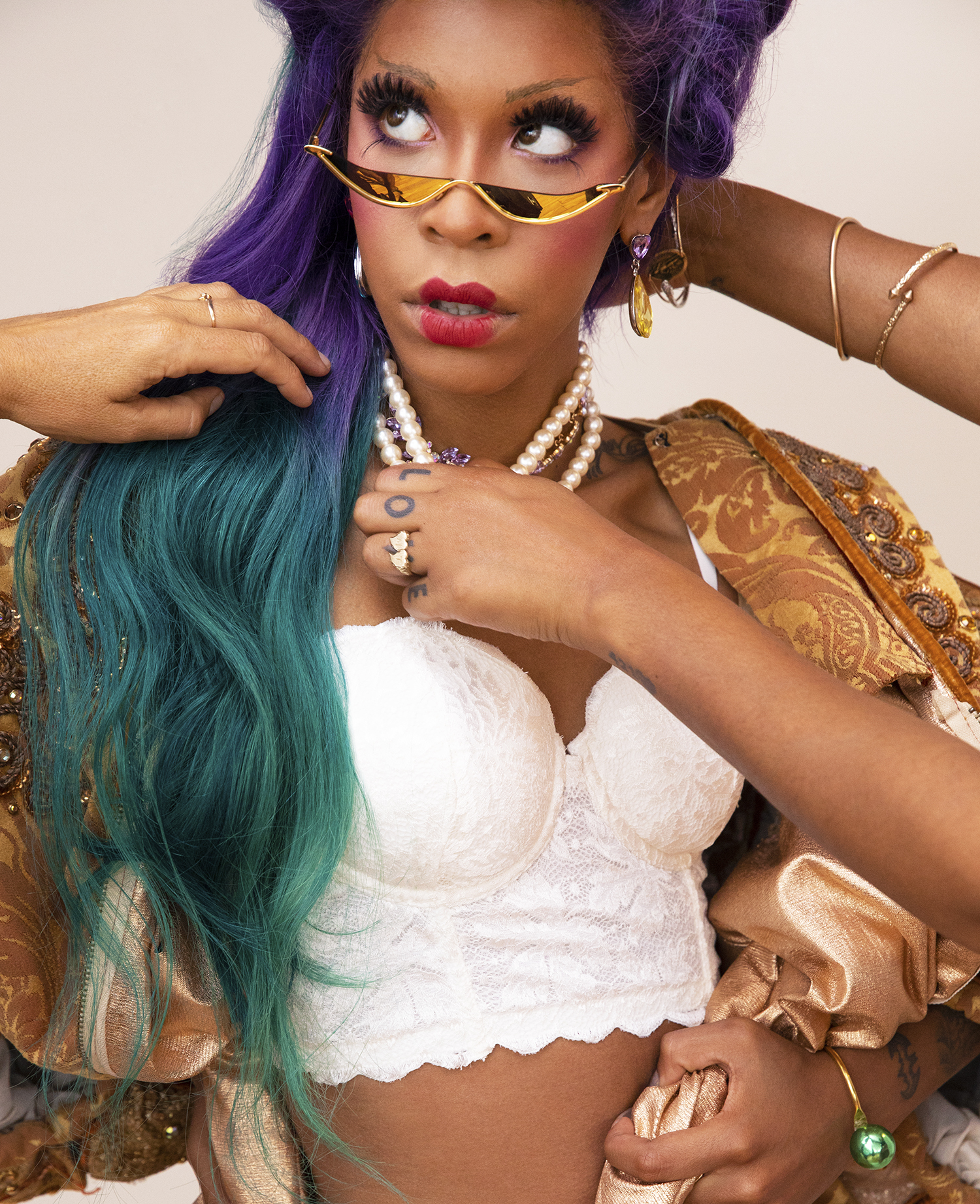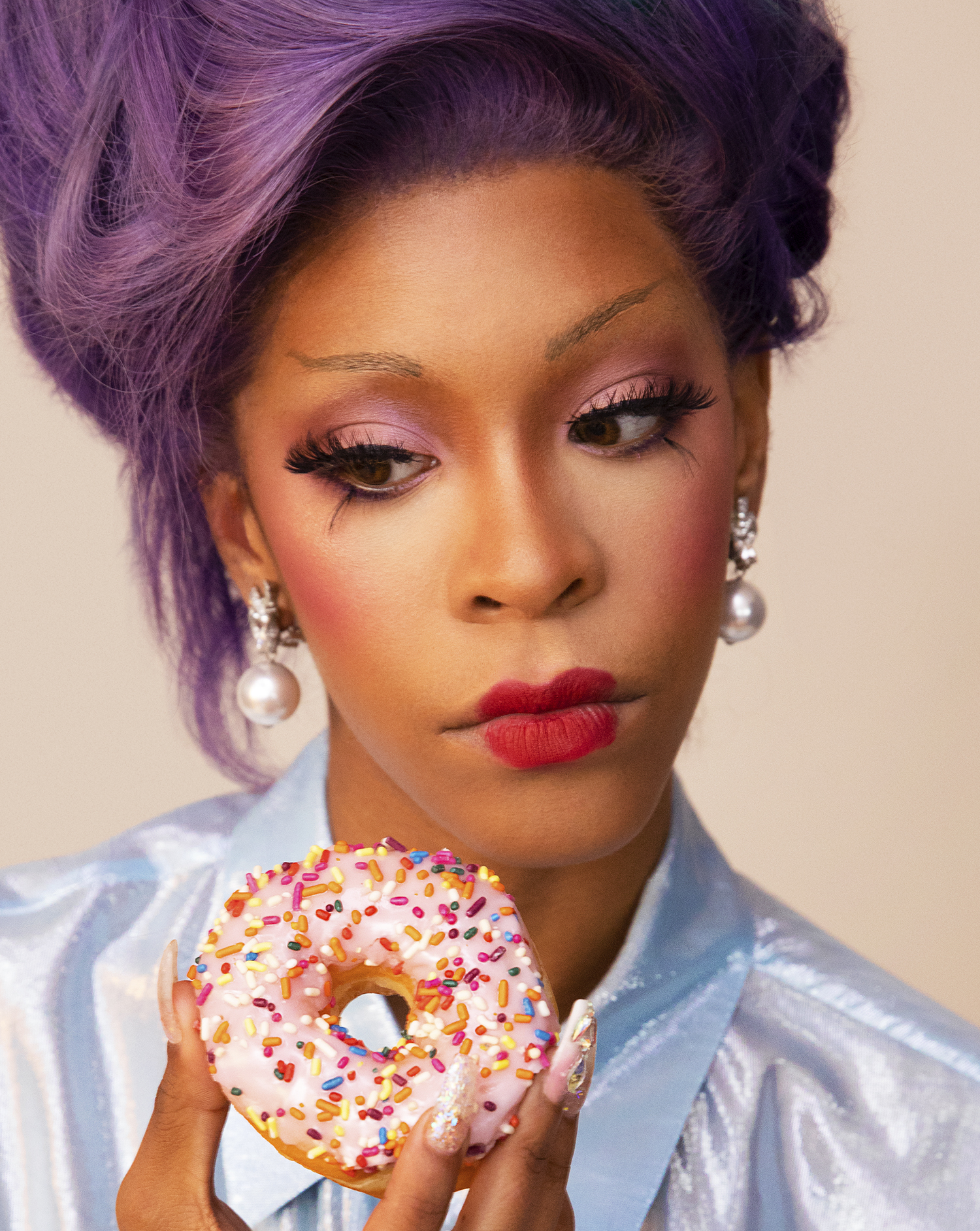 Earrings Ben Amun Top Chae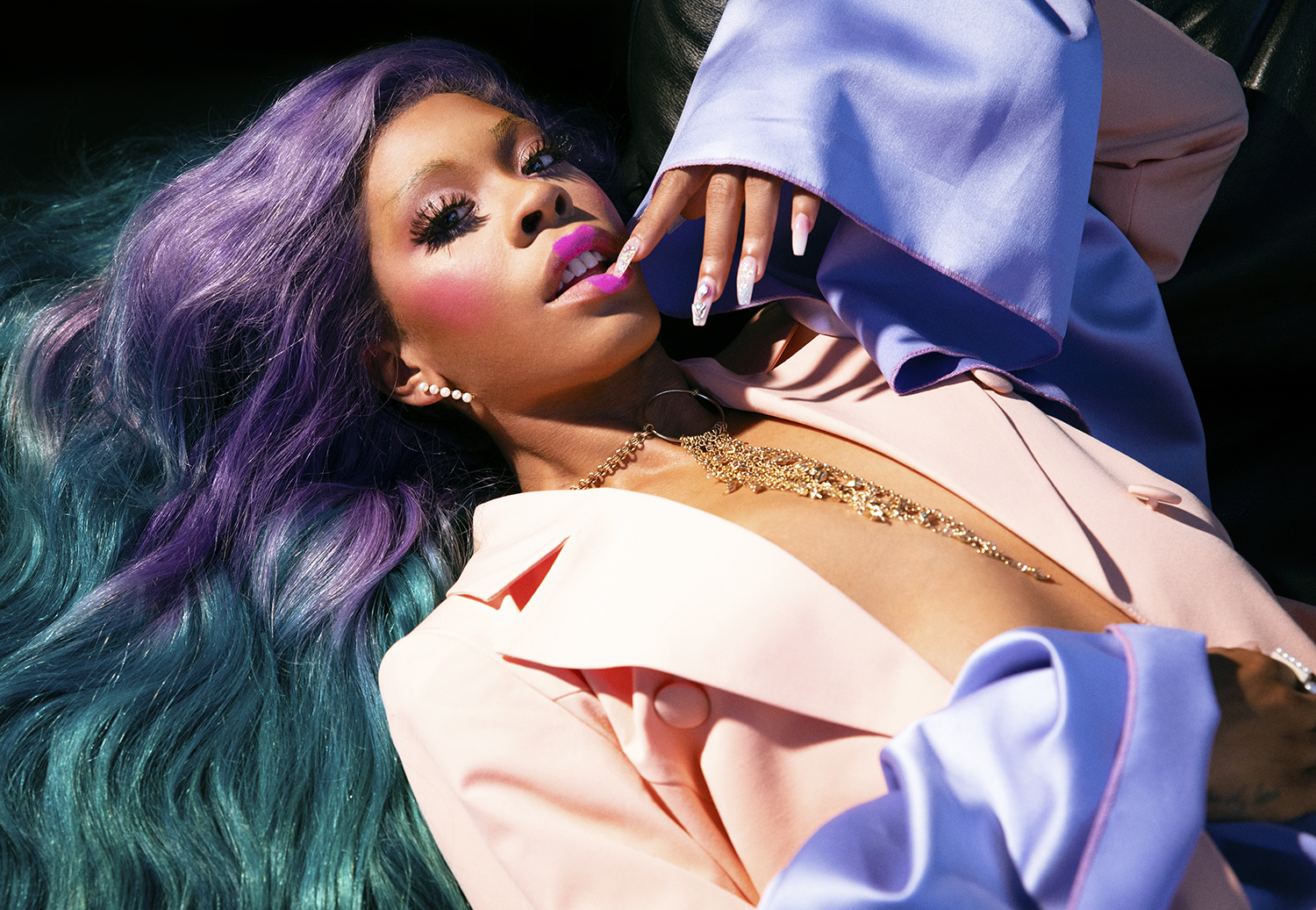 Earrings SOLOMEINA necklace Fiat Luxe Gloves wing and weft Blazer KATERYNA SAVCHENKO Pants CHAE shoes Drome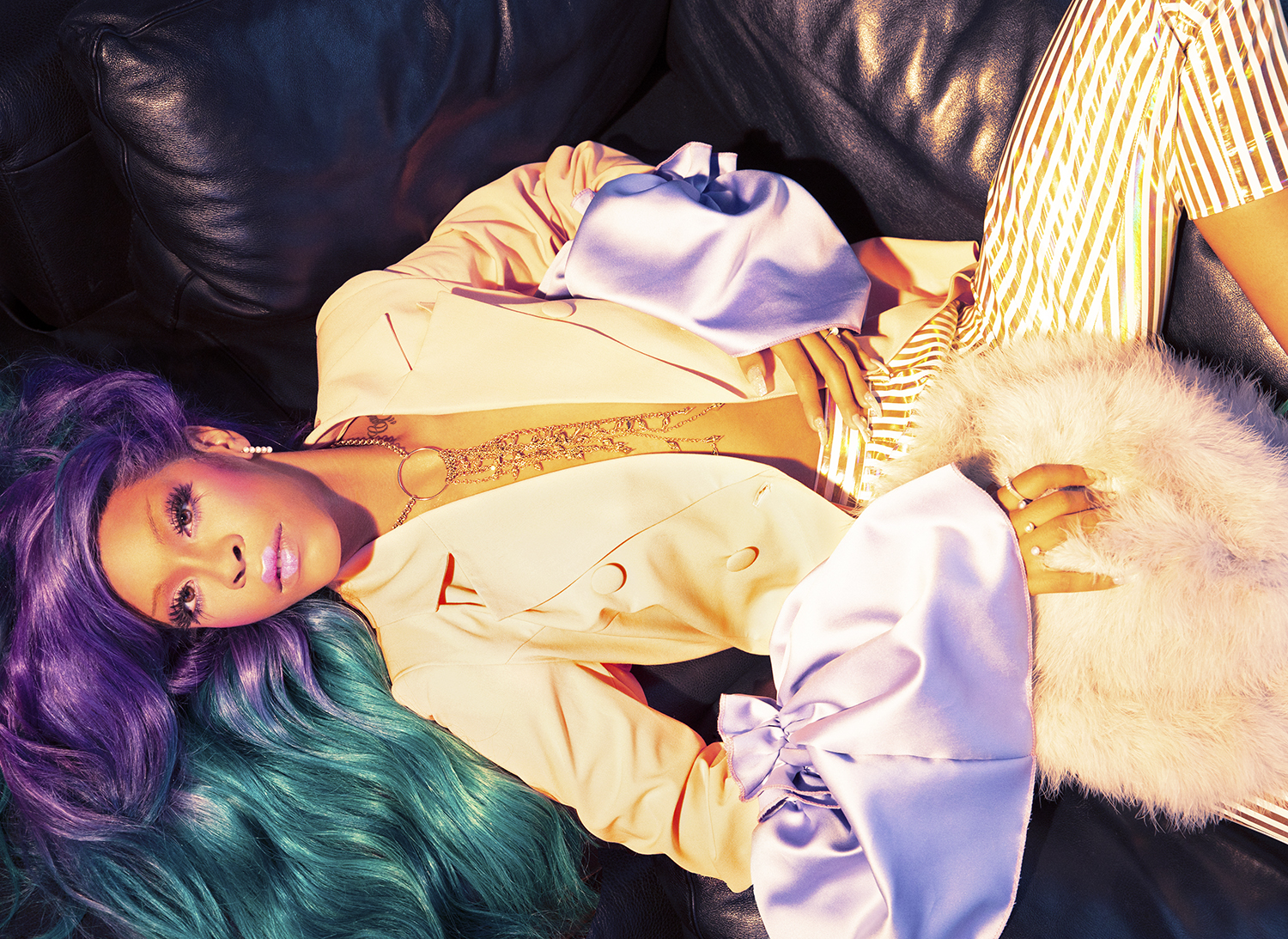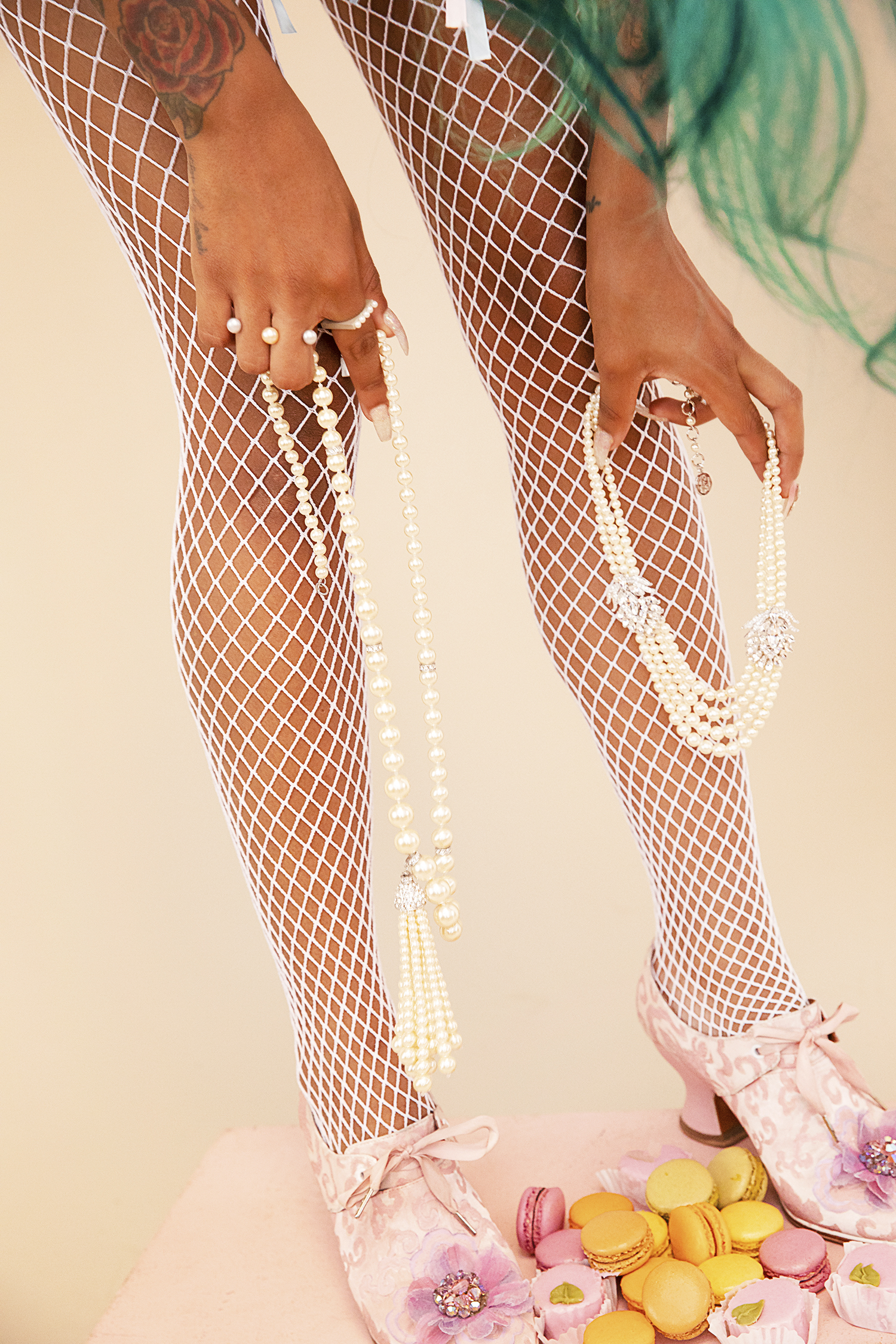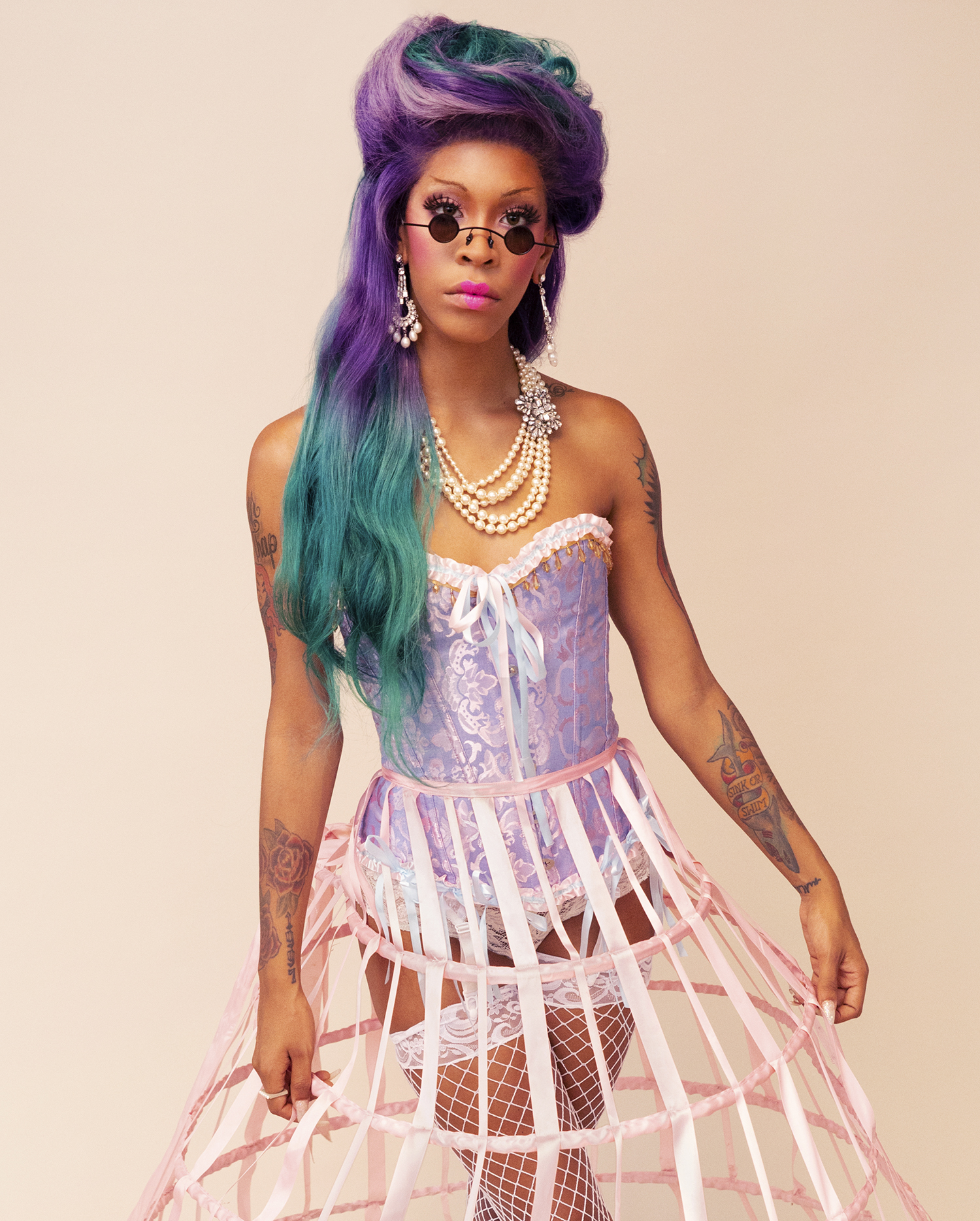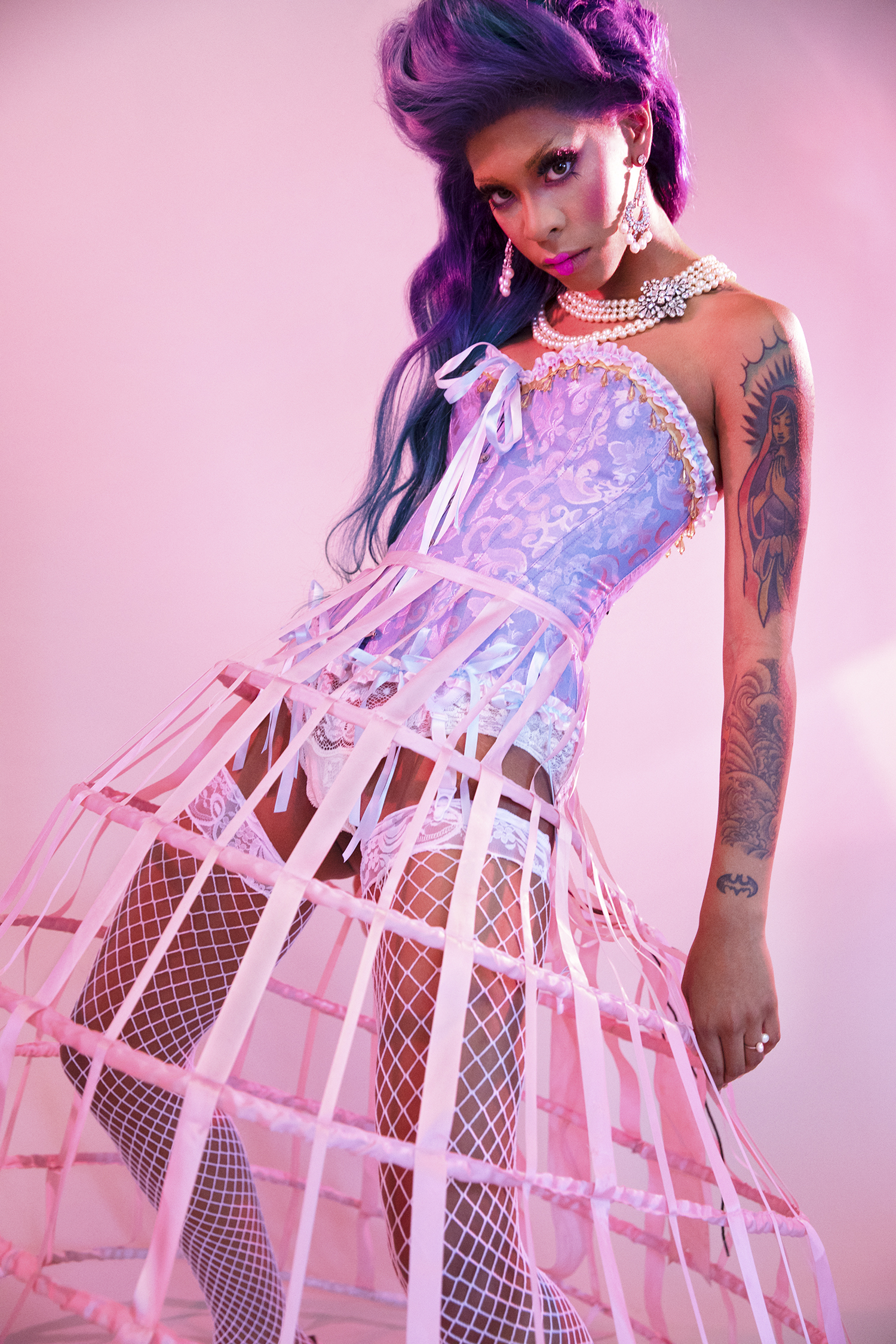 Sunglasses Chris Habana Earrings Ben Amun Necklace Ben Amun Rings SOLOMEINA Corset CFB costume Design Skirt CFB costume design Lingerie purple passion Stockings Purple Passion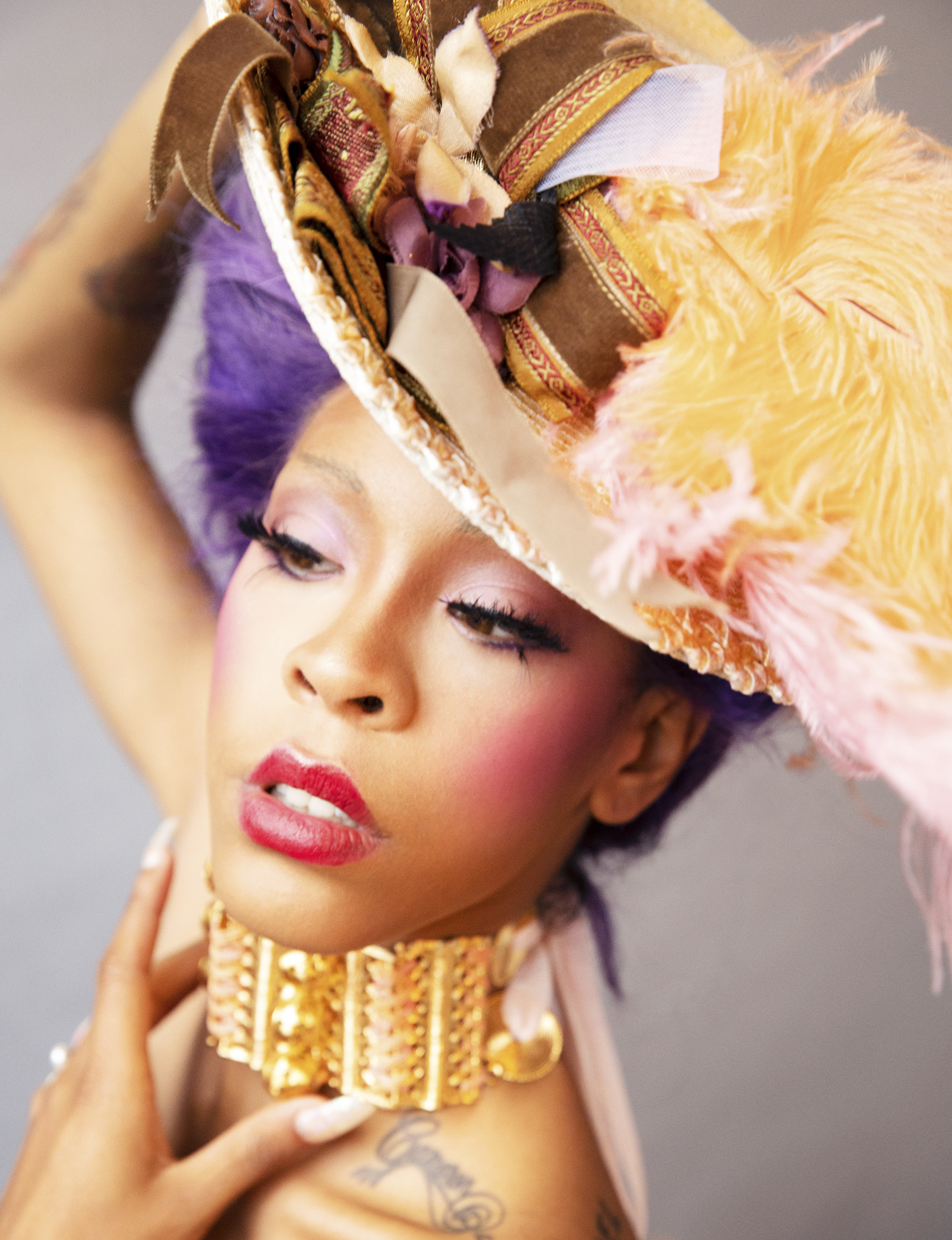 Hat: CFB Costume design  Necklace: Flying Solo