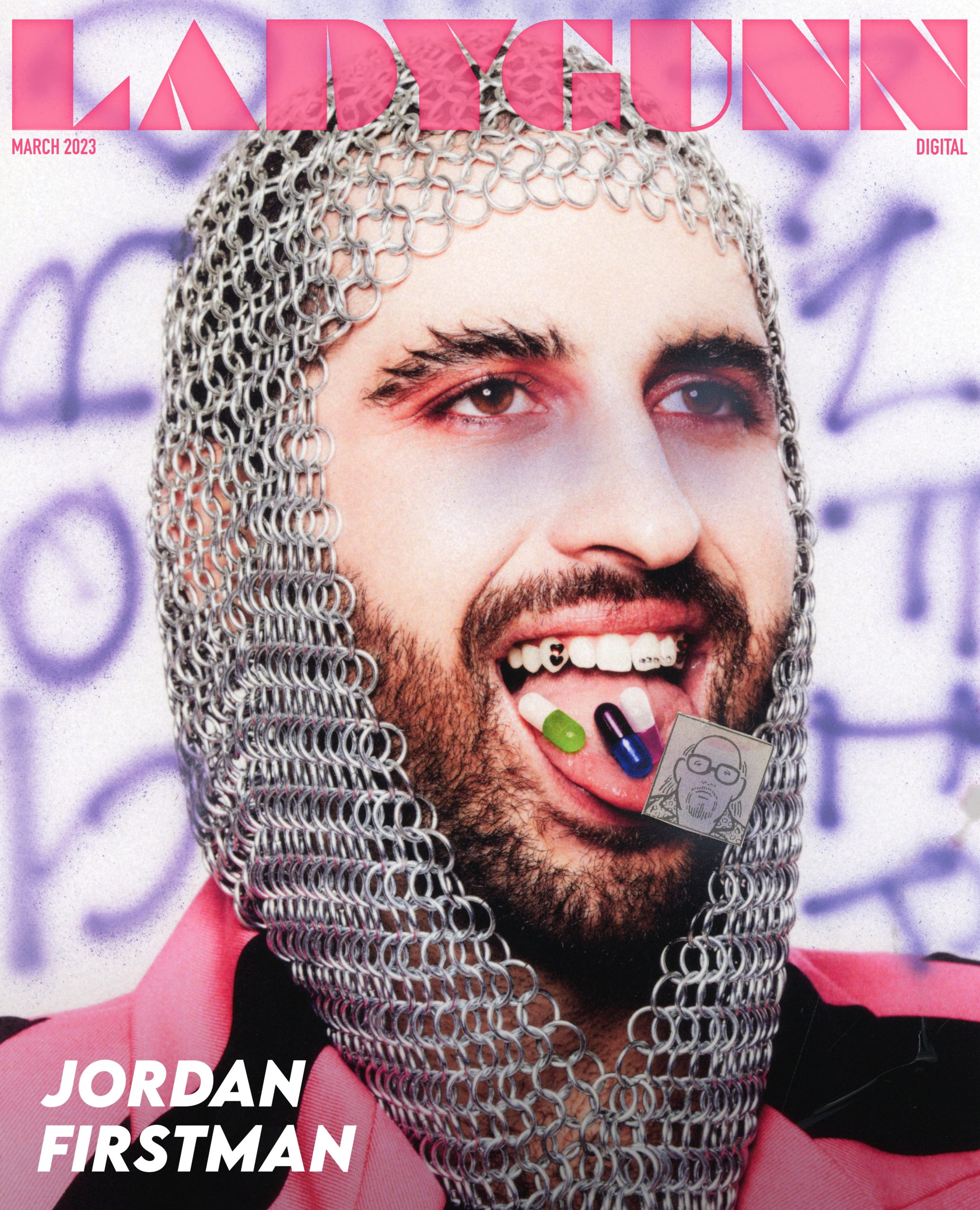 It's important to specify that LA-based Jordan Firstman was foremost a writer and director before stumbling into internet fame. His 2016 short film Call Your Father, premiered at Sundance. He's got a slew of writing credits on recent HBO shows like The Other Two and Search Party. And then there was 2020, when Firstman's impression skits on Instagram found an audience during the pandemic and made him properly blow up on the internet. 
While his online presence is a critical part of who Firstman is, like most, it's not the whole. "My humor, I think, comes from the truth," Firstman clarifies, as we chat about the perils of being earnest online. Earnesty, real earnesty– is difficult to nail down, because people simultaneously are afraid of the truth while craving it at the same time. "Sometimes when that word is brought up, especially in movies or TV, they think of like, people who want the rom-com back. And I'm like, that's not real. That's just flowery optimism. Unbridled optimism and earnesty are different things". 
The problem is that it's fucking terrifying to be earnest on the internet. People build up walls and curate a specific type of online presence not just to strengthen their brand, but out of necessity to protect themselves. Firstman's brand of self-aware humor falls right in line with the type of culture-speak that Zoomers and young millennials embody in an age where it's easier to say and do things in the name of irony than to be serious. After his breakout in 2020, the following year was when Firstman started to fully experience the dark side of internet fame. "When I first started getting my haters who thought that I was corny, that was when I put those walls up. And that's not the real me." Firstman emphasizes that he is now trying to break those walls down, but it's easier said than done. "I did a Q&A at the airport when I was bored and drunk last night. I was vaguely earnest on that and I deleted all of it this morning. I couldn't even keep them up."
To chase the sum of his truths has driven Firstman to take a step back from the phone camera and find it on a bigger screen. When Chilean filmmaker Sebastián Silva approached Firstman in 2021 to star in his dark comedy Rotting In The Sun, in which Silva plays a version of himself, he also wanted Firstman to play a version of himself– or as Firstman recalls Silva saying to him– "I want to make a movie and I want you to play yourself and I want to come for you really hard and I want to make fun of you." Intrigued by what Jordan had built up on the internet for himself, Silva was also triggered by it. "He thought that I was fake in some ways, annoying in some ways, and didn't understand why the world gravitated towards me instead of him."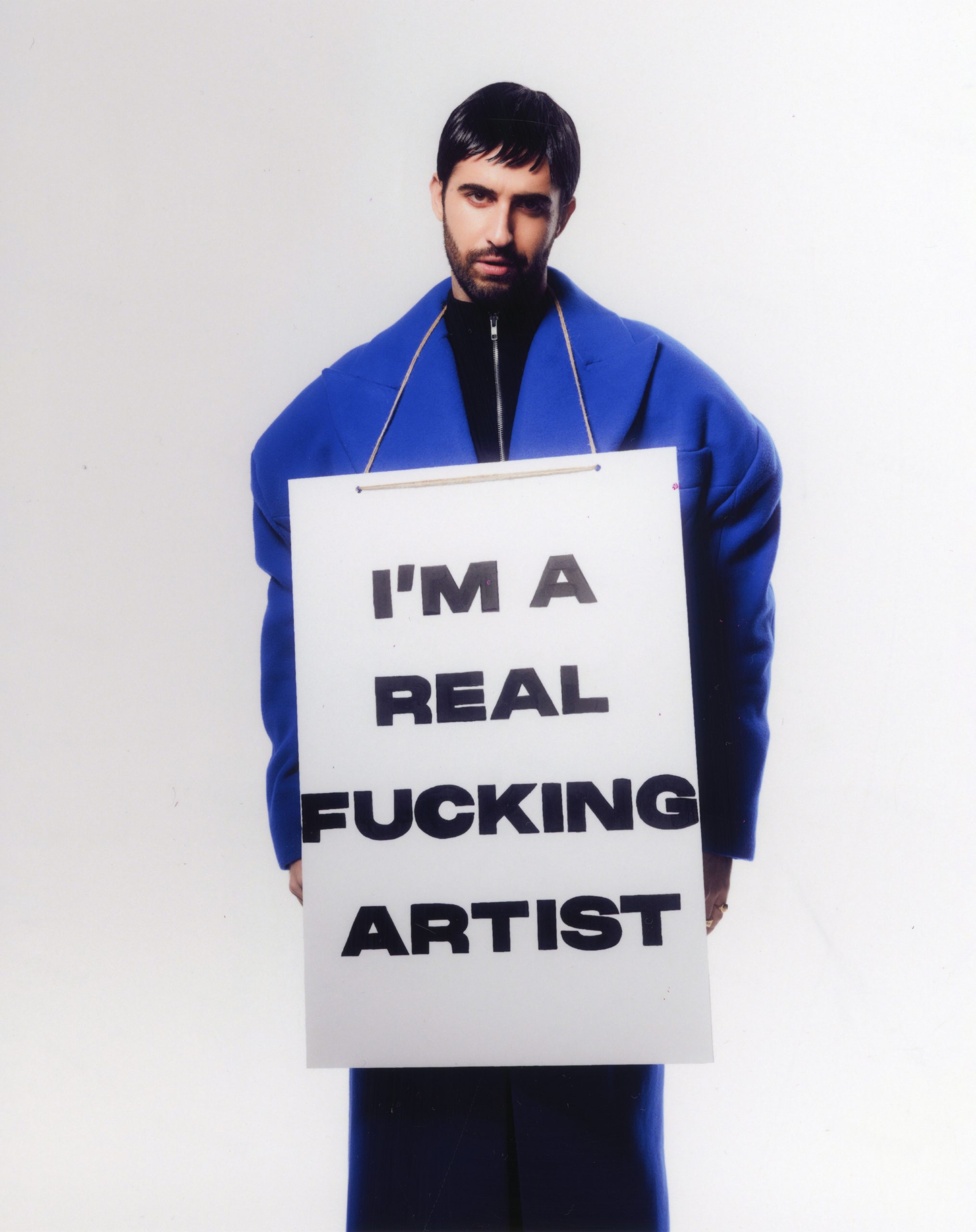 Shirt and Coat, MICHAEL CHAMERBLIN.
Why in the world would Firstman agree to a role like that? "I was really excited to just take the piss out of myself," Firstman explains. 2021 had been a rough year so far, and throughout Firstman's life, he had been able to turn his pain into comedy. The Instagram stuff from 2020 had at once blown up Firstman's career yet prevented him from going back to the roots of why he did comedy in the first place. You can't really talk about your pain when you're known for doing impressions of banana bread's PR reps or joke reacting to people's cringiest confessions in live time on IG Stories. Silva's film was a chance for Firstman to speak a truth about himself that he couldn't do online. "And so when he called and was like, I want to make fun of everything you built for yourself, I was like, this is exactly what I need right now."
In Rotting In The Sun, Firstman plays an influencer that a more depressed version of Silva chance-encounters on a gay nude beach in Mexico and can't seem to get rid of afterwards. Things take a turn in the film when Silva suddenly disappears, and Firstman gets thrown into a ticking clock mystery trying to figure out where Silva is. It's an absurdist, raunchy, self-mocking film– one also tinged with heart, which the real Firstman fought for, when his character suddenly finds himself to be the only one in the world who genuinely cares about what happened to Silva.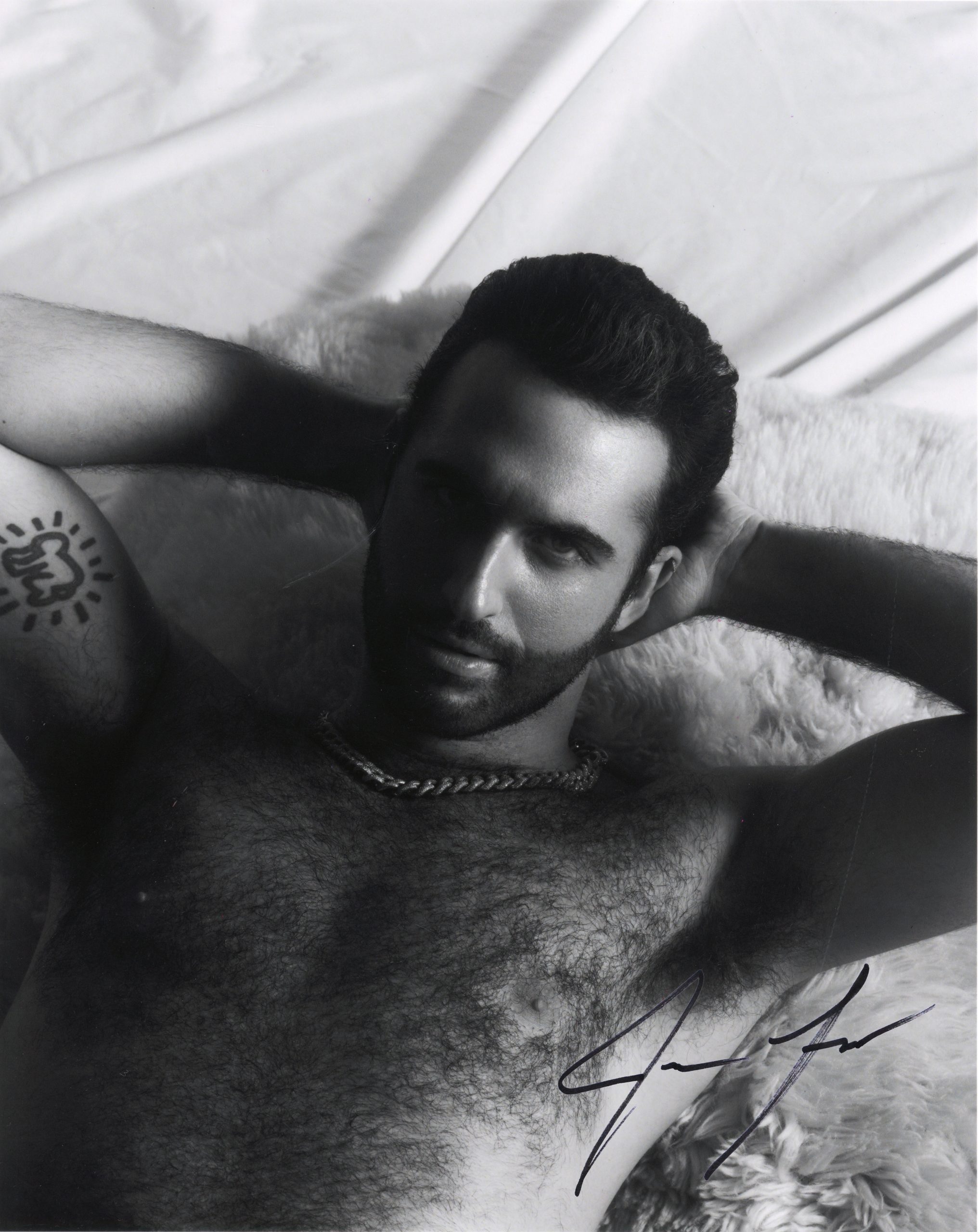 Necklace, SHAY JEWELRY.
The number of penises in the film ranges from 30-600, depending on how many and whose you're counting. When we first encounter Jordan, he's butt naked with his dick hanging out like everyone else on the beach. While Rotting In The Sun is a stark refresher from recent discourse about sex scenes in film/TV, it was initially difficult for Firstman to throw caution to the wind. "I really struggle with my body. I always have. My mom didn't instill the best body image for me and my family, so I definitely have body dysmorphia. Besides the dick, even being shirtless and naked on camera, it was something I had to get over."
Ultimately, the role was liberating. "Being gay, all gay people care about is the way you look– your body, and your dick size. And you know, I have a normal, maybe some would say a tiny bit above normal dick," Firstman says cheekily. "But I don't have a huge cock, I don't have a six pack, I don't have the things that gay men require for sex. Doing [the role] was freeing to me, to just be like, 'you know what, this is what I got and now I'm gonna show it to the world, and it will make things easier cause people will know if they want me or not.'"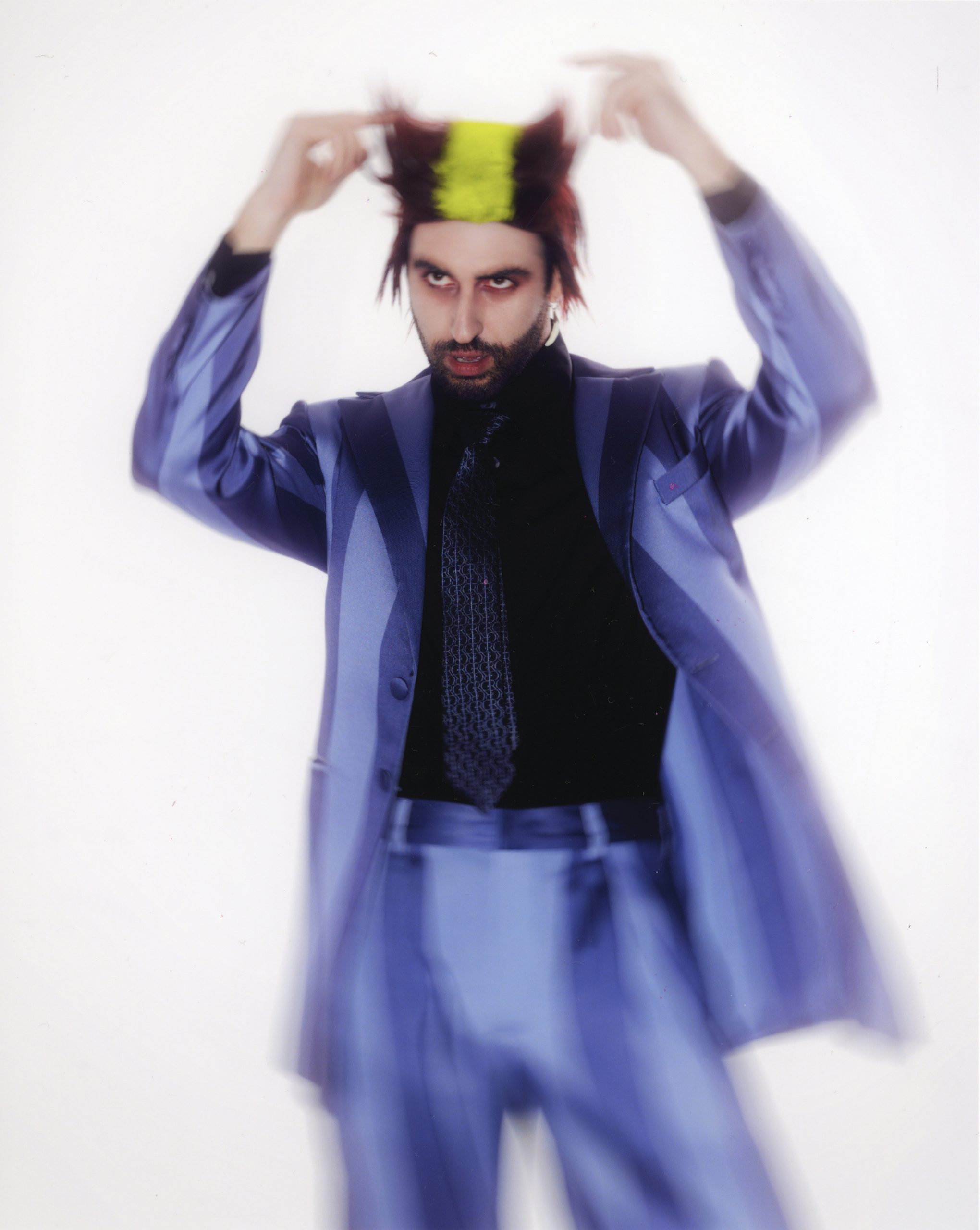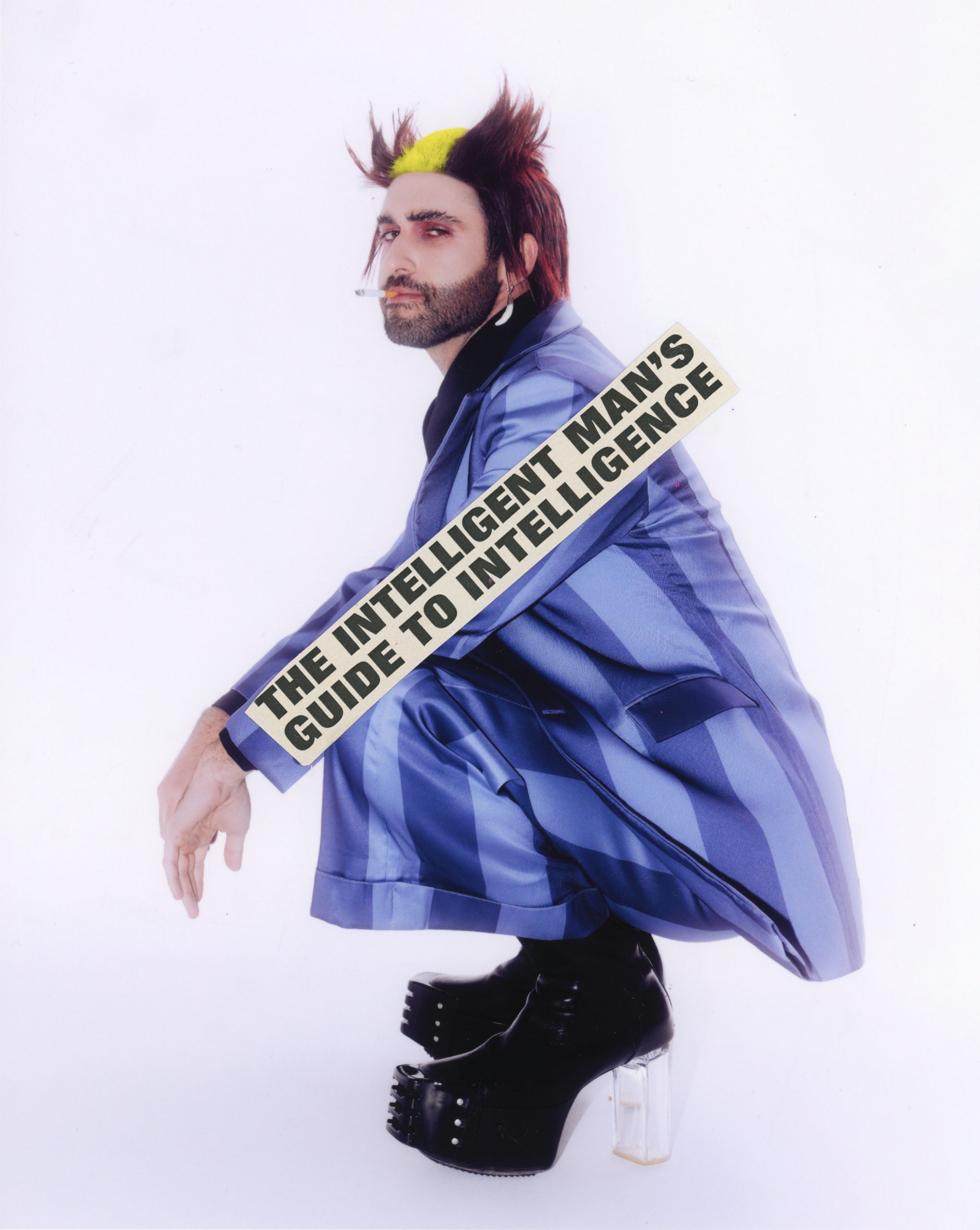 Suit, CHARLES & RON. Shirt, MICHAEL CHAMBERLIN. Shoes, RICK OWENS.
Several exhaustive search efforts and an interspersed existential spiral later, Jordan the character finally breaks down and turns on his followers. "The scenes where I'm breaking down and seeing my online persona from a different lens when real life starts to set in… that scene where I'm like, fuck you to my followers, you enabled me, you ruined my life… I can't say that online. But I can say it in a movie." 
It's a double-edged sword. Because frankly, the opportunities Firstman is getting now– his real calling, as a storyteller, as an artist– wouldn't have happened without his viral history. If he hadn't blown up on Instagram the way he did, Sebastian wouldn't have known about him. Firstman wouldn't have gotten to do Rotting In The Sun. "Even if [Silva] didn't like what I was doing on Instagram, the fact that I had the followers was a selling point. Kinda every opportunity I get right now is because I'm known for it. That's the crazy thing– so little in this world has to do with actual talent because people can't really trust the talent if it's not vetted in a certain way."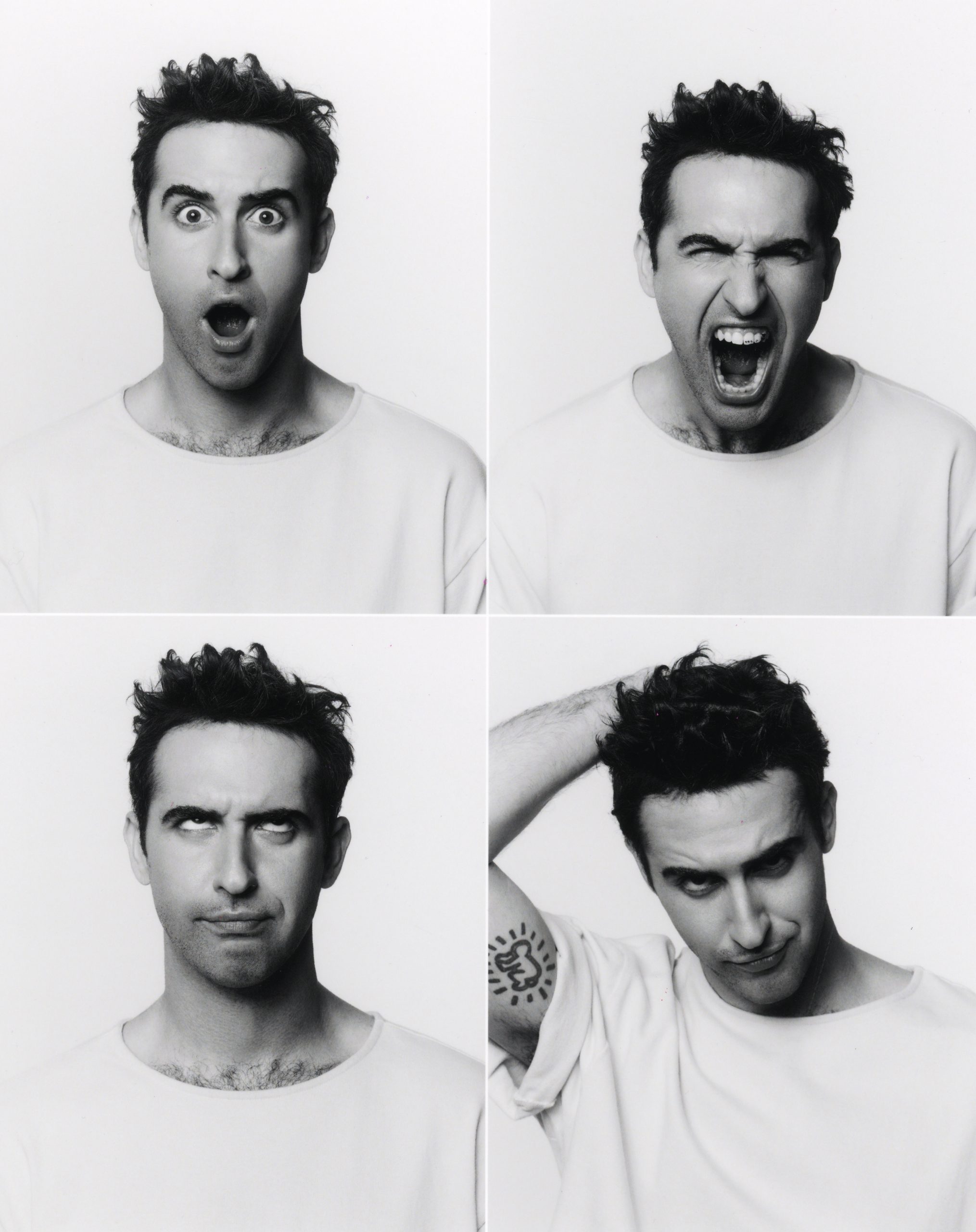 Top, ALL BENEATH HEAVEN.
Firstman is embracing the wave, because it's what he's always wanted to do. "I remember when I was 24, I was like, I don't want to be famous for the money or the accolades or for people to even know me." He prefaces this response by emphasizing how much he thinks the word "famous" sucks– fame isn't quite what he wanted, more so the artistic opportunities that come with a certain level of being known. "The reason I wanted [to be known] is to have access to artists that I respect. Artists have always been the most important thing to me, and artists have changed my life since my early teens. Writers have meant everything to me."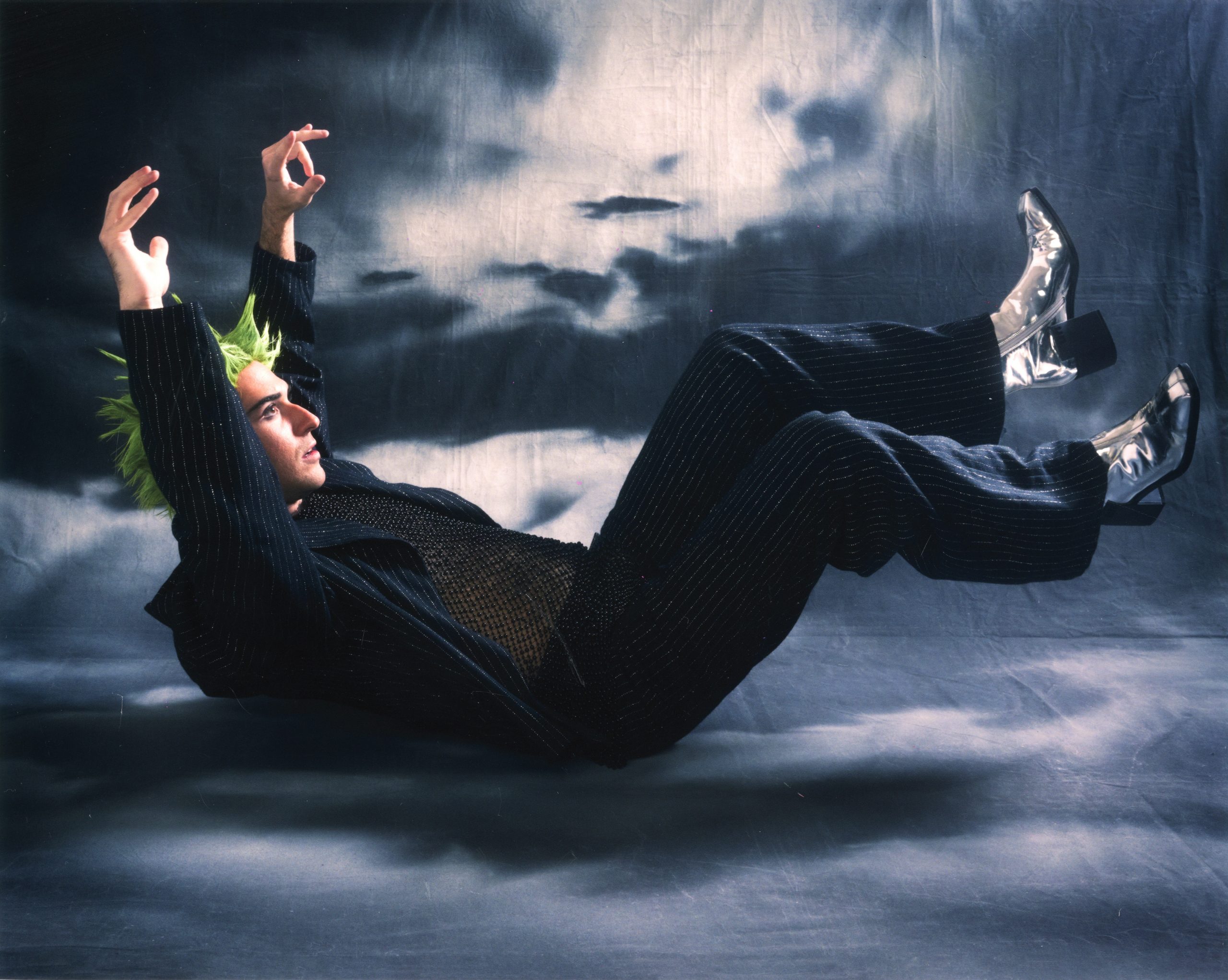 Suit, TELL THE TRUTH. Top, CHARLES & RON. Boots, UNITED NUDE.
With his co-star role in Rotting In The Sun and supporting roles in Disney Plus' Ms. Marvel and Netflix's You People, there's a new kind of energy on Jordan publicly right now. "I think I'm shifting from being an internet person to doing what I've always wanted to do. The industry is seeing me in a different way, which is nice but you know– you never know what's gonna happen with this stuff so all you can do is have a million things going and put one foot in front of the other and keep doing the work."
Firstman is currently developing a show that he sold to an unnamed network at the end of 2020– the flip side  to his character in Rotting In The Sun and what he describes as an "allegorical, biblical take with my experience on the Internet". Firstman is excited about his show because–going back to those walls he built up–  there's several big things in his life that he would rather reveal in his art than on his platforms. No one really knows what it was like to be inside his rise to virality and journey after. And Firstman believes people can relate because they've seen so many people go through that "bring up, tear down" culture of the internet.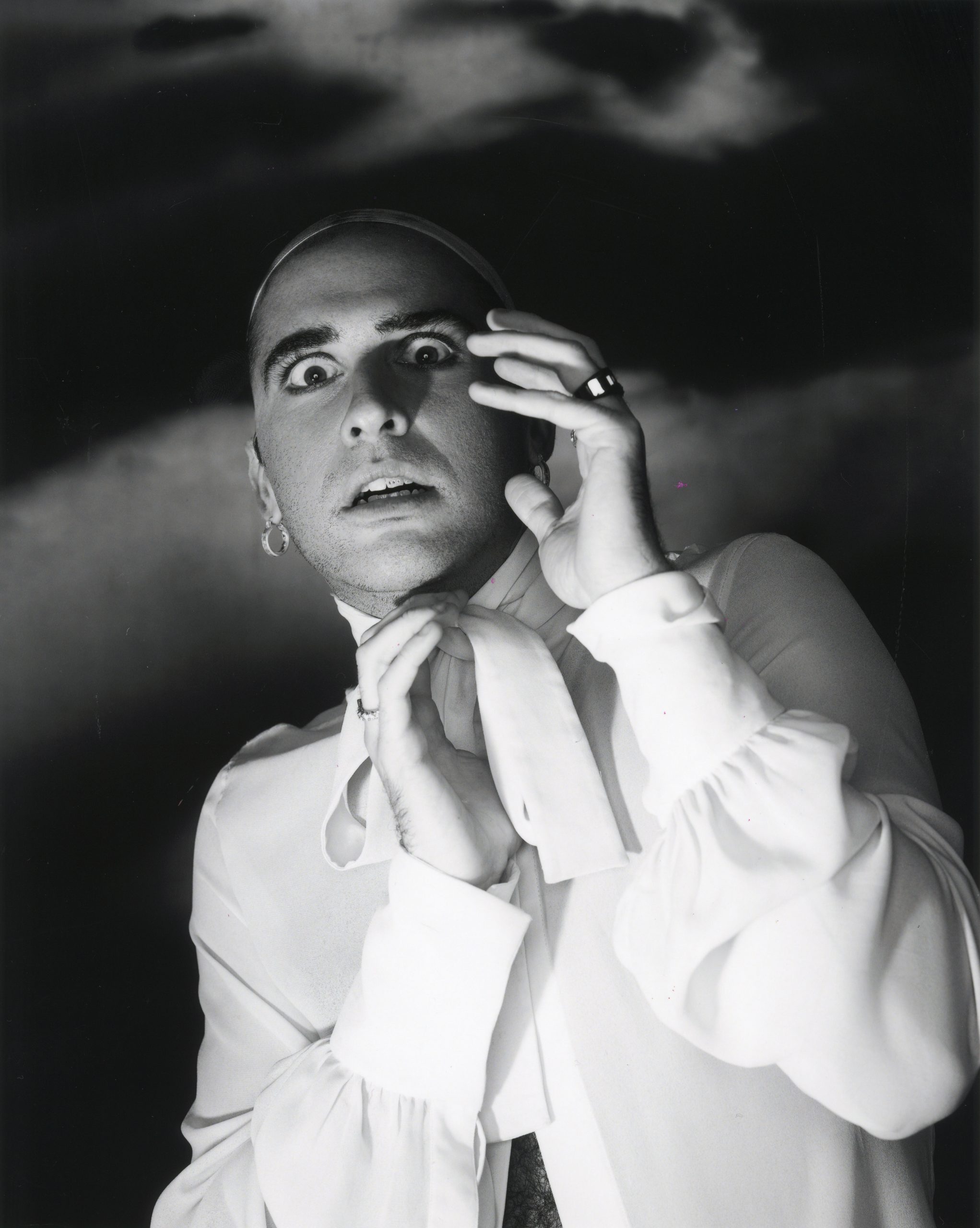 Top, WEISHENG PARIS. Rings, SHAY JEWELRY.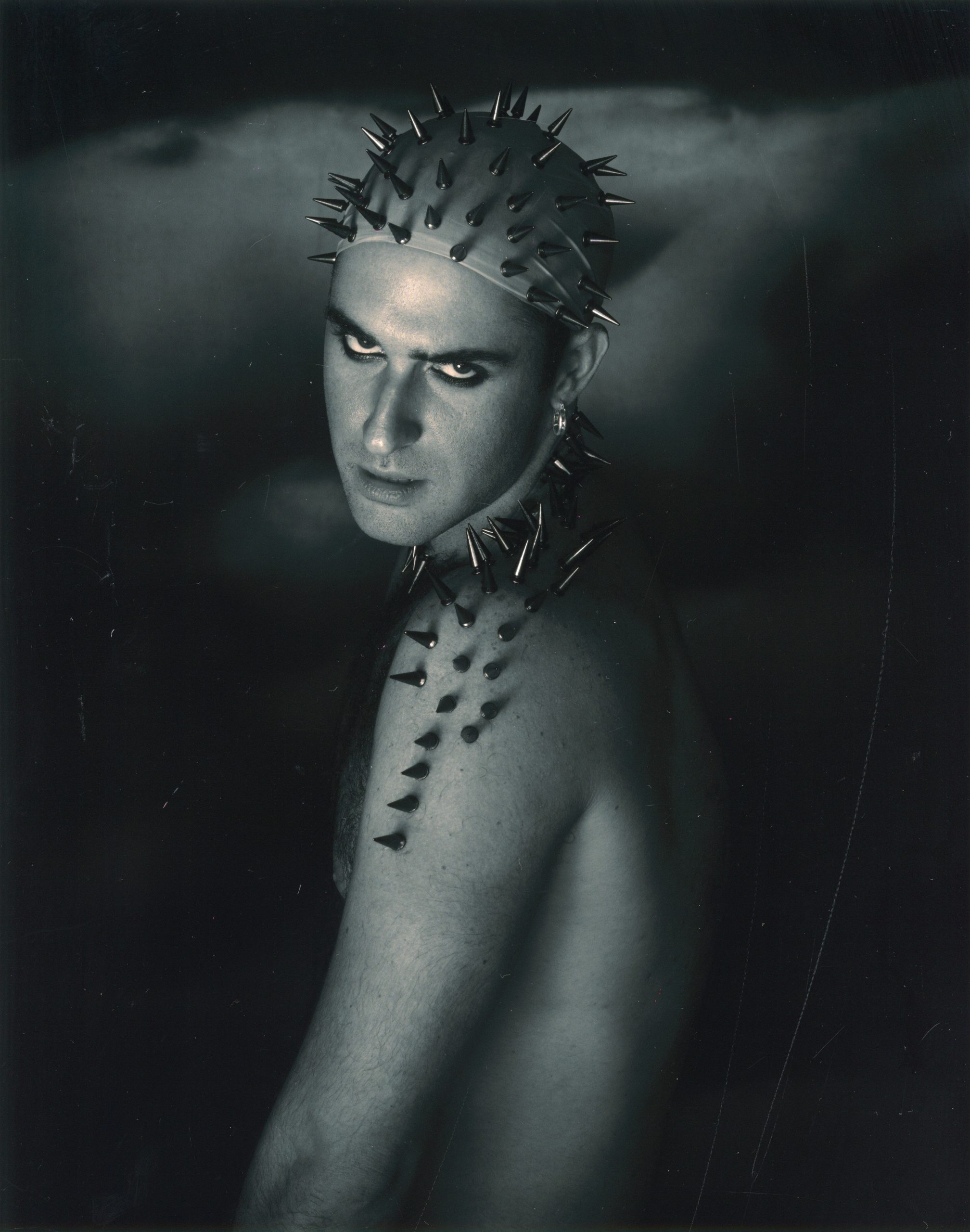 Firstman is glad that the show has been in development for so long, because while it came on the tides of social media fame, the aftermath of the following year saw the show change in ways Firstman couldn't have foreseen. "I remember my pitch was so fucking delusional and positive because I was in such a good place, and I was like 'this is gonna be the Jordan Show! I'm gonna do everything!'" Firstman reflects, a hint of that ironic humor from his internet persona popping out. "It's funny– when I pitched the show, it was called Everything because that's how I was feeling. I wanted to make a show about everything. And then life beat me down and the world seemed way darker than when I pitched it. I called the network a year and a half into development, and I was like, "hey guys, I know you thought the show was called Everything, but now the show's actually called Nothing. So now the show is called Nothing."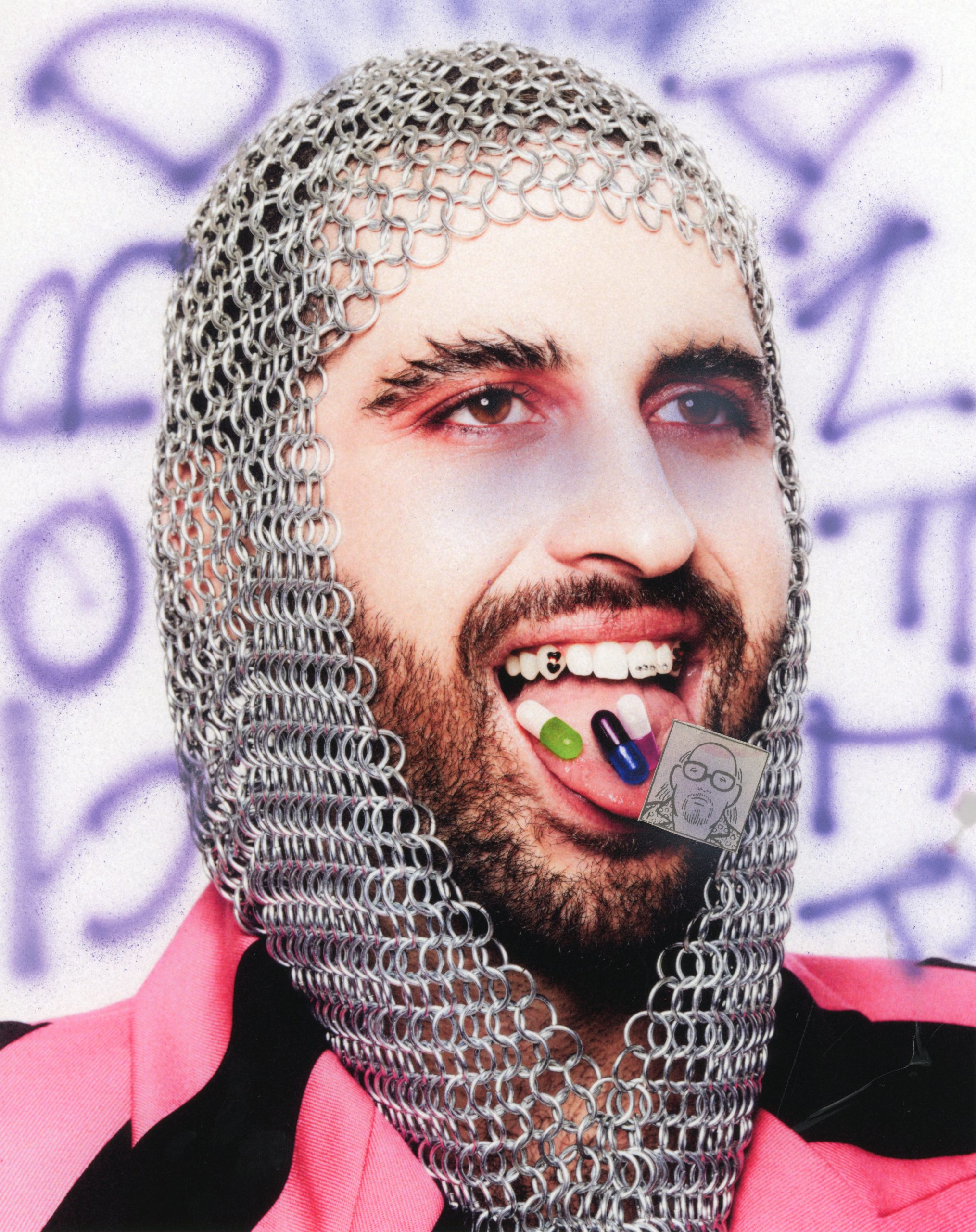 Blazer, ANNAKIKI. Tooth Gems, FACULTY WORLD.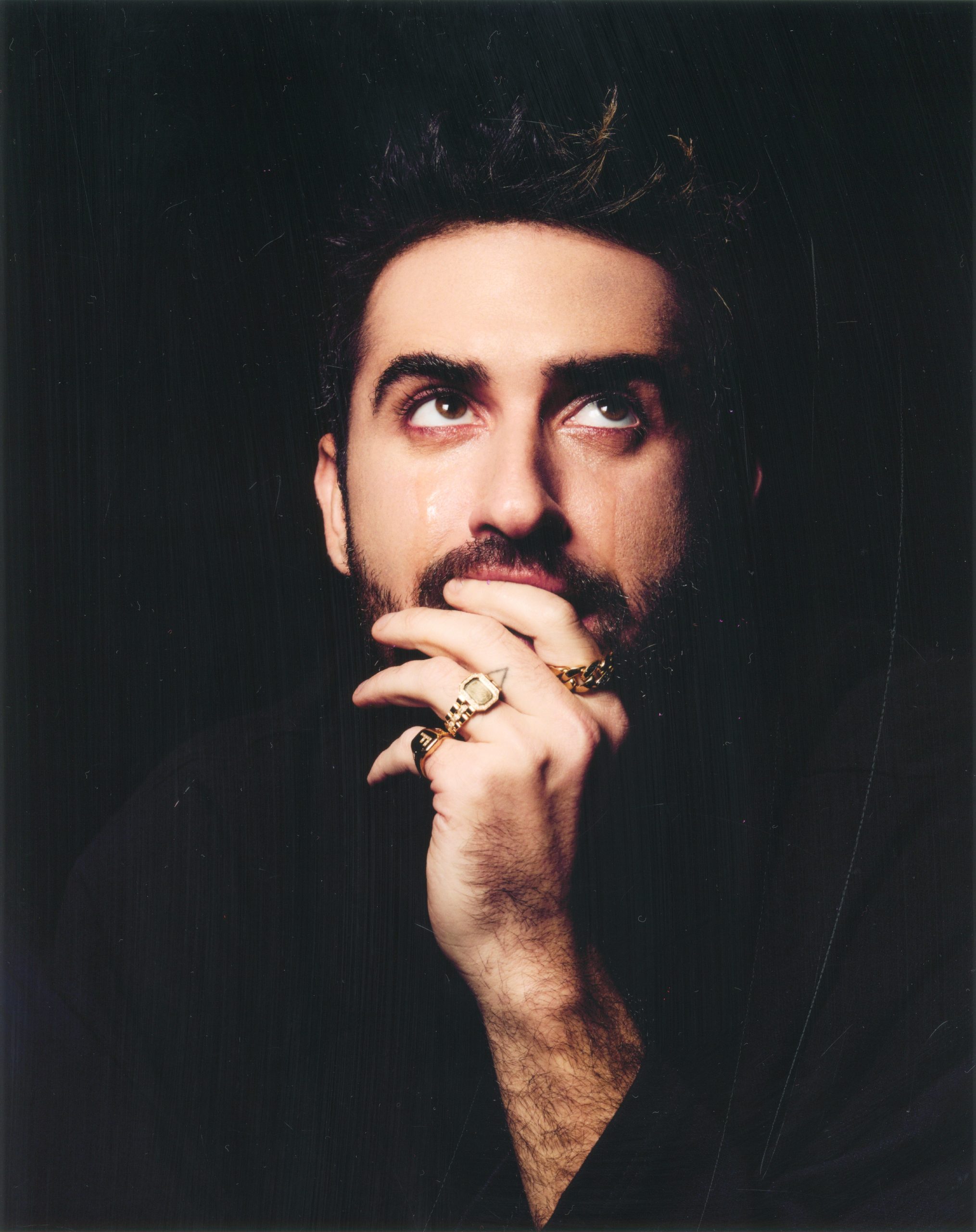 Rings, SHAY JEWELRY. Shirt, MICHAEL CHAMERBLIN.
***
CONNECT WITH JORDAN FIRSTMAN:
STORY / RUTH JIANG
PHOTOS / ALANA O'HERLIHY
STYLIST / PHIL GOMEZ
MU / ALEXANDRA FRENCH
HAIR / MARANDA WIDLUND using BALMAIN COUTURE
SET DESIGN / ALEXA POLANCO
PRODUCER / DAN CINGARI
COVER ART / PEARL ZHANG
HAIR ASSISTANT / BRANDON MAYBERRY
1ST PHOTO ASST / LEA GARN
2ND PHOTO ASST / BREYER FLOYD
DIGI TECH / SEAN DECKERT
LIGHTING DIRECTOR / KURT MANGU
GAFFER / GUI CHA