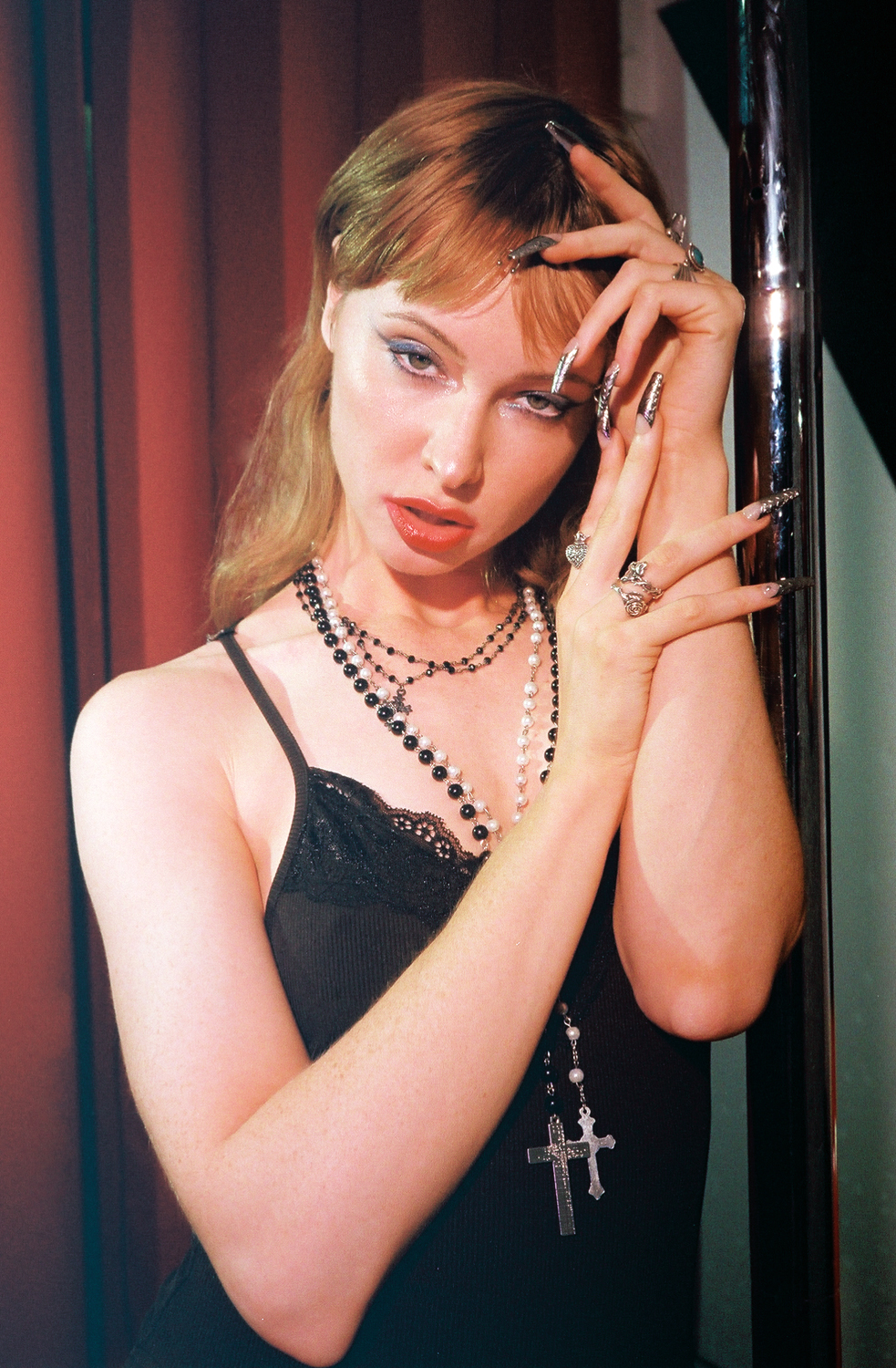 When I reached out to Dana Dentata, I didn't know what to expect. I first discovered the Canadian bombshell in an Instagram video, swinging a plastic toy baby on a chain between her legs in full clown makeup. Her performer persona is a bit unhinged – mixing sultry with scary, like a beautiful rapping nymph, seeking revenge on anyone who dares harm her.
Dana in real life is nothing like her musical stage character. She's sweet, with a down-to-earth attitude that makes everyone feel comfortable. The juxtaposition of her ethereal beauty and edginess – promotes an unforgettable uniqueness about her. A tall, gorgeous human who looks hot as a clown and disembowels abusers in her music video. Definitely, someone you want to keep on your good side.
In a scene that runs on toxic masculinity, Dana uses her voice to talk about tough topics through her music and lyrics. Under all the screaming and makeup, there's a really important message. This Metal-Rap Beauty Queen uses a theatrical approach to process pain and to speak out about abuse. She's cleverly infiltrating a scene and normalizing talking about tough topics like rape and abuse.
She showed up at my house driving a black Toyota Tacoma truck and sweetly apologized for the rattle. "Sorry, my car is a little noisy; someone stole my Cadillac converter, so I welded a pipe to it myself." I loved this about her and it showed me a lot about who she was as a person. If she needs something done, she'll do it herself. Dana has a softness and childlike energy within a strong and commanding presence.
We decided to do a few looks, starting simple and working our way up to her signature clown look. Her makeup looks were designed by my friend Alondra (@alondraexcene on Instagram) who was already a huge fan of Dana's. My anxiety had me worried the film store would burn down and I would lose everything, so I asked my boyfriend James Dierx ( @editjames on Instagram) to shoot digital as a backup. I'm glad I did because his photos turned out amazing!
The shoot was styled by the incredible Josh Scholl of WHOLE clothing and SKIM MILK https://drinkthismilk.com/ @drinkthismilk along with Dana. They collaborated, mixing accessories with leather, lace and camo, creating sexy high-fashion looks with a blue-collar twist. Lori Howe (@misslorihowe on Instagram) created the amazing nails that were inspired by the metal flooring in auto garages. She's a wizard with style and design and collabs with me on a lot of my shoots. Needless to say, this was a family affair and we all had a great time bringing this shoot to life. I hope you enjoy the photos and my interview with the amazing Dana Dentata! (@danadentata)
Q: Who is Dana Dentata?
Dana Dentata is an alter ego I unknowingly created for myself when I was a teenager in a band. She is a fierce, untouchable, outspoken vigilante for those who have been abused. My protector.
Q: How do you find the balance between the person and the persona?
I came a long way in my healing journey in the last 2 years and a part of that was learning how the persona was created and why. Now that I have a better understanding of both myself and the persona it's easier to create balance and have better boundaries. Sometimes Dana Dentata would harm Dana the person without meaning to but that doesn't happen anymore.
Q: We live in a society where people are scared to talk about their feelings. Where do you find the bravery to be so open and honest about your hardships?
I have experienced a life of suffering in silence. Not speaking it out loud prevented me from understanding myself until way later in life and after a lot of repeated trauma because I didn't know. I've grown to realize that keeping these things inside and ignoring them doesn't make it feel better and it doesn't make the pain go away. It only oozes and infects inside you like an untreated wound. The only people we are doing a favor for by keeping our abuse inside are the people who have committed it against us and that isn't fair. Releasing our stories and our truth from our bodies is a tool we can use to free ourselves from the weight of someone else's evil. It's a way of giving it back to them to hold. It's not my fault that someone is a fucked up psycho so why should I bear the shame of one?
Q: Trauma-informed healing is really important. Your voice is powerful and seems to come at the perfect time. So many of us are hurting and don't know why or how to heal. Do you have any advice for those who are just starting their healing journey?
If you can, talk to a therapist. It's insane how expensive it is but it's worth it and a lot of people do sliding scale if it isn't covered by insurance. Once I had a better understanding of myself and was diagnosed with CPTSD by a therapist I was able to do a lot of the work on my own. I read about my diagnosis, I took notes and studied. I really took my healing and understanding of myself seriously. I liked to pretend me and my therapist were scientists collaborating on hacking this girl Dana's brain. Also, it won't happen the moment you want it to, it will happen the moment you are ready to, so prepare. I was in therapy once, sometimes twice a week for 7 months before I broke out of the confines of my traumatized brain. Working with a therapist gave me the outside perspective and professional support to learn who I am, and why I am this way. Don't be afraid of the pain, its not supposed to be easy or feel good but I fucking promise you that you will feel better then you have ever felt after you do it.
Q: It's refreshing to see someone as beautiful as you putting themselves out there in such a raw and real way. Have you always been like this?
I have always had the desire to be myself from a young age but I was controlled by modeling agents from 14 all the way into my 20's. Then it went from modeling agents to music managers. I was always butting heads with people about being my true self and have experienced first hand how hard it is for people to support and accept that. People really don't want you to feel free and fearless. How I dressed and looked and acted was a problem in the modeling world and then in music it became a problem of what I was saying and how "intense" it was. It's been a long fight but it really didn't have to be. I wish I hadn't been so vulnerable and allowed so many people to prevent me from being me because nothing really great ever happened for me until I completely ignored everyone and did everything myself, exactly how I wanted.
Q: I love how you blend Metal and Hip-hop. The verbal poetry floats in a sea of metal. Like oil and water. Tell us about your journey in finding your sound and image.
I originally started to learn guitar and would write songs on an acoustic guitar alone in my room and I never showed anyone. Looking back, I was using that as an outlet to express the painful things happening to me and it felt too raw and painful to share but I wanted to be in a band more than anything. I started a punk band called Dentata with some girlfriends. I was behind my guitar yelling and screaming and I think it was just easier for me to express myself that way at the time. I've had the barbies on my mic stand since the first Dentata show when I was 18. The band broke up and I went on a long journey of trying to work with different producers and managers as a solo artist. It was the complete opposite experience of making music in a band with a bunch of girls. So many men were very opinionated and entitled and against my vision. It took so much bullshit to get to a place where I realized I didn't need anyone's advice or help all along. I just needed to do it myself and not listen to anyone else's opinion. That's when things started to get fun.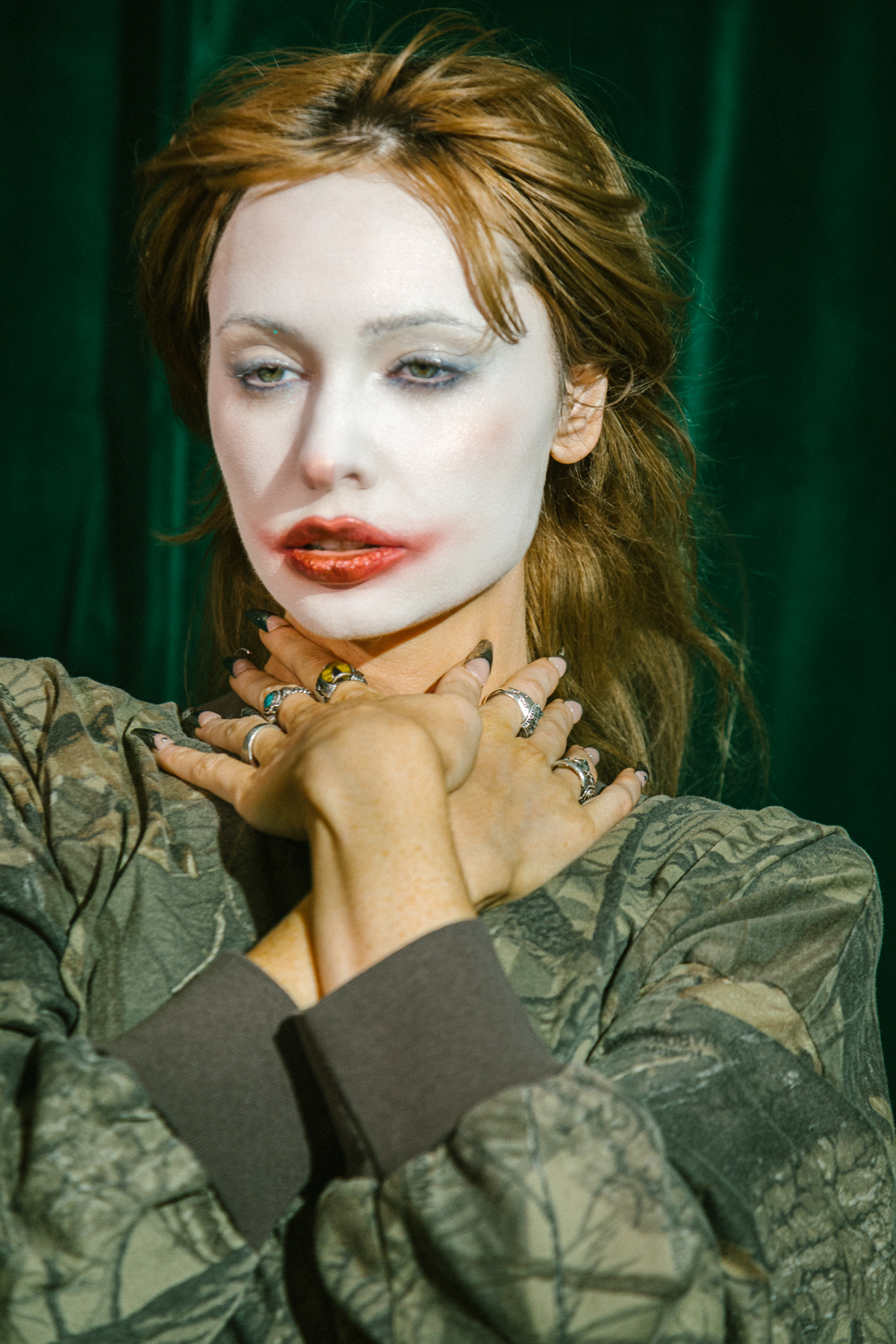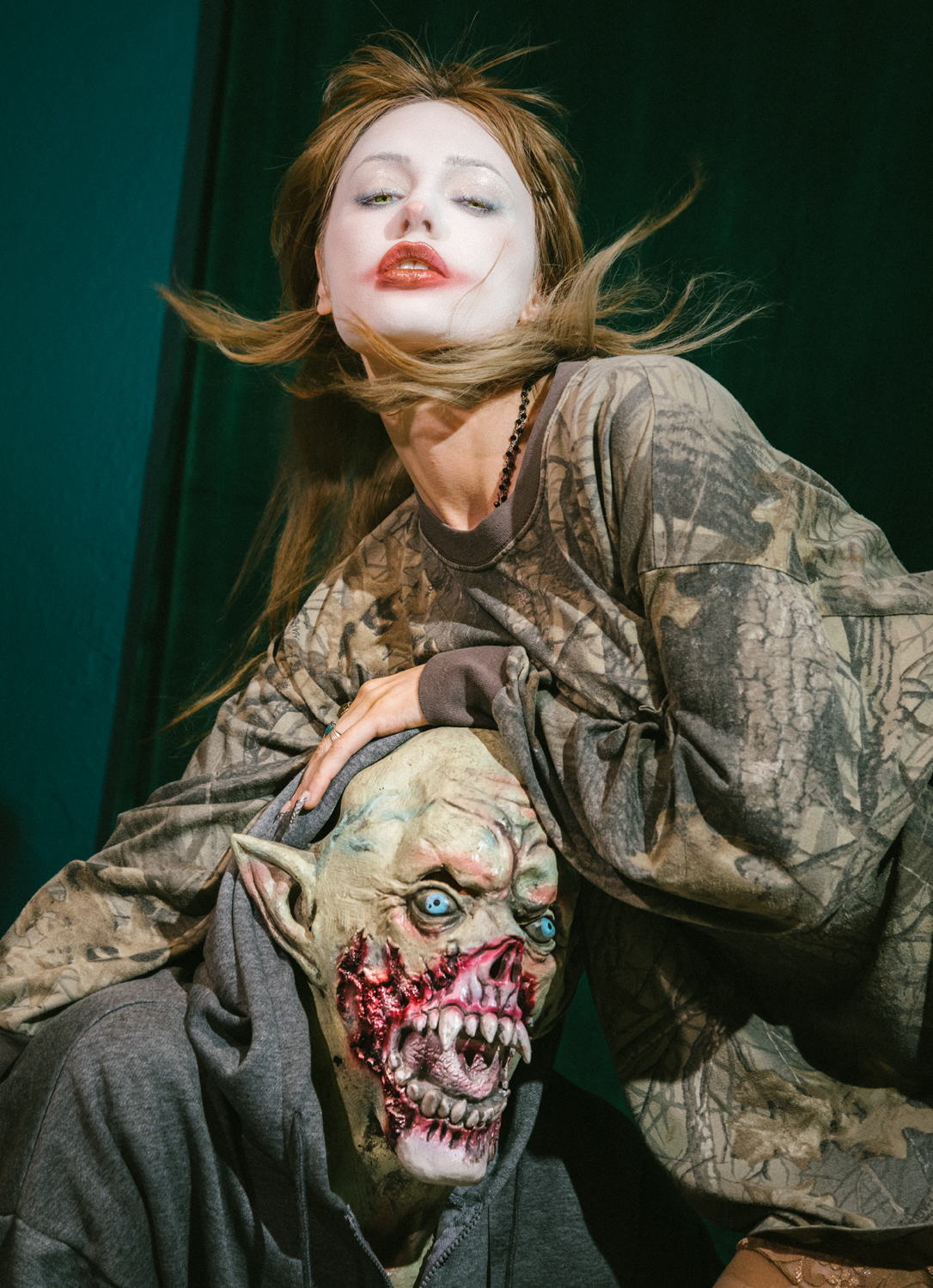 Q: What comes first, the music or the lyrics?
When I was writing my album I was really focused on designing the right sound with the producers first and then I filled it in with the words after. I knew the concept of the album and for the songs but I like to have an inspiring landscape to lay out the words.
Q: How have things changed for you since releasing your debut album "Pantychrist"
I had a spiritual awakening and my entire life changed. Before Pantychrist, I didn't know who I was. I knew Pantychrist would be the manifestation of me healing myself and becoming invincible and that's exactly what happened. I faced myself and have deep empathy and understanding for myself now. I seriously feel reborn so I've just been enjoying life without feeling like I have an empty hole inside me.
Q: It's so cool that you were just on tour with Korn and Evanescence. Tell us about your experience with that.
It felt really rewarding to be asked to go on tour by a band of iconic legends that make music with heart about real pain. The first night I went out to the side of the stage and saw Amy Lee singing a song on the piano and I just started crying cause it felt real for the first time.  I felt very supported and safe on that tour and it will forever be one of the best experiences of my life. It was so sick to perform for their amazing fans and then watch them perform bangers every night. Korn has a special world of people around them and it was nice to be a part of their world for a while. Wahh I miss it :'(
Q: What's your favorite thing about performing?
I love how normal I feel. I feel like I'm doing what I'm supposed to be doing and I feel so free and safe.
Q: What do you like to do when you're not playing music?
I love finding random cool things in vintage stores with my friends and eating cake and chocolate.
Q: Tell us about growing up in Canada. Do you miss it? What's your favorite place in the US?
It was fun growing up there. I loved going to Downtown Toronto with my friends all the time. There were always a lot of shows to go to. There were so many good bands and I'm nostalgic for that time when everyone I knew was in a band and all we did was go to shows or play shows. My favorite place in the US is the midwest in general but I want to live in Joshua Tree when I'm a lil ol lady with a motorcycle and a long braided ponytail.
Q: Tell us about your favorite show that you've played?
I've loved them all because they're always different. A lot of my shows that my friend filmed on VHS under her name Deathhoarder (on youtube somewhere) have been my favorites to look back on. I'm so grateful she did that.
Q: Any big goals for the next year?
I've auditioned for some stuff before but never got it lol, I'd love to find the role for me one day and act in something.
Q: When can we see you play next? Have any new music in the works?
I'm playing this weekend in Detroit with Insane Clown Posse for the 2nd Halloween in a row which is the best. Then I'm playing December 3rd in LA for a Boiler Room x Subculture event. Pantychrist was so emotionally and physically draining but also life changing and I think I had to take some time to adjust to how different I feel now before I started making music again. Now that I've been home from the Korn tour I've been so inspired to create again and there will definitely be some new music next year.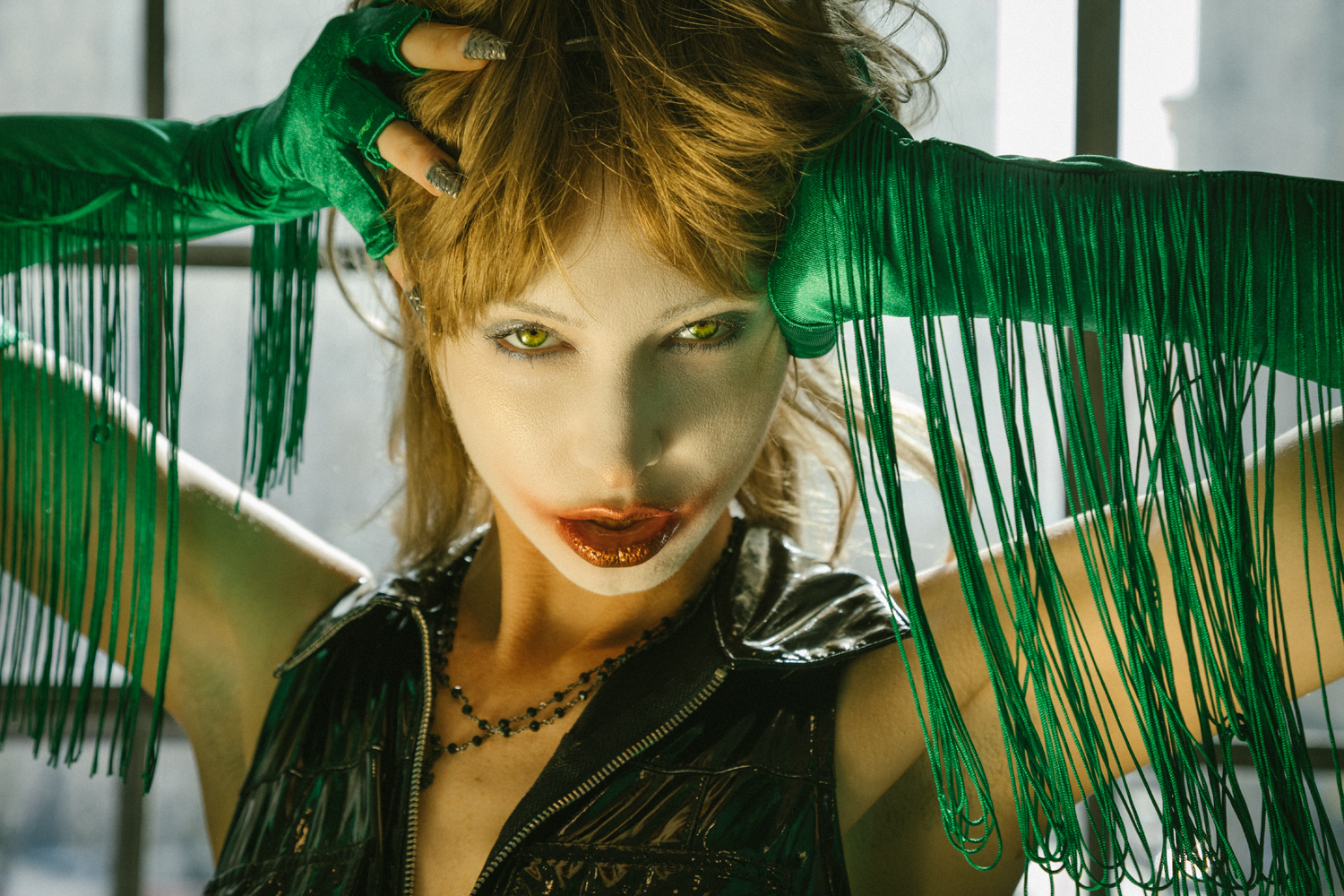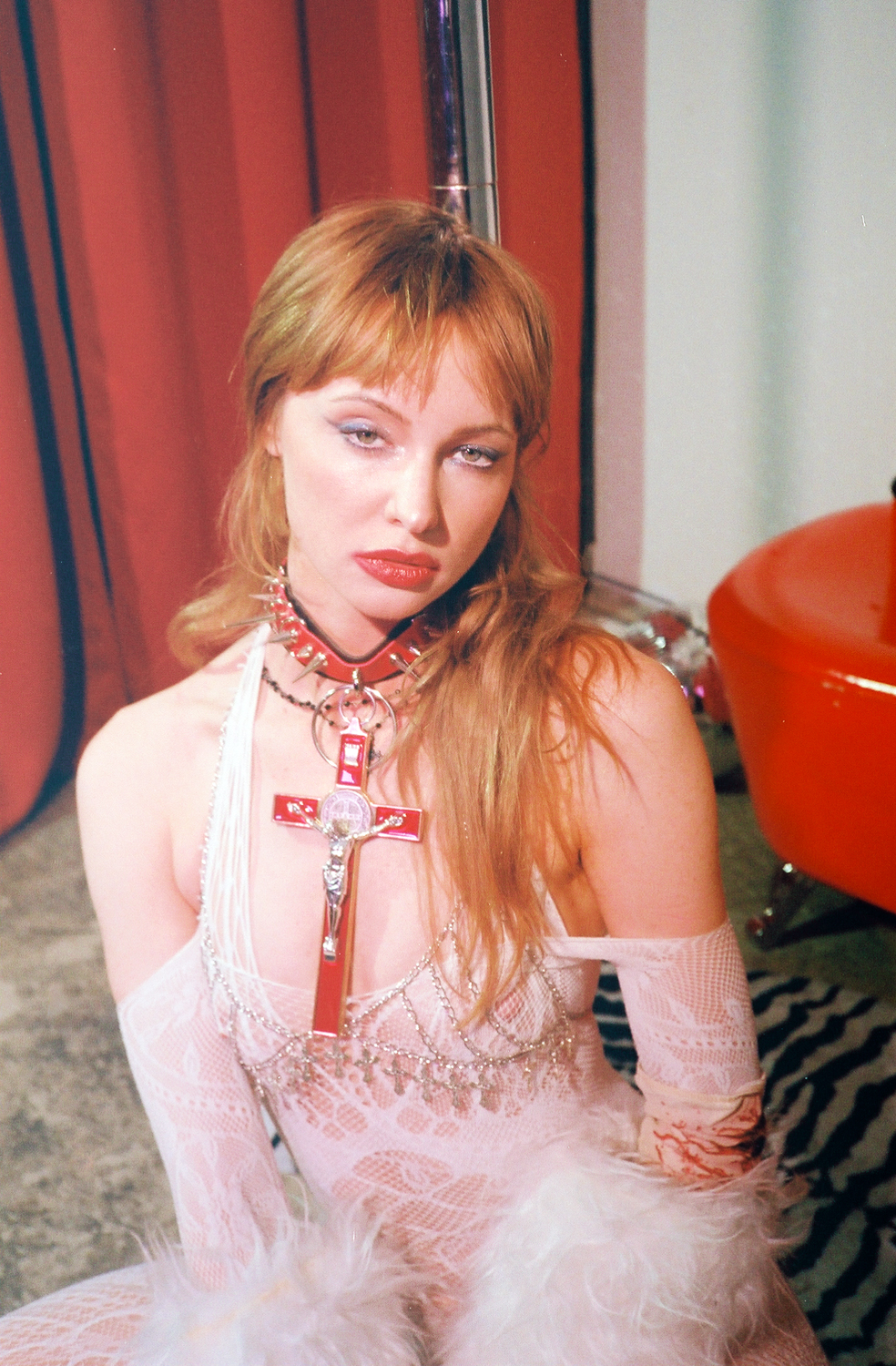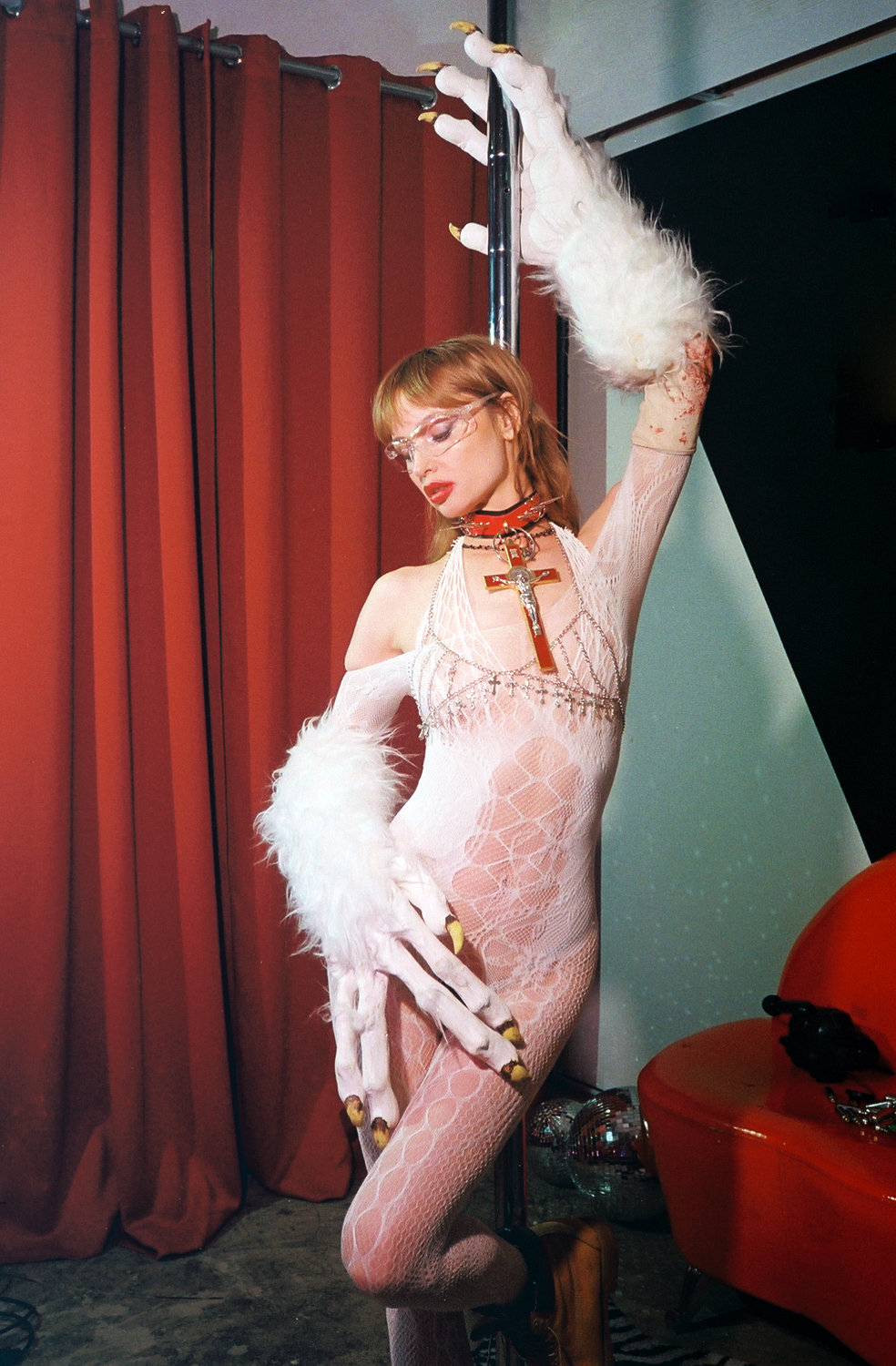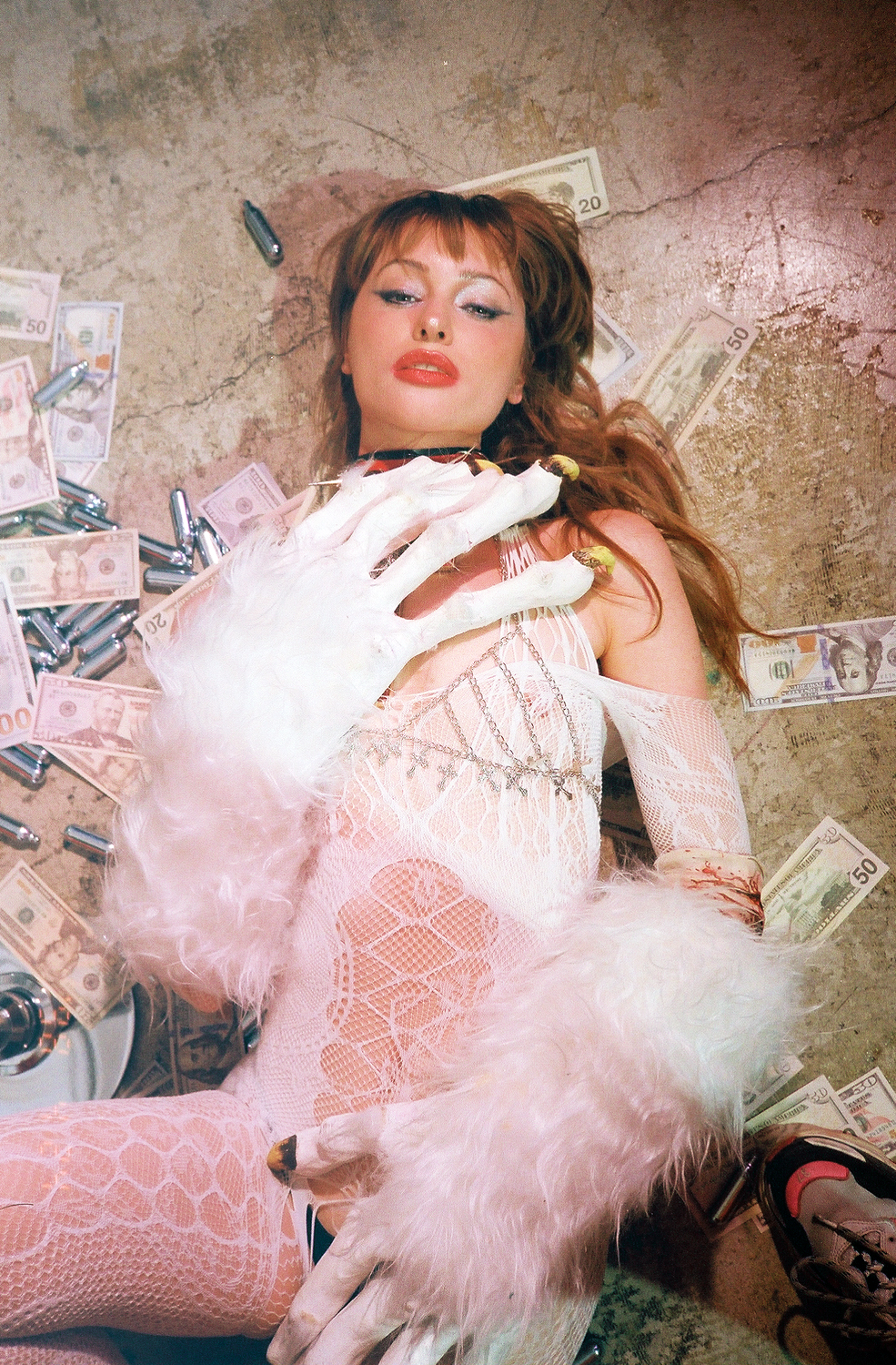 Interview & 35mm by Ericka Clevenger @erickaclevenger
Digital by James Dierx @editjames
CONNECT WITH DANA DENTATA