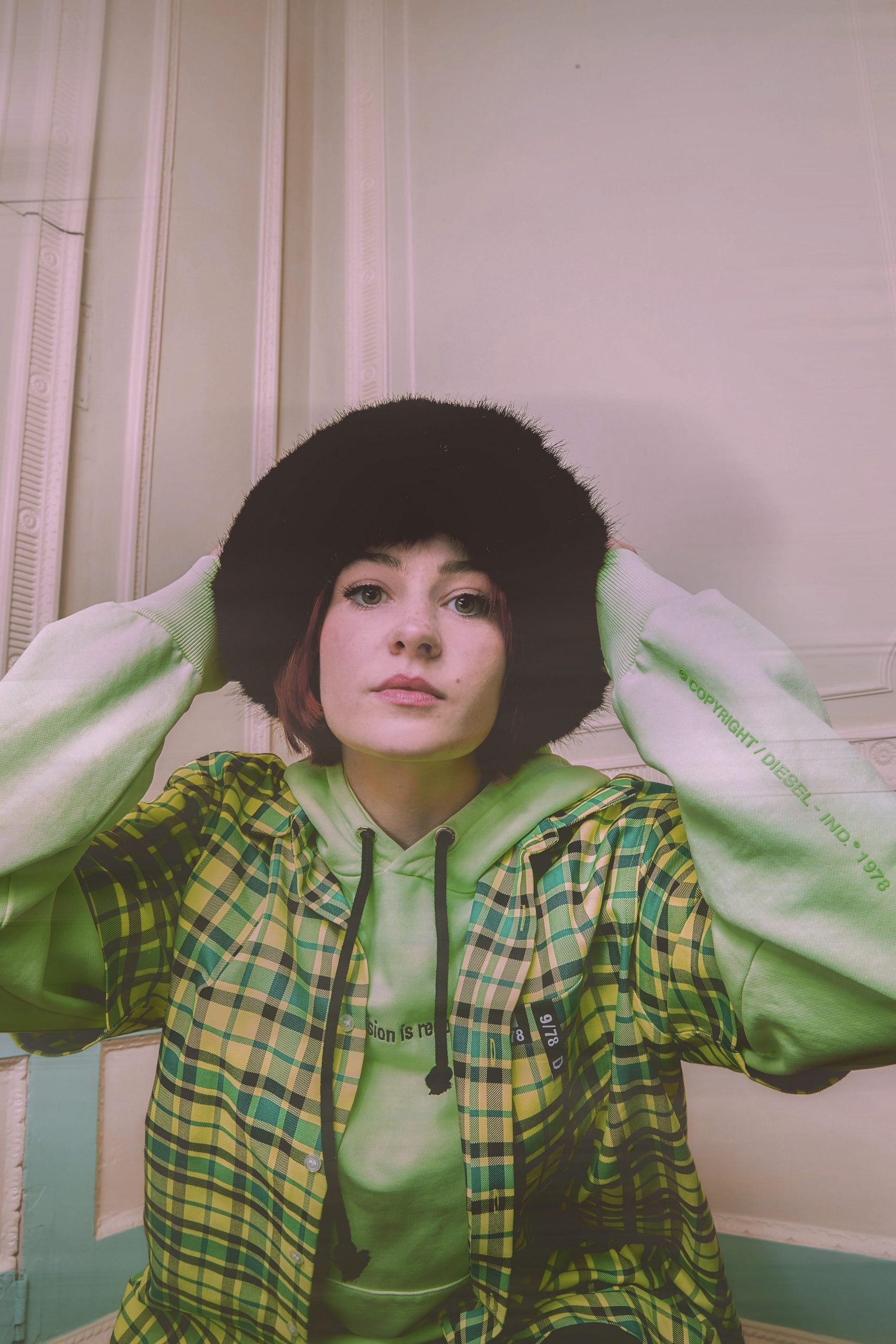 Before Jess Smyth became Biig Piig, she was just a young Irish girl, living in London who had just faced a tough breakup. "I fell off the radar with music. I was dating this guy and really forgot about things that made me feel like me. I lost my way with it," she reflects. As Jess tells it, one of her friends, Ava (artist name: Lava La Rue), invited her out to a gig and Jess decided to go, hoping to reconnect with her friends. "There was a cypher at the after party and I just grabbed the mic."
It was her first time rapping. The crew of friends, who would eventually band together to create the artist-driven NiNE8 Collective of which Smyth is still a member, used random YouTube instrumentals and type beats for everyone to topline. "It felt so good," she says. Previously, the budding artist had only done the occasional acoustic guitar covers for her, now deleted, YouTube channel. But nowadays, Smyth toplines almost exclusively, blending rap and melody together over groove-heavy beats, sometimes even with Spanish interlaced in her lyrics.
Since that fateful cypher, Jess became Biig Piig, cheekily named after a type of pizza at a local shop, and built her own success over the next few years with the help of her friends at the NiNE8 Collective. More recently, her work caught the eye of a major label, RCA Records, who extended an offer to Biig Piig.
Her work has the casual, self-assured flow of an artist who's been doing this for a long time and is confident in the words that she writes. Like a friend in conversation, she feels familiar enough to be a comfort but there's still a certain coolness to the touch.
In conversation with LADYGUNN, Biig Piig speaks the same way. Words flow easily between us. She's reassuring, she's open. With a smile she tells of how quarantine has been going well for her, despite not making much music. It leaves the impression that beyond the growth of her Biig Piig persona, she still lives a fulfilling life as Jess Smyth too.
Biig Piig's latest track "Don't Turn Around" (Buddy Remix) is out now via RCA Records.
You got your start making acoustic covers on YouTube as a kid and have mentioned that some of your favorite artists in the past are Leonard Cohen and Ben Harper. Though your music doesn't seemingly align with those artists anymore, do you still find inspiration from them?
Maybe… I sometimes dive back into their music when I'm having a nostalgic moment. I've always been drawn to artists that can use simpler words to paint a picture. Great storytellers, I guess.
So maybe more of an approach to lyrics that feels more minimal, less heady?
Yes, massively. A lot of Ben Harper's stuff is like that. I think they still continue to influence me without me realizing.
What is your songwriting process? Does it start from just acoustic guitar and voice, or are you integrating production from the beginning?
Things have changed so much since the beginning. The way that it's working now is my friend who produces beats will send me over some stuff, and I write the lyrics and melodies over that. Right now, I'm very focused on that approach – lyrics and melodies on beats. I still feel very connected to the instrumentation and beat making of it though. When I go into a session with a producer, I'll just have a strong feeling when something clicks instrumentally.
For you, did co-writing and toplining come naturally from the beginning, or was it a tough adjustment from making your music privately?
That cypher was the first time I had really tried toplining. We were all having fun with it and just rapping and singing over these random instrumentals on YouTube. At my darkest points, music has always pulled me back and that was a really big turning point for me in the way I created my own music. It opened up a lot of new possibilities. I had such a great time, and Ava (Lava La Rue) was like "we're starting up this collective and would love for you to join. We are just going to play music and make art." I said, "that sounds so nice. 100%," and then Lloyd invited me to his house to make music whenever I was ready.
I used to look up random instrumentals like Mike City and these other guys. I loved how I could make the tune my own by redoing all the stuff on top of it. So that's when I started releasing things. I started putting what I was making with Lloyd on Soundcloud. This sounds super cringe, but I feel like the instrumental stuff is already saying something and the words I make help express that. I've always loved that process of being able to sense the emotion in the song and then being able to translate it into words. Since then, I've always worked that way. I'm quite happy and comfortable doing what I am doing right now.
When you first did that cypher and your interest grew in hip hop and rap were there any artists that were particularly influential to you as you learned to write your own bars?
Yeah, so Eryka Badu was definitely my first influence. The way she flows on a track and uses her words and ad-libs and everything. It just feels like it's from another planet. It's so cool. I was also very drawn to Biggie as well and a lot of rappers from around London. I've been so lucky to be part of the scene here. It's incredible. Lord Apex, Finn Foxell – they're so sick. The talent and the lyrics and the way they flowed on tracks was super inspiring. I think I listened and learned a lot to the people I was around the most.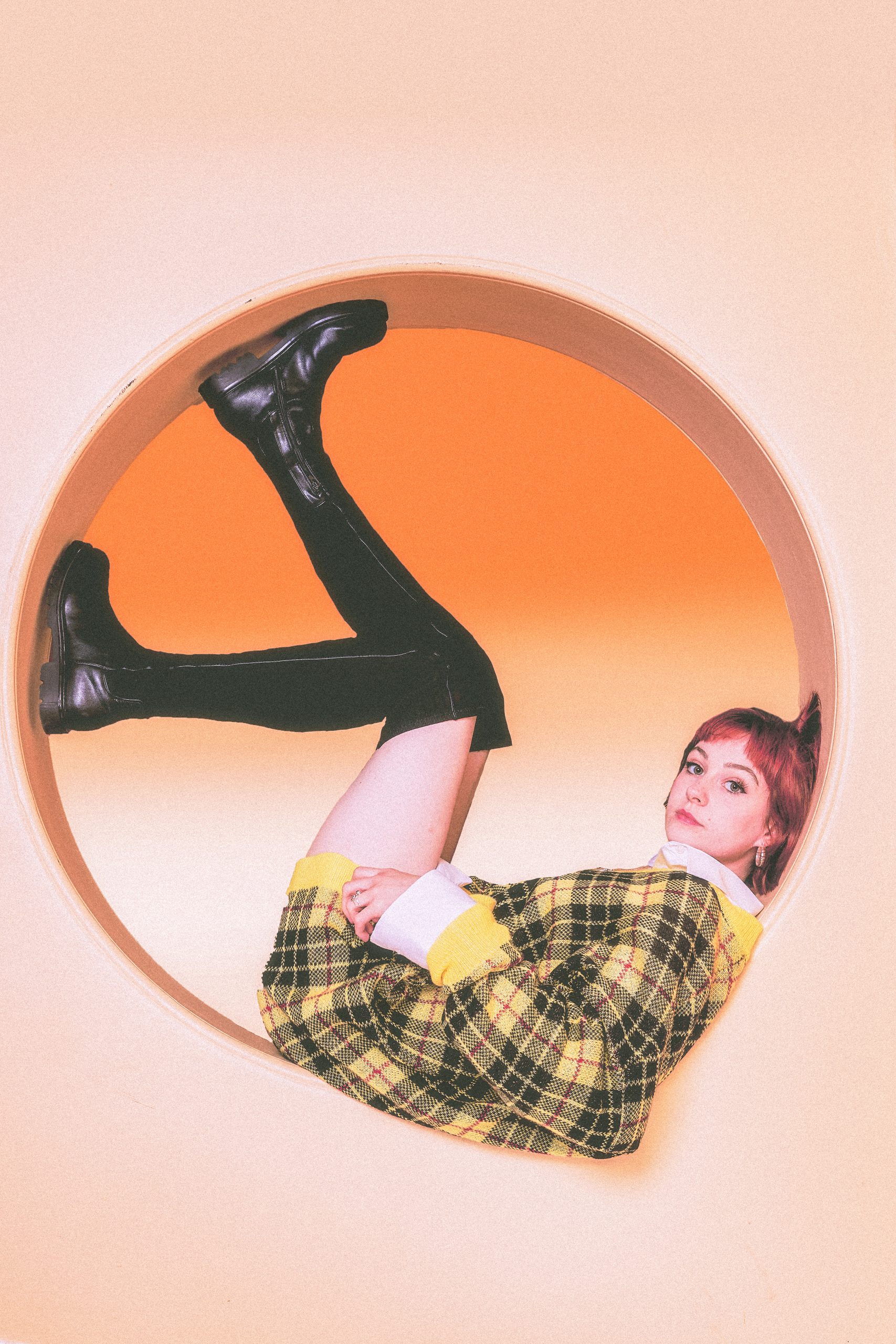 You've been a part of the NiNE 8 Collective for a long time, but you didn't sign to a major label for a while. What were some of the toughest parts about being independent?
I was very fortunate to have the support from the NiNE8 collective when it came to certain things. Like making the music video for 24K, which I released independently in 2017, everyone was helping me. Even having the producers in the collective to help me make quality stuff was super helpful when I was independent. It was still difficult to get everything together, but there was always a huge sense of satisfaction after pulling everything together. There was a sense of "wow, look what we made."
Honestly, the tougher stuff was really just paying rent [laughs]. I wanted to spend all my time devoted to the thing that I loved doing, but it's just kind of impossible when you're working constantly. Financials were the toughest thing.
You've since signed to a major label and built a larger team. How did you maintain your sense of self and your independence as all of that grew?
I feel like there is a feat that everything will change or they will change you as an artist after you sign a deal. But I think I was very lucky because I had built a world around the music I was making already on my own. When I signed, I felt my direction was already clear, and they wouldn't have signed me if they didn't want me to make the things I was making. You definitely have to find your footing while you're trying to communicate with a larger team. You need to know exactly what you want. I think that those who go into it thinking "oh, I don't really know what I want with it" are the people who get pushed by labels into a certain direction. I think having creative control and being clear that you want that is so important.
Do you credit your work with the collective for helping you understand what you needed from a deal?
Massively. I'm very lucky with them as well because if I ever felt like I was second-guessing myself or what is happening with my team, I can just go to the collective and be like "what do you guys think?" They will always be unbiased with me. It's like I have another team on my side as well. But really the links I've gotten from the label team have been incredible. Some of the recent music videos have been so sick. It's been a really smooth ride, but I really credit that to knowing what I wanted and even learning how to say no. You can say no to stuff!
CONNECT WITH BIIG PIIG
INSTAGRAM // TWITTER // SPOTIFY
photos / Mélanie Lehmann
story /  Kristin Robinson