Greg Mania, the online persona of writer Greg Mania (spelled the same, pronounced differently: Mahn-Ya), has been a staple in New York's culture playbook for years. Now, he's getting ready to release his own book, "Born to Be Public", an autobiography and tell-all, of sorts, that provides the kind of entertaining, heartfelt, and truthful reading we all need right now.
After moving to the Big Apple from New Jersey, at the tender age of 18, Mania embraced the legenadry city's inclusive queer energy, came out as gay, dyed his pompadour blond and began going out to the coolest spots around town. Utilizing the notoriety he gained as a Club Kid, partying and collaborating with some of the most culturally well-connected players, Mania successfully proved his writing acumen and has had his articles run in publications such as Vanity Fair, PAPER, Out, and HuffPost. In film and TV, Mania's knack for fun and funny writing spread his wings further. Thus far, he has won the Grand Prize at the Stage 32 Comedy Writing Contest, been named the Overall Winner of the Filmmatic Screenplay Awards, took Second Place at WILLiFEST, was nominated for Best Script at both the New Media Film Festival in Los Angeles and the Palm Springs International Comedy Festival and as of this writing, has been named an official selection in comedy festivals and competitions in Austin, Portland, and Atlanta. Most recently, Mania co-wrote and produced his first feature-length film, Deadman's Barstool, available to stream on Amazon.
But don't let all these fancy awards and nominations and publications fool you. "I'm still on a family plan," he says.
Mania's aptly-named first tome chronicles his climb up New York's creative industry ladder; how he's shaped his Gotham persona, online and off; his path as a freelance writer and eventual producer for magazines, film, and TV; and a raw look into his backstory, one many queer people will sympathize with (a complicated upbringing, a complicated love life, a complicated family life, a complicated career, a complicated relationship with mental health, etc). Yet Mania keeps it light — that's what he does, after all — and "Born to Be Public" has plenty of cheeky (yet usable) sex advice, NYC-life tips and tricks, and a smattering of Tweets Mania sent out to the world that underperformed and were likely lost to the ether, but are still iconic. My favorite? 
Me: I'M TIRED ALL THE TIME
Doctor: Are you getting enough sleep?
Me: No
Doctor: Do you eat right?
Me: No
Doctor: Do you exercise?
Me: JUST TELL ME THAT I HAVE AN IRON
DEFICIENCY.
I had the chance to speak with Mania about "Born to Be Public," how he's handling quarantine, why he's into guys with nose rings, growing up in New Jersey, and how he hopes his first book helps a post-COVID-19 world. 
As someone "Born to Be Public," how are you handling our current global crisis?
Short answer: NOT WELL. 
Long answer: I'm just trying to take it week by week. It's hard; there are okay days and not-so-okay days. Now I feel like everyone is in the same boat when it comes to constant anxiety, so a part of me is like, WELCOME, NEUROTYPICALS. 
Do you feel like your topic — public visibility — will have to change now?
Not really. Being public, for me, is more about being vulnerable. I'm an open book. "Born to Be Public" is about performing as this digital persona in an Instagrammable world, and eventually using the voice I found on the Internet to springboard into comedy. But it's also about the other side of the coin: I write about trauma, about what it's like to live with depression, anxiety, and PTSD. I admit, for the first time, that I used to self-harm. I expose all these parts of me, because they are the totality of my identity. And continuing to be open and honest — especially in this weird new world — is the only way I know how to cope. 
Also: Trader Joe's onion cheese.
Although you're now a public person, it wasn't always so. Growing up, you had two pretty creative parents — do you feel lucky to have that kind of background? Did it make coming out and becoming Mania (not Mah-nya) a bit easier, do you think?
Fully embracing the common mispronunciation of my name did give me permission to come out and be my authentic self, yes, but it was a catch-22. While I explored myself more openly, I also widened the gap of communication between me and my parents. It was hard for all of us, because I didn't give them a chance to get to know the person whose skin I felt most comfortable in. I'm fortunate to have loving and understanding parents, not many are lucky as I am in that regard, but it still took time for them to come around. They had to understand that I was not just gay, but someone unbothered by sharing things with the Internet, such as the intimate details of first-time bottoming.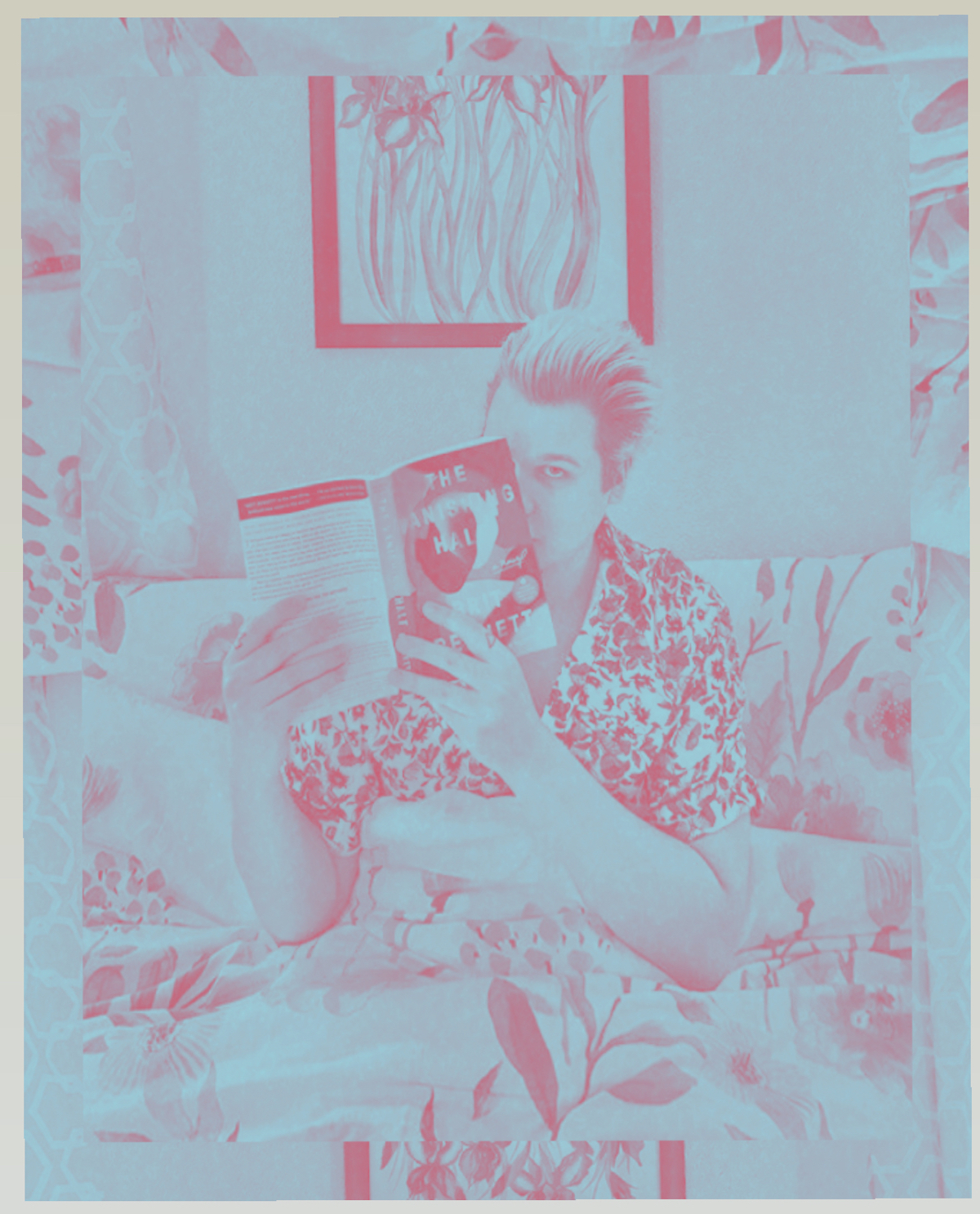 Speaking of queer visibility, you told O, The Oprah Magazine that your first CD was Spiceworld (GAY RIGHTS) — do you still have that CD anywhere? Which Spice Girl was your fave? And who are you listening to these days to help get you through quarantine?
I have recently revisited the magic that is Spiceworld. The CD — the same one I had as a kid — is currently in my dad's car, which is what I drive around when I visit my parents back home in New Jersey. 
My favorite was Sporty Spice. I'm pretty sure it's her fault that I only wanted to date guys with nose rings. 
And right now I'm listening to anything that sounds like sonic molasses. I need slow, moody jams. I've been listening to St. Beauty a lot. H.E.R. THE NEW FIONA ALBUM.
You're a longtime gig worker, and perhaps no one is hit harder right now than those in the gig economy; do you have any sage words of wisdom for freelancers freaking out right now?
Oh god, I literally just had a piece killed, like, an hour ago. It's fucking hard. And frustrating. I think embracing a network of fellow freelancers is the ticket here. It's important to have support now, especially when a lot of our income is on the line. It's easier when you have someone who knows someone who might be interested in paying you for your expertise. Ask for help, which is hard, I get it. You might have to speak to your landlord and be like, "hey, can we find some middle ground here?" Or you might have to ask Twitter, "hey, I wrote this essay about so-and-so, anyone think they can help me place it?" Lean on people a bit, you'll be pleasantly surprised by the amount of people who are willing to help. I'm speaking from experience! 
Or you could always scribble your Venmo on a brick and throw it through the window of one of the celebrities who participated in the "Imagine" singalong.
You give tips and tricks you've learned through your storied dating life in NYC. Now that we're all in lockdown for the foreseeable future, what do you think the future of dating will be?
Listen, dating in a perfect world would still be a nightmare. I'm a little rusty when it comes to the New Testament, but I believe it was Whoopi who once said, "I don't want somebody in my house." 
And speaking of things that are changing, as someone who's been a part of the nightlife and party scenes for years, how do you think our NYC culture might recover from all this?
I honestly don't know, and I think that's what keeps everyone who works in that industry up at night. It's the uncertainty. But I think the one thing that will aid in recovery is the shift in overall attitude when it comes to our community and its businesses. Your neighborhood bar, bookstore, and restaurant all rely on you. They don't just provide services and goods, they are the beating heart of your community. They enrich you and your neighbors' lives. I hope that as we take those first few steps towards normal, people stop taking these places for granted.
Now that everything is changing, globally, what kind of an effect do you hope "Born To Be Public" has on your readers and the nation at large?
Well, we have to laugh to keep from crying right now, so, above all things, I hope it makes readers laugh. And if it doesn't do that… there's still a national toilet paper shortage.
Info about the book:
In this unique and hilarious debut memoir, writer and comedian Greg Mania chronicles life as a "pariah prodigy." From inadvertently coming out to his Polish immigrant parents, to immersing himself in the world of New York City nightlife, and finding himself and his voice in comedy. Born to Be Public is a vulnerable and poignant exploration of identity (and the rediscovery of it), mental health, sex and relationships, all while pursuing a passion with victories and tragicomic blunders. At once raw and relatable, Mania's one-of-a-kind voice will make you shed tears from laughter and find its way into your heart.
Please join us on Saturday, April 18th at 1pm (est) for a live reading on IGTV.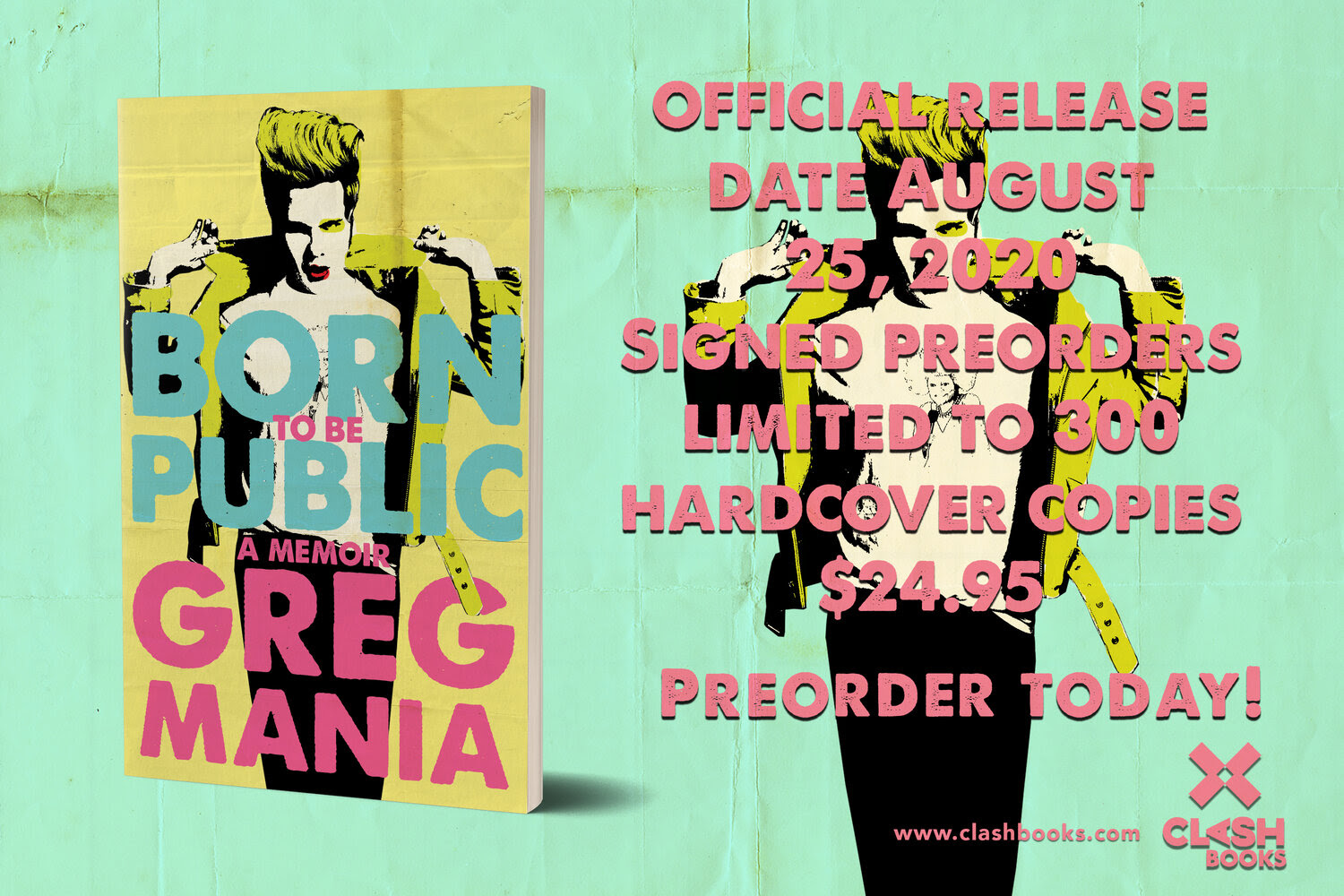 CONNECT WITH GREG MANIA
creative direction / Phil Gomez
story / Alex Blynn