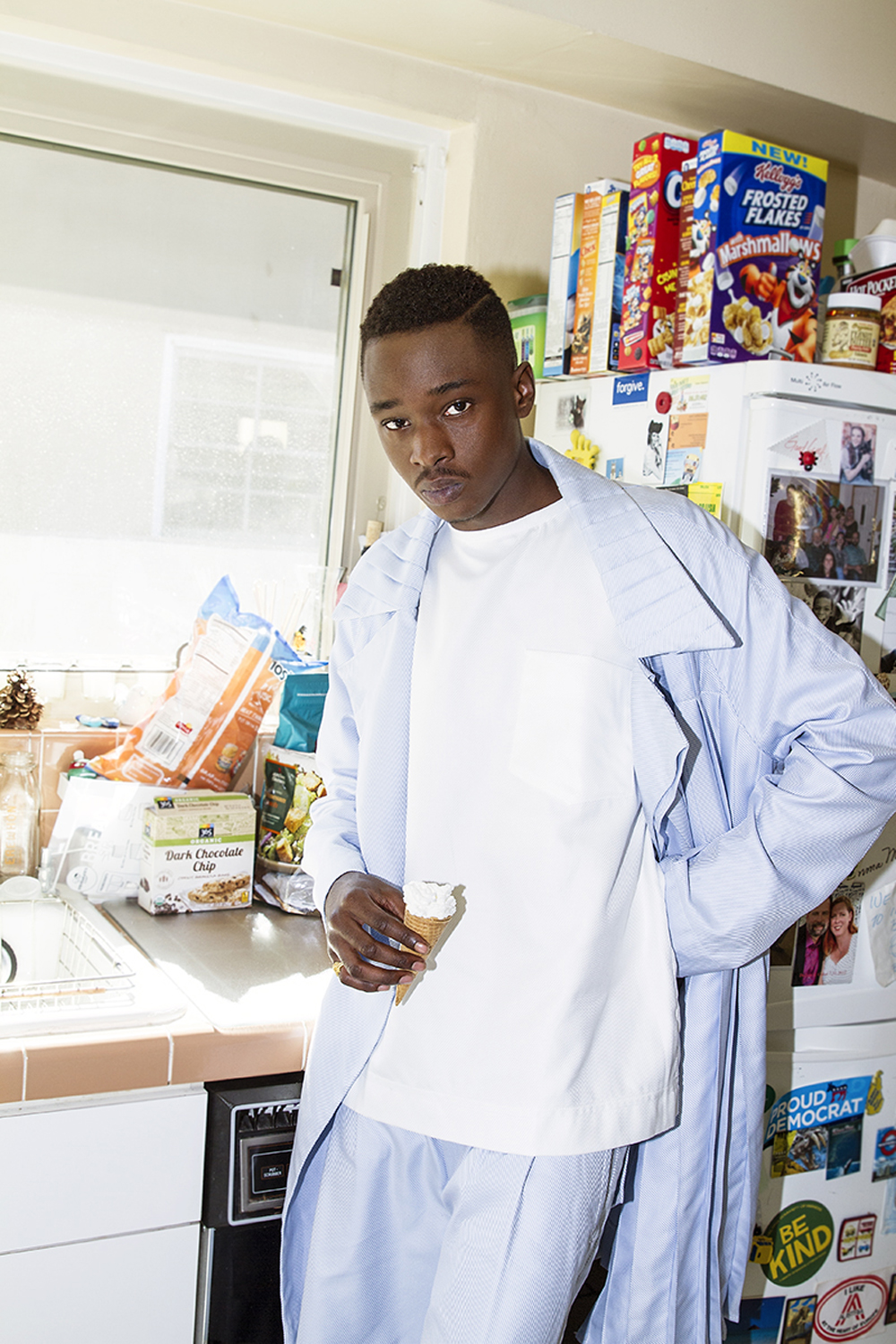 photos /

 

Shanna Fisher

 


styling /

 

Jessie Jamz

   


grooming /

 

Sabrina Bates-Whited

 


story/ Koko Ntuen
21-year-old Ashton Sanders is having the time of his life. When we talked on a Los Angeles afternoon, Sanders was juggling press junkets and script readings gearing up for what's to come next amongst the award circuit madness of Tinseltown. Oscar-nominated

Moonlight

, the intoxicating drama directed by Barry Jenkins might be considered Ashton's breakout role but he has been brewing in the limelight for years.
Sanders is an enchanting, fun character to watch, exuding all the best parts of youth, fearlessness, and poise. His sculpture-like silhouette, millennial style, and insightful skater dude like a charm has transfixed Hollywood putting him on a predictable trajectory of fame and success.  'I am so fucking happy,' Sanders says when I ask him how he feels when he wakes up in the morning.
"Everybody that had that dream of what they wanted to do when they were kids–I'm literally doing this right now. Which is so surreal. It's hard to wrap your head around because that doesn't happen often. I feel like we all kind of feel the same way, everybody in the cast. I feel like I'm from the outside looking in, you know? But I'm walking in these shoes. It's dope, man, so dope. This is my job and I fucking love it. I just booked this project called, Captive State with Focus Pictures and I'm playing the lead in that. I'm looking to keep my work consistent and doing dope projects and collaborating with great people. Then, I think I'll I continue to have these happy wake-ups."
Moonlight is a choir of black excellence. Mahershala Ali, Naomie Harris, Janelle Monáe, Trevante Rhodes and Alex R. Hibbert are just a few of the actors that push the film to exponential heights, telling multiple stories of love, pain, family and self. 'I've never had an acting experience with an ensemble like this in my life," Sanders says when I mention being completely starstruck by the cast.
Mahershala Ali is someone that has especially been a source of encouragement for Sanders.
"Dude, he has such a light around him and he's been in this industry so long. He's helped me stay positive through it all. That's been a big, big help for me. Things can get a little iffy, but he's been there to be like, 'Nah, bro, you're good. This is where it's at. How you're feeling isn't valid and at the end of the day, you're gonna be straight.'  And Barry has too, and Trevante, and everyone. We're all just a family. From Naomie to Janelle, we're all checking in with each other to make sure we're doing fine."
The film weaves multidimensional narratives of all its enchantingly flawed characters following Sanders', Chiron Hawkins, through three acts of his life. Set under the misty skies of the deep south, Moonlight drags you into a bleak world of jazz horns and the most intimate roundabouts of human existence. At times it can feel too exposed, and a bit painful to watch in, like sitting through an uncomfortable family explosion that you are not part of. It's a  different perspective of life in America that too readily goes unseen. It's a film that mixes all the best part of cinema and story into a cocktail of unrefined psychological experiences, drowning the viewer in the complexity of the human condition.
Shirt/Coat/Shorts: WRKDEPT.
With piercing eyes and bird-like mannerisms, Sanders guides the audience into the depths of his character's deep pain and quest for belonging. Watching him play Chiron on screen is a cathartic experience uprooting deep instincts that are scarily erotic and real in the most vulnerable of ways. The lines between sexuality, blackness, and male hood become fragile, are exuded by a quiet tenderness. His method approach to characterization pushed him into withdrawal lasting weeks after filming. Sanders counts scenes in the film with Naomie Harris and Jharrel Jerome as some of the most intense and organic teamwork he's ever been a part of.
"It was definitely a challenging part, but super, super therapeutic and definitely necessary. I learned a lot about people. I learned more about people in general. Just on and on with growing and experience. There was pain within that, but it was a beautiful pain."
The aura of Moonlight is that it brings people together in a way that shows the complexity and love of human life from an experience that has been uncharted. On the film opening up a side of life that brings a delicate romance to black love and life in general Sanders says,
"People have been seeing Moonlight and have been able to rekindle that love or feel or it was refreshing to see after the election. I love hearing all of that because that means I'm making art. That can change the social consciousness or heal the heart of it all. I just wanna continue to make people feel good in times like these. I feel like art is very much important. And them, in the media, are very important. We have the job to… we can either use our celebrity to sit in it or do something about it and make people know that it's gonna be okay."
Growing up in South LA lent itself to experiences that resonated with Sanders, allowing him to capture the tumultuous times of adolescence. In his own childhood, Sanders escaped the emotional stress of his environment through cartoons and Disney films.
"I remember seeing The Lion King live at the theater when I was six years old and I think that's what actually inspired me to pursue this. I was six years old, in these balcony seats watching "The Circle of Life," watching these live, big, fucking animals walking down the aisles. It was all just really beautiful. It made me feel like… everything entirely. I fell in love."
Sanders turned to acting as an outlet for his pent-up rage stemming from the years of bullying he received in school. "Fuck those people. Fuck them. Fuck bullies," he says. Eventually, Sanders enrolled in Amazing Grace, an all-black acting conservatory, which he credits for being the turning point both personally and professionally.
"They taught us acting and dancing, the focus is acting. There was also space for young artists to come together and not be judged, to be ourselves and to be loved. Acting saved my life.  The love for the craft brought me to that environment, that environment molded me into who I am today. That's part of every character that I do and every part that I take."
In that setting, he thrived acquiring a variety of theatrical skills that he has been crafting for years.
"What's crazy is that I actually have done more musicals than I've done straight plays and filmography. I started off doing musicals. I was doing musicals up until about my senior year of high school. So, yeah, I do actually sing. I don't tell people that I can, but…" He trails off leaving me with wonder.
His teenage years are what Sanders remembers the most of his cherished youth.
"I was surrounded by inspiring peers and dope friends and I was creating good art. I was surrounded by my family. I had everything that I wanted. It was really cool. I love LA. I go everywhere else but always come back to Los Angeles. I'm so happy I'm from here. It's very magical. And it's cool to be based in my city doing what I love. That's the way to do it. It's all home. All home."
Despite all of the adversity he has faced coming of age in Los Angeles, Sanders can finally sit back and relish in the enthusiastic support from his friends and family and the new beginnings of fame.
"It's been all up from every aspect. Everybody has been showing love. I just wanna continue to inspire my peers and my fellow artists. Of course, you know, my family is super stoked. They've been really riding this from the beginning. They watched all of this grow. It's kind of like a seed being planted and watching the tree grow. I can't imagine how they feel. My pops is more stoked than I am, so is my mom and my uncle. My entire family is really, really supportive. When you have your close family and your close friends there, that's all you need."
I concur.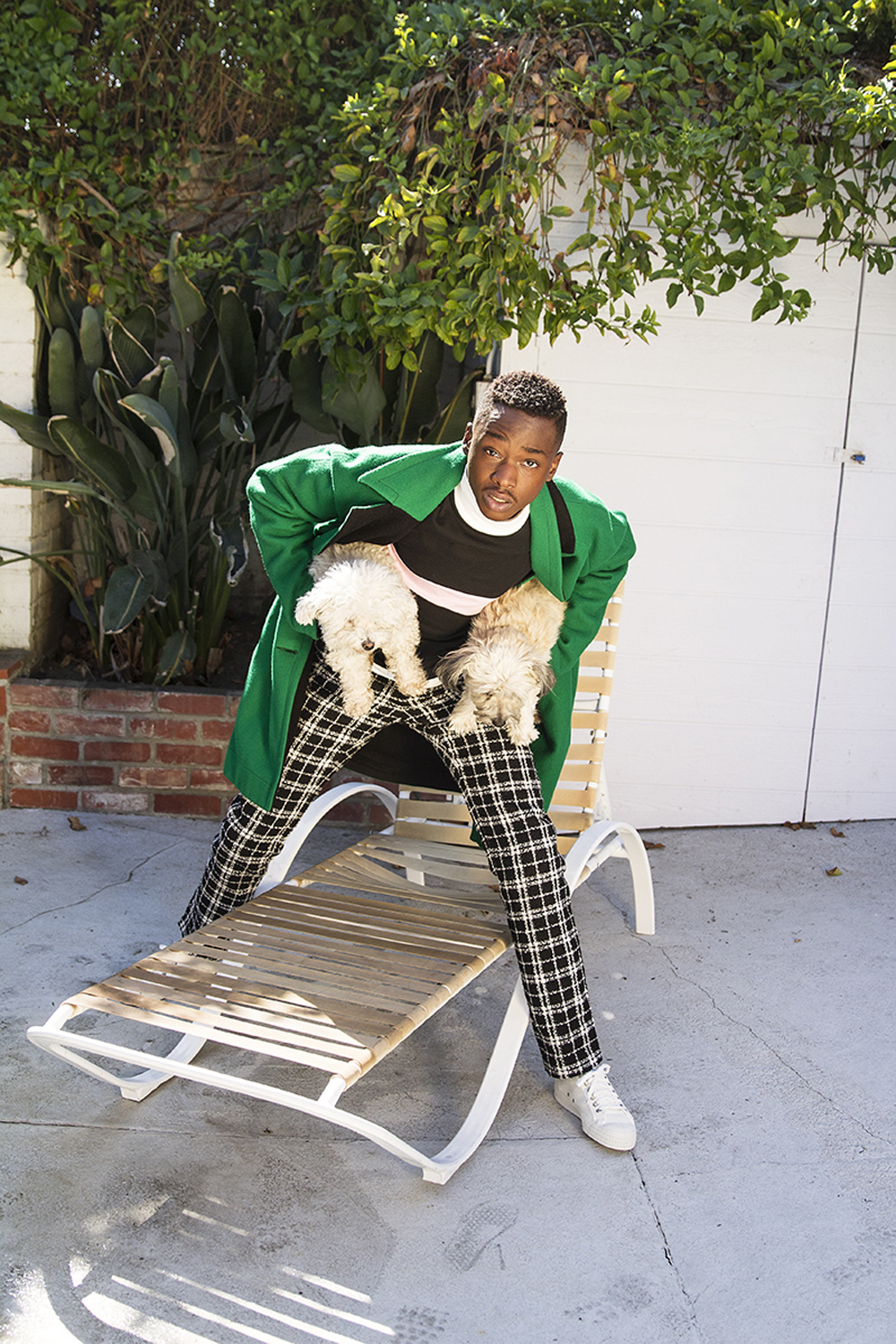 Shirt: FAAN. JACKET: deus ex machina. Pants: iijin. Shoes: Novesta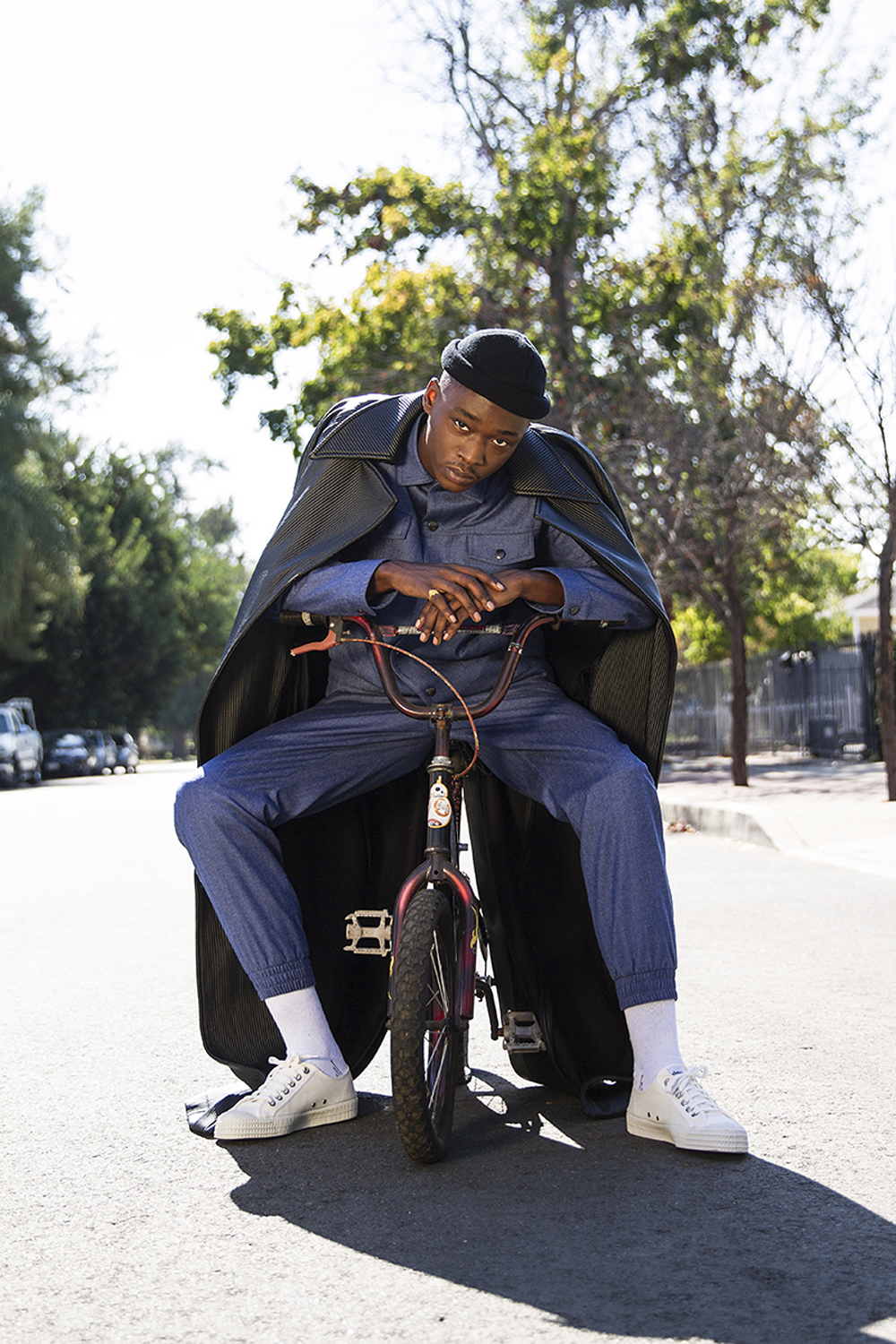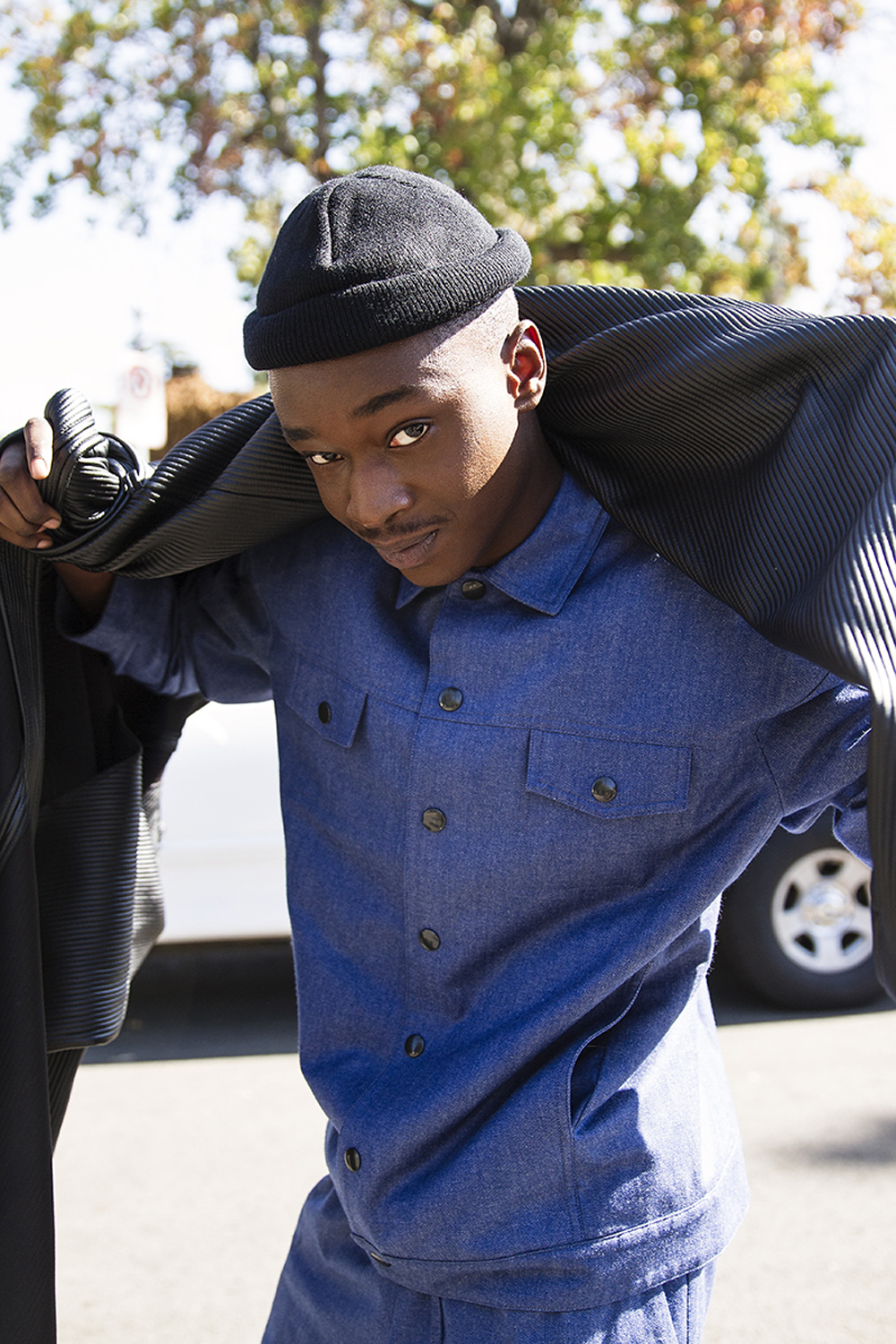 Shirt and Pants: Goetze. Jacket: Landeros. Shoes: Novesta. Hat: Ashton's Own.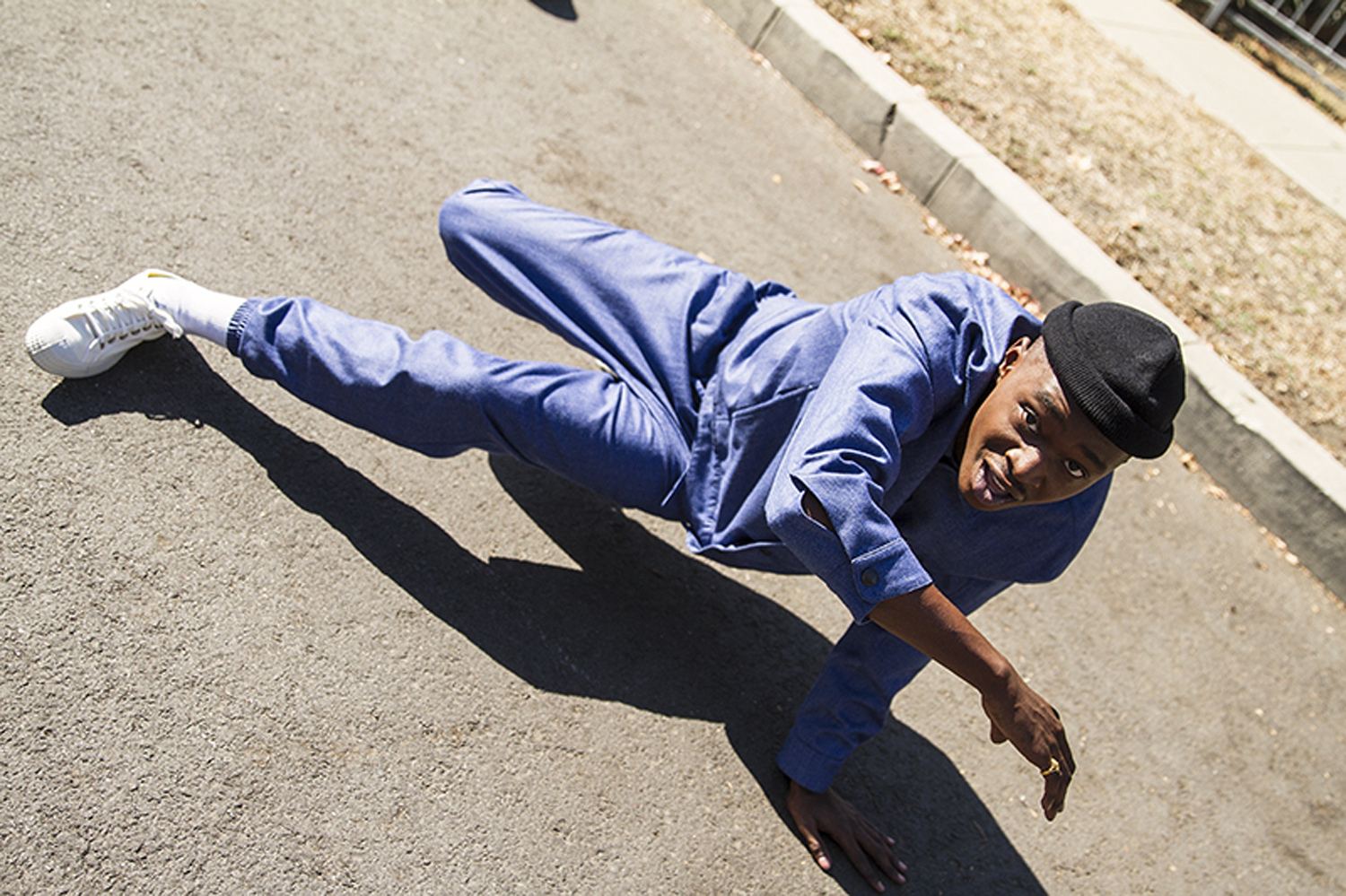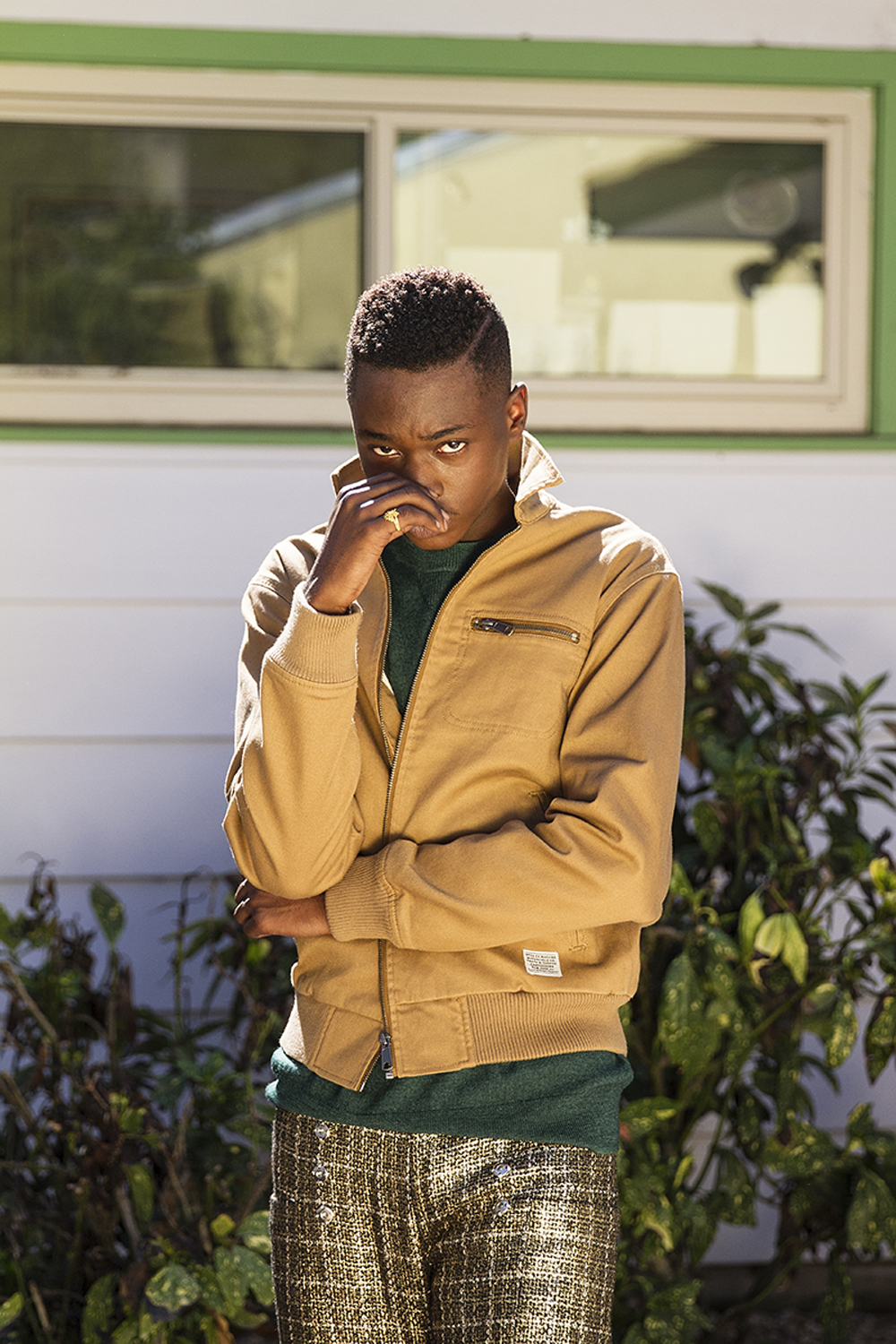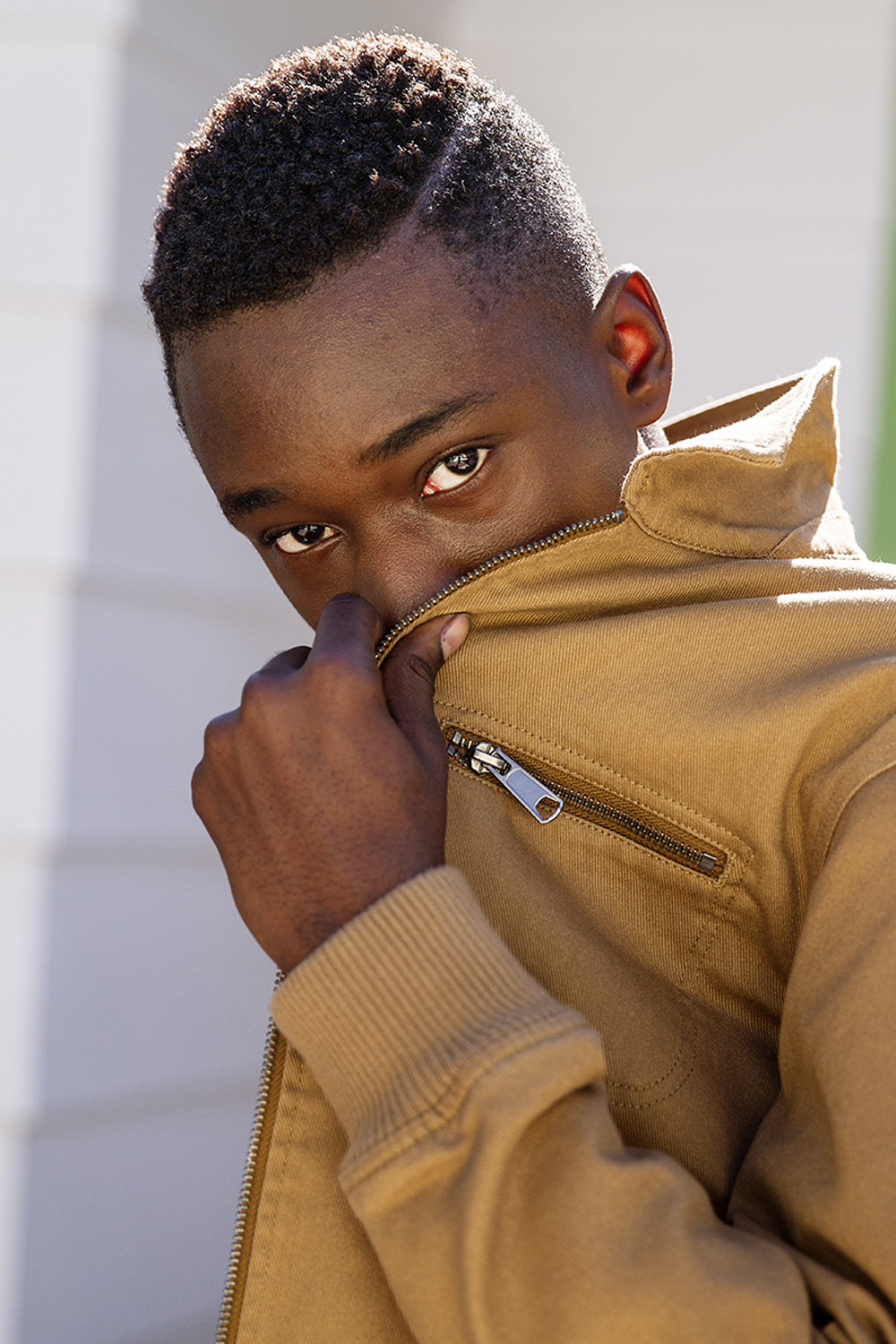 Shirt
Jacket: Deus Ex Machina. Pants: Iijin.