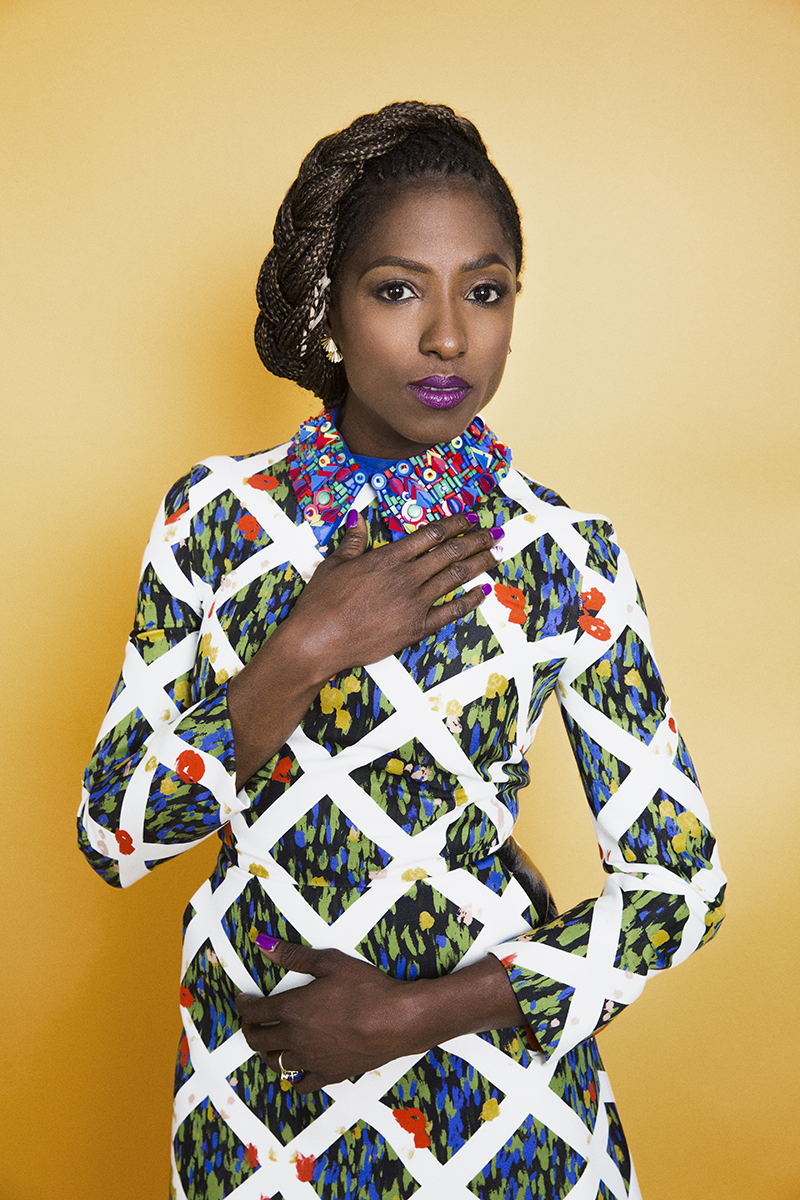 story / Koko Ntuen
photos /   Jana Cruder
styling /Joleen Garnett & Stacey Kalchman
makeup  /  Starylnn Burden
hair / Tallulah Holmes
If you haven't read Natalie Baszile's breathtaking novel, Queen Sugar, it's a spectacular portrayal of the Bordelon's, a  southern black family left at a crossroads with a 800-acre sugar farm inheritance when the patriarch of the family passes.  The sugar heir's lives come smashing together in an extremely dramatic way leaving heartstrings and suspense pulled in every which way. It's a vivid and beautiful literary masterpiece. The brilliant television adaptation by Ava DuVernay and executive-produced by queen Oprah Winfrey herself, brings the novel to life in a vivid way, intertwined with southern layers and rituals in life in America. The project is especially exciting in its portrayal of Bordelon family in a diverse way with autonomous stories bringing a new black life to the screens of America.
Rutina Wesley stars as Nova Bordelon, one of the three siblings inheriting the sugar farm. Rutina is a skilled lead actress becoming a household name when she starred in HBO heavyweight series True Blood. In Queen Sugar, Wesley is a different southern belle. In the role of Nova, she is a complicated journalist with activism at heart. Rutina brings a complex realness to the character that feels very familiar. She takes you into parallel life acted so fully it's as if it's in her own light. Nova comes off as a passionate writer and social change initiator, something in today's political climate is an especially poignant role. Rutina agrees.
"Playing Nova and working with Ava and Oprah and everyone has been incredible for me. I've really learned a lot about myself through working on Nova. Also, she inspires me as a person–let's get activated! It's been really important to me to uphold that as Rutina the actor. The platform that I have as being an actor, I wanna make sure that I'm spreading love because I think that's what the world needs right now. That's my own opinion, but I think I could stand to give a little more compassion, love, light. It's so much easier. "
Her successful network hits make Rutina a hot commodity in Hollywood. When I ask her how she stays humble, she tells me her family is the key to keeping her in check.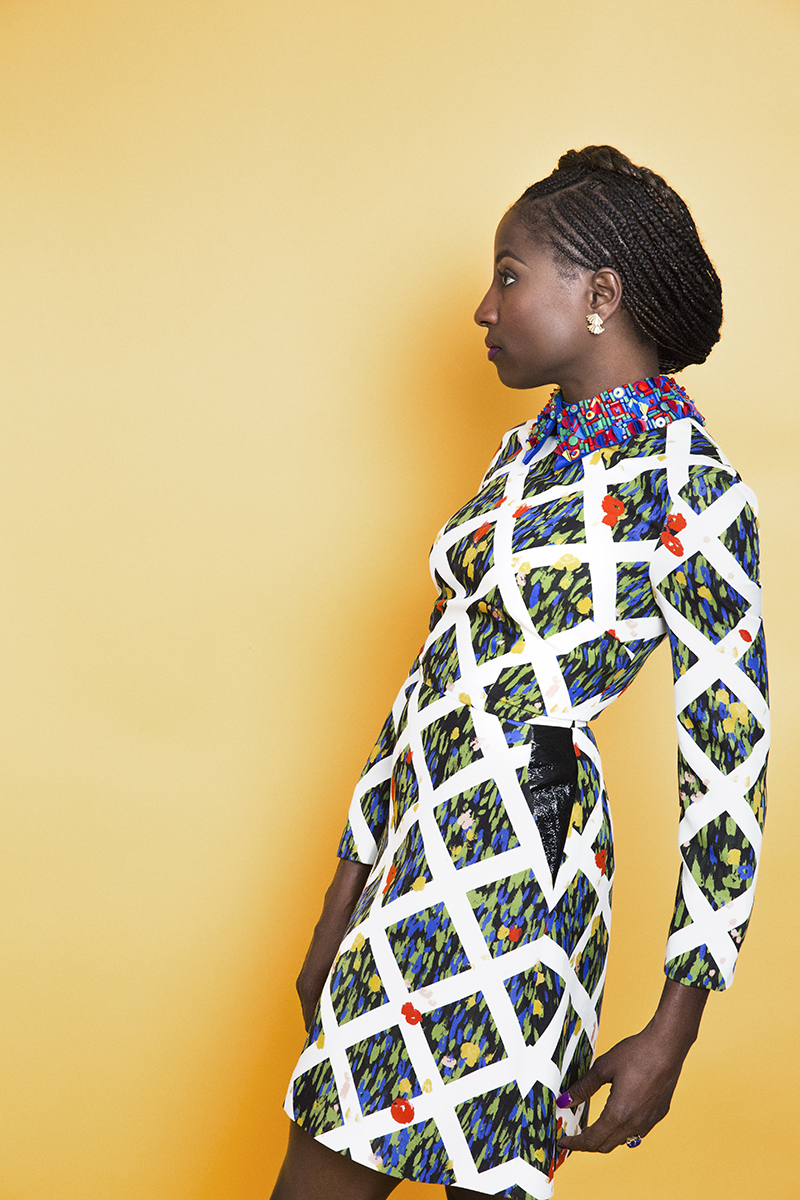 Dress: Caterina Gatta. Jewelry: Broken English Jewelry 
"My grandmother, my mom, my dad were in the business. They've always said, 'Be you but remain humble. Have grace.' You just have to pick your own battles. Is it gonna be worth all that energy to stay mad? Really and truly? Ego aside, and pride aside, this show has received so much love from people who I admire, people who I'm even like, 'Oh my god you're so high up the chain, I wouldn't think you would watch our show. Really?' And it's all coming from love because people are recognizing the work that we are doing. I mean, people are talking about how pretty Kofi Siriboe is, who plays Love Angel, he's so pretty. I have to tease him, sorry, Ko. But, people are also talking about the work, you know? I think that's what's so important. "
Getting the part on the series came with auditions and meetings like any major Hollywood vehicle, but Rutina's journey had special elements that made the project seem predestined. First she met Ava DuVernay, and there was a comfort there that took away the whind and grind of a typical audition.
"I just remember being so at ease and feeling so, be in your truth, just be you, Rutina. Just be you. You good. You ain't gotta be nothing extra, be yourself right now. She has that type of spirit that's very engaging and easy–she's not asking anything of you other than just be you. That was a beautiful 45 minutes."
Then as Rutina was leaving her meeting with Ava she ran into Dawn-Lyen Gardner, costar on the series and a long time friend who she hadn't seen in five years. Dawn-Lyen just happened to be auditioning for the project. When they ran into each other in the waiting room there were screams of joy and a five-minute catch up, as Rutina left it seemed like all of the pieces were coming together in a magical serendipitous way, and they were!
"Ava calls me. She says, 'How are you doing? This is a very special part, the part I created, and I would love for you to play Nova.' My whole world shut down for a minute. She was like, 'Just so you know, I've also cast Dawn-Lyen as Charlie.' And that was… I almost either hung up the phone or dropped the phone…I didn't really know what to do! Cut to Dawn, who is literally on a plane about to leave for New York. I text her and I said, 'Hey! Wanna cocktail with Nova?' She was like, 'Uh, I guess? Back up in New Orleans or what?' I was like, 'No… so I'll see you in NOLA?' There was a pause and then she sends me in all caps this five page, 'OMG OMG OMG.' And she didn't know, so I was the one who told her that I got the part. She already knew that she was cast, but she didn't know I was. It was really joyous for me to be able to share it with her. And then she had to get on the plane. That was all through text, so we really did actually finally get to see each other. It was just this embrace of, 'oh my god.'"
The way the actors in Queen Sugar weave and vibe off each other in scenes of joy and pain make watching them as siblings an especially interesting anchor of the story. With this role Rutina feels a special bond with the narrative and her character that bring her a sense of visibility that been especially enlightening.
"I feel seen. I feel like Ava sees me. She sees Dawn. She sees Timon. She sees Omar. She sees Tina. She really sees us. It's so beautiful to me because I feel like when you're seen and it is inclusive, this is the type of show you get. Everyone is happy, people are happy to be there.  It allows for this incredible sense of freedom."
Rutina describes first stepping on set with especially adoration. "It was truly a magical experience and I choose the word magical very carefully, because from the moment I got there and stepped out onto the sugar cane fields, in New Orleans, it has a very particular energy, which I think we needed for our show to be what it is. It does have an authenticity to it, and I think that's because we're also filming in there–you can feel the energy of the city, which is nice."
Rutina's longtime friends and fans are just as excited about the show and it's place on television. Already renewed for a second season, Queen Sugar has been getting rave reviews and a growing a rabid fan base.
"It's so thrilling for me when I get texts from friends, friends who I dearly respect who say, 'Girl, I don't know what y'all are doing, what y'all dipped into, or what y'all drinking over there, but keep doing it.' It's just really beautiful and it's unsolicited. It's genuine support for the show, it's not the, 'I haven't even watched the show, but I'm supporting it because I think that would be the cool thing to do.' People are actually like, 'Hey guys, I'm on the ride with you. We are with you.' And I just love it. I'm so proud. We've worked really hard to be as authentic to our stories as possible–to really come from a place of truth. I think that's important.
I'm excited that the show is reaching different people. It is indeed universal, like I thought it was. It's just nice to know it's reaching different families of different colors and a lot of people recognize it. I think that's pretty special to have that, especially now when there is a lot of separation. A lot of people have come together on Queen Sugar and been like, 'I like that show too.' I have people who are in the Midwest, some of my friends who are white or Latina, their grandmothers… they'll be like, 'Girl, my grandmother called me and said, that Queen Sugar…' It's everywhere. There's a lot of love everywhere. It's quite wonderful. "
On meeting Oprah, Rutina admits she was nervous, "I kept running away whenever she was on set," she laughs. " But when we met she hugged me, and she was very open, her embrace was very warm. I also felt seen with her. It was as it should be. And I was like, 'I have nothing to be scared of here. I can actually act from a place that isn't fear. Without fear. I can just act with abandon.' How beautiful is that?"
Rutina leaves our conversation with a mantra from her dear mentor and teacher at Juilliard, Courtney B. Vance.
"He said to me, the year before I graduated, 'Sometimes we have to be still.' I didn't get that until know now. The moment I was still with myself for a minute, Queen Sugar came into my world. It's really interesting how your life really can shift when you stop and listen and you're patient, you're gentle with yourself. You take time and take care of yourself in the process. You do have to take care of yourself–you have to do it yourself because no one is gonna do that better than you, really. That's just how I feel. "
Spoken like a true Queen.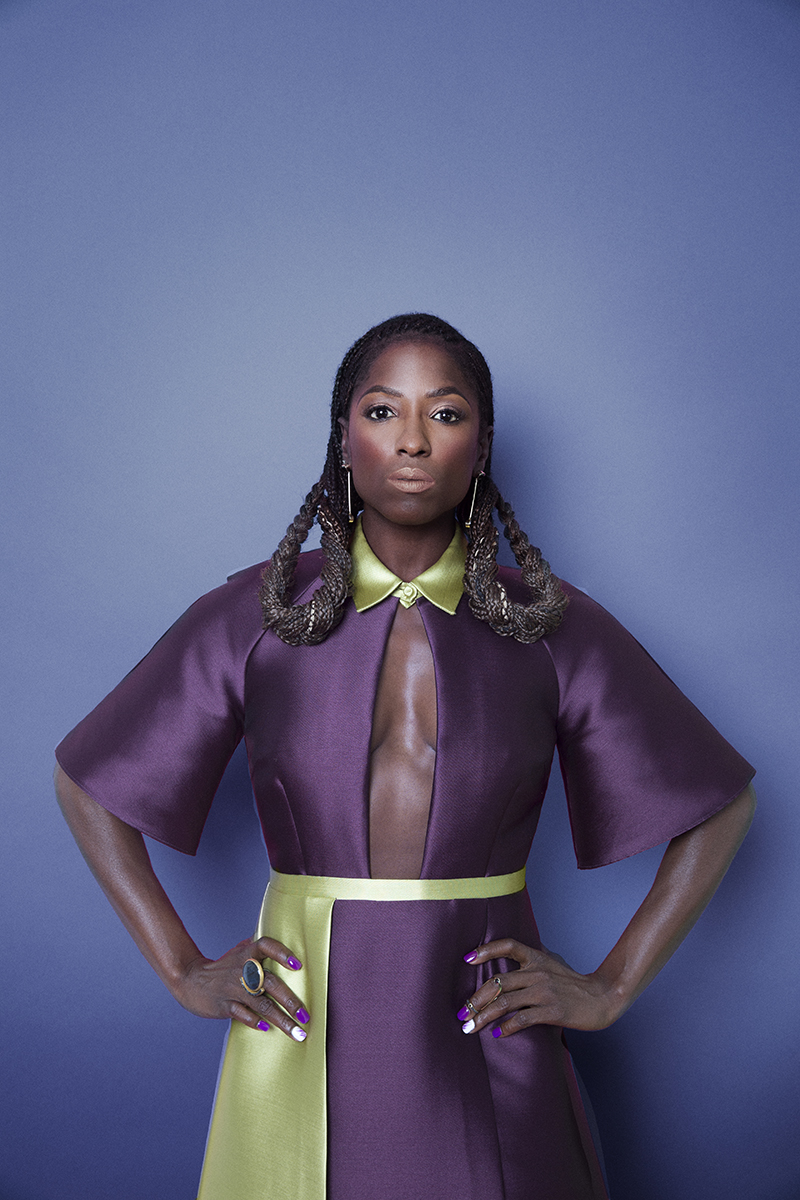 Dress: Caterina Gatta.Jewelry: Broken English Jewelry.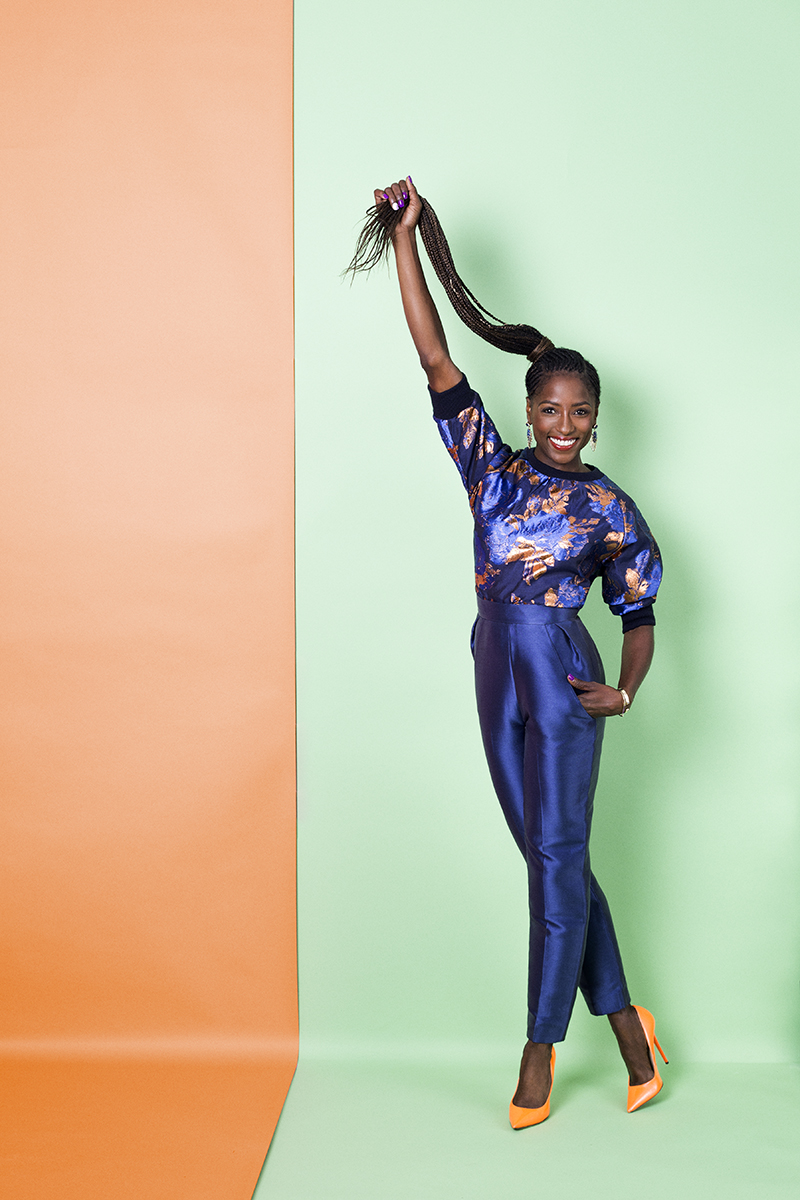 Top & Pant: The 2nd Skin Co. Shoes: Jimmy Choo. Jewelry: Broken English Jewelry.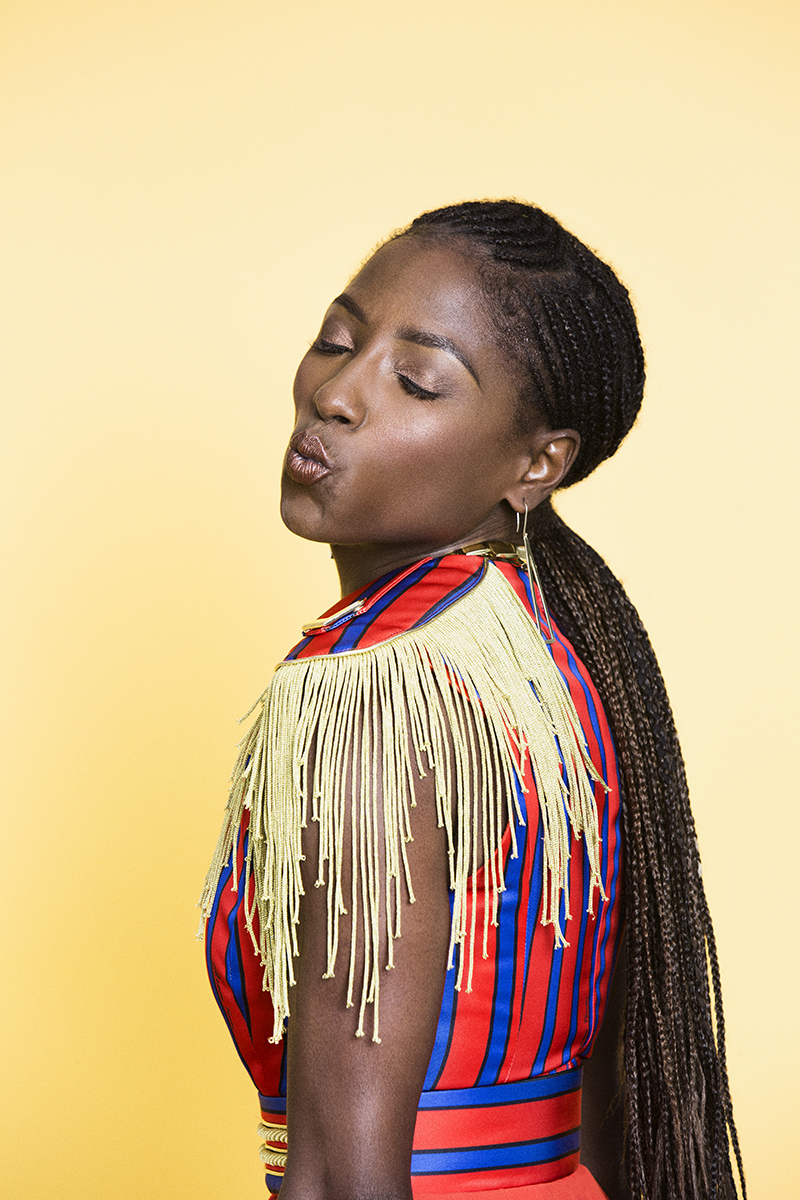 Dress: Elisabetta Franchi. Necklace: HoneyRose & K Jewelry. Other Jewelry: Broken English Jewelry.
MORE RUTINA IN #14 LADYGUNN!