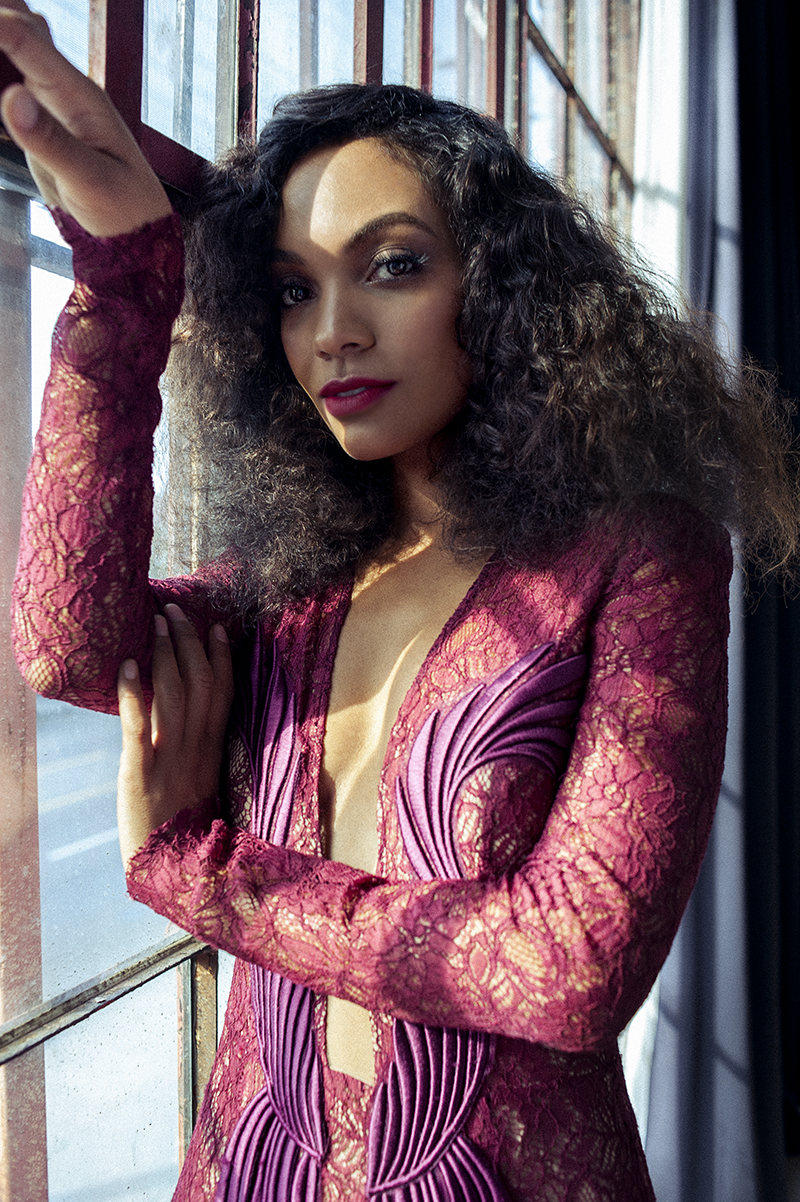 story/ Mary Ritch
photos/ William Calan
makeup / Grace Phillips
hair / Tiffany Daugherty for Epiphany Artist Group, Inc.
styling / Sonia Young
You may have noticed Lyndie Greenwood if you're a fan of FOX's series, Sleepy Hollow. The actress took her role by storm by making her character, Jenny Mills, a strong, capable, and notable female lead. And as Sonya in the popular CW series Nikita, she breathed another whip-smart heroine into life by proving that she's not afraid of being typecast as a badass babe on television. According to her, "there could be worse things" — but once I get to know Greenwood, I realize that it might not all be acting.
The Canadian-bred actress has been a martial arts enthusiast since she was sixteen, and as an active explorer she does things like taking her Nissan Xterra out into the wild to get lost for a while. For now, however, the biggest jungle she has to navigate is Hollywood, but I have a feeling that it won't be an issue for this leading lady.
What were your biggest dreams when you were young?
I was a really scattered little girl. At one point, I wanted to be doctor, a jazz singer, a restaurateur, and a mad scientist.
What advice would you give young actresses trying to break into Hollywood?
This industry can be a real bummer. Make sure you keep other hobbies and interests, so when you have a bad day, you have other passions to keep you going
How are you and your character on Sleepy Hollow different?
Jenny and I are very different in that I love people, and I'm very welcoming and warm to strangers. Jenny absolutely is not.
What would be your dream role to play?
I would love to play Billie Holiday and Tank Girl.
Do you like the production process for television or film more? Why?
I like television because you can stay with a character for such a long time, and almost live this second life with them. The pace is really quick, and we often don't have time for such luxuries as "rehearsal." In that sense, film can be a little more comfortable.
Do you feel like race issues are prevalent in the Canadian film world?
Yes, but I started acting at a time when these issues were coming to light, and people were really starting to resolve them.
What are the biggest cultural differences you notice between the United States and Canada?
In Toronto, people identify closely with their country of origin. It's a place where we celebrate differences [so much so] that it's almost like "difference" is our identity.
You are living in Atlanta now. What do you think of the south?
I love the south. I love the pace, the food, the hospitality, and the way people talk. Politically, the south has its challenges, but living here in the day-to-day has been awesome.
What keeps you grounded?
I love to run. When I don't, I start to lose my mind.
What is a day off like for you?
It definitely varies because my life is very unpredictable, but I had a day off today, and this is how it went: Coffee and reading ("Song of Susannah"), breakfast (scrambled eggs and toast), went to Stone Summit climbing gym for few hours, came home, and answered these questions. Now I'm about to go out and get some groceries and grill in the back yard with my boyfriend.
Do you have any other aspirations outside of Hollywood that you would like to pursue?
I'm still that scattered little girl who wants to do everything. I'd love to own a vineyard someday, open a restaurant, a bar on the beach, an animal rescue in the desert, host a travel/food show, be a mechanic… We'll see where the wind blows!