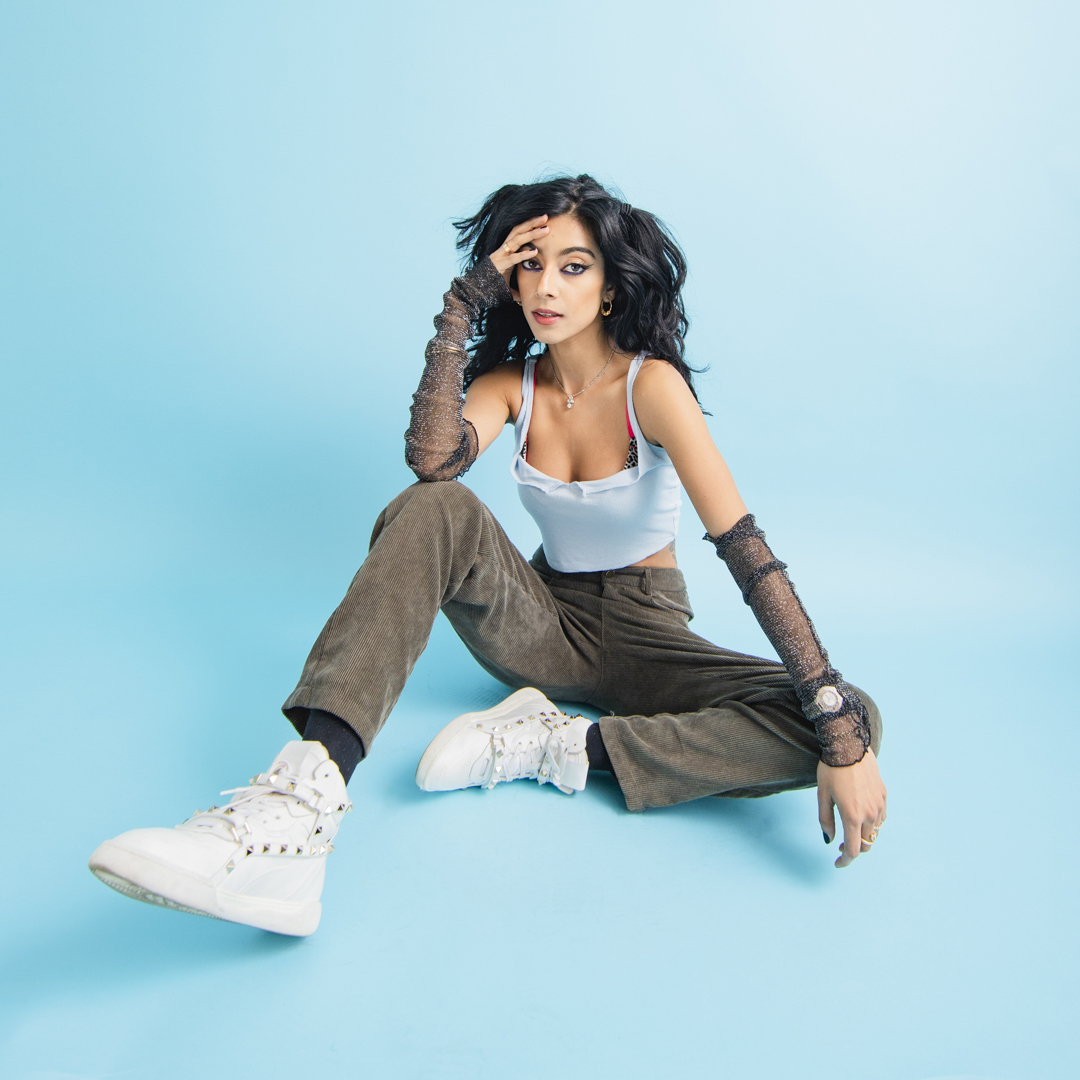 The singer's new song Happier Than Me is about running away from your problems but the song is anything BUT a problem for her. Samica talks us through her process and why her latest sound is one of her favorites. 
A baggy tee, thrifted in one of those spur of the moment finds and worn at least once a week, hangs loose over a pair of oversized corduroy pants. Punctuating the textures is the go-to pair of doc martens and the outfit is complete. You might think that description is of Samica arriving on set or sitting down for the interview but you'd be wrong. It's what Samica's latest song, Happier Than Me, would look like as a fit. 
The singer songwriter's latest tune "was inspired by tryna run away from your problems and people. I wrote it about leaving LA and leaving the people that just don't make you feel important anymore," she opens up. Her voice playfully glides over notes with a fairy-like voice, akin to the 2000's indie queens Joanna Newsom and Julia Stone. Samica brings that playful but vulnerable indie era into 2022 with dream pop beats. Happier Than Me is the kind of song you put on while driving and suddenly it's been 20 minutes of it on loop and you didn't even realize; your mind tranced into an introspective bliss.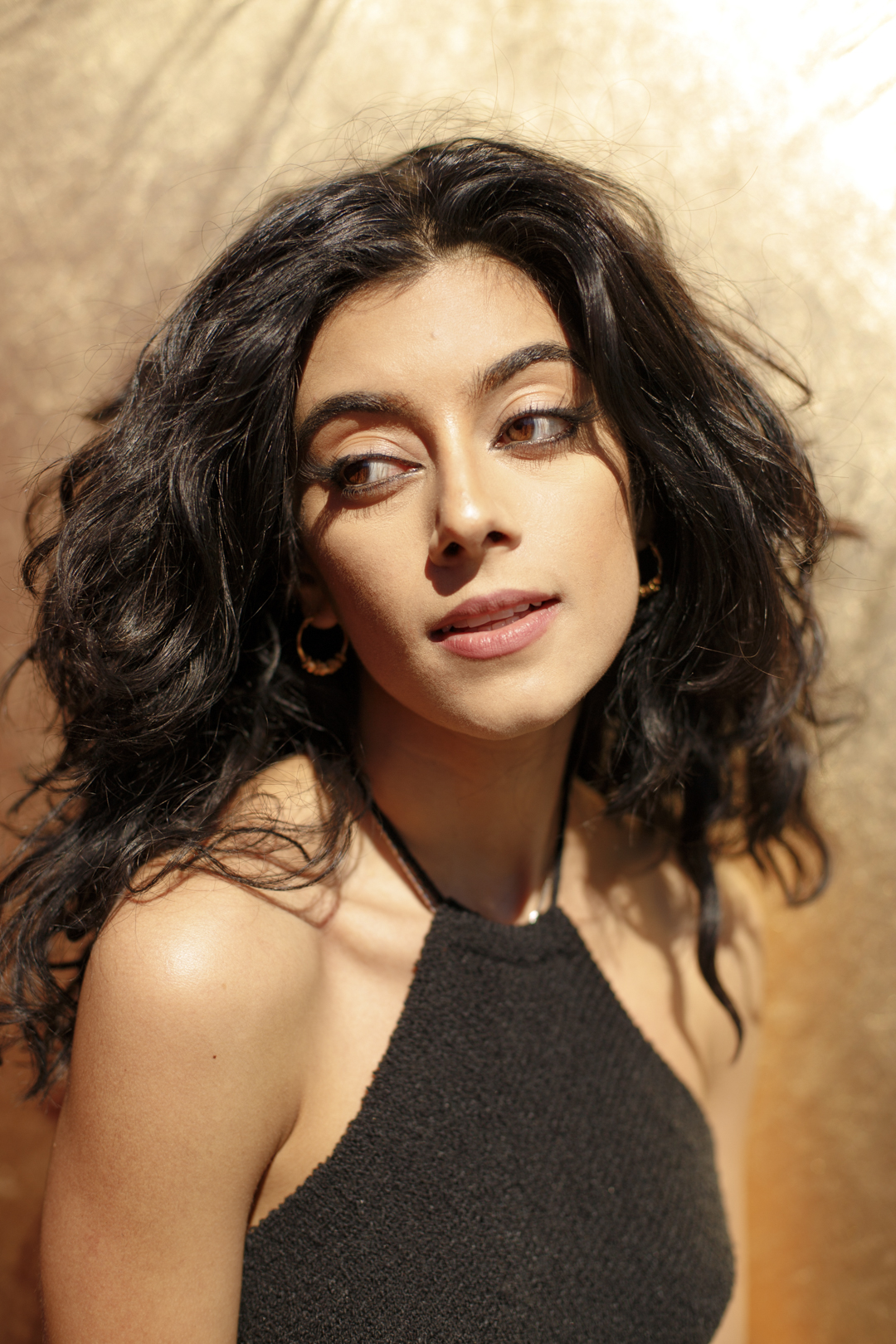 Samica admits "it's pretty different sonically, but I'm obsessed with it lol." The Bay Area native confides that it's a sound she's been trying to make for a while. When she talks about it, a joy emanates beyond just a love for the art, but a true pride in this project. And it makes sense since the events that influenced it hit close to Samica's sense of self-worth and dislike of confrontation. The bedroom pop (with sprinkles of R&B vibes) bop isn't meant to romanticize running away, merely spotlighting the experience of it. We're not all always capable of seizing every opportunity to stand up for ourselves; for some of us, doing so is anxiety causing. Samica just wants to make a jam that lets you know you're not alone and it's okay – "as hard as it seems to accept.. sometimes things are just shitty and you end up having to deal with it. Once you're like ok. This is how it is now.. then that's how you heal from there."
Samica has never been afraid to explore the deep with her songwriting. Her initial quest into the medium came from one of the darkest places life can give. "My first song I ever wrote tho was a sad story. One of our friends in high school committed suicide and I don't know what made me want to write a song about helping my friends feel better during that really sad time. But I finished it and sang it for her best friends and that's when I realized how powerful writing music can be.. and how healing it can be. You can really connect and make people feel better with music." And from there, she was hooked.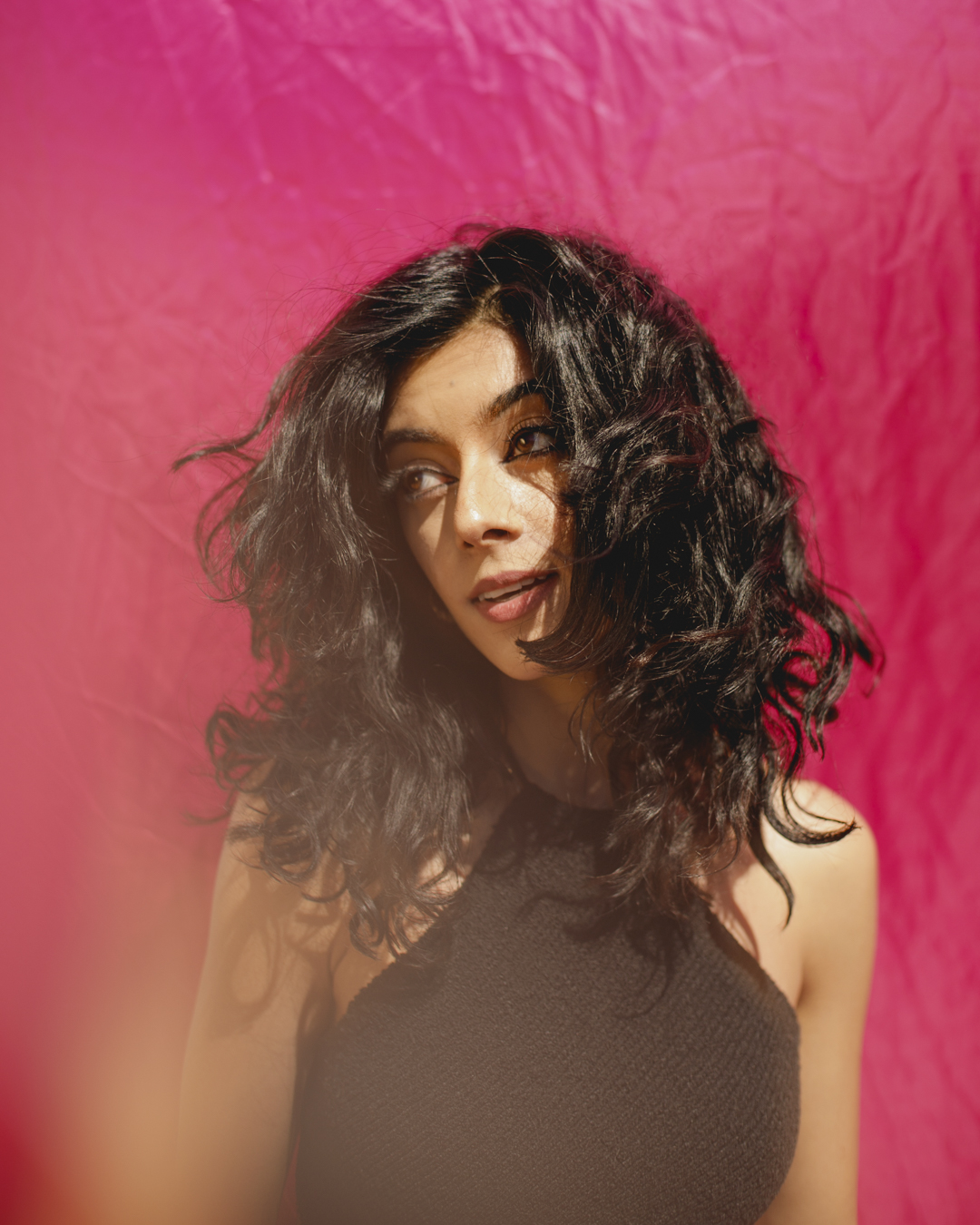 It's been years of exploring and experimenting for the musician, but she anchors her authenticity on letting her art be fluid. Like a signature, the core of her music will always be her own brand but that doesn't mean it will always look exactly the same. Her composition is influenced by what she consumes and what resonates in the moment; something that speaks to us in the age of saturation and constant new pop-ups. Rather than fighting that in a misplaced attempt for authenticity, Samica establishes a vibrant core of earnesty by allowing her music style to be fluid.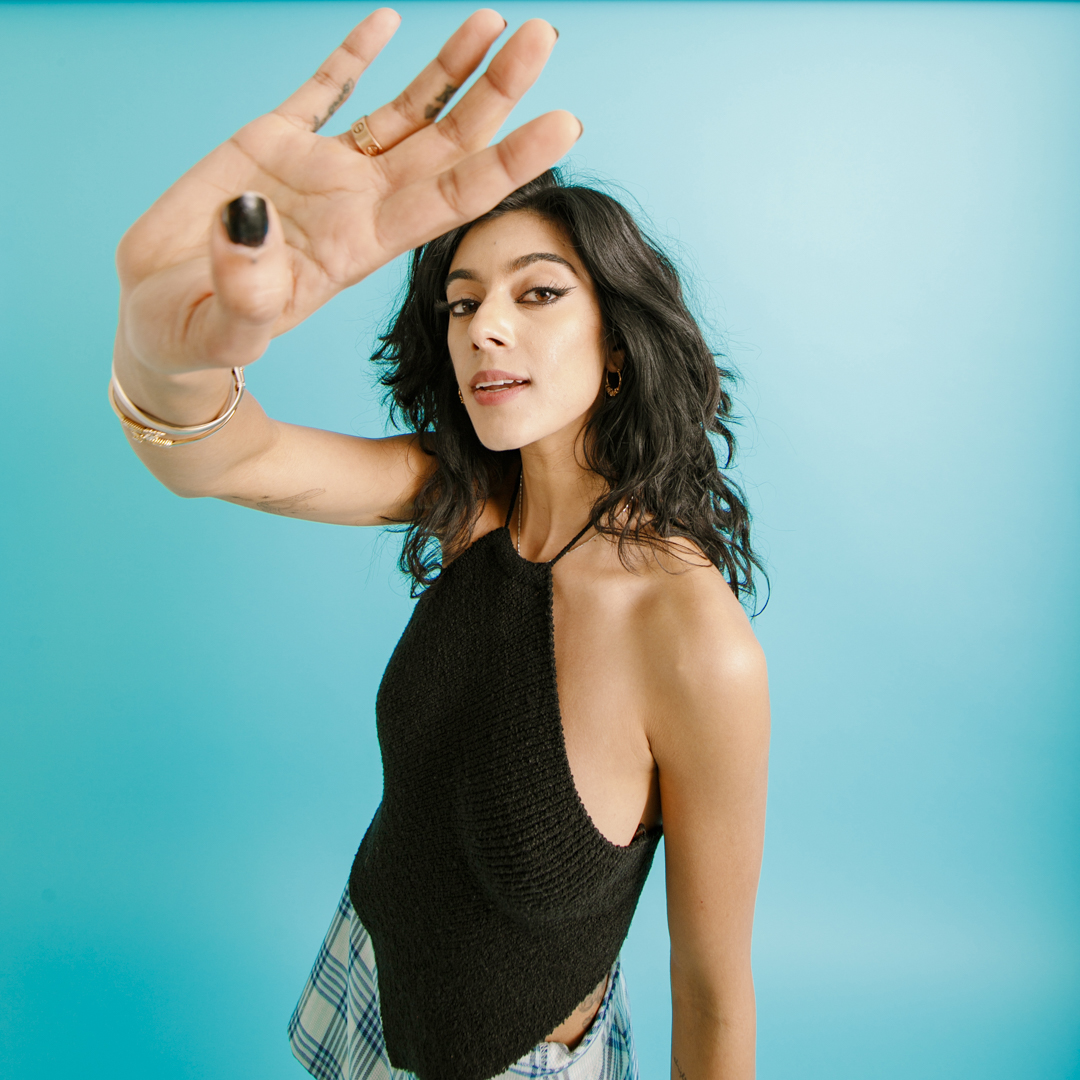 "You can never expect any artist to make the same music over and over again.. that's so boring! I actually think it's really cool when artists explore different genres and it works. Especially when it's like each album has its own unique sound. I think that's the greatest.. when you make a whole project one sound and make the next album something even better," she explains of genre melding in the industry. 
Unlike those of us who downloaded Sims to play for ungodly amount of hours, Samica used the pandemic to grow. "I grew up playing guitar and I first started writing on guitar. During lockdown I was like, you know what, I'm done with these beat packs. Or finding random YouTube beats. I'm so tired of being like tied into this so I picked up the guitar and started writing organically again. It made the lyrics and melody sooo much more authentic to what I wanted to say and where I wanted to the song to go.. so now I make music around that again. Just like the beginning!"
Her inspiration for each song, despite differing topics and melodies, is to have a timeless sound and she does it well. Her music would've charted back in the 90's, a YouTube find in the 2000's that hipsters would brag about and could make for a great tik tok trend. It lends itself to multiple moments in a new form of universality. "That's something that I've always been really keen on. Making sure that I'm not just making the music that sounds in right now, but making something that's just good music.. something that people can listen to so long from now and still relate."
Happier than me dropped today (3/18) but I think Samica pulled it off once more. It's a song that could have dropped a decade ago and I'd bet a decade from now. What's next for the songstress? "My immediate goal is to go on tour. I think that would be so epic .. I would love love to open for somebody and just experience tour life. Future wise, definitely have my headlining own tour, hopefully have a few songs on the charts. It would be really cool to be one of the Indian-Americans to represent in the music industry. It's something I never really grew up with seeing, and it's so important to me that people like me, don't grow up like that anymore. But basically I'm just excited to release more music, write more music, and have people connect with it."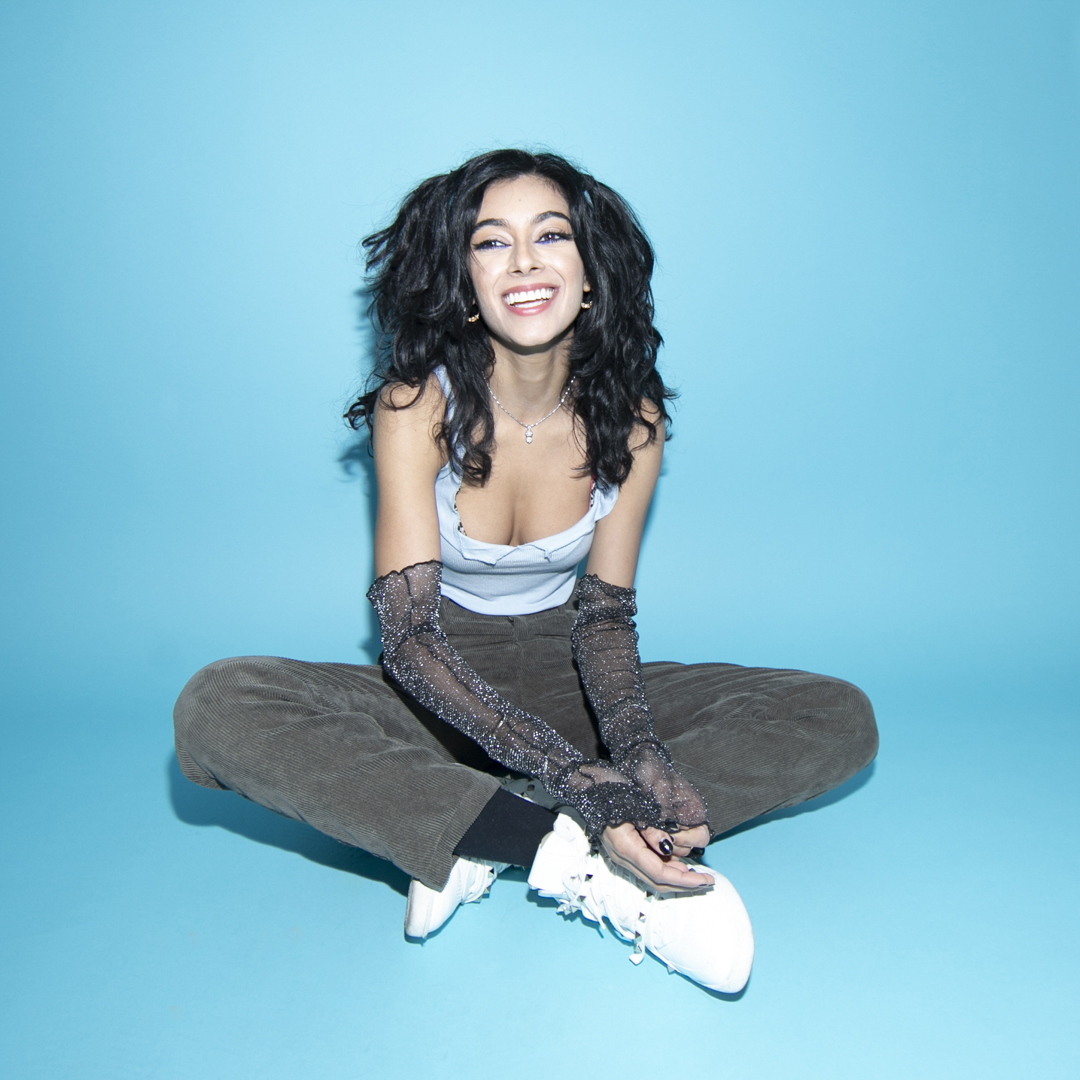 CONNECT WITH SAMICA
Photos / Mallory Turner
Story / Malorie McCall